Most of you know one of our goals for this spring/summer is to revamp our boring builder-grade kitchen. Brad and I were actually talking about all of our plans the other day while walking Jack at the park. And when I say talking about all of our plans, I mean I was telling Brad about all my plans, and how I'd need him to help me execute said plans. Ah, marriage.
I started the kitchen revamping back in August when I took it from slap-you-in-the-face green to cool mint.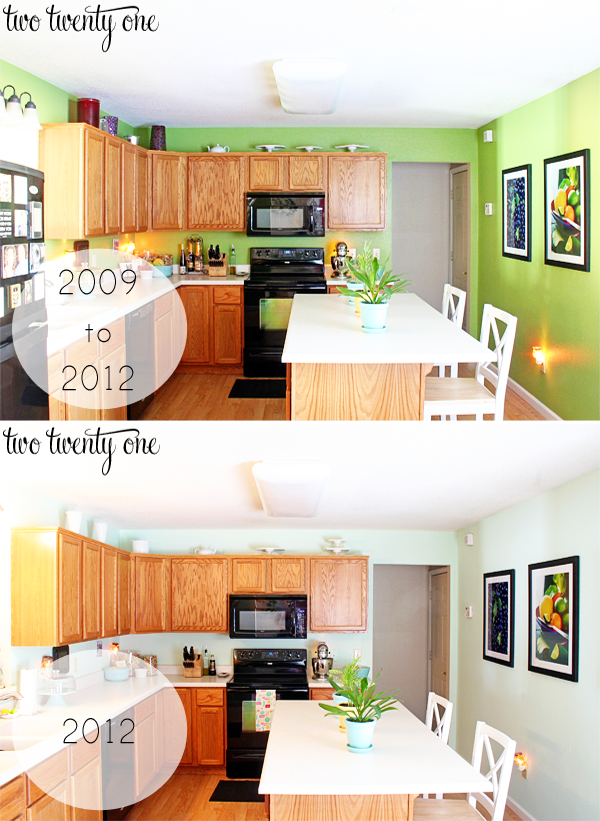 Today I thought I'd share some of my inspiration for our kitchen revamp with you.
I love Jane's kitchen– the two-tone cabinets, thick crown molding above the cabinets, white subway tile, and glass cabinet doors. Basically I want her to visit me and help me redo my kitchen like hers.
I'm loving the butcher block island counter top and built-in bookshelf. I also like the recessed can lights. As you saw in the first photo, our kitchen has a very modern, and oh so flattering, florescent light.

source
I'd kill for a kitchen with this much light. KILL. I like how the darker butcher block island counter top contrasts with all the white in this kitchen.

source
The next step is to get crackin'. Some of you are really putting the pressure on me, which is cool because I need a little pressure. But not too much pressure because then I'll just keep delaying to spite you. Just kidding. Put the pressure on Brad instead. His email address is…
Are you planning to revamp your kitchen this year? What's your plan?
Who wants to see me finish my kitchen revamp this year?