I couldn't think of a witty title for this post so I went the literal route. Yep, you're getting more kitchen photos today. In case you missed it, I revealed the kitchen cabinet makeover on Monday. There's also a pretty awesome $1,000 Home Depot gift card giveaway in combination with that post so make sure you leave a comment and get yourself entered to win.
Monday's post was already photo heavy, so I thought I'd share a few more photos with you today. I'm also sharing the rest of our plans for the kitchen.
The bookcase, which was added to the original island, is one of my favorite things about the kitchen cabinet makeover. It's one of the first things you see when you walk into the kitchen. And it makes the kitchen look less builder-grade and more fancy and custom.
In case you're wondering, the cow shaped creamer was a wedding gift (from Bed Bath and Beyond), the turquoise bowl is Kate Spade, apples are from Walmart, teapot was a wedding gift (from Bed Bath and Beyond), and the vintage pink coffee canister was a Goodwill Outlet find from a few years ago.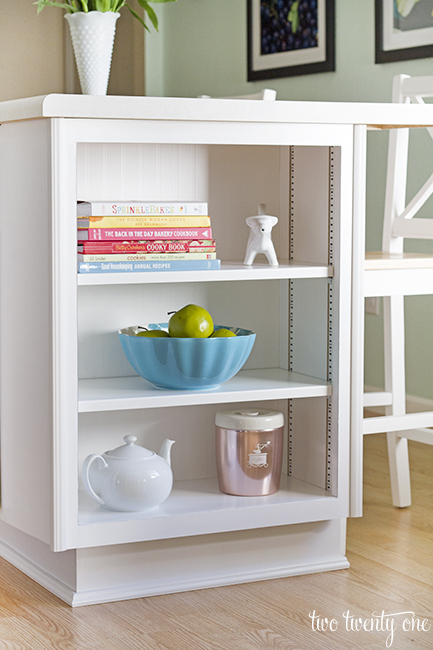 These are just some of my hoard of cookbooks. I tried to display the prettiest ones.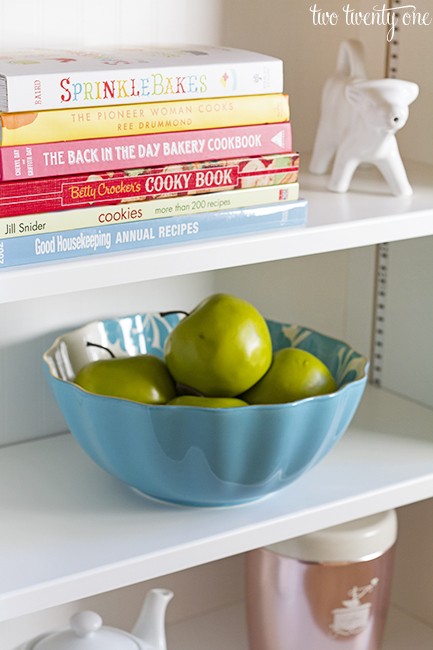 We plan to replace the countertops soon. There's just not enough contrast between our current countertops and the new white cabinets. My brother's friend does countertops so we're hoping to get the family-of-your-friend discount.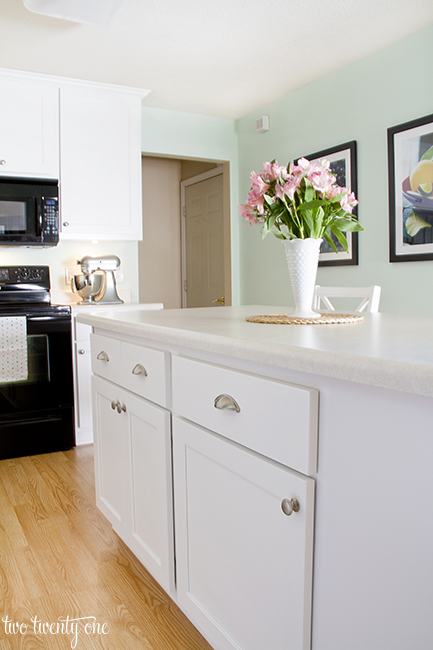 Jack's food and water bowls used to live where the bookcase is located. I couldn't figure out where to put the bowls. Ultimately, I decided to re-home them to the space between the two island chairs. It's worked out so far. I need to invest in a new mat for under the bowls because the color of the current one isn't really meshing with the rest of the room.
It's kind of hard to see in photos and in real life, but the three sides of island are beadboard.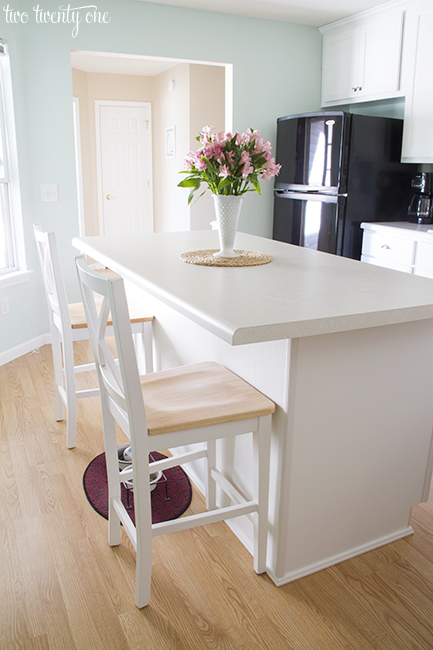 Like I said in the reveal post in Monday, Brad and I ran the electric and installed under cabinet lighting. Seriously, I am in LOVE with the under cabinet lighting. Like, I would marry it and have its babies. I mean, look how amazing it makes my KitchenAid mixer look.
I'm going to start a "Every home needs under cabinet lighting" campaign. Why? Because it makes the kitchen look so much fancier, and it's easier to see when you're prepping food.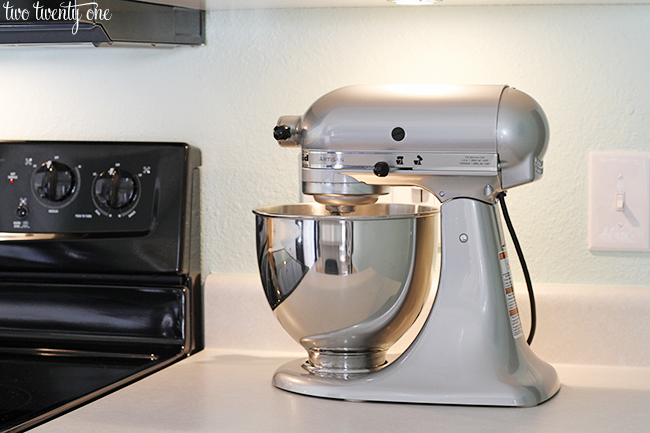 I'll post a tutorial soon on how we ran and installed the lighting.
Here's the list of things we still need to address in the kitchen:
countertops
overhead lighting (sayonara, florescent light)
backsplash
sink
Fingers crossed we'll have all of that done by spring.
Stalk away!