Spice Packet Organization
This post brought to you by Cabot. As always, all opinions are 100% mine.
You may remember at the beginning of the year when I organized our kitchen spice cabinet. Well, I've been on another kitchen organizing kick– mainly due to our kitchen cabinet makeover. One thing I wanted to edit was my spice packet organization system. And I'm proud to say that it only took a few bucks to make it happen.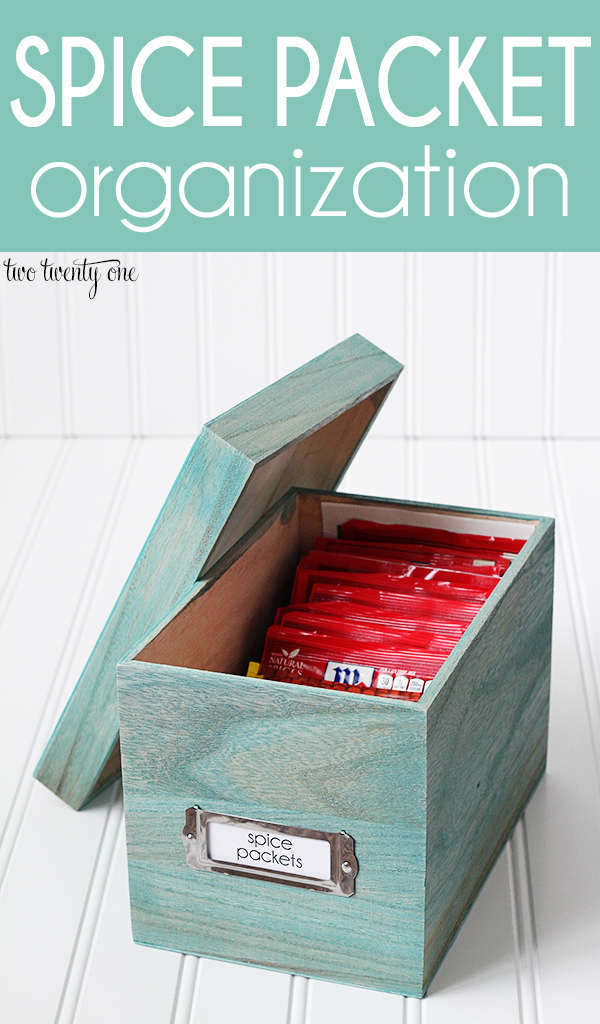 First, let's review how I initially organized the packets. While this system was fine, it took up too much space, width-wise, in our cabinet– precious real estate. I wanted to go with something narrower and longer so I could take advantage of the depth of the cabinet.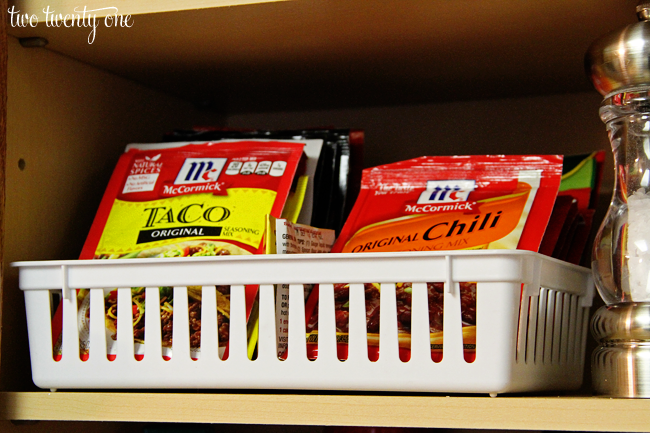 I came across this box at Michaels one day– it even came with the bookplate. The box was the perfect size, and I had a 40% off coupon so it was less than $5.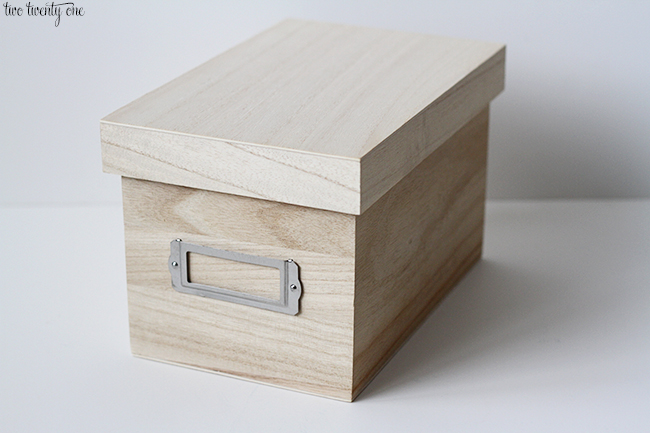 The box was pretty boring, as you could see. So I grabbed this great Cabot colored stain (I used the color Scuba) to give it a little character.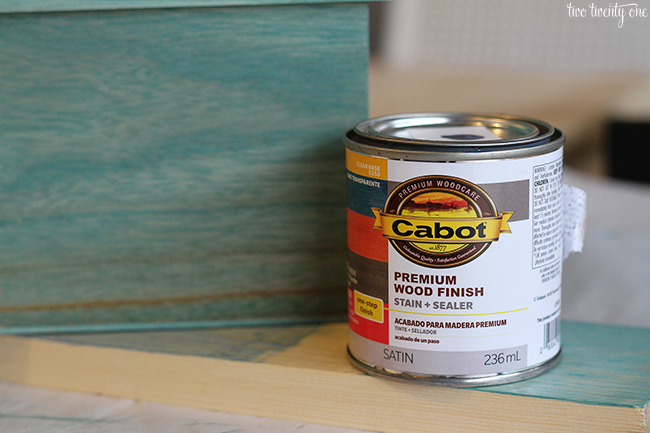 I loved using this stain because I was able to add color to the box without having to deal with painting it– which would have taken longer. Stain is also great because, if done correctly, you don't see brush strokes. Stain is very forgiving. In case you've never worked with stain, you brush it on with a regular brush, and wipe off any excess stain with a rag. As always, be sure to read the instructions on the side of the stain before starting your project.
I only did one coat, which took about 10-15 minutes to apply. I let it dry overnight, and it was ready to go the next day.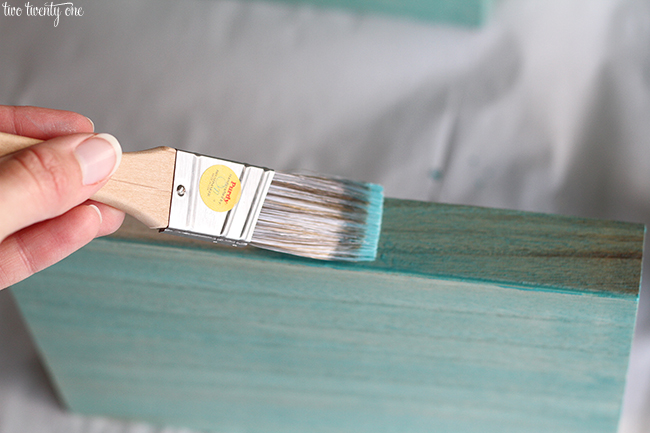 I love how you can still see the wood grain, but the box has a pop of color.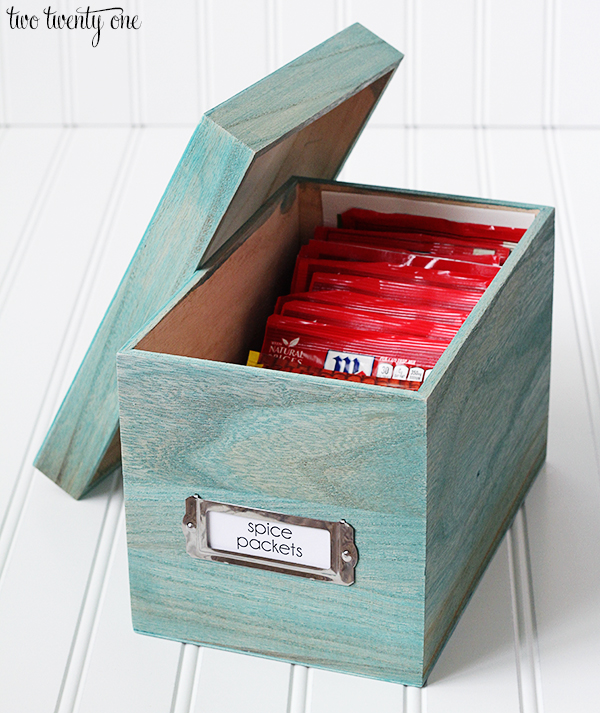 The box is the perfect width for spice packets. It's easy to flip through the packets and find the one I need.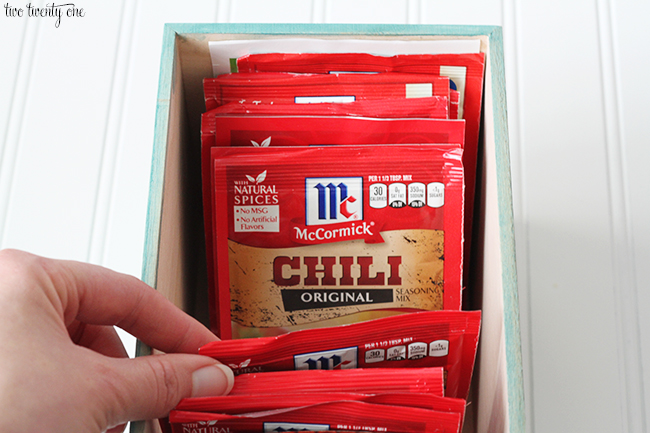 I like how the box is cleaner looking than my old method. Now all of the colorful, and somewhat busy, packaging is hidden inside the box.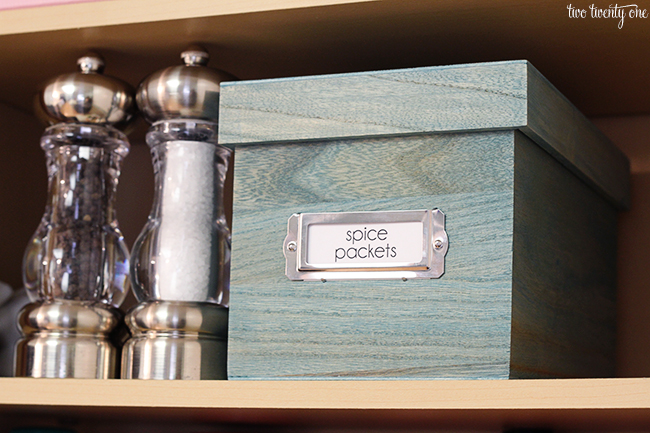 What do you think of this organization system versus my old system?
How do you organize your spice packets?
Have you ever worked with colored stain before?
Stalk away!
This post brought to you by Cabot. As always, all opinions are 100% mine.