1st Wedding Anniversary Gift Ideas
1st wedding anniversary gift ideas for him and her! Fun and unique first anniversary paper gift ideas. Tons of great ideas for every budget!
It's another installment of wedding anniversary gift ideas! Today I'm sharing 1st wedding anniversary gift ideas. The traditional gift theme for the first wedding anniversary is paper. The modern gift theme is clocks. But, as usual, I'm only going to cover the traditional gifts. Clocks are kind of self-explanatory anyway.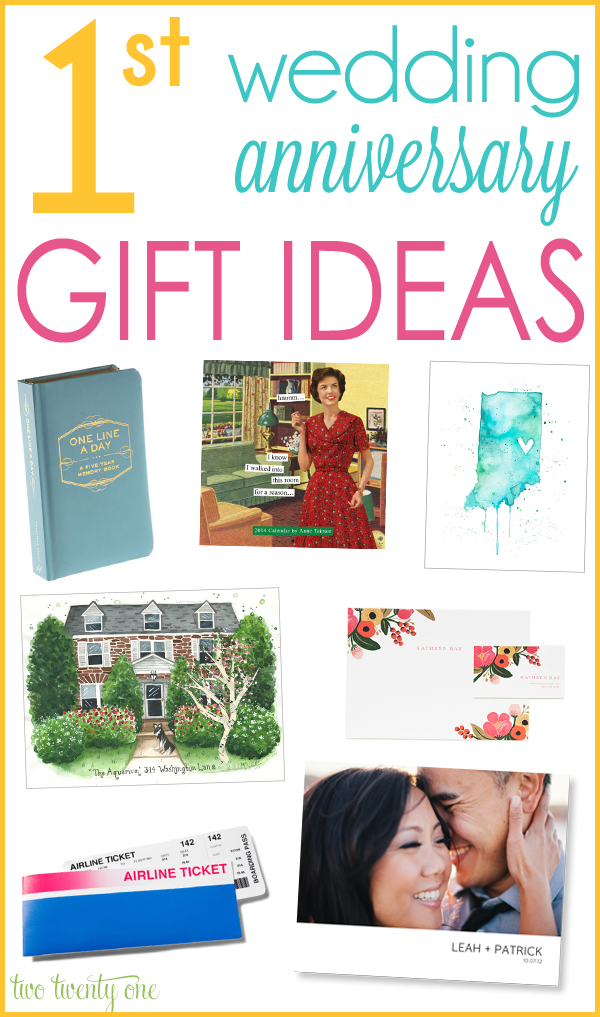 1st Wedding Anniversary Paper Gift Ideas
TICKETS
Any kind of ticket will do– airline, concert, sports event, museum, musical, etc.
For our first wedding anniversary, I gave Brad (and myself) Zac Brown Band concert tickets. It's one of Brad's favorite bands, and the concert was a couple weeks after our anniversary so it worked out perfectly. I even saved our tickets and framed them to always remember the occasion. When you're ordering tickets, just make sure to order the paper version of tickets– it's not really a paper gift if you get the paperless tickets. Know what I mean?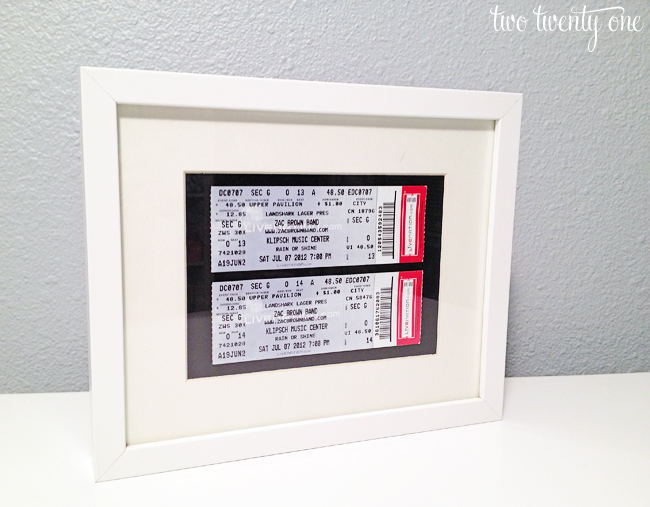 Got a big budget? Celebrate your first anniversary by jetting off with airline tickets. And it doesn't have to be a surprise. You and your husband/wife can plan it out. So if you want to have at least one surprise, give him/her another paper gift mentioned in this post.
ART PRINTS
Brad gave me an Indiana print (where we both grew up and currently live) I'd been coveting for our one year anniversary gift. I framed and hung it in our guest bathroom.
There are tons of sentimental and customizable art prints out there.
Here are some of my favorites:

custom house portrait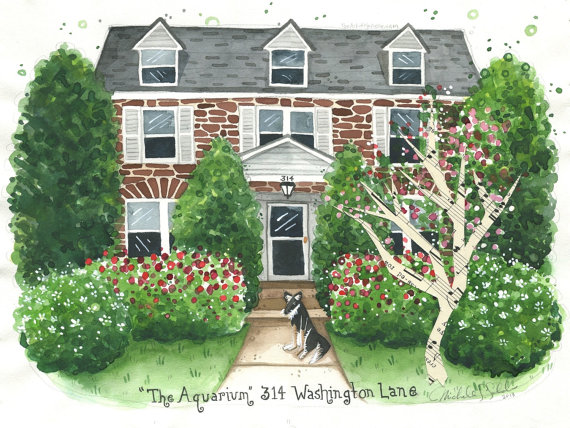 personalized map print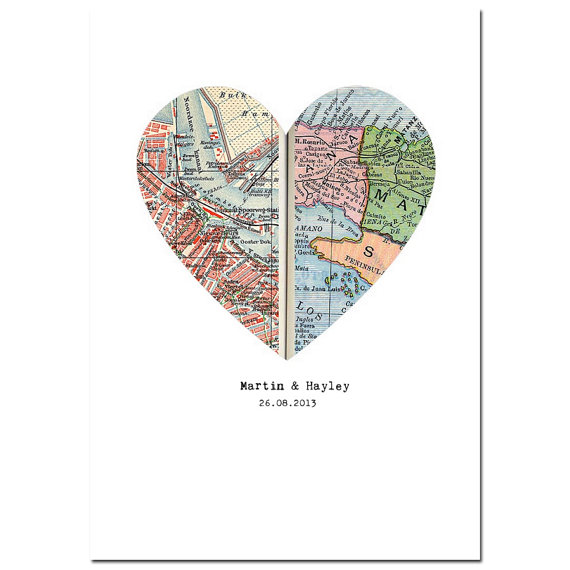 custom wedding bouquet painting
OR you can save this idea for your 4th wedding anniversary (traditional gift is fruit or flowers)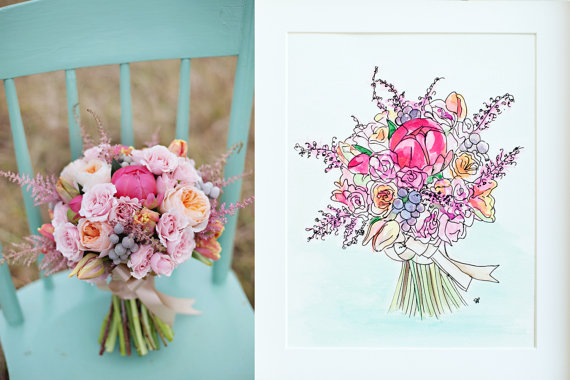 custom family portrait illustration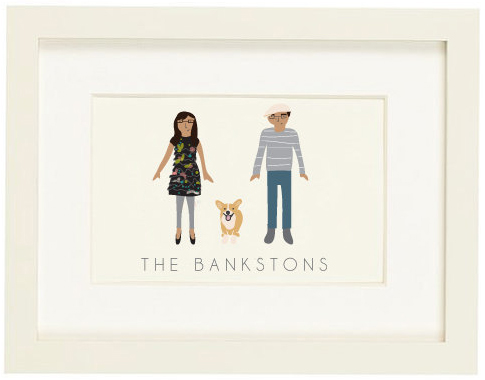 Star Wars custom family portrait
This artist also does custom wedding day, superhero, and movie/book (Harry Potter, Ghostbusters, etc.) portraits. I've worked with her before, and she's wonderful. Tell her Chelsea from Two Twenty One sent you!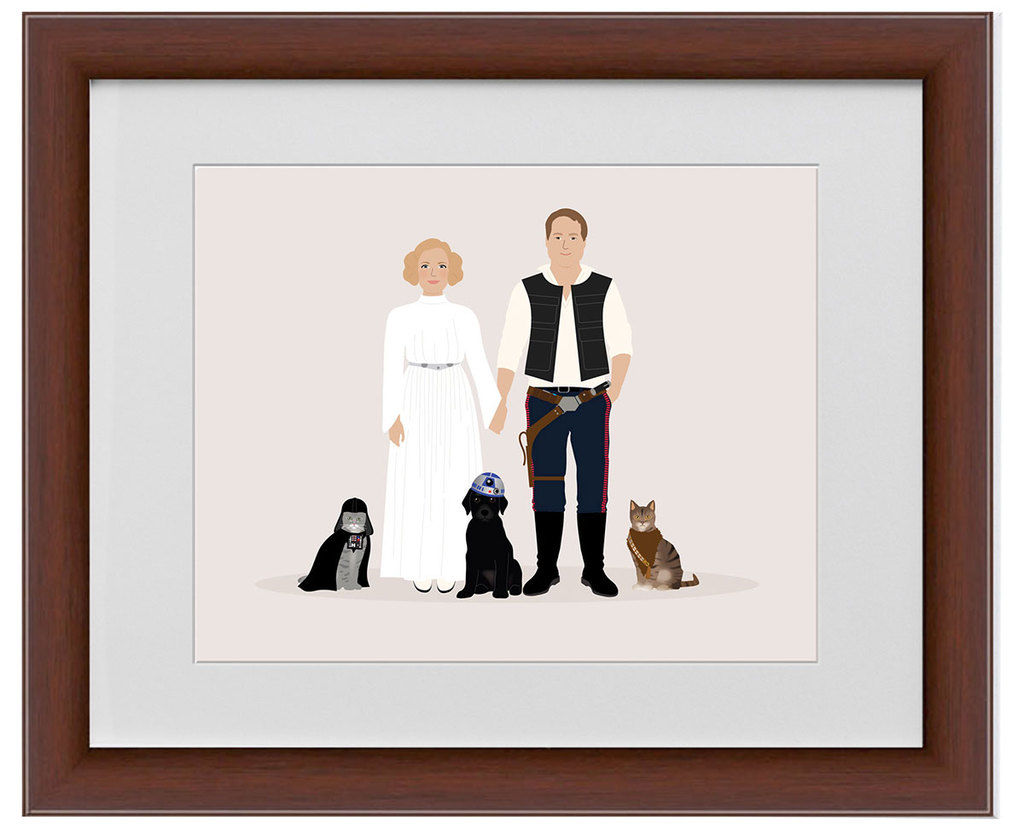 PAPER PRODUCTS
(stationery, business cards, etc.)
This is quite the obvious paper product gift idea. There's tons of pretty stationery out there for the ladies. And there's tons of manly stationery out there for guys.
PHOTO BOOKS
Surprise your partner with a custom photo book. The topic of your photo book is up to you– honeymoon, first year of marriage, etc. There are tons of online photo book publishers out there where you upload all the photos you'd like to use and select the theme and layout of the book. Check out Mixbook. And you could even make a photo book with Instagram photos (here or here). This is a super sweet and thoughtful gift idea because it'll show that you took the time to put the book together.
JOURNALS/BOOKS
There are some fun journals out there (other than your typical journal), like Line a Day and the Christmas Memories book. I'm not gonna lie– it'd be ridiculously romantic and Noah-from-The-Notebook-esque if you secretly did a Line a Day journal for your love for the first year of your marriage– writing down things you did together or something sweet about him/her. I'm pretty sure I would've cried if my husband did that for me, and I'm not a big cryer.
CALENDARS
Calendars are paper, right? From wall calendars to custom desktop Instagram photo calendars, you can't go wrong. And you know what would be awesome? Giving your husband/wife a calendar with date(s) circled and then handing him/her tickets. Instant brownie points are sure to be awarded.
OTHER PAPER ANNIVERSARY IDEAS
book • autograph • poster • magazine subscription • puzzle • paper mache • paper flowers • star map • framed wedding vow • framed love letter • personalized playing cards • date night coupons
I hope you found these gift ideas to be helpful in planning your 1st wedding anniversary gift! But keep in mind, these are also great gift ideas for any occasion.
Happy anniversary to you and yours!
Other anniversary gift ideas:
2nd wedding anniversary
3rd wedding anniversary
4th wedding anniversary