It's that tiiime of yearrr! It's when I share a menagerie of all my favorite things from the year. These are products I've used and loved for months and would recommend to a friend. It's a real hodge podge this year, so get excited. And if you want to know more of my favorites, scroll to the bottom for my other Favorite Things posts.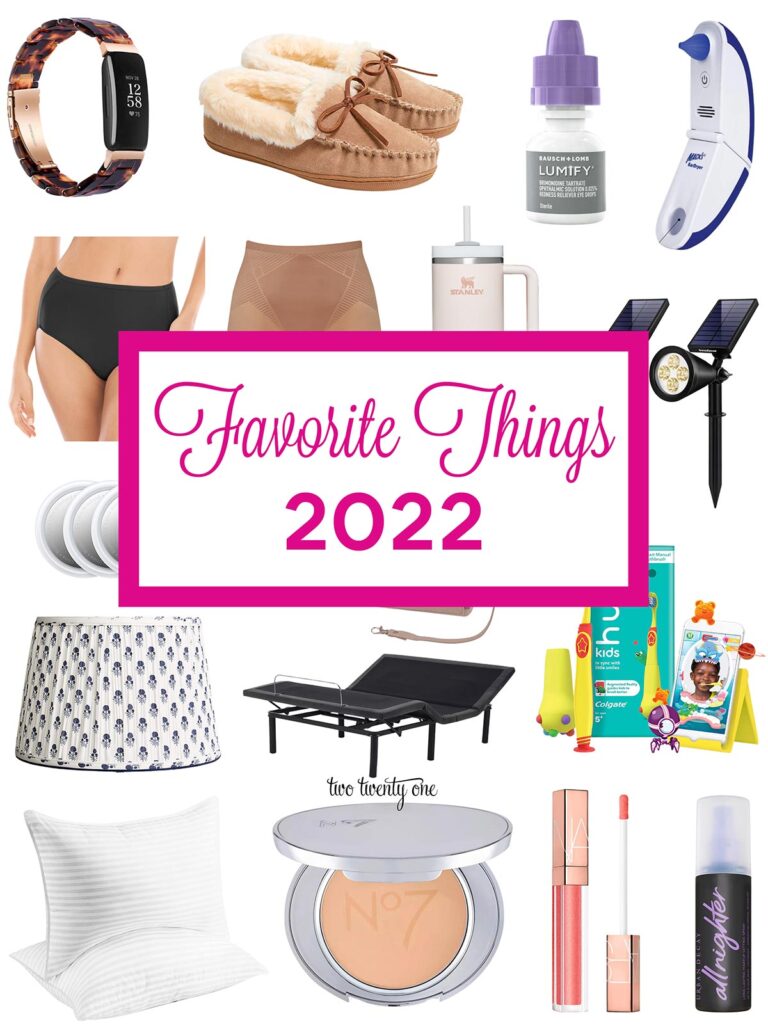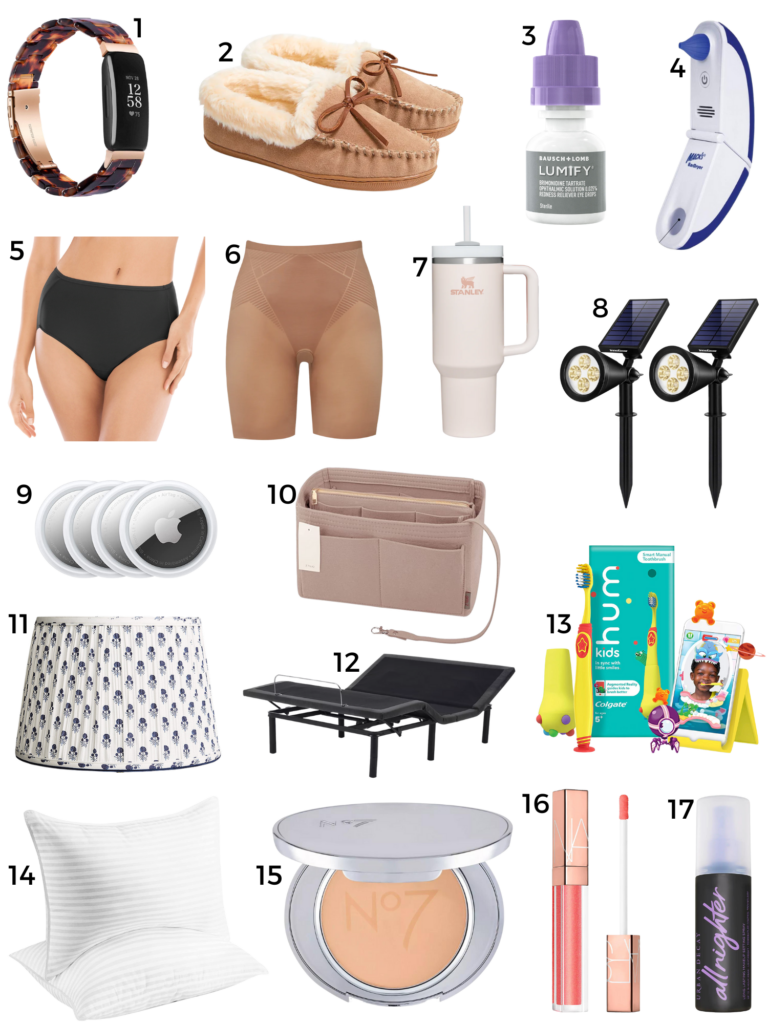 1. FitBit + Tortoiseshell Band
I started wearing a FitBit earlier this year, and I really like it. But I didn't like the standard band that came with it, so I bought a tortoiseshell band, and I love it. So if you're looking to monitor your steps, I highly recommend this more fashionable combo.
2. Slippers
Late last year I put out a call for the slippers on Instagram, and I received a plethora of recommendations. I bought a few different pairs and these suede faux-shearling slippers were the winner. They come in lots of colors & patterns and sizes 5-12. They have a hard sole so you can wear them outside if needed, but the sole is flexible. I have wide feet and they fit me, so if you have wide feet, give them a try. I wear my normal size. They're a great gift idea! I gave a pair to my mom and my best friend last year for Christmas.
3. Whitening Eye Drops
I kept seeing influencers talk about these whitening eye drops, so naturally, I became curious and bought a bottle. OMG, they're magical! When I was in NYC in September I even showed my roommate, Jessica, how magical they are. She was very impressed. I use them mostly for special occasions– family photos, events, parent/teacher conferences.
4. Ear Dryer
My friend told me about this ear dryer this summer after I talked about Owen possibly getting swimmers ear. We were doing the ear drops, but they didn't seem to be working. So I splurged on the ear dryer because the kids swim a lot during the summer, and I figured the ear dryer was cheaper than a trip to the doctor for prescription strength ear drops. I love the ear dryer because I don't have to fight the kids to put swimmers ear drops in their ears. I don't have to wonder if any of the ear drops actually got into their ears because they were flailing around so much. The kids can use it by themselves. They push the button, stick the ear dryer in their ear, and it blows warm air into their ear for 2 minutes. Then, they switch to the other ear. And if their ear still feels wet, they can repeat the process. I've even used it because water tends to get trapped in my ears while swimming and it works great.
5. No Show Underwear
I first heard Caralyn talk about these vanishing edge underwear. I was intrigued, because I didn't like how my underwear lines showed when I wore the 221 uniform joggers. So I bought 5 pairs when they were having a sale, and I'm HOOKED. They're incredible. No underwear lines. No wedgies. No rolling down. The underwear come in a wide array of cuts, colors, and fabrics. I will say I wish they were more size inclusive. The largest size I've seen is an XXL, which is an apparel size 20/22.
6. Spanx Shorts
I needed new Spanx mid-thigh shorts for BHG Stylemaker in September because my favorite Spanx bodysuit wouldn't work with the green dress I wore. So I decided to give these Spanx mid-thigh shorts a try. I loved them so much, I now own two pairs. They're a support level 2, which means they smooth the appearance of lumps and bumps and lift & firm. The shorts come in four colors and are available in sizes XS – 3X. You can purchase them directly from Spanx, or from Nordstrom, Dillards, or Macy's.
7. The Infamous Big Ass Tumbler
So I've had and used my infamous influencer tumbler for well over a year, and I love it. I enjoy only having to walk to the fridge three times a day to fill up my 40 ounce water bottle. It fits perfectly in my car cupholders, and it keeps my water cold. I also appreciate how they changed the lid so it's more leakproof. If you'd rather go with the OG 40 ounce tumbler and also want free shipping, head to Amazon.
8. Solar Landscaping Lights
If you follow me on Instagram, and if not, why aren't you? You would know that this summer I became an amateur landscaping lighting aficionado. Like I said above, I'm fully embracing the geriatric lifestyle. I bought six solar landscaping lights (in warm white) to up light the trees in our front year and to illuminate my climbing rose by our front porch. I love them because they're solar, the color is great, and they have two brightness settings to choose from. You can see a photo of my landscape lighting installation in this blog post.
9. Apple AirTags
I bought a set of Apple AirTags before I went to Las Vegas in June because I wanted to be able to put one in my luggage, one in my carry on, one in my purse, and one connected to my AirPods (because the standard AirPod find me sound is not loud at all). So they're great for traveling. Now, I have AirTags in each of the kids' backpacks.
10. Purse Organizer
I was going to put my everyday purse and purse organizer on this list, but Longchamp stopped making my purse so I'm unable to share the exact purse. But it looks like they came out with a very similar bag. (If that link doesn't work, I made a clickable image of the purse below this paragraph.) I love my purse organizer and if you have a purse, you'll probably love it too! It's a felt insert you put in your purse that has tons of smaller pockets to keep your handbag more organized. An array of sizes are available. I bought a giant purse organizer for the center console in my car.
11. Pleated Lampshade
I bought a pair of these pleated, printed lampshades for our bedroom nightstand lamps, and you guessed it– I love them. They're on the more expensive side if you're used to buying your lampshades at Target, but I think they're very reasonable for a quality, printed lampshade— especially when they go on sale. I love the elevated look of them. And it's nice to have something other than a white lampshade.
12. Adjustable Bed Frame
This year I entered my late thirties, so I decided to accept and fully embrace the geriatric lifestyle. I started with an adjustable bed. And let me tell you, I'm never going back, baby. You. Guys. I can lay comfortably in bed with my head slightly inclined and watch Netflix. I can lay in bed with my upper body more inclined and work on my laptop. And the sleep– ooh, the sleep is top notch. Please call me Grandma Josephine from here on out. You can read more about our specific adjustable bed frame and how we have it set up to work with our king mattress in this blog post.
13. Colgate Hum Kids' Augmented Reality Toothbrush
Tired of fighting your kids to brush their teeth? Allow me to help you out. Buy this toothbrush set. Kids use the toothbrush with an app you download onto a phone or tablet. (Owen uses his iPad.) The app turns teeth brushing into a game and teaches your kid how to brush their teeth without actually telling them how to brush their teeth for the recommended two minutes! Brilliant! Who thought we'd be able to outsource teeth brushing one day? As the kid brushes, they rack up points which they use to buy prizes. Or, they hoard their points like Owen who is sitting on nearly 30,000 points right now. Seriously, there are so many things to love about this toothbrush system. I've received tons of messages from people on Instagram saying how much they love this sanity saver of a product. (There's also a battery-powered version.)
14. Pillows
I tried out these pillows earlier this year for Emmett's new big boy bed and got hooked on them. And now they're on all the beds in our house. I like that they're fluffy and stay cool because nothing is worse than a flat, hot pillow. The 4.5 star average review (200K+ reviews) checks out. If you buy them, don't forget to click the coupon.
15. Finishing Powder
Meg suggested this finishing powder as a good Charlotte Tilbury setting powder dupe last year so I bought it, and I love it. It makes my skin look smooth and flawless. I wear light/medium. Some also say it's a great Fenty Beauty blurring powder dupe as well.
16. Lip Gloss
I got this Nars lip gloss last year in a beauty sampler thing I bought. Love it. Orgasm is the perfect shade of peachy pink. The gloss is smooth– not tacky like how some can be. (I also love the Nars Orgasm blush.)
17. Makeup Setting Spray
I love this makeup setting spray. My makeup stays put and lasts so much longer. I can put makeup on at 9AM, and it still looks good at midnight. A definite must have in my makeup bag.
18. Hooded Puffer Coat
I completely forgot to add my black hooded puffer coat to this list. I bought it last winter because I needed a new winter coat. I LOVE the massive hood because it blocks the wind. I recently wore it downtown Chicago, and it kept me warm and toasty. The inside zippered vest is also really nice. The coat comes in black and navy and in sizes XS-XXL. And it's currently on sale for $99!