Gift Ideas for Boys – Ages 5, 6, 7, 8
I get asked for gift ideas for boys all the time. So I compiled some of our favorite toys and games for the 5-8 year olds in your lives. And these toys obviously aren't only for boys– they're perfect for all children. But people ask me for "boy gift ideas" so here we are. Don't come for me.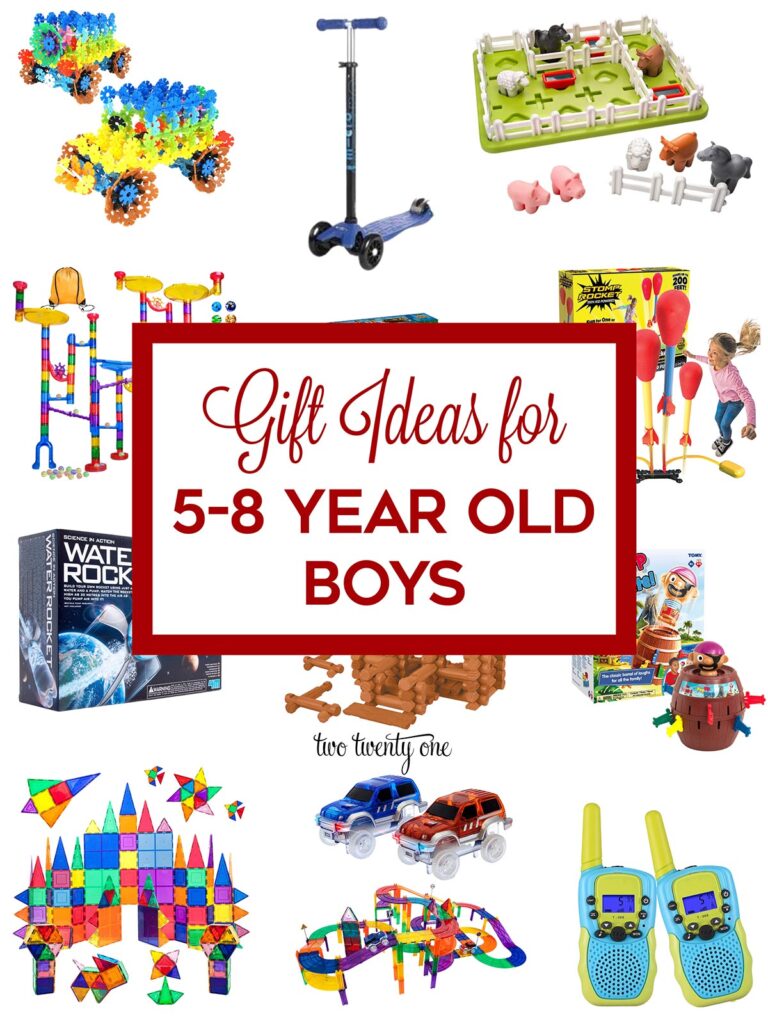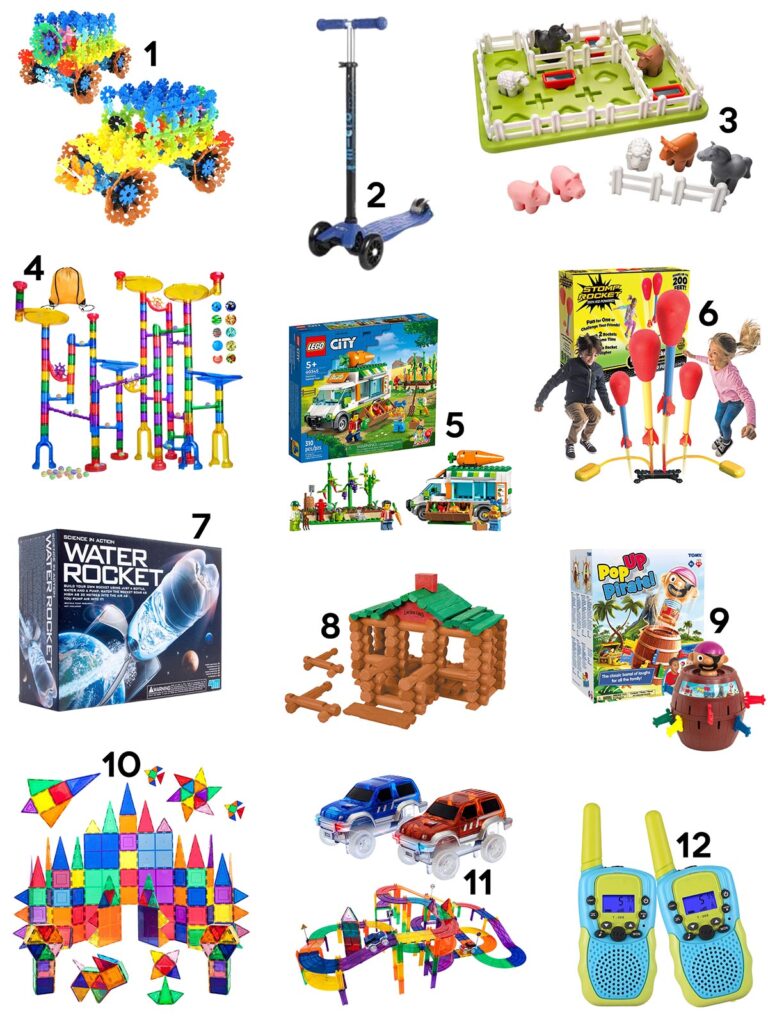 1. Brain Flakes
My kids love building things with Brain Flakes! The set of Brain Flakes includes 500 interconnecting discs, a durable plastic jar for easy storage, and an idea booklet with instructions to build a Brain Flakes ball. Brains Flakes help develop spatial intelligence and thinking. Brain Flakes also has other sets and accessories.
2. Micro Scooter
If you follow me on Instagram, you know my kids LOVE their Micro scooters. And let me tell you– these things are tough. Owen has taken his off-roading on trails multiple times with no issues. They've had their scooters for three years, and they still look great. I can't recommend them enough. And, they're on sale right now! Emmett's scooter (ages 2-5) is $70 (regular $95), and Owen's scooter (ages 6-12) is $100 (regular $145). There are other Micro scooter options on sale for 20% off. Just be sure to click the 20% off coupon.
3. Farm Game
We love the Smart Farmer Game. It builds upon spatial insight, planning, problem solving, concentration, and flexible thinking. So it's a game, but they're learning while playing it. If you end up loving Smart Farmer, the brand has a lot more games.
4. Marble Run
My boys love building marble runs. Emmett built an epic marble run with Bon earlier this week.
5. LEGO set
You can never go wrong with a LEGO set. They have so many cute sets these days, like a farmers market van, 3-in-1 noodle shop (currently 20% off), tractor set, 3-in-1 safari treehouse, and holiday camper van.
6. Stomp Rocket
The kids love this dueling Stomp Rocket Launcher. And because there's two launcher pads, there's minimal fighting. Hooray! The boys love it when I take slow motion videos of them launching their rockets. Just an added bonus of the Stomp Rocket Launcher.
7. Water Rocket
OK, so I didn't realize how powerful this Water Rocket was until we used it for the first time. Make sure you have plenty of space because the Water Rocket goes really high– like comically high. But it's seriously such a cool toy. Adult supervision is a must. I wouldn't let the boys go outside and use this by themselves.
8. Lincoln Logs
When in doubt, Lincoln Logs. This Lincoln Log set includes 111 pieces made of high-quality maple wood. Each has indentations that can be used to connect it with others. Pieces are included for the roof, roof facade, walls, chimney, porch, fences, bonfire, and bonfire seats.
9. Pirate Game
We love this Pop Up Pirate Game. It's a 2-6 player game so just Emmett and I can play it or we can play it as a whole family. You take turns sliding the colorful swords into the barrel. If the pirate pops up on your turn, you're out.
10. Magnetic Tiles
In our house, there can never be enough magnetic building tiles. The boys use their magnetic tiles to build houses, garages for their cars, towers, vehicles, etc. The kids also love this car/truck construction kit. Our favorite magnetic tile brand has a plethora of sets to choose from, so there's something for every budget.
11. Magnetic Tiles Race Track
We gifted Owen this magnetic tile race track last year and it was a big hit. They have smaller race track sets if your gift budget is lower.
12. Walkie Talkies
Walkie talkies will keep my kids entertained for at least twenty minutes, so I assume they have the same effect on other children.