Today, there are many paint colors available in the market, so it can be overwhelming to pick one. If you're looking for a soothing and sophisticated sage green paint color to add character to your home, Benjamin Moore Oil Cloth is the perfect choice.
What Color is Benjamin Moore Oil Cloth CSP-760?
Benjamin Moore Oil Cloth is a muted green. Oil Cloth is a soothing, relaxing, and sophisticated wall color.
What Undertones Does Oil Cloth Have?
Oil Cloth has green-gray undertones. It has a touch of gray that slightly mutes the green.
In north facing rooms Oil Cloth leans more green. In south facing rooms, you may see more of a touch of gray, but the color will still present as green.
What is the LRV of Oil Cloth?
The LRV (Light Reflective Value) of BM Oil Cloth is 35.31, making it a great option for any room.
The LRV scale is 0 to 100. 0 absorbs all light and 100 reflects all light. So Oil Cloth falls near the more absorbent third on the LRV scale.
Benjamin Moore Oil Cloth In Real Spaces
Oil Cloth Painted Bathroom
I used Oil Cloth in our powder room bathroom. It complements the botanical wallpaper, giving the room a cozy yet sophisticated feeling. I also painted the step stool the same color as the beadboard paneling.
The beadboard was painted in a satin finish. The trim, baseboards, and door were painted in a semi-gloss finish. You can see the difference in sheen in the photo below.
Benjamin Moore Oil Cloth Painted Kitchen
Oil Cloth is an excellent color choice in kitchens. Whether using it on the walls or on cabinetry, Oil Cloth brings a warmth to the space.
As you can see in the photos below, Oil Cloth also pairs well with an array of other neutral colors. From the terra cotta floors to the soapstone countertops to the creamy paneled walls.
BM Oil Cloth Painted Bedroom
Want a soothing and relaxing bedroom? Paint the walls with Oil Cloth.
This bedroom has more of a modern feel but it's warmed up with the muted green walls.
Oil Cloth Painted Cabinetry
BM Oil Cloth is a wonderful, timeless color to use on cabinetry. It's a great color to add some personality and depth to your cabinetry without being too bold.
Oil Cloth Painted Paneling and Moulding
Oil Cloth looks great on beadboard and moulding. And it really is the perfect shade if you're going for a classic, English look.
Trim Color Options for Oil Cloth
When it comes to trim, Oil Cloth pairs very well with warm, off-white colors.
Oil Cloth and BM White Dove
White Dove is a great trim option for Oil Cloth because it's warm and creamy.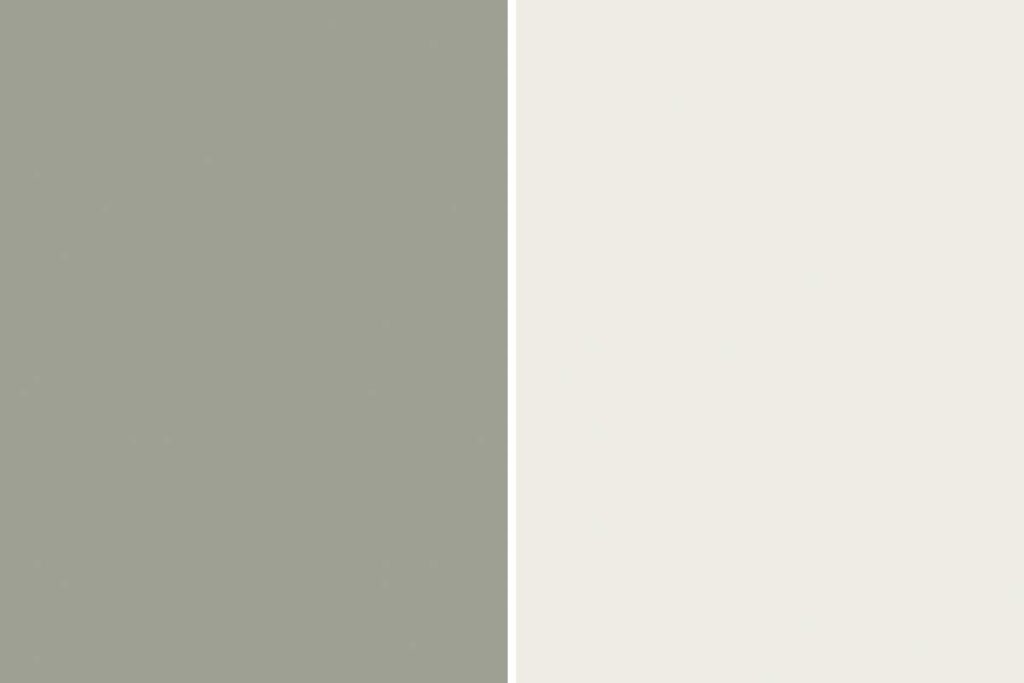 Oil Cloth and BM Ballet White
If you're wanting more of a greige to pair with Oil Cloth, Ballet White is an excellent option. Ballet White is warm, creamy, with a touch of beige and gray, which goes nicely with Oil Cloth.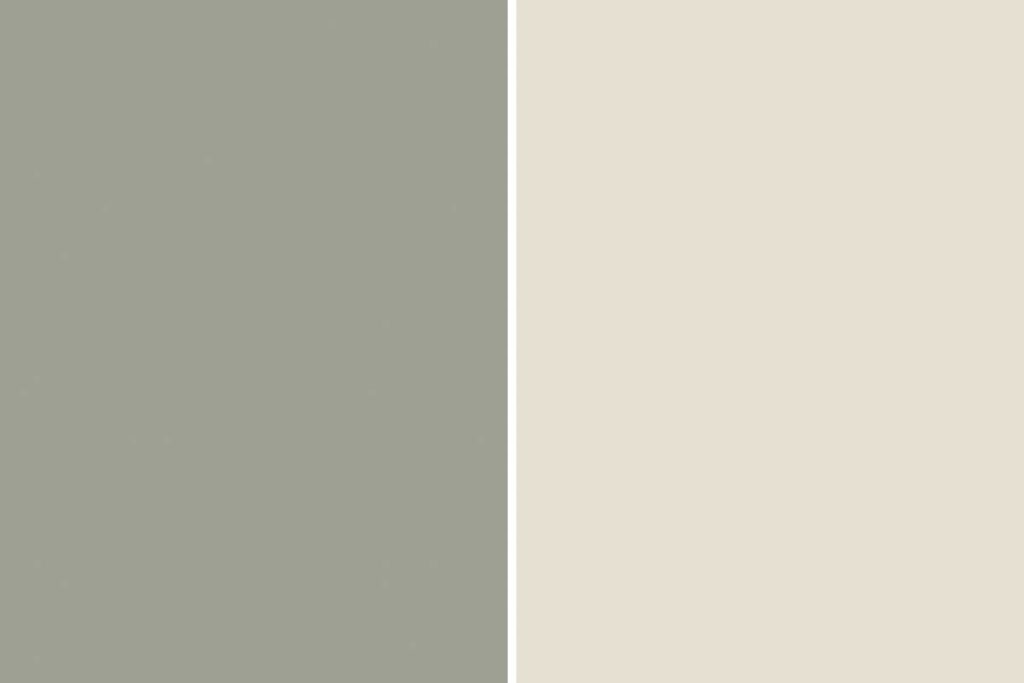 Oil Cloth and BM Simply White
Simply White pairs very well with Oil Cloth. It adds a brightness to Oil Cloth while bringing in a touch of warmth.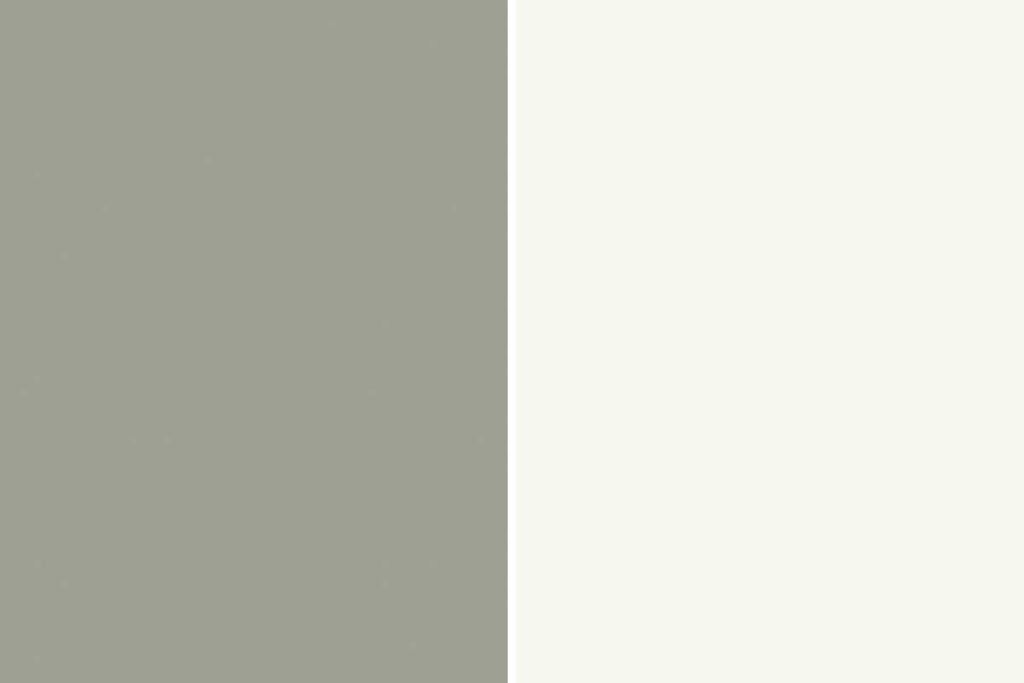 Similar Paint Colors
Oil Cloth vs. Benjamin Moore Heather Gray
Heather Gray (right) is a medium gray with sage undertones. The LVR for Heather Gray is 34.77, making it slightly more reflective than Oil Cloth.
Heather Gray has more of a green undertone than Oil Cloth. When next to each other, Oil Cloth appear muddier than Heather Gray. Oil Cloth vs. Sherwin-Williams Evergreen Fog
Evergreen Fog, Sherwin Williams 2022 Color of the Year, is very similar to Oil Cloth. Evergreen Fog has an LRV of 30, which is a little more reflective than Oil Cloth.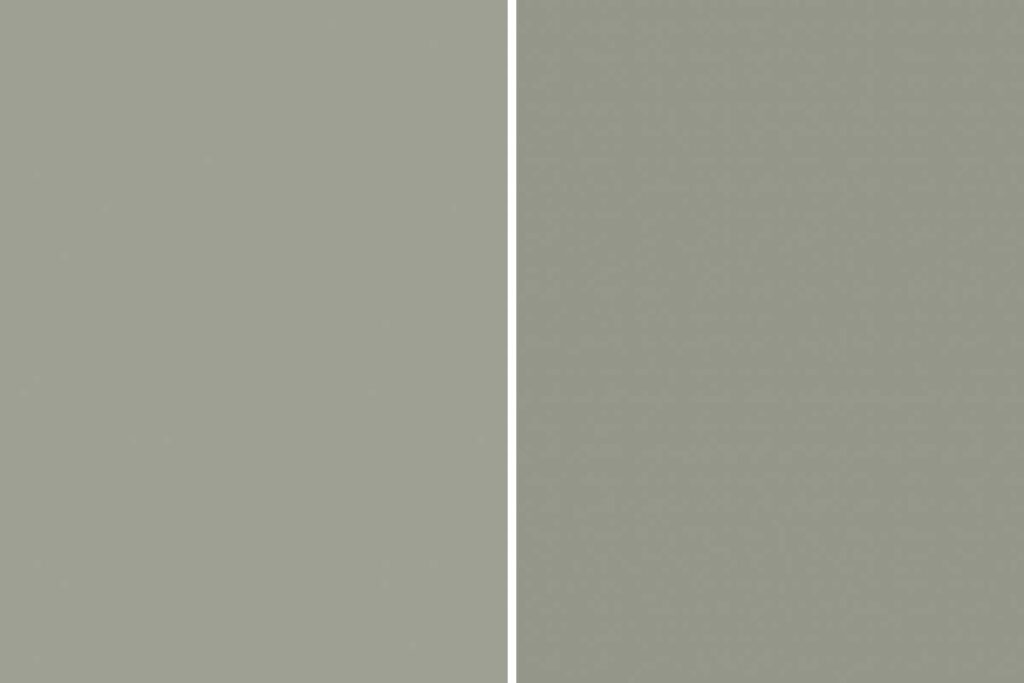 Popular Color Comparisons
Oil Cloth vs. Benjamin Moore October Mist
October Mist is a gentler shaded sage green. You can see that when placing it beside Oil Cloth. So if you're looking for a lighter sage green, October Mist is a great choice.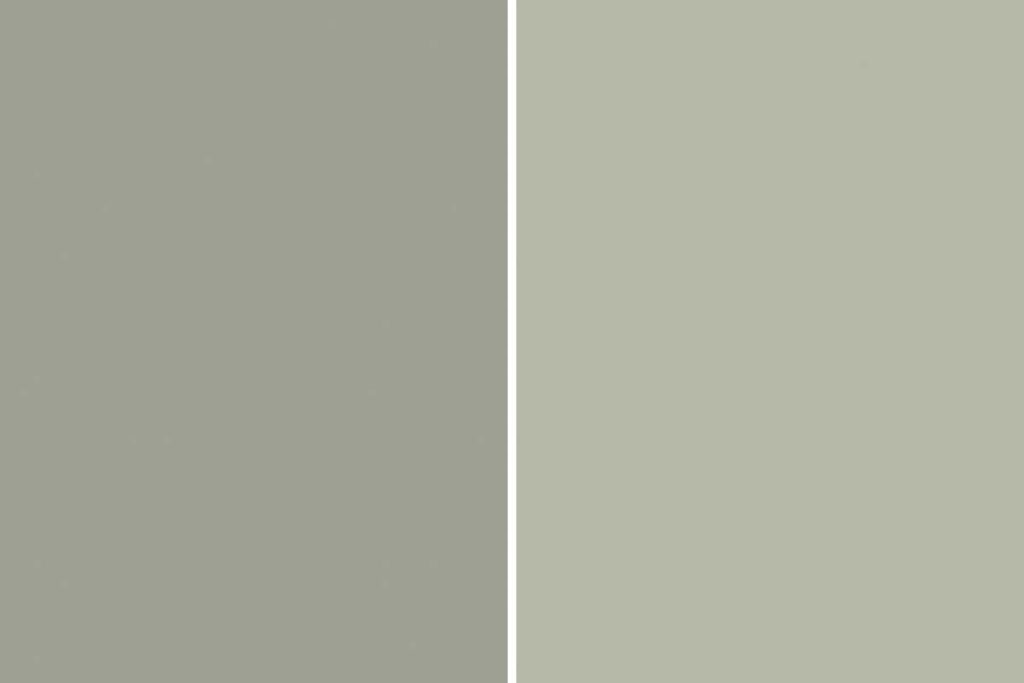 Oil Cloth vs. Behr Bitter Sage
Bitter Sage has more of a green tone than Oil Cloth. Like I said before, the gray in Oil Cloth tamps down the greenness some. So if you're looking for more of a true green shade of sage, Bitter Sage may be a better option for you.