Let me start out by saying I'm not a botanist or a gardening expert. I'm just sharing the steps I took to transplant my peonies from our old house to our new house.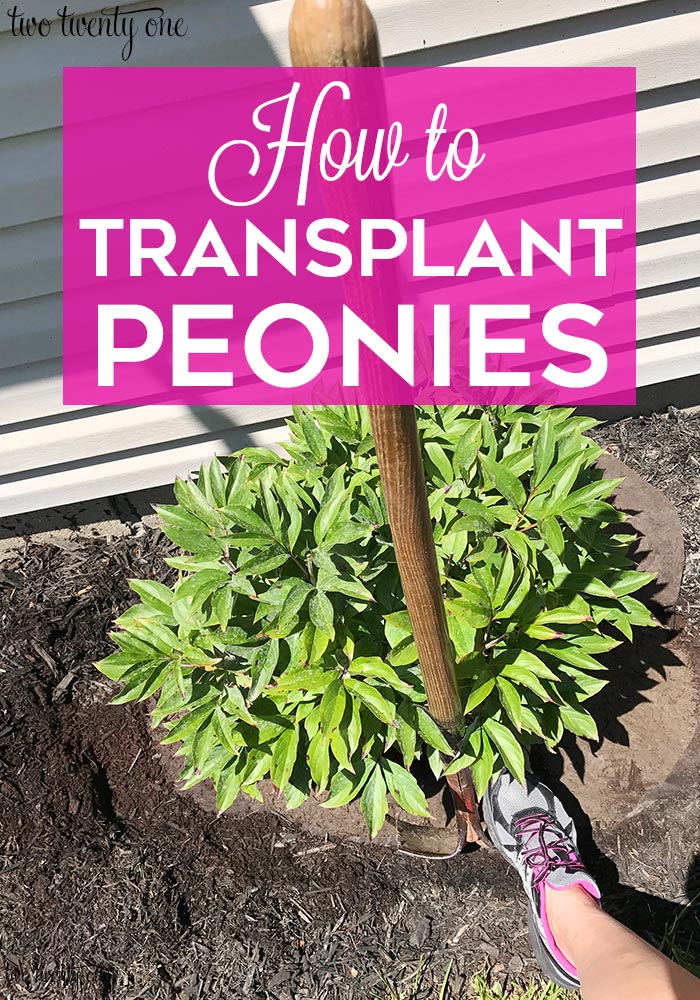 If you've been around a while, you know my peonies are like my babies. And I'm not some basic chick who recently became peony obsessed. I've loved these flowers since I was a little girl. And since they're my state flower, I grew up with them all around me. I started growing my own peonies on the south side of our old house in 2009. And after 8 years at that house, I had grown eight plants. So when it came time to put our house on the market, I told our realtor there was no way I was leaving them behind, and I had her write it in our contract that the peonies didn't convey with the house. I was actually going to leave one for the buyers, but some stuff fell through on their end during negotiations so I took that peony off the table.
Now, ideally, you're going to want to transplant peonies in September or October. But since we were moving in late June, it had to be done then. The peonies bloomed in May so at least that was over with.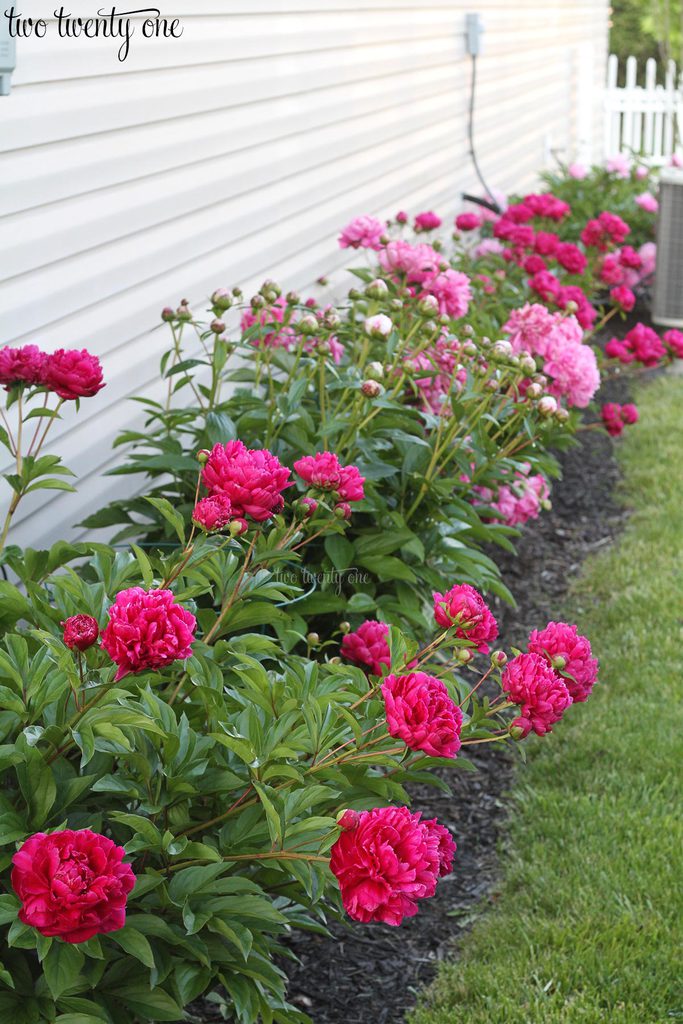 We were closing on a Thursday afternoon and moving most of our stuff from the old house to the new house on Friday and Saturday. So on Tuesday we dug up all the peonies.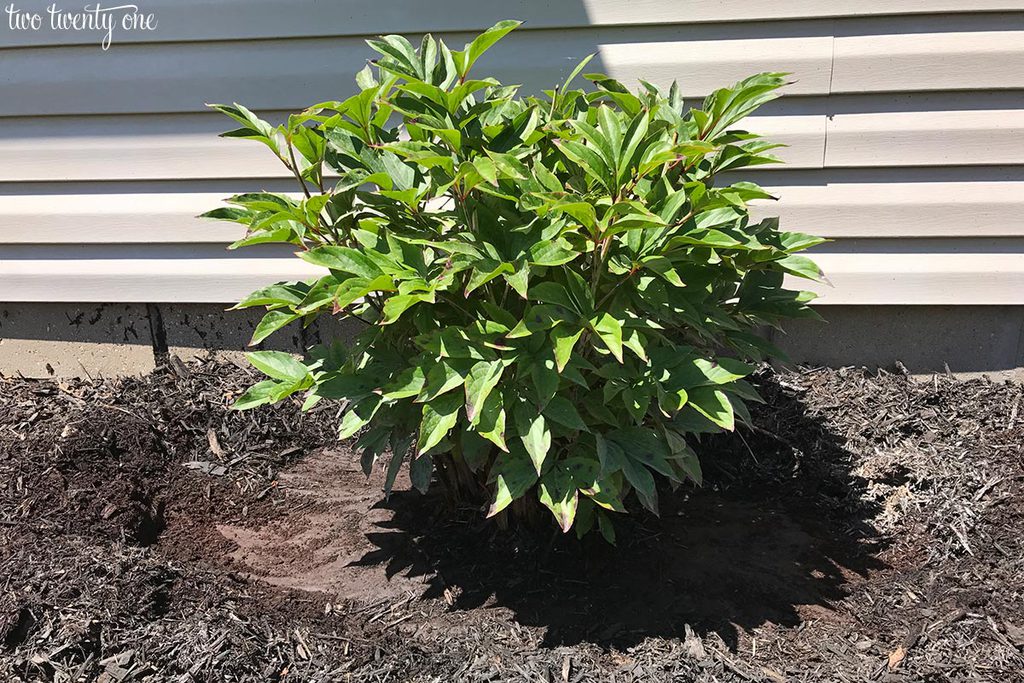 We tried to dig up as much of the root ball as possible so we starting digging about a foot out from the stems of the peonies. In hindsight, we probably should've gone out even further. And I should've cut the peony stems down to 3-4 inches above the ground. Learn from my mistakes.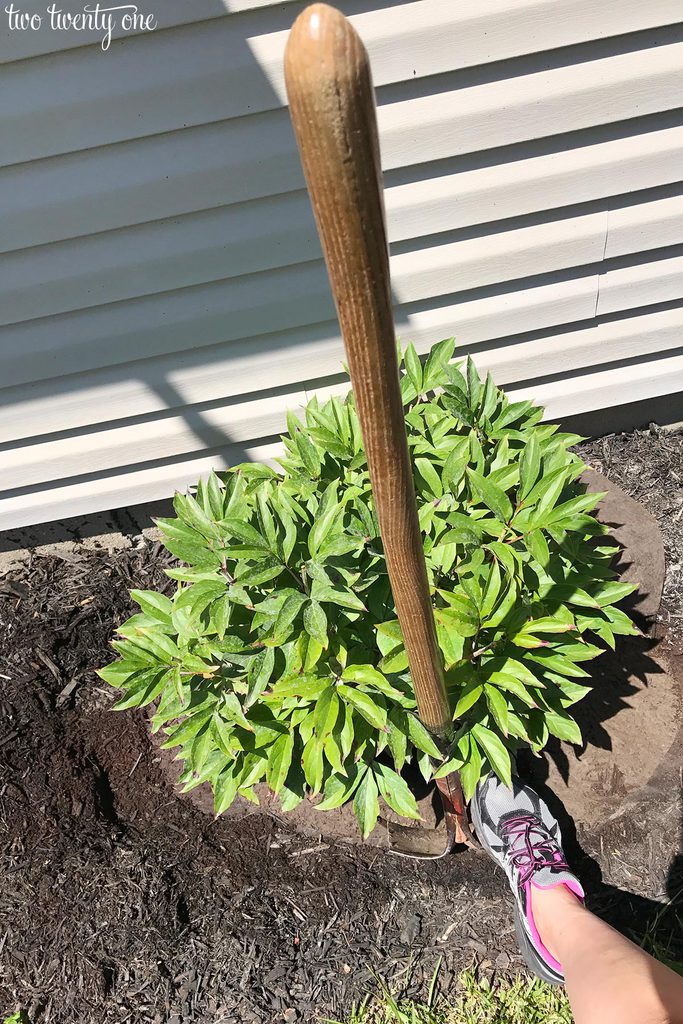 For maximum survival rates, you're going to want to get the peonies into the ground at their new location as soon as possible.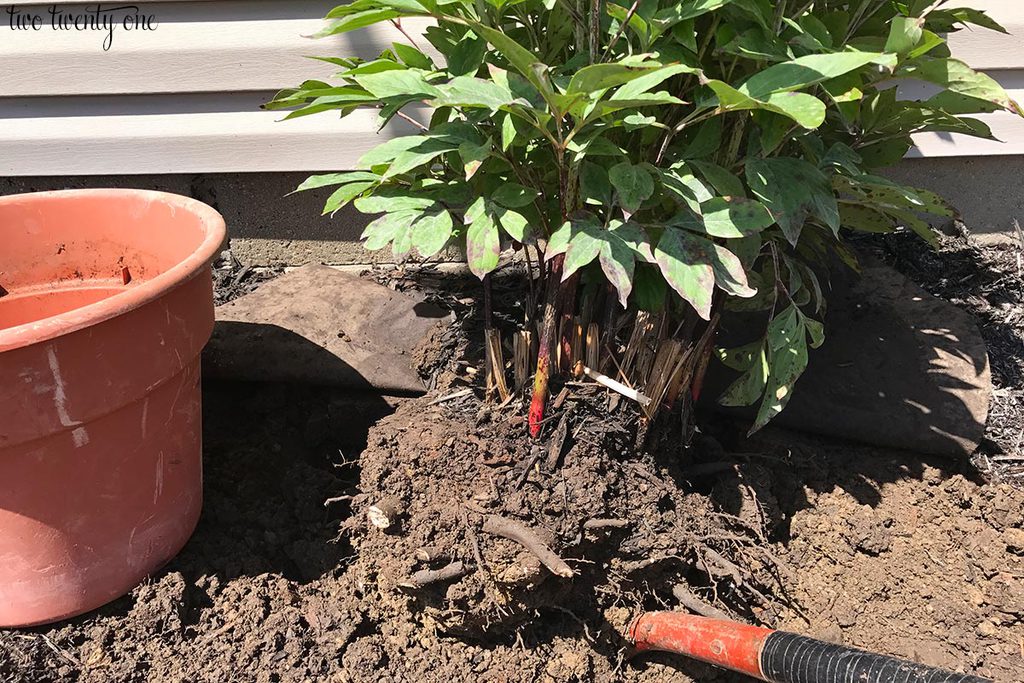 For easy transport, I selected two kiddie pools. They're cheap (~$10), and they hold a fair amount of peonies.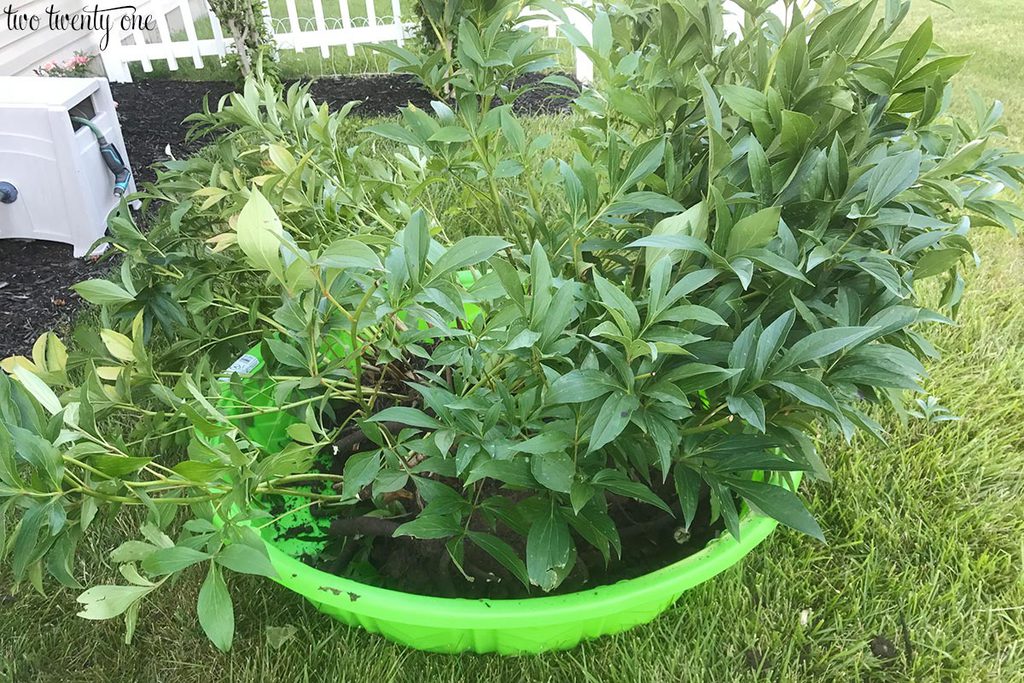 We also used our former DIY rain barrel to transport two peonies. Brad cut the barrel in half to make two containers.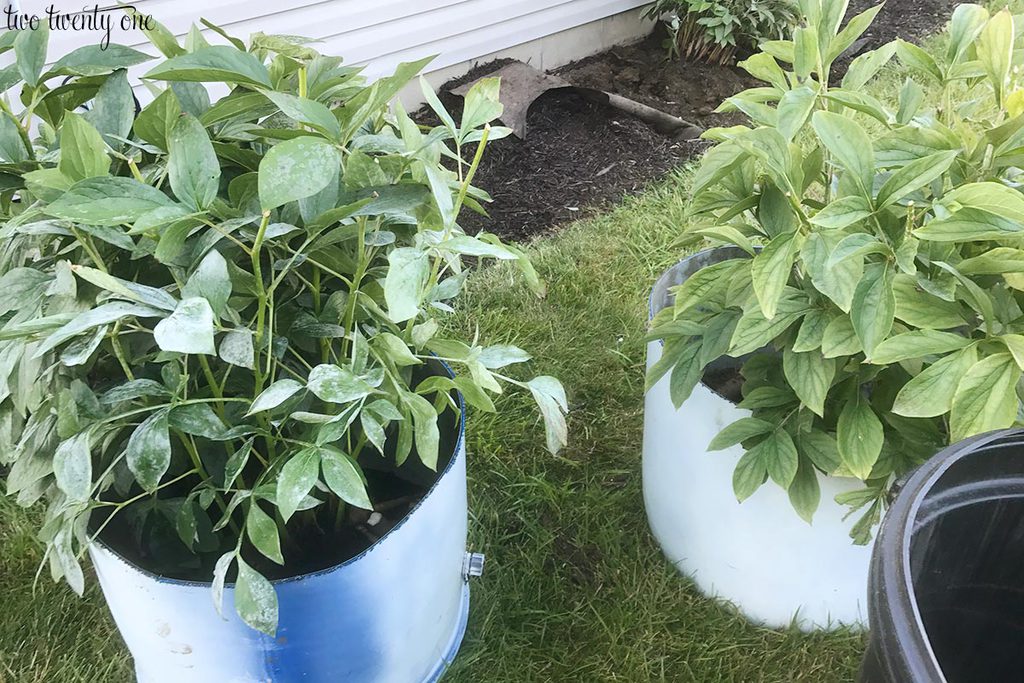 Since the roots were exposed, and it was rather warm outside, I had to make sure to water the peonies daily until we got them in the ground at the new house.
I forgot to take photos of this, but I made tags for the plants, writing the color of the peony on a piece of paper in permanent marker and securing the paper to the plant. So if you're moving multiple plants, I suggest doing this so you know what's what.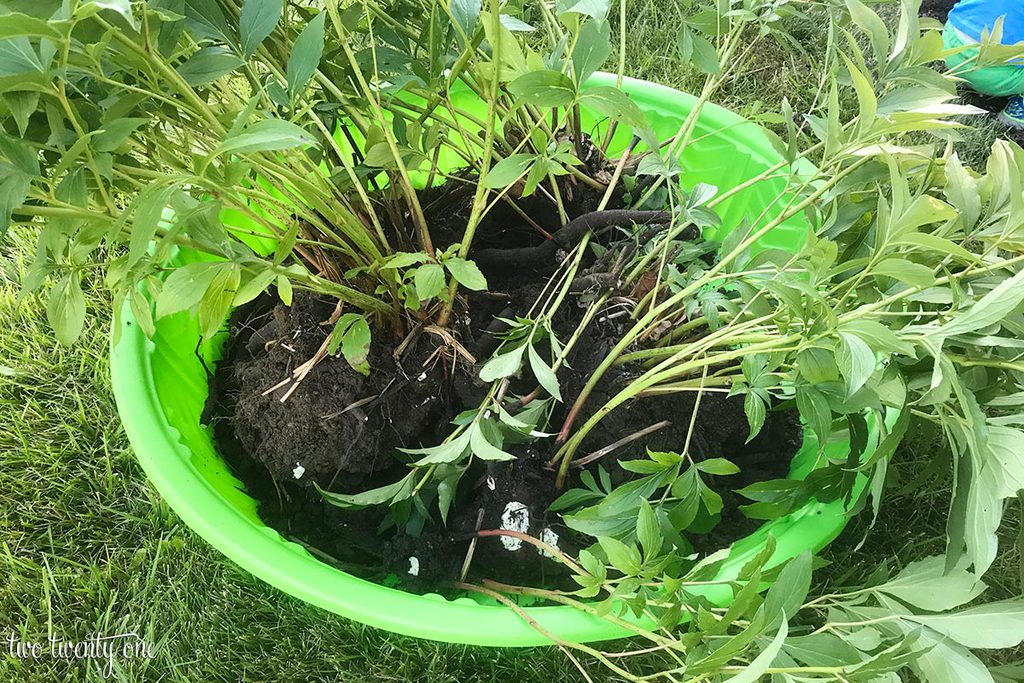 We transported the kiddie pools and barrels full of peonies to new house via trailer. Then, we sat them on our driveway until we could get them in the ground.
I should add that during the transplanting and relocating process, almost all of the plants broke into multiple segments. I gave a few peony sections to friends. And I gave one of my fuchsia plants to a friend. Then, I took the opportunity to turn my eight plants into eleven.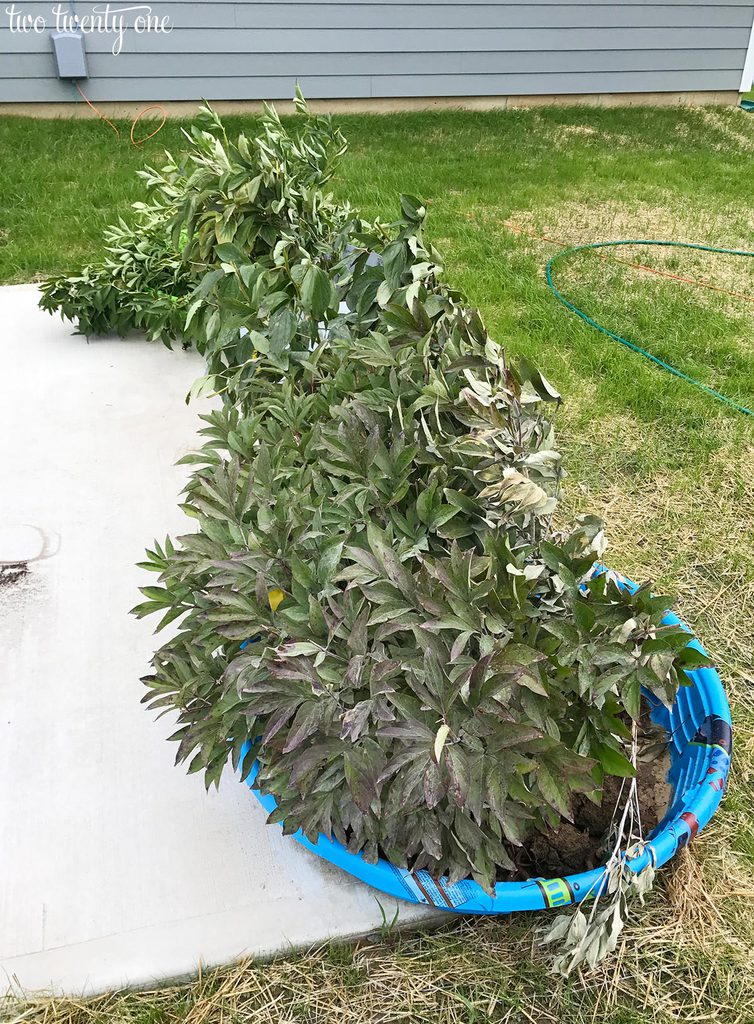 Before we dug the holes, I set out the peonies where I wanted them. This was pretty easy to do since I tagged them with their color.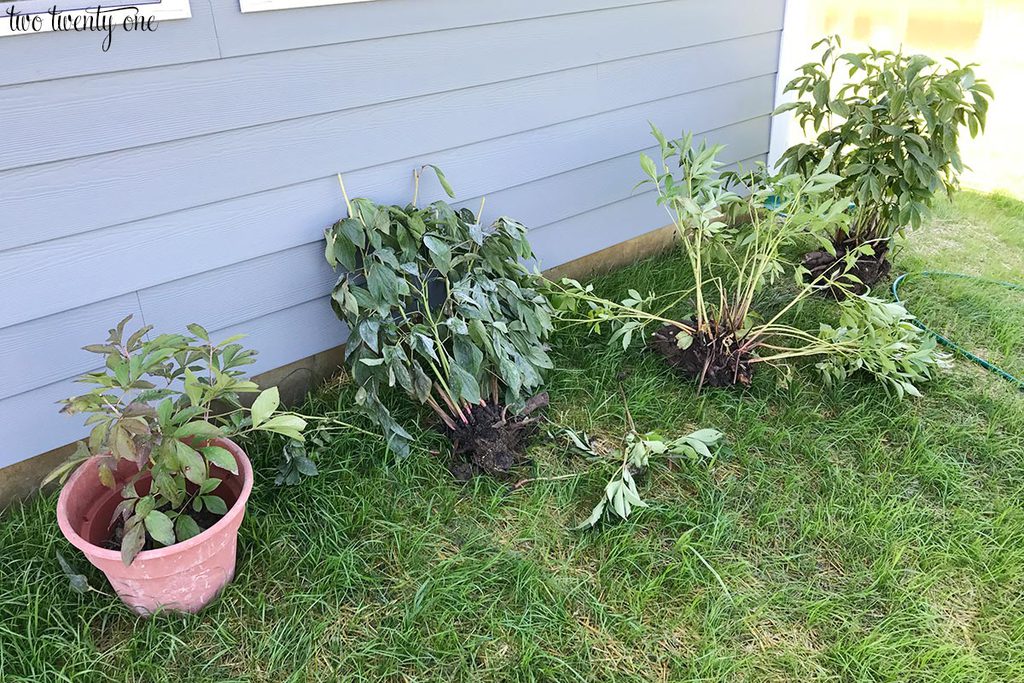 When digging out the holes, we placed the dirt on a tarp so we could haul it away.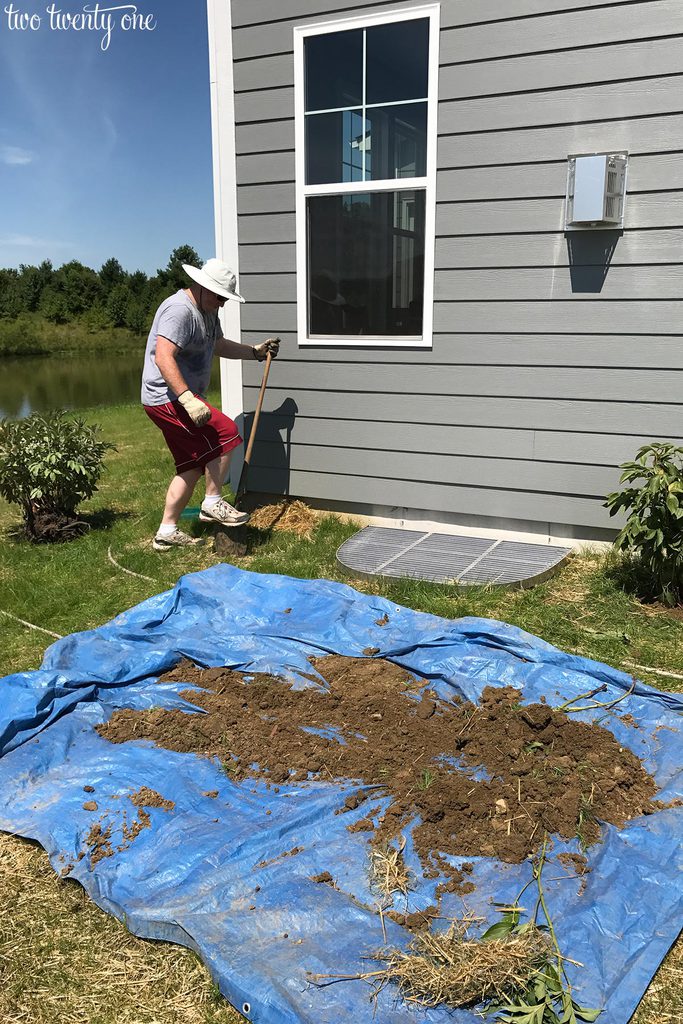 When putting peonies in the ground, you want to plant the eyes 2 inches below the soil surface in cold regions and 1 inch in warm zones. If you plant them too deep, they won't grow or grow as well. You can read more about planting and growing peonies here.
I actually ended up planting some too close to the surface, so I'm going to dig them up in the fall and plant them deeper.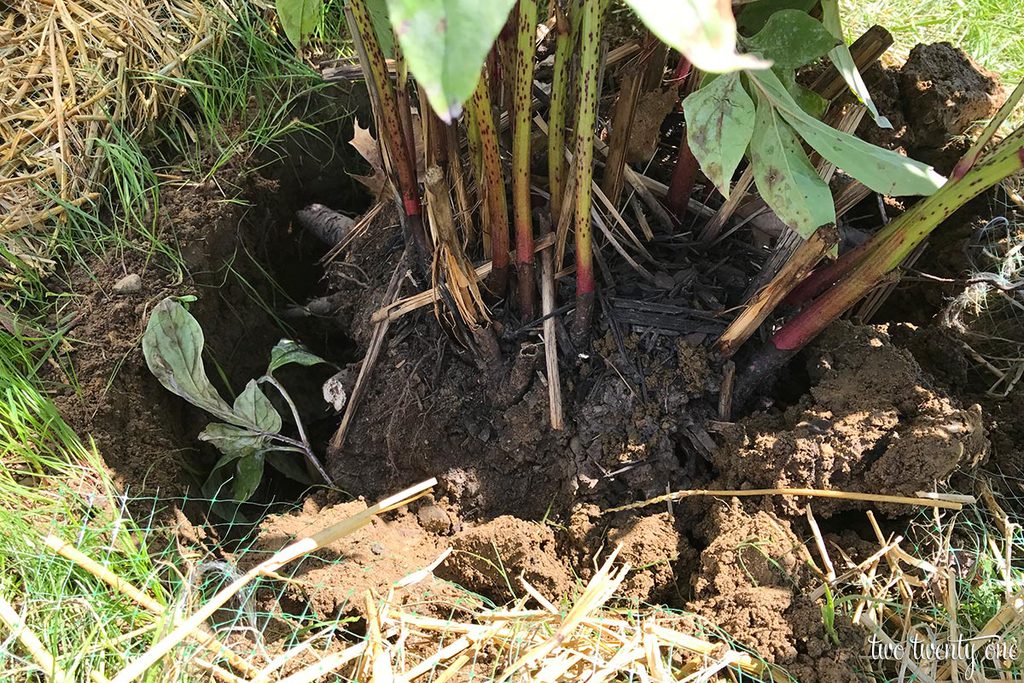 After they were in the ground, I gave all the plants a good watering. I continued to make sure they were well watered throughout the summer.
In the fall, I cut them down like I usually do.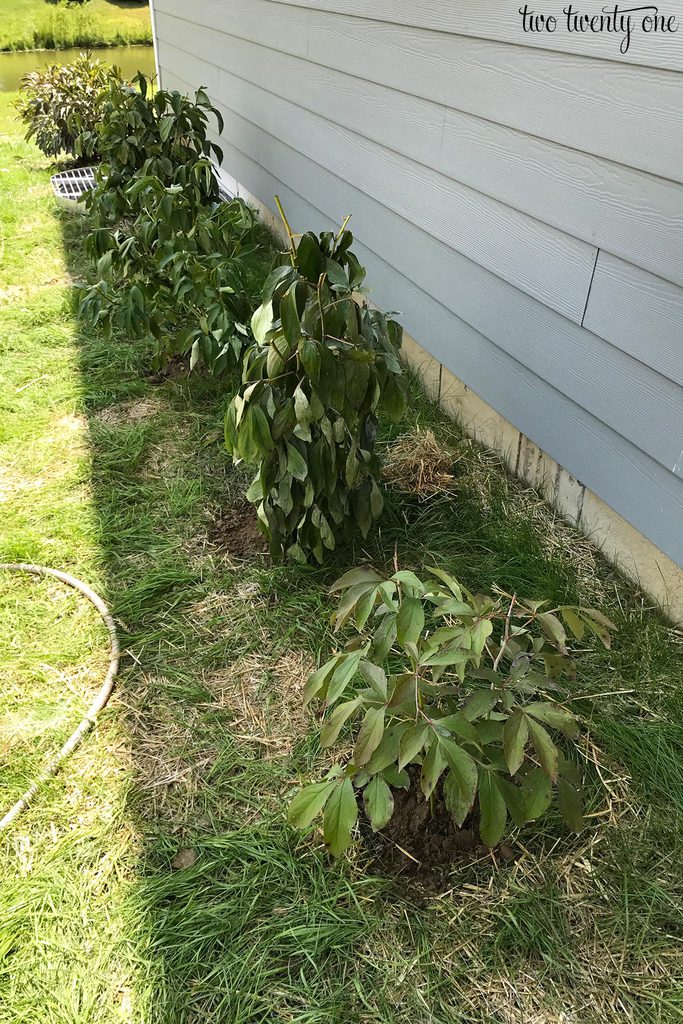 Here's how the peonies look now.
I planted three on the west side of the house.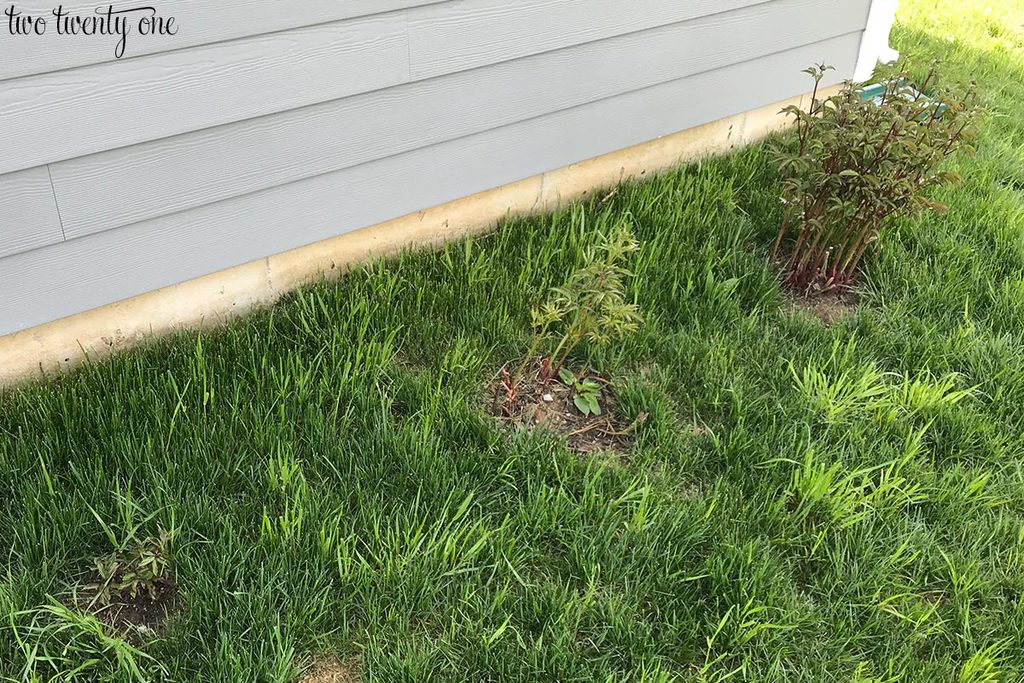 I planted three on the south side of the house.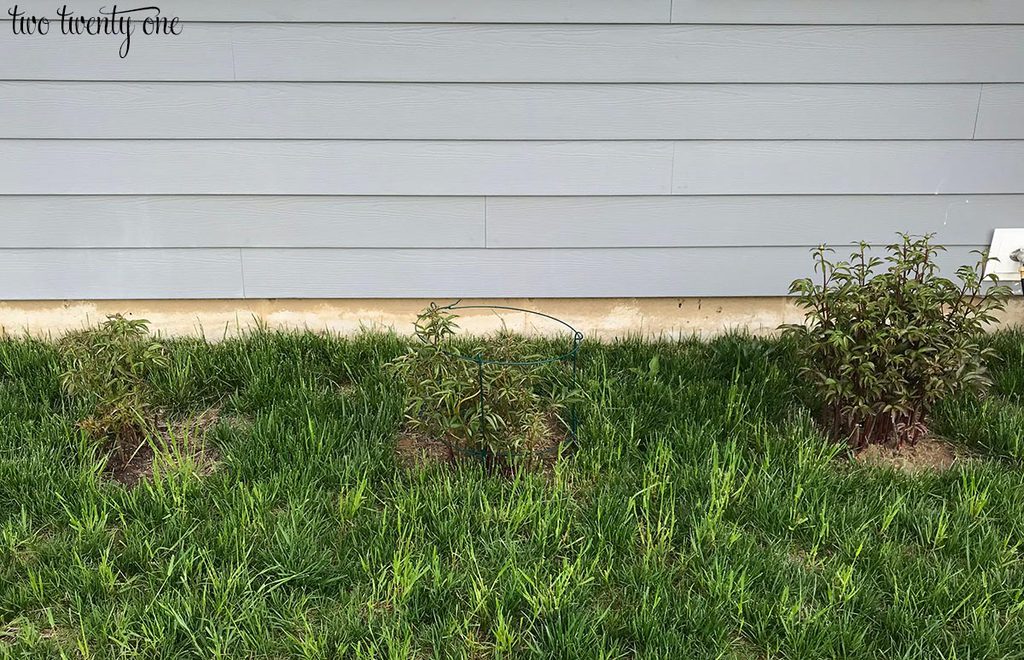 And five live on the east side of the house. It's hard to see the one on the very far right– she's on the struggle bus so I think I need to plant her deeper.
(Please don't judge our grass– builders use the bare minimum seed. So it's a work in progress.)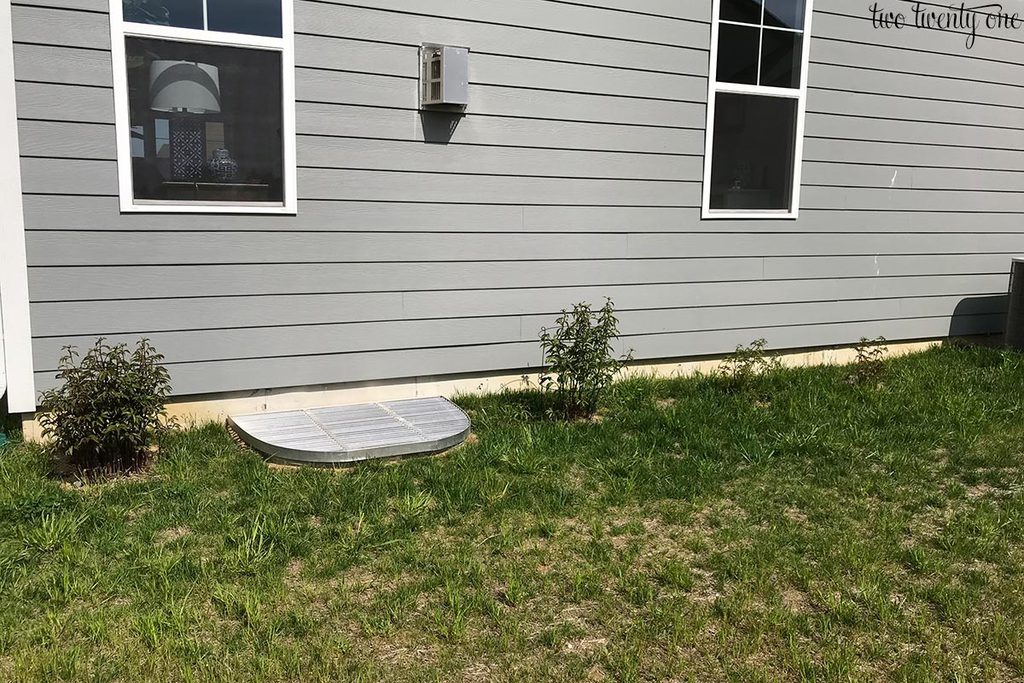 In conclusion, they all lived. They're wimpier than last year but that's to be expected considering what they went through. Almost all of them have buds on them, but I don't think all of them will open.
But I have faith that in a 3-4 years they'll look awesome again.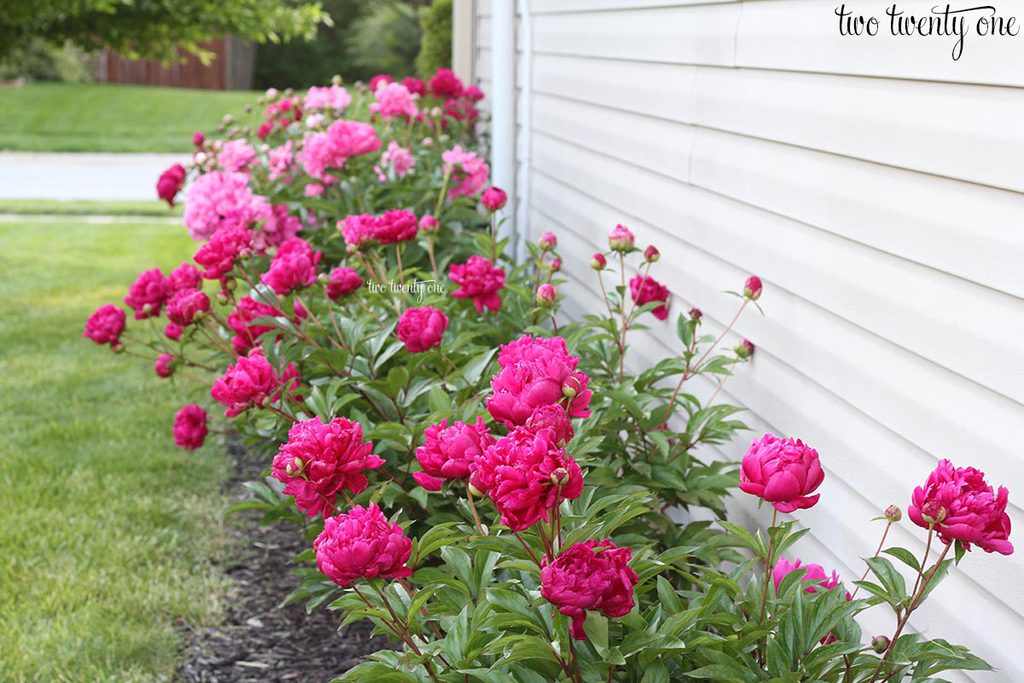 If you want to save this post to reference later, you can pin it here: