Sherwin Williams Worldly Gray: A Great Neutral Greige
If you need the perfect paint color for your whole home, give Sherwin Williams Worldly Gray a try. I'll take you on a mini tour of our home and show you what it looks like in every room of our house!
It's pretty rare that you can find a wall color that adds a feeling of warmth to a room. And a color you can use in every single room and not get sick of it.
Sometimes you see a color online or on Instagram and when you put it in your house it just doesn't look the same but Sherwin Williams Worldly Gray is not that way. We've used it in just about every single room in this house!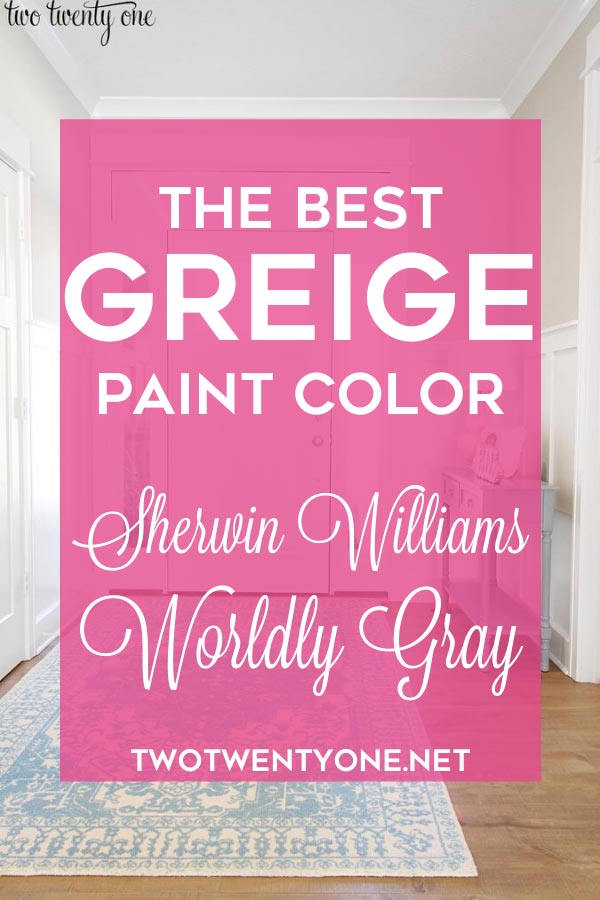 In the tons of options of greige paint colors, this one is definitely my favorite!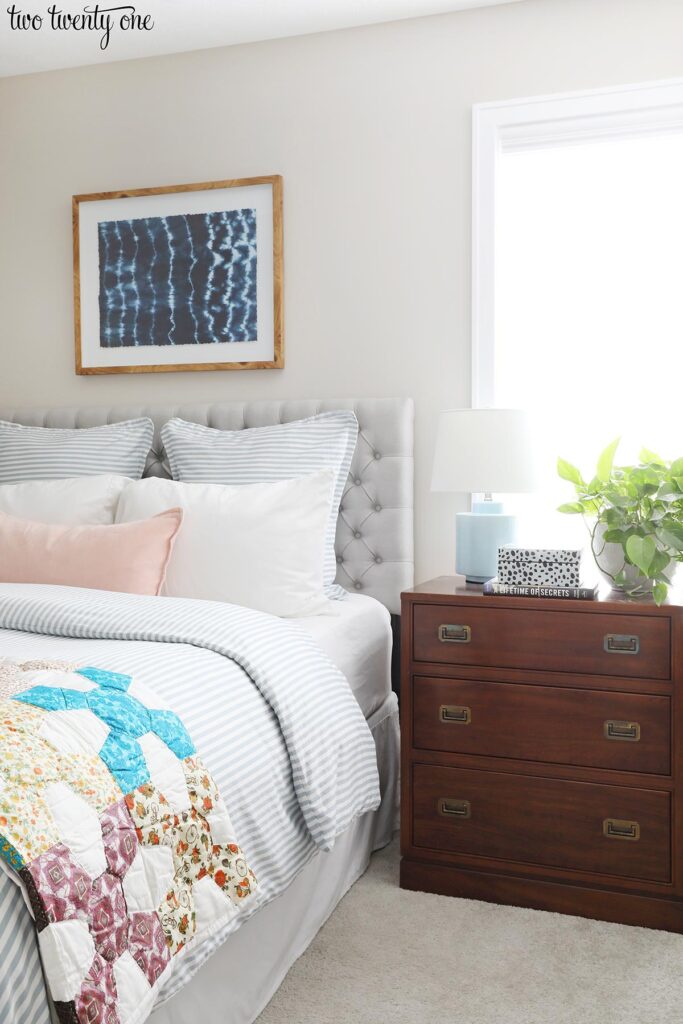 Is Sherwin Williams Worldly Gray a Greige Paint?
Yes! It definitely is. There are some greige paints that lean more towards brown undertones like Sherwin Williams Agreeable Grey, and some that show more of their true light grey color like this one.
What Undertone Does Worldly Gray Have? Cool or Warm?
Worldly Gray is a less intense, slightly more gray shade of greige. Worldly Gray is the lightest color on Sherwin-Williams color strip 245 of the fan deck. The darkest color on strip 245 is Urbane Bronze. Urbane Bronze is a dark brown with an added gray aspect. So you get the same thing with Worldly Gray– warm but also cool.
Let me prove it to you.
What Is the Light Reflective Value of Worldly Gray?
The light reflective value or LRV of Worldly Gray is 57, making it a darker light colored paint.
What Trim Color Goes Well With Worldly Gray?
Bright whites like Sherwin Williams Extra White look great with Worldly Gray. 
Worldly Gray in Real Spaces
Entryway
With the natural light coming in from this door, you can see its brown undertones, but it still is very neutral. Up against the white trim (SW Extra White), you can see that it really is a nice, warm gray.
You can see the cooler undertones of Worldly Gray here, especially with our blue rug.
Living Room
I know some of you guys call this a family room, so whatever. Lots of windows up in here lighting situation wise, so the dark gray turns into light gray. To me, the living rom is always a great room to show a shade's true color because more often than not, the most windows in your house will be here.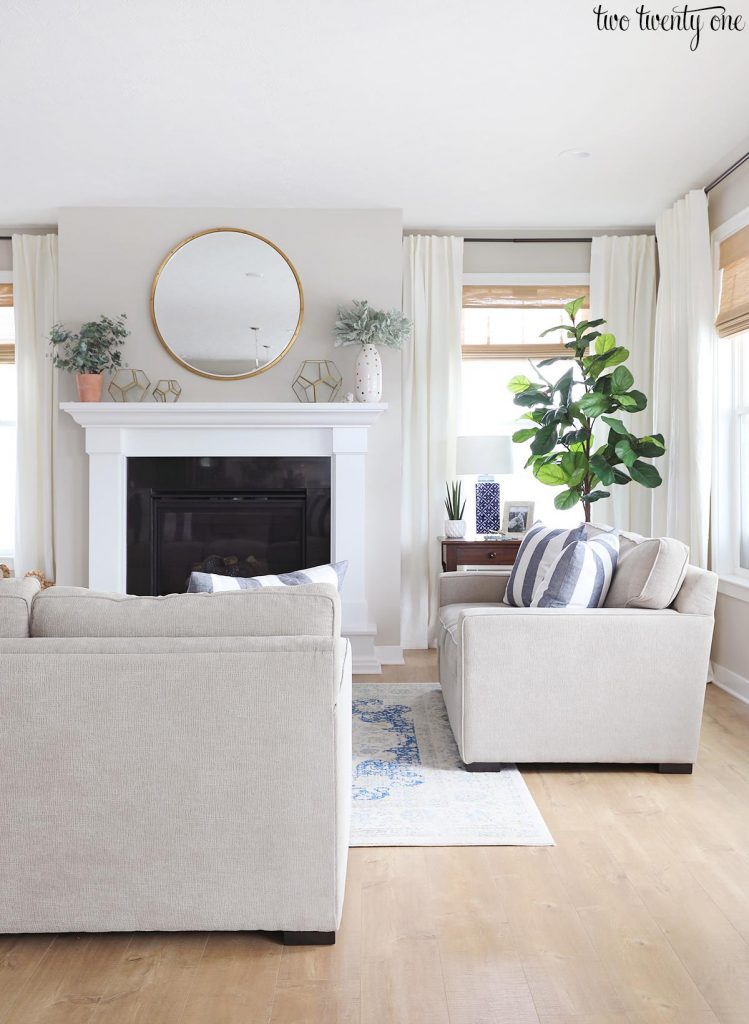 Kitchen
Since we have a lot of kitchen cabinets in here, Worldly Gray is a great neutral backdrop for my show stopping peonies which are the real star of the show, right?!
This color could take on a different tone if you don't have white cabinets, but I think for those of you who do, Worldly Gray is going to be a great option for you!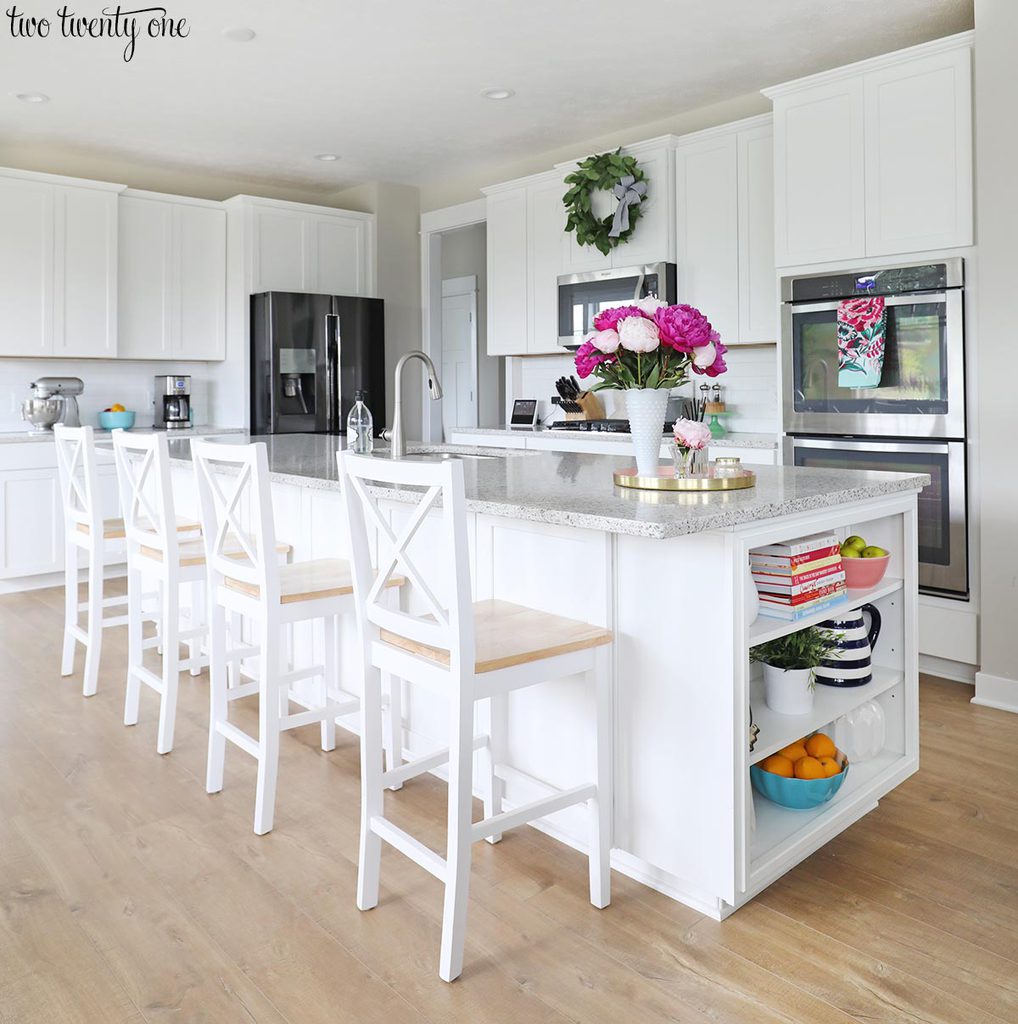 Dining Room
Another room of ours with allll the windows is our dining area. With bright white trim and bright white chairs, this is another room with a ton of natural light that brings out the light colored blue undertones.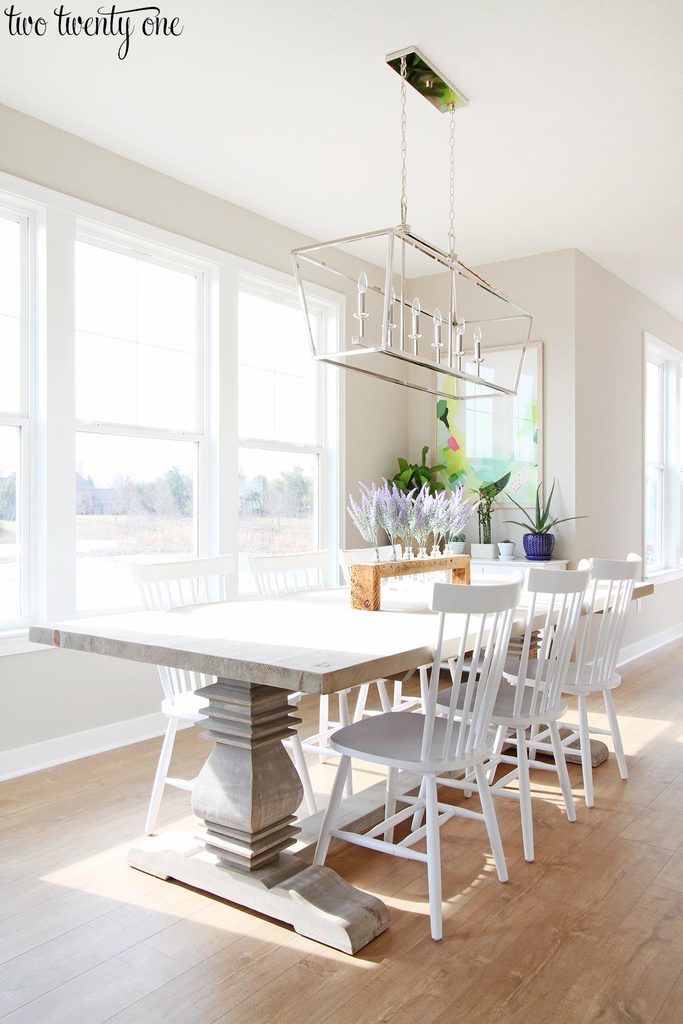 Bedroom
Does Worldly Gray work in a bedroom? Specifically a kids bedroom? That would be a yes. I specifically designed Emmett's nursery around the wall color because I didn't feel like painting the room. I brought color into the room with furnishings– adding a blue rug and a big faux fiddle leaf fig.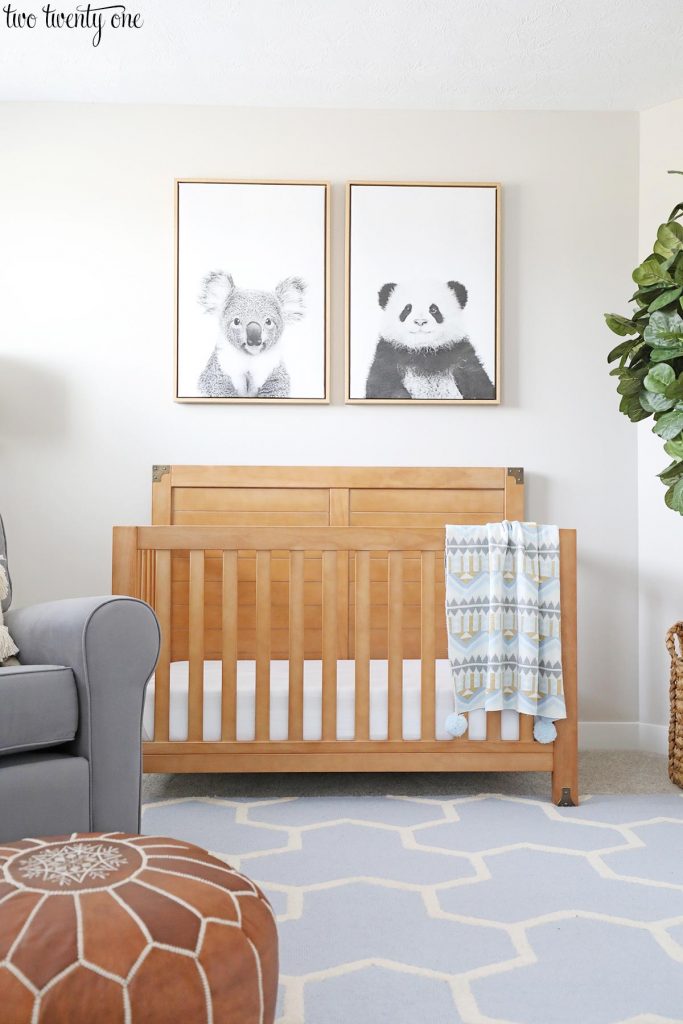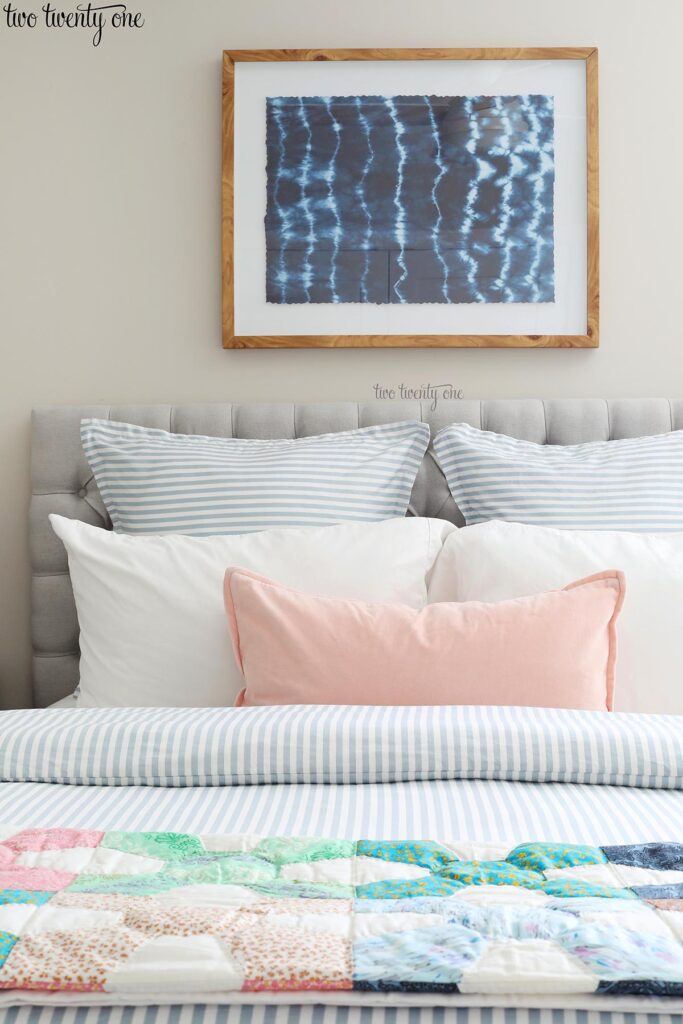 Bathroom
Worldly Gray is a great neutral bathroom color. It's easy to accessorize with a multitude of colors. Or keep it neutral with other neutral shades. This room receives no natural light so you can see how Worldly Gray looks in a darker room.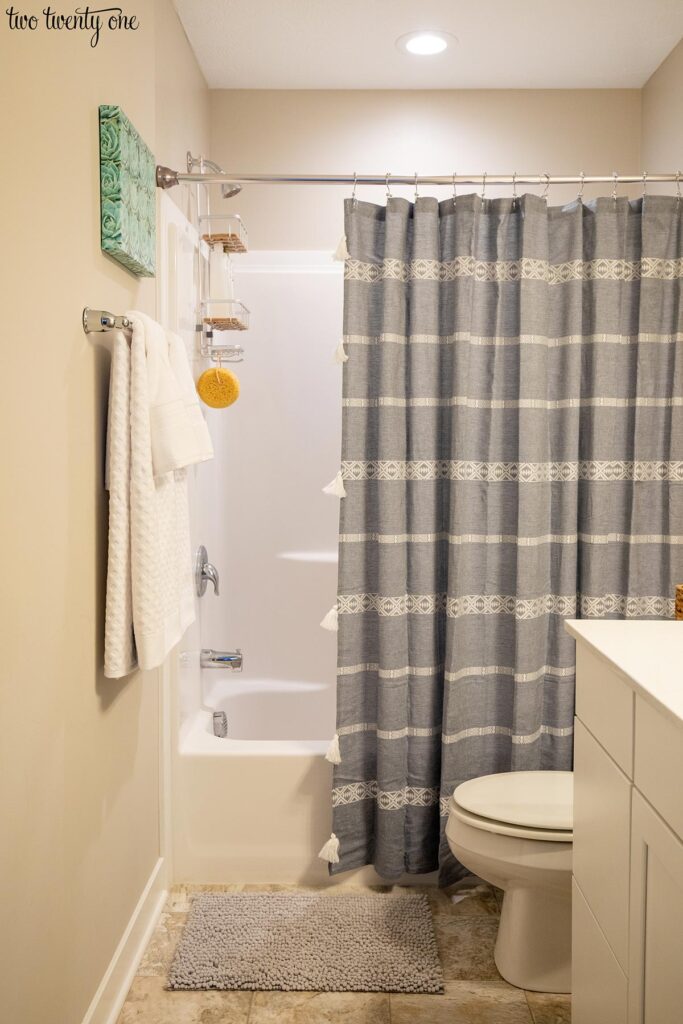 Playroom
What, you thought I was kidding when I said I have this gray painted in every room of our house? I know I'm funny, but I'm not a liar so, yes. Here it is in yet another room in our house, our playroom.
If you look on either side of the window, you can see how it can looks in light (left side) vs. dark (right side).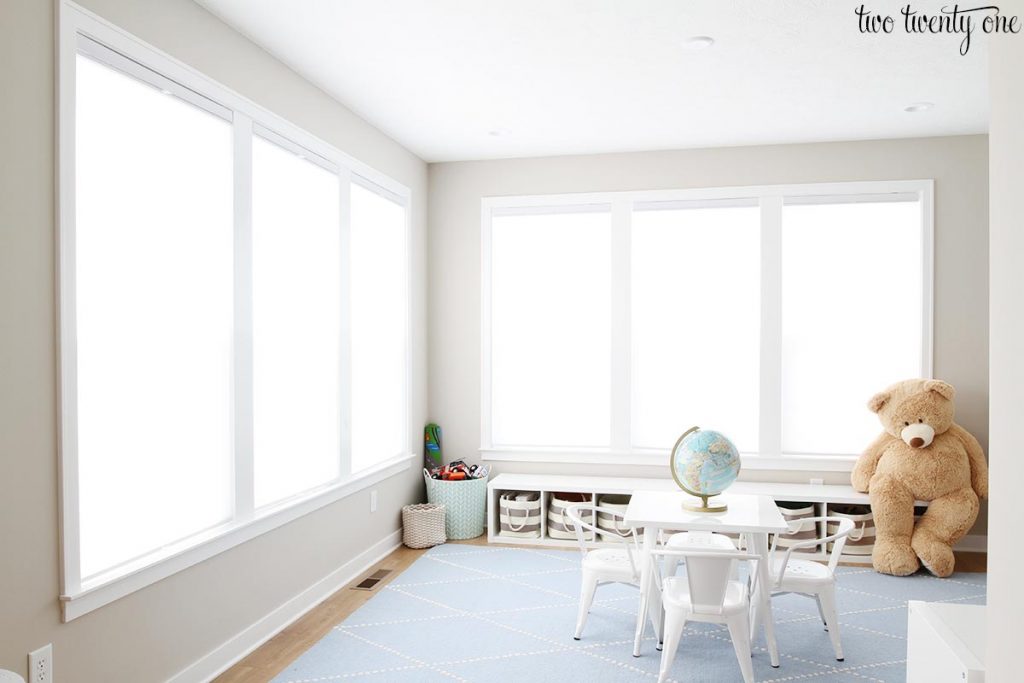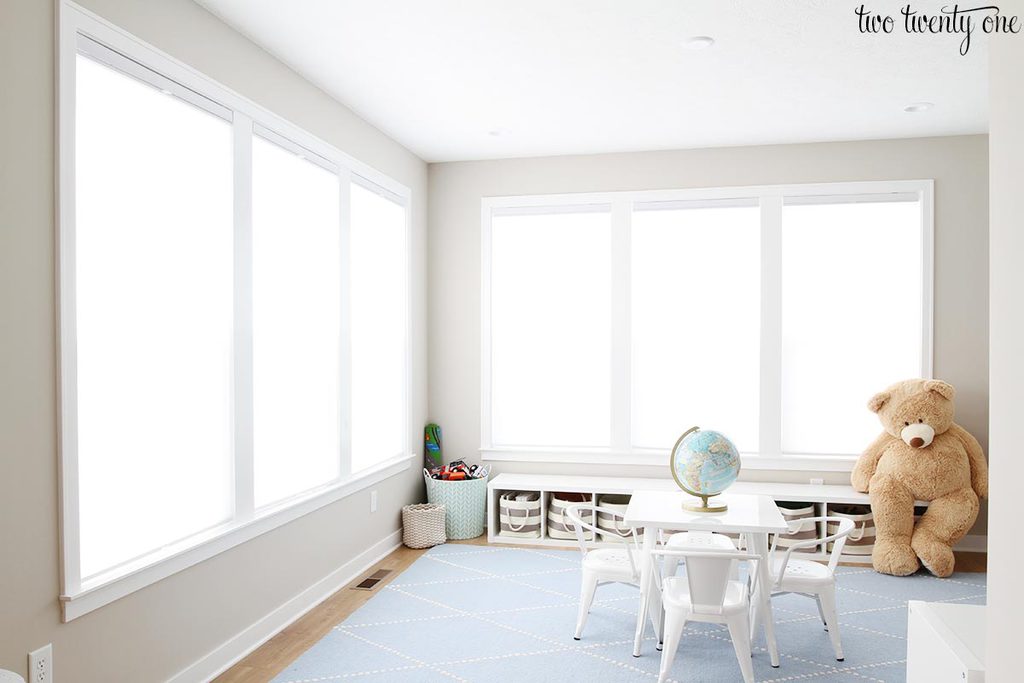 Basement
Talk about a room that gets the least natural light – our basement. Here the greige does have a more tan look to it, but that's the point – it's not gray, it's not beige. It's like gray was like, "Meet me at the alter in your tan dress, beige," and then they got married and had a really awesome baby.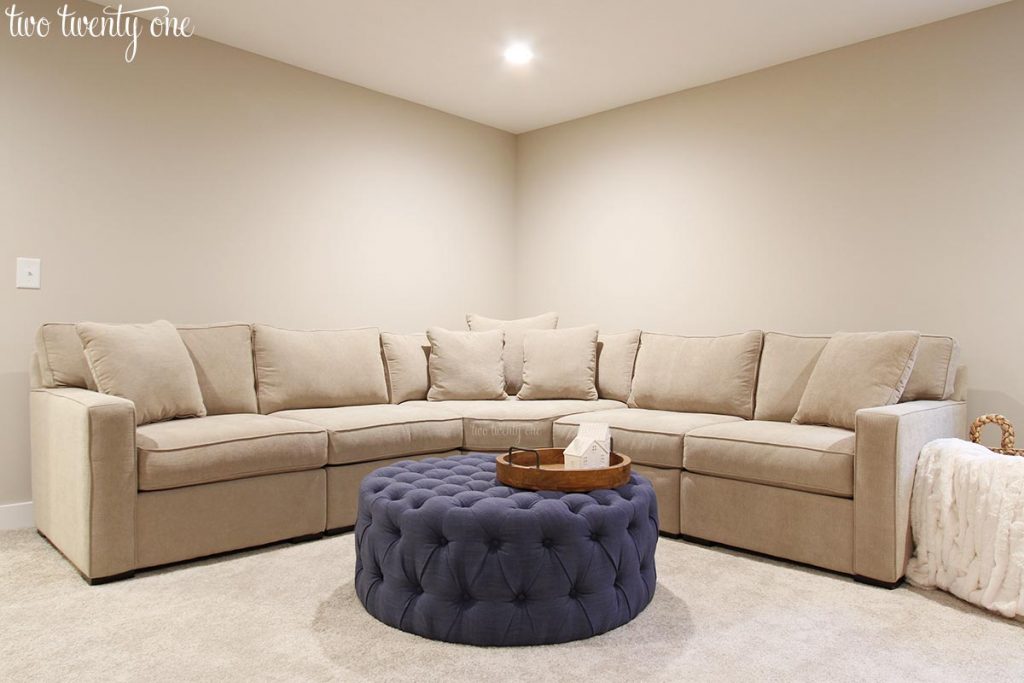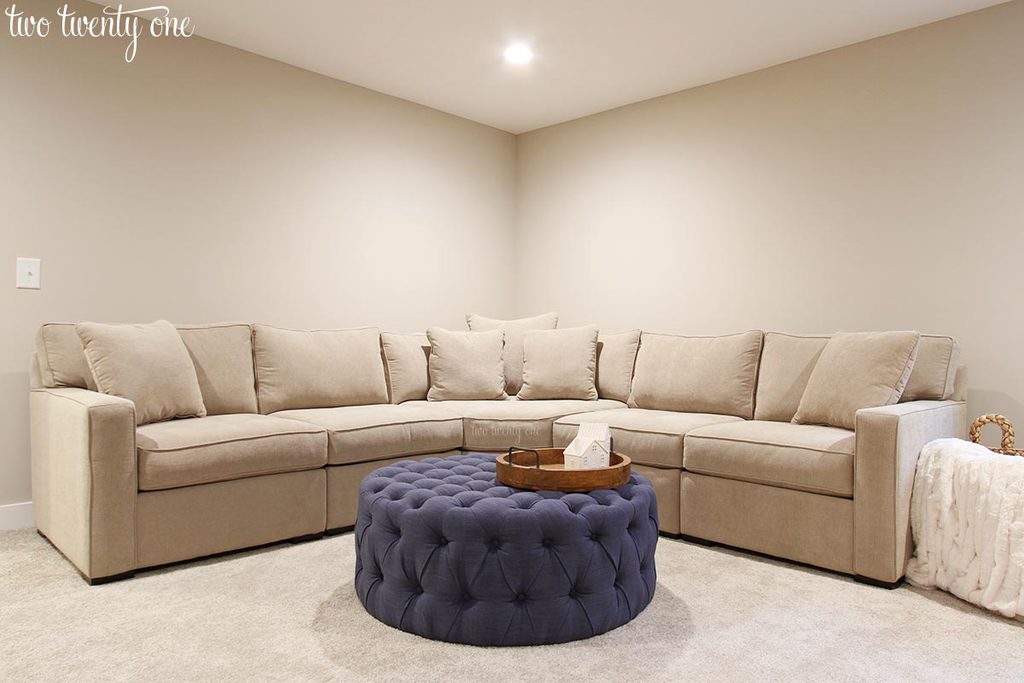 Popular Color Comparisons
Worldly Gray vs. Sherwin Williams Repose Gray
At least on paper, Repose Gray is the cooler of these two paint colors. I actually painted our great room at our previous house with Repose Gray. It's a great greige but I prefer the warmth of Worldly Gray over Repose Gray.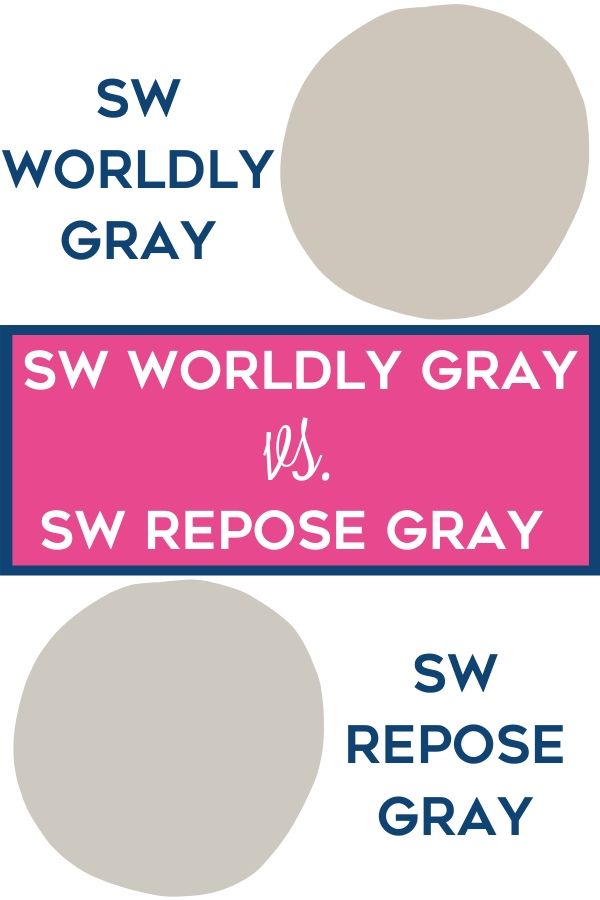 Worldly Gray vs. Sherwin Williams Mindful Gray
Mindful gray is also a super cool greige paint color with slight green undertone. It is a little darker of a gray color than Worldly Gray.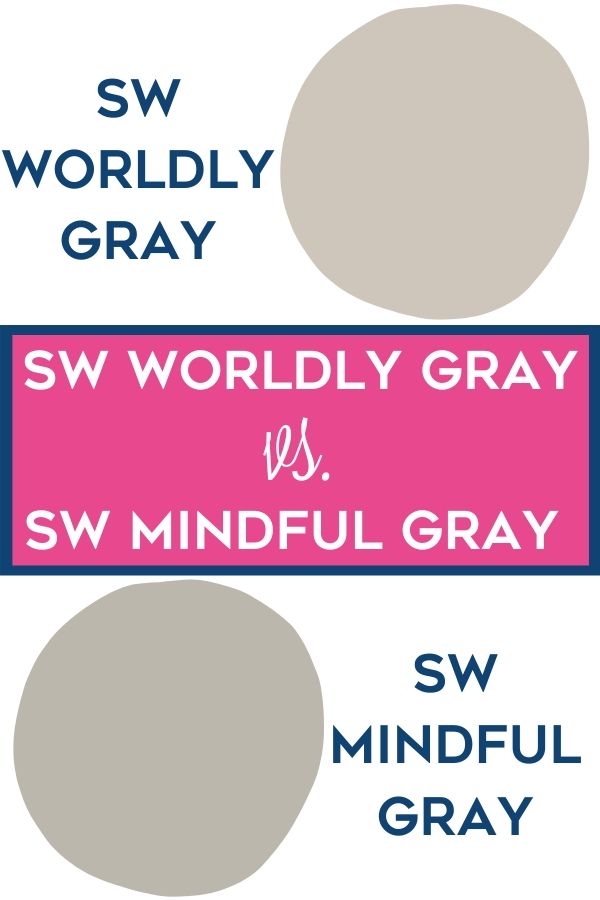 Worldly Gray vs. Benjamin Moore Revere Pewter
Benjamin Moore Revere Pewter is probably one of the most popular greige's out there, but when have I ever listened to anybody else? It's not that I didn't like it, but when I saw them side by side, I just decided that I liked Worldly Gray better.
Again I think it all goes back to the cool undertones of SW Worldly Gray that made me lean more towards that color. Although super popular, when I have seen BM Revere Pewter in real rooms and online, to me it has way more of the brown undertones than gray undertone that I'm just not super crazy about.
I think that it looks beautiful in a lot of spaces, but knowing the layout, the flow, and the fact that our basement doesn't have a ton of natural light, I would rather have more of a cool greige so that it doesn't feel as brown.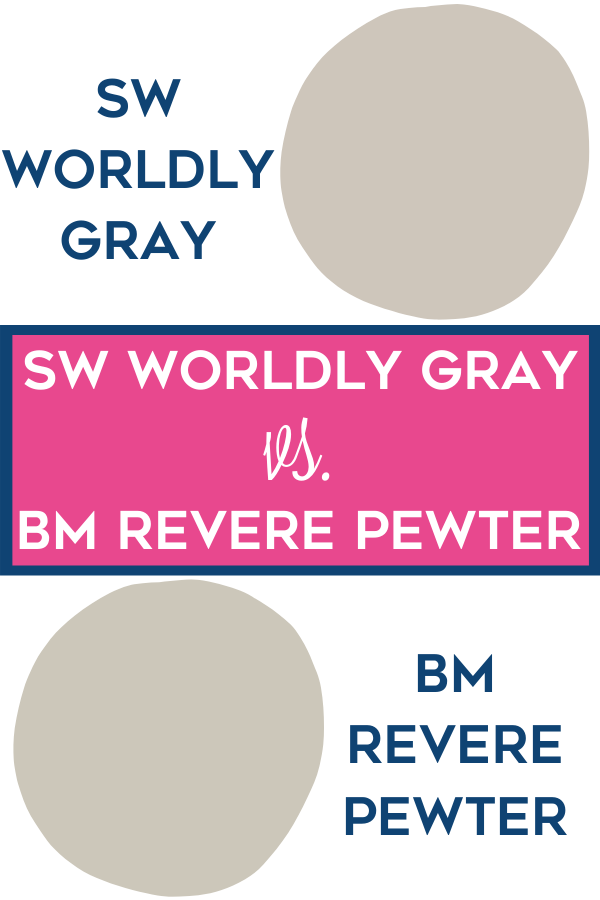 Regardless of what paint colors you choose, always test a sample in your home on a real wall. You can even get those paint swatches that just stick on your wall, but I would caution that they're still not paint and can be an augmented version of what the color truly will be.
At the end of the day it's just paint, so you can always do it again if you hate it. But I promise you that you can't go wrong with Worldly Gray!