Yesterday I shared my late maternal great grandparents' mirror, and how I chose to hang the mirror above my late maternal grandparents' 1920s buffet. Today I'm sharing the fully styled buffet. Well, styled enough to keep me happy for a while.
I tried to go with more modern-looking items on top to help balance the very antique look of the buffet. Pickin' up what I'm puttin' down? I also wanted to keep it somewhat simple and show off some of the lines of the buffet, which is why I didn't put anything in the center.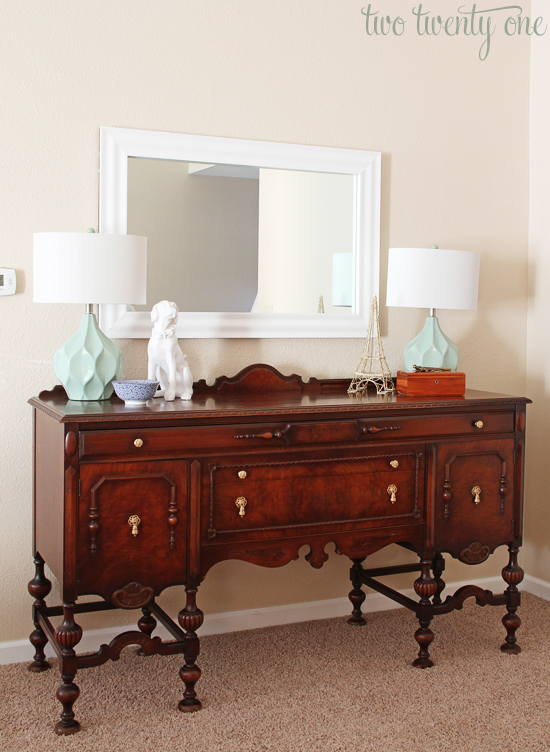 Let's start with the left side first. The matching Broyhill lamps are a Home Goods clearance section score I randomly came across while out shopping with my mom a couple months ago. The lamps were $35 each (regular $50 at Home Goods, $100 retail). I'm digging their shape and minty color.
I love the white ceramic Jack. Doesn't it look just like him? Other than the paws being somewhat proportionally incorrect. The bowl is random and currently serves no purpose but I couldn't resist the geometric print.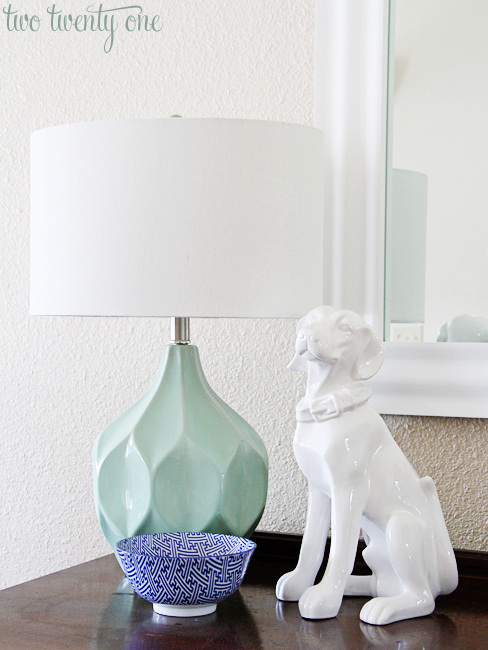 I purchased the Eiffel Tower a couple years ago– it's much prettier than the dinky souvenir version I brought back from Paris years ago. This one was pearly white when I bought it, but it was a victim of my gold spray paint obsession (see here and here). The vintage, Lane cedar box was my mom's. I stole it (after asking, of course) out of my old bedroom armoire the last time I was home visiting my parents. It's too pretty to sit inside another piece of furniture.
Note: I added the brass alligator after I took the photo below. Blogger fail. See here if you want a better look at the gator.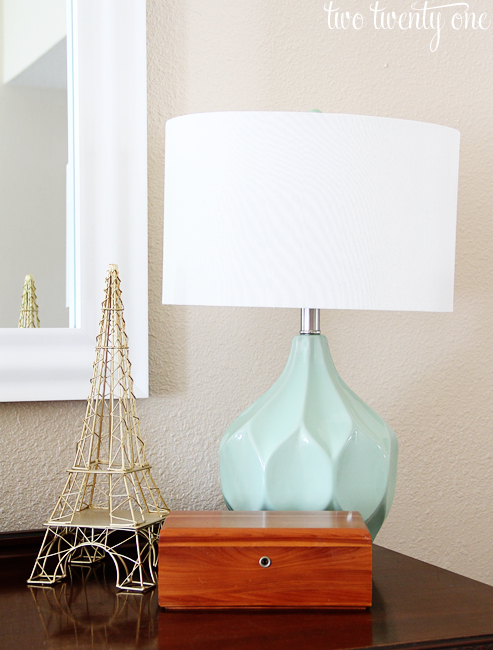 Lamps… $70 (Home Goods)
Ceramic dog… $25 (Home Goods)
Blue & white bowl… $6 (Home Goods)
Eiffel tower… $8 (Michael's + DIY)
Cedar box… $0 (My mom)
Brass alligator… $10 (Antique shop)
TOTAL: $119
Looking at the total kind of makes me go oof. But I'm always selective about what accessories I purchase so I can see myself using all the items above for quite a while.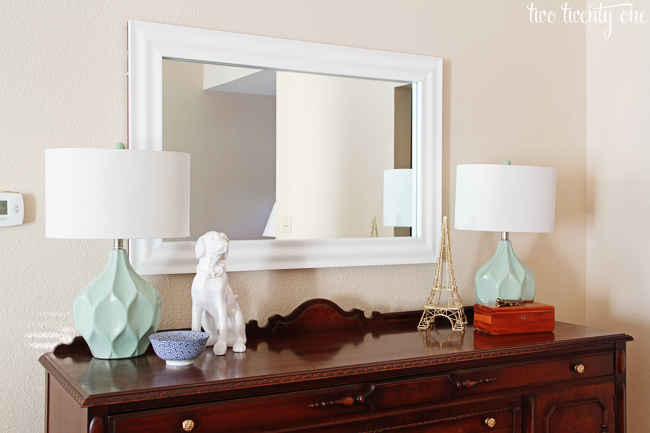 What do you think of the buffet?
Who's a Home Goods lover?
Stalk away!