Creating the Perfect Outdoor Sitting Area
This post is sponsored by Better Homes & Gardens at Walmart. All opinions are my own. 
It's officially spring! And oddly enough, we're starting to experience spring-like weather so that means more time spent outside on our deck. So I thought I'd share some tips and tricks for creating the perfect outdoor sitting area.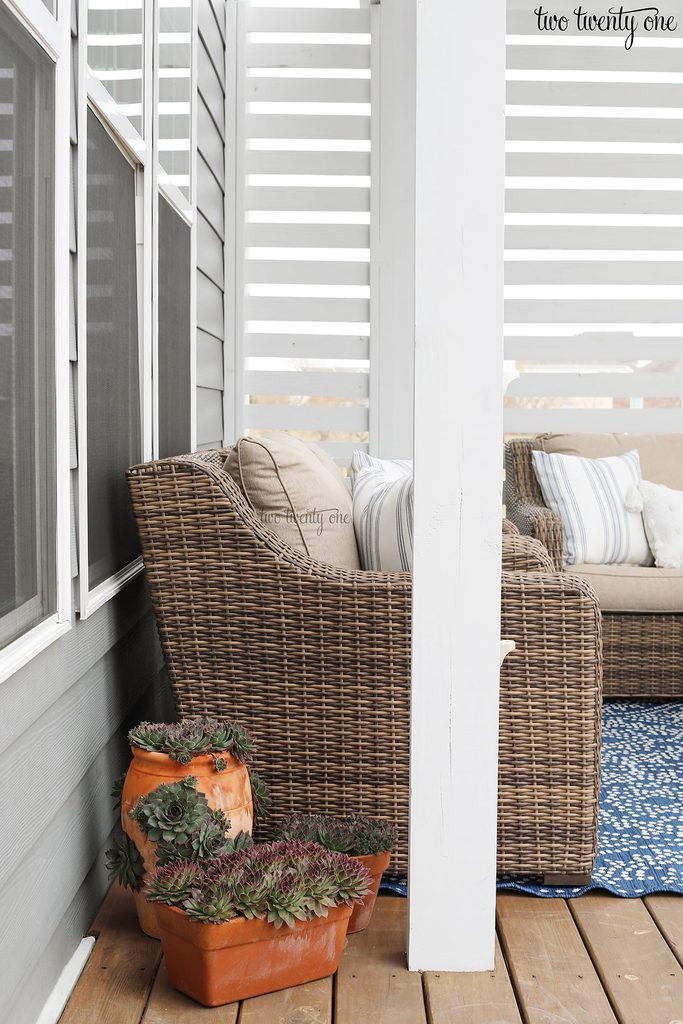 Sitting Area Seating
We have two areas of our deck– the sitting area and the dining area. Our sitting area consists of the Better Homes & Gardens Hawthorne Park 4-Piece Conversation Set, which includes of a sofa, two chairs, and a coffee table. We've had it for almost three years, and it's held up so well. It still looks new. One of the keys to outdoor furniture longevity is covering the sofa and chairs when we aren't using them, especially when it's going to rain. And in the winter, we store the cushions and pillows in our basement with the furniture frames covered on the deck.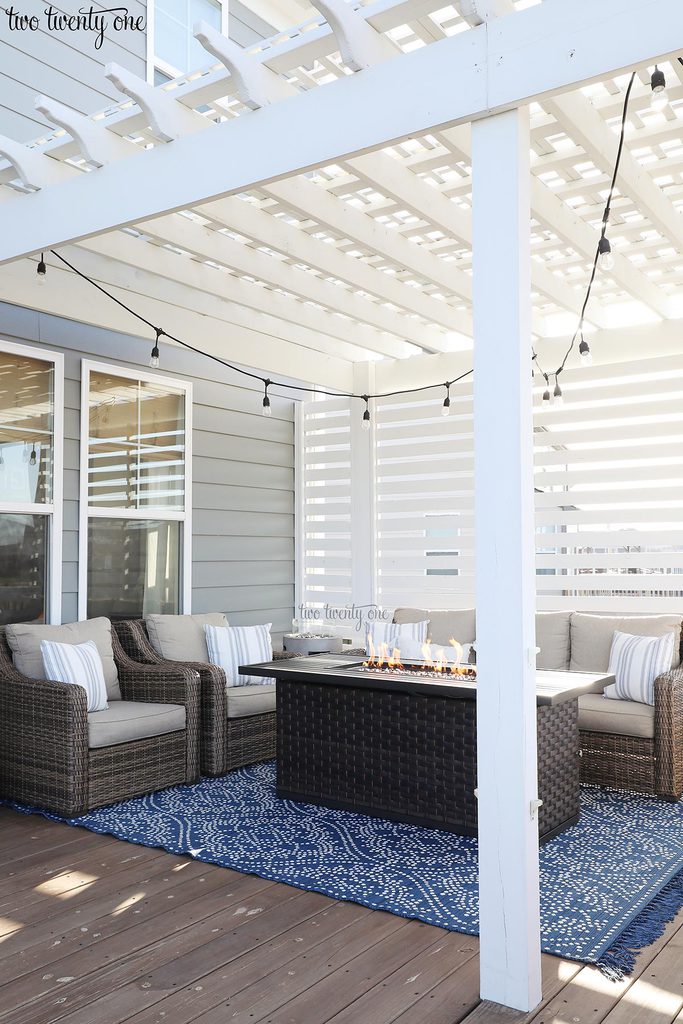 Cozy by the Fire
It can get quite chilly at night, but one way to counteract that is with fire. There are tons of aesthetically-pleasing options out there. From fire columns to fire pits to tables with built-in fire pits. We decided to try out a patio fire pit table. The table comes with a removable cover on top so when the fire pit isn't in use, the table can be used like a regular table, decorated with potted succulents.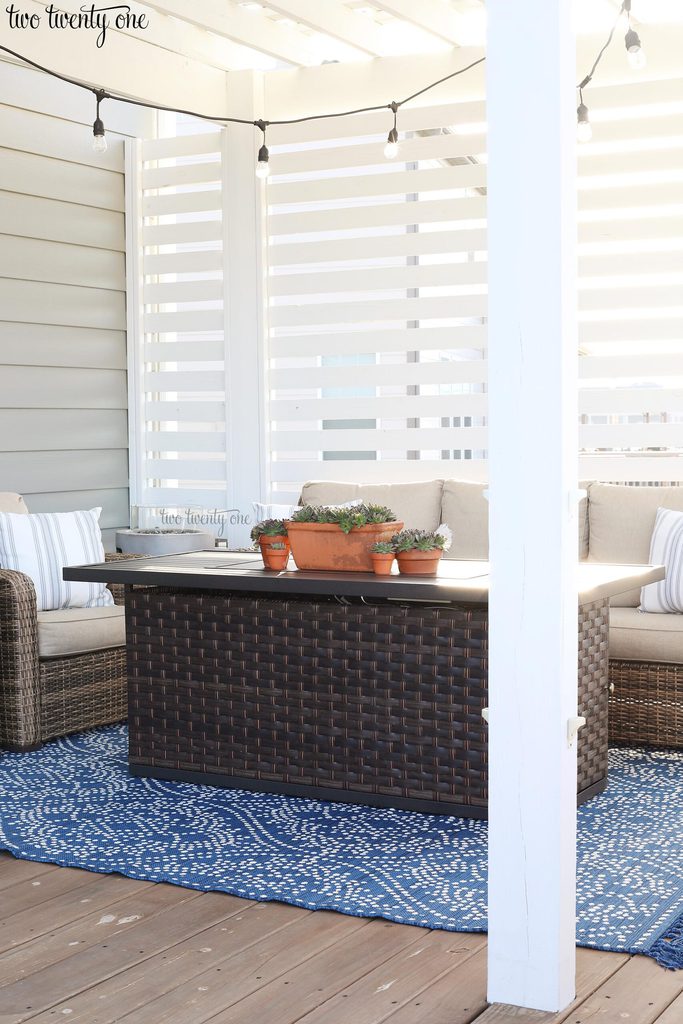 Starting up the fire pit is very easy. Just remove the cover, open the door on the side of the table, and turn the dial to ignite the flame. The dial also lets you control how tall you want the flames to be.
The table also comes with polished glass stones. These look much better than the lava rock that comes with a lot of fire pit tables and columns I've seen. And if you want to mix things up and swap them out, it's an easy change to make.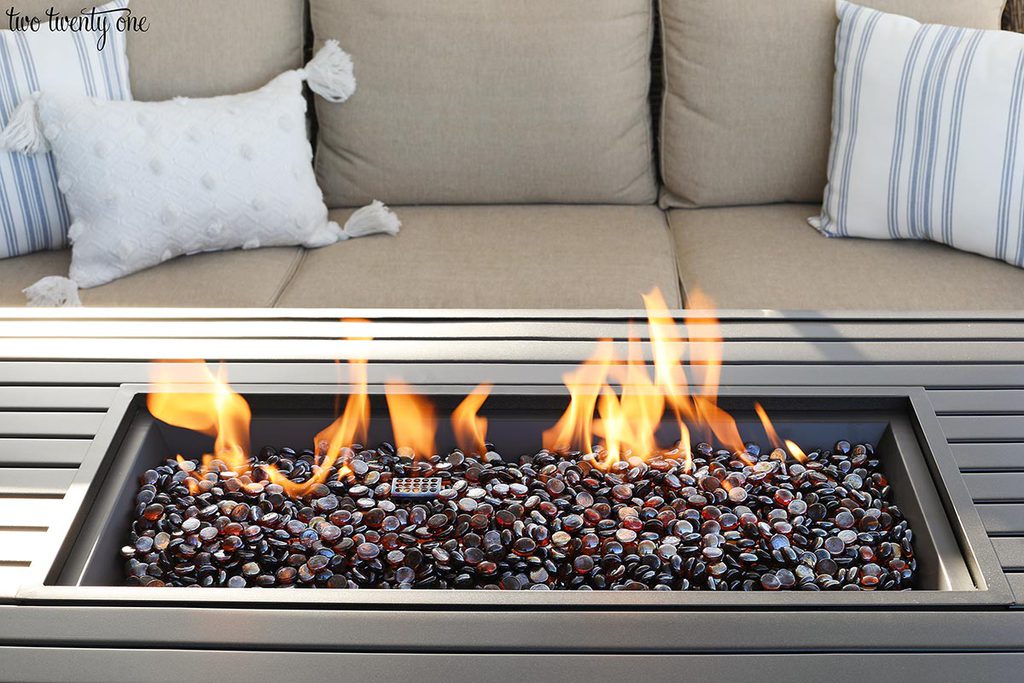 Perfect for warmth on a chilly night and roasting marshmallows.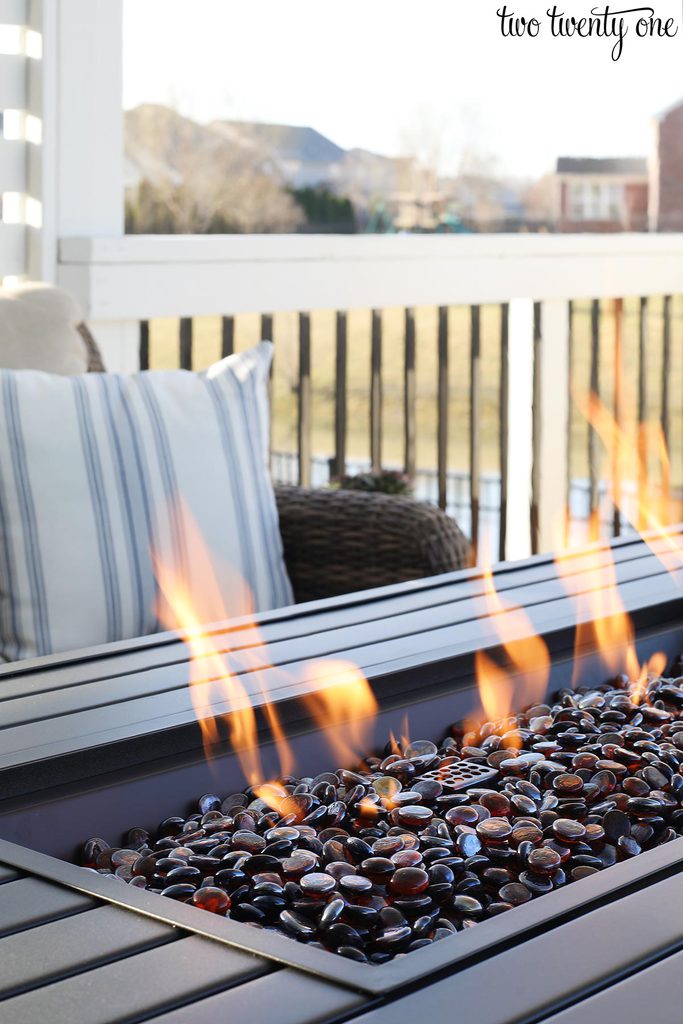 Cafe Lights
Cafe lights are the perfect way to add some ambience to your outdoor area. I like when they are installed going back and forth across the space with a slight slack in the cord. If you live in a windy area, secure the cafe lights to the hooks with zip ties. And to remember how you hang the lights every year, mark the cord with a metallic Sharpie. I put little dots where the cords should meet the hooks.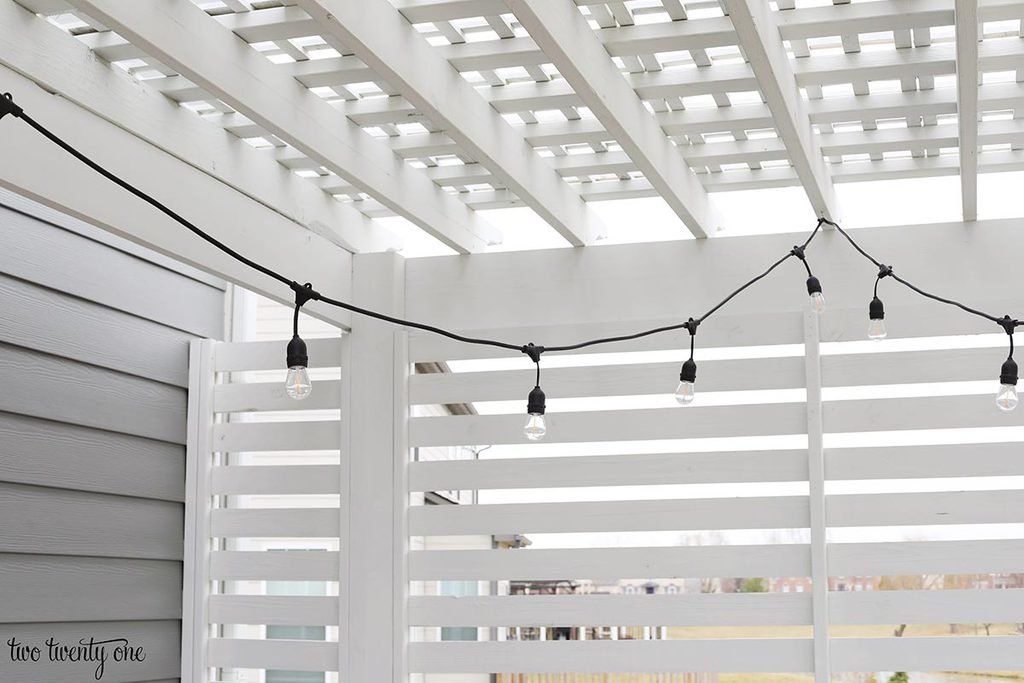 Indoor/Outdoor Rug
Want to make your outdoor space feel more like a room and extension of your home? Add an outdoor rug to your sitting area. This 7′ x 10′ Woven Navy Jeweled Medallion Tapestry Indoor/Outdoor Area Rug is perfect for our deck. It helps define and anchor the sitting area. I love the pattern and fringe detail of the rug. Because it's made of fade and weather resistant material, it can be left outside from spring until fall where we live.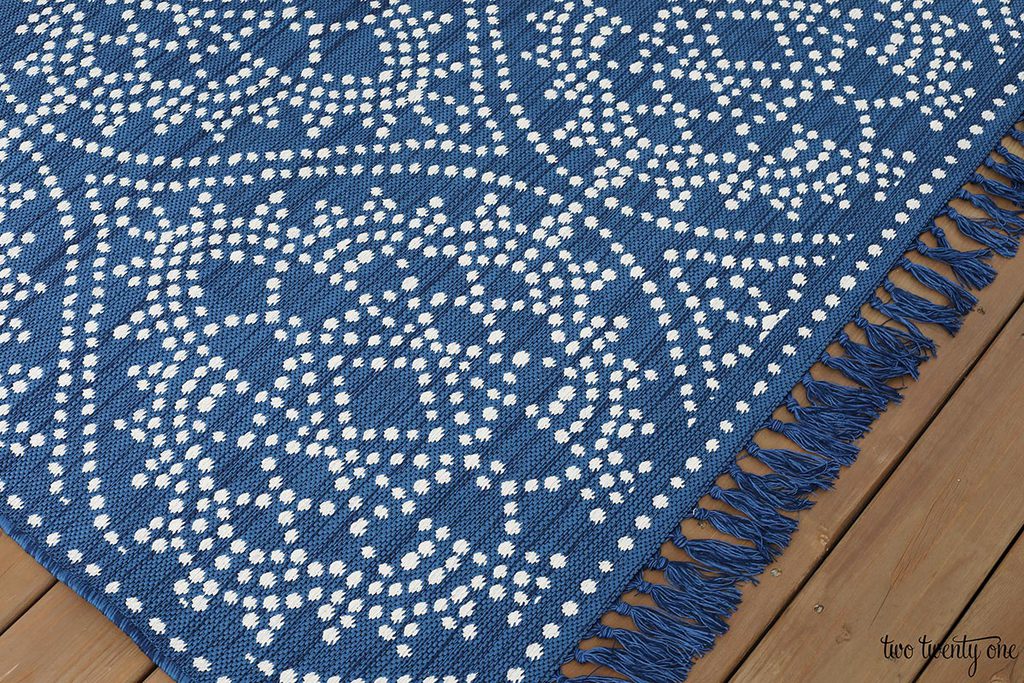 Additional Surfaces and Seating
Need an outdoor end table? What about extra seating? Allow me to introduce you to the garden stool. It works perfectly as an end table and doubles as an additional seat for guests.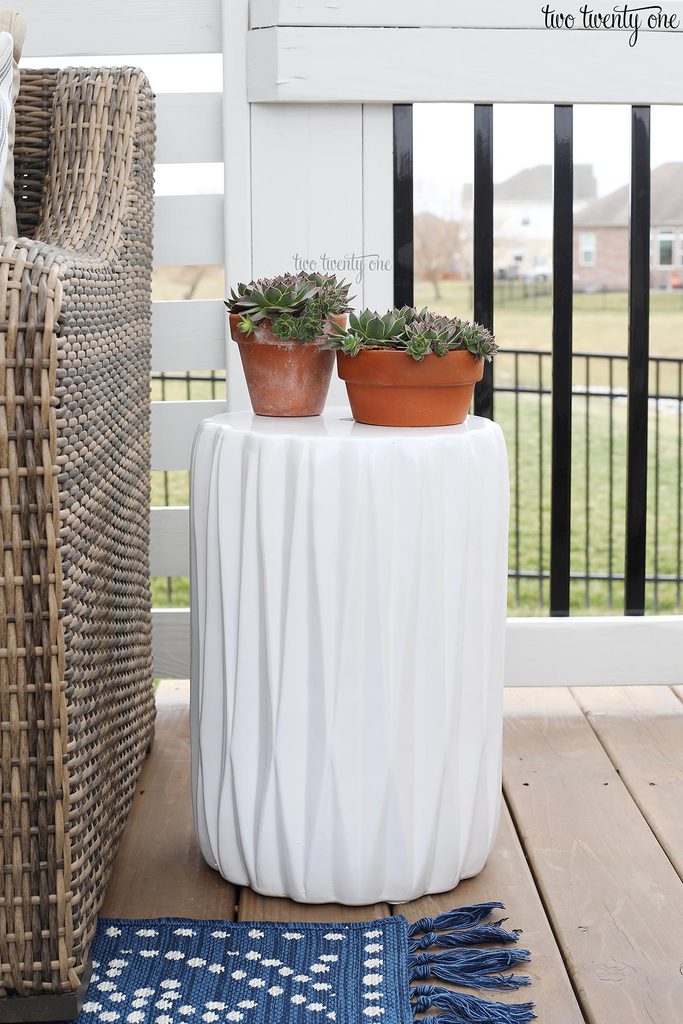 This white textured garden stool would work in almost any space. I like to keep my outdoor furniture and decor on the understated side so my plants can do the talking when it comes to adding colors. So while the garden stool is a plain white, the texture on the sides adds some extra visual interest.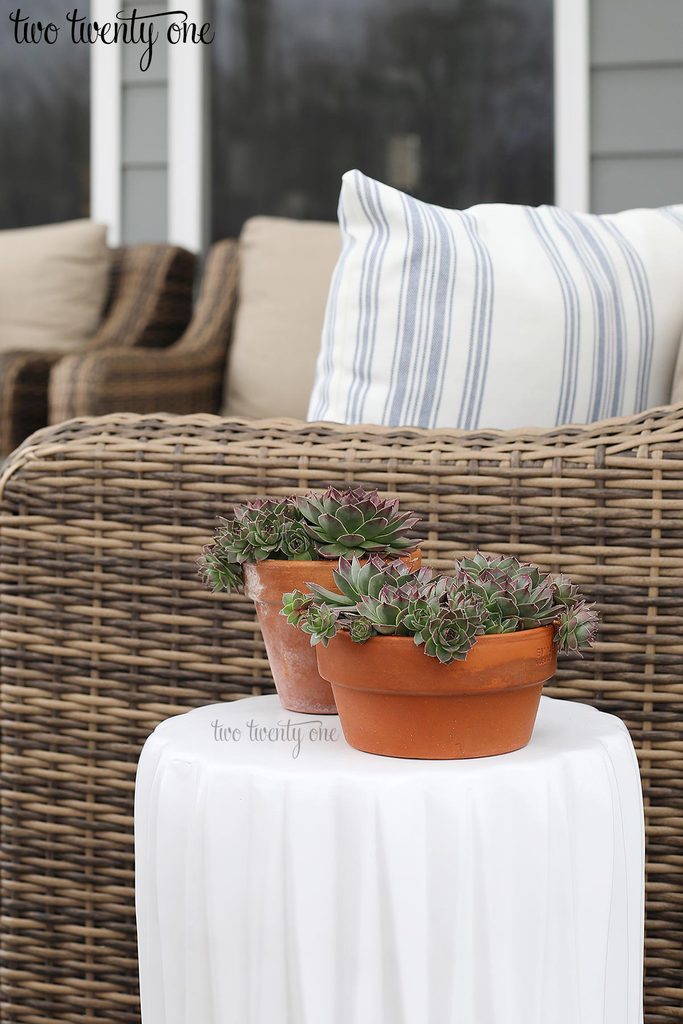 The Power of Pillows
Pillows are a great way to personalize your outdoor area. Want to add more color to your space, do it with pillows. Want to dial down the color but add some texture, do it with pillows. They also up the cozy factor. And outdoor throw pillows have come a long way in recent years, like this outdoor ivory pillow with tassels.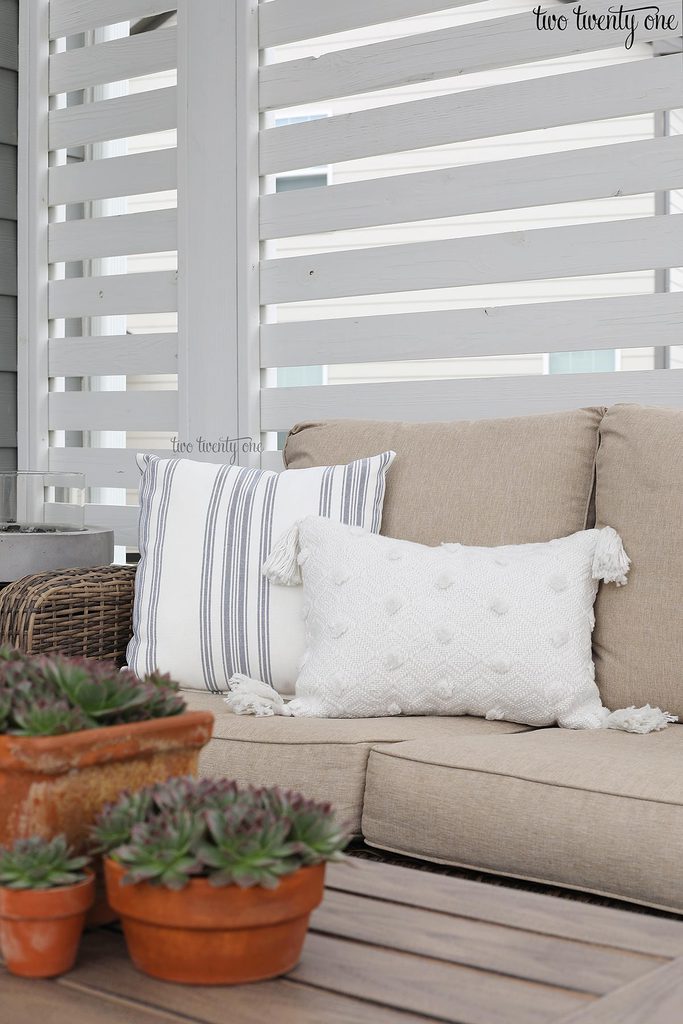 I hope you found these tips for creating an outdoor sitting area helpful.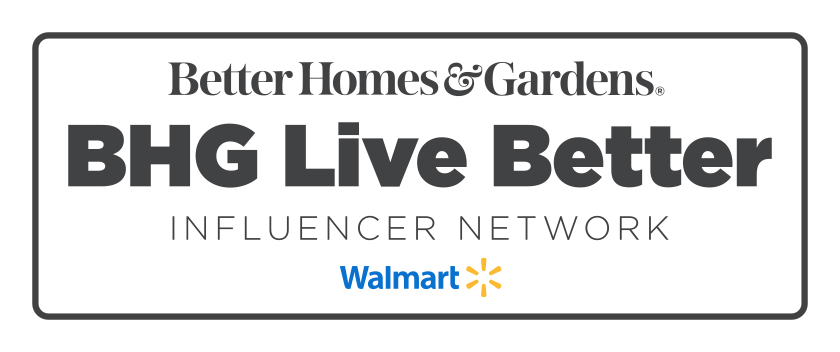 This post is sponsored by Better Homes & Gardens at Walmart. All opinions are my own.