With the fall season in full swing, I thought I'd share some fall decorating ideas. Some of these ideas are simpler than others, but they all will leave your house emitting a very fall vibe.
Let's start with the front porch. This is where you want to scream "We love fall in this house!" to all of your neighbors, delivery drivers, and pedestrians.
Front Porch Planters
This year, I carried my summer planters into my autumn decorating by keeping the monstrous sweet potato vines and spikes. I added mums and decorative cabbages to the planters for a fall look.

While I don't think this is necessary, you can add in some additional mums and pumpkins by the planters.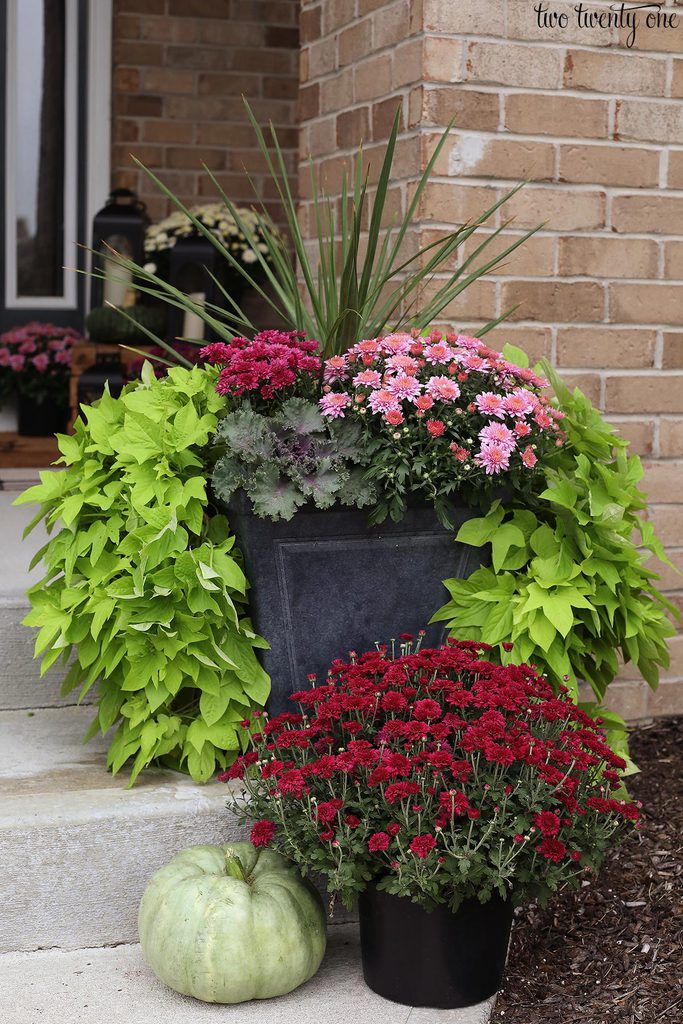 Pumpkins, Pumpkins, Pumpkins
Last year I went with a 100% orange theme. Pumpkins and orange mums. I thought it would be fun for Halloween. Then, it snowed on Halloween so we have snow-covered pumpkins. I added some pumpkins to my big hurricanes and put in some fairy lights so the pumpkins would be illuminated at night. When in doubt, add fairy lights.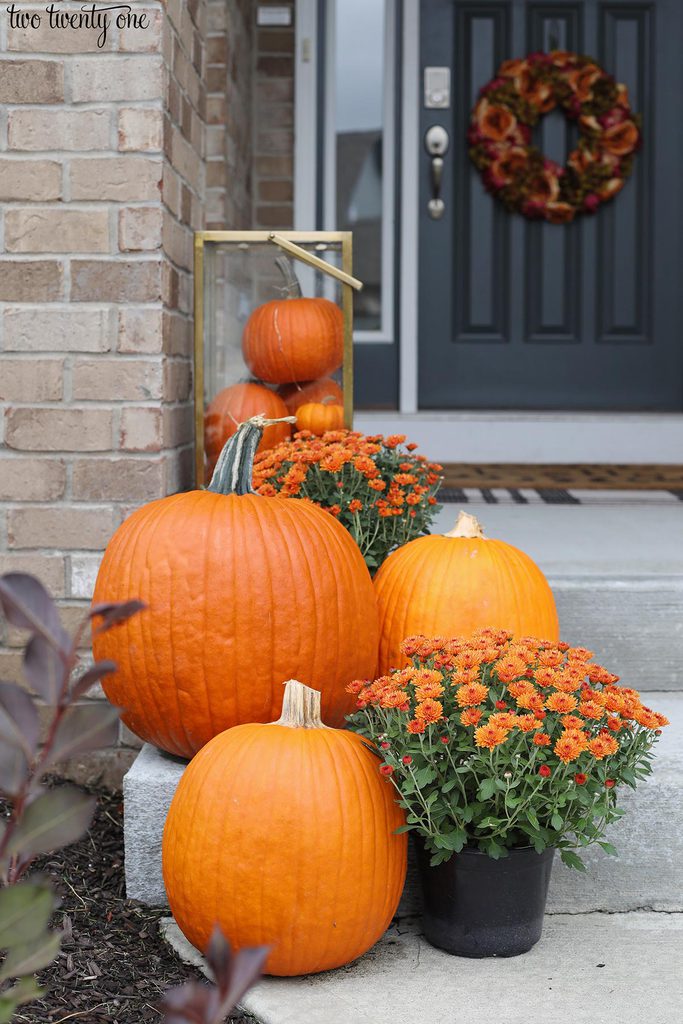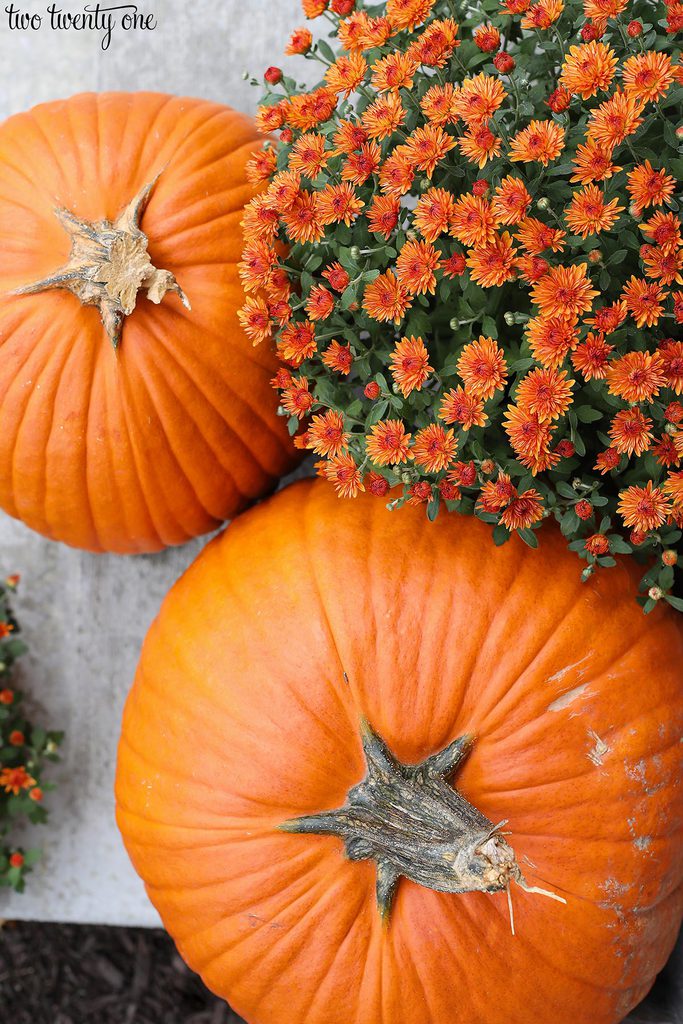 Keeping It Neutral
I like to keep my fall decor neutral inside the house because I'm not big on oranges, yellows, and reds. Instead, I opt for warmer textures and gold hues.

I love this water hyacinth pumpkin. It says "it's fall" instead of screaming "Grab your PSL and pumpkin muffin– it's fall!" Plus, I love how you could keep it up until Christmas.
The acorn lidded candle was a gift from my best friend. I like how I can remove the acorn top and the white base becomes an evergreen candleholder.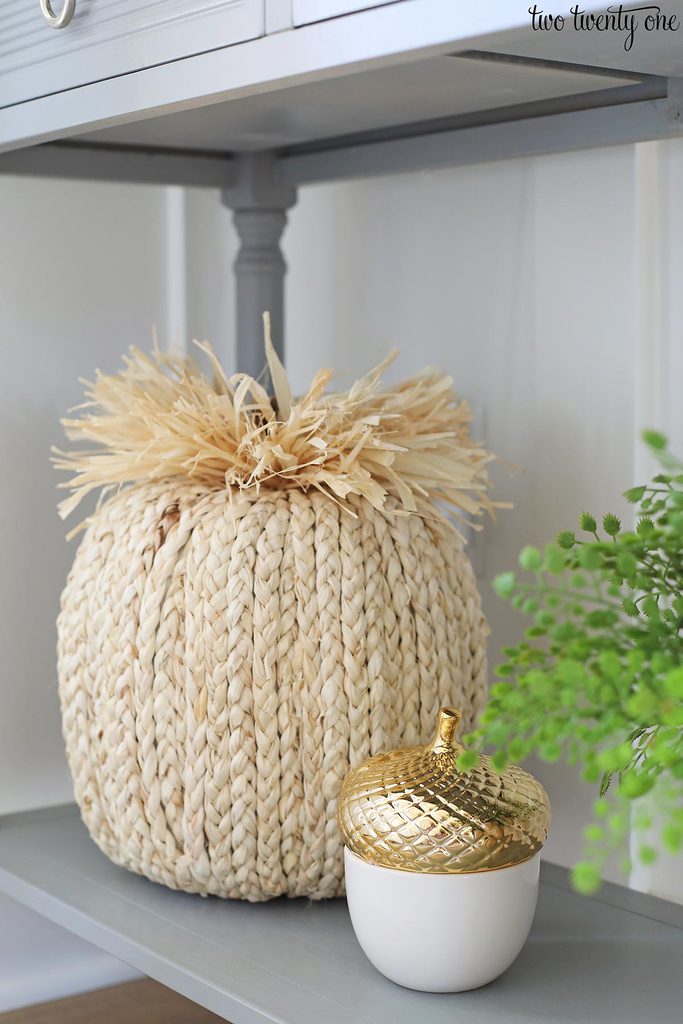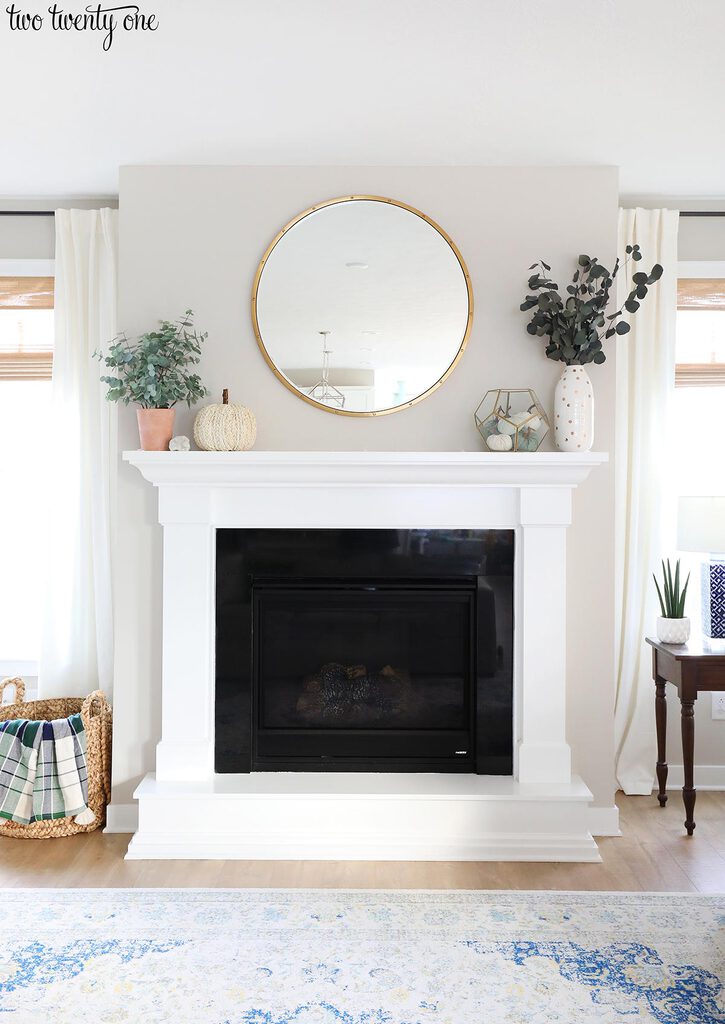 Fill Evergreen Vessels with Fall Items
I have various evergreen vessels throughout the house that I like to fill with seasonal items. For fall, I like to bust out these small stuffed pumpkins I got at the Target dollar spot one year. And then for Christmas, I'll swap out the pumpkins for ornaments. It's a pretty and inexpensive way to seasonally decorate.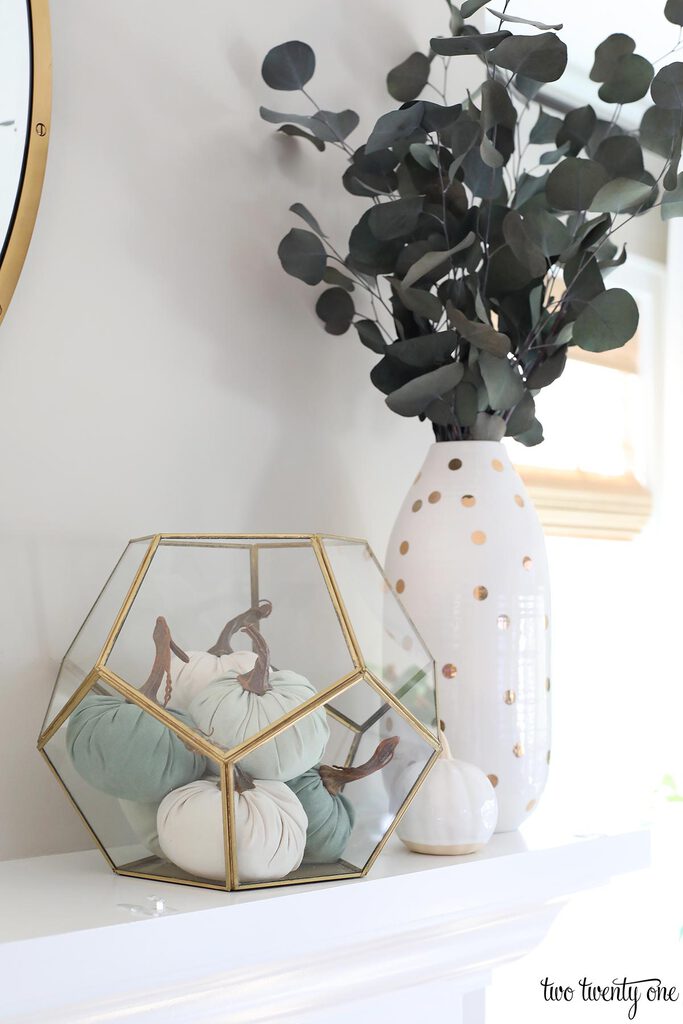 Swap Out Throw Blankets
A white and blue striped blanket typically resides in the basket in our living room. An inexpensive way to transition decorating to different seasons is to swap out throw blankets. You can go an extra step and swap out throw pillows too, but I don't want to store pillows or pillow covers
For fall, I like to put the blue and white blanket away and bring out this green and navy plaid blanket. It reminds me of Notre Dame football, which is a quintessential aspect of fall in northern Indiana, where I grew up.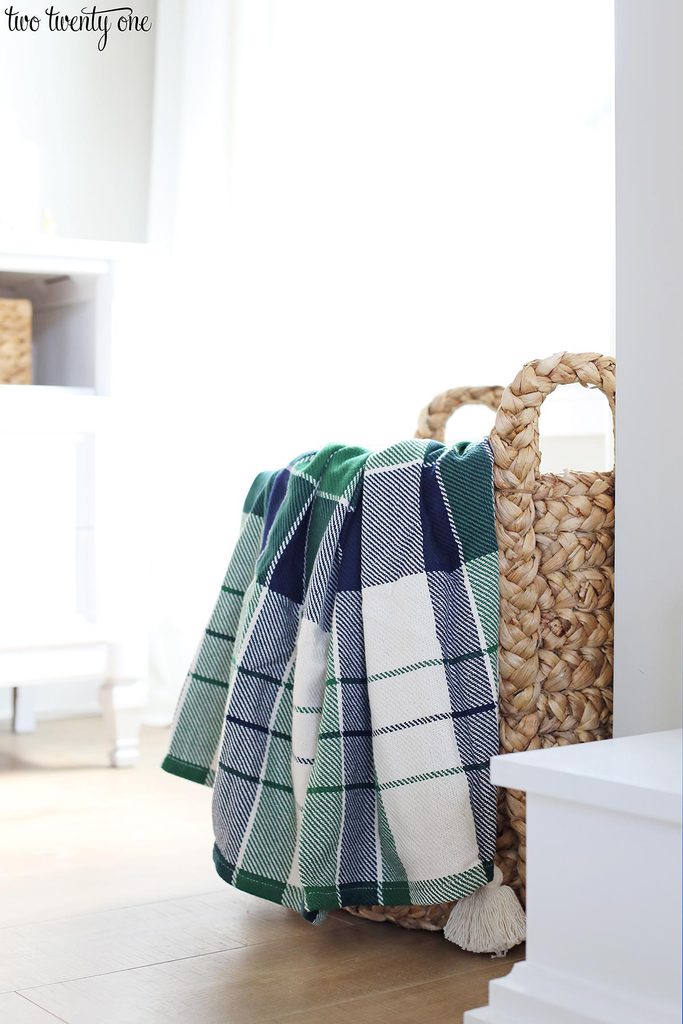 Cozy Table Setting
If you like to go all out with a big fall tablescape in your dining room, this is one of my favorites. I used kraft paper to anchor my knit table runner to create a cozy fall table. I topped the table runner with eucalyptus. To keep the focus on the table, use white fall flowers.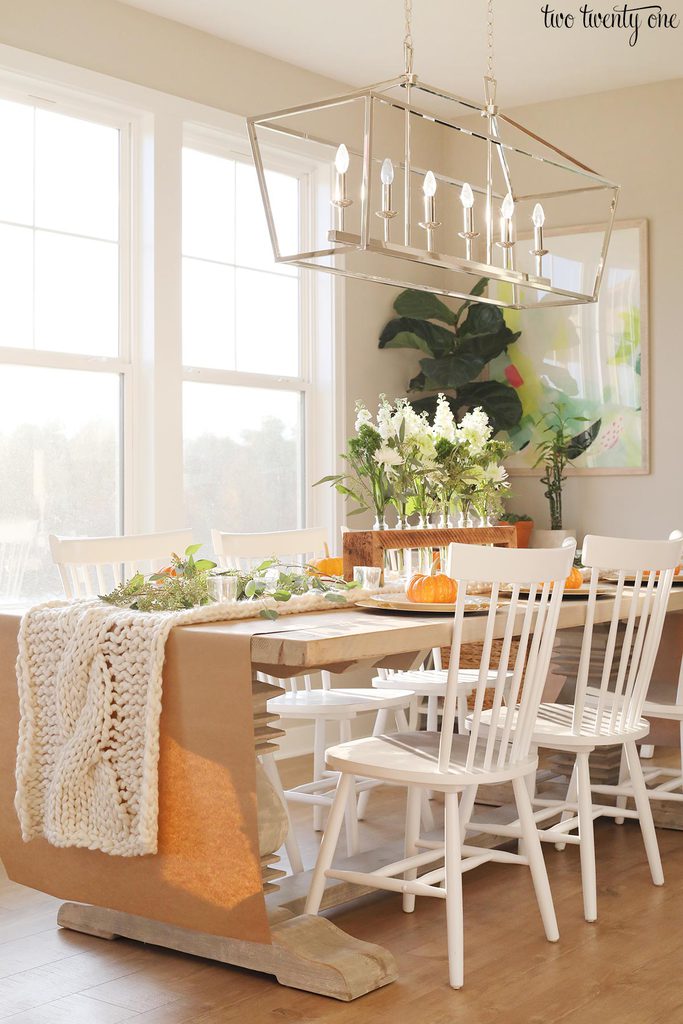 Use gold charges under the plates and top the plates with mini pumpkins. Add some mercury glass votives for some fall ambiance. Boom. Done.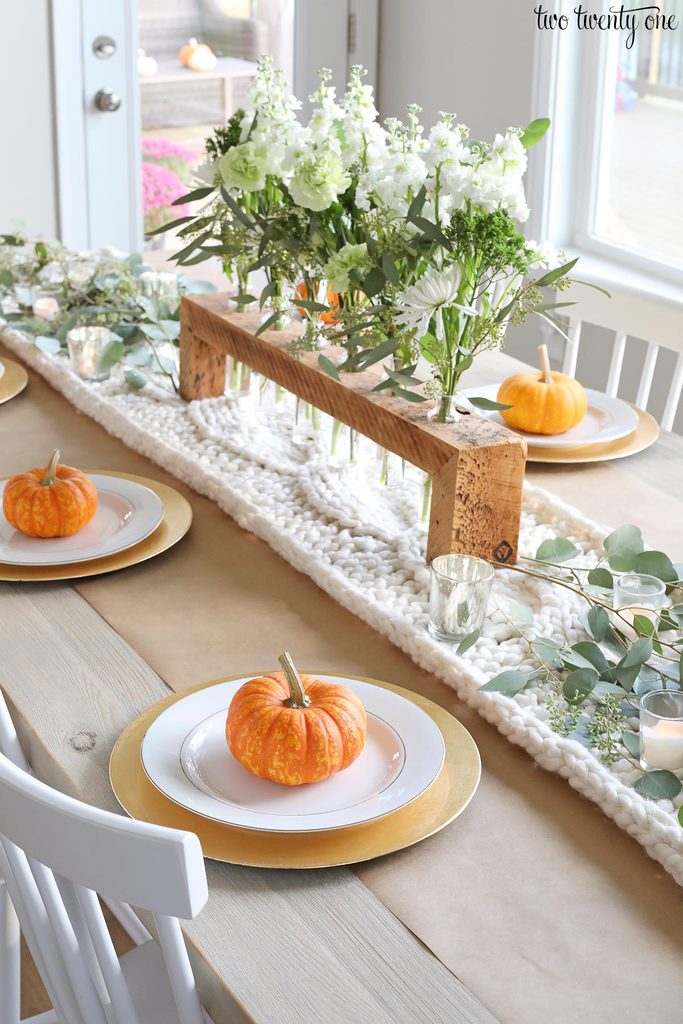 Mix Summer with Fall
I only grow succulents in planters on our south-facing deck because everything else fries to a crisp. Since the succulents can last outside well into October, I like to mix fall elements in with them. White pumpkins are my favorite paired with the succulents.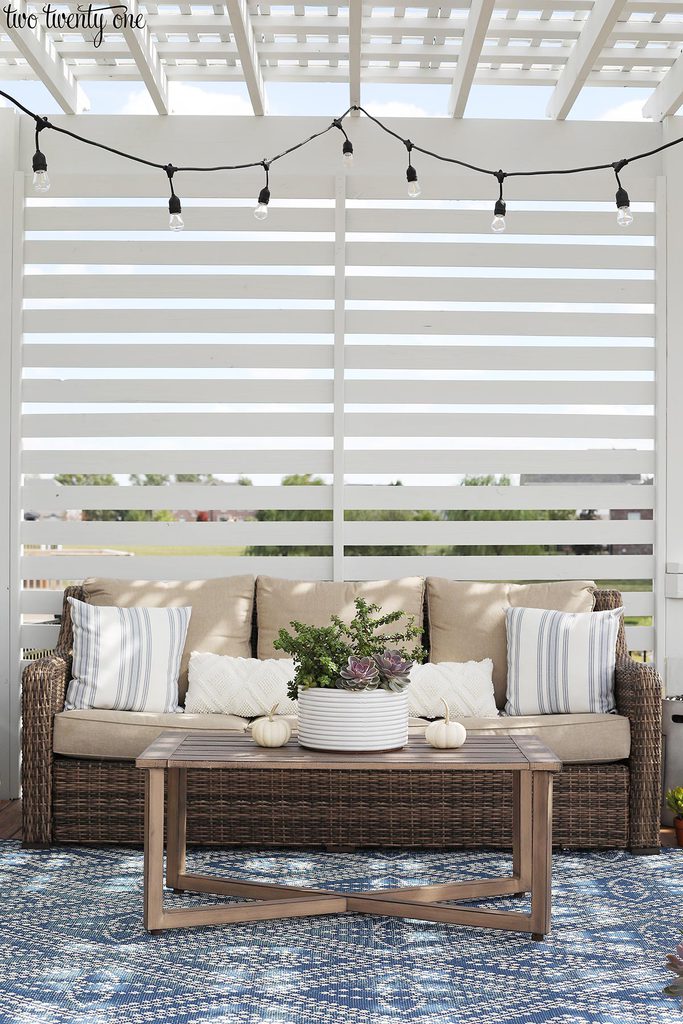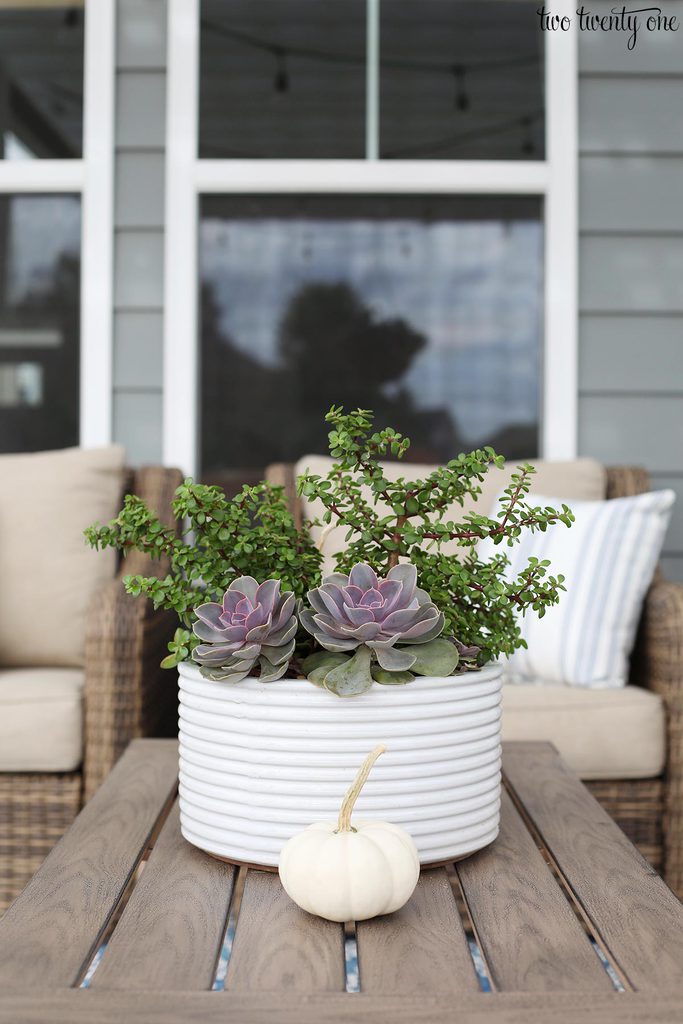 I do the same with my hens and chicks on the outdoor dining table.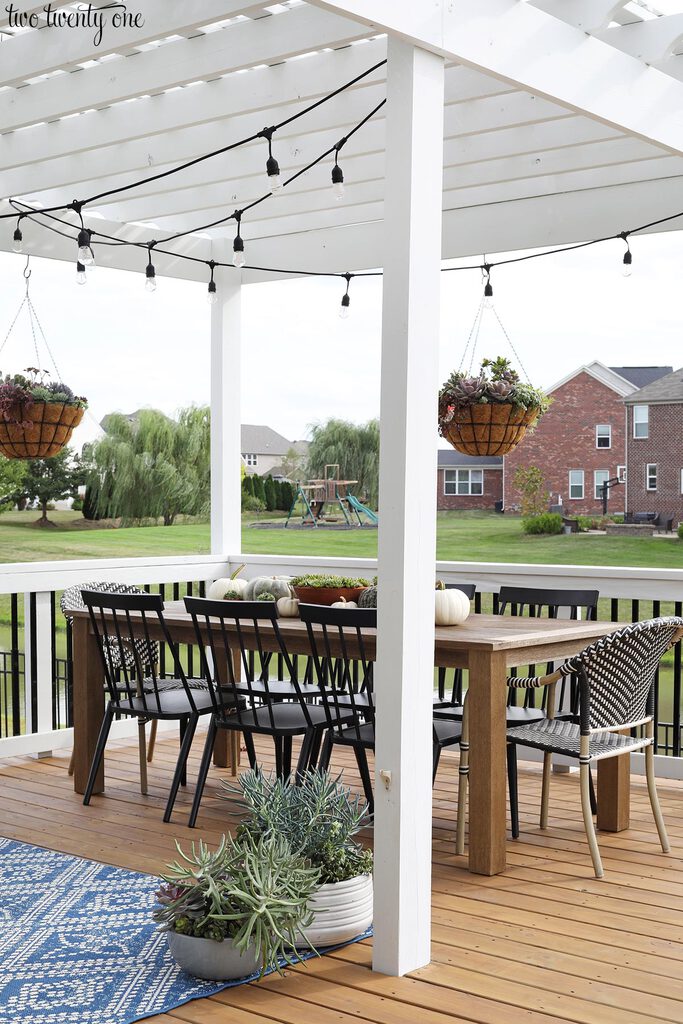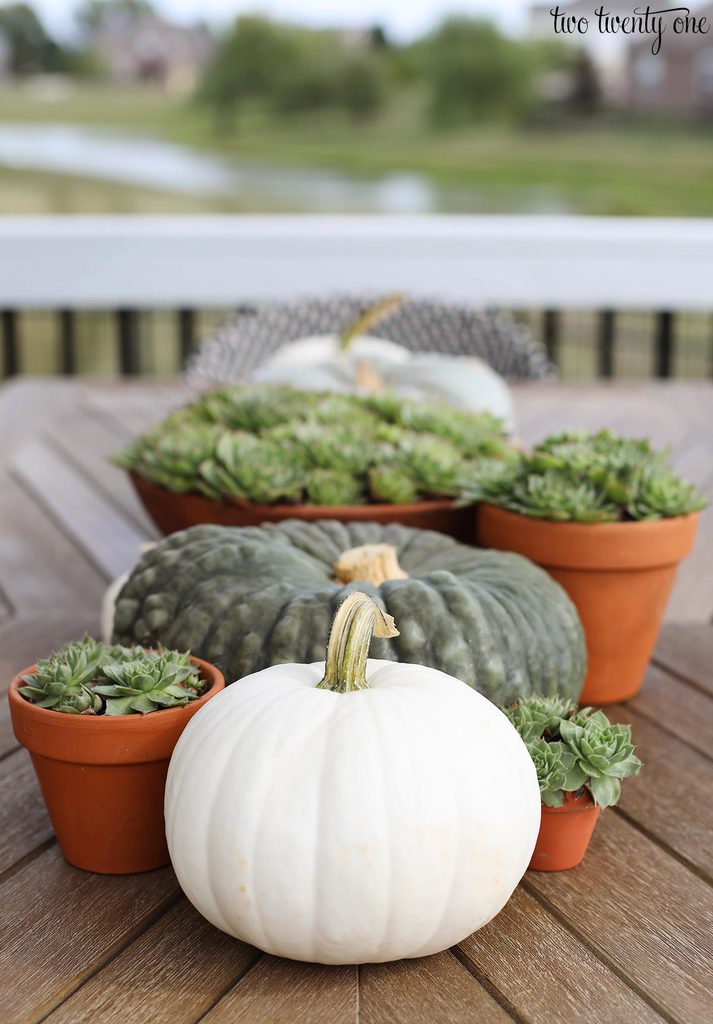 Lighter Mums
To keep the color palate consistent, I typically go with white or light-colored mums on the deck. You clearly know this photo was taken in the fall with the mums and the pumpkins. See, not everything has to be reds, oranges, and yellows to be fall.