This post is sponsored by Better Homes & Gardens at Walmart. All opinions are my own.
Temperatures are still in the eighties here, but it's September so that means it's time for fall decor. Today I'm sharing my cozy fall front porch. This year I went heavy on the mums in shades of deep red, burgundy, pink, and white. And speaking of mums, Better Homes & Gardens has some beautiful mums this fall, available exclusively at Walmart. I also decided to edit my summer planters by removing some flowers and adding some new ones, transforming them from summer planters to fall planters.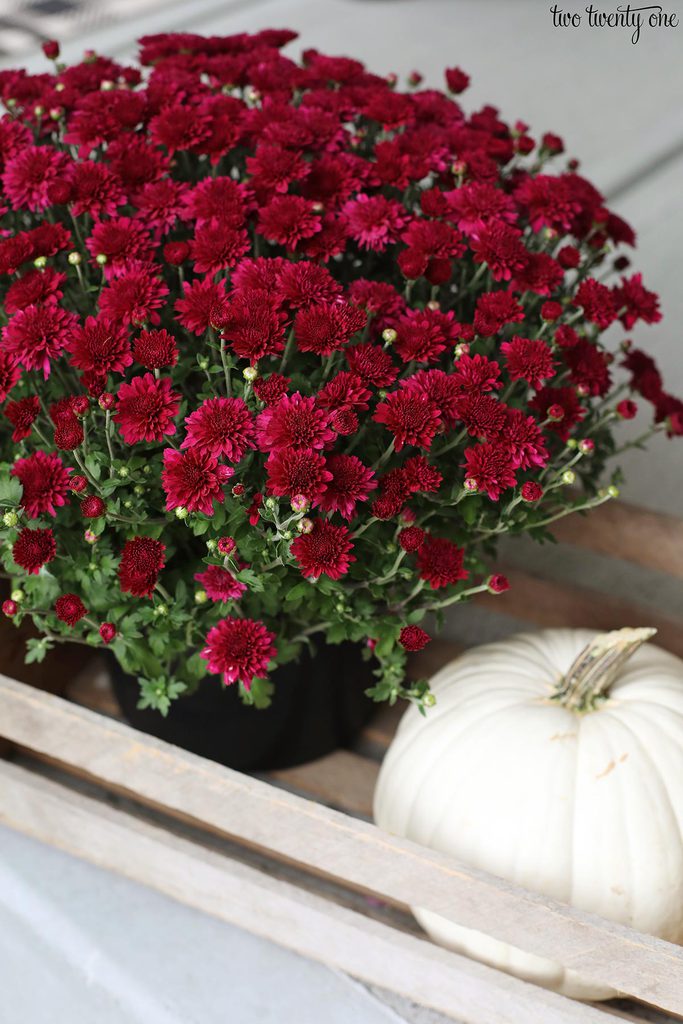 I set this large mum inside a large galvanized tub. This area of the front porch is rather dark and the shine from the tub helps to add some light to the space. I also added a white mum to lighten up the area some more.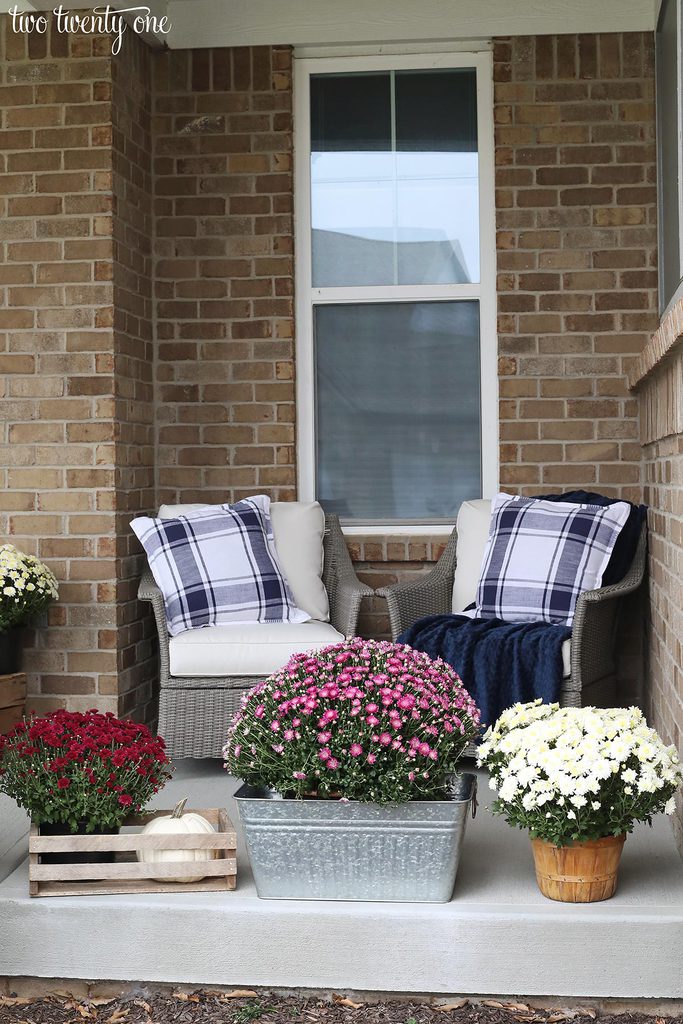 To cozy up the sitting area of the porch, I swapped out our summertime pillows for these navy and white reversible plaid pillows. The pillows are a plaid pattern on one side and a checkered look on the other. I opted for the plaid version. I like how they give a fall vibe while still being understated. To up the coziness factor, I added this navy velvet plush throw blanket.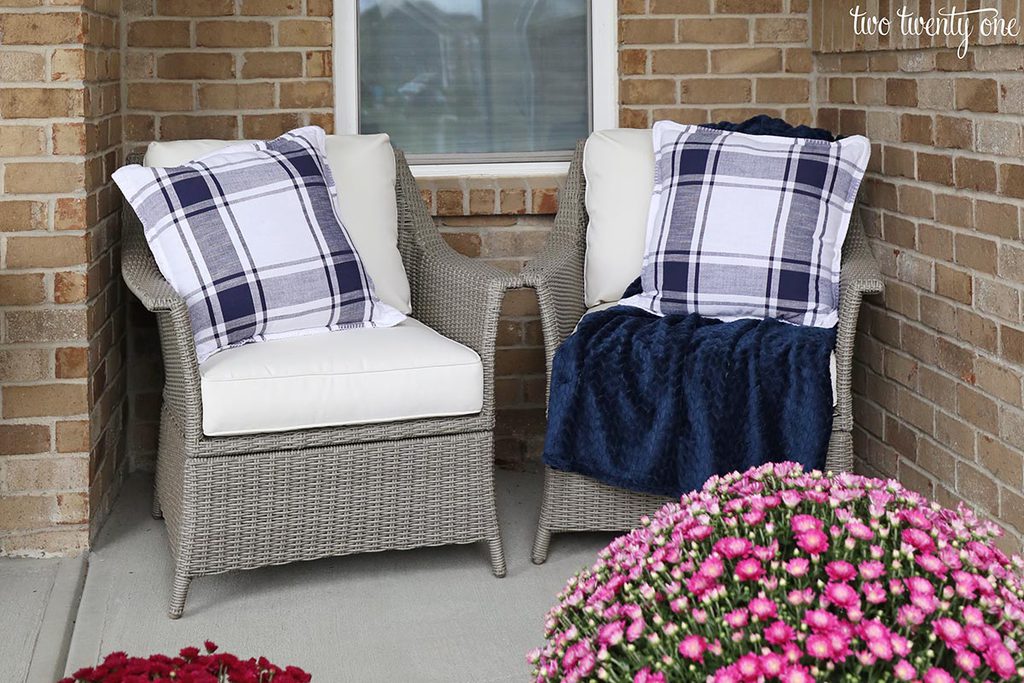 You may remember in June when I potted this planter with sweet potato vine, petunias, calibrachoa, and spikes. Everything filled in so nicely– especially the sweet potato vine.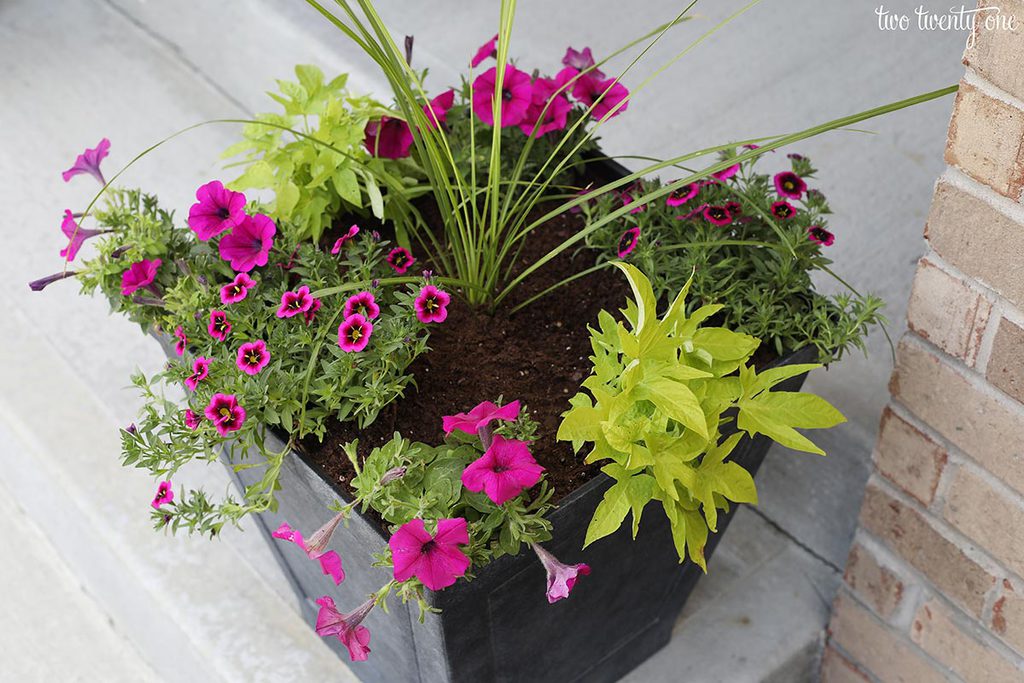 So I opted to keep the spikes and sweet potato vine. But I removed the petunias and calibrachoa and replaced them with mums and a cabbage.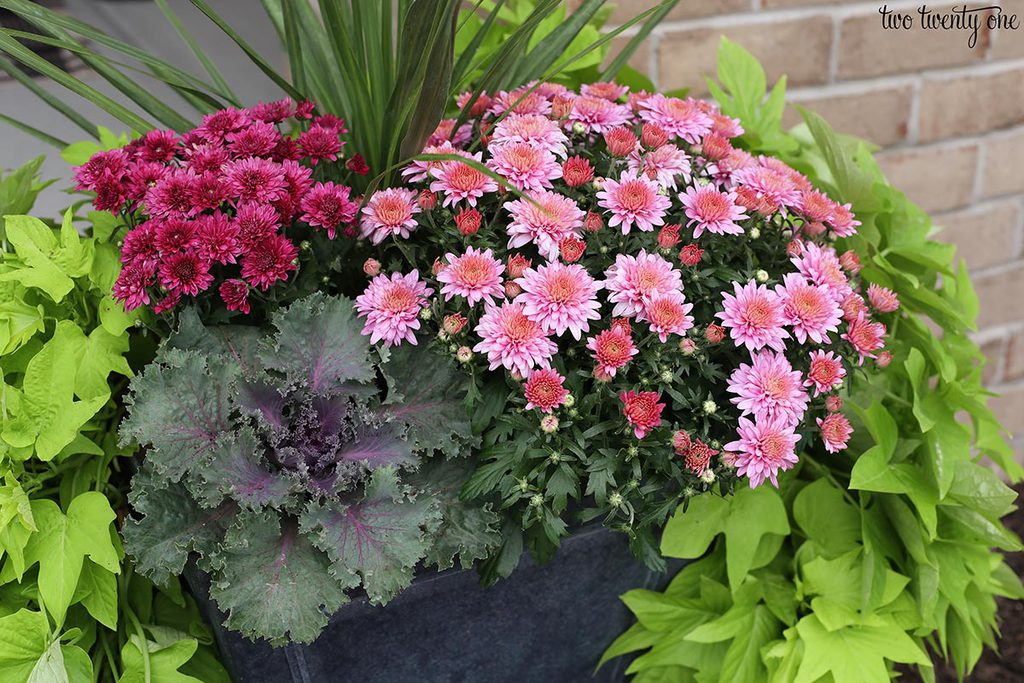 See why I couldn't get rid of the sweet potato vine? It's wild how big sweet potato vine can get over the course of a couple months. And you may not know this but sweet potato vine actually forms potatoes in the soil. I'll be sure to share that on Instagram Stories when I dismantle these planters when the time comes.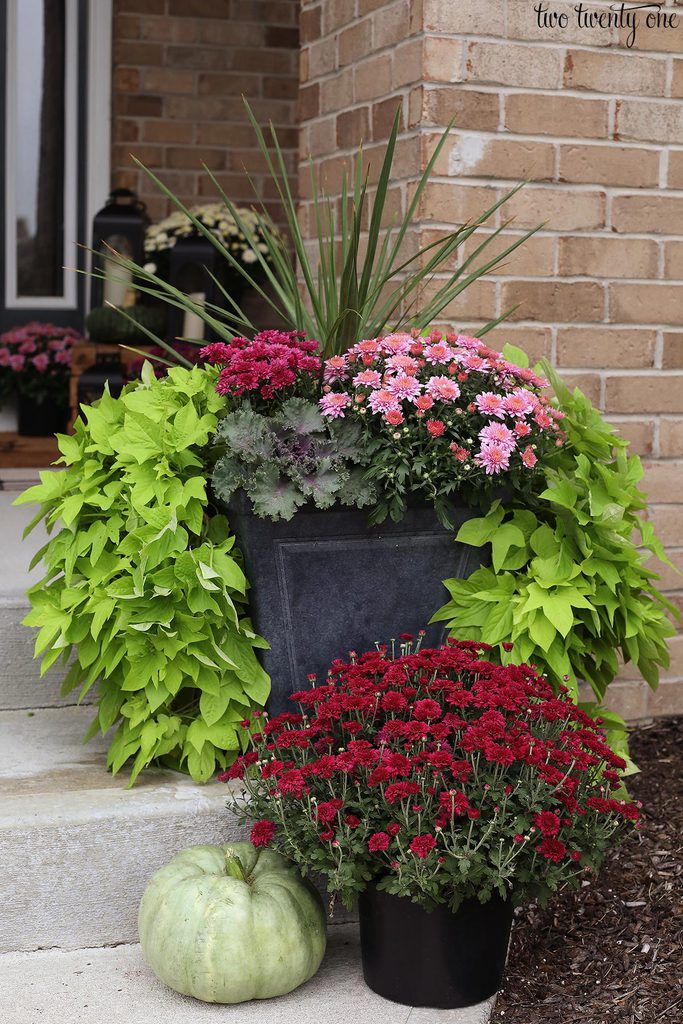 The color of the sweet potato vine is a little vibrant for fall, but it coordinates well with some of the shrubs in our landscaping.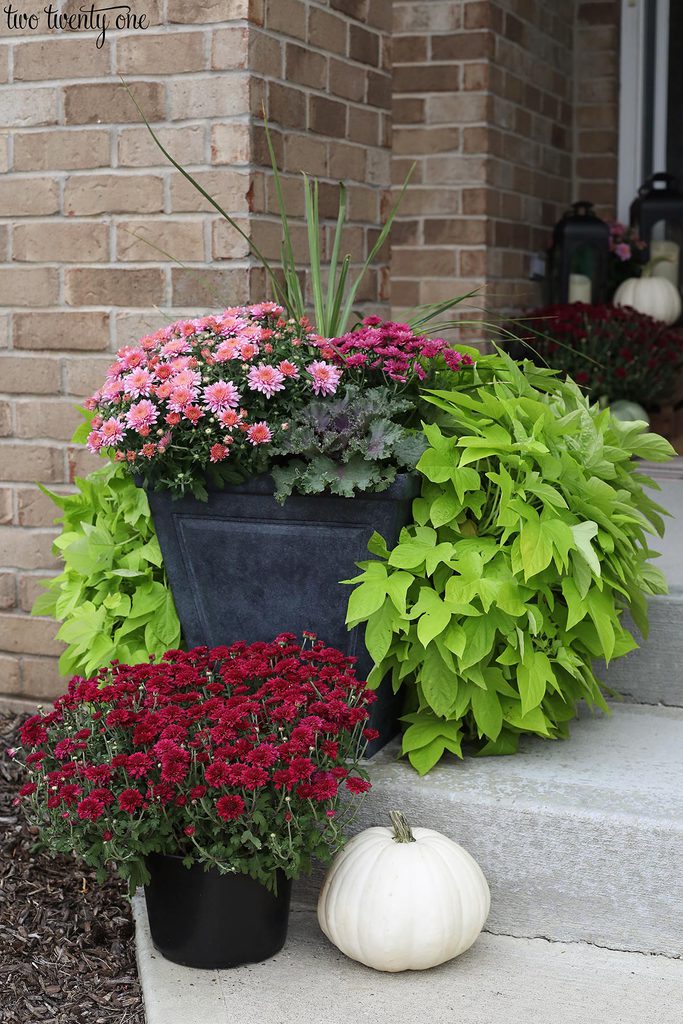 I decided to play off the black and brown in the rug and doormat this year. I accented the brown in the doormat with old crates I bought at an apple orchard in Michigan near my hometown a few years ago. To highlight the black in the rug and writing on the doormat, I set a medium black lantern and small black lantern on top of each crate. And to continue with the cozy vibes, inside each lantern are these flameless LED motion flame pillar candles. I love how the flame moves, making the candles very realistic.
It's so nice having realistic-looking candles without having to worry about the flames. I'm looking forward to reusing these candles for Christmas.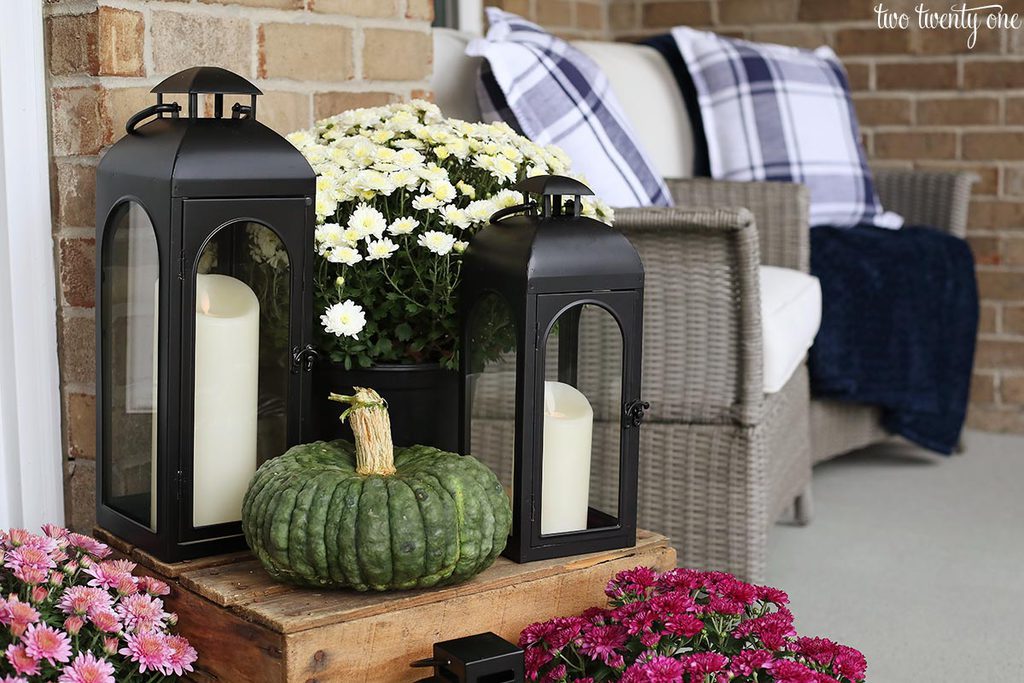 I filled in the bare spaces with mums and pumpkins. Owen is already trying to steal the pumpkins to make his own farm stand out of the playset.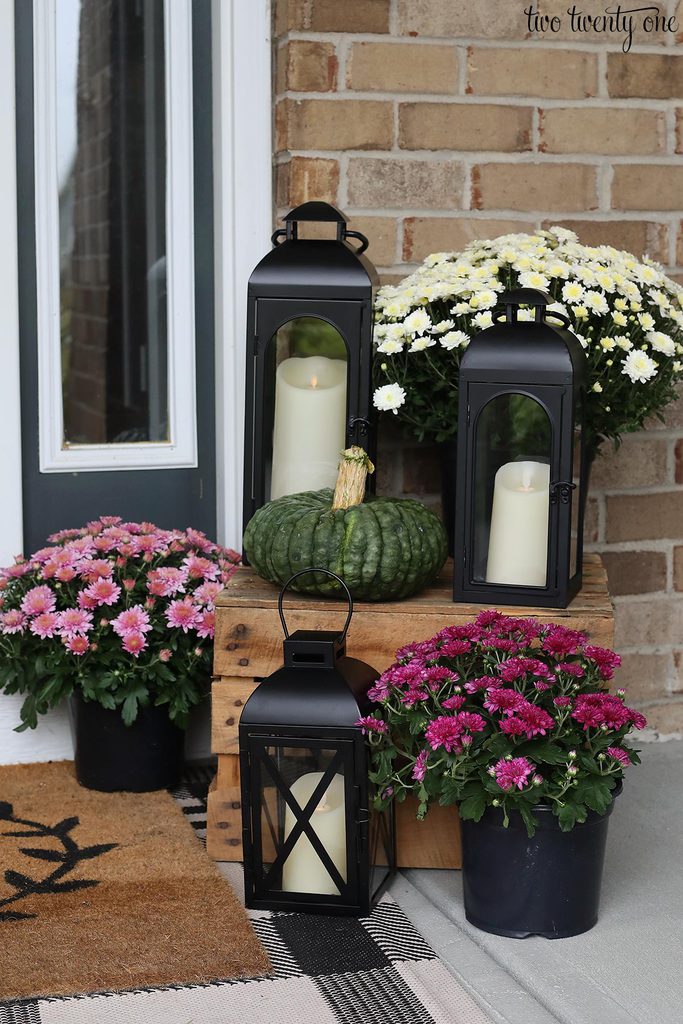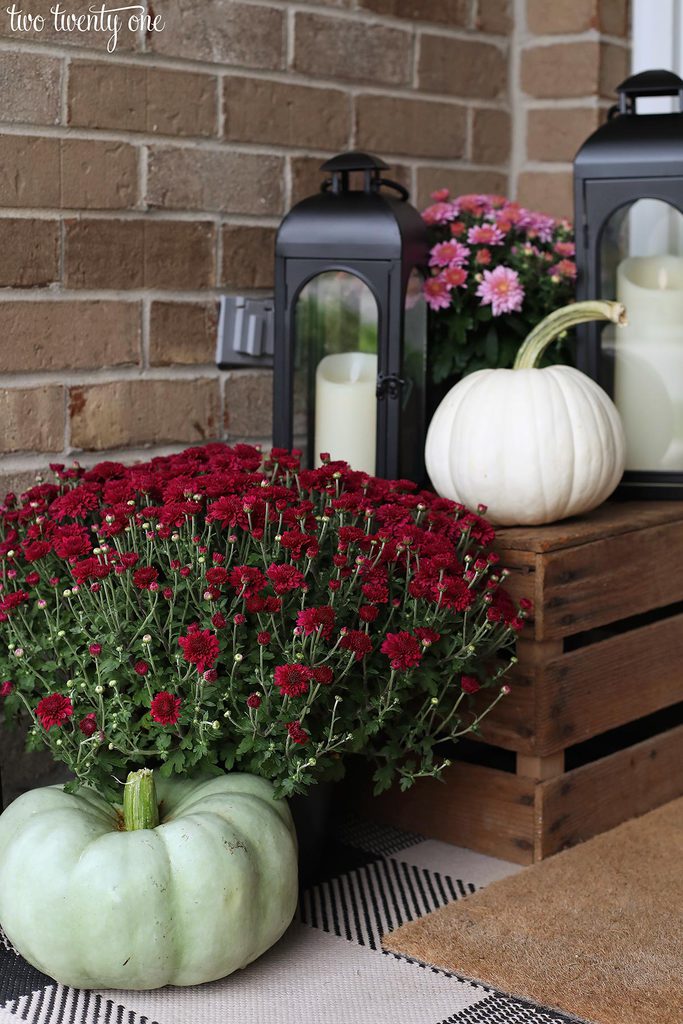 In the photo below you can see one of the chartreuse shrubs I mentioned that match the sweet potato vine.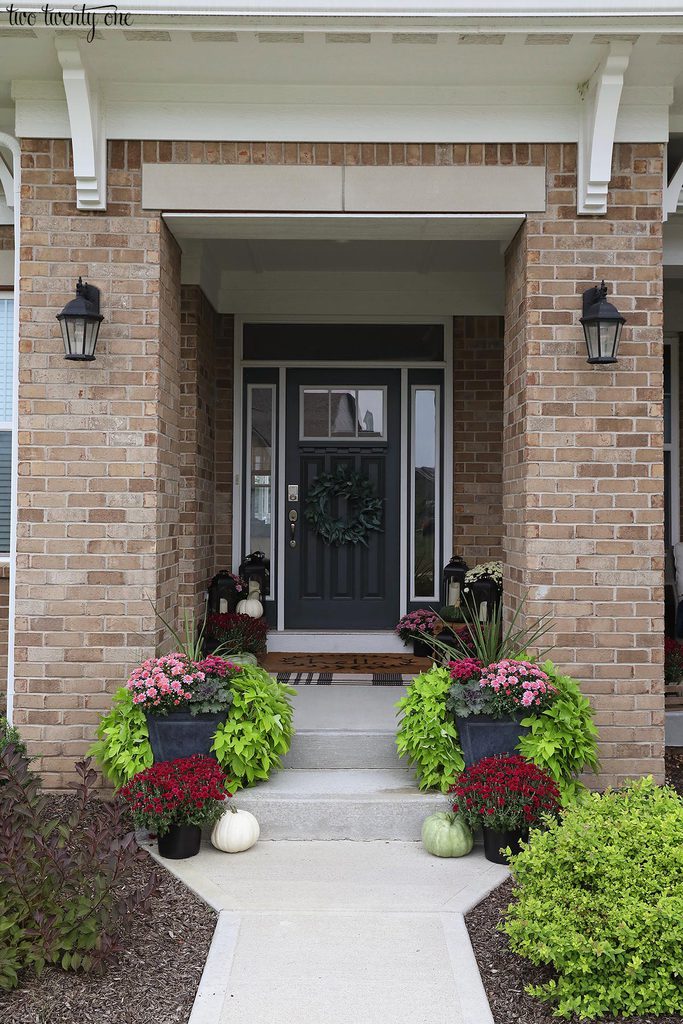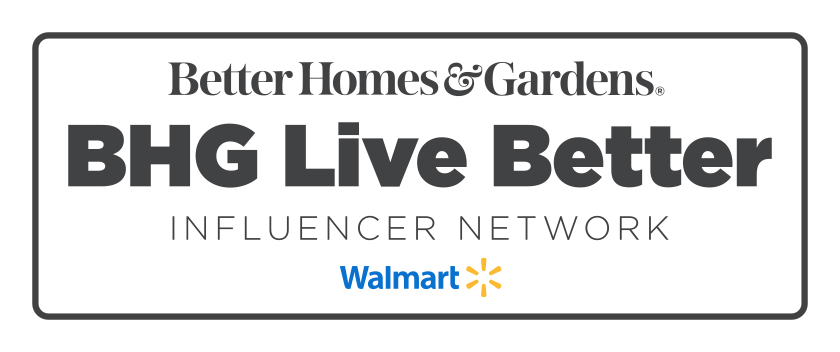 This post is sponsored by Better Homes & Gardens at Walmart. All opinions are my own.