Holy. Smokes. The deck and pergola makeover project we thought would take a week or two, but ended up being over a month is finally complete! If you've missed me on Instagram Stories lately, blame the deck and pergola makeover.
Before I share what it looks like now, let's go back to last year.
This is the "deck" that came with the house.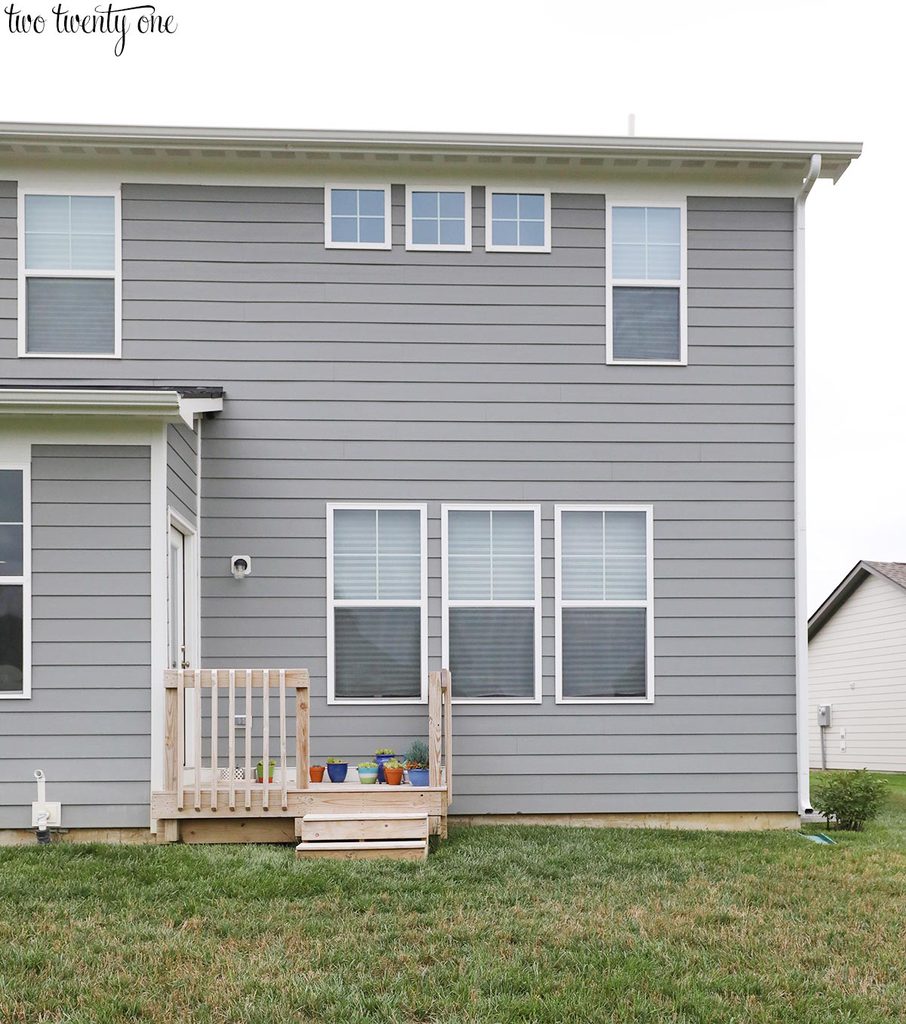 Then, in August of 2018 we had an 18-foot by 20-foot deck with a pergola and privacy screen built.
I agonized for far too long on what to do with that deck. Stain it all one color? Match the house or not? Stain it two different colors?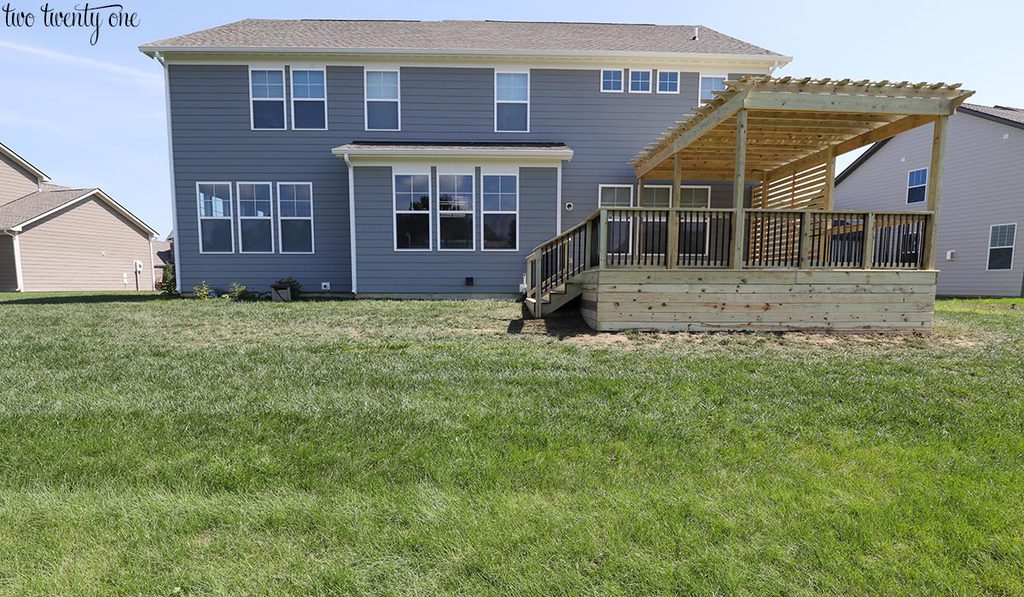 Last month, I narrowed it down and asked you to vote on your favorite of three color options for the deck and pergola.
Option 1 won by 2 votes. Two votes!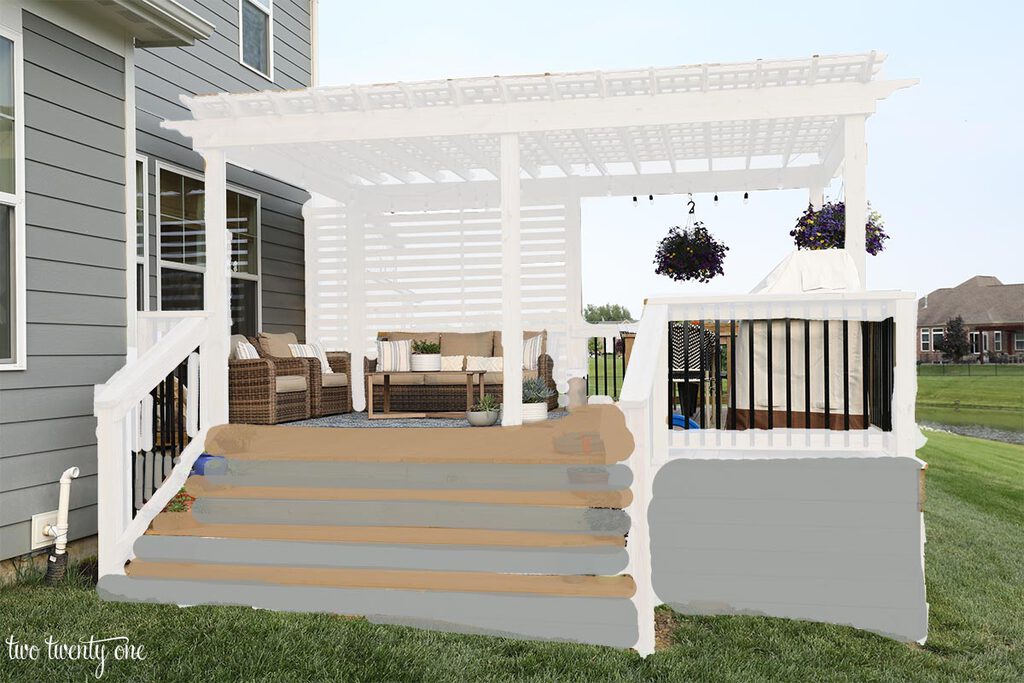 In second place was Option 2.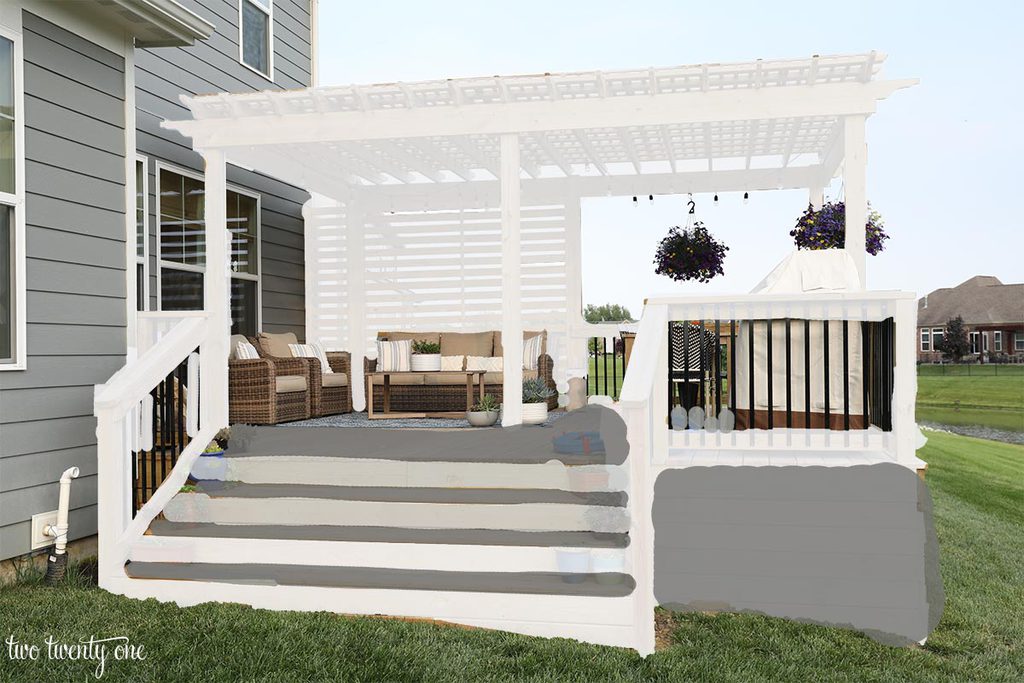 Want to see what I went with?
Are you ready?
Before.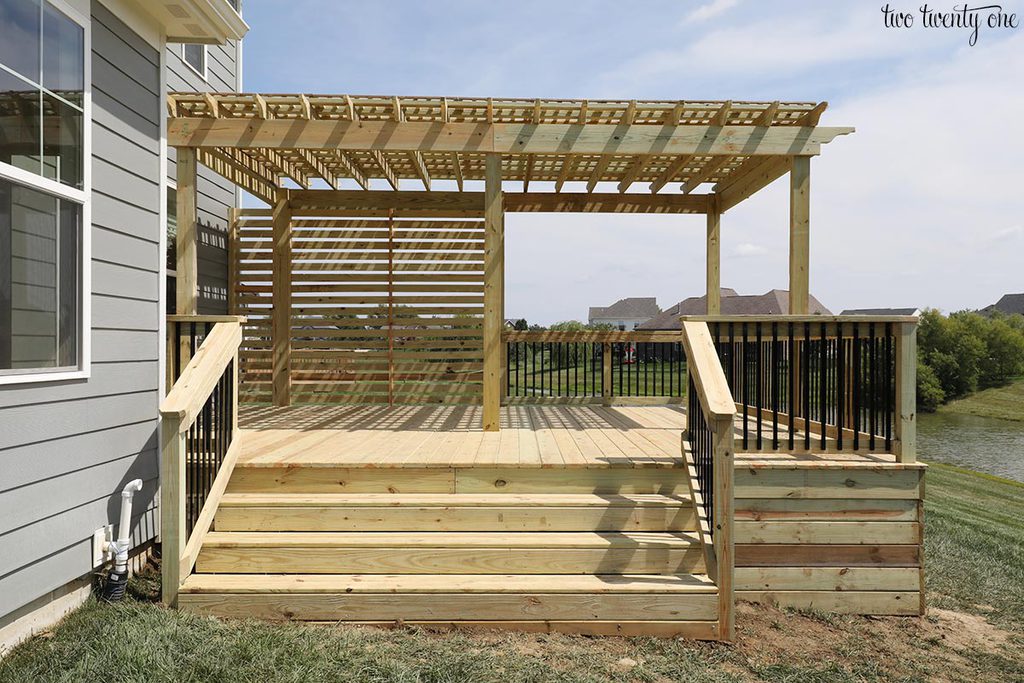 AFTER!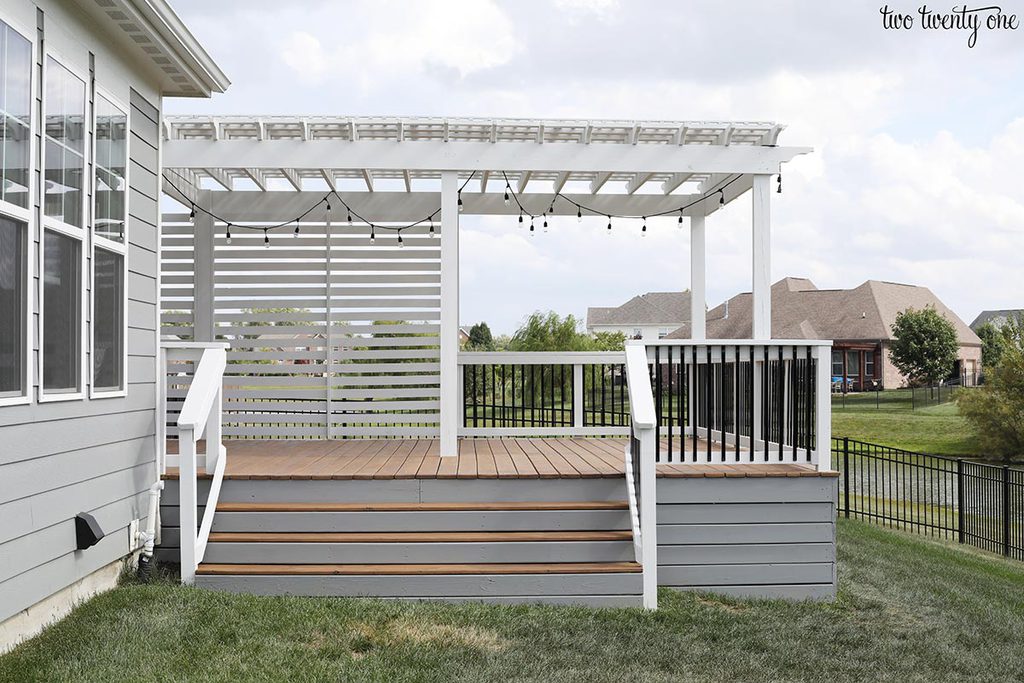 Isn't she lovely?!
Now get ready for a plethora of before and after shots because who doesn't enjoy before and after pics?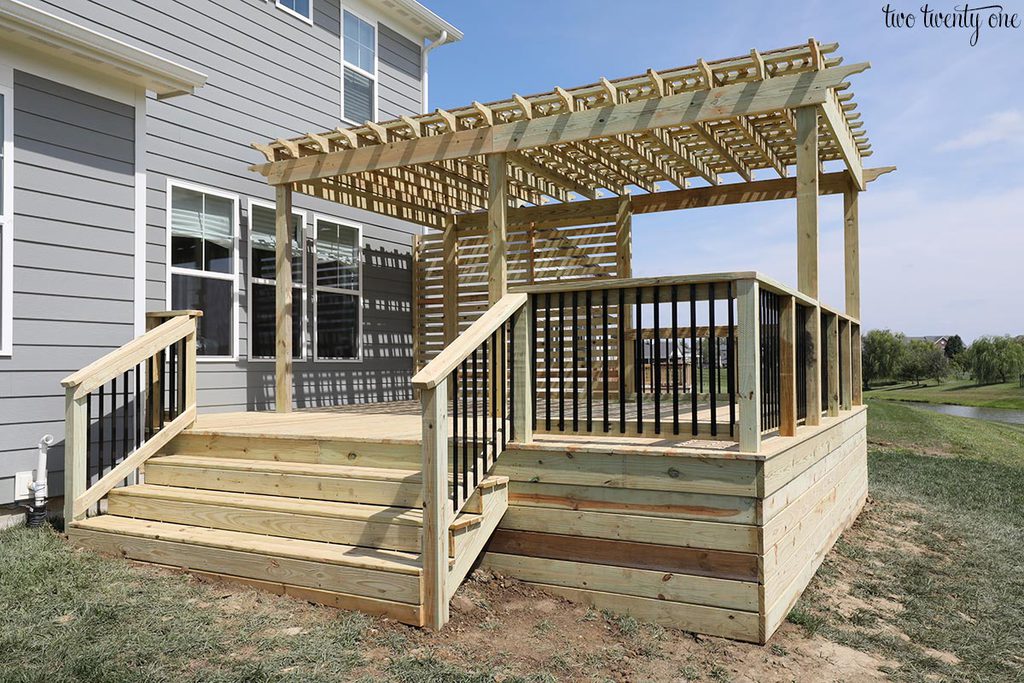 When I'd look at inspiration photos, I loved when decks and pergolas blended in with the house instead of sticking out like a giant stained wood addition. So that's why I had the gray and white color matched to our house. The gray on the deck skirting matches our siding, James Hardie Slate Gray, and the white matches the trim, James Hardie Arctic White. If you're looking for exterior colors, I LOVE those. I've never regretted choosing this exterior color combo for our house. If you want to see how I decided on this color combo, read my post on designing a new construction house.
Don't worry about the spindles on the stair railing closest to the house, Brad re-installed them after I took these photos.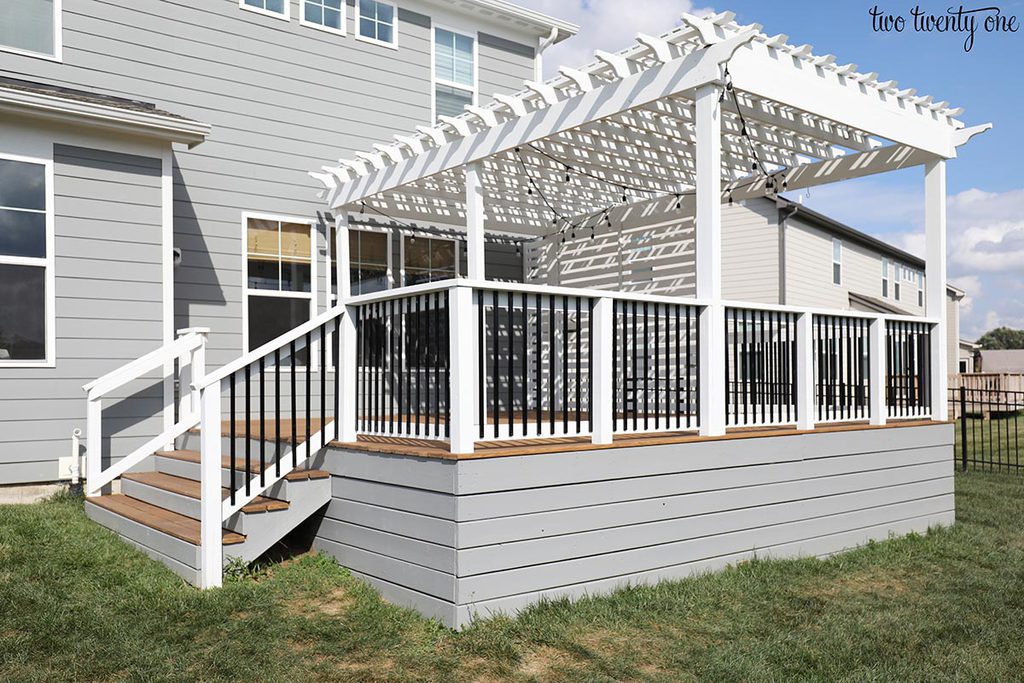 We opted to prime and paint the pergola, railings, and railing posts. We hired a company to paint the roof of the pergola because I wasn't about to get up there. They also painted the privacy screen.
But maybe I should have painted the roof and privacy screen because the painters got primer over spray on our brand new black fence, one side of the house, our outdoor furniture, and my succulents (even though we had all the furniture and plants moved around the opposite corner of the house). It wasn't even that windy the day they sprayed. So learn from our experience– put all of your outdoor stuff in your garage and make sure painters cover everything well.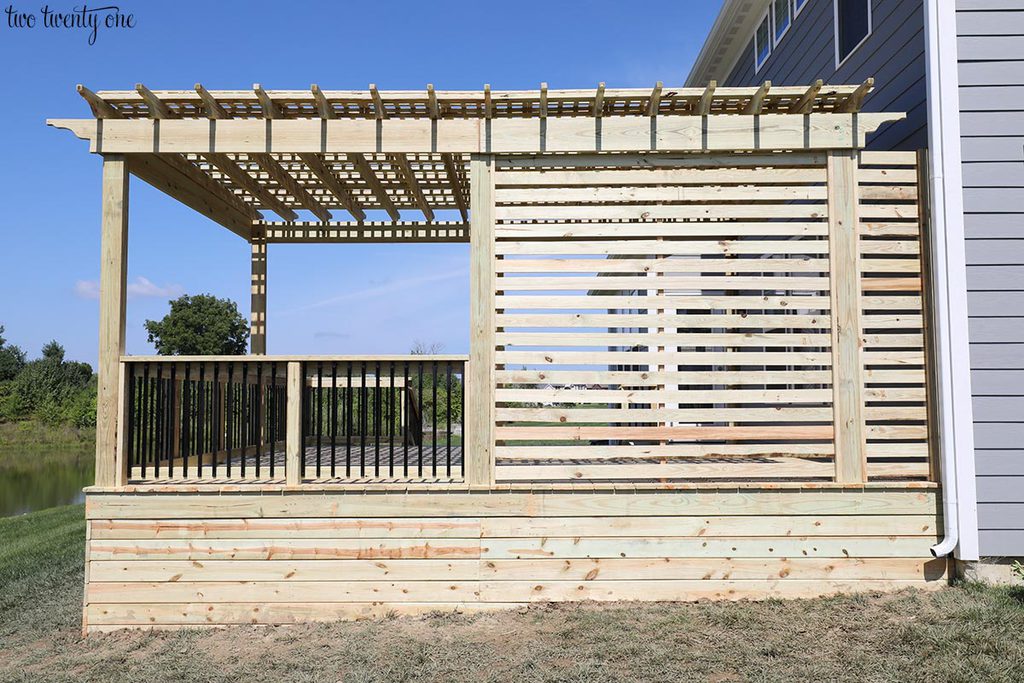 I'm obviously biased, but isn't the privacy screen dreamy?
I primed and painted the pergola posts, railings, and railing posts. And then I used a solid stain that was made to match the house on the base of the deck. I used a semi-transparent stain on the deck flooring.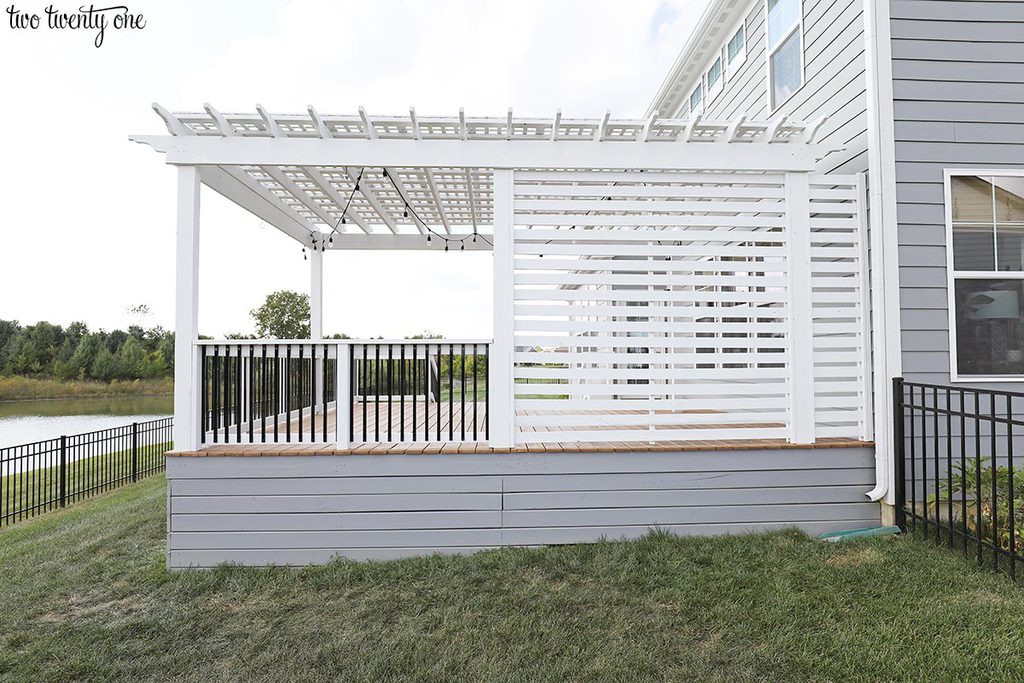 Confession: I kind of miss the coziness of the warm-toned wood. It was so nice going out on the deck during the day and working on my plants.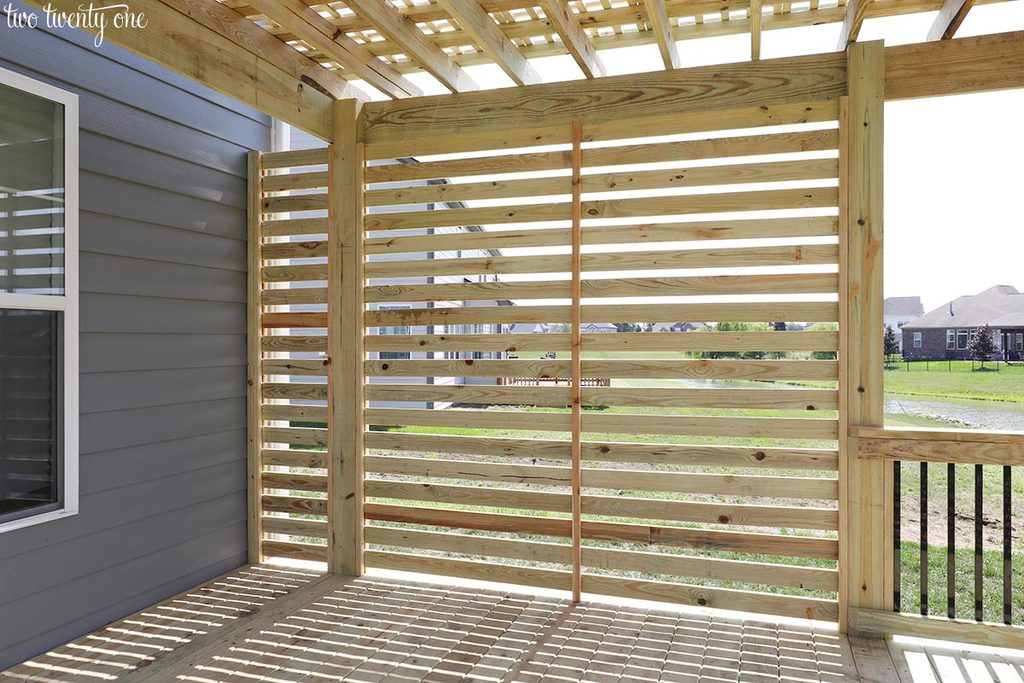 Now the deck area is brighter with the white pergola, but it's still nice out there during the day.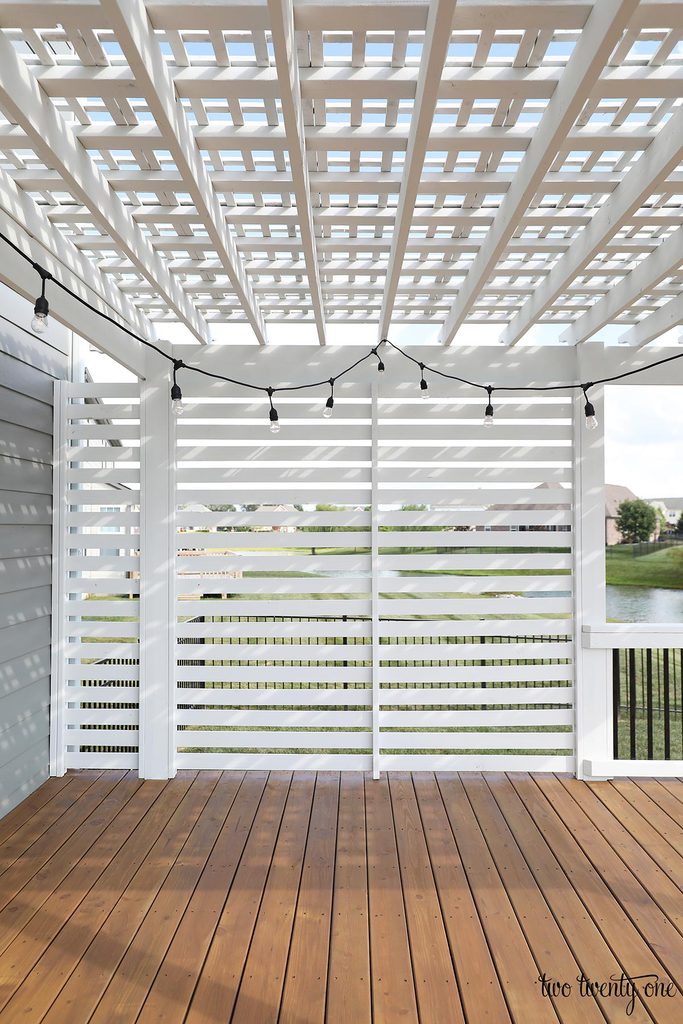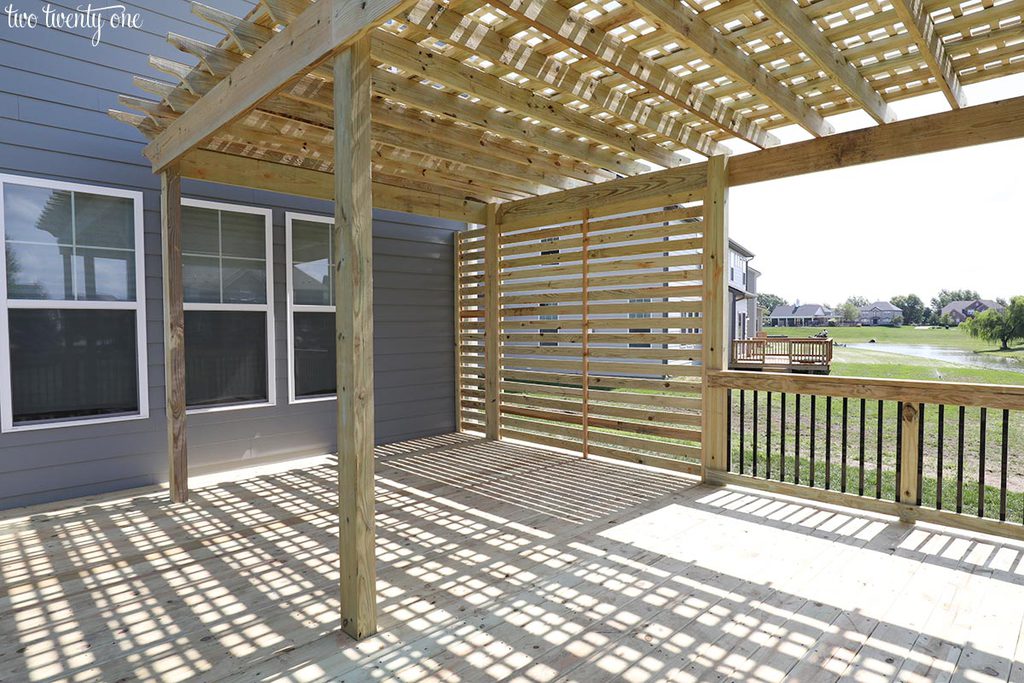 I'm going to be honest and say that I don't 100% love the flooring stain color– semi-transparent Valspar in Reindeer. I wanted something a little more tan– kind of like the color of our woven shades that you can see in the windows in the photo below. But I think Reindeer complements the white and gray well.
Choosing stain colors is the most annoying, painstaking task. My biggest annoyance is that no one does samples. You have to either buy a quart ($15-20 each) or a gallon. And the color rarely matches the swatch on the brochures. After dropping $70+ in quarts, I deemed Reindeer good enough.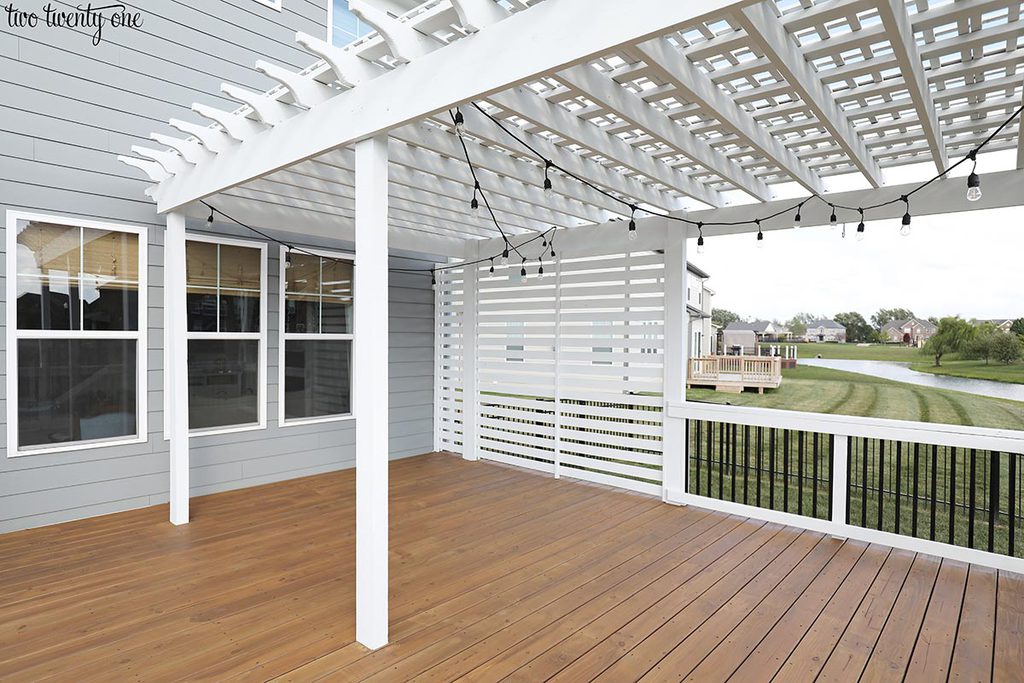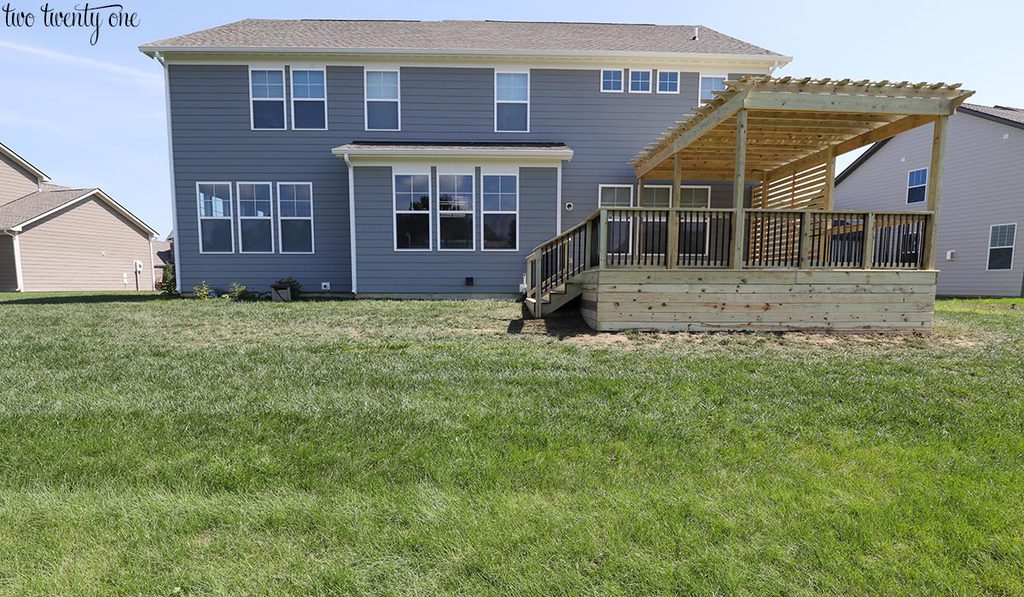 This was my first time working with solid stain, and I really enjoyed it. It's like paint, only thinner in consistency. But it covers really well. I was able to get the first coat of stain on the two main sections of the deck base in an hour or so one evening.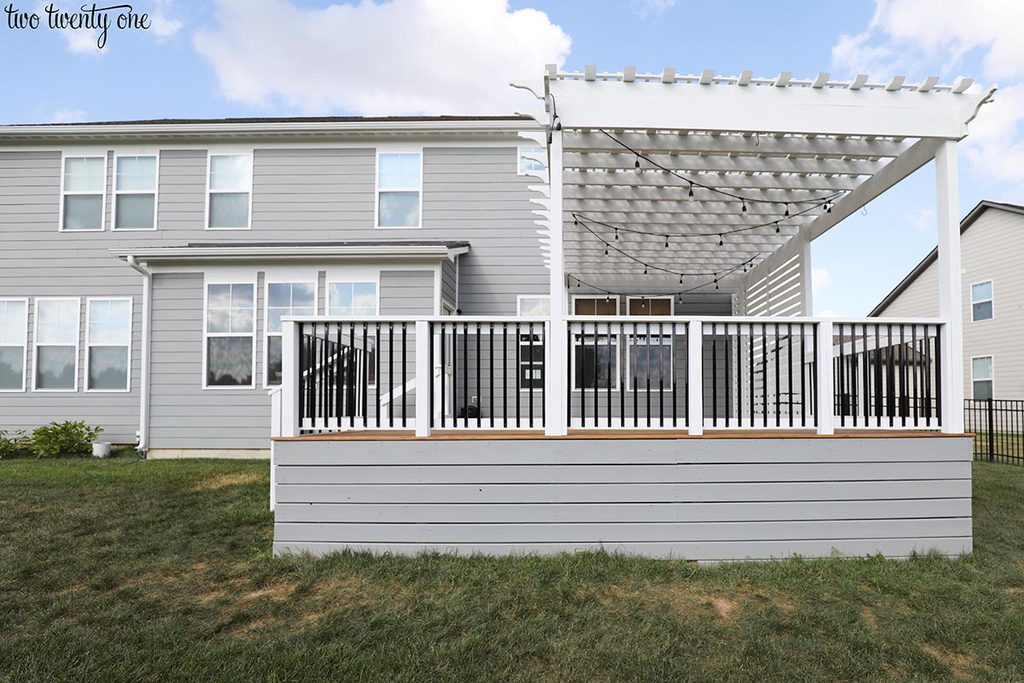 If I had to describe the deck and pergola now, I'd say it's Hamptons style. A neighbor/friend said it gave her a cottage vibe.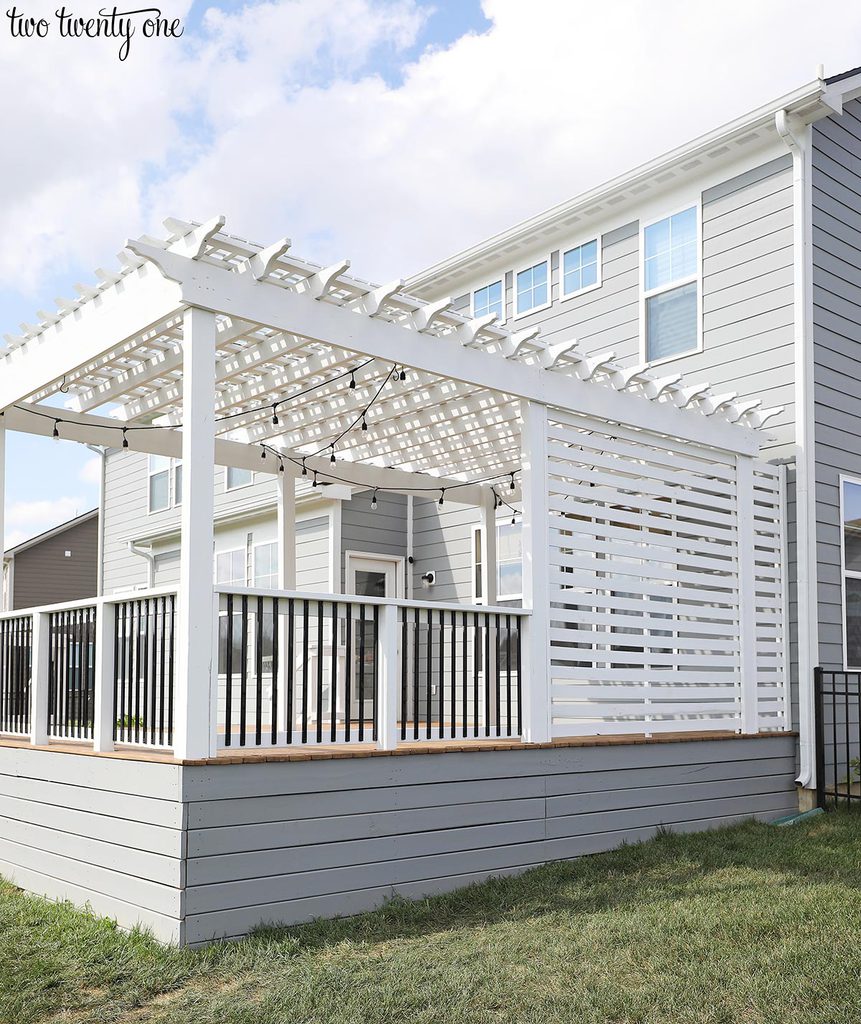 This was my first time staining deck flooring. Not gonna lie, I made some mistakes. But I don't think the results are too bad for a first timer.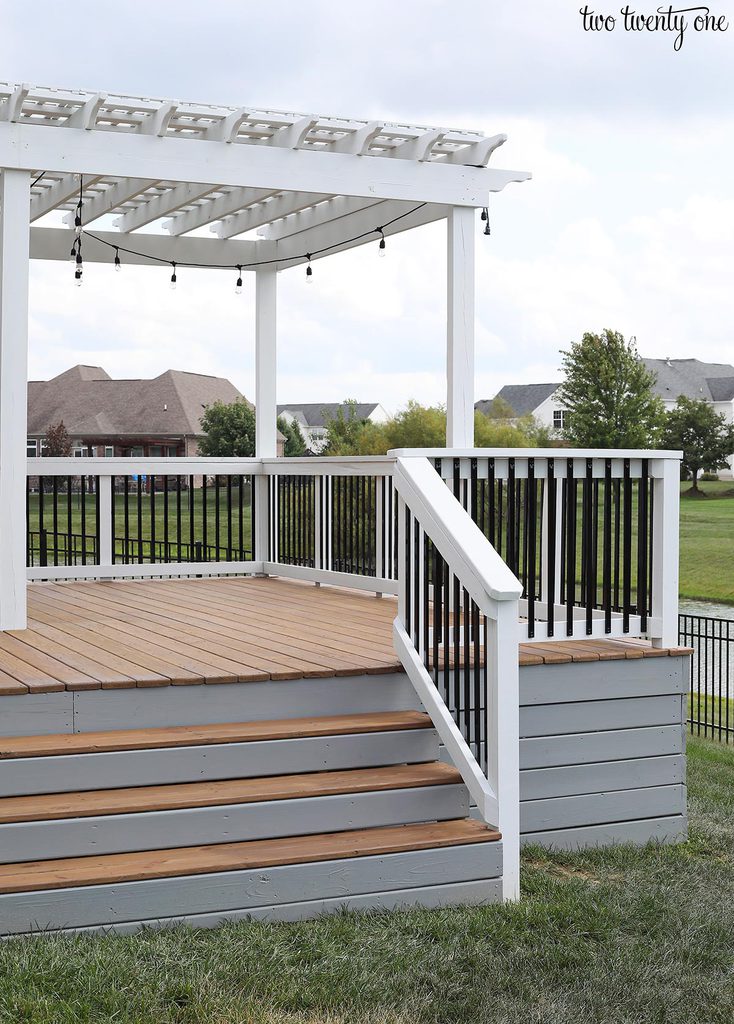 I went back and forth between staining with solid stain or using primer and paint for the pergola, privacy screen, and railings. The amount of time I spent researching and reading was mind numbing. Ultimately, I chose primer and paint because of the projected life of the paint. I really didn't want to have to pay someone to get on top of the pergola every few years to stain it. But who knows, I may be paying someone to get on top of the pergola every few years to paint it. I guess time will tell.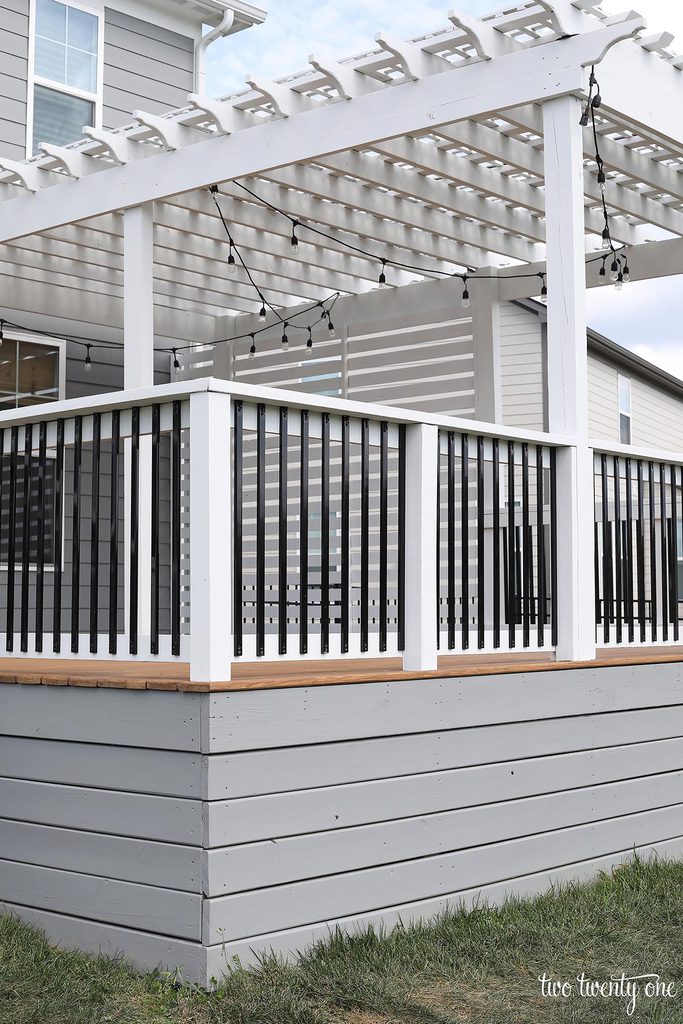 See how the solid stain looks just like paint?
And while semi-transparent paint doesn't last as long as semi-solid or solid, I wanted the grain of the wood to show and break up the solid white and solid gray.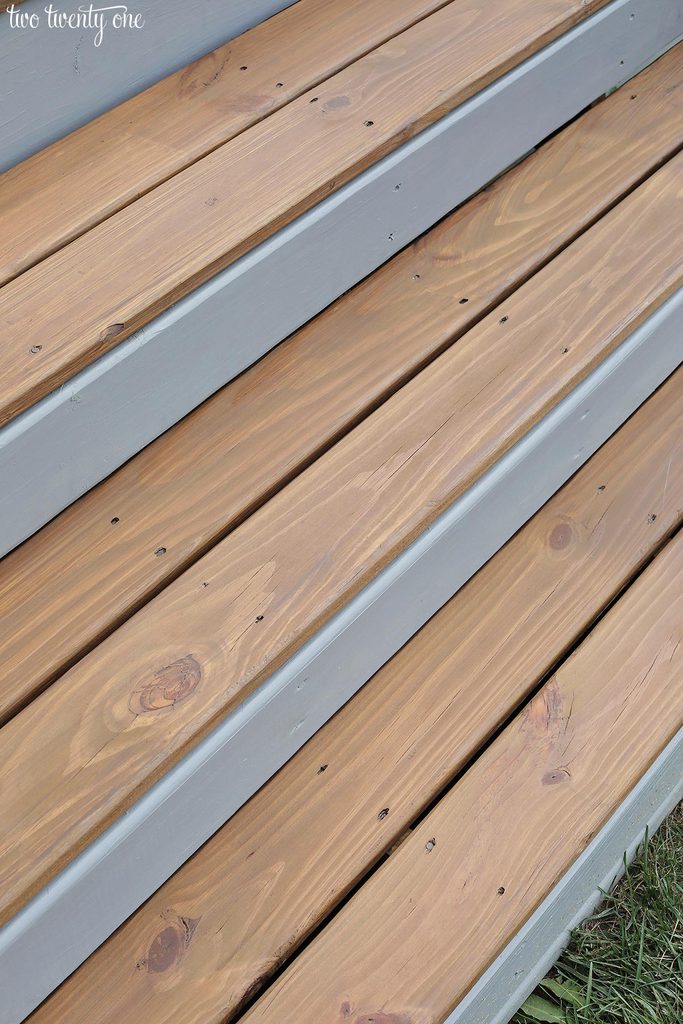 Want to see what the stained deck looks like with all the furniture and plants back on it? Click here!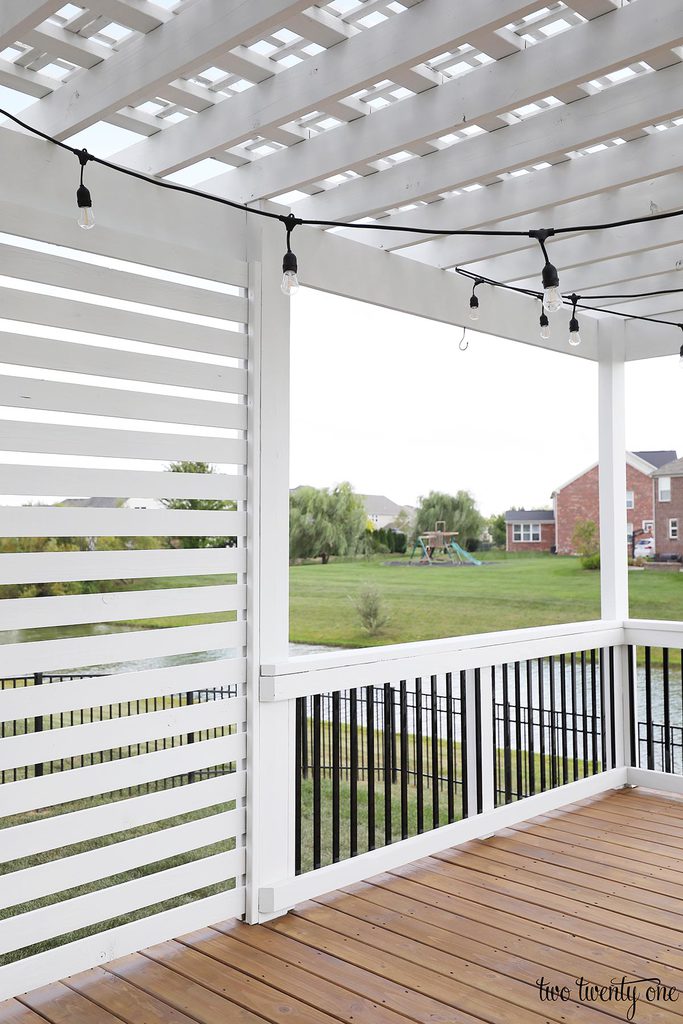 So, what do you think of the deck and pergola makeover?