Building A House: Designing the House
After deciding on a floor plan and lot, it's time to head to the design center and start designing the house.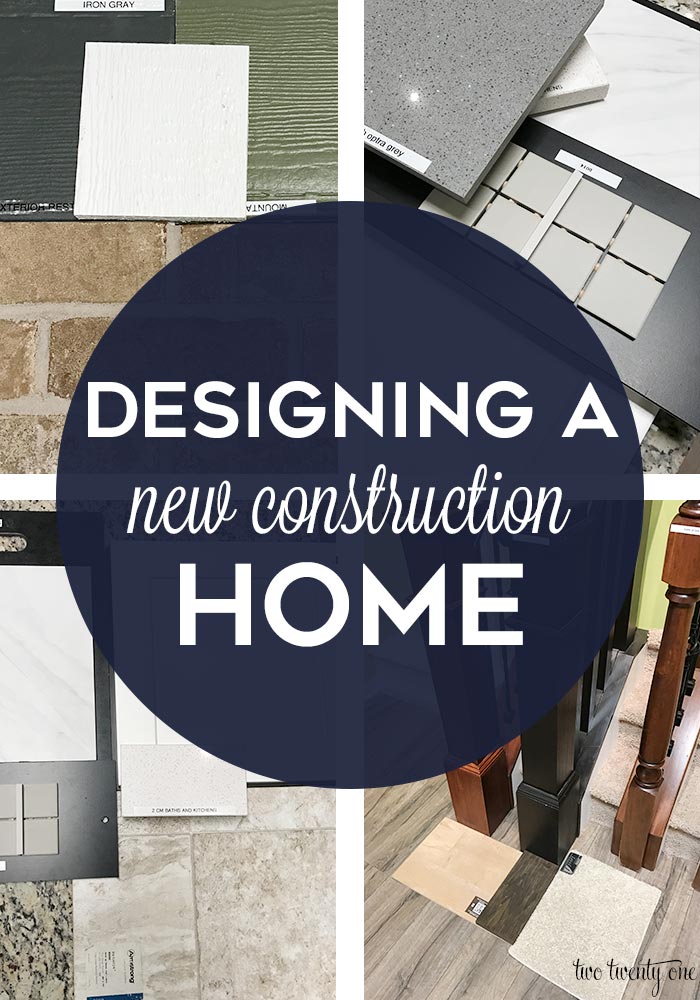 I had two 2-3 hour design center appointments. I say "I" because Brad didn't have the time to take off of work to join me for each appointment. So I took a bunch of photos and showed him things I was considering. Thankfully, he goes along with most of the stuff I do when it comes to home interiors. Plus, he knows how much time I put into thinking things through and researching stuff.
Our builder offered two design center appointments. During the first appointment, I spent about an hour looking at all the finish options (samples of solid surface flooring, vinyl flooring, carpet, countertops, backsplash tile, bathroom shower tile, grout, wall colors, exterior brick, exterior siding color, bathroom fixtures, etc). The rest of the appointment was spent going over our floor plan, lighting placement, and outlet placement.
When it comes to upgrades, you have to consider things that will and won't be easy and cost-effective to change in the future. Bathroom fixtures? Easy and rather inexpensive to change in the future. Main living area flooring? Not so easy and inexpensive to change in the future. We kept all of this in mind when picking things out for the house. So we splurged with upgrades in some places, and saved in others.
Keep in mind what I said in the first post of the series— you have to choose from the options you're given. There's no deviating.
Flooring & Carpet
We had to upgrade to a level 2 for our first floor flooring (besides my office). Because it's difficult and expensive to swap out so much flooring, we wanted to go with something we liked from the start, which meant having to upgrade. And I love our laminate floors (QuickStep Malted Tawny Oak). They're light enough that they don't show every little crumb. Our entire first floor has this laminate but to save some money, we had my office carpeted.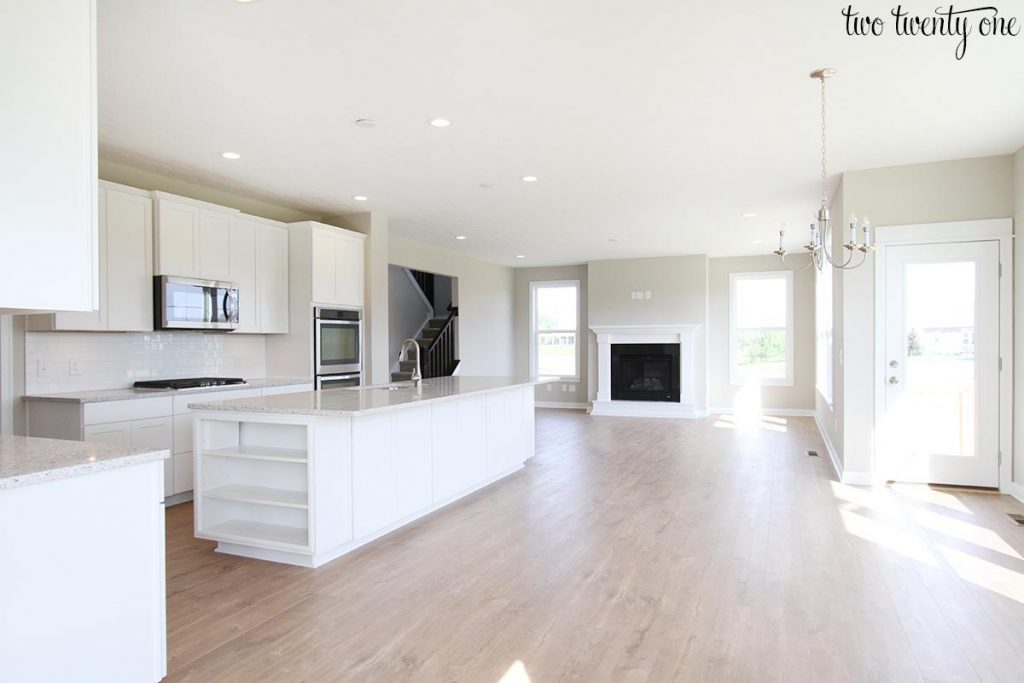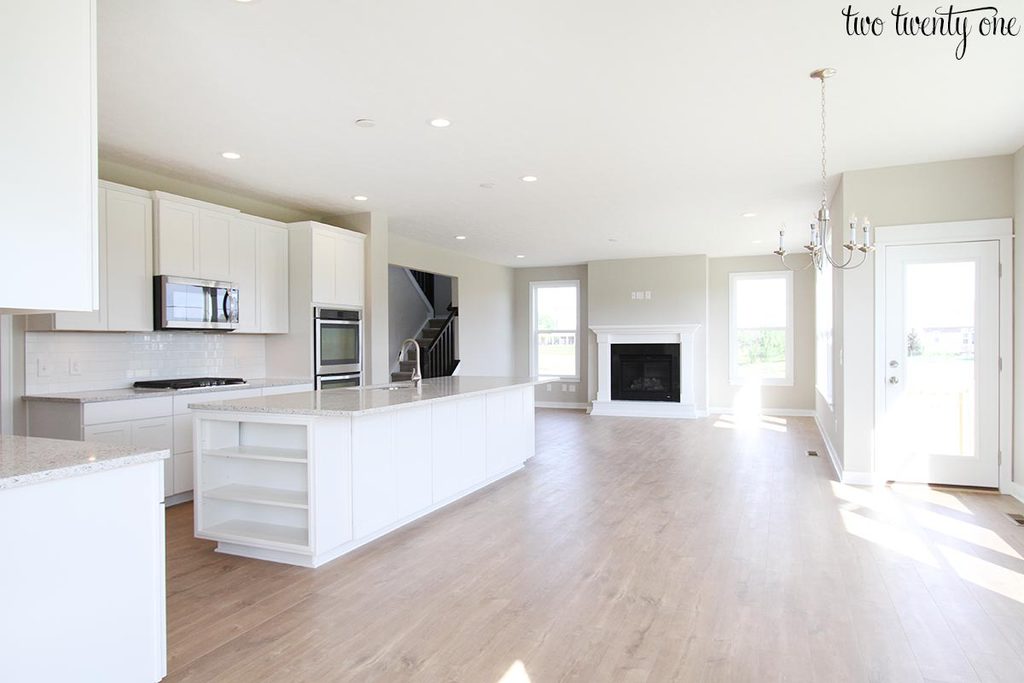 When it came to the bathrooms, the vinyl tile and ceramic tile options were really limited, which was frustrating because I feel like vinyl has come a long way. We ended up going with the most attractive option of vinyl they had, and just planned on eventually updating the bathroom flooring. The vinyl we went with ended up looking very different in our house than it did in the design center.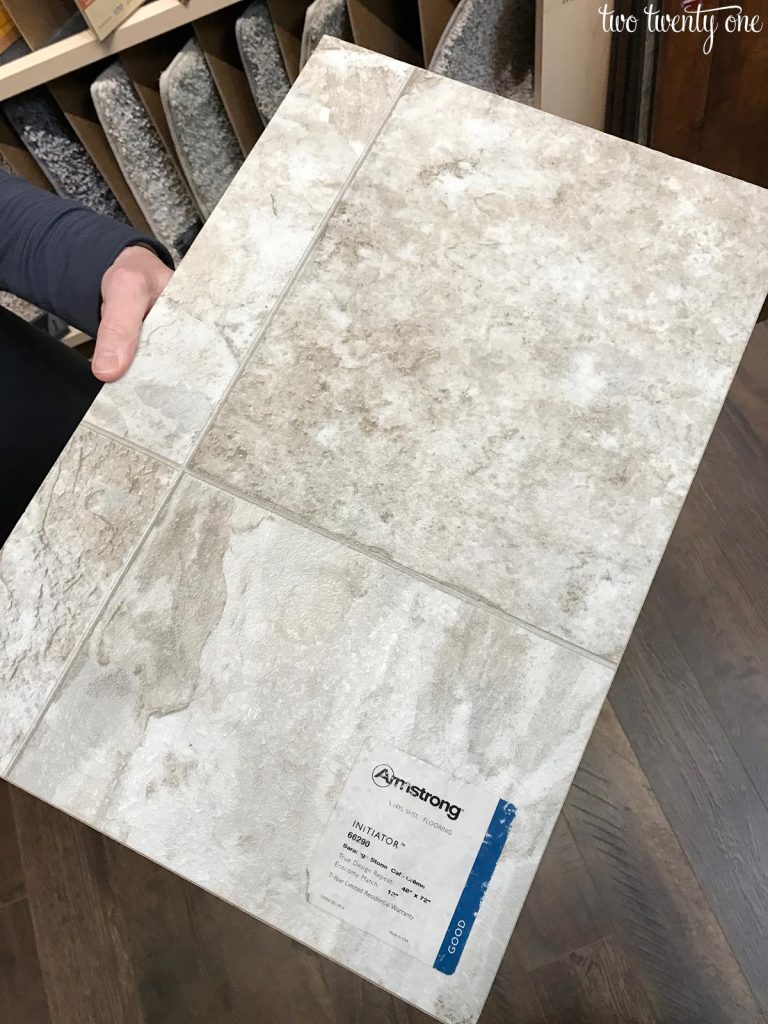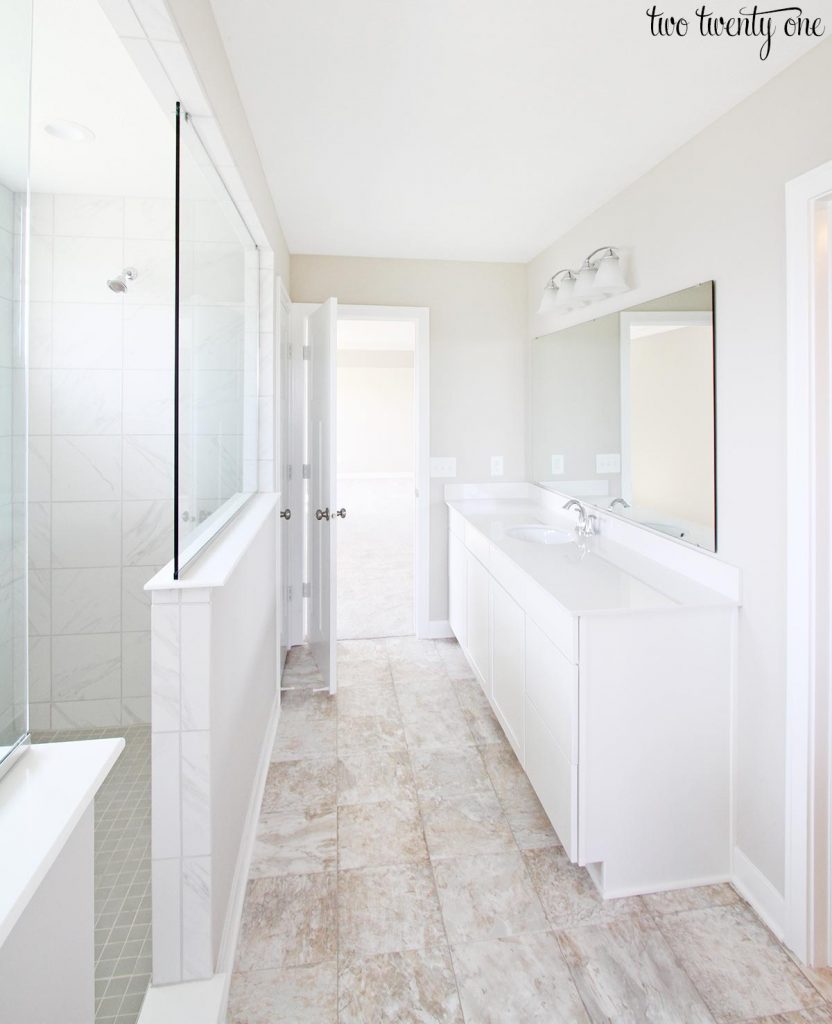 We could've paid extra to have our master bathroom tiled with ceramic tile BUT we would've had to use the same tile that was used on the shower walls. To me, that was a lot of the same tile in a bathroom. So we went with the vinyl, knowing we'd update the flooring.
Every room, except the bathrooms, is carpeted upstairs and so is the finished room in the basement. While we didn't upgrade our carpet, I highly recommend upgrading the carpet pad. We got a thicker, Stainmaster pad except for in the basement.
Tip: When deciding between carpet color, put multiple samples next to one another. This will help you see undertone colors. Put the carpet sample next to a baseboard and paint sample in the design center and next your hard surface flooring sample to see how it will look when it's next to the flooring if you'll have any spaces where the two meet. Also, move the samples around the design center to see what they look like in different light.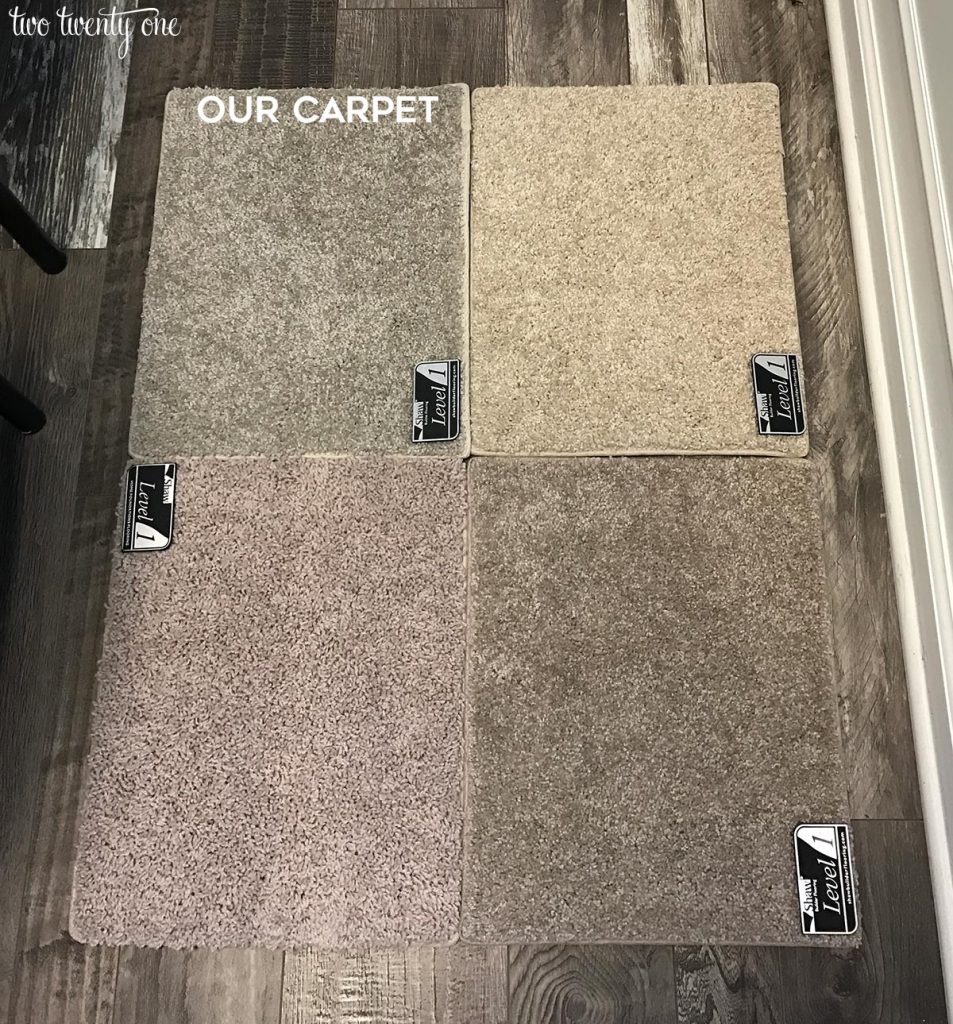 In the design center next to our chosen wall and trim color: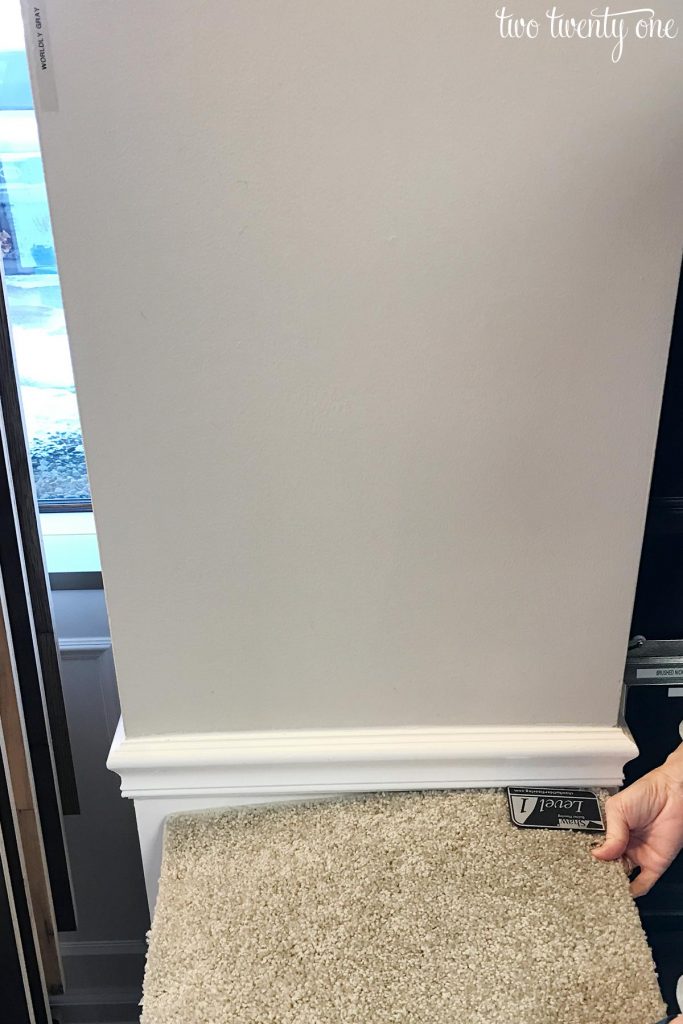 In our house: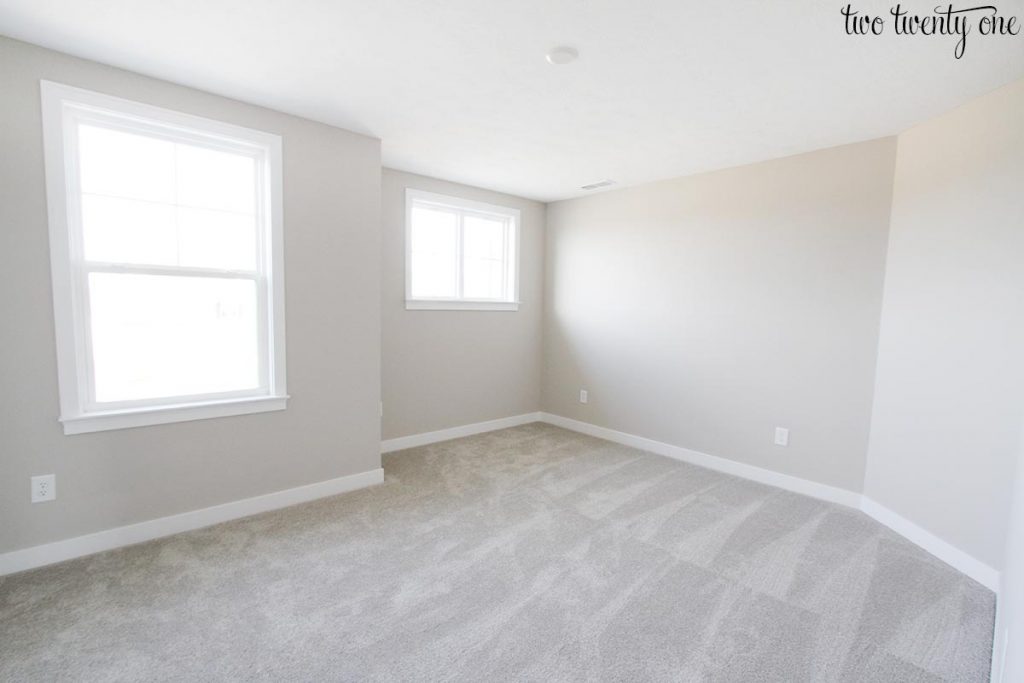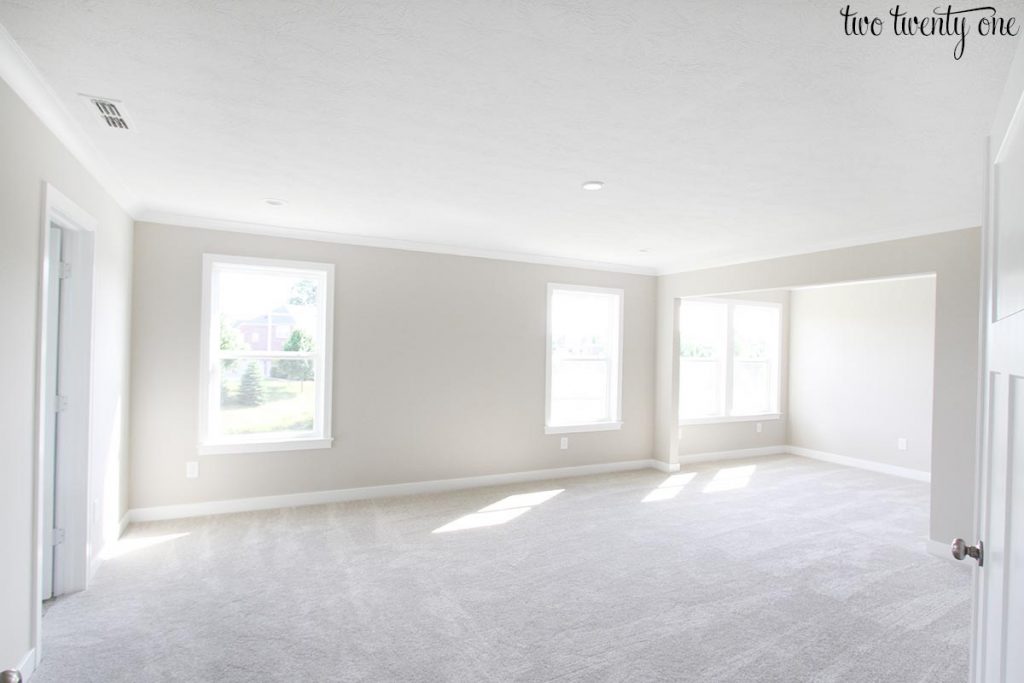 Exterior
You may remember from the first post in the series when I said we couldn't choose the same siding color or brick that was on any of our direct neighbors' houses. Thankfully, when we built, there were no houses flanking ours, only one across the street. So we couldn't use the same brick or siding color as that house.
We had to choose between about 14 siding colors and, I think, 5 trim colors.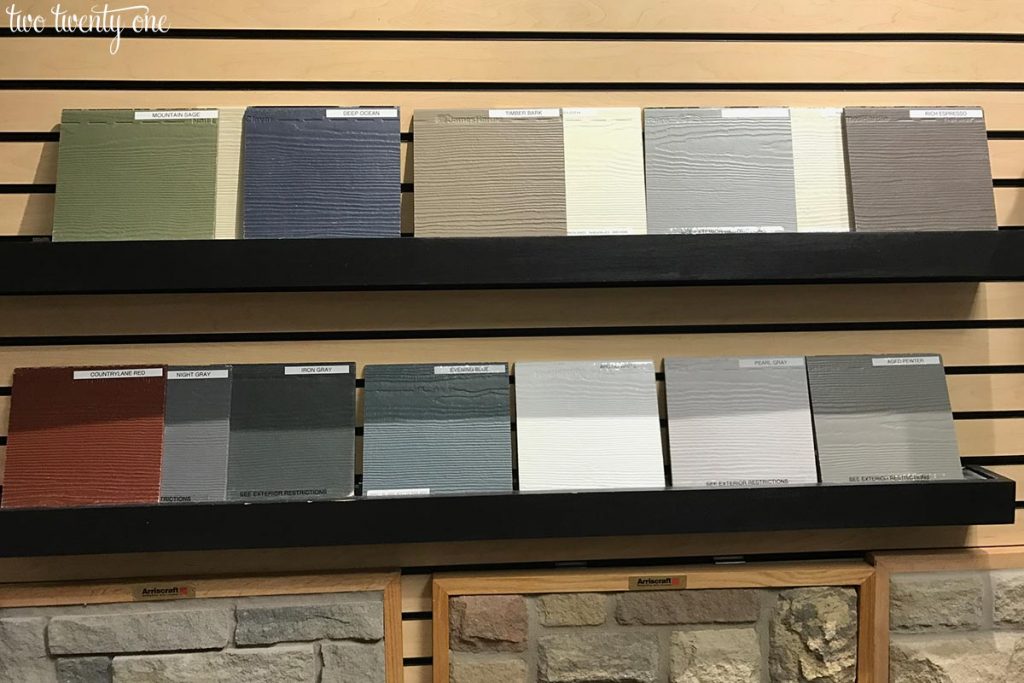 When it came to brick, we had about 12 options. (We didn't want to upgrade to stone because it was really pricey.) Our sample isn't shown in the photo below.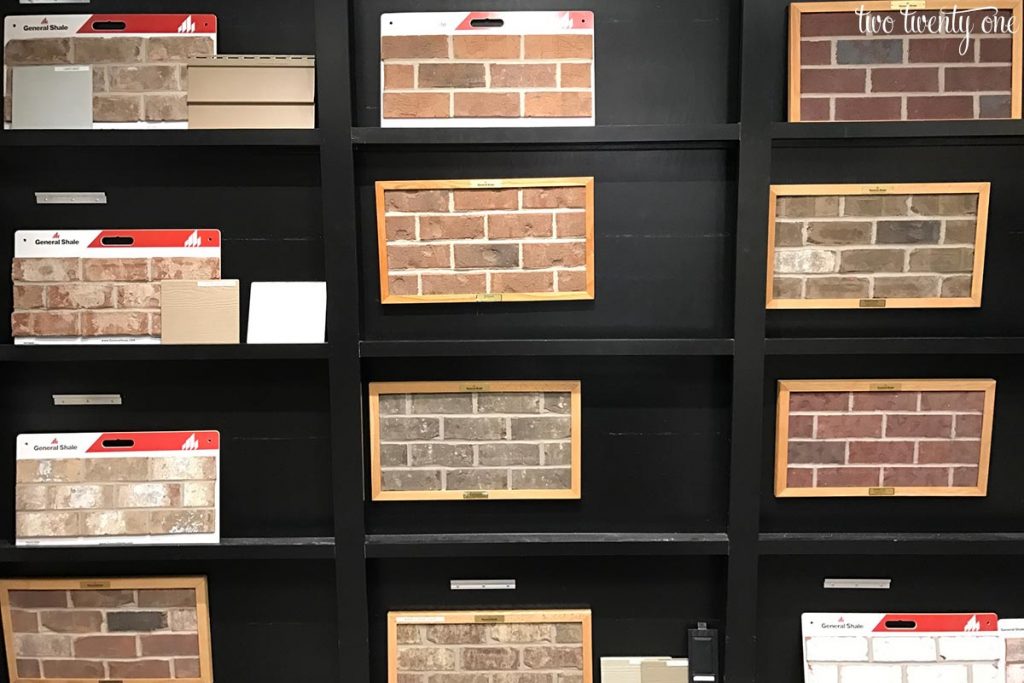 I had a very difficult time selecting the exterior brick for our house. A large portion of the front of our house is covered in brick so it was an important decision to make. I didn't really care for any of the brick options our builder had to offer, which made things more difficult. And of course the brick I was favoring isn't that popular so there aren't a ton of photos of it on actual houses online. But I did end up finding a couple photos online.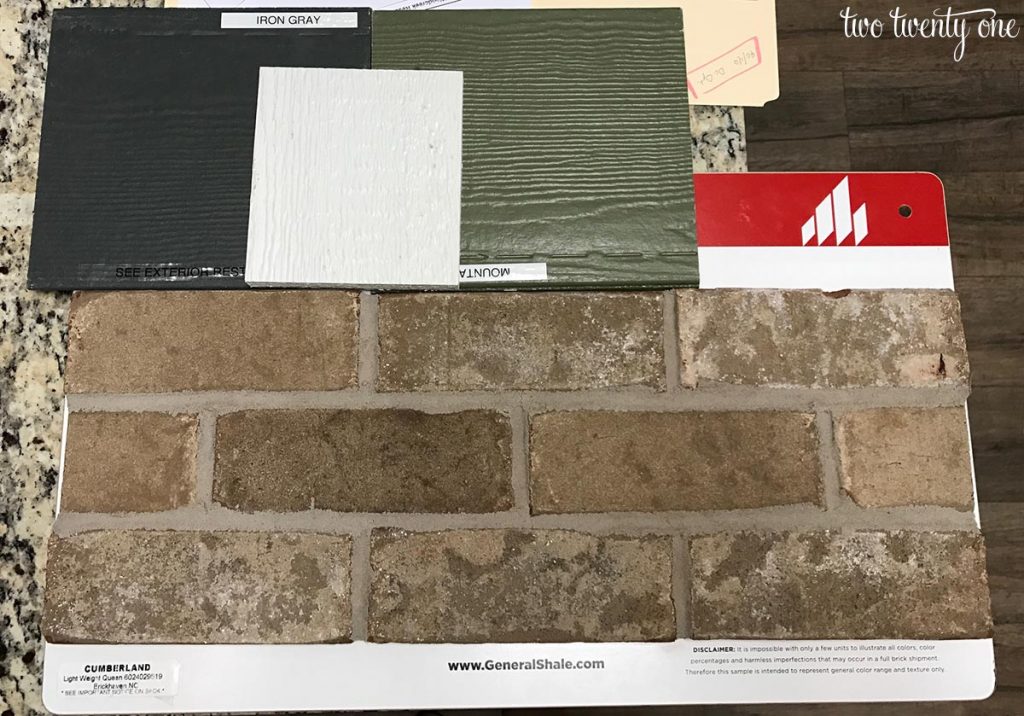 I was also having trouble deciding on an exterior color. Originally, Brad and I were going to go with green siding (Mountain Sage), but after finding a listing photo with a beautiful gray siding (Slate Gray), my mind started to lean toward the gray.
So I uploaded photos of our potential brick, siding and trim colors, front door color, and shingles to a Dropbox and sent the link to my amazing friend, who works for another home builder in a different state, and she Photoshopped the options onto a real estate listing photo I found of our exact floor plan and elevation with a side loading garage. Having this done really eased my mind. (Thank you so much, Erin!) I know not everyone has a friend who can do this, but I know there are services and people out there who do it. So if you're really struggling in this department, I highly encourage you to get someone to put together some Photoshopped options. While I haven't tried it, you may be able to find people on Fiverr to do this for you.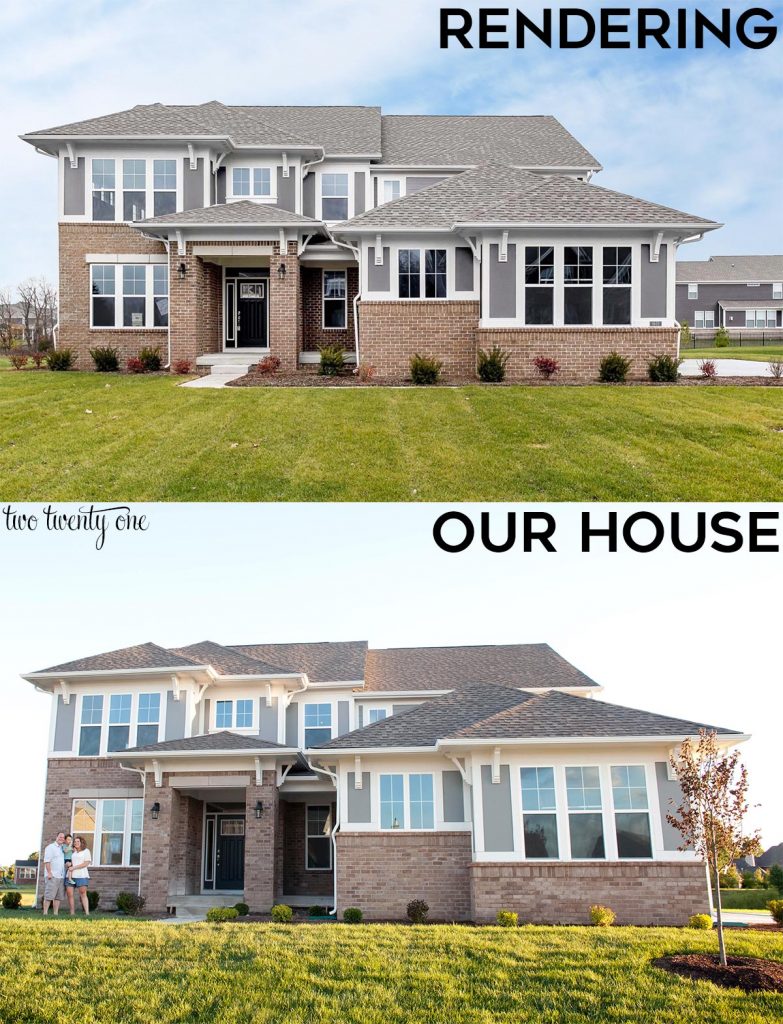 Here are the other house colors we considered (top is the color we went with):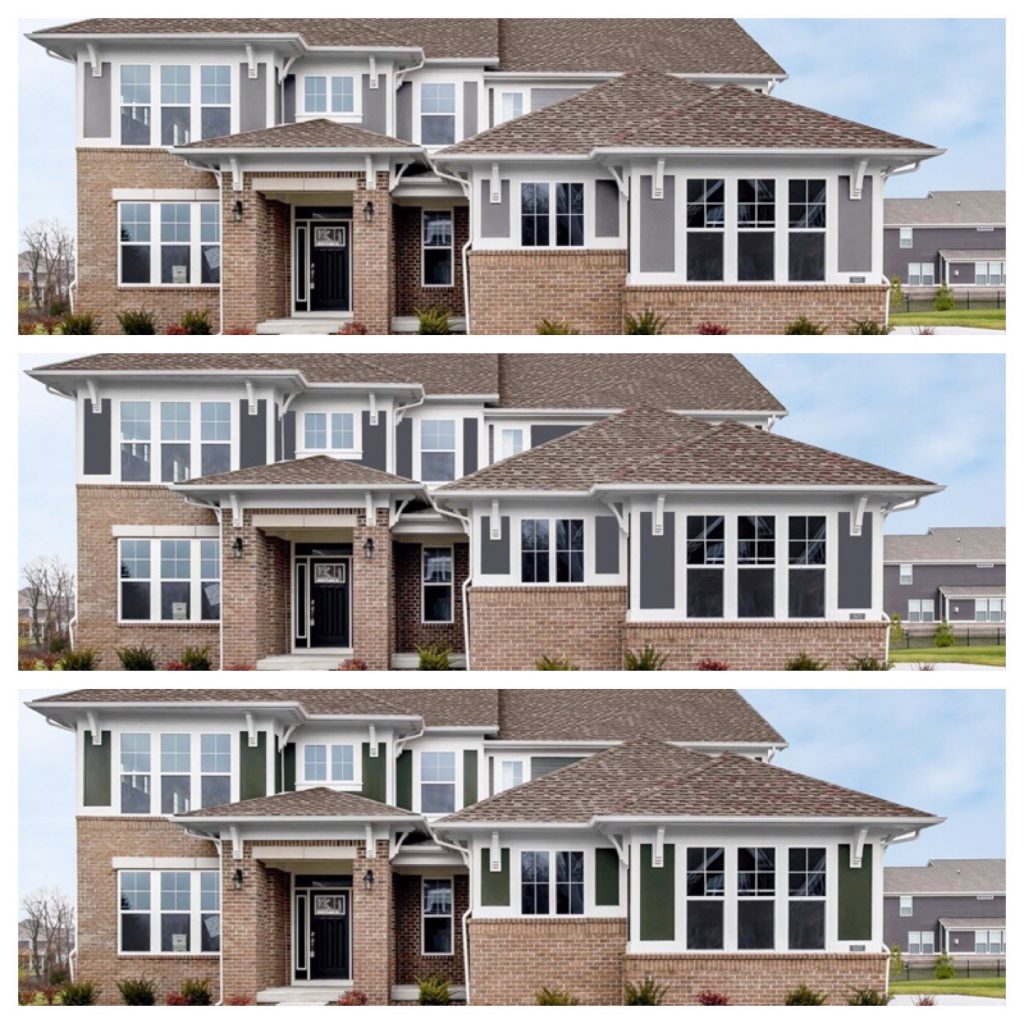 Tip: Drive around neighborhoods your home builder has already built. Look at the brick or stone, siding, and trim color combinations. Also take note of door colors. Snap photos of your favorites. Yeah, you'll look like a creeper but who cares– it's rather expensive to change brick or stone down the road. And like with the finishes, brick and siding can look a lot different on a house, in daylight, than when looking at the samples in a brightly-lit design center.
Here's what we ended up going with on our house:
brick: General Shale, Cumberland
HardiePlank siding: Slate Gray
HardieTrim & garage doors: Arctic White
front door: Iron Gray
roof: Weathered Wood (no choice, every house in our neighborhood has this shingle color)
Lighting
Throughout the design process, my motto was "You can't turn on a light that isn't there."
Our original floor plan didn't come with many lights (lights and rough-ins are upgrades), so I went through and added a ton, especially on the first floor. My reasoning was that it's rather hard (and expensive if paying an electrician) to add lights in between floors. And I'd rather pay the $150 per recessed light now, then deal with the hassle later.
We had ceiling fan rough-ins put in all of the bedrooms, the loft, morning room/playroom, the office, and living room. We also added recessed lights in the living room, morning room/playroom, the office, master bedroom, sitting room, basement bonus room. In the kitchen, two pendant rough-ins were added above the island and under-cabinet lighting was installed.
I added a recessed light above each of the shower stalls (Owen's bathroom and guest bathroom) because the only other light sources in those bathrooms is the vanity lights. I also added an additional GFI outlet to our porch (for Christmas lights) and another recessed light on our front porch over the small sitting area (the porch came with one light over the front door). I figured if I ever didn't want light to shine over that area, I could unscrew the bulb. I love the added light on the front porch when I have the lights on.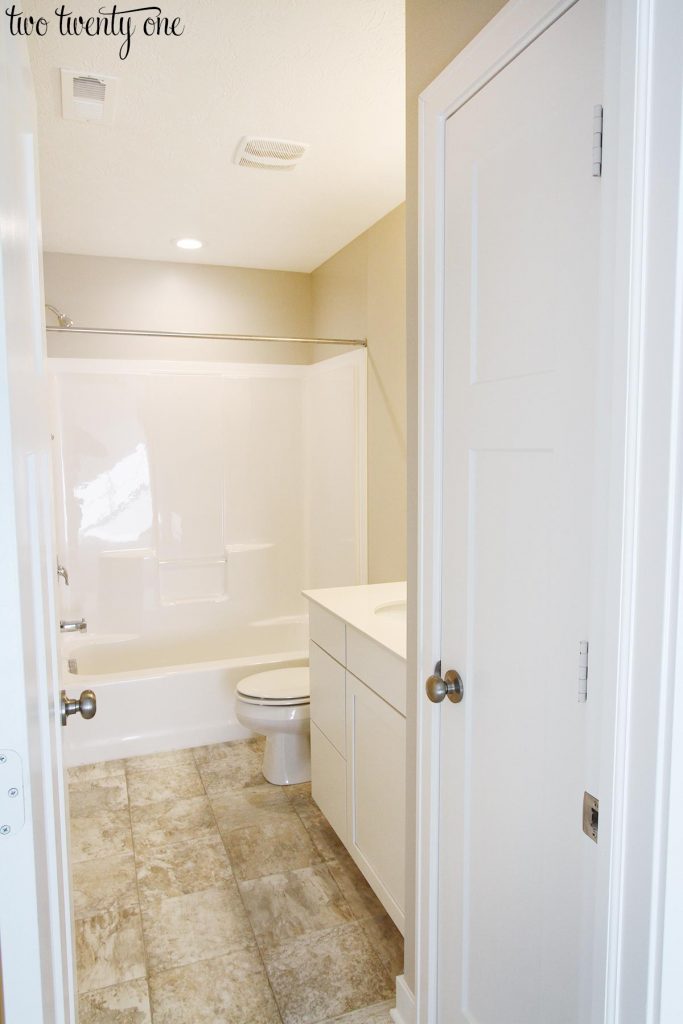 Cabinets & Hardware
When it came to cabinets, whichever we chose for the kitchen, we had to get the same for the bathrooms and planning center. We had to upgrade to a level 3 to get the shaker cabinet doors I wanted. That was painful, especially after moving into the house and seeing the poor quality of some of our doors and drawer fronts (bubbles in the finish, unfinished/unsanded spots).
In regards to the hardware, we had to choose either knobs or pulls. And whatever we chose would be installed on every door and drawer throughout the entire house (kitchen, planning center, bathrooms). I found this very limiting. Also, once you drill a hole in the door or drawer face, you can't really go back. Let's say we went with pulls, but we wanted to change things down the road, we'd have to stay with pulls and pick pulls with the exact measurements for the holes to match up. So we decided to eliminate the hardware throughout the entire house so we wouldn't be so limited. The builder gave us a $50 credit.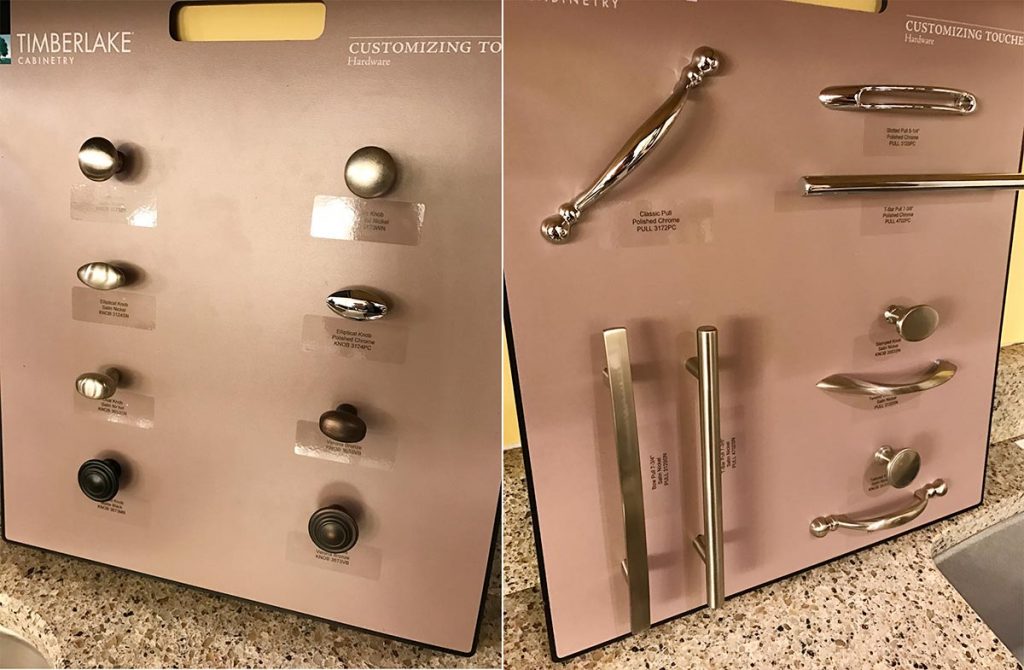 I also didn't like the original cabinet design for the kitchen, so I had them remove the staggered kitchen cabinets and replace the glass front cabinet doors that were to flank our microwave with solid doors. We had to pay $250 to have this done.
Countertops
We went with quartz countertops in the kitchen, planning center, and bathrooms because it's durable and there's little upkeep, unlike granite and marble. We chose a more speckled kitchen countertop (peppercorn white) because those tend to hide missed crumbs, which is important with kids, between than a solid countertop. For the backsplash tile, we did a 3″ x 6″ subway tile in Arctic White with Silverado grout.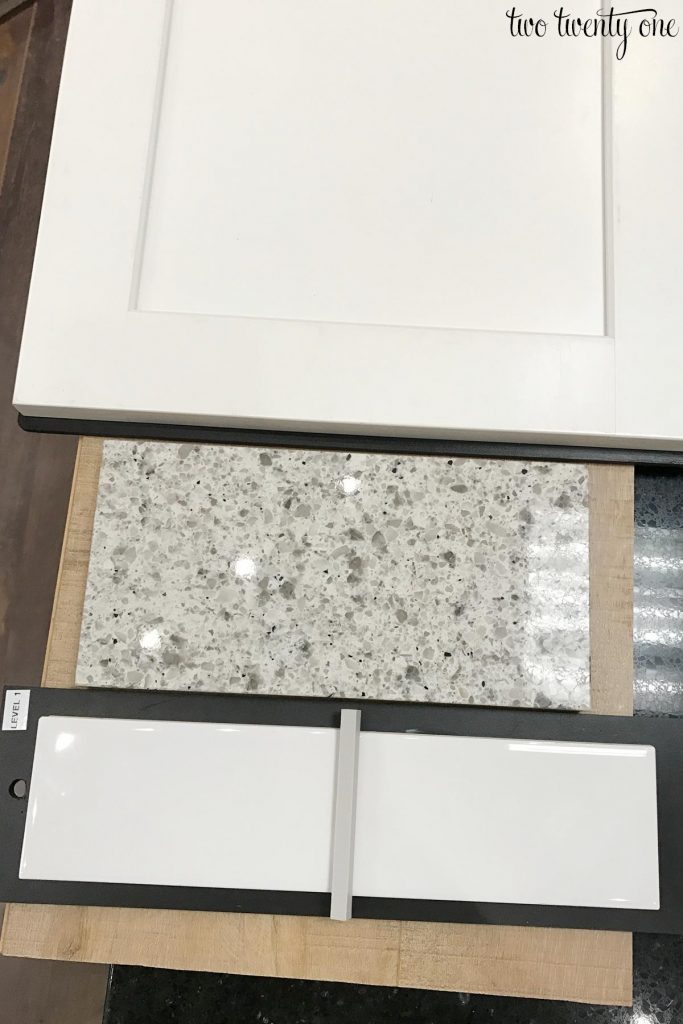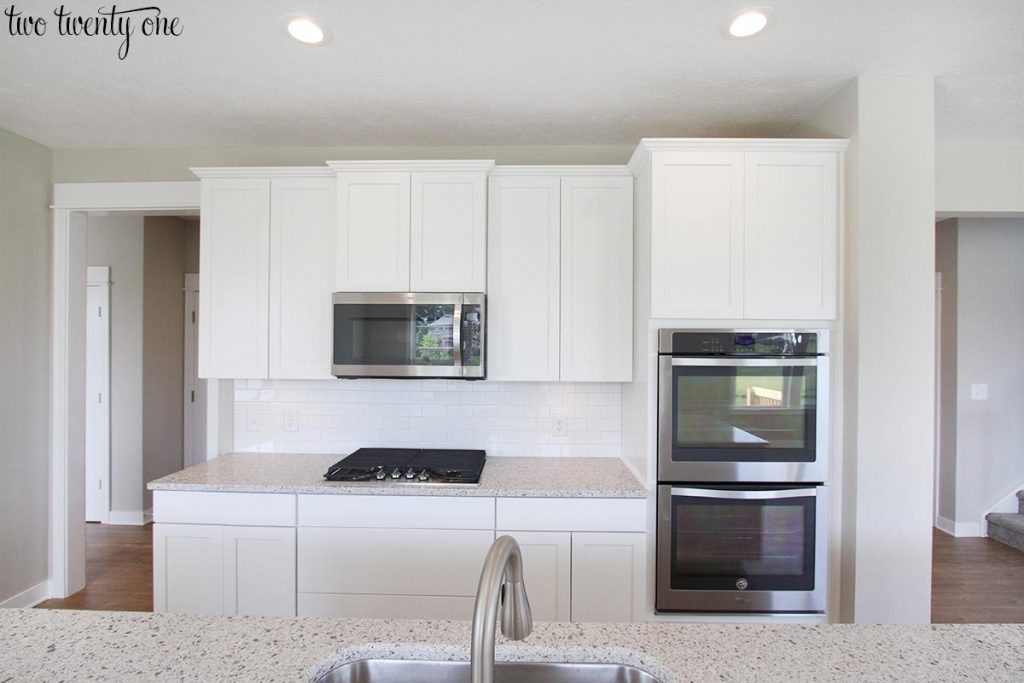 There was a snafu with the bathroom countertops (read more about that here). When I went back to the design center to choose new bathroom countertops, the sample I ended up picking didn't look as sparkly (glittery flecks) as the tops look installed in our bathrooms, but I'm getting over it. So again, keep in mind things may look different under the design center lights than in your actual house.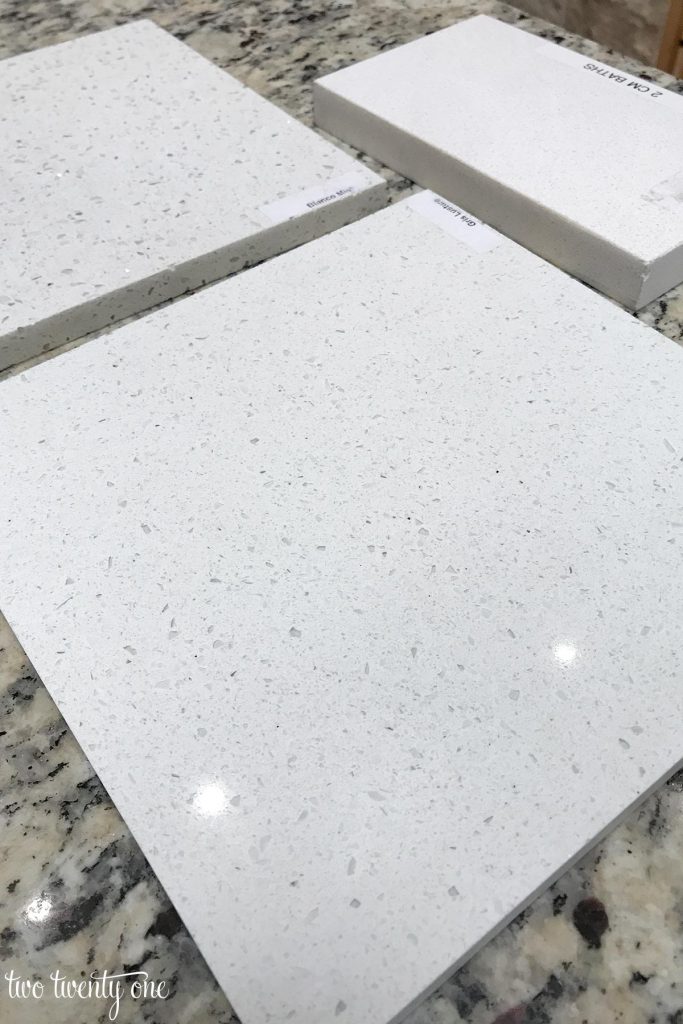 Floor Plan-Changing Upgrades
We made a handful of floor plan-changing upgrades. One being that we eliminated the 5th bedroom and walk-in closet on our main level. Instead we upgraded to have the morning room, which we use as Owen's playroom, and planning center. Another upgrade was the shower in our master bathroom. It was the one thing Brad really wanted, and since I'm not a bath person, I was on board. We also added an ensuite bathroom to the guest bedroom. My parents visit at least once a month, and we have other people come for the weekend, so it made sense to give our guests their own private bathroom. That and Brad and I didn't need a massive sitting area in our bedroom. We also added the family organizer built-ins. We had them convert the formal dining room into my office by shortening the opening and adding French doors and a transom. I needed an office/workspace and we would never use a formal dining room so this made the most sense for us. We also moved our fireplace. In the original floor plan, it's a corner fireplace with two windows on the adjoining exterior wall. I'm not a fan of corner fireplaces, so we paid $250 to have the gas line moved in order to move the fireplace to the center of the exterior wall. And an additional $250 to move the windows so each would flank the fireplace.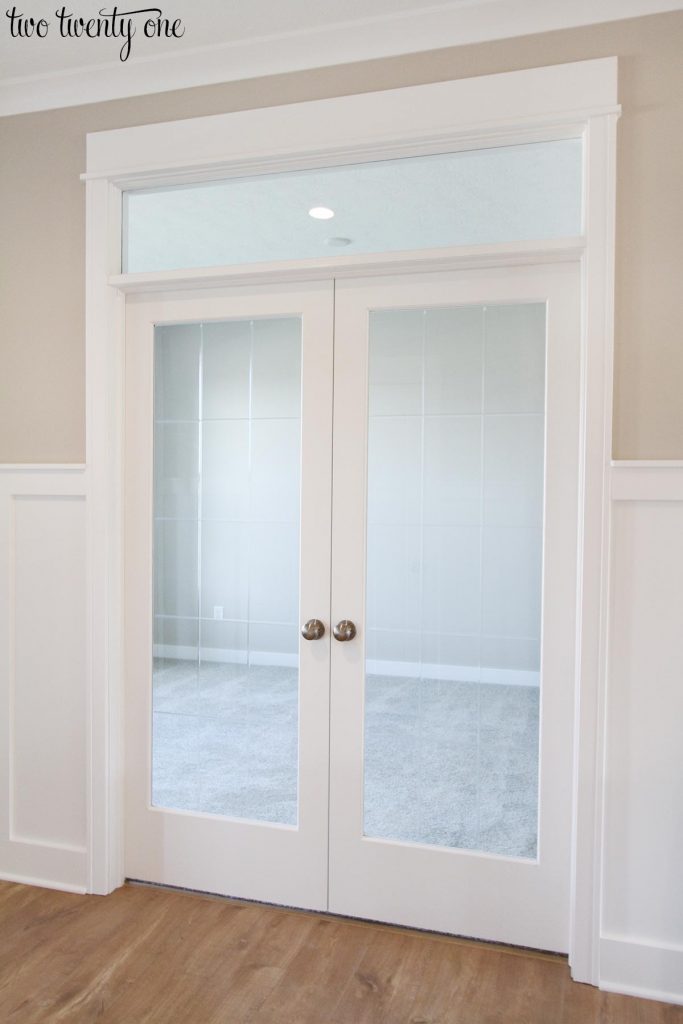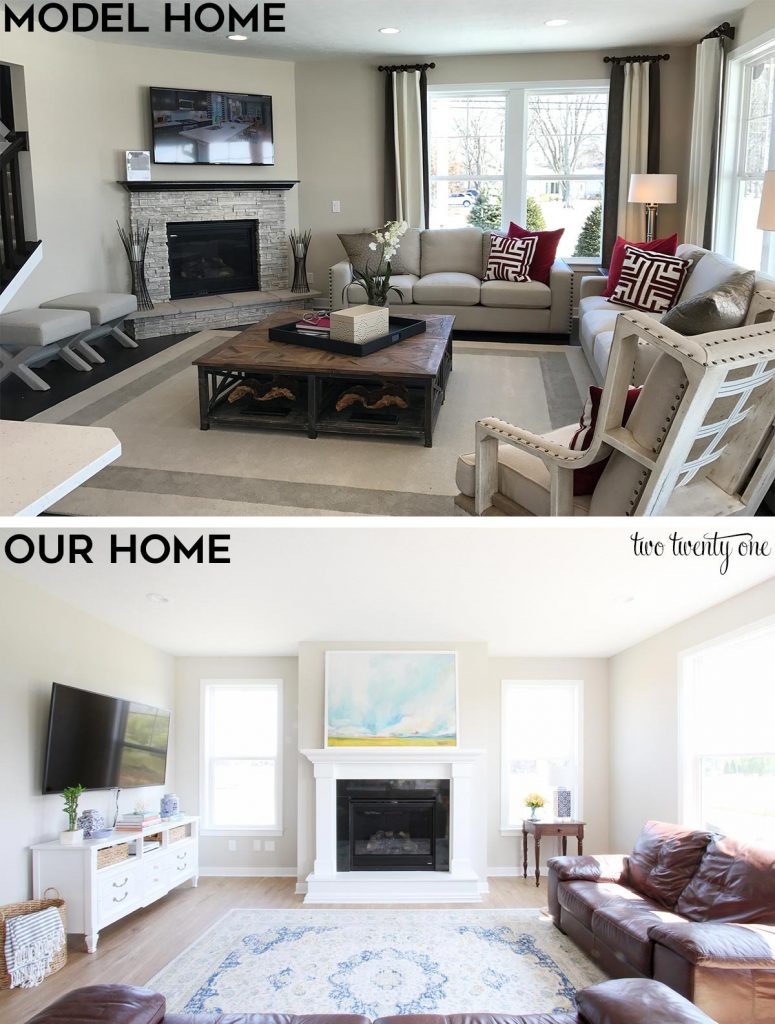 Paint
We had two options when it came to paint throughout the house: no extra charge and the entire house would be painted SW Extra White OR pay $1,500 to have the entire house one of six colors (walls painted the color; doors, trim, ceiling painted SW Extra White). I went back and forth on this so many times because I didn't really care for any of the six wall colors offered. The design center lady and Brad probably wanted to strangle me. But since I didn't know how long it would take me to decide on paint colors and I didn't want the house to look stark and white, I went with SW Worldly Gray. Plus, it would cost us A LOT more than $1,500 to have the entire house painted. Ultimately, I'm happy with my decision.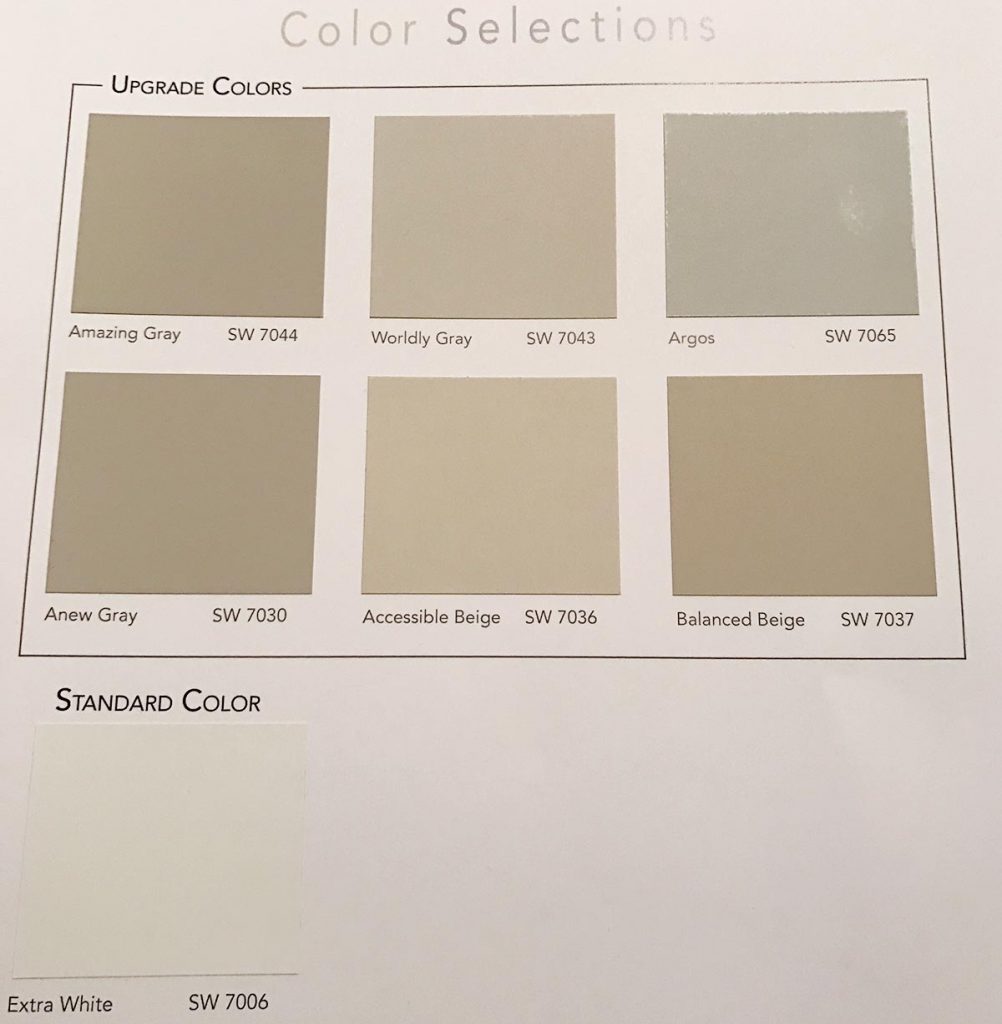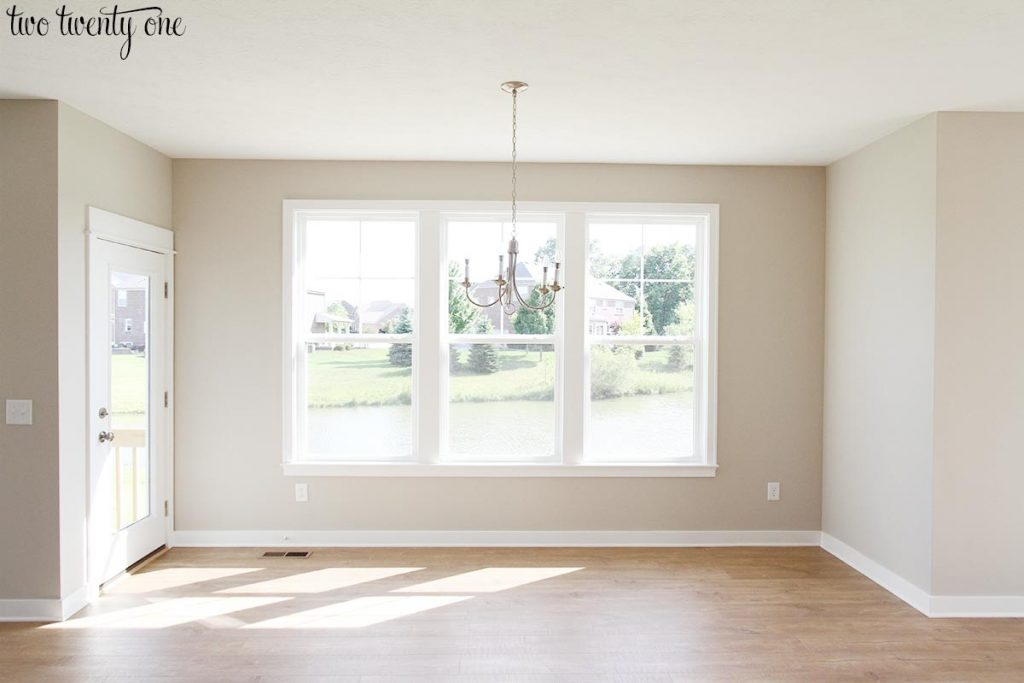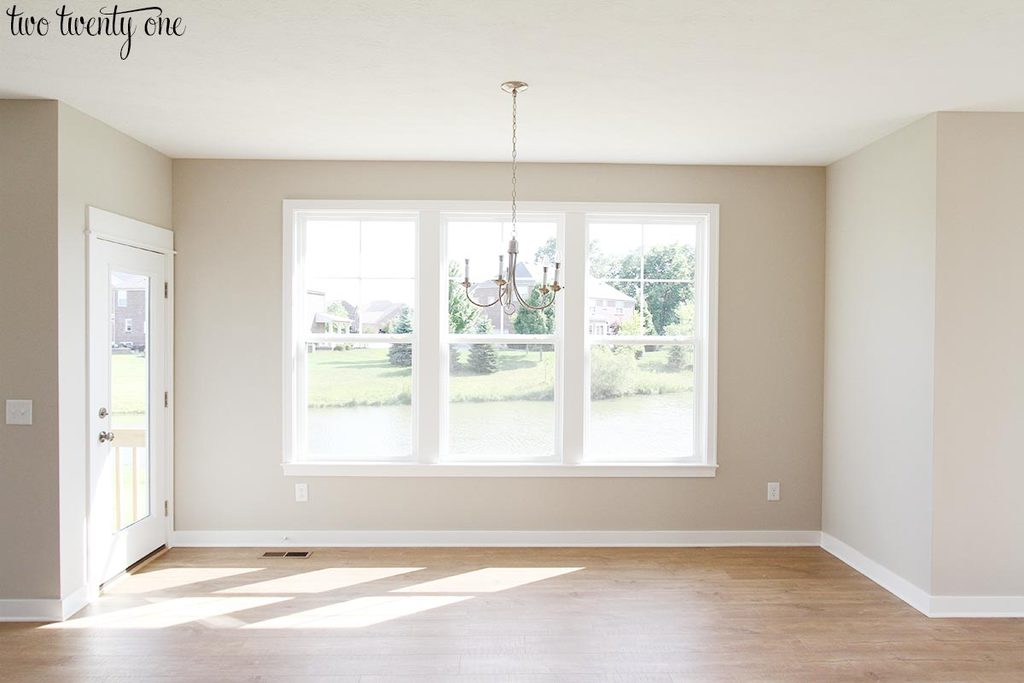 Misc.
Here are some other things we paid to have upgraded:
• finished garage– drywalled, painted, house & garage door openers
• knock down ceiling texture
• stairway rail to box, square newel posts, stained balusters
• stainless steel kitchen appliances (fridge not included)
• gourmet kitchen (double oven, gas cooktop)
• fireplace surround (granite), raised hearth, Kenwood mantel
• cased windows
• craftsman-style doors, board and batten in entryway
• laundry utility sink (the only way we could have additional plumbing added to the laundry room)
• full basement with finished bonus room
• full bathroom rough-in in basement
• egress basement window
• stairway windows
Our on-going joke was "everything is an upgrade".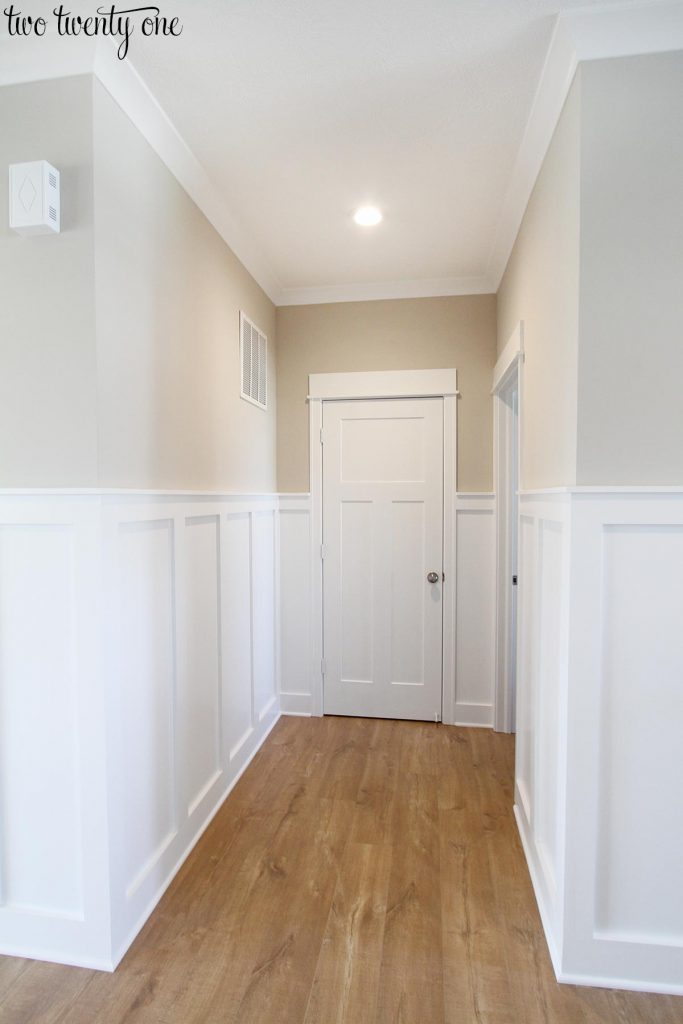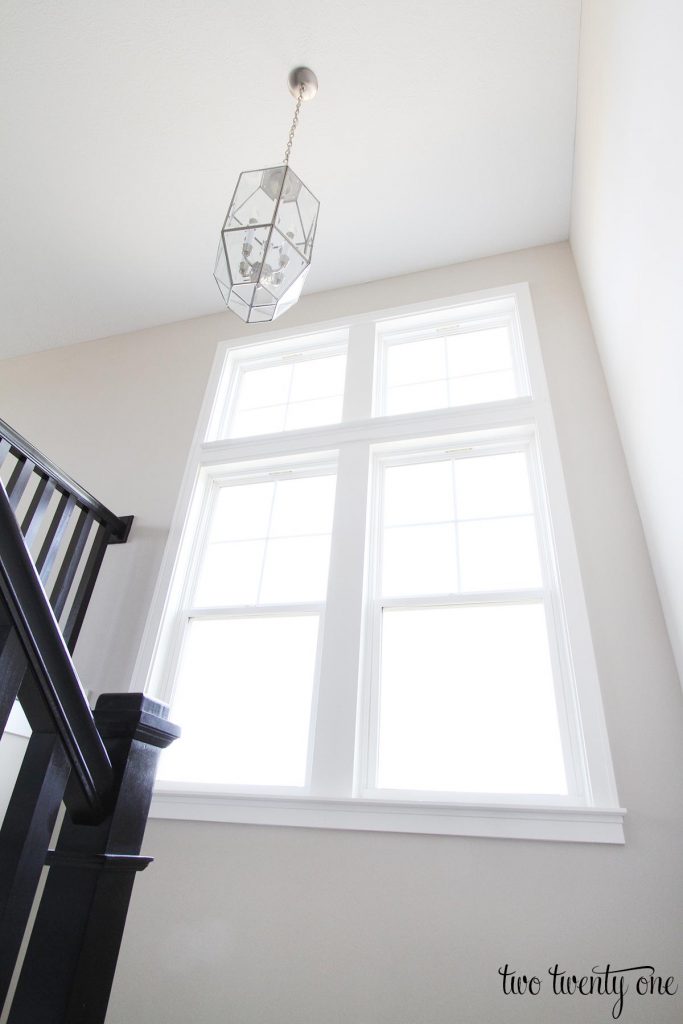 Additional Tips
There can be a big difference between seeing finishes on a small scale (samples) in the design center and actually seeing them in an actual house. Which is why I suggest walking through your builder's model homes, even is you have to drive 20+ miles away. Take photos of things you like– the kitchen cabinets, carpet, solid surface flooring, wall color, etc. Make note of what model home you were in so when you go to the design center and tell your consultant, they can look up the specific finish and see if they still carry it or if they carry something that's similar.
I highly recommend looking at your builder's spec home listings online. You can set up the search perimeters to look at current and sold homes. By looking through the homes, you can see if there's certain finishes you like from the comfort of your couch. This is how I found our exterior siding color at the very last minute. I was perusing listings and came across a house our builder had built. I sent the photo and address of the house to our design consultant and asked if she could pinpoint or find out the siding color. To find the listings, I went to our builder's website, looked up neighborhoods they built, and then used the map on a real estate site like Zillow to find the neighborhood. When I found things that I liked, I pinned them to a secret board on Pinterest. I found this method better than saving the photos because if I needed to go back and look, the pinned photo was linked to the listing.
Everything has to be viewed in the design center. Our builder doesn't have an online database where I could look at things at home. I had to depend on the photos I took in the design center. So I highly suggest taking as many photos as possible so you can flip through them on your phone at home. If you're debating between two or three finishes (i.e. laminate flooring), take photos of the brand and color, and Google them when you get home. Often, you can get lucky when doing a Google Image Search and see the specific product used in a larger space. You can also ask your design consultant if they have a particular finish in a model home in the area so you can go and see it in person.
Create a Pinterest board of house inspiration, especially if you're planning on building or buying a house in the future. I found this to be helpful when picking things out for the house. It kept me focused on the general look I was going for.
Building a House Series
Don't forget to check out the other posts in my Building a House Series!
Building with a Production Builder