Cozy Deck Corner + DIY Planter
This post is sponsored by Better Homes & Gardens at Walmart. All opinions are my own.
It has been an unseasonably warm spring so far, but I'm definitely not complaining. We've been able to enjoy more time out on our deck, and I've even started doing some gardening. With the nice weather, I decided to create this cozy deck corner, which the kids have taken over.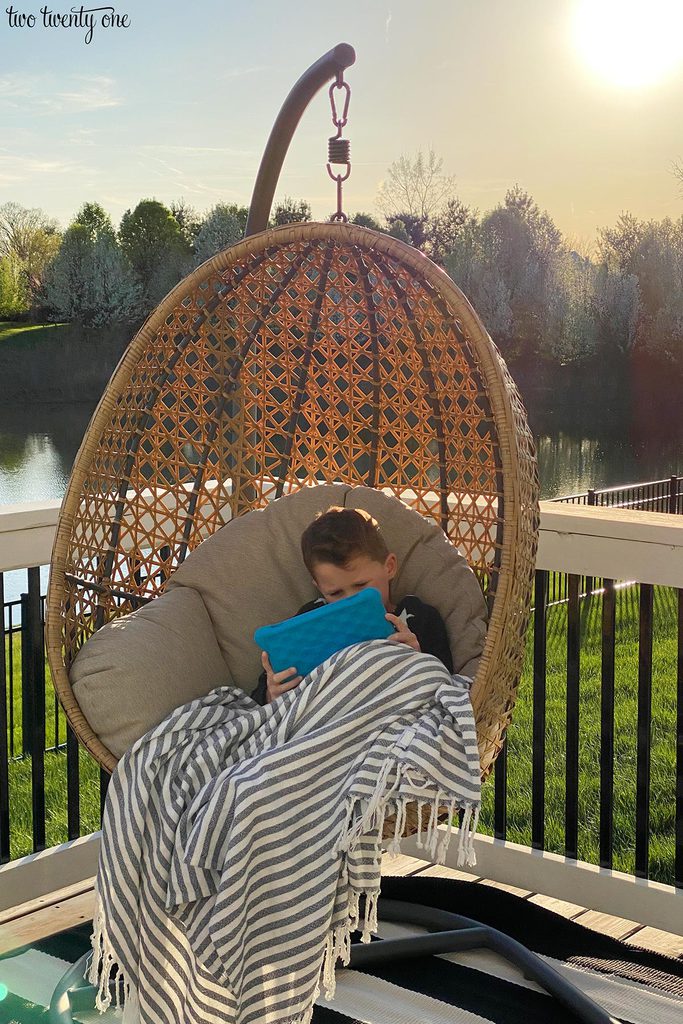 I anchored the cozy deck corner with a simple black and white striped rug. Going with a neutral striped rug like this one is always a good idea because it's pretty timeless. Plus, you can add in colors to punch it up a little or stay with more muted tones if that's your jam.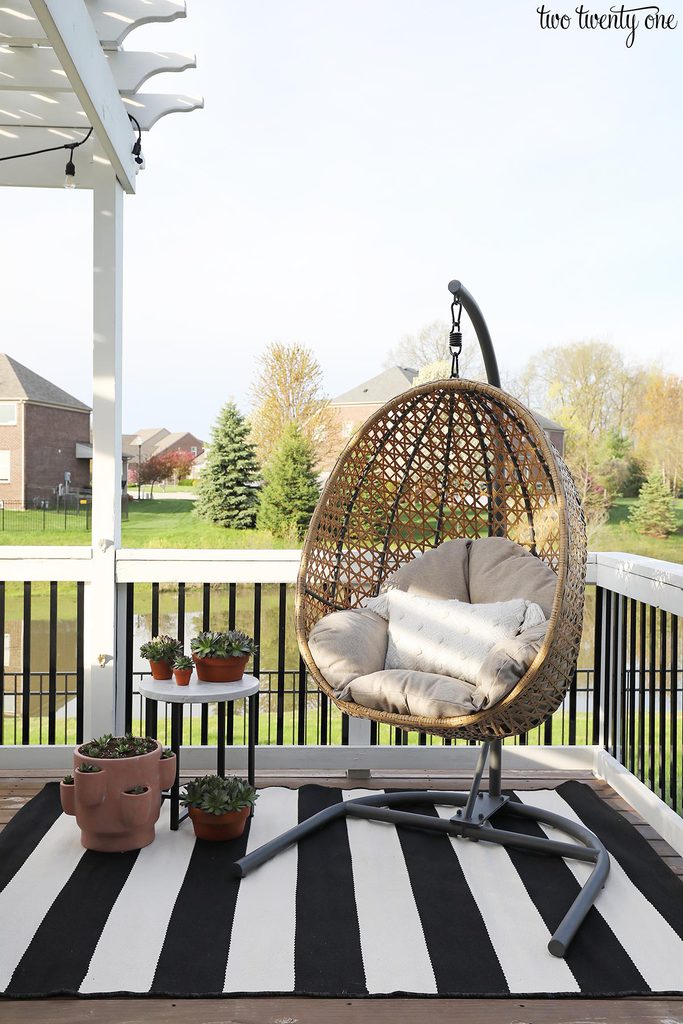 The main attraction in the corner is this Lantis wicker hanging chair. It comes in two other colors, but the light brown weave with beige cushion caught my eye. The cushion is so comfy, like sitting on a cloud. I mean, just check out how fluffy it looks. I added the ivory tassel pillow for extra comfort and a pop of texture. The kids love going out on the deck in the evening and snuggly in the chair together for their tablet time for baths.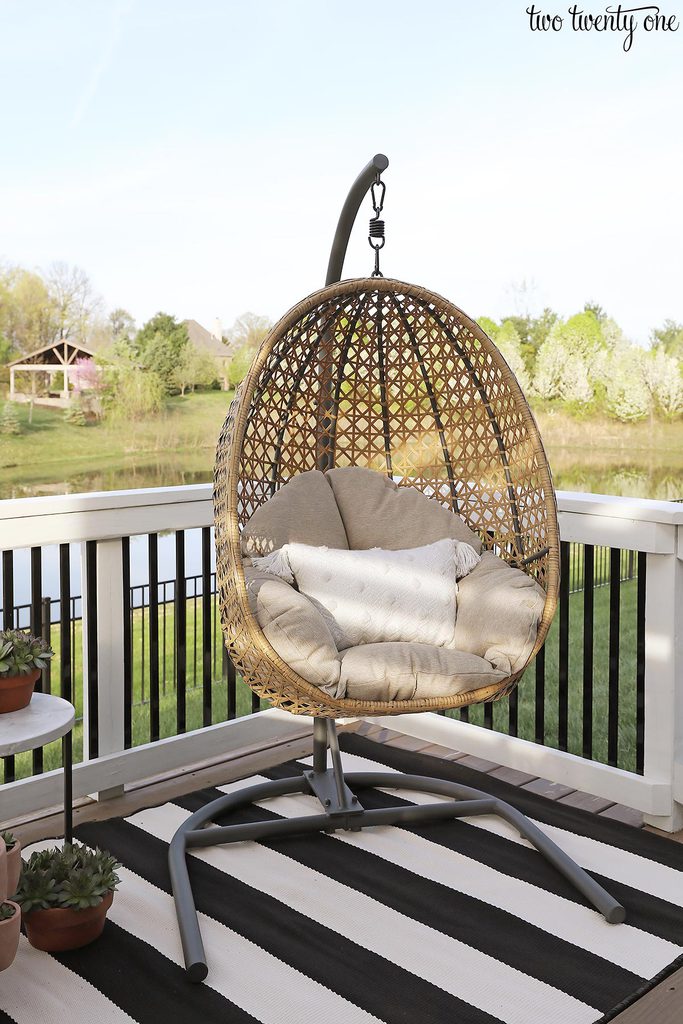 You know I love my hens and chicks so of course they're making an appearance in the corner. The faux marble round side table is the perfect spot to rest a drink and display hens and chicks.
When I saw this 12″ multi-pocket strawberry pot, I couldn't click 'add to cart' fast enough. It's the perfect pot for growing hens and chicks, and succulents in general. I loved it so much, I bought two for me and one for my mom.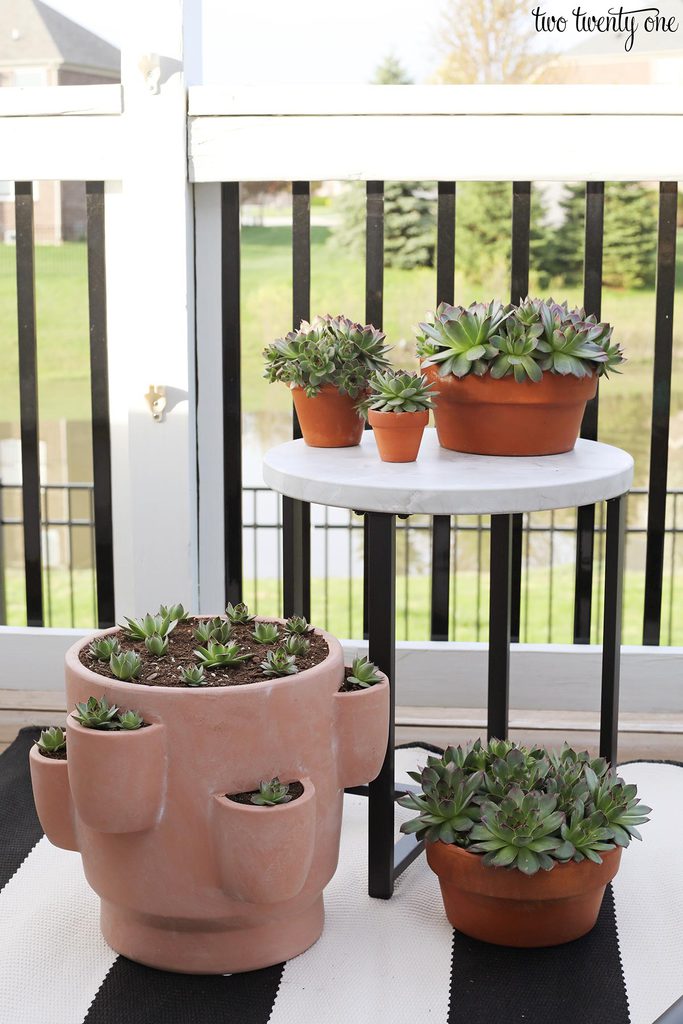 I'm so excited to see the strawberry pot overflow with hens and chicks like this terra cotta pot.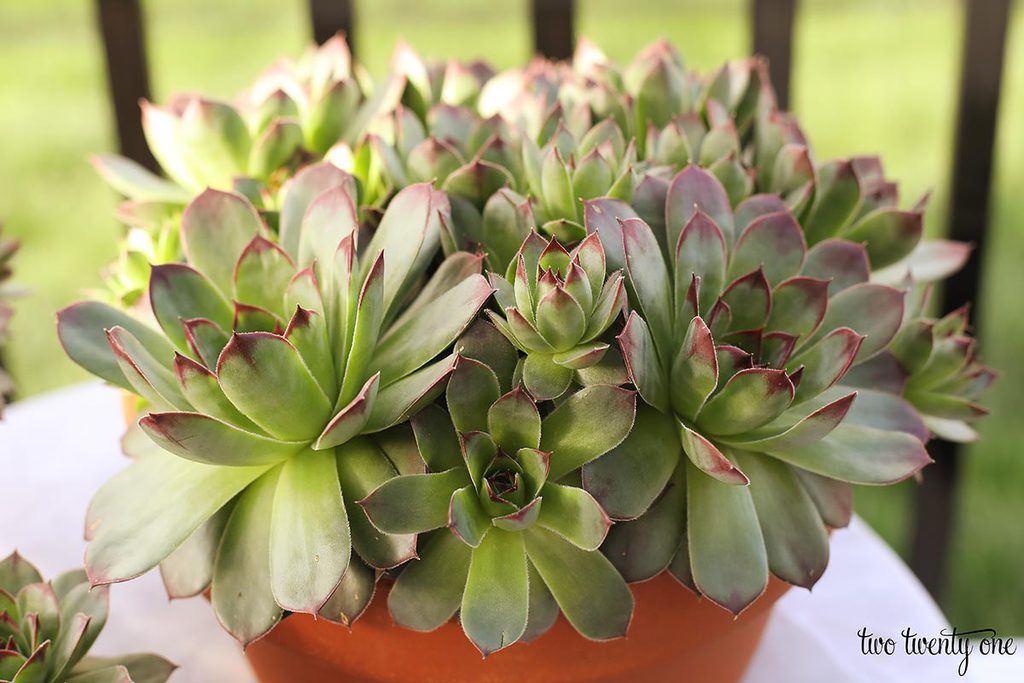 Want to learn how to pot up a strawberry planter with hens and chicks?
You'll need the following:
12″ multi-pocket strawberry pot
potting mix
hens and chicks
smart-release fertilizer
garden shears (optional)
hand trowel (optional)
potting mat (optional)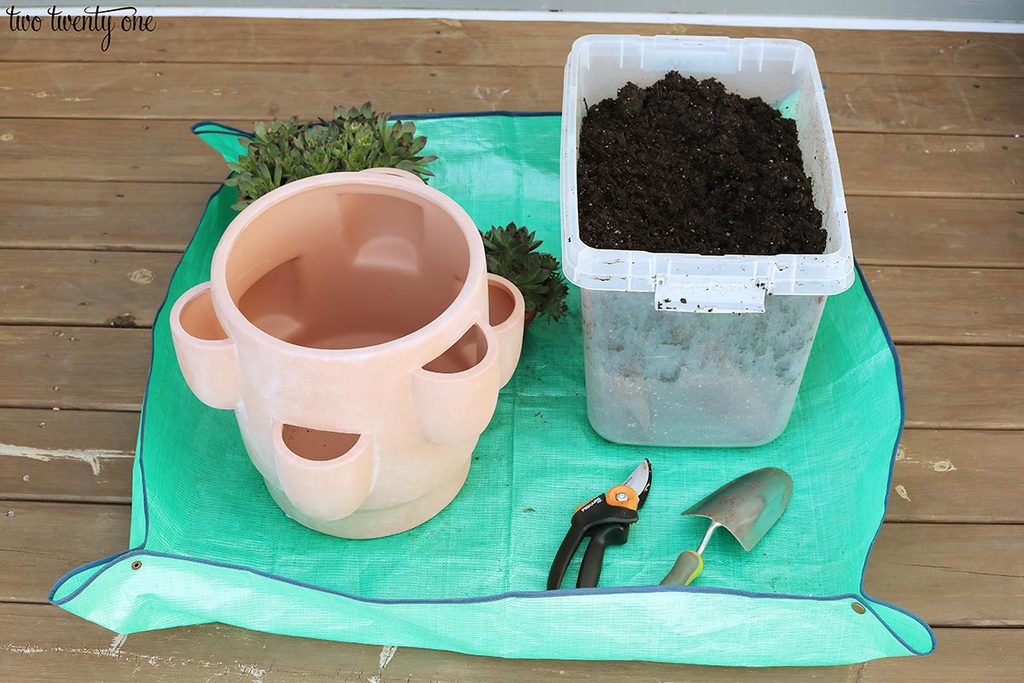 To make my pots lighter and to save on the amount of potting mix I used, I like to fill the bottom of my planters with empty plastic and aluminum containers. These items also help with drainage.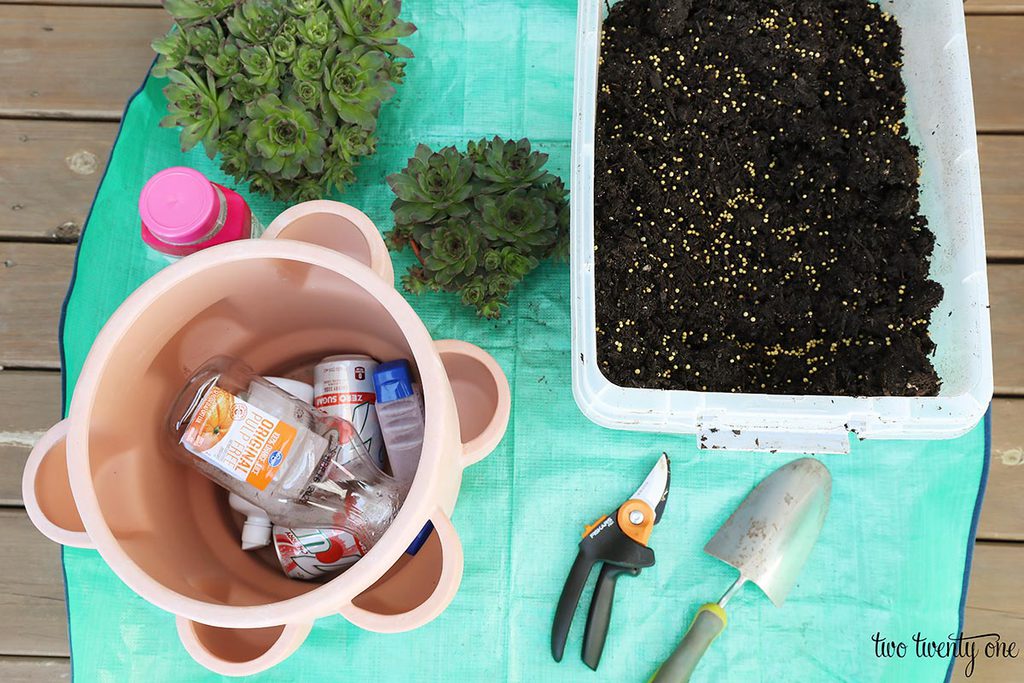 Add your potting mix to the planter, filling to the top of the rim. Be sure to pack the potting mix down around the items in the bottom because you don't want the soil to cave in later after planting. I made sure to also press down a bit in the pockets. I suggest filling to the top of the rims so the hens and chicks trail out. If you leave a gap, they won't trail out of the planter.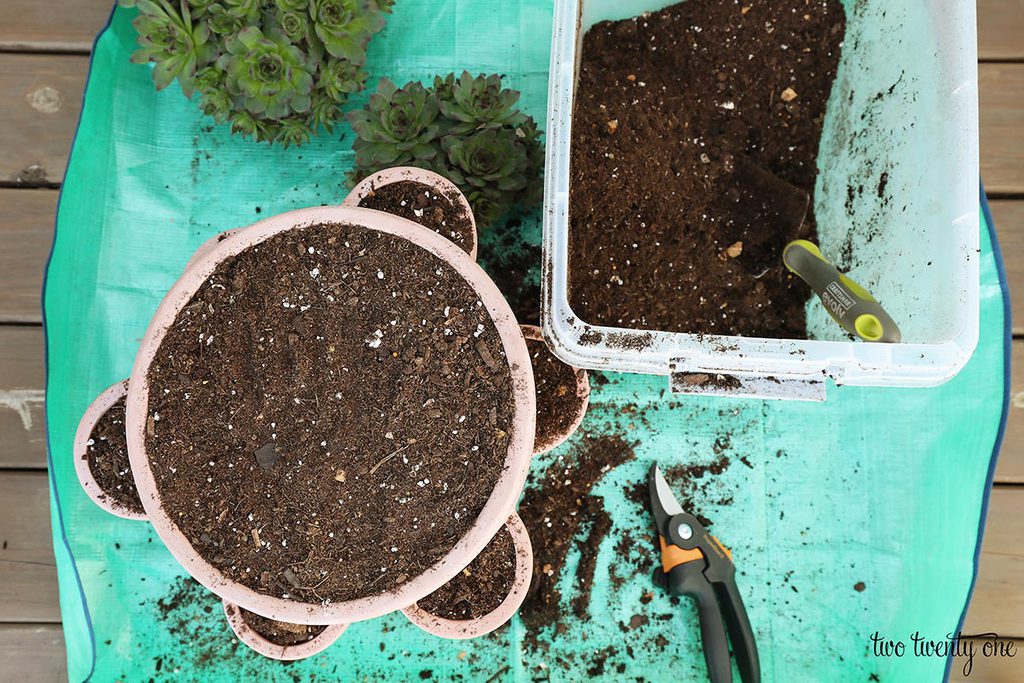 Finally, plant your hens. On top, I left plenty of space for the hens to grow and fill in. I did one to two hens in each pocket.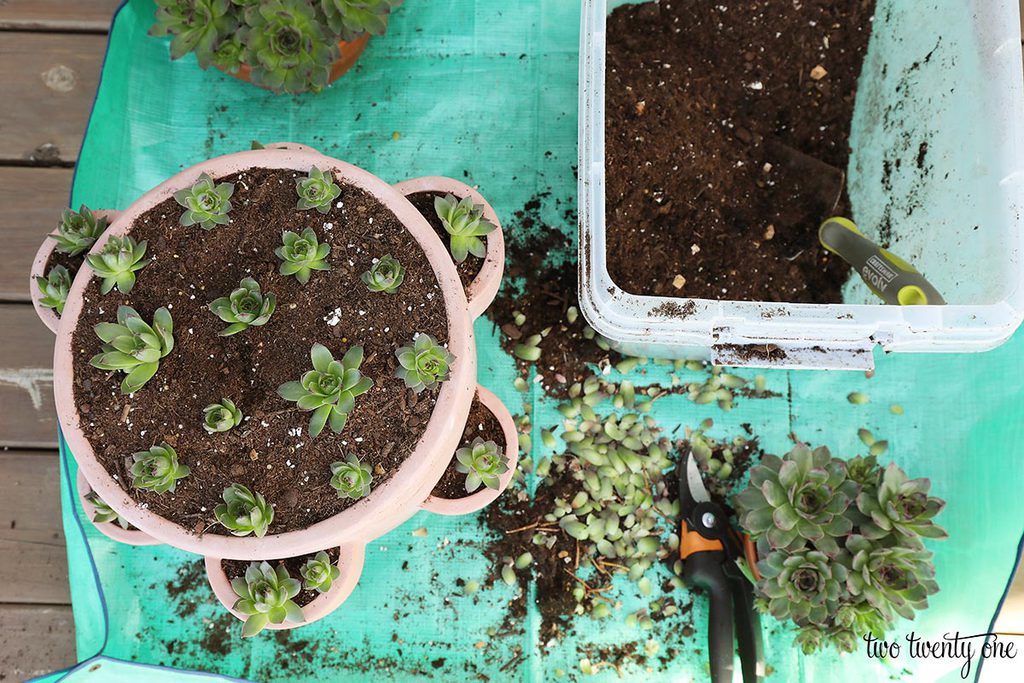 I'll definitely keep you updated on Instagram on the progress of the strawberry pot. It's going to look gorgeous in a few months when the hens and chicks fill out.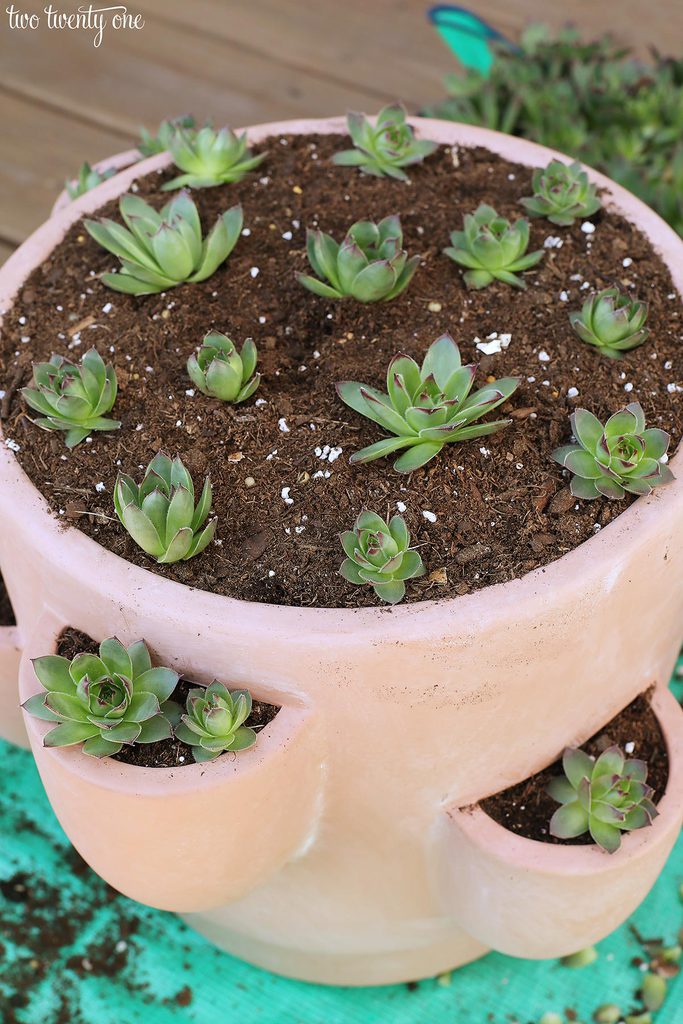 Whether it's reading a book on your patio or working in your garden, I hope you're just as excited as me to get outside this spring.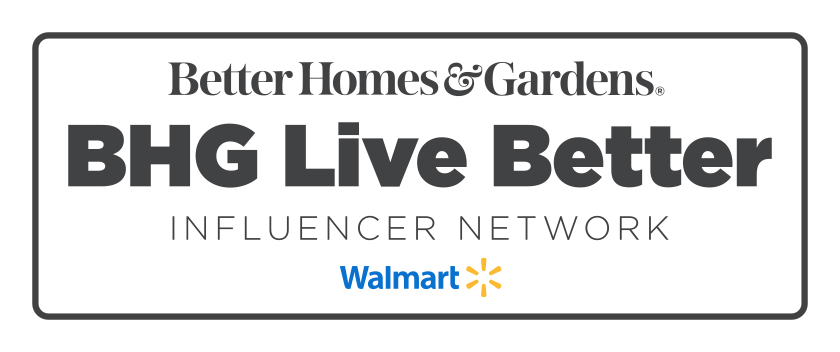 This post is sponsored by Better Homes & Gardens at Walmart. All opinions are my own.