This post is sponsored by Better Homes & Gardens at Walmart. All opinions are my own.
Back in March, Brad started working from home because of the pandemic. Initially, we set him up with a very fancy, state-of-the-art card table and metal folding chair in the basement. But since the boys like to go down into the basement to play, Brad wasn't experiencing the best working conditions. So we moved his operation upstairs into the mostly empty sitting area in our bedroom. We eventually splurged on a more comfortable chair, but the card table remained. Recently, Brad was told by his employer that he'll be working from home indefinitely. With this news, we figured it was time to give him a more suitable home office area in our bedroom.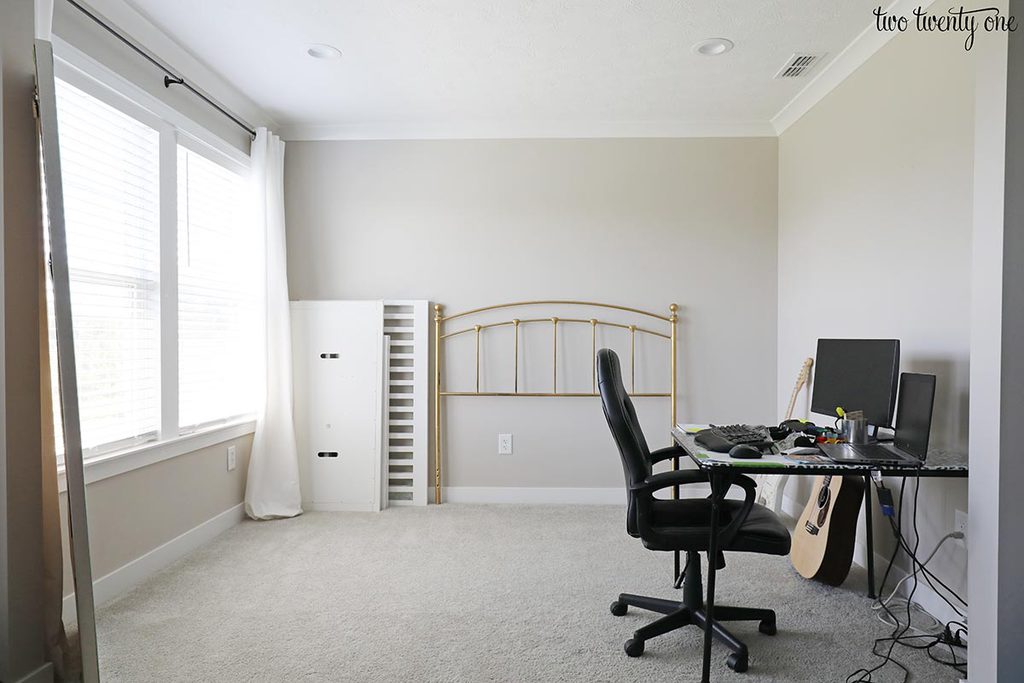 If you follow me on Instagram, you may recall the custom mousepad I handcrafted for Brad. It was made with the highest quality card stock and painter's tape– only the best for my man.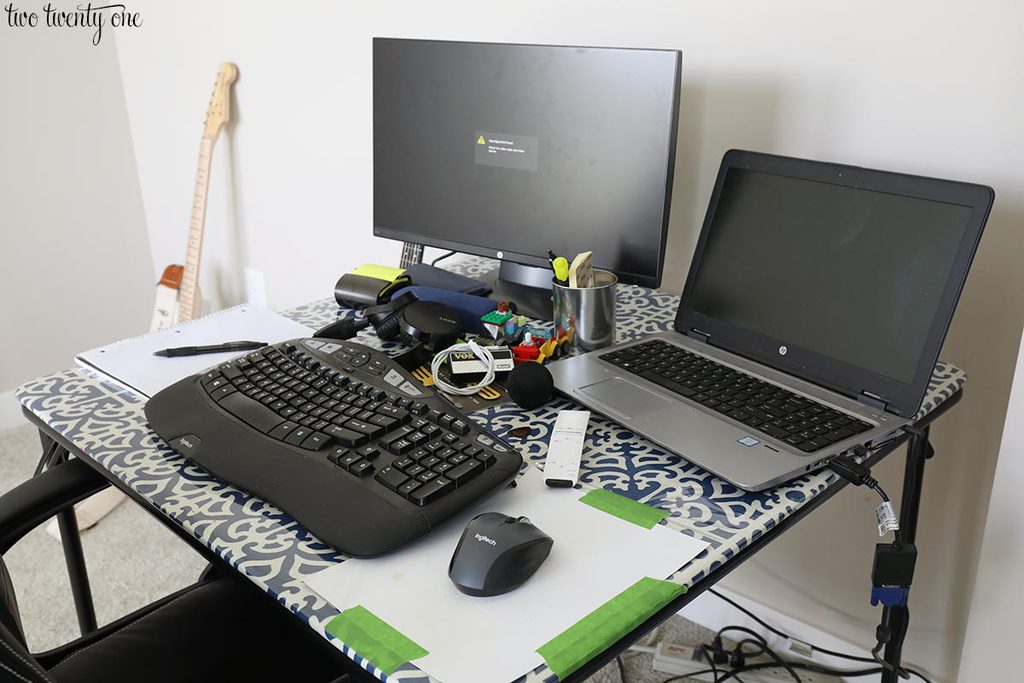 To make the sitting area more office-like I grabbed a hyacinth waste can, lamp, picture frame, hyacinth organizer, and rug. All of those items are from the Better Homes & Gardens at Walmart brand.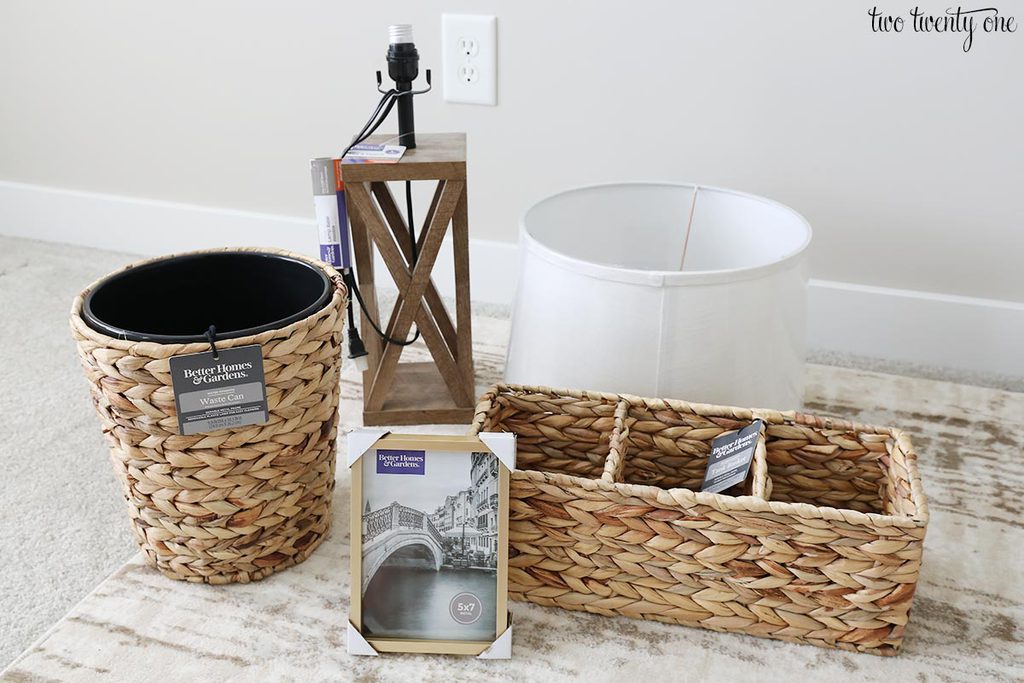 I didn't the office chair wheels to wear down our carpet so I grabbed this Better Homes & Gardens at Walmart 5′ x 7′ rug. It's a great neutral rug with an off-white base, beige, gold, and gray hues. The rug is really soft too.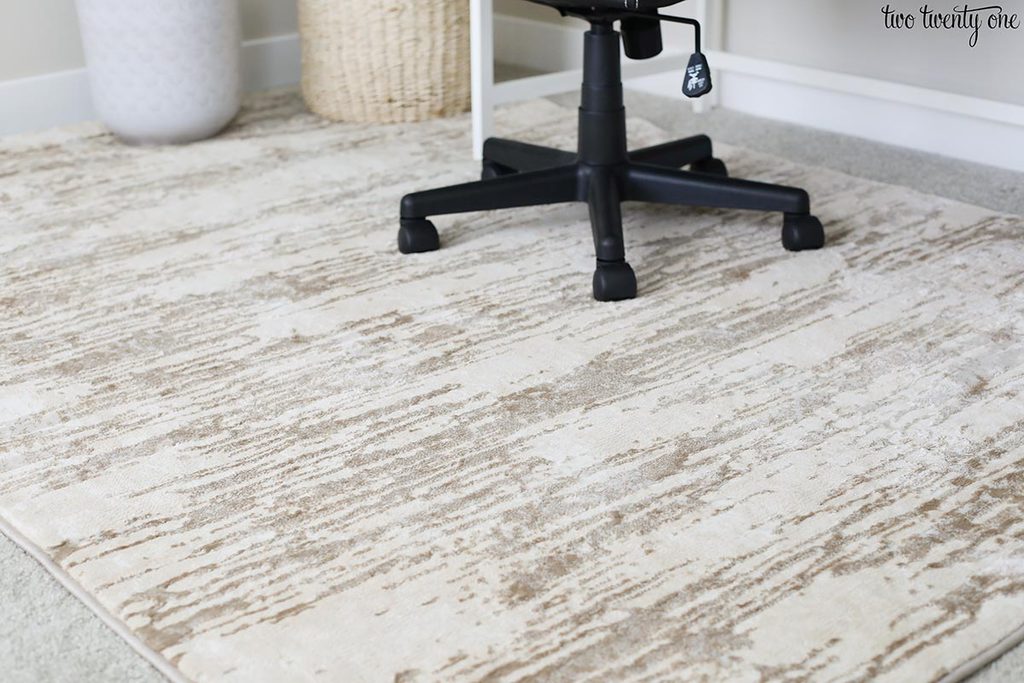 We replaced the card table with an inexpensive desk with two drawers. It has enough room for Brad's monitor, laptop, keyboard, mouse, the organizer, lamp, and a photo of the boys. I forgot to get him a mousepad. Oops. Looks like I may need to fashion him another Chelsea Custom Crafted Mousepad.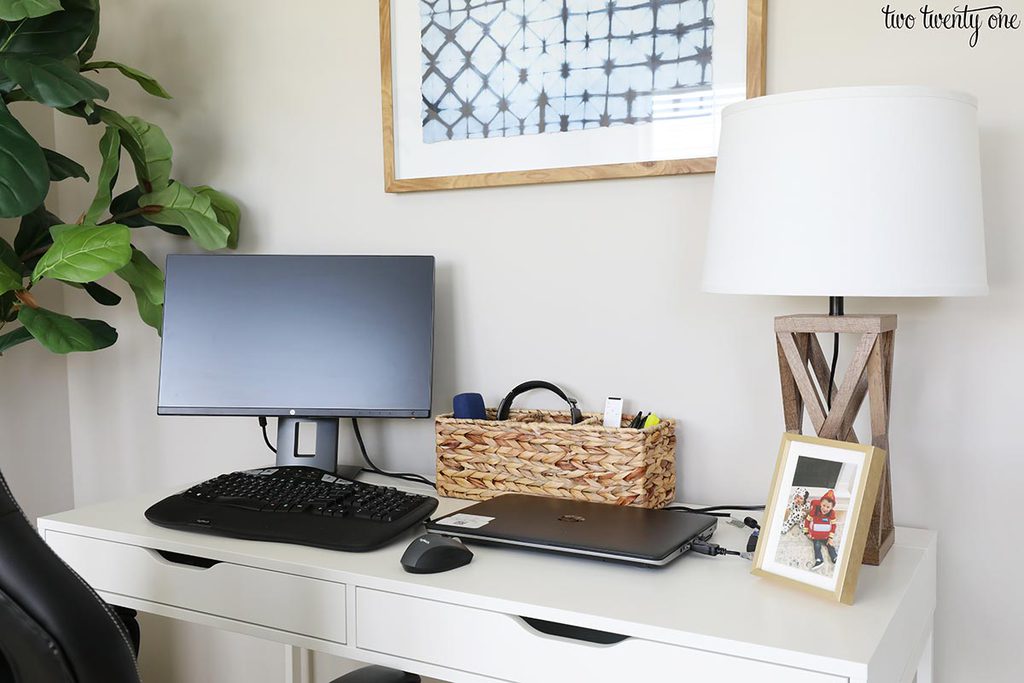 The Better Homes & Gardens at Walmart hyacinth organizer holds daily things Brad uses, like his blue light glasses, headphones, TV remote (watching/listening to Sports Center while working is very important), and his pen container. The organizer keeps everything tidy and mostly out of sight.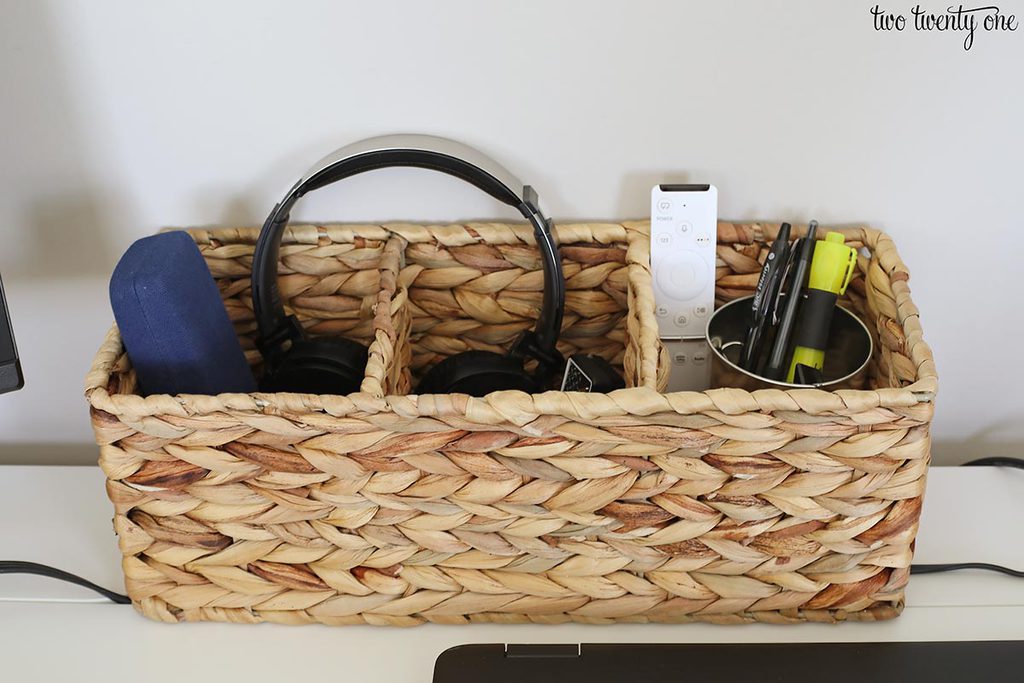 Brad and I both love this wooden lamp base by Better Homes & Gardens at Walmart. It's a great height and doesn't take up a ton of desk space. The gold picture frame by Better Homes & Gardens at Walmart is the perfect size for a desk and picks up some of the golden tones from the rug.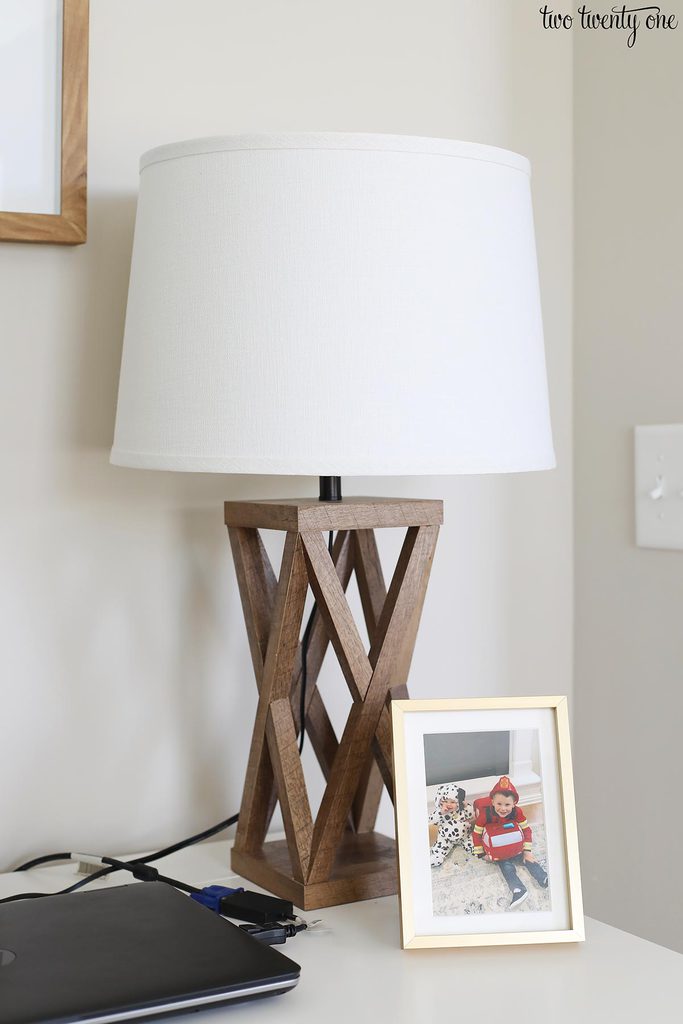 To give the space some greenery and life, I added one of my faux fiddle leaf figs and a live ZZ plant. I hung an art print I already had above the desk to fill in some of the blank wall space. I think it picks up the colors from the hyacinth organizer and waste can well.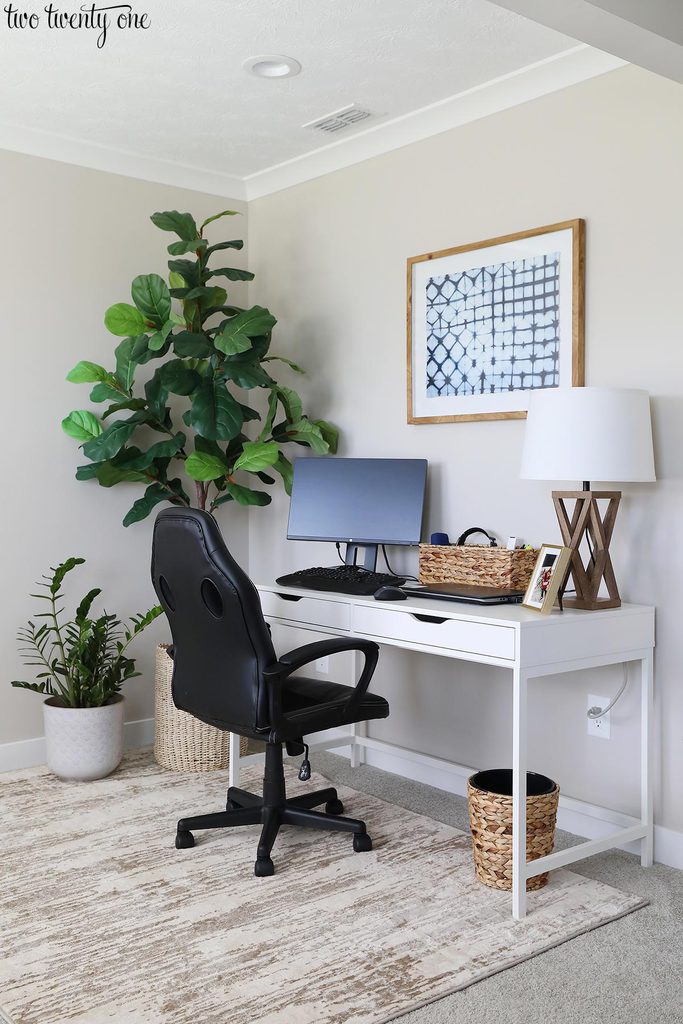 We moved the old crib into the basement, and I plan to sell the headboard. To fill some of the empty space on the other side of the room, I moved a spare chair and faux fiddle leaf fig into the corner. The area behind the chair is nice though because the boys will often bring in some toys and play on the floor while Brad works.
Since we don't know how long Brad will be working from home, we don't want to spend a lot of money in this area or do anything permanent. If it looks like he's going to be working from home for a long time, we've discussed moving his desk into my office downstairs. Because we always had plans to get two comfy chairs for this area and making it a true sitting area to sit and read or watch a movie.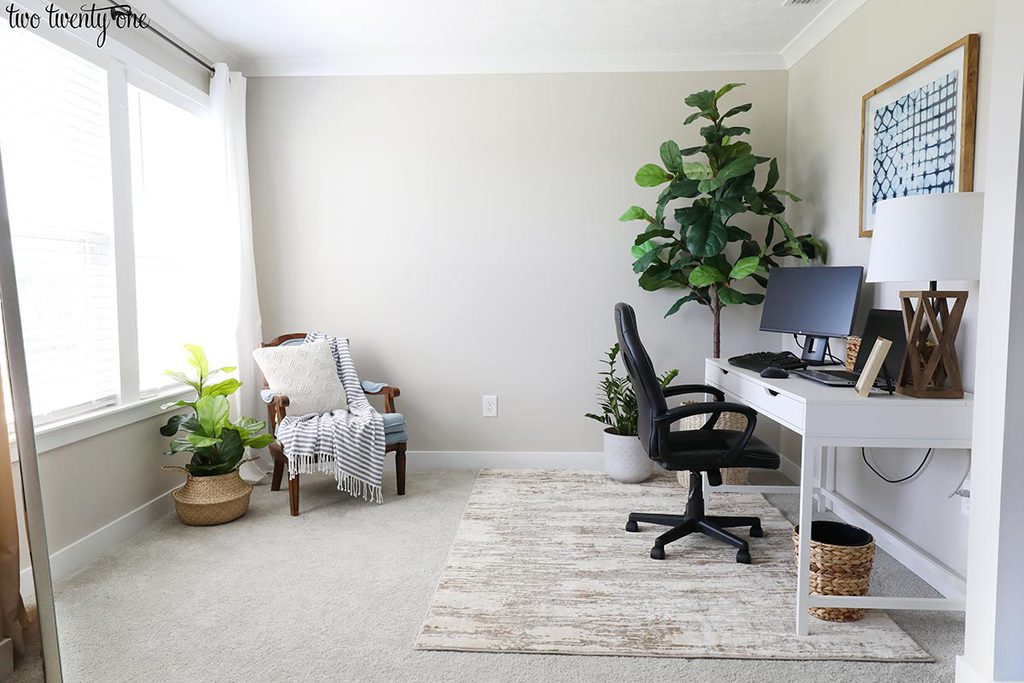 I know we all love a good side by side before and after, so here you go.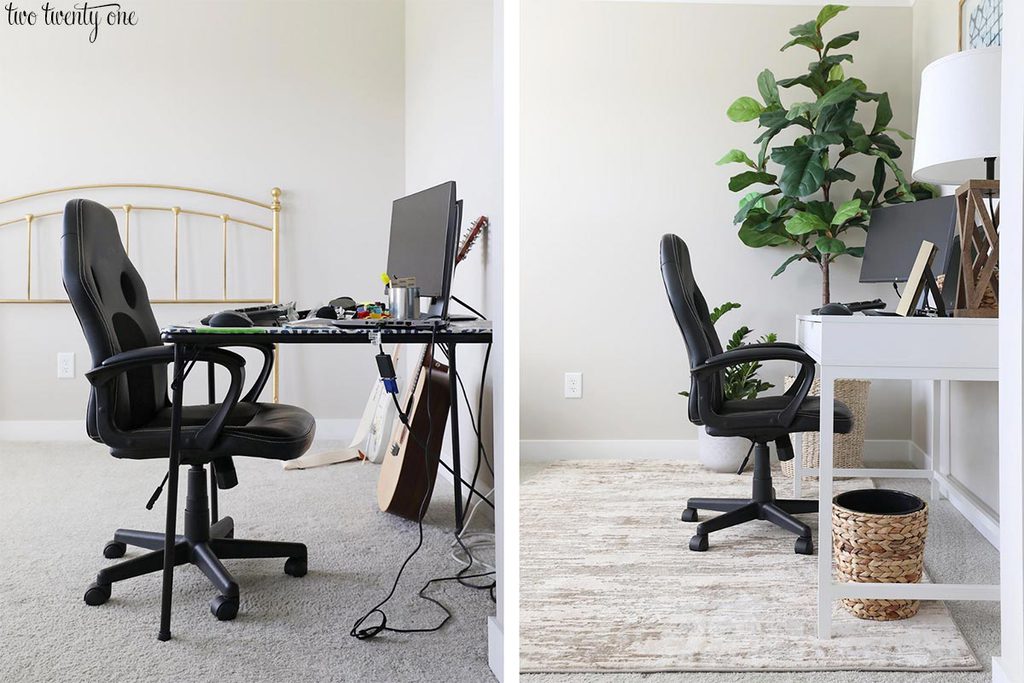 The space is working out nicely, and I don't mind looking at it when I wake up in the morning. Brad is also enjoying his new fancy home office area.
This post is sponsored by Better Homes & Gardens at Walmart. All opinions are my own.