15 Deck Skirting Ideas to Enhance Your Outdoor Space
Deck skirting can be an excellent way to add some personality to your outdoor living space. With the right design and skirting materials, you can create a stunning look that complements your home's architecture and landscaping. In this article, we'll explore some creative deck skirting ideas that will take your deck to the next level.
Deck Skirting Materials
There are various material options available for deck skirting, including wood, vinyl, metal, and composite deck skirting.
Wood is a popular choice for its natural look, but it may require more maintenance than other options. Vinyl, metal, and PVC deck skirting are durable and low-maintenance options. Composite materials offer the look of wood without the upkeep.
It's important to consider factors such as cost, durability, and style when choosing the best material for your deck skirting.
Horizontal Wooden Deck Skirting
There are many different deck skirting ideas, but horizontal boards are a popular choice.
Stain or paint can be used to match the rest of your deck or home. Additionally, it can be customized to fit any height or length. This type of skirting also keeps pests from inhabiting the area under your deck.
With the backyard deck pictured below, the horizontal wood skirting and stairs are solid stained to match the siding of house. This resulted in a cohesive look where the horizontal lines blend in with the siding of the house.
Horizontal deck skirting can also be used to match existing fencing.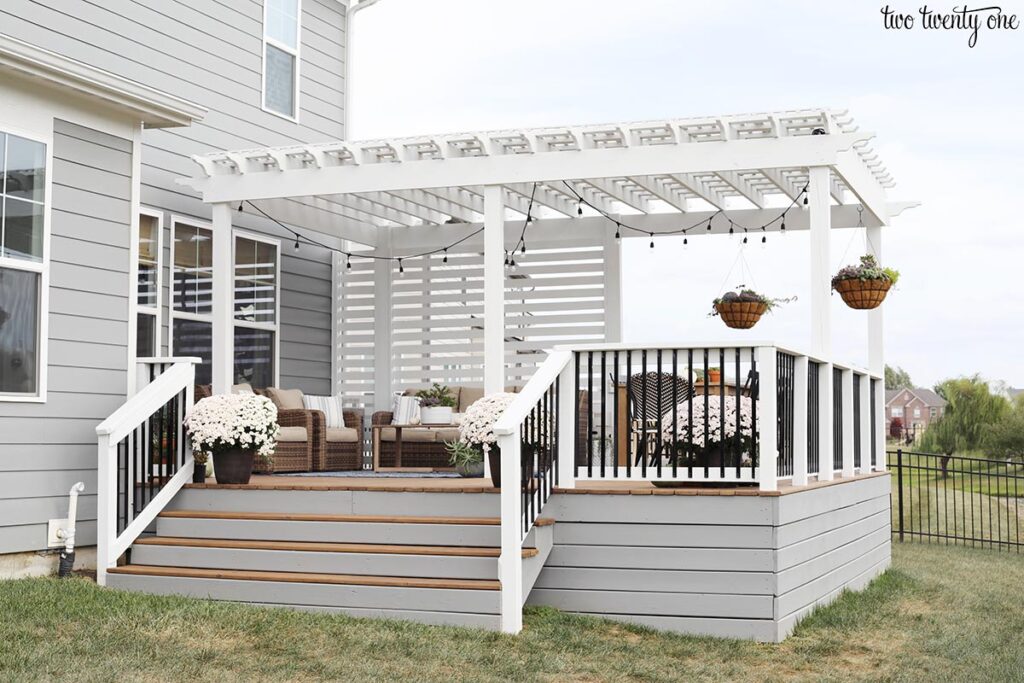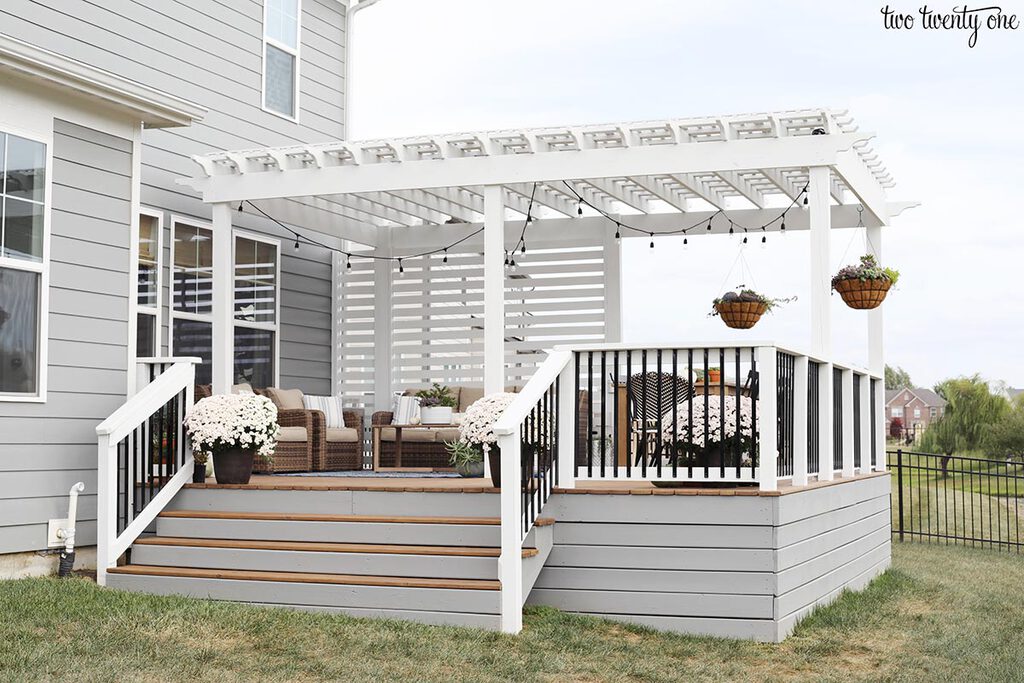 This horizontal wood slat skirting on this deck has a more modern look. This aesthetic is achieved by alternating two different sizes of wood.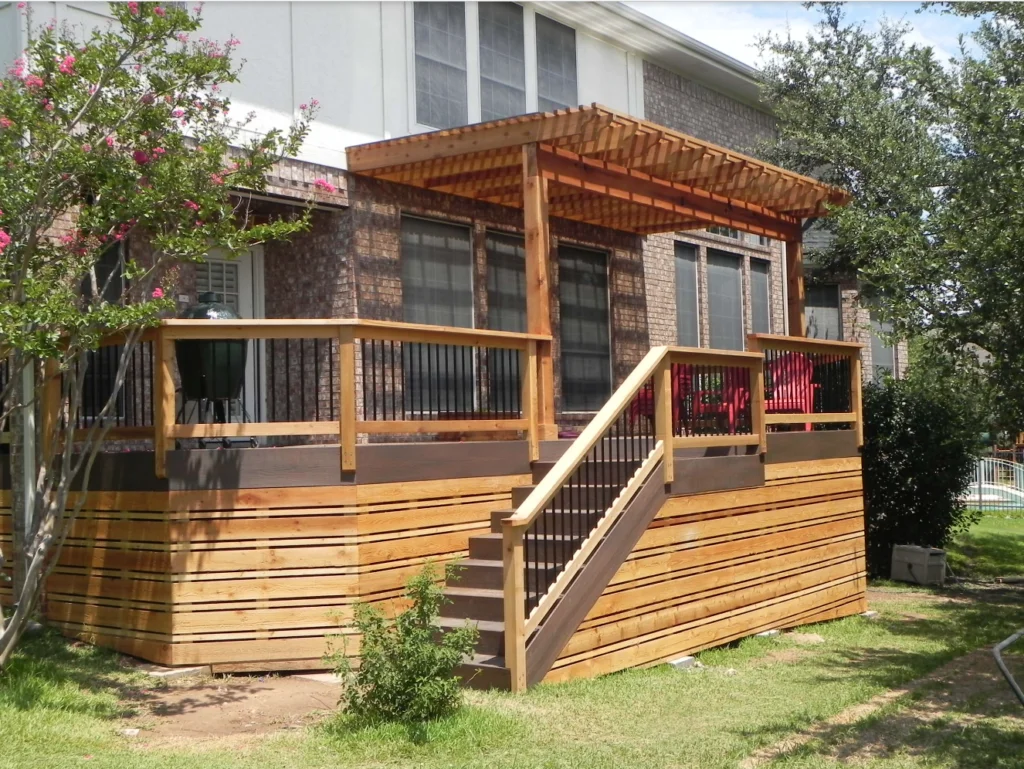 Get the most out of your space by adding a door to your deck skirting. Adding a door in the skirting creates a storage space.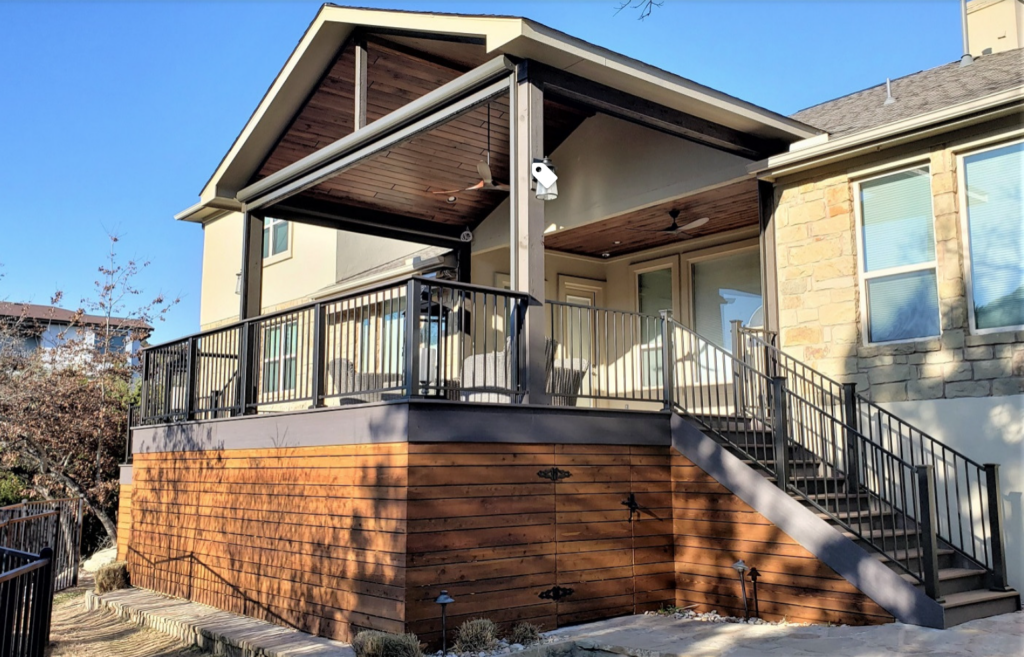 Vertical Wood Deck Skirting
Vertical skirting boards are a popular option, creating a clean and modern look while allowing for proper airflow and ventilation. With the right installation, vertical wood deck skirting can add both beauty and functionality to your outdoor living space.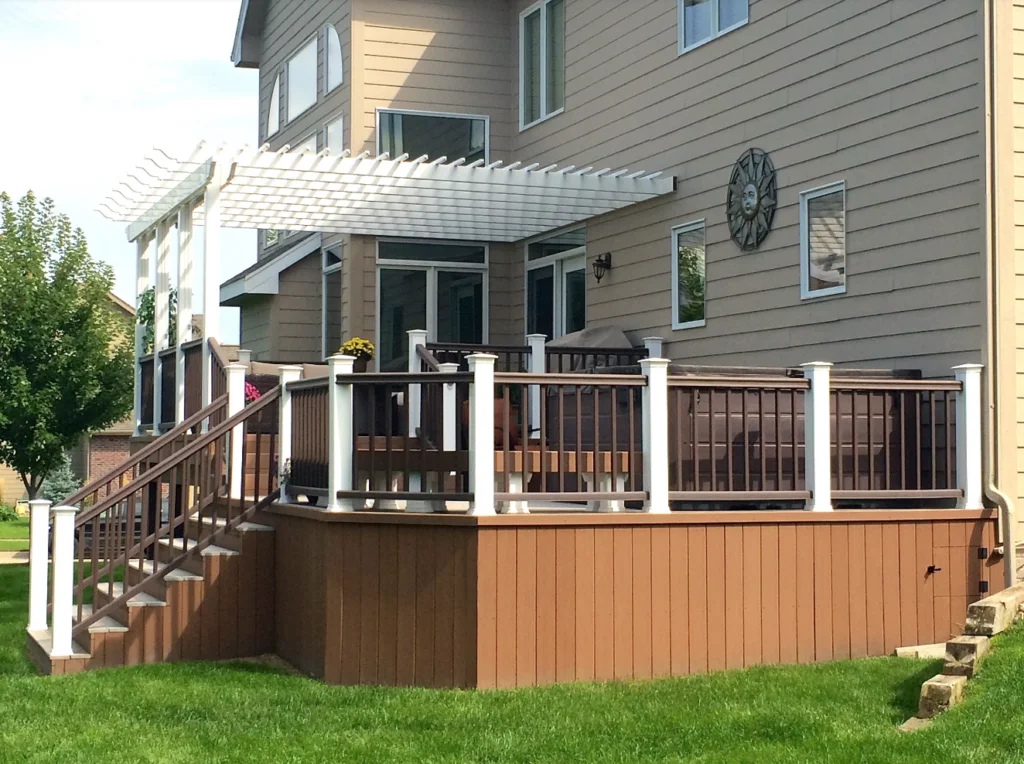 This design carried the vertical wood into the front porch deck railings as well.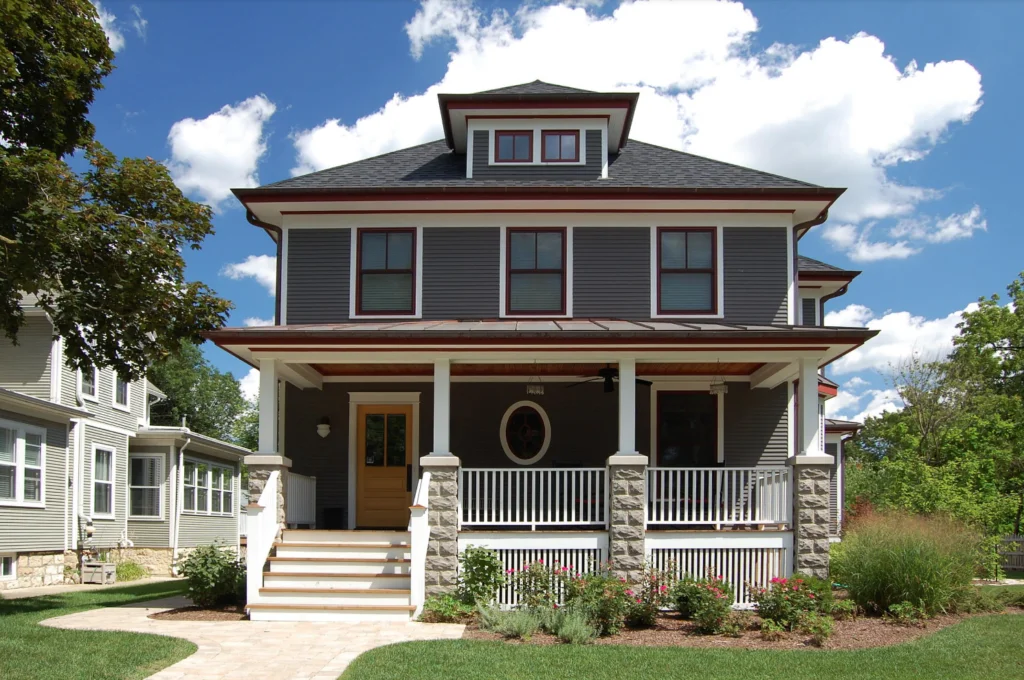 Lattice Skirting
Square Lattice
Square lattice deck skirting is an excellent way to enhance the aesthetic appeal of your deck while keeping unwanted animals and debris out. The lattice design provides proper ventilation to your deck while also adding a decorative element to it.
This type of skirting is easy to install and comes in various sizes, and colors. Additionally, square lattice deck skirting is durable and requires little maintenance, making it a popular choice among homeowners.
Diamond Lattice
Diamond lattice deck skirting is a great choice for those who want to add a decorative touch to their deck while concealing the deck frames and area underneath.
The diamond pattern creates a visually appealing design and allows for ventilation. Whether looking to add a finishing touch to a new deck or update the look of an existing one, diamond lattice is a great option.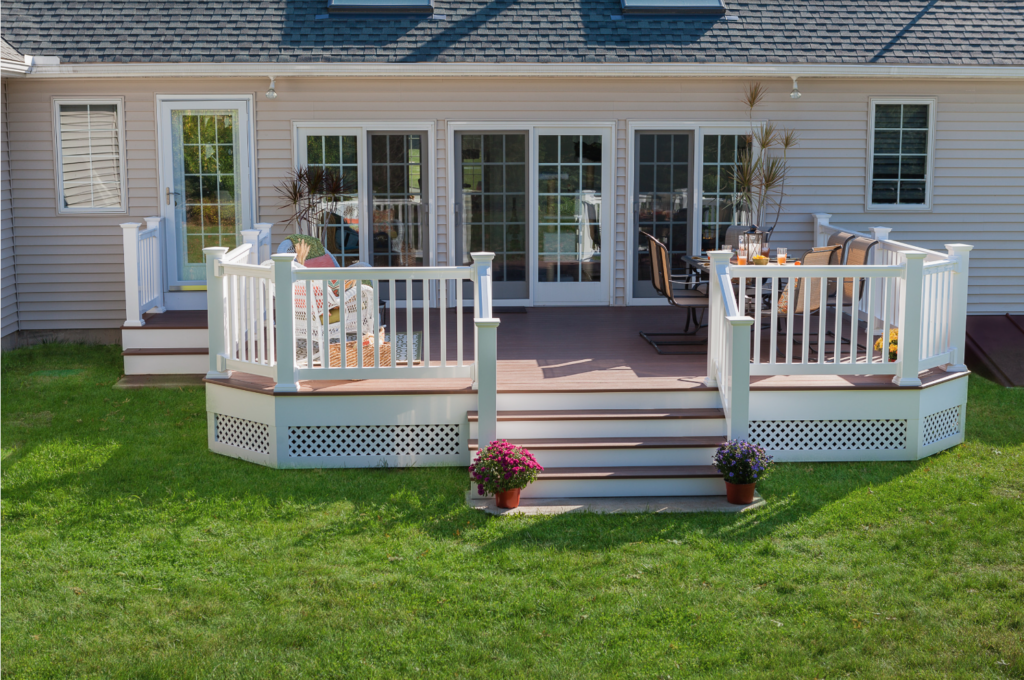 Modern Lattice
Modern lattice deck skirting is an option for homeowners who want to add a stylish element to their outdoor living space.
This type of deck skirting is made from durable materials such as vinyl or wood. Modern lattice panels are a great way to enhance the overall look and functionality of your outdoor space.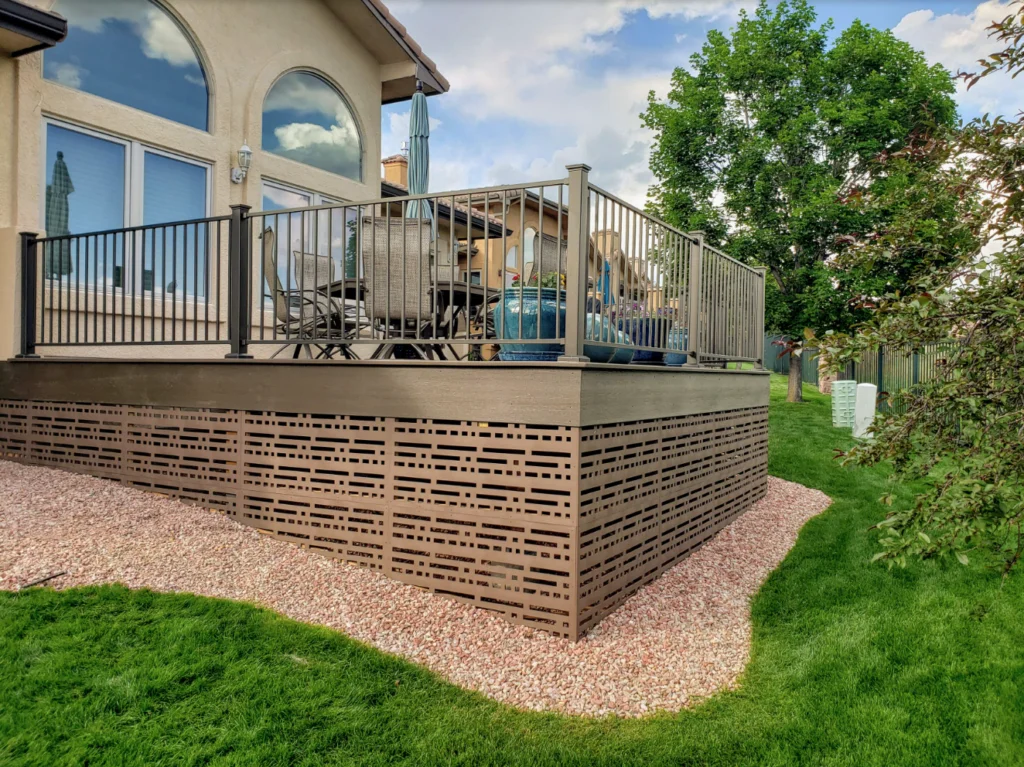 Vinyl Lattice
Vinyl lattice is a durable and low-maintenance material that can withstand harsh weather conditions and is resistant to rot and insects. It comes in a variety of colors and styles, allowing homeowners to customize their deck skirting to match their home's exterior.
Installing a vinyl lattice skirt is a relatively simple DIY project that can add value and curb appeal to any home.
The photo below showcases black vinyl lattice.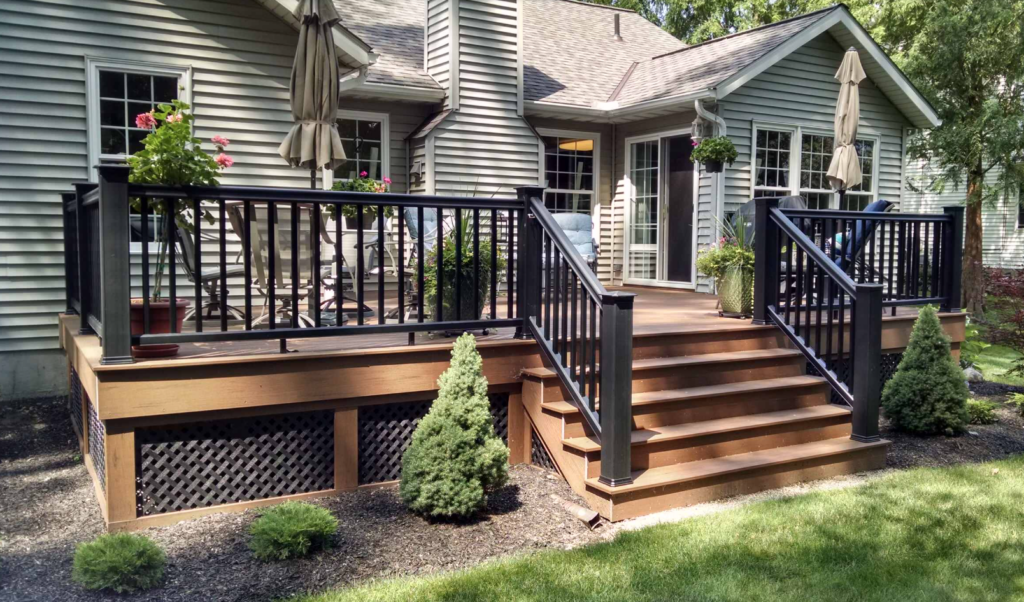 Wood and Stone Deck Skirting
The combination of pressure-treated lumbar and stone creates a visually appealing contrast that adds depth and texture to your deck design. Stone pillars add a touch of elegance and sophistication to your deck.
Want to up the visual interest even more? Combine two different sizes of lattice.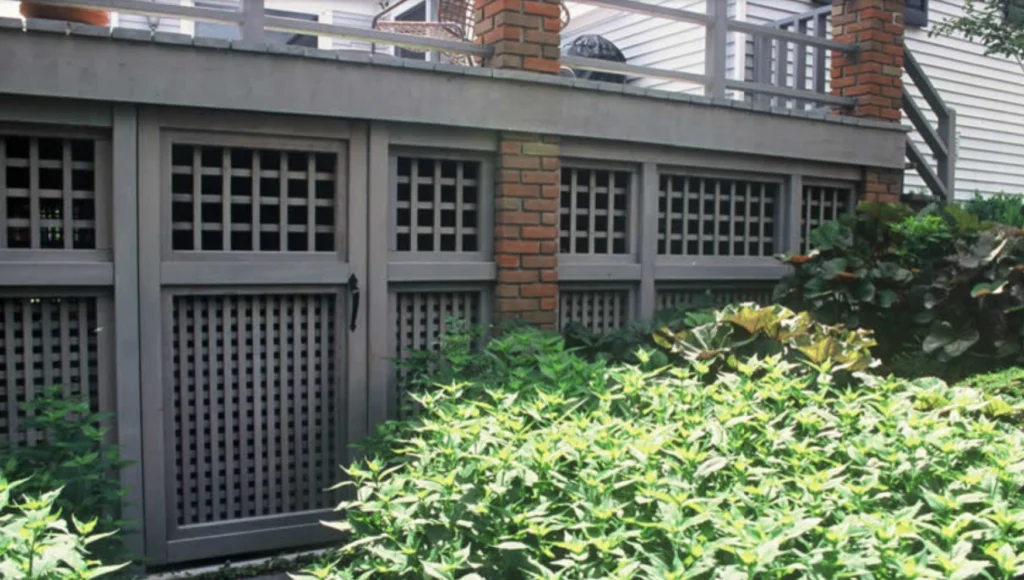 Low Profile Deck Skirting
Low profile deck skirting is made from a variety of materials, such as lattice, wood panels, or even composite materials. It not only enhances the appearance of your deck boards but also helps to protect it from moisture and pests and critters.
Increase visual interest with accent molding. The porch skirting below combines different sizes of wood and directions in which the wood planks are installed.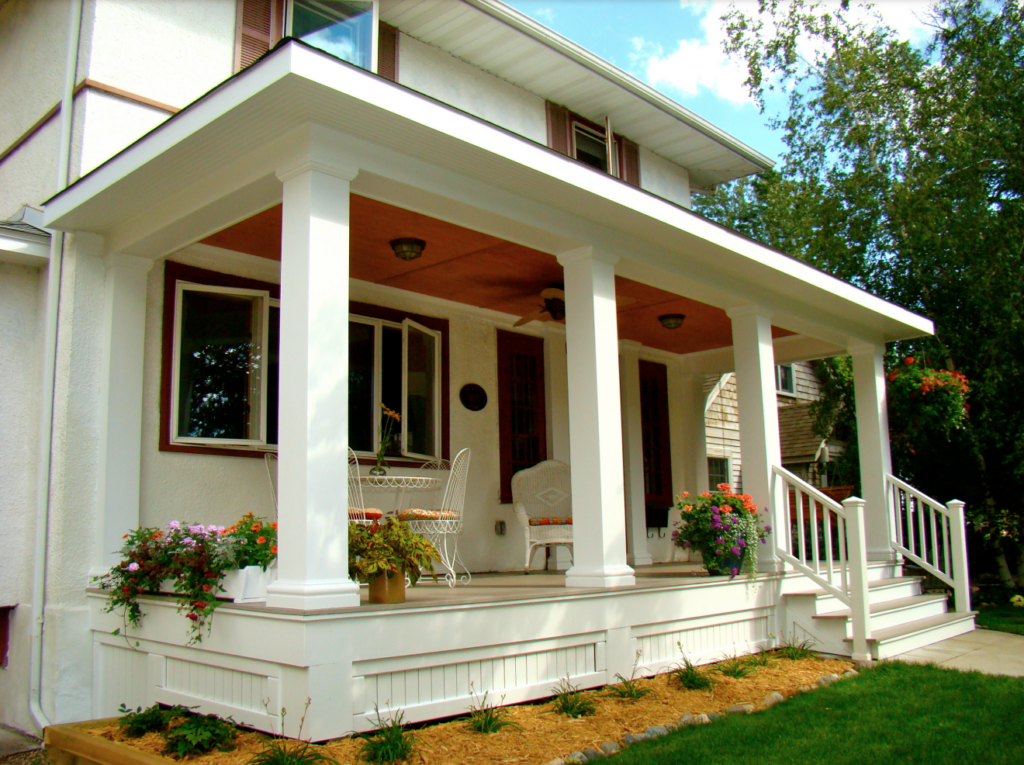 For a modern look, keep things clean and simple.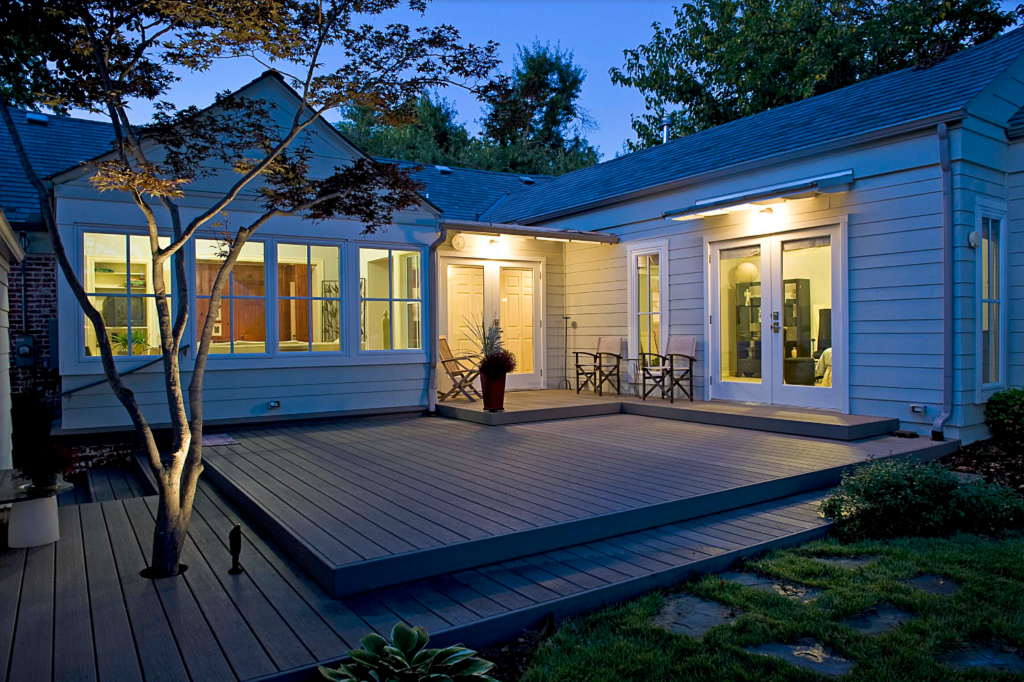 Stone Deck Skirting
Stone deck skirting is a great way to enhance the look of your outdoor living space. Not only does it provide a polished and finished look, it also serves as a solution for hiding under-deck areas. Stone is a durable and long-lasting material that can withstand the elements and add value to your home.
With a variety of stone options, you can choose the perfect material to complement the style of your deck. Whether you're looking to create a cozy retreat or a luxurious entertaining space, stone deck skirting is a smart choice.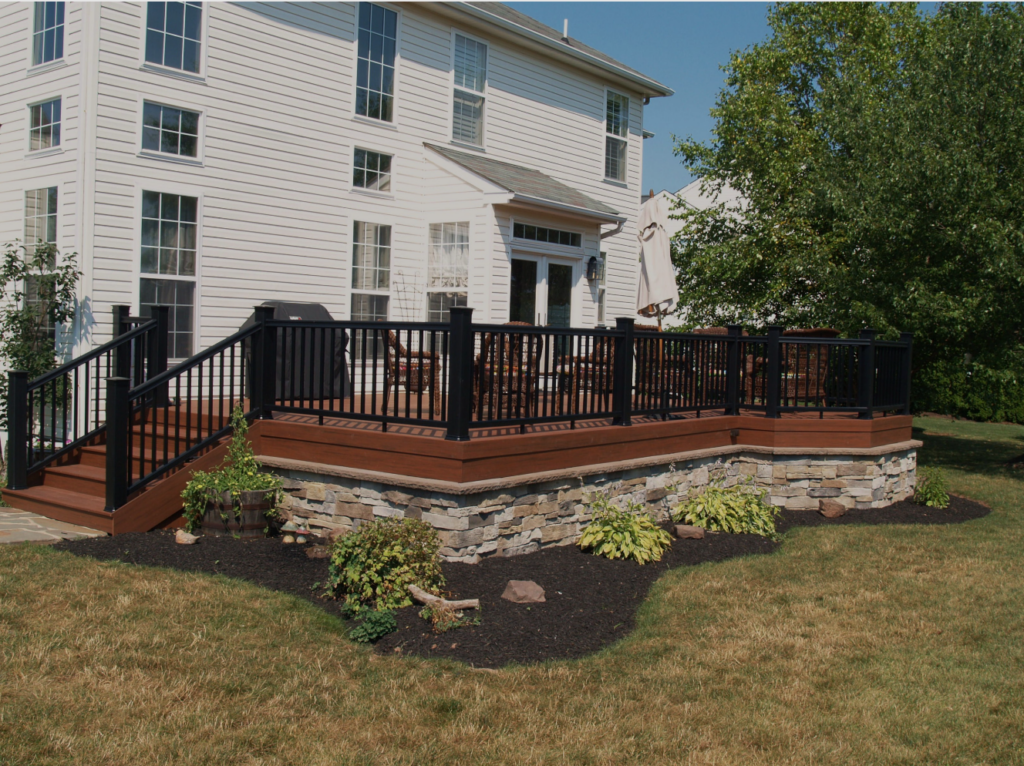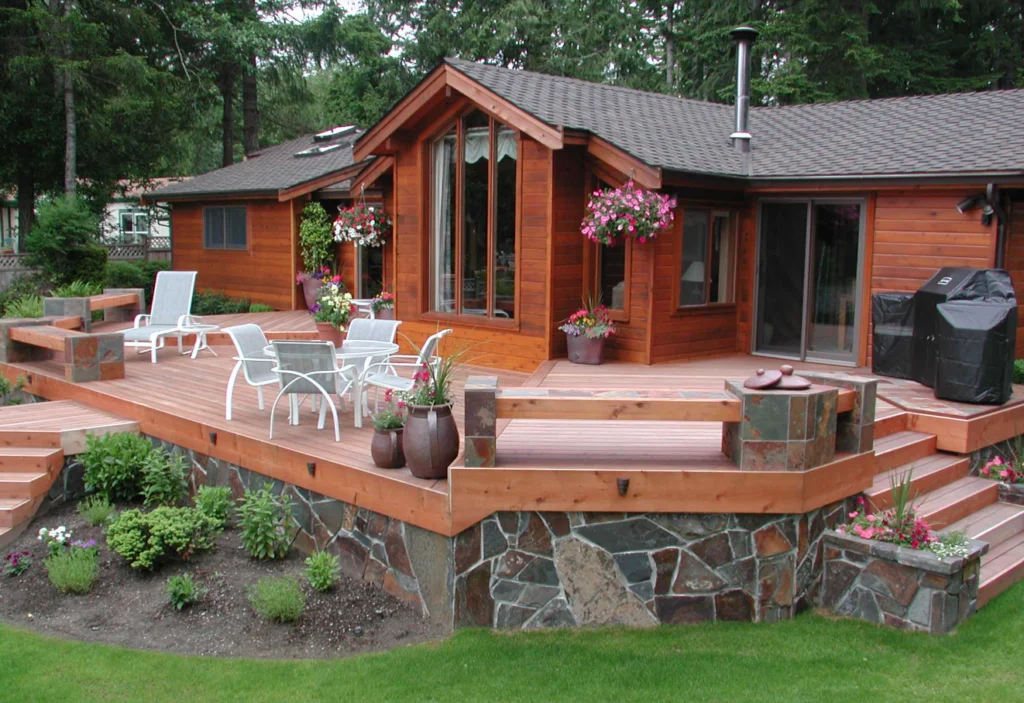 Brick Deck Skirting
Brick deck skirting is a popular choice for homeowners who want to add aesthetic appeal to their outdoor living space.
It is a durable and attractive option that can complement a wide range of home styles and landscaping designs. It can also provide added insulation to help keep your home cooler in the summer and warmer in the winter.
With proper installation and maintenance, brick skirting can enhance the beauty of your outdoor living area for years to come.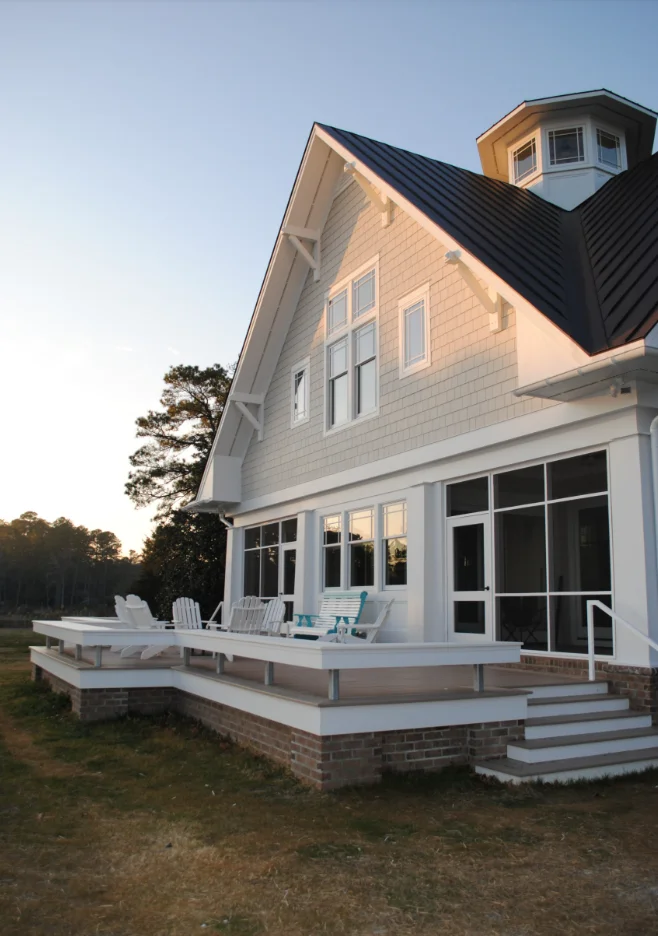 Shaker Shingles Deck Skirting
Cedar shaker shingle deck skirting is a popular choice for homeowners looking to add a stylish and functional element to their outdoor living space.
Shingles, in particular, offer a timeless and classic look that complements a variety of deck styles and designs. Overall, shaker shingle deck skirting is a great way to add both curb appeal and functionality to your outdoor space.
FAQ
What is the cheapest way to close in under a deck?
Wire mesh is the most inexpensive deck skirting option. The mesh will keep animals out and allow for airflow. One downside is that mesh will not conceal the area under the deck.
How much does it cost to install deck skirting?
Desk skirting typically costs between $2 and $60 per linear foot, if installed by a professional. The cost will vary depending on the deck skirting material.
What is the best skirting to use?
It depends on your needs, geographic location, and the look you're trying to achieve.
Conclusion
Deck skirting is a practical addition and opportunity to enhance the overall look and feel of your deck. With so many stylish deck skirting ideas and inspiration, you can easily find a solution that complements the style of your home.
Whether you opt for a traditional lattice design or faux stone, deck skirting can add a beautiful finishing touch to your deck.