Wooden Outdoor Play Sets, Playhouses, and More
With playgrounds closed due to stay at home orders, we used it as a final push to order a wooden play set to put in our backyard for the boys. And with many experts saying that we may have to practice forms of social distancing for 12-18 months or more until a vaccine is ready, we figured it's best to have something in our yard that the boys can play on throughout spring, summer, and fall. Because who knows how long our state will have playgrounds closed down.
We had been debating getting a wooden play set for the boys for about 9 months. But with everything going on right now and things selling out quickly, we pulled the trigger and ordered the KidKraft Charleston Lodge wooden play set from Sam's Club last week. I searched high and low, and it's sold out everywhere now. That's another thing I'm finding– play sets are selling out rather quickly. This is probably due to the time of year, people receiving their tax returns, and the fact that many playgrounds are indefinitely closed.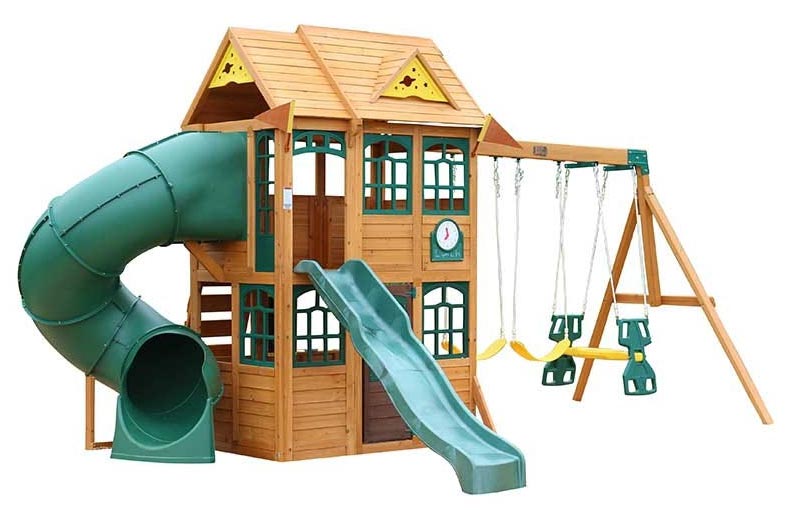 So I've rounded up various wooden play sets, playhouses, and accessories. At the time of publishing this post, everything is in stock. I included wooden play structures ranging in price from $180 to $2,700. TBH, only one structure is over $1,700.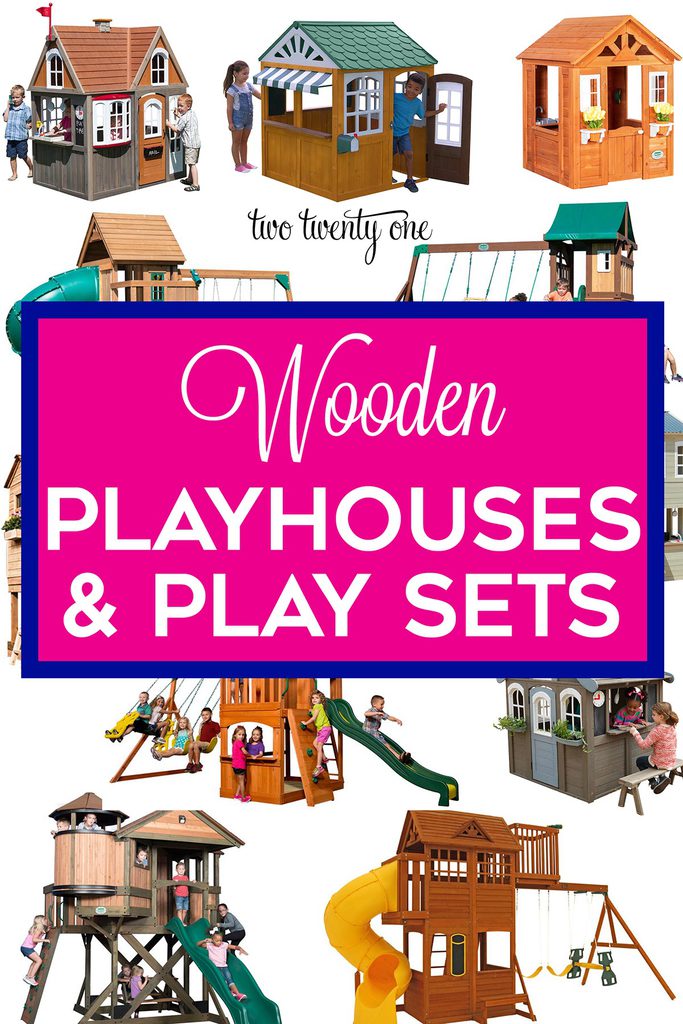 Wooden Play Sets
Wooden play sets are perfect, durable, private playgrounds for your kids. The ones I've rounded up come with some sort of playhouse feature and swings. Most of the play sets have slides. I tried to include play sets with green and yellow slides. When it came to ordering a play set for our yard, I wanted one with green slides so they'd blend into the landscape. Since yellow is one of the first colors the eyes see, I wanted to steer away from yellow slides. If we had a larger backyard, I probably wouldn't care about the slide color. Just something to consider.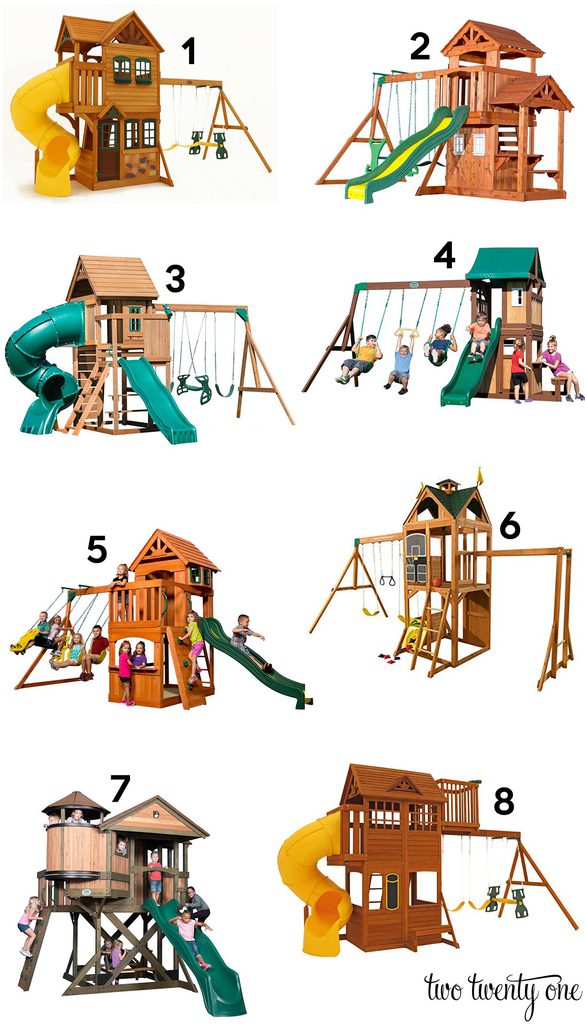 1 / 2 / 3 / 4 / 5 / 6 / 7 / 8
Wooden Playhouses
Limited on space or don't want to shell out a ton of money on a large play set? I suggest a playhouse.
I did include two playhouses that have slides but don't take up a ton of space.
1 / 2 / 3 / 4 / 5 / 6 / 7 / 8
Play Set Accessories
The play set we ordered doesn't come with a toddler swing for Emmett, so we bought one separately. This one to be exact. We'll install that swing instead of one of the regular swings.
There's tons of add-on play set accessories available to customize your play set or playhouse. From wheels to phones to signs to musical instruments.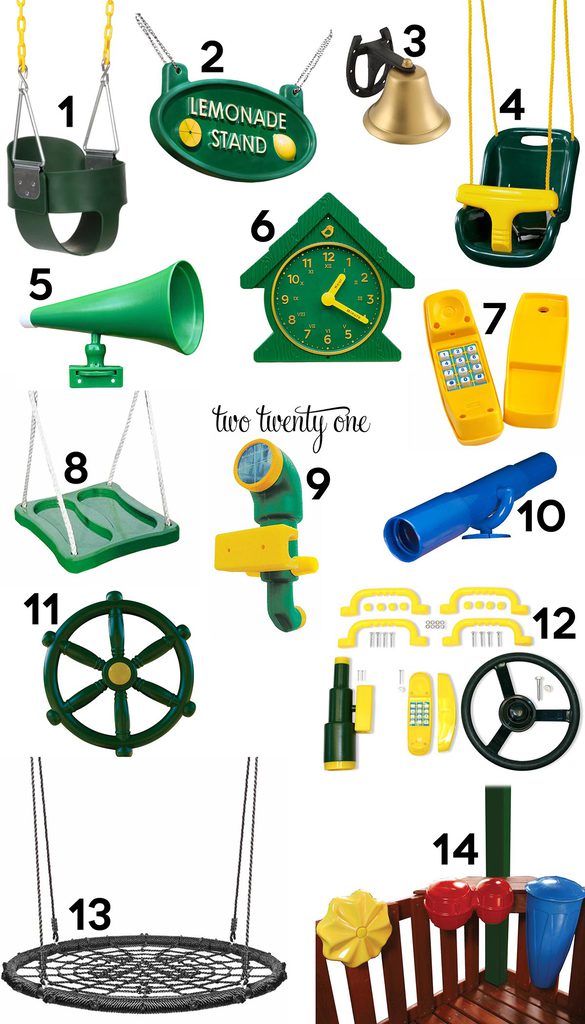 Check Your Neighborhood Covenants
If you live in a neighborhood with an HOA, you're going to want to check your covenants to see if you need a large play set approved. When we emailed our paperwork in, we explained the urgency (the play set was on sale and we wanted to order before they sold out). Thankfully, our HOA rushed our paperwork and approved our play set in less than 24 hours.
More Play Sets & Playhouses
I couldn't include all the play sets and playhouses I found, so click on the following retailers to see their in-stock items:
Walmart — play sets / playhouses
Home Depot — play sets / playhouses
DIY Rock Box
Don't want to drop more than $50? You can make a rock box! We made one for Owen at our old house for around $45.