How to Re-Plant Hens and Chicks
A few years ago, I published a post on growing and caring for hens and chicks. Today I'm showing how to re-plant hens and chicks. And I even crafted a video to show you exactly how it's done. You can check that out at the bottom of this post.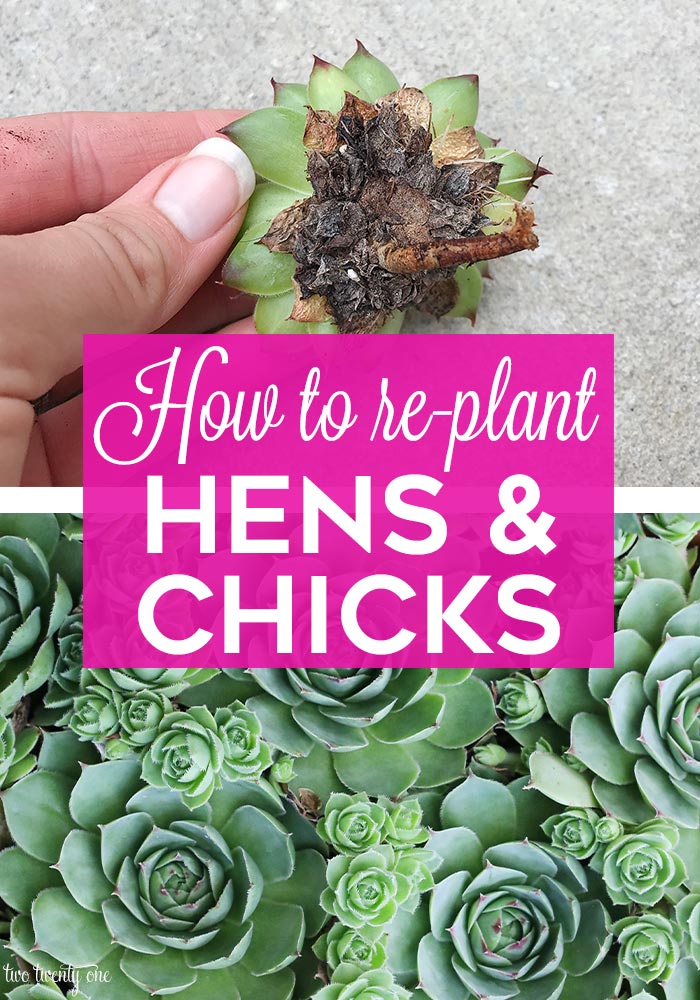 Would you believe me if I told you all of my hens and chicks are originally from about 20 hens and chicks my mom gave me around 8 years ago? That's right, I've grown Sempervivum tectorum from those original twenty. That's because these specific Sempervivum spread rapidly via offsets. Offsets are all those tiny babies surrounding the mother succulent, which are clones of the mother. Pretty cool, right? So given the space and right conditions, they will multiply like crazy.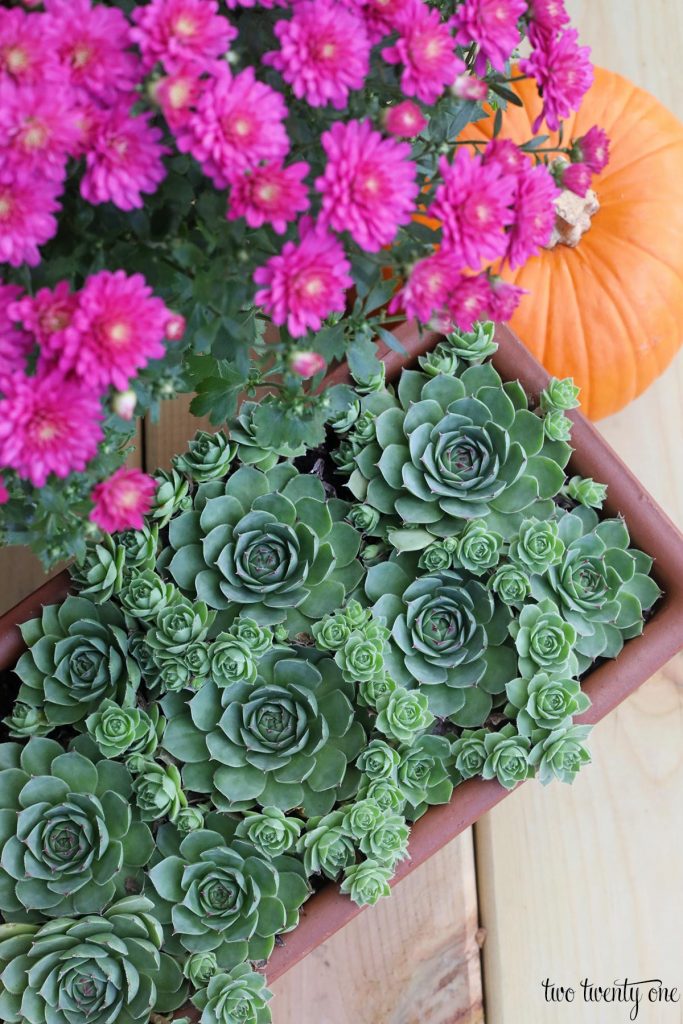 Over-crowding
When hens and chicks start to get crowded, they'll overspill their container if the soil hasn't sunk too deep into the container. Or they'll squeeze themselves into the container until there isn't any room left, making it hard for them to create offsets.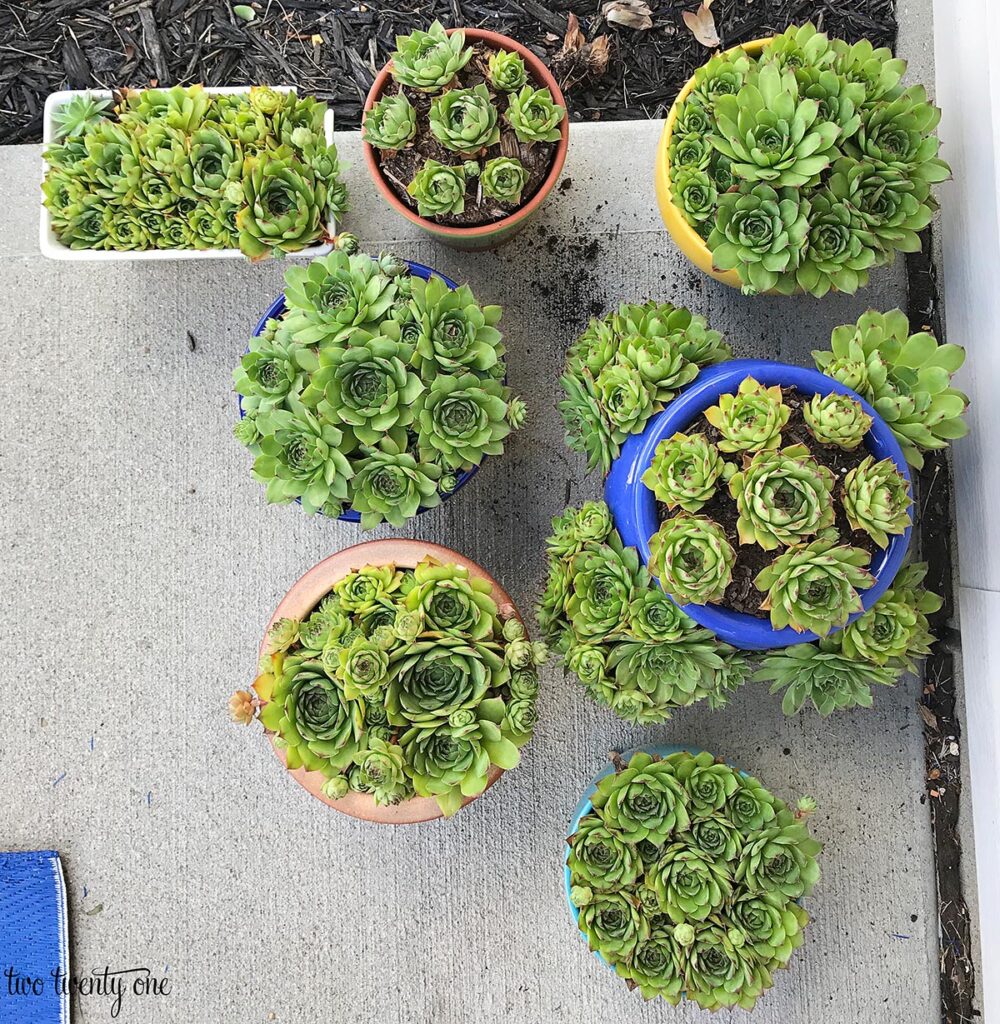 One way to clean up pots of hens and chicks, or to thin them out, is to remove some and replant them in different containers. Or, you could remove all the hens and chicks from the original container, put in fresh soil, clean some of the hens and chicks, and re-plant. If you're left with extras, you can always give them to friends or family.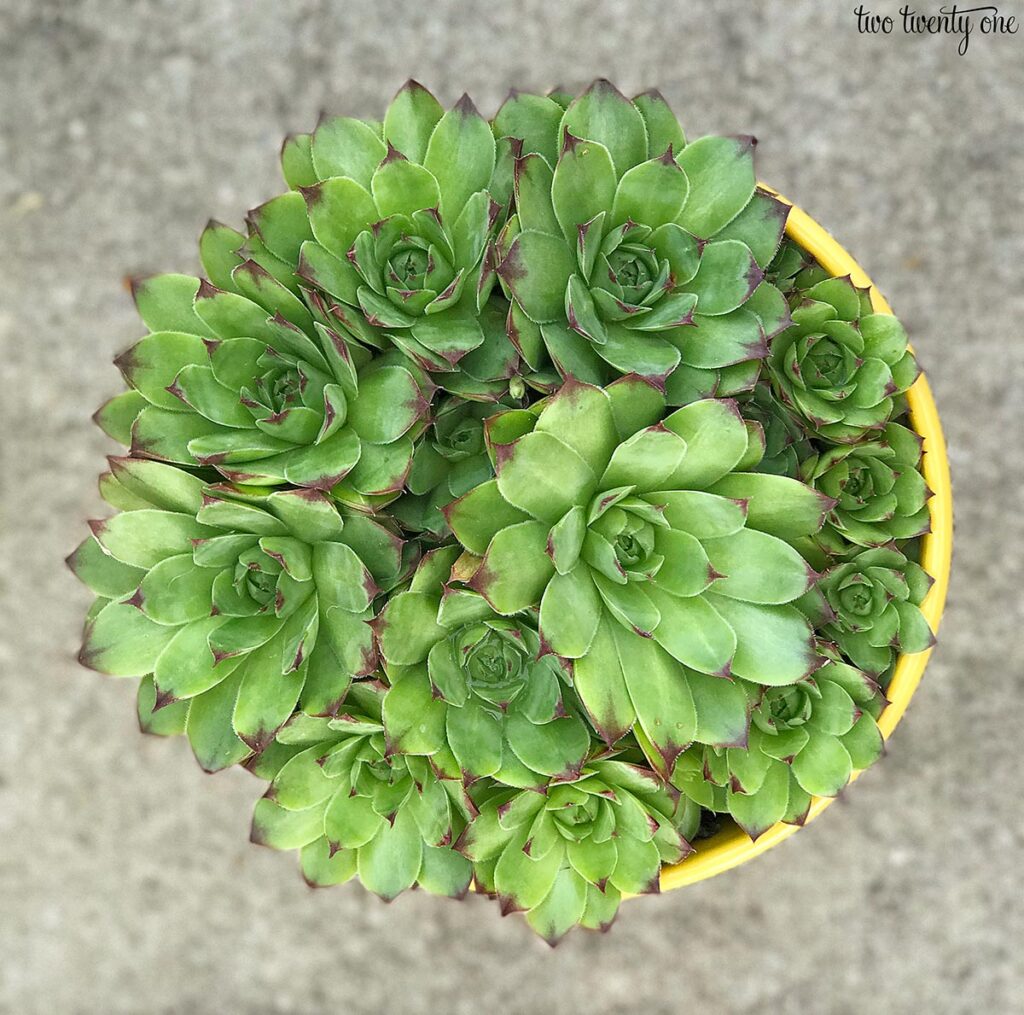 Here's the same yellow pot a year later. See how a lot of the succulents have died out? The remaining 10 hens and chicks can be plucked out, cleaned up, and re-planted so they can spread and make offsets.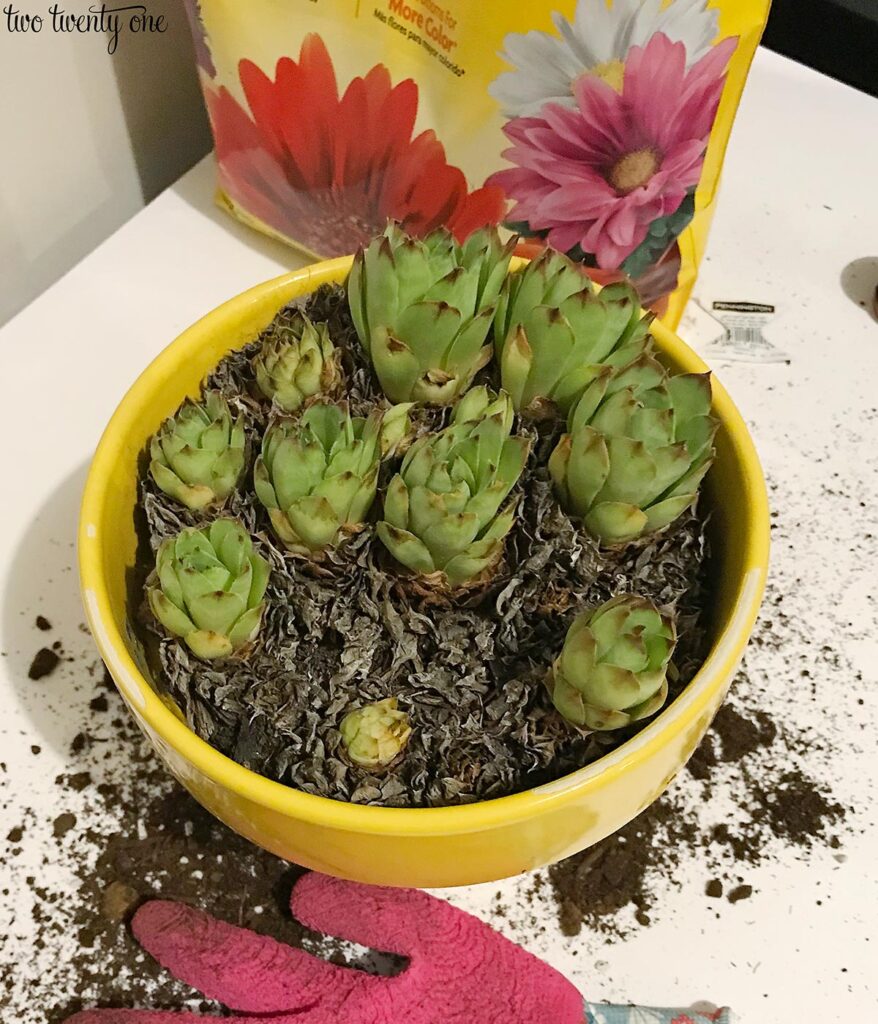 In fact, I used some of the succulents from the yellow pot above in this rectangular pot.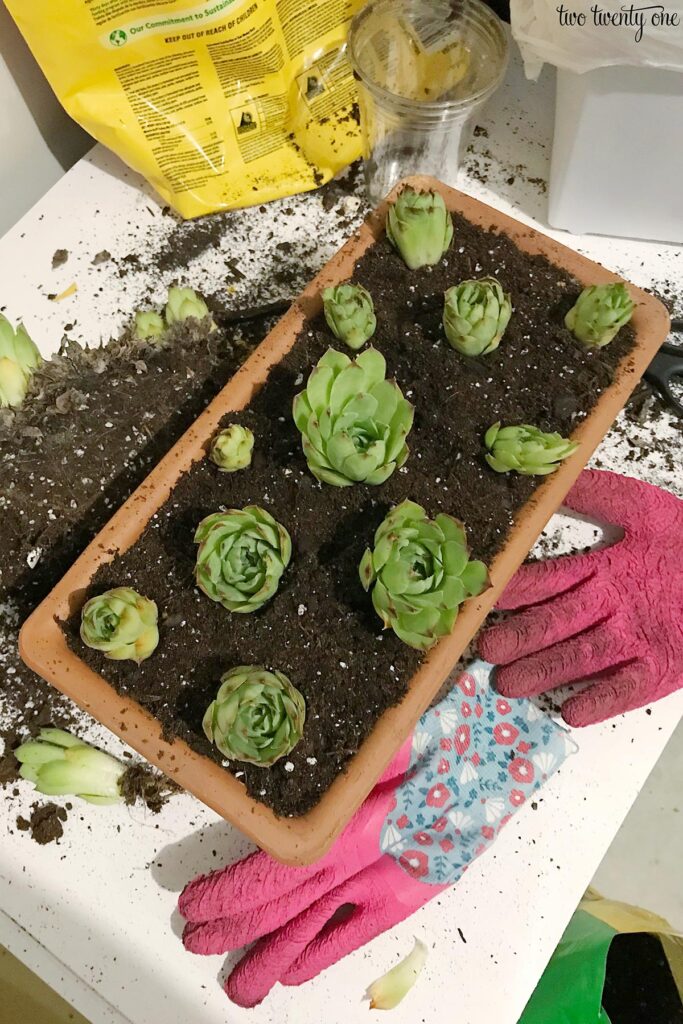 And within 4 months, that planter looked like this.
I counted around 60 babies. 60! In the matter of 4 months from 11 succulents. See what they can do if you give them a little space to asexually produce?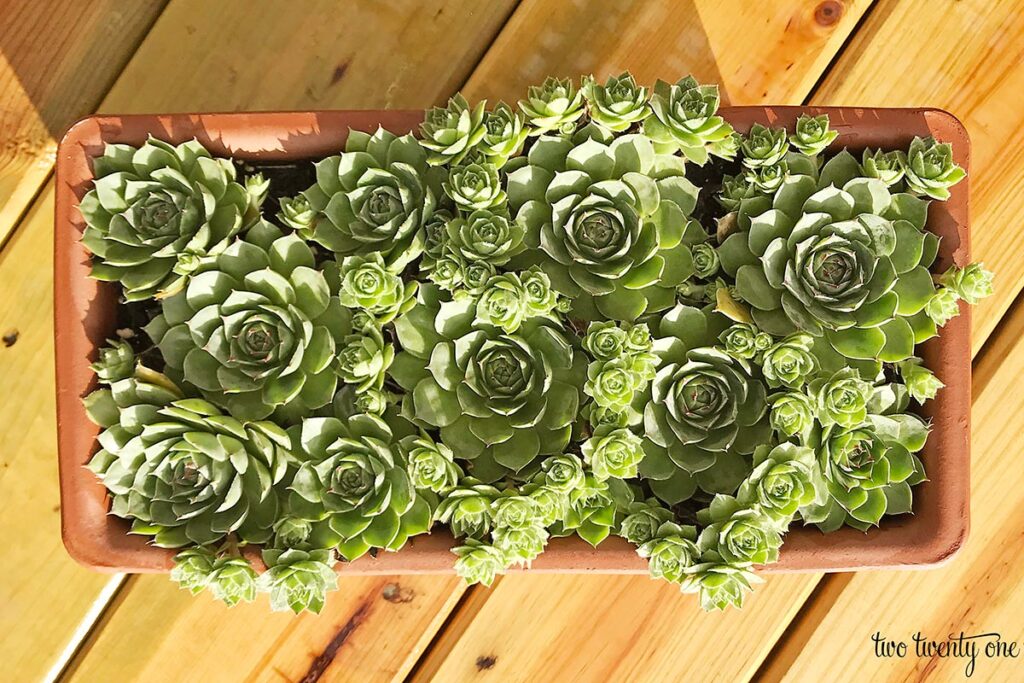 Soil
I don't use a special soil with my hens and chicks. I find that a regular potting soil works just fine. If you want, you can add some extra perlite for better drainage and some compost for additional nutrients. I've done different things to fertilize my hens and chicks. This year, I've been mixing this time released fertilizer into the soil. In the past, I've used this fertilizer to water them once a week. This year I'm trying out this fertilizer in a weekly watering because I bought it for my indoor plants and a little goes a long way. You can't go wrong with either, although the time-released fertilizer is less maintenance.
Re-Planting Hens and Chicks
Now, let's say you already have some hens and chicks and you want to thin them out, clean them up, or you want to fill a different container.
Remove and Clean
Start by popping the Sempervivum out of the planter. A gentle tug is all it really takes. It will most likely look like this.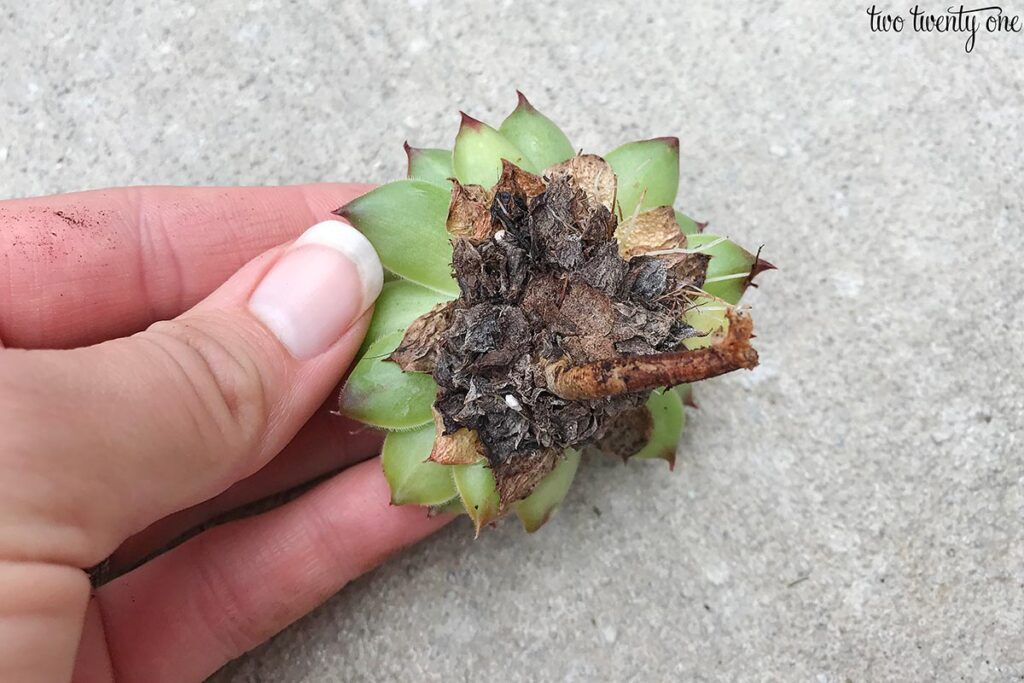 Then, clean off all of the dead leaves by carefully peeling them off.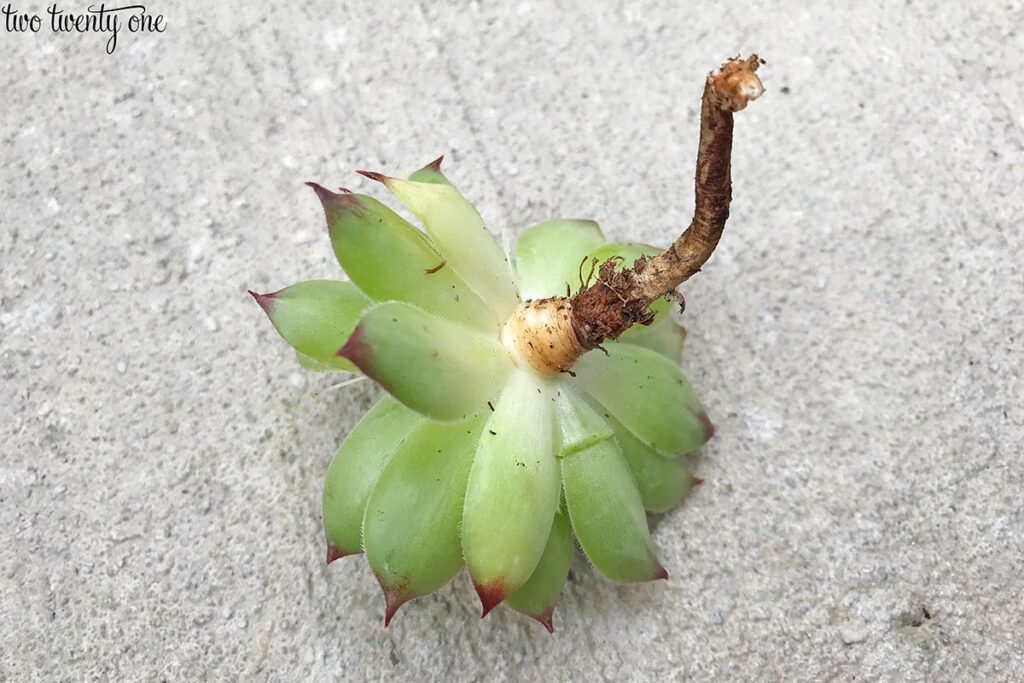 Shorten the Stem and Plant
To shorten the stem, I just use my thumb nail to sever the stem.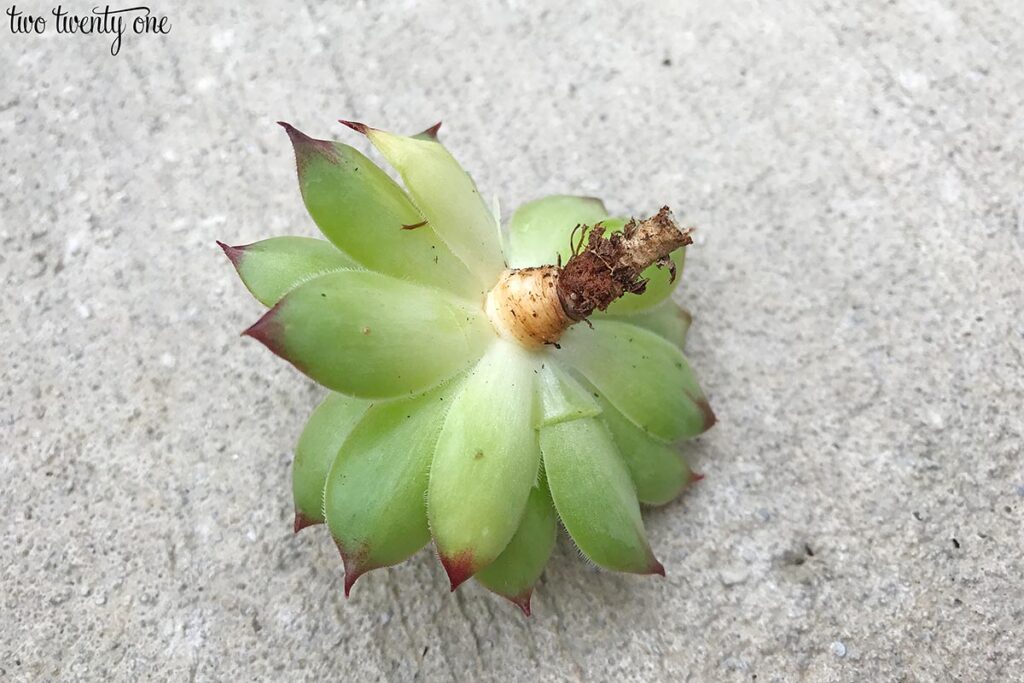 Finally, insert the stem into the soil, and you're done! The pot below should fill up and cover all the soil in a few months.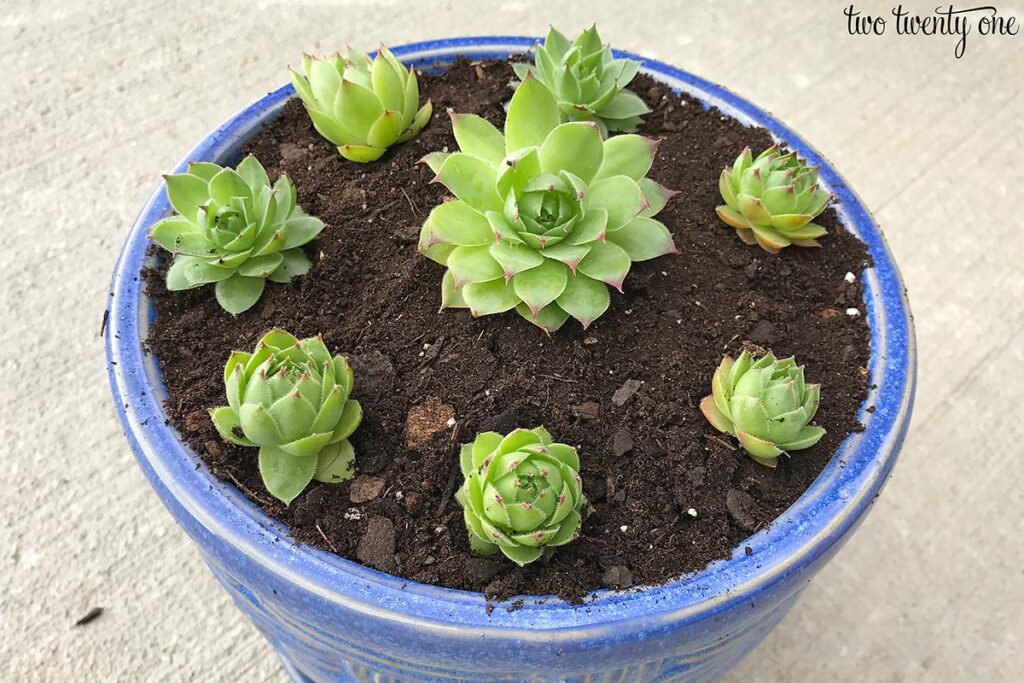 Re-Planting Newer Hens and Chicks
Say you have a container you want to fill but you want to use smaller hens and chicks. Or you have a pot with a lot of dangling hens and chicks (they grow out to get as much sun as possible).
Begin by gently pulling the succulent, removing it from the planter.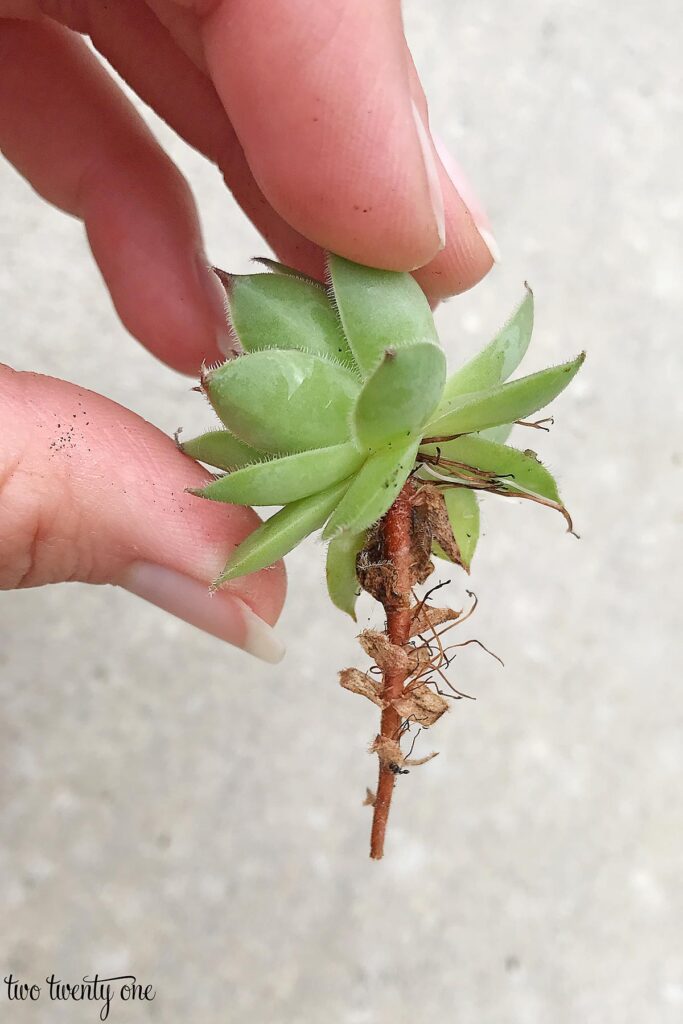 Next, clean off all the dead leaves and trim the stem.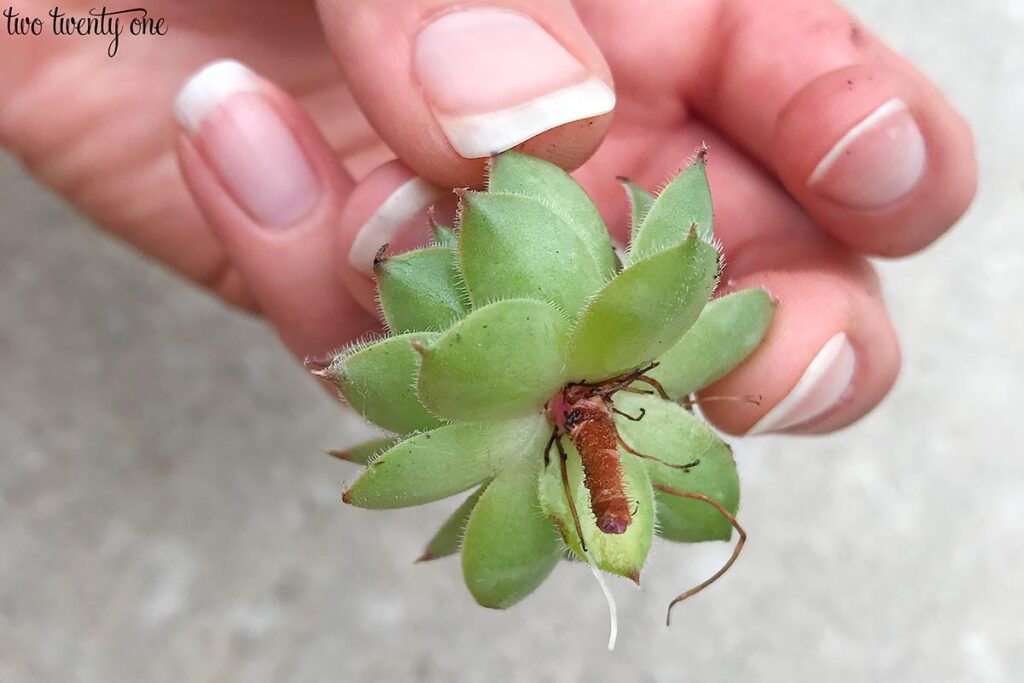 Then, stick it in the soil.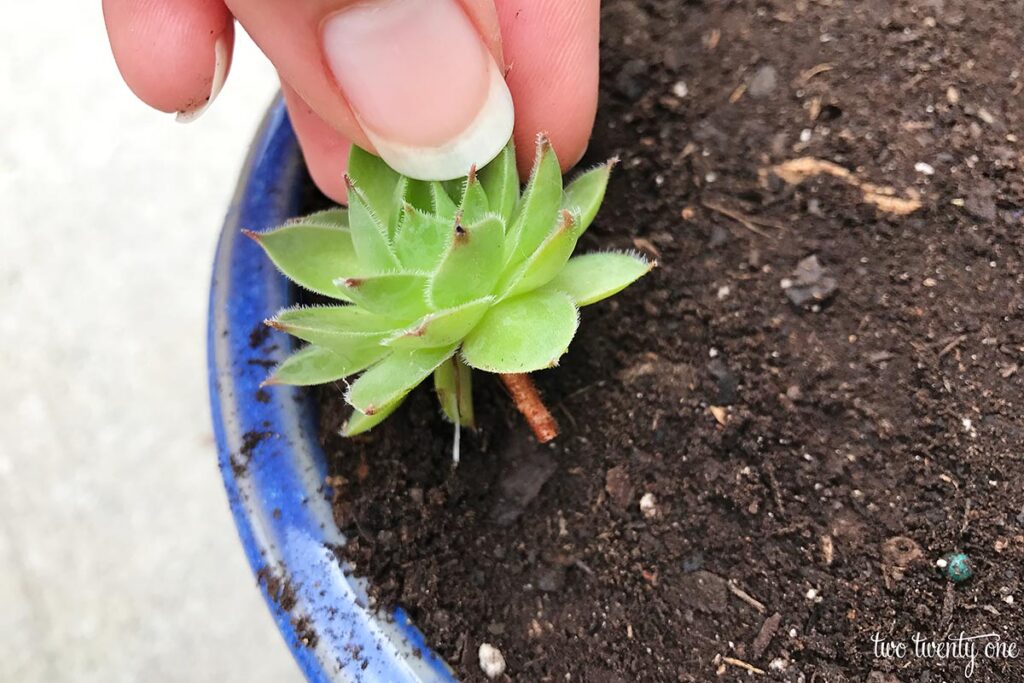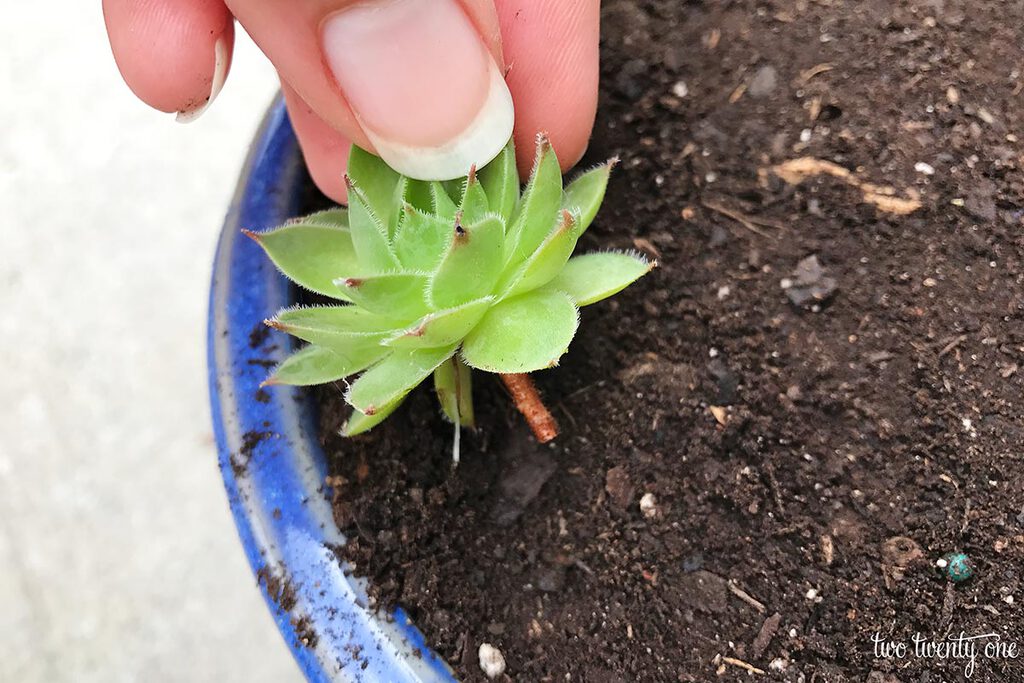 That's it!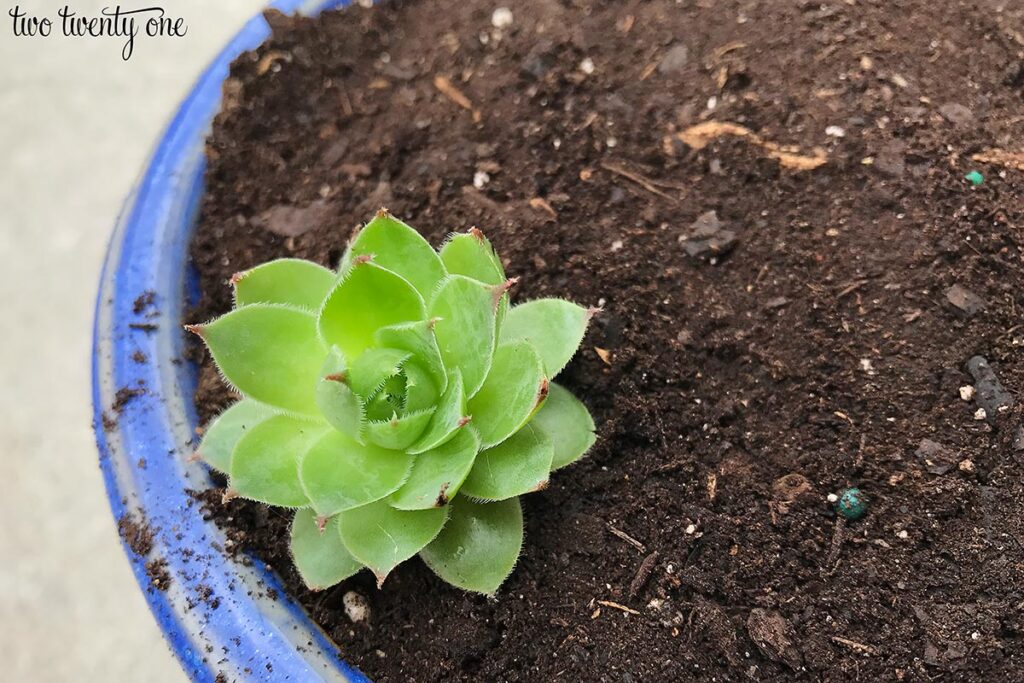 I used newer hens and chicks to create these baby shower favors because I was working with smaller terra cotta pots.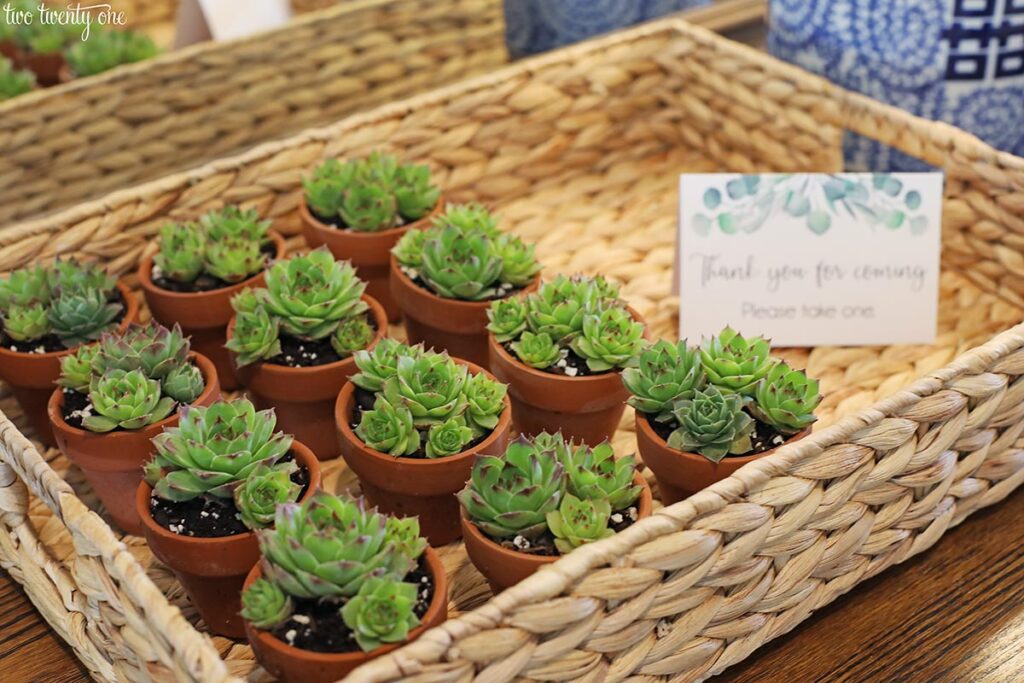 Want to see exactly how I re-plant hens and chicks? Watch the video below!
And lest you think I totally have my life together, here's my very professional video equipment and studio.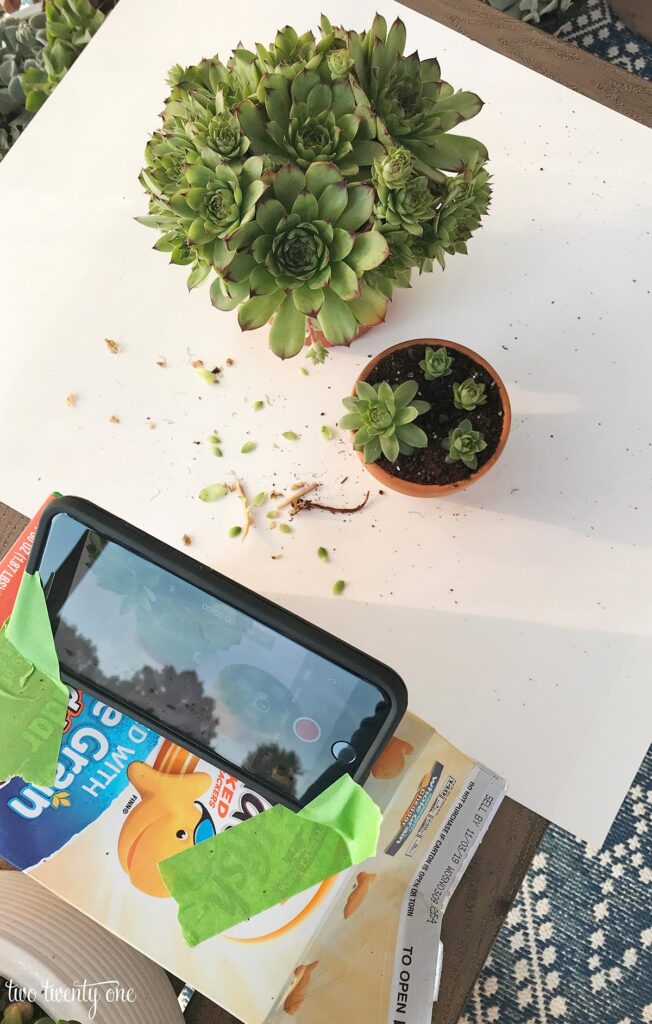 Want some general hens and chicks growing info? Click here to read more!
Want to know were I buy my favorite planters? Click here to find out!
Purchase Hens
I'm offering hens (succulents) for purchase to my Patrons. Plus, I'll share a hens and chicks care document on Patreon. And I'll create a thread where people can ask any questions that aren't covered in the document. Remember, once you get the hens they should keep multiplying so you only have to buy them once.
While I'd love to give away tons of hens, I have a limited quantity so it's going to be first come, first serve. And I'd also love to give them away for free, but it would cost me a small fortune to ship that many boxes.
Click here to head over to my Patreon page!