How to Make a Shelter in Place Birthday Special
I've had some people ask on Instagram Stories (@twotwentyone), if I had an ideas for making a shelter in place birthday special. So I put my noggin to work and came up with the following ideas. Keep in mind that just because you have to stay at home and practice social distancing, it doesn't mean you can't make this birthday special.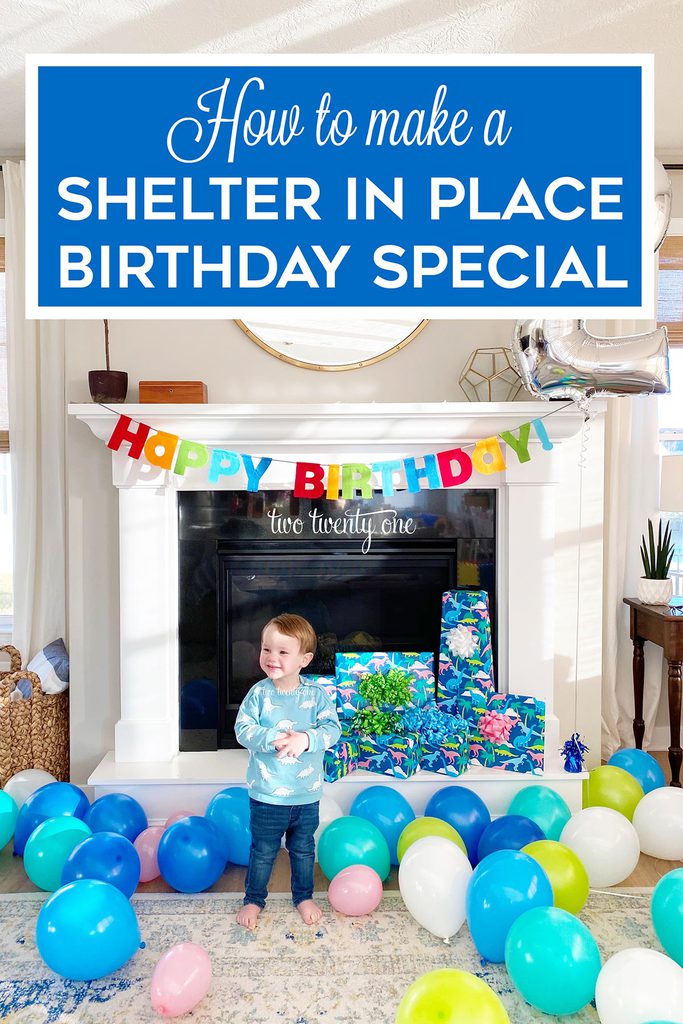 Shelter in Place Birthday Parade
Still want to celebrate with friends and family? Coordinate a birthday parade. Guests can either drive by your house in their cars or ride on bicycles. They can decorate their vehicles with car window paint and crepe paper streamers, make signs to hold up, and play music. Tell them a time and a meeting place– out of view from your house. Have your birthday guest of honor go outside. Then, text the first person in the parade and tell them to start slowly driving toward your house. Seriously, what a cool birthday surprise!
Morning Birthday Surprise
Wrap their presents and set them in one place. Blow up lots of balloons. And hang a happy birthday banner. Boom. Done. And they love it. I do this with our boys for every birthday, stay at home orders or not.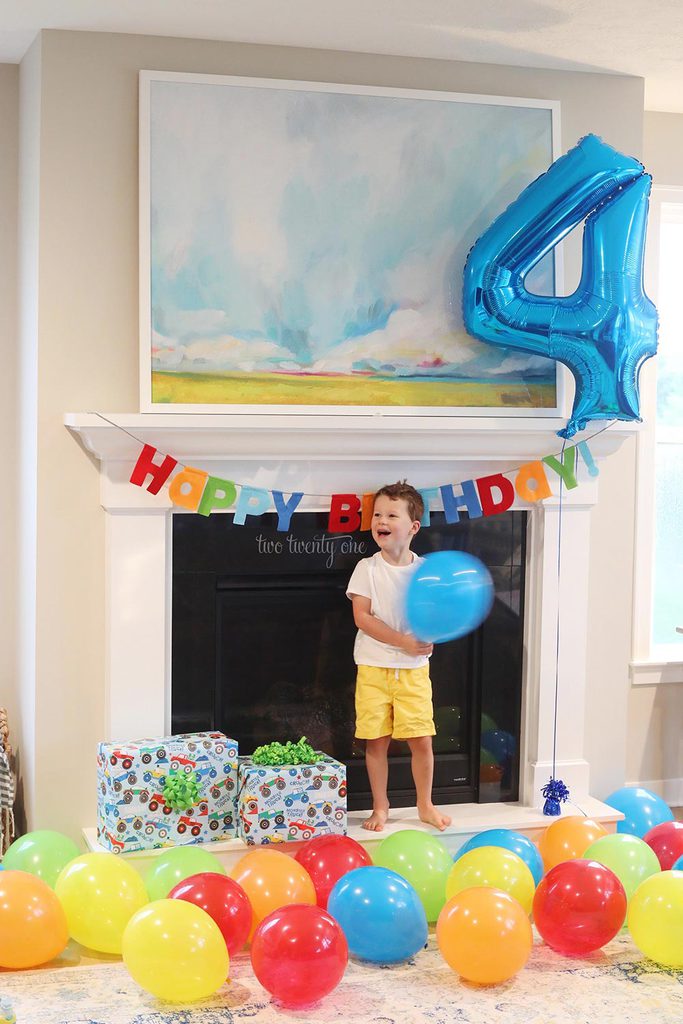 Leave Notes On the Front Door & Windows
Have friends and family leave birthday wishes on your front door and/or windows. They can write messages on paper and tape them to the glass so the birthday person can see and read them from inside.
Put a Sign in Your Yard
Display a happy birthday sign or "Honk for Owen's Birthday!" sign in your yard.
Or if you have the extra money right now, hire one of those sign companies, like Sign Gypsies, to put a sign in your yard.
Chalk Your Driveway
Make a shelter in place birthday special by setting chalk outside with a note for friends, family, and neighbors to write birthday messages for the birthday boy or girl on your driveway and/or sidewalk.
Make a Balloon Garland
Who doesn't love a balloon garland? You can make a bitchin' balloon garland in about 2 hours. Click here for my step by step balloon garland tutorial and the machine I use to make the process go faster. The machine also allows the balloons to stay fresh for 2+ weeks. Since we're all stuck in our houses for the foreseeable future, why not have a balloon garland hanging for a few weeks?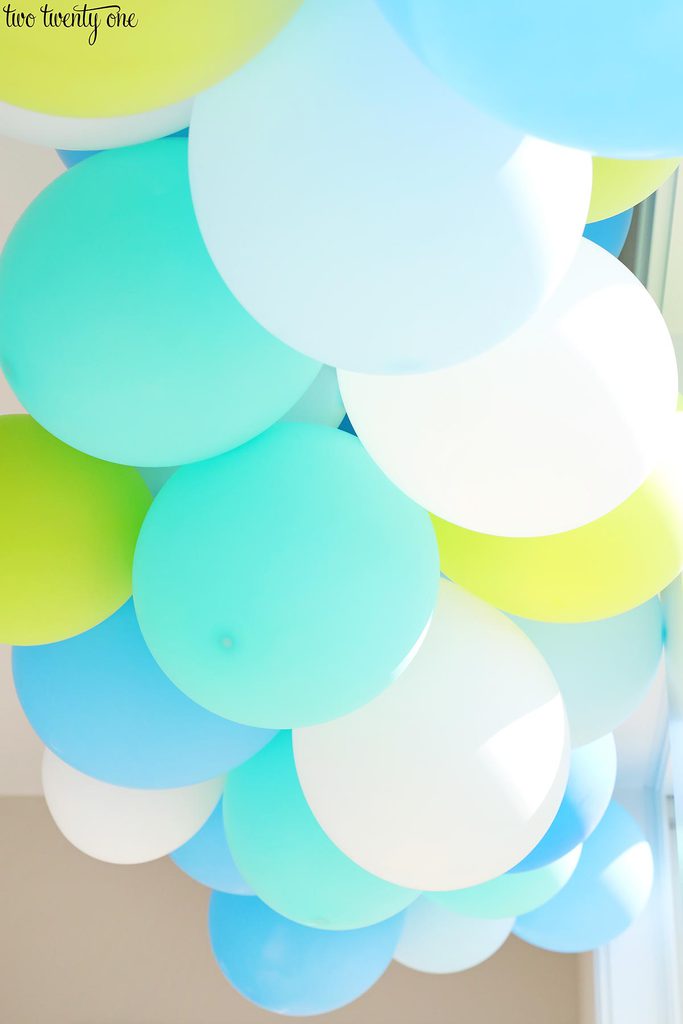 Special Birthday Meal(s)
Ask the birthday person if they'd like any special food on their birthday. Pizza for breakfast? Sure thing. It's their shelter in place birthday. Let them eat the pizza.
Birthday Present Scavenger Hunt
Hide birthday presents around the house or yard (weather depending) and create a scavenger hunt. Or just hide them and tell the birthday boy they need to find their 5 hidden presents. Make sure you write down where you put all the presents so you don't forget one.
Zoom or Google Meet Virtual Birthday Party
Invite everyone to a Zoom or Google Meet party! Everyone can sing Happy Birthday to the birthday boy/girl. If you're comfortable doing so, you could ask guests to drop gifts on your front porch or in your garage in the days leading up to the party. The virus is said to live on plastic for up to 3 days and cardboard for up to 24 hours. So if you let the gifts set for a few days you should be good to go.
Outdoor Dance Party
If you live in a cool neighborhood or apartment complex, have an outdoor dance party. Play music and invite neighbors to dance from their perspective porches/balconies. You may want to limit the time on this so you don't piss off all your neighbors.
Hire A Photographer
Ask your family photographer, or a local photographer, to take photos of your family outside your house, while keeping their distance of course. They can photograph the birthday parade too. Capture all the special memories so you can enjoy everything with your family. Plus, you'll be supporting a local small business owner.
I bet if you do anything of things above, you'll make this a special birthday!
For more party ideas, visit my party page!