Yep, today I'm going to tell you how to plant a tree. You know, in case you ever have the urge to plant one.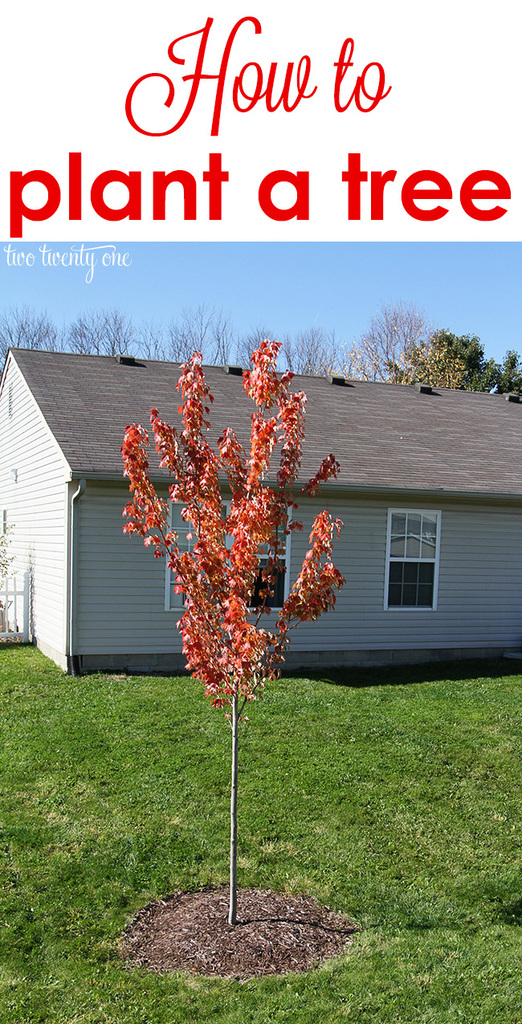 Now, we actually planted this tree last fall. I'm choosing to post about it a year later because I wanted to make sure we didn't mess up and subsequently murder said tree. Since I'm posting, I'm happy to report that the tree survived, even through the Polar Vortex.
Brad and I read numerous articles about how to plant a tree before we embarked in tree planting. Let me tell you, there are 500 different opinions on how you should plant a tree. I'm sure I'm going to get comments on this post telling me how we planted the tree incorrectly. But you know what? That tree is alive and standing straight so I think we're doing alright.
Okay, so a suburb near us has a balled/burlapped tree sale each fall for $50 per tree. They are really nice trees that would go for $150-$200 from a nursery, so I was all "Brad! We must buy a tree for the backyard!"
After much research, we ended up choosing an October Glory Maple.
Tip #1
Call before you dig.
You want to make sure you're not going to hit an underground utility line when you start digging your massive tree hole. Call 811 and they'll set everything up. Try to call a week before you plan to dig.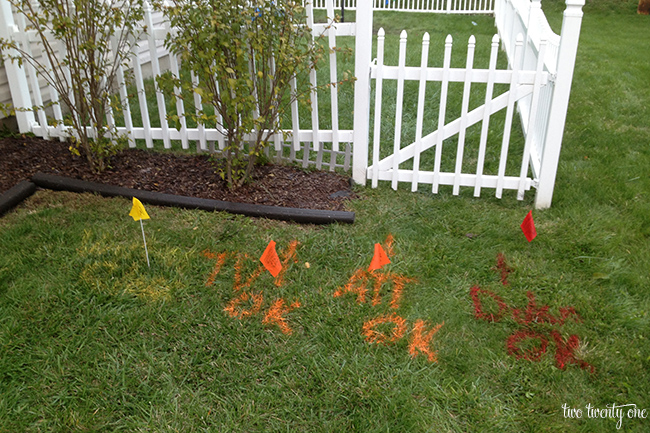 Tip #3
Plant your tree in the fall when temperatures are cooler and there's typically adequate rain to keep your tree hydrated.
Tip #4
Bring a big enough vehicle and manpower to transport your tree if you're picking it up.
They didn't say how tall or heavy the tree would be when I ordered it. Our tree was about 15 feet tall and 200 pounds. Heh. Brad was really happy with me.
We transported it home like shown in the photo below. THAT was fun. Then, when we got the tree home we used a piece of plywood as a ramp to slide it out of our SUV and pull it into our backyard. I called this a "marriage test".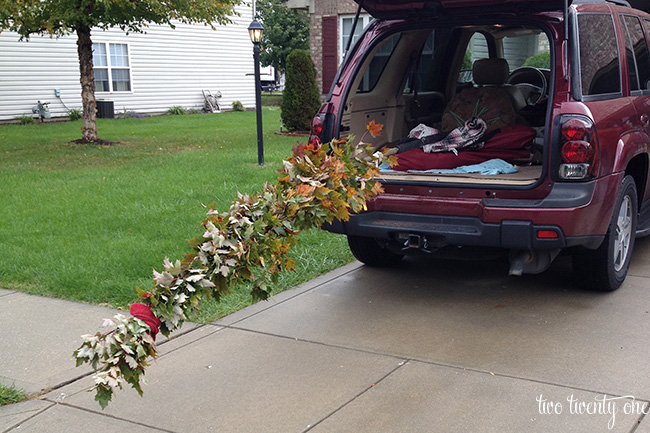 Step One
Dig a hole that's 2 to 3 times as wide as the root ball. Our hole was about 5 feet in diameter and a foot and a half deep. Put all the dirt on a tarp for easier clean up.
As we dug, we noticed that our lovely home builders had filled part of our yard with gravel (yay!) so we ended up shoveling dirt and gravel. It worked out okay because the gravel provides extra drainage.
(So, who wants me to start my own fashion blog?)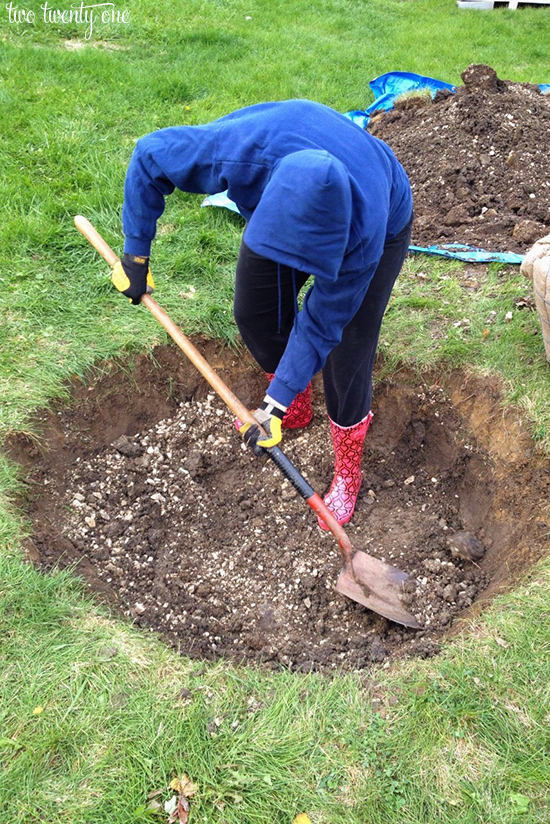 Step Two
Manhandle your tree into the hole.
Step Three
Level it so that it's standing up straight.
Step Four
Remove the wire and burlap. It's okay to leave the burlap under the tree since that's pretty hard to get to.
We heard that you can leave the wire and burlap on that's around the root ball, but we decided to take the wire and burlap off. Supposedly, the roots will grow out of the burlap and through the wire.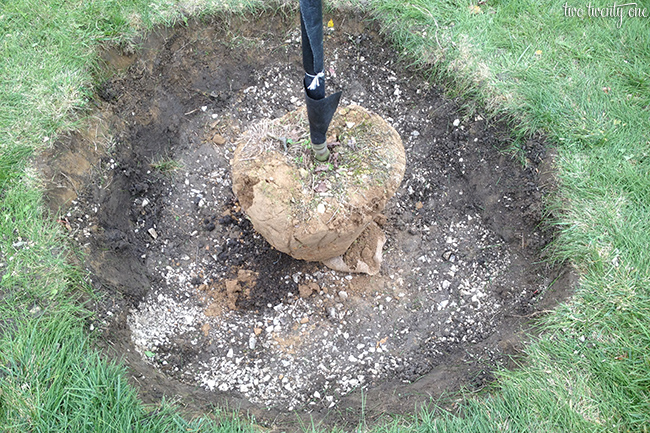 Step Five
As you fill your hole, wet the soil with water. You want it muddy to eliminate air bubbles.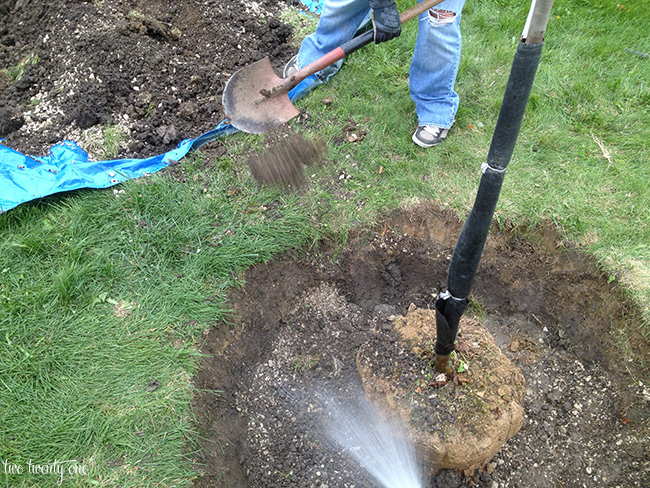 We would periodically stop filling the hole with soil, and I would wet the dirt while Brad used the shovel to work the dirt.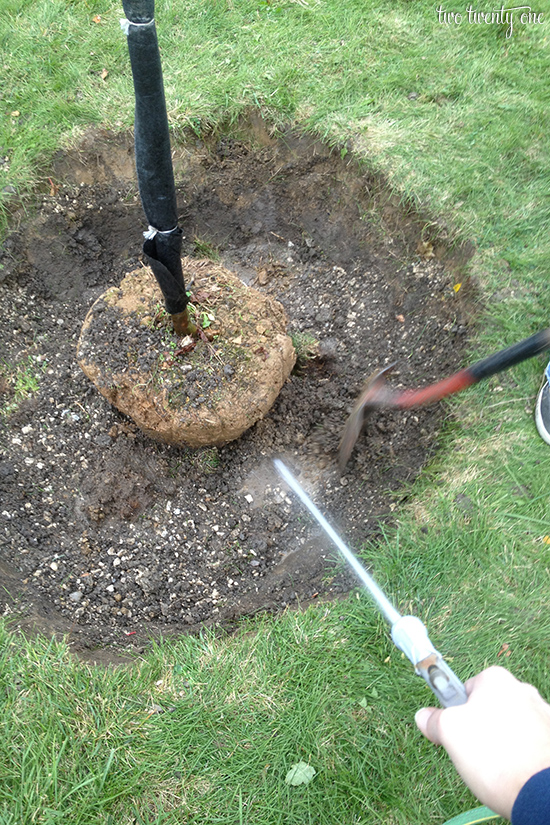 Step Six
Mulch around your tree.
Don't heap the mulch around the base of a the tree. I see this done all the time, and you're not supposed to do this. The base of the tree needs to breathe so keep your mulch level.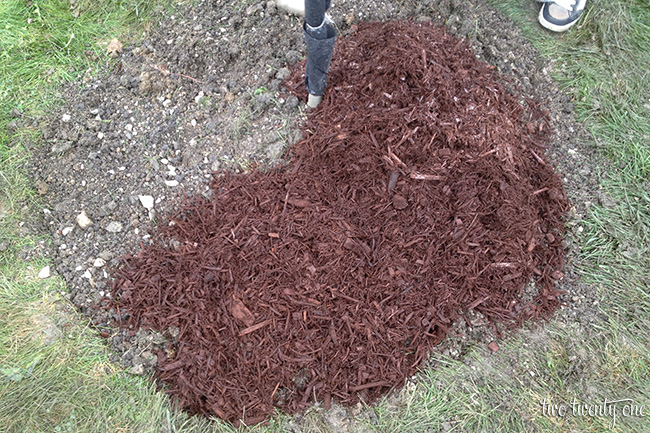 Step Seven
Remove any tags and additional non-natural objects from the tree.
See the black stuff on the trunk of the tree? Yeah, remove that stuff.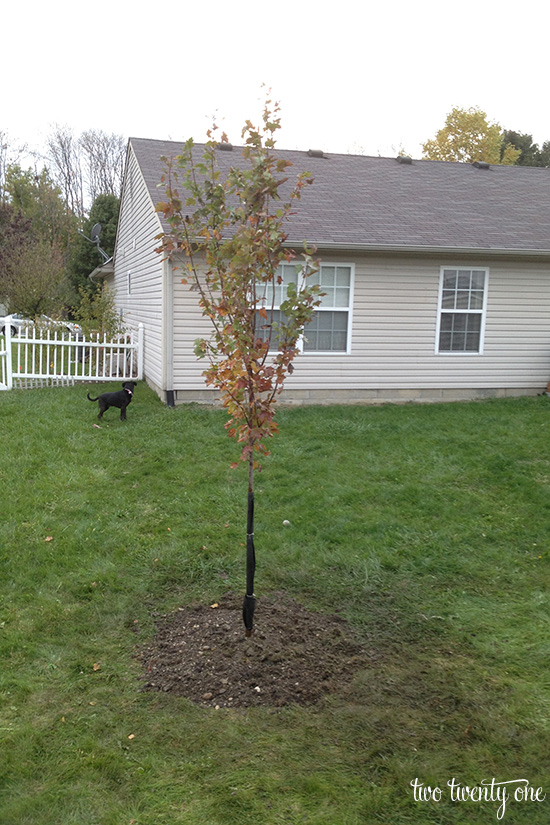 We didn't really need to water the tree anymore because, since we planted it in the fall, there was plenty of rain.
Let me disclose that after planting this tree Brad said we'll never plant a tree ever again. I will admit, it was a lot of work. Planting a 200 pound tree is not the same as planting a hosta or peony bush.
You've been warned.