I've been working on my home office makeover for, oh, over a year now. To say that it's slowly coming together is an understatement. But high five me because I finished one more project on my to-do list the other day– stenciling my file cabinet.
Psst, my home office makeover is finished! See the big reveal
here
!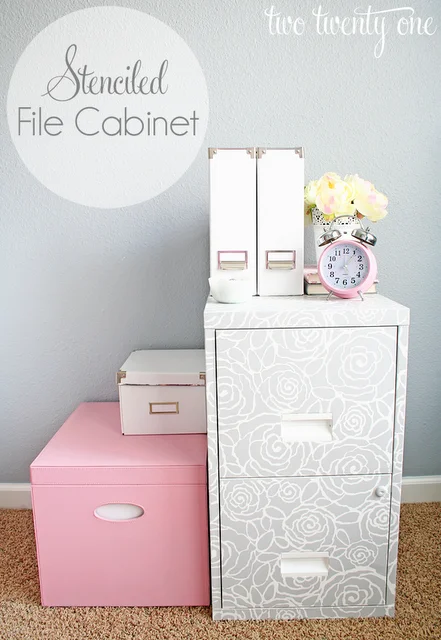 I started with a dull, greenish/tan file cabinet, which I scored for free.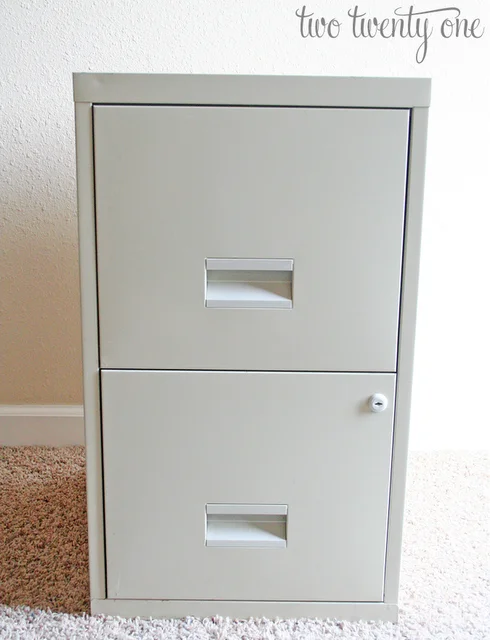 Then I painted it white… and it sat for a year, waiting for more to happen to it. But recently, the great people at Royal Design Studio got in touch with me and asked if I wanted to review one of their stencils. The file cabinet was the first thing that popped into my head.
I had been eyeing their 
Rockin' Roses Damask Stencil
for some time, and I knew it would look great on the file cabinet. So Rockin' Roses it was.
The stencil was pretty easy to use. It probably helped that I was able to roll the file cabinet over so whatever side I was working on was face upward. I started by taping the stencil in the middle of the the long sides. Adhesive spray wasn't necessary with this project.
In addition to the stencil, I used a paper plate covered in foil (super classy and professional), foam roller, and a sample of latex paint (Valspar's Gravity)– all things I already had on hand.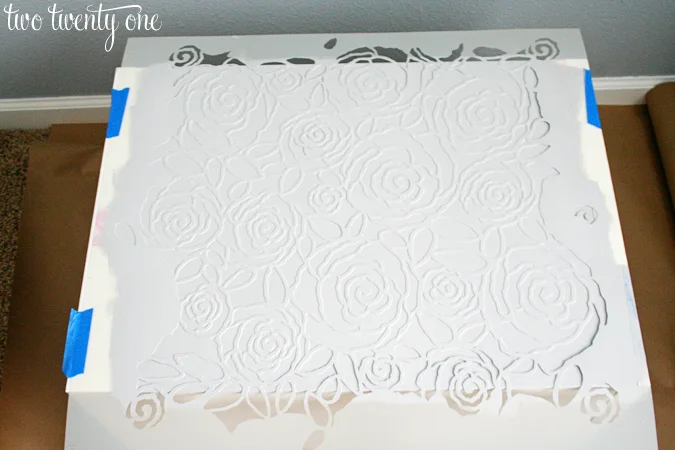 I used the smaller stencil to finish one end and the large stencil to finish the other end of the tall sides.
The stencil registration system made it easy to match up the pattern.
The large stencil was all I needed for the top of the file cabinet.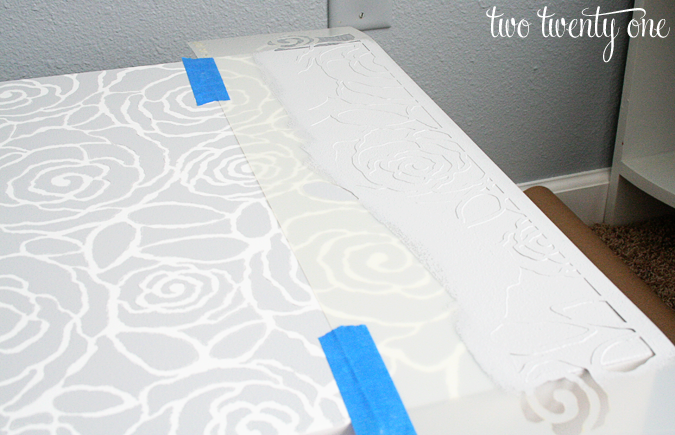 I wanted the handles to stand out a little, so I covered them with painters tape before stenciling.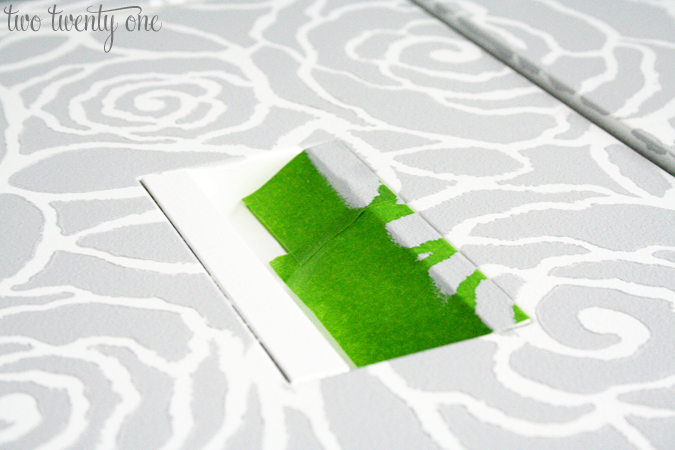 The stenciling itself didn't take very long. I found that the key was using just enough paint. It's better to go with too little paint and do a second coat than go with too much paint on the first go. The most time consuming aspect, for me, was cleaning the stencil. It may have had something to do with the intricate pattern of the stencil I chose. Ultimately, I found it best to soak the stencil in hot water with some dish soap and scrub the stencil with the green side of a Scotch Brite sponge.
Altogether, this project probably took about 3-4 hours (that includes prep, stenciling, cleaning the stencil, clean-up).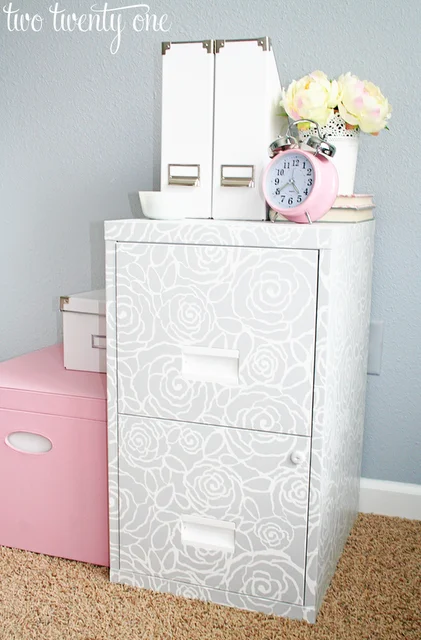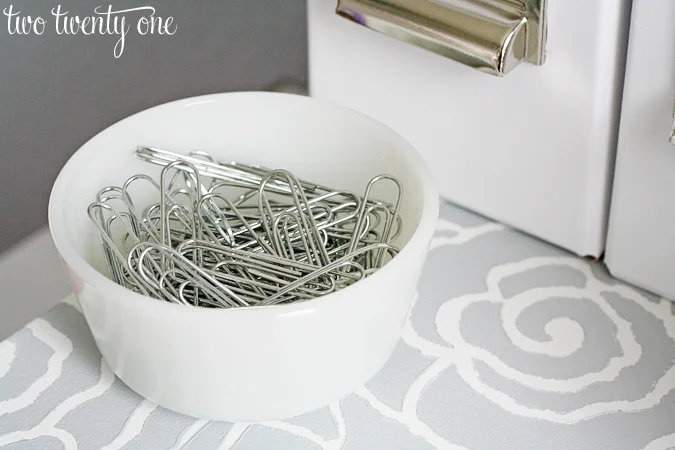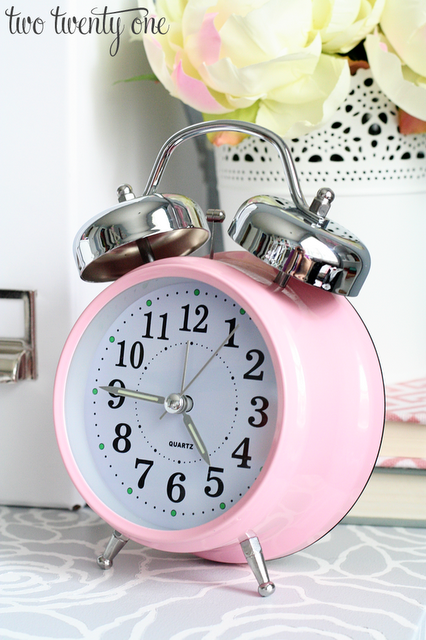 I love how the file cabinet turned out. Now having to file paperwork won't be as boring because I'll be looking at this pretty little thing.
Tadah! A stenciled file cabinet.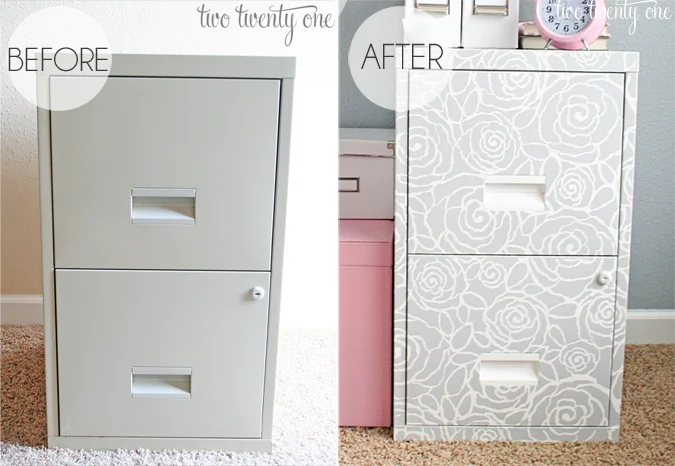 Check out more about my home office, including the makeover and a bunch of DIYs, below!

Have you used a wall stencil? What did you stencil?
Do you have a less-than-pretty piece of furniture you'd like to stencil?
I received my wall stencil for free. I was not compensated to review this product.
As always, all opinions are 100% my own.