Tomorrow I'm sharing my home office makeover. You're on pins and needles, right? Well, today I'm showing you the former states of the room.
When we moved into our house in July, 2009 the every room was painted this shade of beige. Here's my office before we moved in. Blank slate in my opinion.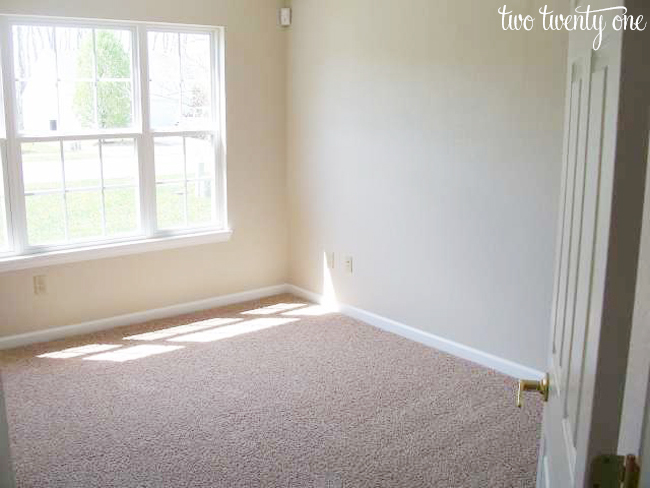 I decided to paint my office purple. My inspiration was a photograph I bought at an art fair the spring before we moved into our house. Looking back, I don't know what I was thinking. I'm going to blame it on being a young, excited, new home owner.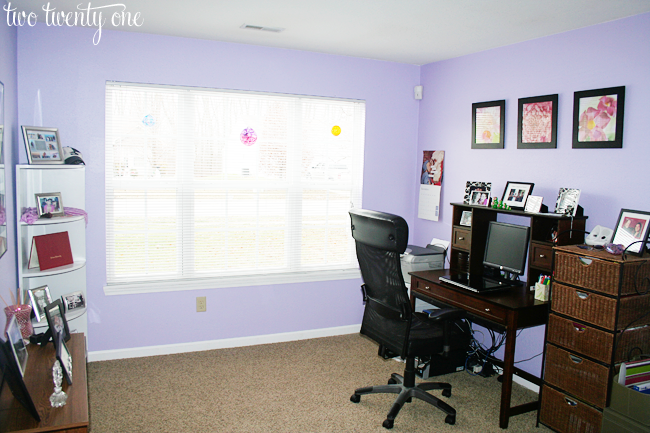 The room remained in its purple state from July, 2009 until September, 2011. Throughout the months leading up to our June , 2011 wedding, the office became my wedding bunker. I stored all of our wedding related decorations and other materials in the office. After the wedding, I decided to purge and reorganize everything before I painted. That meant putting everything in the center of the room– even the contents of the closet.
Hoard, much? I had so much random crap in the room it was unreal. Yes, you are seeing baby toys. No, I don't have a child you're unaware of. I work with toddlers. So toddler toys are a must.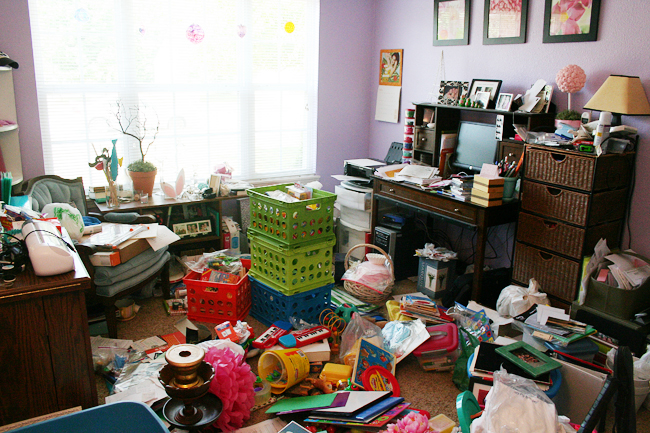 Why did I show you the above photo? I'm trying to keep it real. But notice how I didn't watermark the photo. I'll share it with you, but I'm not putting my name on that hot mess.
So I cleaned up the room, sold the computer desk and corner bookshelf, and donated the barely recognizable TV stand. Then I got to painting.
Speaking of painting, most of you know how hard it is to find a perfect gray. Oof. I brought home a few samples to try out on the wall. The one on the far left is Gravity by Valspar. Second to left is Voyage by Valspar. I went with Voyage because I thought Gravity was too light. I should have gone with Gravity. The temptation to repaint the room came over me but I was tired of painting so I accepted the color and moved on.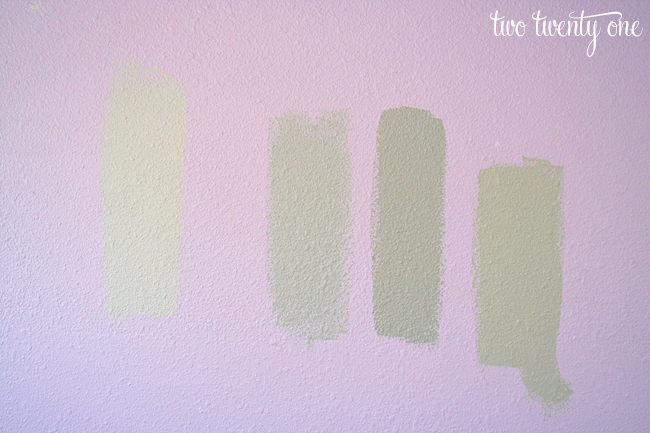 Voyage is OK, but in color tends to look more blueish gray than gray. Darn tricky grays. At least it's better than the purple.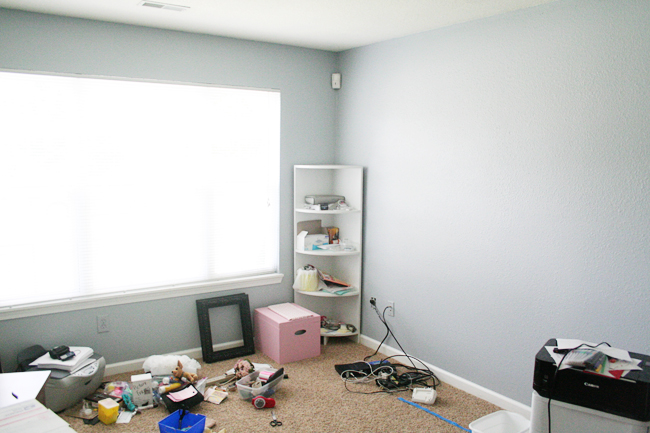 My sewing cabinet makeover was the next big thing to hit this room after the new coat of paint on the walls. All of those gray paint samples came in handy. I used one of the samples (Grey Porch by Valspar) for the accent color on the sewing cabinet.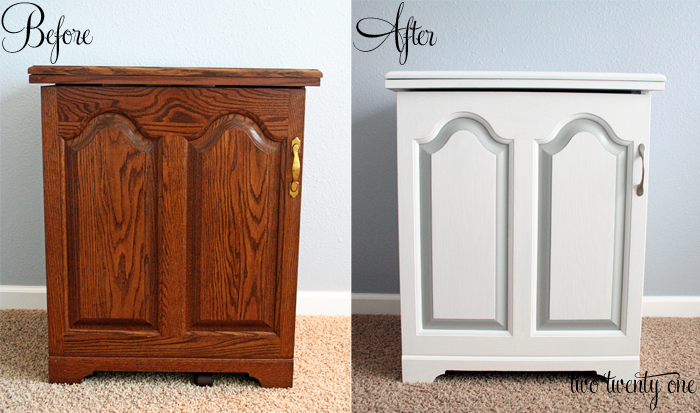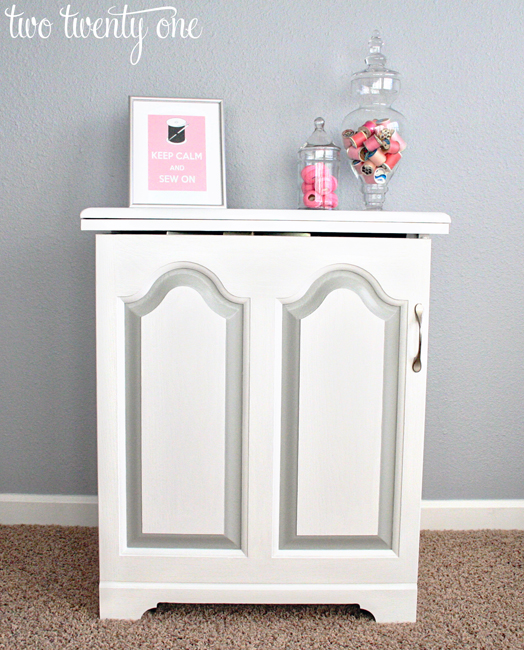 My file cabinet also received a makeover in preparation for the room redo. Again, all of those gray paint samples came in handy. I used the Gravity sample to stencil the file cabinet. Paint samples, people. They're your friends.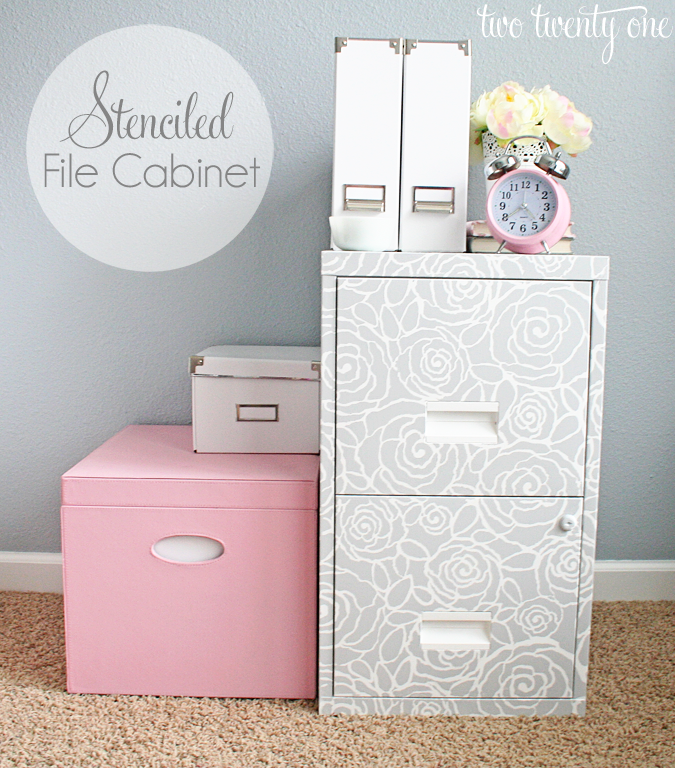 And a few weeks ago I finished my gallery wall. No paint samples were needed for this project.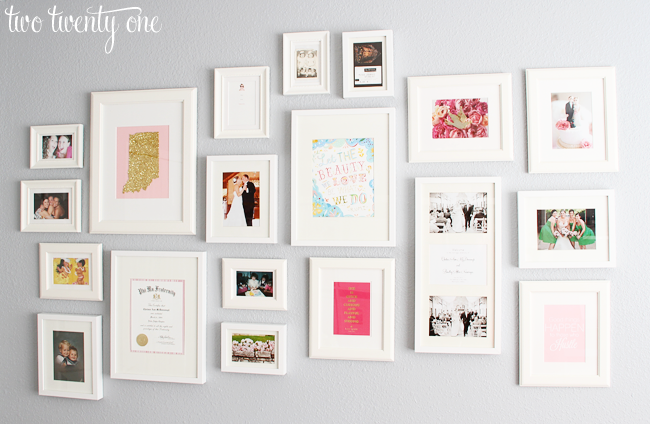 Now that I've teased you with a few projects I hope you're excited to come back tomorrow and see the room in its entirety.
Have you ever painted a room a color and later on thought "what was I thinking?"
Do you hoard paint samples so you can use them on future projects?
Plan on coming back tomorrow?