A momentous thing happened this weekend. I completed the gallery wall in my home office. It's a small miracle seeing as I've been working on this room for well over a year.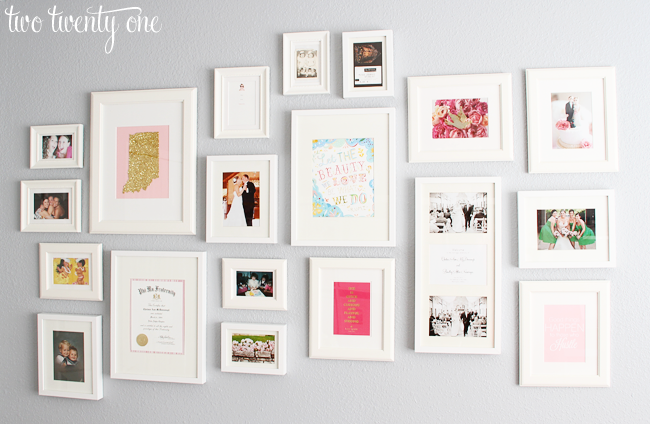 I used three different types of Ikea frames (Ribba, Sondrum, and Virserum). Seriously you guys, if Ikea is a drive for you, stock up on frames when you go. It took me months to collect enough frames because I didn't buy enough the first and second times I went. Now I'm sitting pretty with a large surplus of Ikea frames.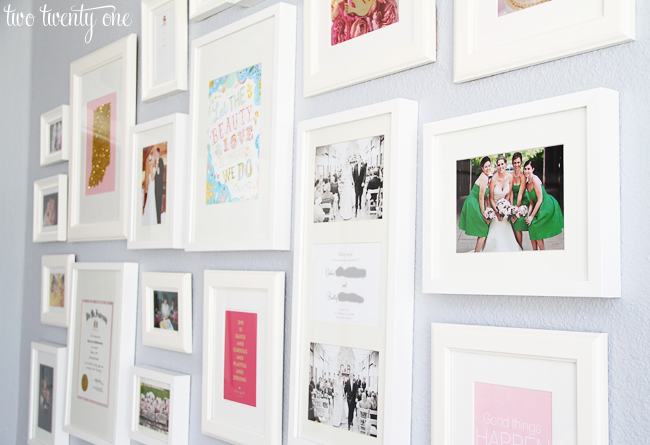 The gallery wall contains photos, one of my favorite Katie Daisy prints, a Kate Spade card/print, my glitterfied Indiana artwork, and random things I framed like my admission tickets to the Louvre and Eiffel Tower, a card from my best friend, and a dove Christmas ornament my late aunt gave me. I also framed the cover of our wedding program with two photos of us after being pronounced husband and wife.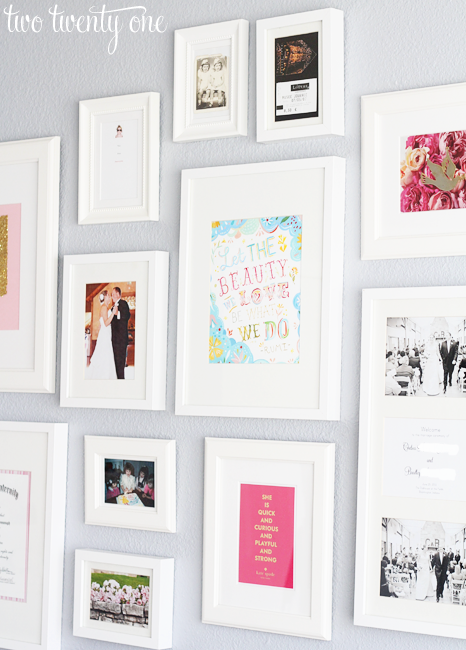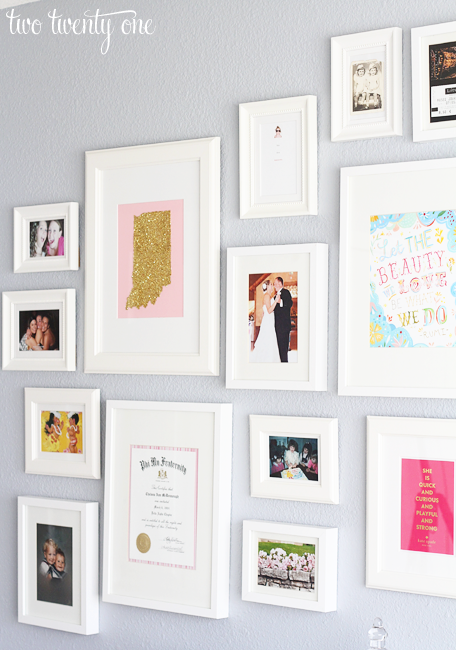 The wall was fairly easy to assemble. Arranging frames for a gallery wall is a lot like Tetris. So if you're a Tetris pro creating a gallery wall shouldn't be too difficult for you. But I found it was best for my sanity to do it over time– as in multiple days. Sometimes it's best to walk away, regain your marbles, and then get back to work.
First, I put the things I wanted to frame into the frames. Then, I traced the frames onto craft paper, cut out the shapes, and started working on the layout of the frames by using the actual frames.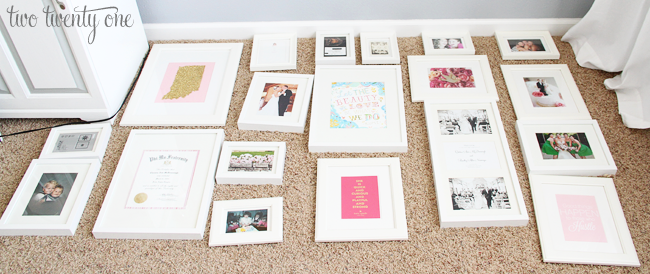 But then I deviated and used the craft paper frames on the wall to create the layout I desired. The kicker was making sure I was properly hanging the paper frames– whether the content in the frame was horizontal or vertical in nature. I found it helpful to arrange the frames accordingly on the floor as I assembled the paper frames on the wall. Still following me?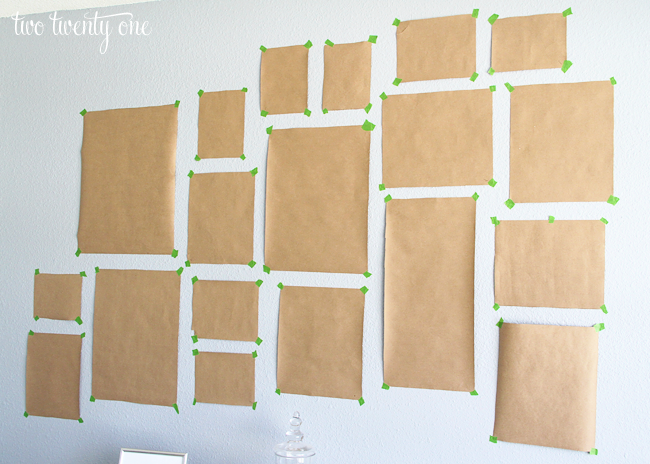 Once I was happy with the paper frame arrangement I started hanging the frames. I'm pretty good at eyeballing where to put nails in regards to picture frame hooks so I went with the 'eyeballing method'. It worked out well. Out of 20 frames I only had to redo 2 nails. I think 90% accuracy is pretty good for wingin' it.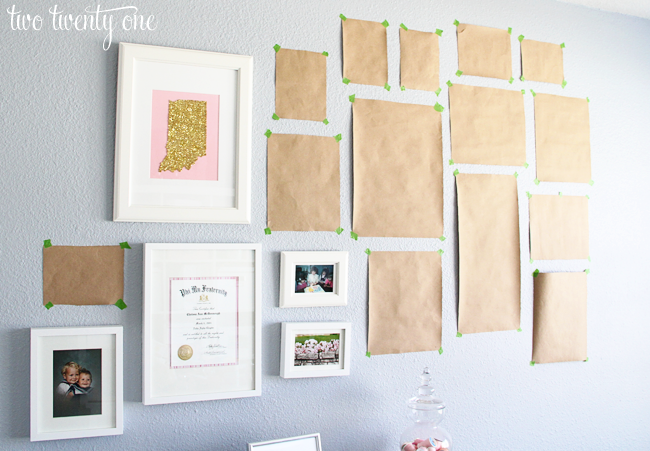 Now, if you've ever attempted to hang an Ikea ribba frame you know how pesky they are. I don't know whose idea it was to make a frame with an inch of space between the nail hook and where the frame meets the wall. When I asked an Ikea sales associate about it he said, "I guess you'll have to use a long nail". I may or may not have replied, "well that's just silly". But do not fear, my friends, do not fear. I developed a cutting edge way to hang these irksome frames. Make a loop with picture hanging wire. But don't make your loop too large or you'll be able to see the loop when you hang it on the nail. If it's too big, simply twist the loop to make it a little smaller.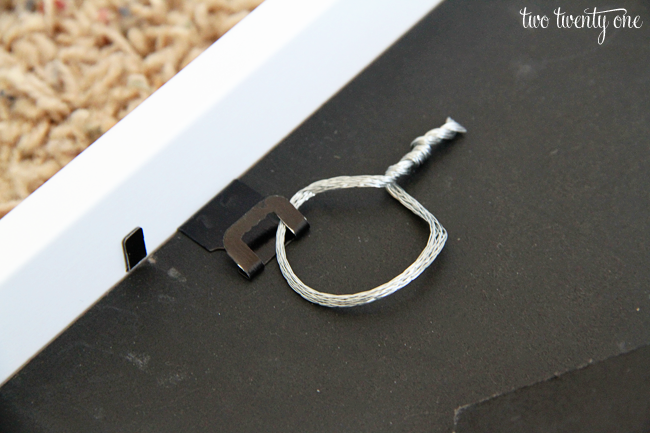 So there you have it. One more home office/craft room item knocked off my to-do list. If everything goes as planned, I'll be able to reveal the entire room makeover next week.
Get excited.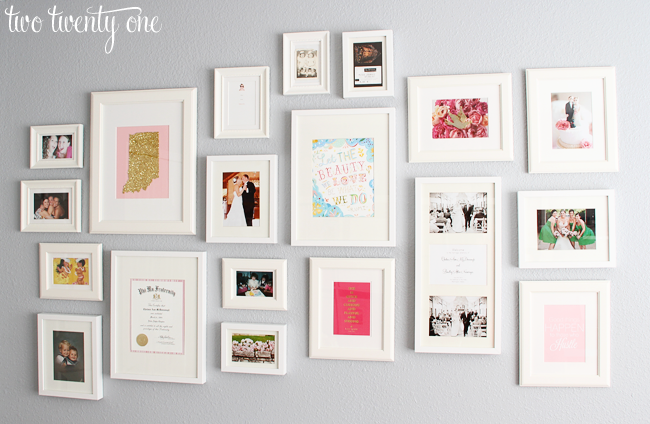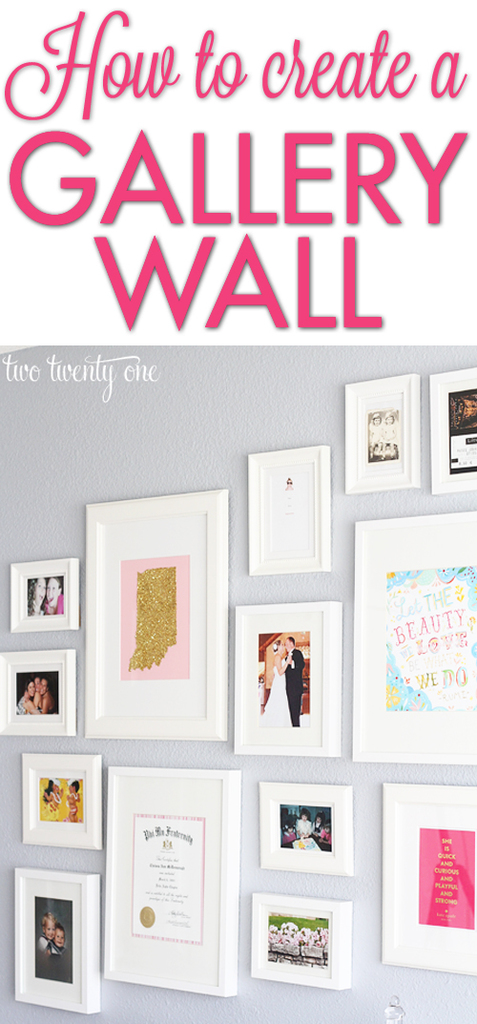 Have you tackled a gallery wall in your home? How'd it go?
Has a room makeover taken you well over a year to complete? Don't be ashamed, you're not alone.
Stalk away!