Let's Talk Blog (Part One)
Last week, in celebration of my 2nd blogiversary this week, I opened the floor to you all to ask me any burning questions you may have. You guys asked a lot of blog related questions, so today I'm answering half of those questions.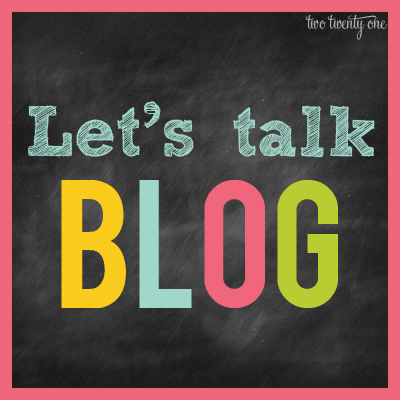 What made you want to start a blog? I started blogging in the fall of 2010 with my wedding planning blog, Chelsea Gets Married. I wanted to document my wedding planning process and all my DIY wedding projects. I knew Chelsea Gets Married would come to an end after the wedding so I started Two Twenty One so I could continue blogging.
Did you do anything specific to increase your readers or did you just focus on writing & let the readers come? I don't really do anything specific to increase readership. I try to focus on quality content. In my opinion, if you're putting out quality content many people will like what they see, and they'll stick around and become loyal readers. In the earlier days I had a lot of time to comment on other blogs. That's a great way to make blog friends and hopefully increase your readership.
What does a typical day look like for you? Meaning your daily schedule and how you manage to blog/have things to blog about along with working and spending times with hubs and puppy. I'm probably not the best person to answer this question because I'm not like a normal working person. I'm entirely self-employed. I make my own work schedule, so I work my day job as an infant & toddler developmental therapist Tuesday through Thursday, and my schedule on those days varies. Mondays and Fridays are typically dedicated to blog stuff, projects, Etsy orders, grocery shopping, errands (you'll never see me at the mall on the weekend), cleaning the house, etc. Brad usually gets home from work around 6. When it's nice out we'll take Jack for a walk, cook dinner together, and watch some TV on the DVR. Then he'll work in his office, and I'll work on the next day's blog post. I'm not that great at time management. In a perfect world I'd be much more productive than I am.
What is your biggest tip for growing your blog and gaining new followers? Have great content AND photography. Period. The end. Think about it. Do you read a lot of blogs with crappy content and bad photos? Probably not. What draws you into blogs? Take what draws you into blogs and put those factors to use on your blog. I'm not saying to blatantly rip off other blogs. Don't do that. Decide what you like about your favorite blogs (eye-catching header, easy to navigate layout, great photos, etc.) and see if you can make those changes to your blog.
Some other random tips: Be a part of a/the blogging community. Comment on blogs. Let yourself be known. Participate in link parties. Don't go crazy. I see some people linking up to 5,000 link parties. Keep it simple. I suggest 10-15. Get on social media (Facebook, Twitter, Google+, Instagram). Be social. Let yourself be known. Whenever you write a new post share it on your social media outlets.
What are some things you've learned about blogging, since you first started? Oh dear. I've learned a lot. A LOT. I don't even know where to start. Seriously. Since I'm speechless I'll direct you to my blogging Pinterest board. There's a lot of good blogging information there.
What tips do you have for a new blogger? Focus on your content and photography. Make your blog design appealing and easy to navigate.
When did you decide to start advertising on your blog? How did you go about getting started? I started advertising about a year ago. I joined the BlogHer ad network. It doesn't require much work on my end. I installed the ad code on the blog and that's about it. Sometimes I'll have ads on the top of posts or I'll do paid reviews. I also have Google ads, and I'm an affiliate with different online stores. I'm a member of Pollinate Media Group, Clever Girls Collective, and Blueprint Social, which provide me with opportunities for paid reviews, giveaways, and/or sponsored posts.
How many hours do you spend working on your blog a week and do you ever run out of topics? I don't keep track. I say that the blog is my full-time job and my real job is my part-time job. The time dedicated to the blog has grown as the blog has grown. First, a good chunk of time goes into completing a project, photographing it along the way and the finished product, editing the photos, and writing the post. And on top of that I read emails, respond to emails, do back end work on the blog, write posts for IHeart Organizing and Homes.com, and other random things.
Yeah, I run out of topics. If I really don't have anything to blog about I don't blog. I'm not going to waste people's time by posting about the new ironing board cover I bought just so I can post everyday. I do have a section in my blog binder where I write down ideas/topics when they come to me. If I need post inspiration I'll go through the ideas I've written down.
Click here for Let's Talk Blog PART TWO!
Check out my Pinterest blogging board, where I pin all things related to blogging.