A Little Closet Organization
Hey friends! Today I'm inviting you to step into our master closet for a little organization project I did the other day. I'm going to warn you first: our closet is very simple. There's no chandelier, no fancy shelving, no matching hangers, and no stenciled walls. This room has remained untouched since we moved in. 
It all started at the Goodwill Outlet last week. Where else, right? I came across 10 dusty wire baskets (5 tall and 5 short) and thought that we could possibly use them to organize some stuff in the garage. I snapped the picture below with my phone and sent it to Brad to get his opinion on the baskets. As I was scoping them out, and waiting for Brad's reply of approval, I saw a small The Container Store "elfa" sticker on each basket. Sold. I loaded 8 of those puppies in my cart and bought them before Brad even responded. World's best wife.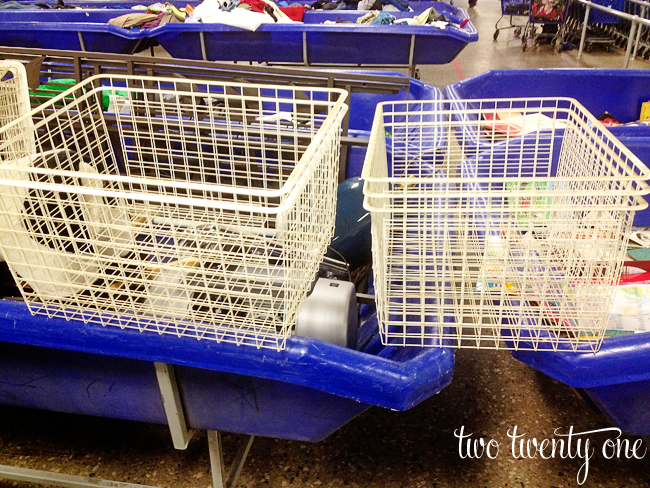 The tall baskets were about $1.75, so I'd guess the short baskets were around $1.30. (You pay by the pound at Goodwill Outlet, and I asked the cashier to weigh one tall basket so I could get an idea of the cost per basket.) $12.65 is an amazing price for 8 The Container Store wire baskets; because I did some investigating– the tall baskets go for $18 each and the short baskets go for $16 each.
When I got home I used the garden hose to wash off the baskets because there was a crazy amount of dust on them. And it's just best to wash off things found at the Outlet.
After washing them off I thought of something– instead of using them in the garage, I could use them in our master closet. Light bulb.
Why use them in our master closet? Because the top shelf in our closet is a hot mess.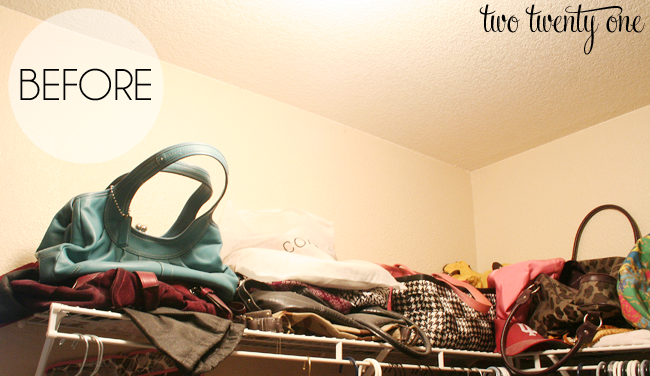 It's such a hot mess that I'm showing you only the purse section today. I've yet to conquer the sweater, sweatshirt, and jeans portion of the closet. Maybe I'll do that this week.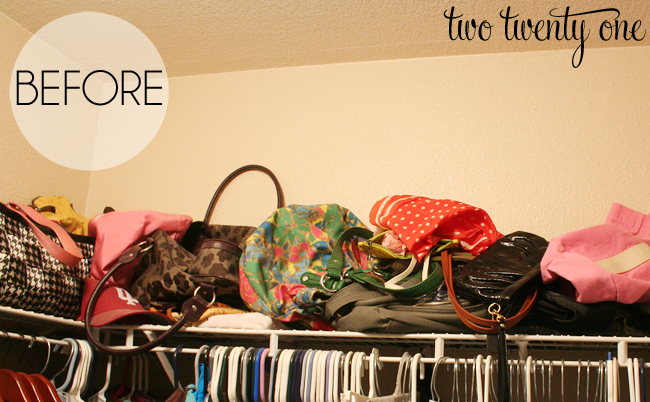 I've been meaning to clear out some of my purses for a while, so I made the painstaking decision of selecting who could stay and who had to go. It was tough, but I did it. The outcasts will be taken to a consignment shop in the very near future. Maybe I'll do that this week.
I used the short wire baskets to corral the keepers. Congratulations, keepers.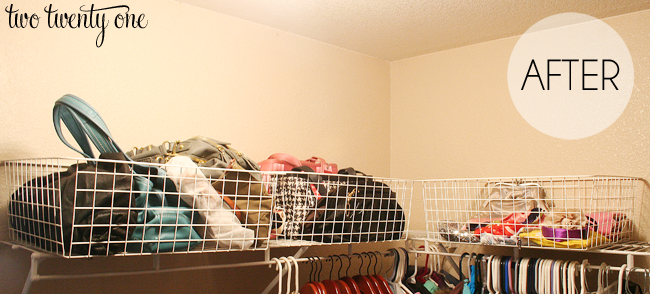 Doesn't it look so much better? And I've noticed that there's more light being dispersed to the clothes under the shelf because the mountain of purses is no longer blocking the light.
Needless to say, I'm in love with these baskets. I have 4 tall baskets left to organize the rest of the clothes on the shelf. I may have to steal the 5th wire basket that's currently housing the blankets under the card catalog. I'm going to keep my eyes peeled for a replacement basket just in case. The new Home Goods near us opened yesterday (insert shrieks of excitement), so perhaps I'll hit it up this week.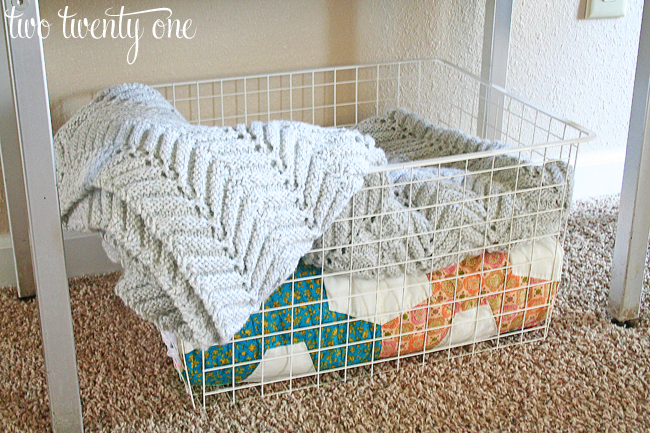 What do you think about this mini closet organization?
Is your master closet a hot mess or neat and organized?
Have you been to a GW Outlet yet?