I did a little switcheroo in the living room area of our great room this past weekend. I gave our dinky bookcase, that housed our DVDs, the boot and replaced it with the card catalog, that was living happily in the dining room area of our great room. And so far I'm loving the bookcase eviction action plan.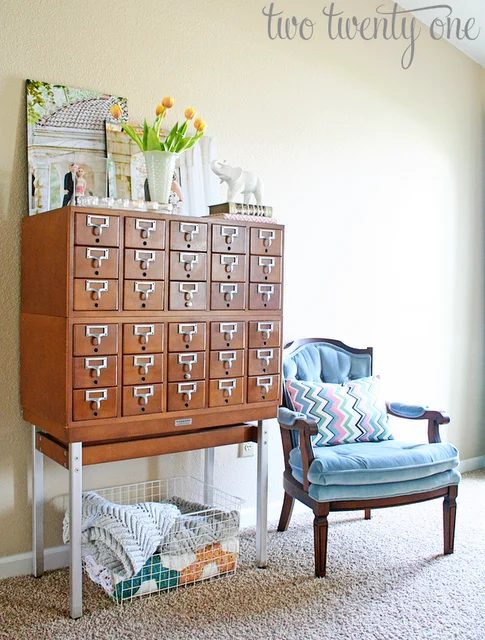 I didn't think to take a before picture, so I scoured my computer in an attempt to find a photo. Here's the best one I found of the bookcase… lightly decorated for Christmas 2009, our first Christmas in this house. Doesn't it look sad and alone? I'm happy to report that the bookcase is enjoying its new home in our closet, where it's housing my shoes. (Can you spot the lazy dog?)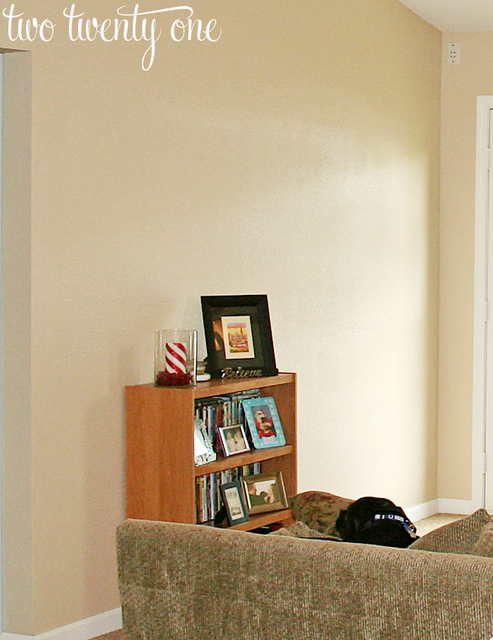 The size of the card catalog is perfect for this area of our living room. We have vaulted ceilings in our great room, so the card catalog provides good height. It's going to be hard to take down this set up when I get around to redesigning the card catalog, but I'm already planning the card catalog's replacement in this space.
Most of you know that I scored the card catalog for $85 from Craigslist (read about that here and here). I also purchased the blue chair from someone off Craigslist for $40 almost two years ago– a little pricey, but it's a great chair and was barely used. Buying from old people has its benefits:  they take care of their stuff. I stole the chevron pillow (purchased from Home Goods earlier this year) from our guest bedroom.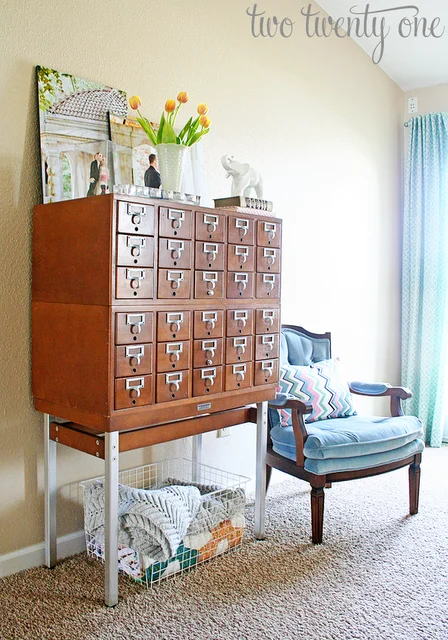 I adopted this adorable elephant from Home Goods yesterday. His name is Percy. He was free to me because I used a gift card, but he came with an $8 price tag in case you're wondering. The Readers Digest book was a Goodwill Outlet find from yesterday ($.69). The pink and white book is a thrift store book I covered with fabric leftover from my fabric covered message board.
I'm calling the white wire basket the Goodwill Outlet score of the month. I came across 10 The Container Store elfa wire baskets (5 tall and 5 short) at the GW Outlet yesterday. Score. I brought home 5 tall and 3 short (two of the short baskets were too rusty for my liking). The tall baskets were about $1.75 each. My original plan was to use them in the garage, but I think I'll put them to use in our master closet.
I filled one of the tall wire baskets with my great-grandmother's quilt and the afghan my great aunt knitted for Brad and me. It's the softest blanket ever. I have to fight to keep Jack off it when I use it.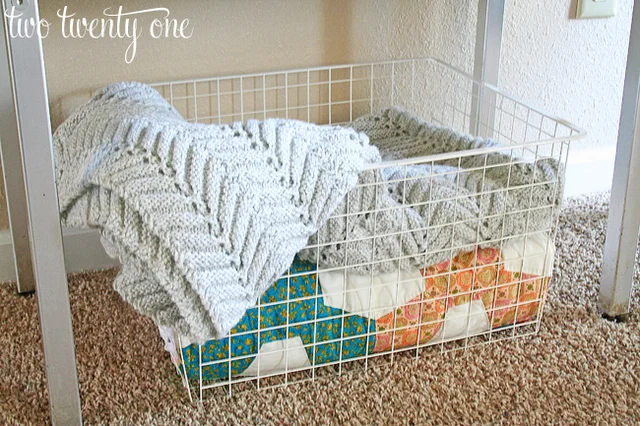 Kroger keeps spoiling me with $.50 tulips. Seriously, who turns down half a dozen tulips for two quarters? I put these beauties in one of my thrifted hobnail milk glass vase. I may or may not have three of these same exact vases.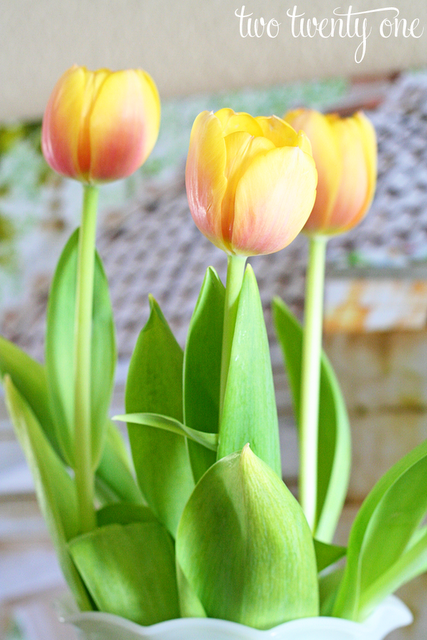 What do you think of the new set up?
Isn't Percy adorable? Love that little guy.
Could you say no to fifty cent tulips?