Our Boring Master Bathroom
Hey friends! I hope you had a delightful weekend. We did grown-up homeowner things like buying and installing new toilets, cleaning, and laundry. The weather was spectacular so I got in some spray painting too.
Today I decided to share our master bathroom with you. I figure you're probably getting tired of seeing photos of just our entryway. Our master bathroom has perplexed me since we moved in almost 3 years ago. We have a double vanity, shower stall, and a soaking tub. And then there's the wonky space. It's that random thing to the right of the soaking tub. When we moved in I didn't quite know what to do with it so I added plants and a basket with towels.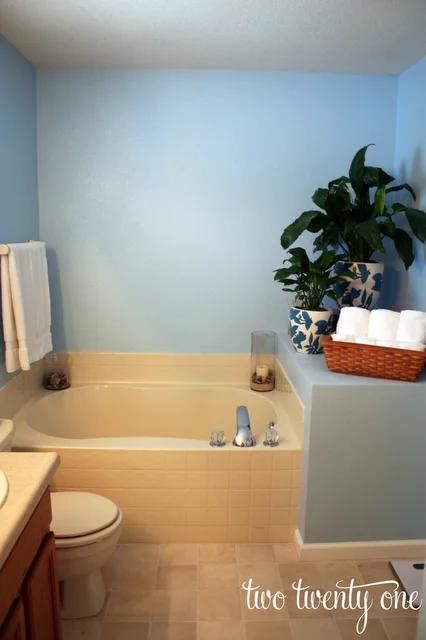 Now, imagine the plants dead and no longer there. I tried my hardest to save those clearance Peace Lilies, but I managed to kill them. Rest in peace, Peace Lilies. Anyway, imagine a bunch of crap on the wonky space now (basket with towels, makeup bag, nail polish, jewelry holder). I would have taken a photo but I feared that some of you would disown me.
After pondering about the wonky space for some time it dawned on me: we should build a bookshelf! Yes, yes, a bookshelf to take up some of that random space! So I took a photo of our bathroom totally stripped down.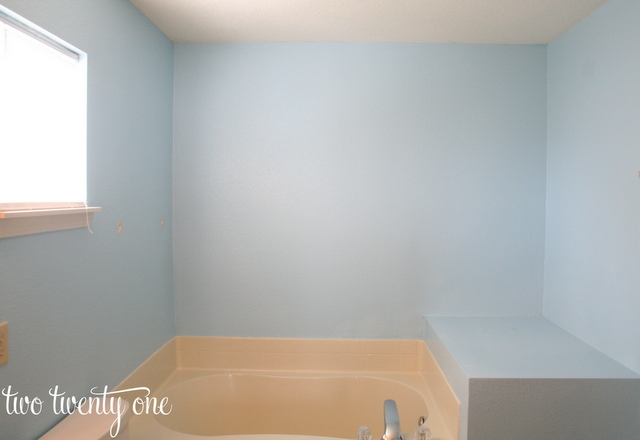 And I edited it in Photoshop and came up with this.
It's clearly not 100% proportional, and I probably won't put books on the bookshelf, but you get my gist. The wonky space is 45 inches deep, so I want to add a bookshelf that would be about one foot deep. It will have two or three shelves and a space at the bottom with doors for extra storage. I think I want crown moulding on the top, and the doors to be bead board. I'd like to add a one inch thick piece of wood on top of the wonky space too. Then I would put my jewelry holder and some other random things on the slab of white painted wood.
For the wall, I figure I would do a small gallery wall. And I'll add some fun curtains to the window.
Now, I just have to talk Brad into helping me build a bookshelf. Neither of us have built anything like a bookshelf. I built a wooden puzzle in eighth grade shop class, but that's about it.
Any suggestions on building a bookshelf? What kind of wood should we use?
What do you think about my master plan for our master bathroom?
Gallery wall or no gallery wall?
Would you add or change anything? Seriously, be honest.