Chocolate Mint Sandwich Cookies
I've said it before, I don't keep my baked good creations in our house after I make them. Because I.will.eat.all.of.them. I keep a few for us and the rest are taken to parties or shipped off to work with Brad. These little devils were sent to Brad's office. I swear his co-workers are going to start sending me bills for their impending weight loss programs.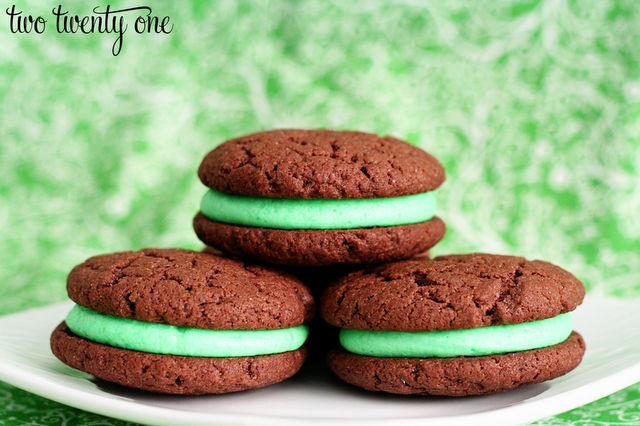 You guys, these cookies are so good. Like make you slap your mama good (name the TV show I stole that from). They're like mint Oreos, only super soft. And ten times more delicious. I could probably eat like 3 in one sitting.
You can use any chocolate cake mix for the cookies. But I used Devil's Food cake mix– Pillsbury to be exact. It has a cup of pudding in the mix, which makes the cookies extra soft. It's basically the perfect St. Patrick's Day cookie.Here's a 4×6 recipe card for you! Click on the image to download the card.
How are you spending your St. Patrick's Day?