Favorite Skin Care Products
Not gonna lie, I love to try skin care products. And TBH, I wish I had become more obsessed with skin care products and routines in my early twenties. Because one of the keys to skin care is prevention. But I don't think it's ever too late to start taking good care of your skin and upping your routine.
I have a decent array of tools and products in my arsenal. And not everything I use is super expensive. I tend to use high and low products.
Because I'm not really into makeup, I try to take good care of my skin so it looks decent sans makeup or with minimal makeup. My daily makeup routine consists of concealer, blush, and an eyebrow pencil. When I'm feeling fancy, I'll throw on some powder foundation and setting powder.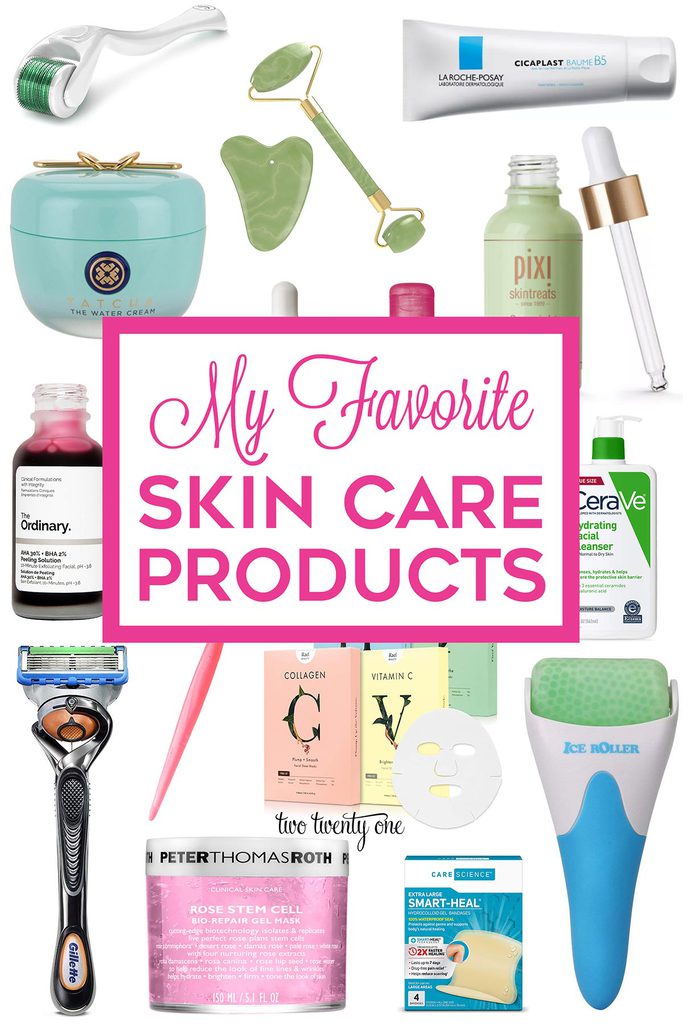 My Favorite Skin Care Products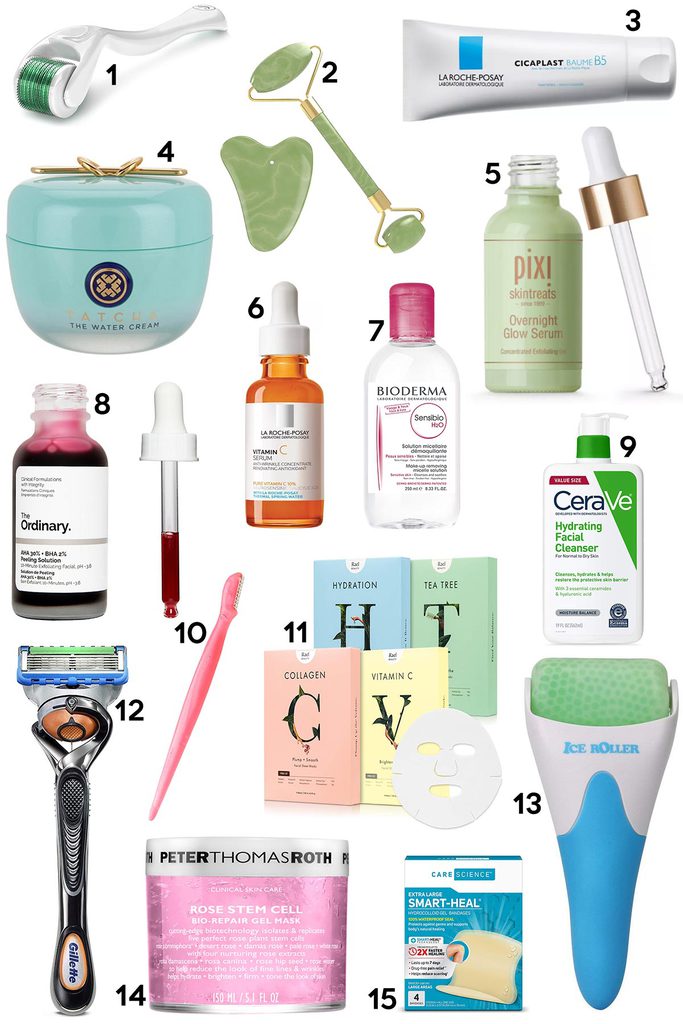 1 / 2 / 3 / 4 / 5 / 6 / 7 / 8 / 9 / 10 / 11 / 12 / 13 / 14 / 15
1. Microneedle Roller
UPDATE: After doing more research, I decided to stop using the microneedle roller. So now I don't recommend it.
2. Jade Roller and Gua Sha
I don't use my jade roller and gua sha as much as I should, but it's handy to have. I store mine in the freezer because using them chilled helps. Jade rollers help reduce puffiness and minimize the appearance of wrinkles. It's a great tool use after crying, when you have allergies, or you ate a lot of Mexican food and drink a couple margaritas. A gua sha is good for lymphatic drainage, which helps to make the face look more toned.
Want to know more about using a jade roller and gua sha? Watch this YouTube video.
3. Cicaplast Baume
One of my favorite skin care products is this Cicaplast Baume as a night cream on my entire face, including under my eyes. I love it. It's very hydrating and calms redness. I wake up in the morning with hydrated, plumped up skin. A little goes a long way, so while the tube is on the small side, it lasts a long time.
It's also incredibly healing. Owen has this bad habit of sucking on his bottom lip and the skin under the lip. After a few nights of using the Cicablast Baume on that area and the skin was no longer rough and red.
4. Moisturizer
I tend to dabble with different moisturizers. Tatcha Water Cream is one of my favorites. I specifically like using it during warmer months because it's on the lighter side. It's very hydrating. I will say it's on the pricier side. I'm going to try a less expensive moisturizer soon, so I'll keep you posted.
5. Glow Serum
I've been trying out this serum for the past month, and I really like it. It contains 10% glycolic acid and arginine. Glycolic acid acts as an exfoliant. Arginine increases hydration, boosts collagen production, and helps to protect the skin from free radicals. I don't recommend using this serum after doing a peel or derma roller. Your face will burn.
If you're new to serums, this is a good article on how to layer them.
6. Vitamin C Serum
Want your skin to look bright and with improved texture? Get you some Vitamin C serum. This is my current favorite. It helps fight fine lines and wrinkles and improves radiance and skin texture. And a little goes a long way.
7. Micellar Water
I use this micellar water after I cleanse my face to make sure I get all of my makeup off.
8. Alpha Hydroxy Acid Peel
This peel is amazing, especially for the price. It's an exfoliating peel that helps improve the texture and radiance of the skin. It also helps with pore congestion, fights blemishes and improves fine lines and wrinkles. It's best when used at night, which is what I do. The maker recommends not using it more than twice a week. And you should use it on completely dry skin for no longer than 10 minutes. I set a timer on my phone when using this peel. After I remove the solution from my skin, I use product number 14.
9. Cleanser
Like with moisturizers, I dabble with different cleansers. Right now, I'm liking this one. It doesn't make my skin feel tight after using it– something I hate with other cleansers.
10. Eyebrow Razor
Instead of waxing, I use this razor to tackle the peach fuzz around my eyebrows. Be careful, if you move it at the wrong angle, you will slice your skin open. I suggest watching some YouTube videos on the proper technique. Just search "eyebrow razor".
11. Sheet Masks
This is my favorite sheet mask set. There's 20 masks total, so I feel like that's a decent bang for your buck. If you find one you really like, you can buy that specific mask instead of the sampler set. I typically use my derma roller and put on the collagen or hydrating mask. However, I wouldn't recommend using the derma roller and putting on the Vitamin C or Tea Tree masks– that will probably burn. The packaging says to wear the mask for 10-20 minutes, but I leave the collagen, hydrating, and Vitamin C masks on for a couple hours. I don't go as long with the Tea Tree mask because I don't want it to dry or aggravate my skin too much.
12. Razor
My razor is my DIY dermaplaning tool. Dermaplaning is when a single blade is taken to the skin and the layer of peach fuzz and dead skin cells is removed. I know people will say that shaving my face is not the same as dermaplaning, and to that I would say, "Yeah, I know but I don't want to spend $100 for someone to take a scalpel to my face. What if they sneeze?" So I have a special razor that I only use on my face. I don't use shave gel. I get the razor kind of damp and glide it across my face. It removes the peach fuzz and some skin cells. My face always feels smooth afterward. And my makeup goes on so much better with a smooth, non-hairy face. Some may say, why not use an eyebrow razor on your entire face? And to that I'd say, "I don't have time for that." Because I can shave my entire face in under 5 minutes.
13. Ice Roller
I mostly use my ice roller for special events. Like when one of my kids accidentally jacks me in the face or before attending an event like a wedding or before family photos. If we have a wedding coming up, I'll start using the ice roller every day for a week leading up to the wedding. Same goes with family photos. Ice rollers help reduce puffiness, firm skin, and calm redness.
14. Stem Cell Mask
This is my go-to mask. I typically use it at night after The Ordinary AHA peel. After using this combo, I wake in the morning with my pores looking smaller and fine lines looking plump and not as noticeable.
The stem cell mask helps to reduce the look of fine lines and wrinkles, hydrates, brightens, firms, and tones. It also smells really good. The mask tingles a little bit, usually about 5 minutes after I application but the feeling doesn't last very long. The container says to leave on for 30 minutes but usually leave it on for an hour or so.
Click here for where I get the mask– it's the cheapest of anywhere. This is also a good deal right now— you get two for $52. And if you use code OFFER, you can get an additional 10% off if you've never shopped with QVC before. Keep one for yourself and give the other to a friend! And if you want to try an array of masks, this is a good set that's on sale right now. Be sure to apply to get the 15% off coupon.
15. Hydrocolloid Bandages
Save some money by making your own pimple patches! I buy these large hydrocolloid bandages and cut them into little squares. If you want to be fancy, you can cut them into circles.
I don't have to use these very often anymore, but when I was dealing with my delightful adult acne, these were in regular rotation. Hydrocolloid bandages help draw out the oil and other garbage from a pimple, helping it to resolve itself quicker. The bandages also help heal the spot faster and keep you from picking at the area. I've also found that they help take away the pain from cystic acne. I leave them on for 12-24 hours at a time before replacing with a fresh one.
16. Sunscreen
I forgot my daily sunscreen. I love this stuff. It works great under makeup. I got this sunscreen in a clarifying skincare sample kit I bought. It's supposed to be great for acne prone skin. I'm going to try it out soon. I'll report back.
17. Water
Oops. I failed to mention water. Drinking lots of water will really help your skin. I don't always drink enough water, and it starts to show on my face. Most experts recommend drinking 2 liters of water per day. If you get a tumbler like the one I use, and fill it up and drink from it 2 times a day, that equals a little less than 2 liters. Bonus points from drinking from it 3+ times per day.
18. Botox
I didn't include this in the graphic because it's not a daily or weekly skincare product, but Botox is one of my favorite skin care products. But it deserved its own blog post. I've been getting Botox for a year and a half, and I love it. LOVE. IT. 5 stars. Highly recommend. I get it on my forehead and between my eyes. My before and after photos, which you can see here, are wild.
19. Eyebrow Tinting
This is the dye (light brown) I used on my brows for my IG Story. I've used this mustache & beard dye (medium brown) before to dye my eyebrows. The mustache & beard dye is the more cost-effective route. You can also fine the dye here.