Since the holidays are approaching, and a lot of people travel during the holidays, I figure what better time than now to share my travel must haves. But even if you aren't traveling anytime soon, I encourage you to stick around and see my favorite travel items.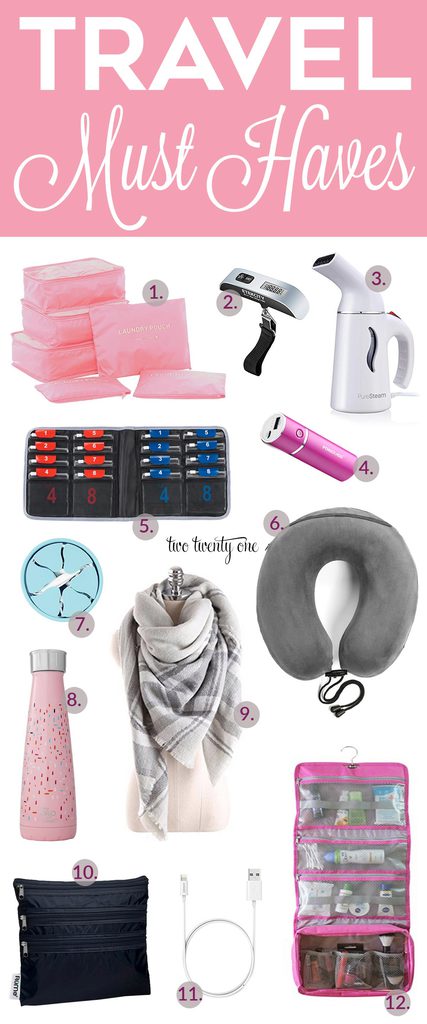 1 / 2 / 3 / 4 / 5 / 6 / 7 / 8 / 9 / 10 / 11 / 12

1. Packing Cubes
I love a packing cube. They help keep everything organized. My exact cubes are no longer available, but there are tons of them out there with great reviews. We have four different colors– one color per person in our family. The color-coded method works out so well when we're traveling, especially when it comes to the boys. If one of us needs a pair of Emmett's socks, we know to look in the smaller gray packing cube. They're also nice when coming home from a trip– just throw all the dirty clothes in the biggest packing cube(s) for each person.
2. Luggage Scale
Notoriously over-packer here! When I fly, I don't like being surprised at the airport when I put my suitcase on the scale and it comes up weighing 53 pounds. And then I have to look like a crazy person, unzipping the suitcase, grabbing a pair of shoes and my hair dryer and shoving them into my carry-on bag so I don't have to pay the overage. To avoid all that, I travel with this handy, $10 luggage scale. Say goodbye to weighing your luggage on your bathroom scale.
3. Steamer
I know some hotels are getting better about putting steamers in the room, along with an iron, but I'd rather bring my own if I'm going to special event that calls for minimal clothing wrinkles. This is my one and only steamer. I use it at home, and I travel with it. It's served me well the past few years and it's only $20.
4. Portable Phone Charger
I won't travel or fly without my portable phone charger. It's nice not having to worry about finding a charging station or an outlet to charge my phone. I juice up my portable phone charger the night before I leave, and I can typically get 2 charges out of it. The charging cord for the portable charger also comes with me so I can charge it while on trips. And bonus– mine costs less than $12! FYI, this is a great stocking stuffer for anyone who has a smartphone.
5. Pill Organizer
I don't take a lot of pills, just my prescription that helps with my acid reflux (thank you, offspring). But I do take vitamins and the occasional ibuprofen or Excedrin, and Brad takes some medications as well. So when we travel together, we take this color-coded pill organizer. Brad stores his meds in red side, and I store mine in the blue side. And I love that, when folded, it's very compact.
6. Travel Pillow
I'm a sadist who often takes 6AM flights, so a travel pillow is a must have for me. I'm sure there are fancier ones out there, but I sleep just fine with one like this.
7. Earbud Case
I can't stand when the earbud cord gets tangled on stuff in my bag. To avoid this, I use an earbud case.
8. Stainless Steel Water Bottle
I learned my lesson with this incident, so now I travel with a stainless steel water bottle with a screw on cap. Every airport has water fountains or water bottle filling stations, and I'd rather enjoy free water than a $3 bottle of water. Plus, I typically carry it around in my bag in cities instead of shelling out $ for bottled water.
9. Blanket Scarf
I've found that planes are either flaming hot or arctic cold. So I come prepared for the latter with a blanket scarf— especially in winter months because I can use it as a scarf when touring around my destination. I also like blanket scarfs because they don't take up much space. I've been known to cram one into a zippered pouch.
10. Zippered Pouch
Whenever I travel, I dump everything out of my purse and take only the necessities. I also break out my zippered pouches. These are my favorite because there's three compartments in one pouch. I typically travel with two. One is used to store my portable phone charger, cords, and earbud case. The other is for snacks, gum, and mints.
11. Lightning Cables
I'm very passionate about lightning cables. The 6-foot cables are great for home and hotels, and the 3-foot cables are great for portable phone chargers.
12. Hanging Toiletry Bag
I prefer a hanging toiletry bag because they're fairly compact when folded up for traveling. And when I reach my destination, I can unfold it and hang it in the bathroom. Everything is right there for me to see and grab instead of digging through a large zippered bag. I suggest going with a hanging toiletry bag that has leak-resistant compartments (some have mesh compartments). Because you don't want your shampoo exploding in your suitcase and getting all over your clothes.
13. Travel Sound Machine
I'm editing this post to add our favorite travel sound machine that fits in the palm of your hand. It has 11 non-looping sounds (white noise, ocean, fan, etc.) and over 3000 4.5 star reviews! We use it when we travel with the kids, and I take it with me whenever I travel.
What About Luggage?
Now, some of you may be thinking, "Um, Chelsea, you didn't include any luggage." And right you are. That's because I bought all of our suitcases at TJMaxx or Marshalls. I've become a Samsonite snob (I've yet to have one break on me) but I don't want to pay Samsonite prices, so I head to TJX or Marshalls– where I've never paid more than $120 for a suitcase. When looking at suitcases there, make sure you scope out the zippers. I once bought a Samsonite with zippers that won't fit any sort of suitcase lock. I called Samsonite about this and they sent me replacement zippers, which was nice, but I'd have to pay a place to put the zippers on. So if you like to lock your suitcase, check out those zippers.
For weekend trips, I've used the same Vera Bradley bag for almost a decade. It's not really my style, but I can cram a lot of stuff into that thing, and it still looks brand now. However, VB no longer makes the Grand Traveler so there's that.
Looking for more packing tips and tricks? Check out this packing hacks post I wrote 5 years ago.