Quick and Easy Holiday Tips
This post is sponsored by Better Homes & Gardens at Walmart. All opinions are my own.  
Today I'm sharing some quick and easy holiday tips to add some festive cheer to your house. There's no DIY skills needed for these ideas. And many of the items you may already have in your home.
Easy Holiday Centerpiece
Let's start with an extremely easy holiday centerpiece. I bet you have most of the supplies in your house.
Grab a Tray
Start with a round tray. I suggest a tray that has sides like this hyacinth tray, which is very versatile. You may remember it from this post a couple months ago.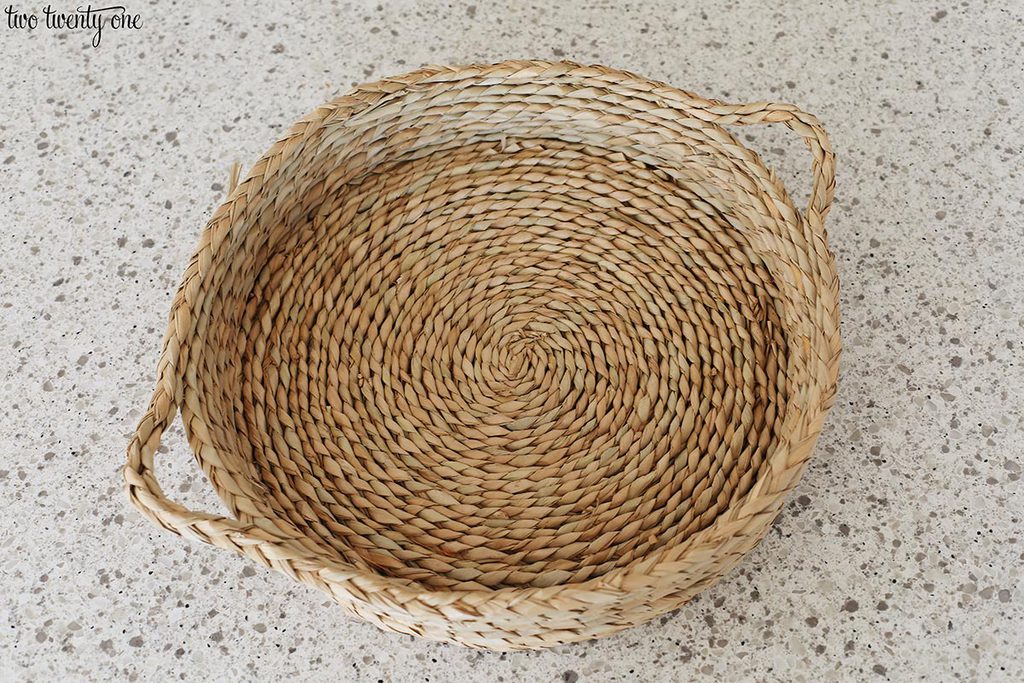 Add Some Height
This is wreath size-dependent, but you may need to add some height to your tray. I did. I recommend toilet paper tubes. Reduce, reuse, recycle, my friends. The color of the tubes mostly match the color of my tray and give just the right amount of height to the wreath.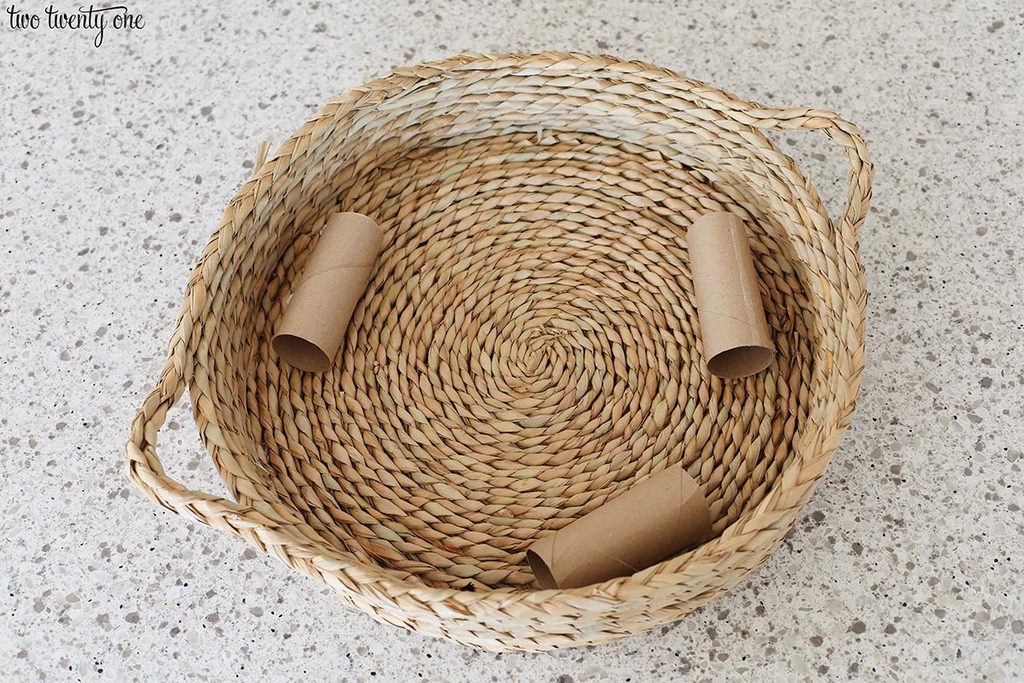 Add a Wreath
Gently set your wreath on top of your toilet paper tubes. You may need to adjust the position of the toilet paper tubes. You also may have to add a couple more. Do what works.
Fluff your wreath a little. They tend to get smushed in store and/or in storage.
For reference, I used an 18″ wreath I bought on clearance last year.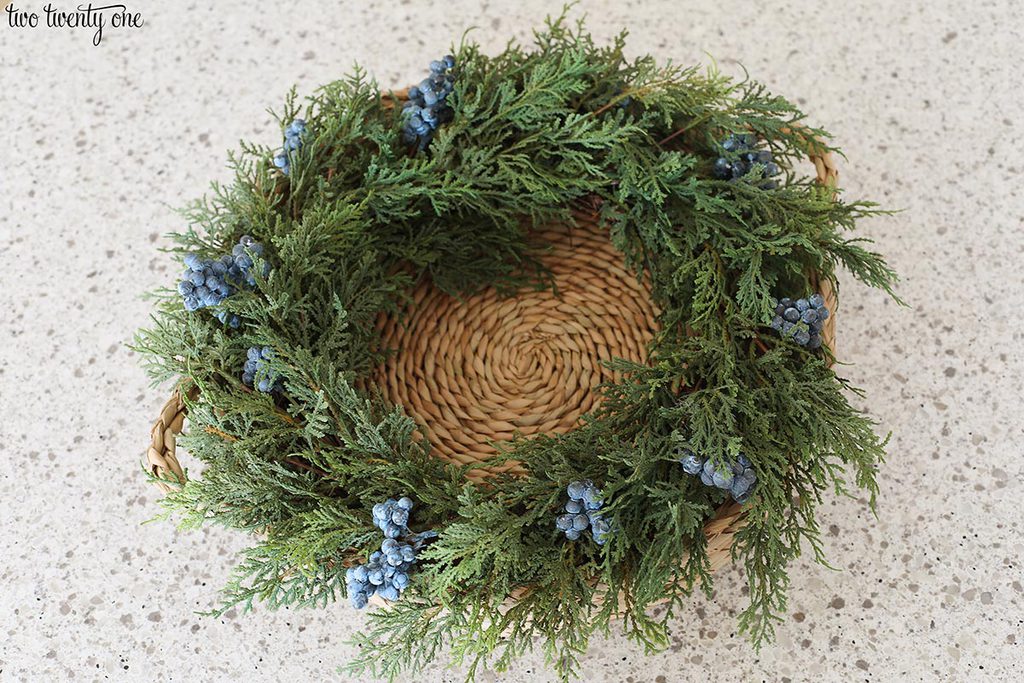 Let There be Light!
Set your lantern with candle in them middle of the wreath. You can use a real candle, but I like to use these flameless LED motion flame pillar candles. With small kids, it gives me peace of mind not having an open flame.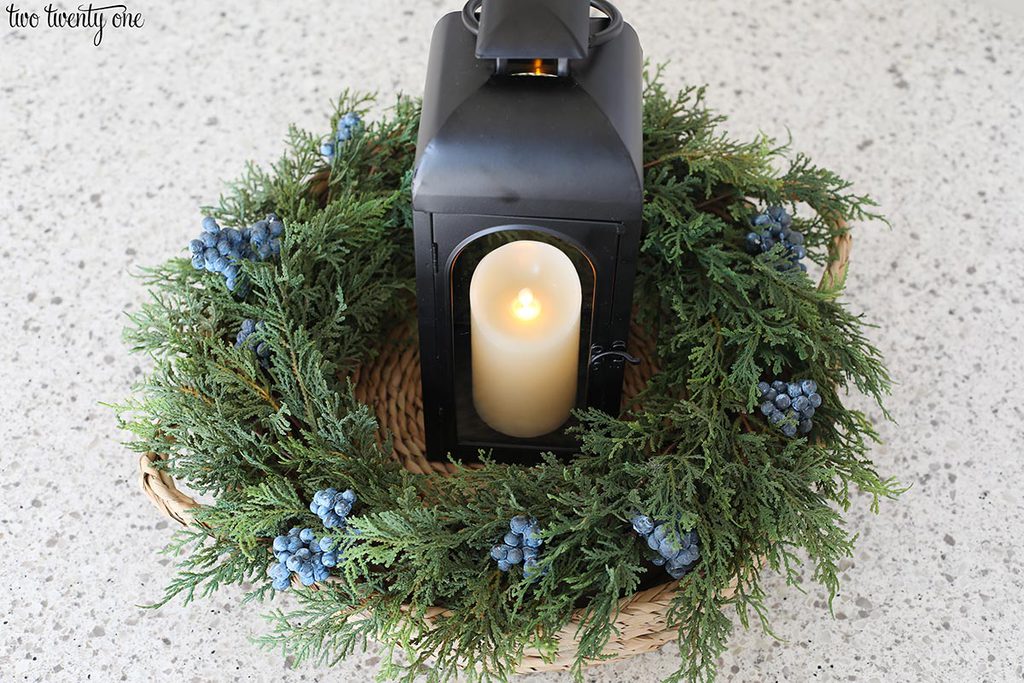 Would you look at that. And no one has to know there's toilet paper tubes in your centerpiece.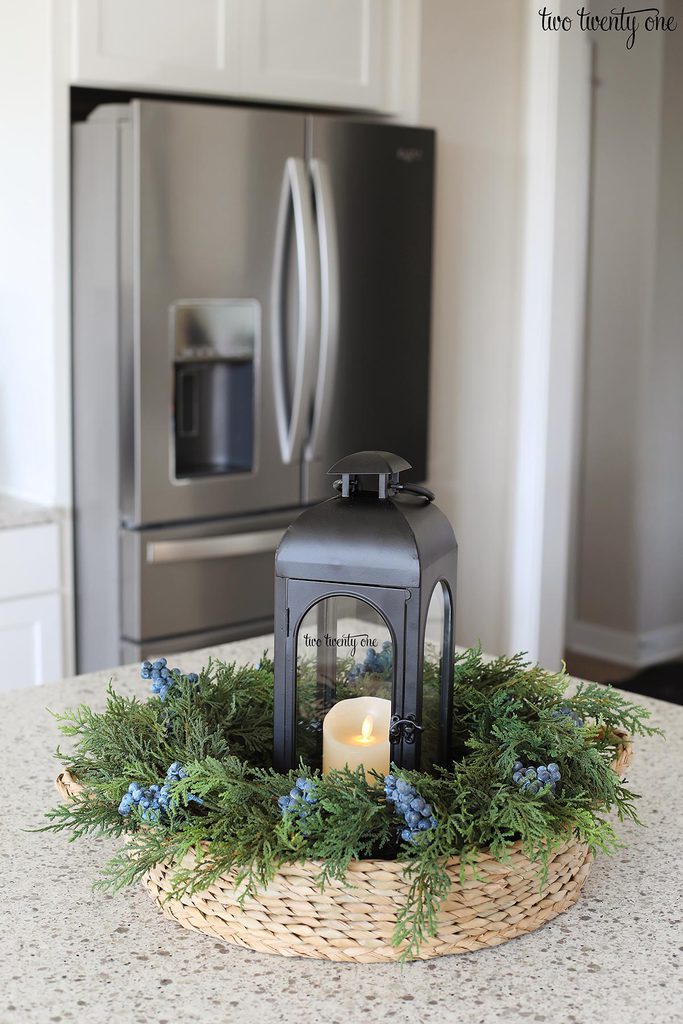 Swap Out Throws and Pillows
One of the easiest ways to change your decor for the holiday season is to swap out throw blankets and pillows with more festive ones. If you decorate your house with reds for the season, add a red velvet plush throw, to an accent chair, sofa, or bed. If your style is more neutral, add in some cozy textures like faux fur, knit, and velvet. You can never go wrong with a faux fur throw pillow.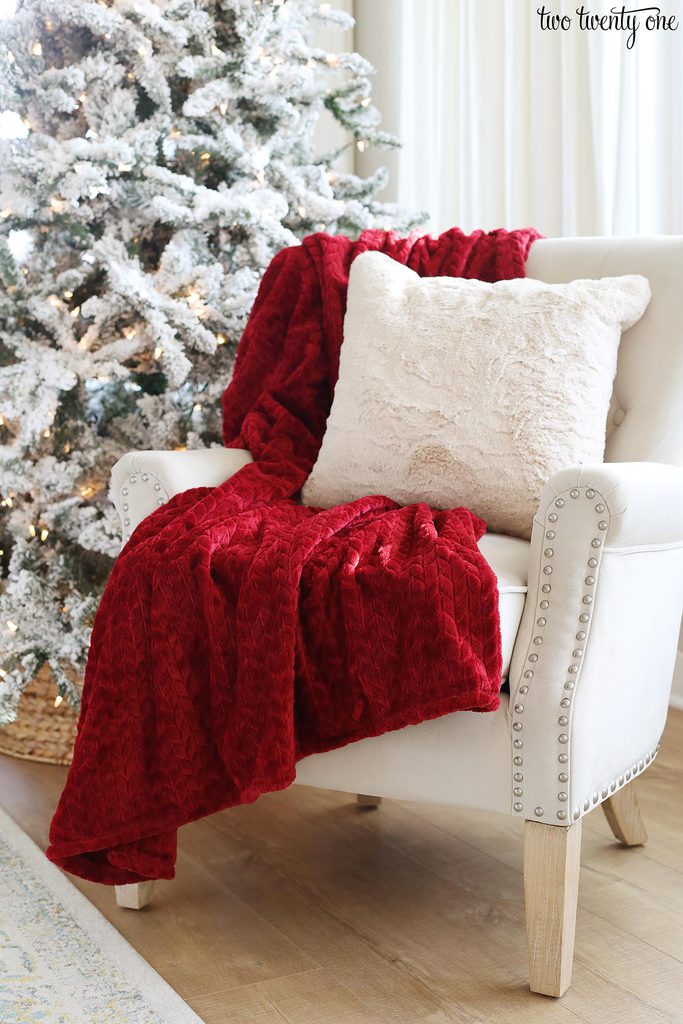 Front Porch Cheer
The lantern I used for the centerpiece comes in three sizes– small, medium, and large. I like using them on our covered front porch. You may remember seeing them in my fall front porch blog post. Well, an easy way to change them for the holiday season is to add some ornaments and fairy lights.
I set the fairy lights to the timer function and put them in the bottom of the lantern. Then, I put the lights in the lantern and add ornaments.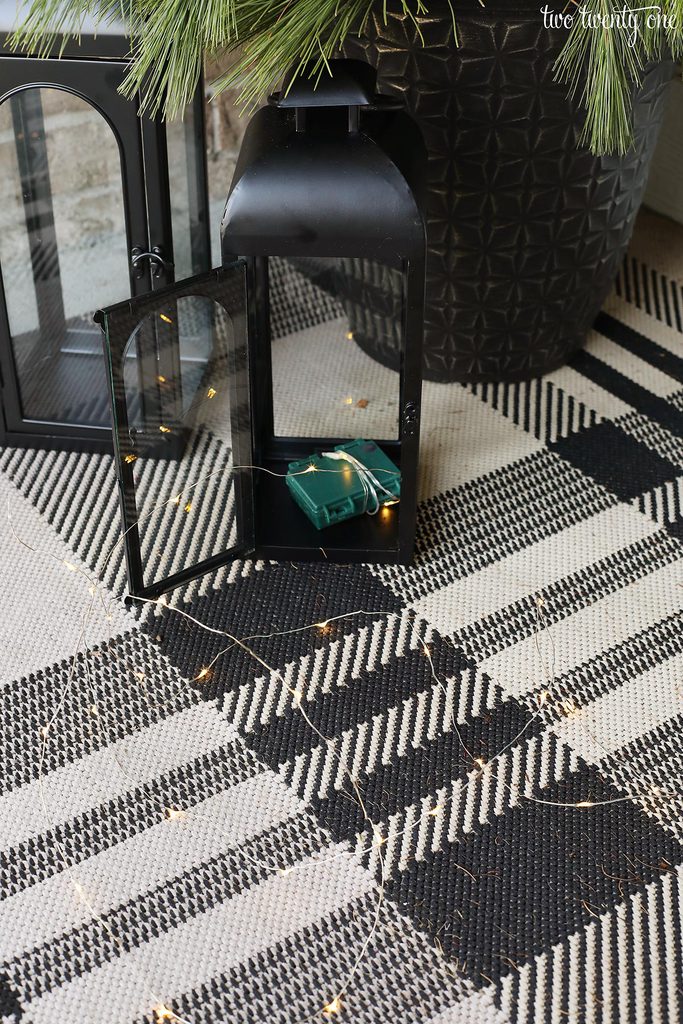 Cute, right? I love how you can see them on our front porch from the street when they're lit up at night.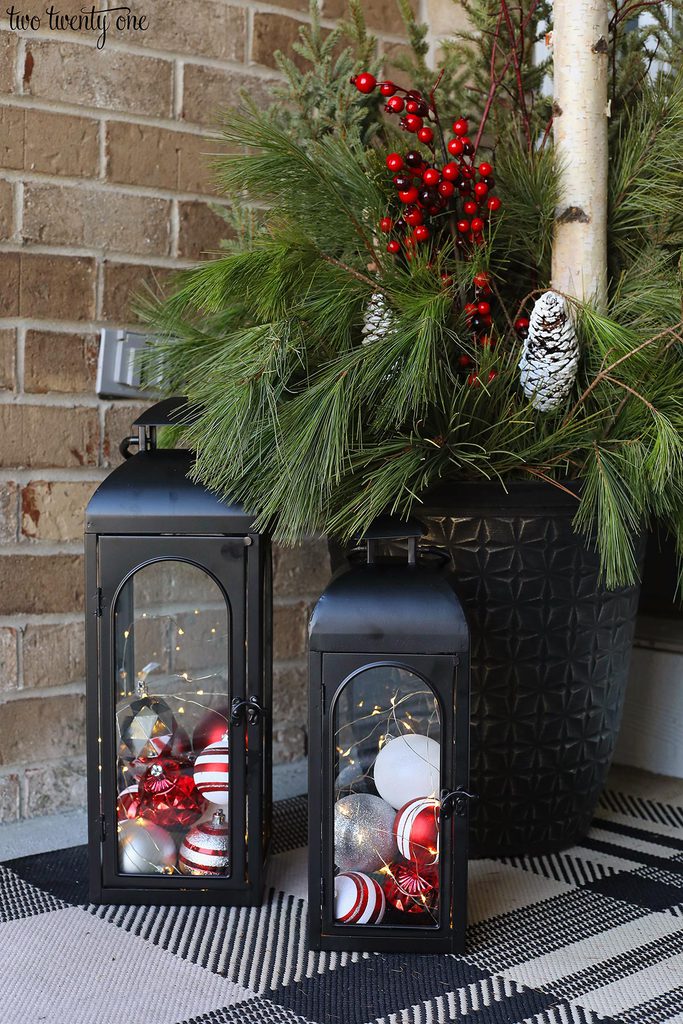 Tray, Candle, Greenery
A quick and easy way to add some holiday cheer to the bathroom is with a tray, seasonally-scented candle, and some fresh greens clippings. In a small space, like a bathroom, the clippings will emit a fresh pine scent when the candle isn't burning.
I put this little set up in our guest bathroom for my mom when she visits for Thanksgiving and Christmas this year.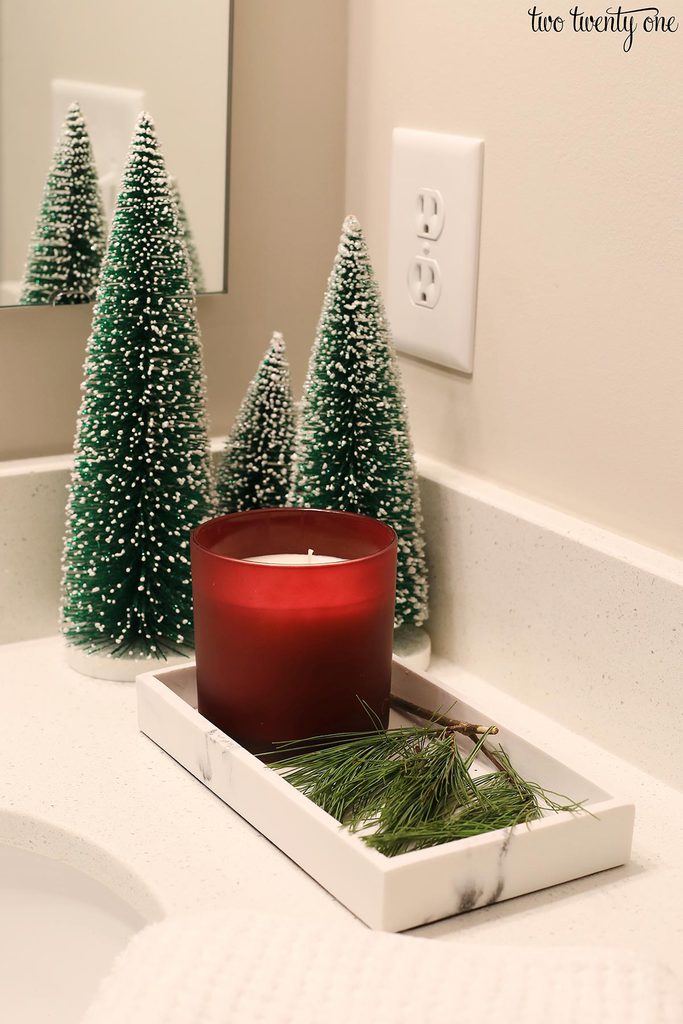 With this stressful year, I think it's important to do what makes you happy. Whether that being going all out with holiday decorations or keeping things simple.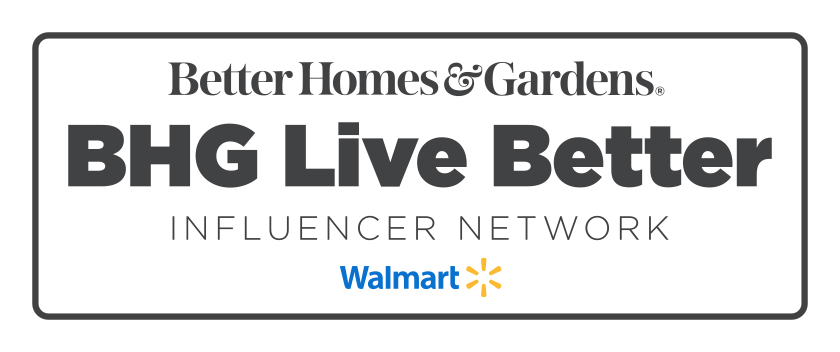 This post is sponsored by Better Homes & Gardens at Walmart. All opinions are my own.