Styled Entryway Dresser – Four Ways
This post is sponsored by Better Homes & Gardens at Walmart. As always, all opinions are my own.
How about a little blast from the past? I was challenged by Better Homes & Gardens at Walmart to share how my style has changed over the past ten years. So I dug up some old photos of our previous house, which we bought in the summer of 2009.
This was our entryway. Right when you came into the house, our offensively green kitchen was on the right. Then, there was this little slice of wall where I situated our entryway table, which I still have and use in our dining area, in front of. I hung a clearance-section-find mirror above the table. But I didn't center it. No no no, that would've been too predictable. I adorned the table with a small lamp (let's just say scale wasn't my forte back in the day), black picture frames (including one that said Live Laugh Love), silver picture frames, a blue glass bottle, and a silver heart-shaped vessel with candles and– you guessed it, pink and purple crystal filler.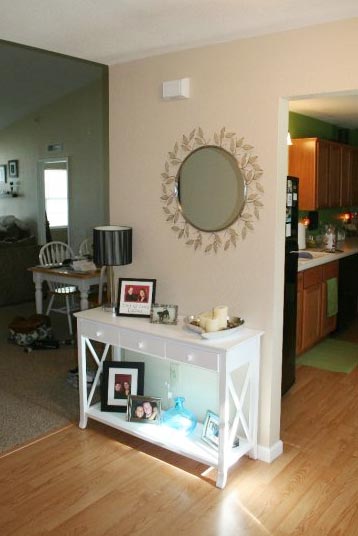 Better Homes & Gardens at Walmart challenged us to try something new– whether it be home décor style, bold color, vibrant pattern, or trend. So I came up with four different looks using my entryway dresser, the dresser my mom and her twin sister used as little girls, as the base.
As a refresher, this is how the dresser typically looks.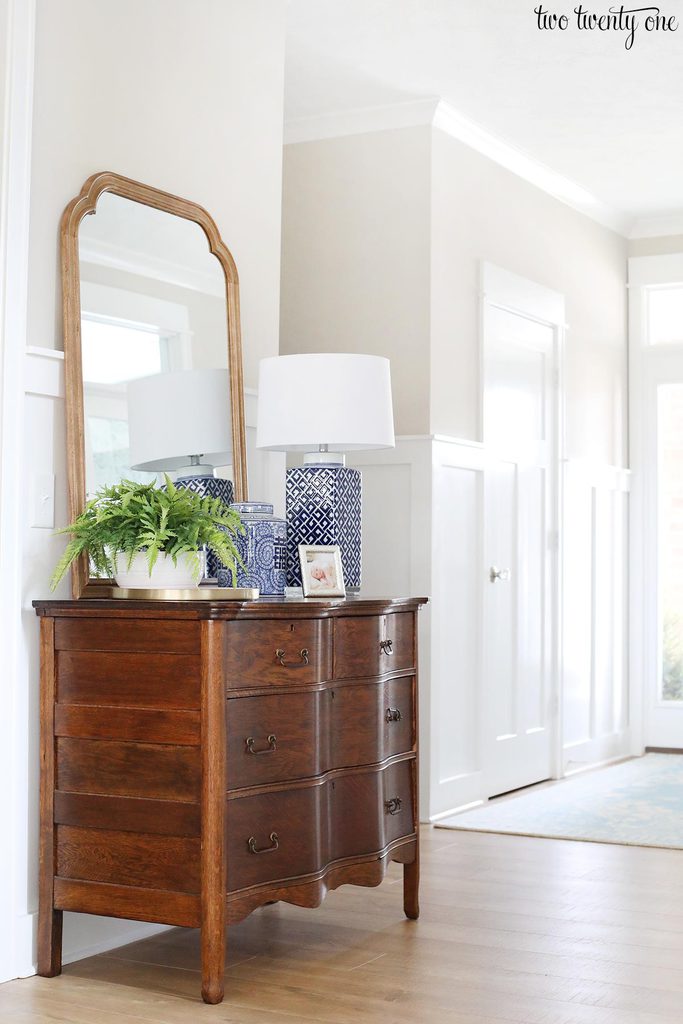 Look One – Neutral & Warm
For this look, I wanted to go with more muted, neutral tones. The tray picks up on the colors of the mirror trim. I'm kind of obsessed with this large, Better Homes & Gardens cream bean pot lamp, especially for the price.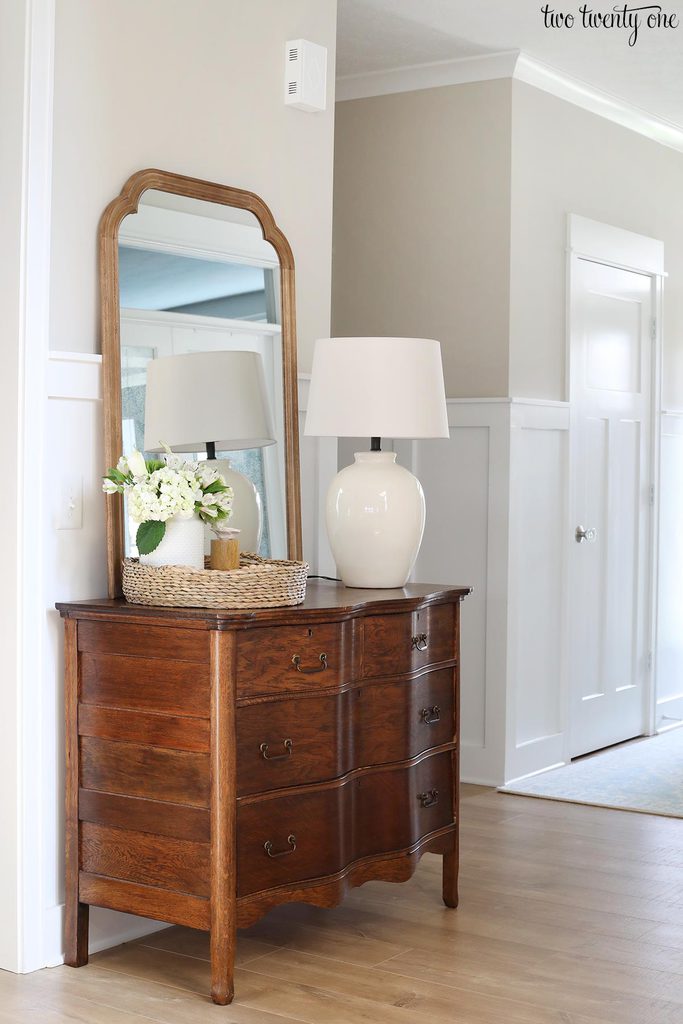 To anchor everything, I used this water hyacinth tray from Better Homes & Gardens at Walmart. I'm a big fan of neutral trays like this one because they can easily be swapped around in different rooms of the house. The hobnail vase is actually a lidded canister, but when I saw it in the store, I thought it'd be the perfect height and size for a floral arrangement. You gotta love when a product does double duty. The vase/canister picks up on the color of the lamp.
Books are great for layering. I took the jacket off of this book, set it in the tray, and topped it with an agate slice coaster I made years ago, ceramic flower diffuser, and wooden beads.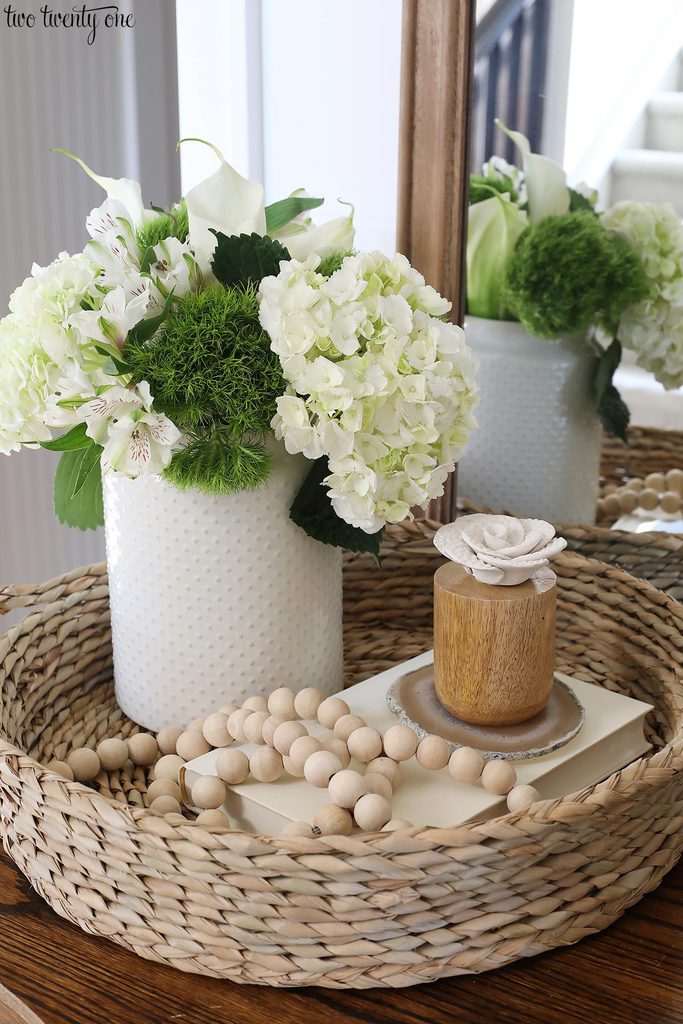 Look Two – Warm & Polished
For Look Two, I flanked a gray-washed wooden tray with two large, white lamps with off-white lamp shades. I love the ribbed texture of the lamps– it gives them a little sparkle.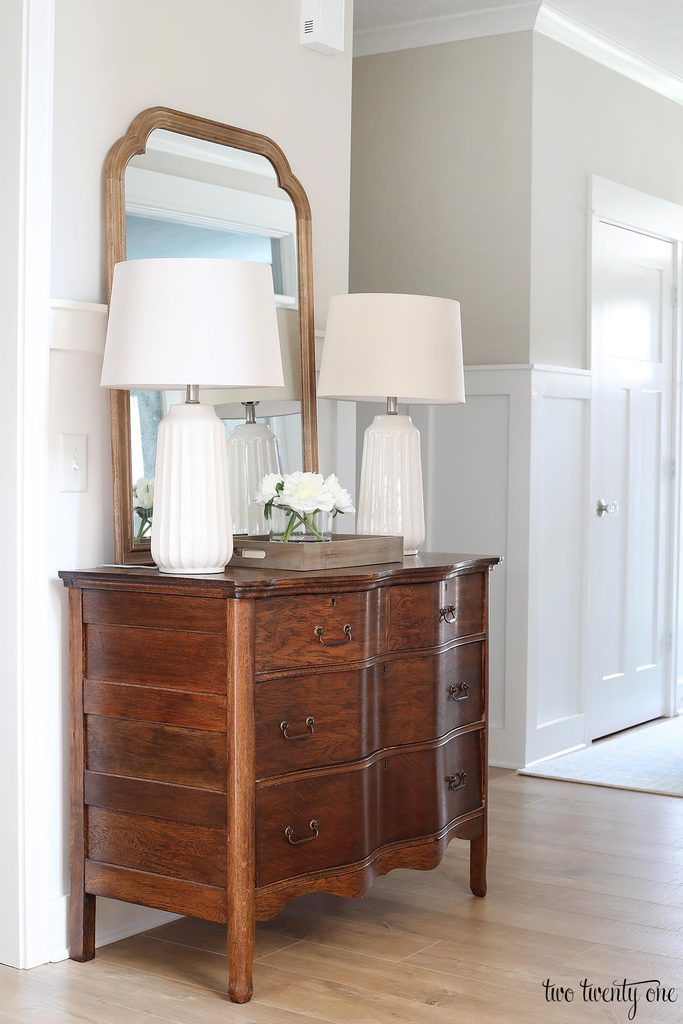 I used another book in the tray to anchor and give some height to the faux peony flower arrangement.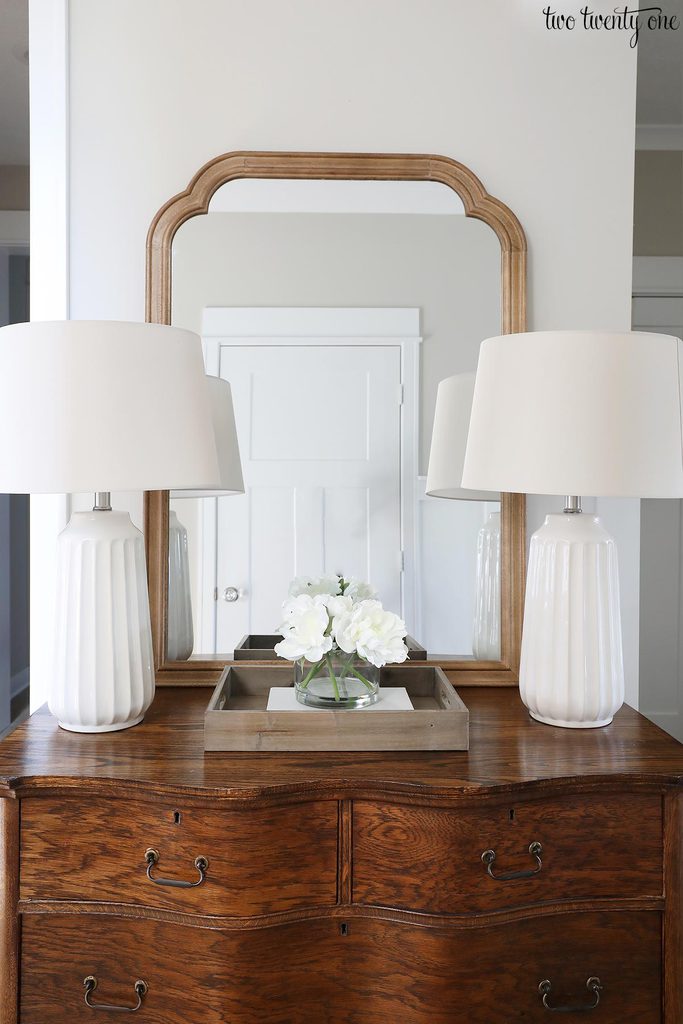 Look Three – Boho
Look Three has more of a Boho vibe with the textured teardrop lamp, vases with globally-inspired details, and round, water hyacinth tray.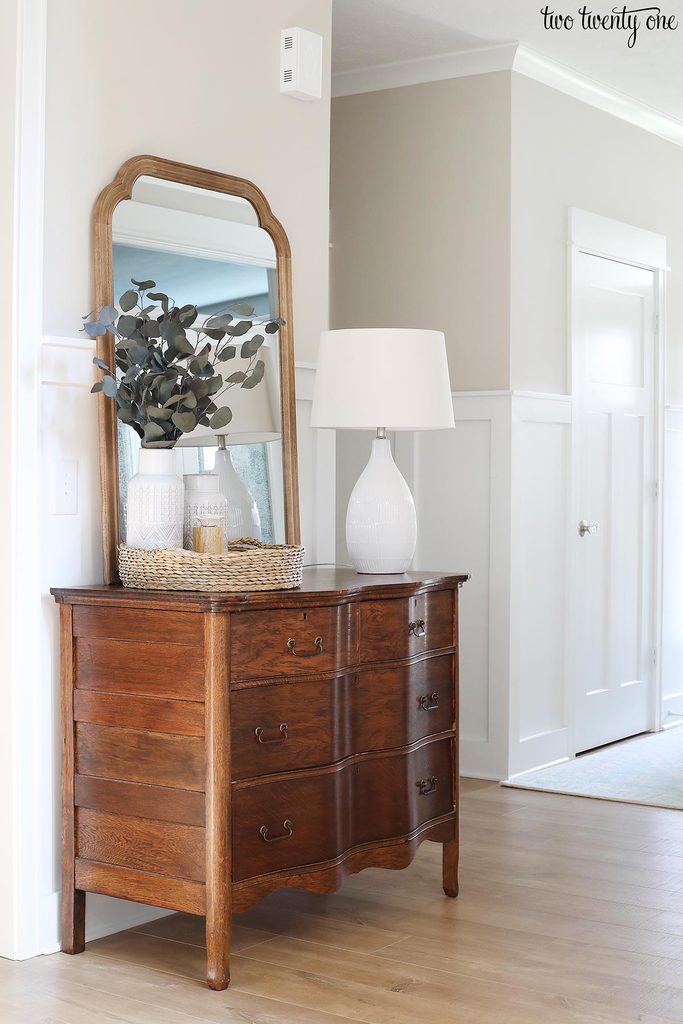 The vases add texture and visual interest to this arrangement. I filled the large vase with dried eucalyptus and left the small vase empty. I repeated the book, coaster, diffuser, and wooden beads from Look One. But see how much the look changed by swapping out the floral arrangement with these vases?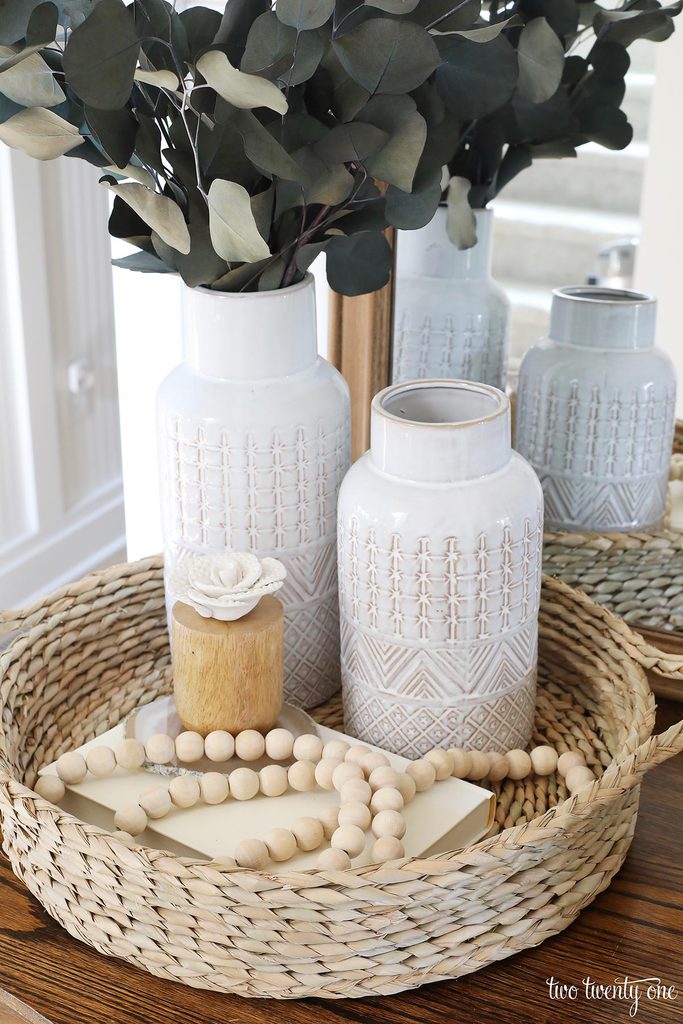 Look Four – Classic Gray
Since gray is such a big trend right now, I thought I'd give it try with Look Four. The large, rustic gray mirror fits perfectly on top of the dresser. It's another great deal for the price. And when I was checking out at the store, I thought the lady next to me was going to grab it out of my cart and run because she kept eyeing it and saying how she loved it. The gray teardrop lamp is a total classic. I repeated the gray-washed wooden tray with faux peony floral arrangement.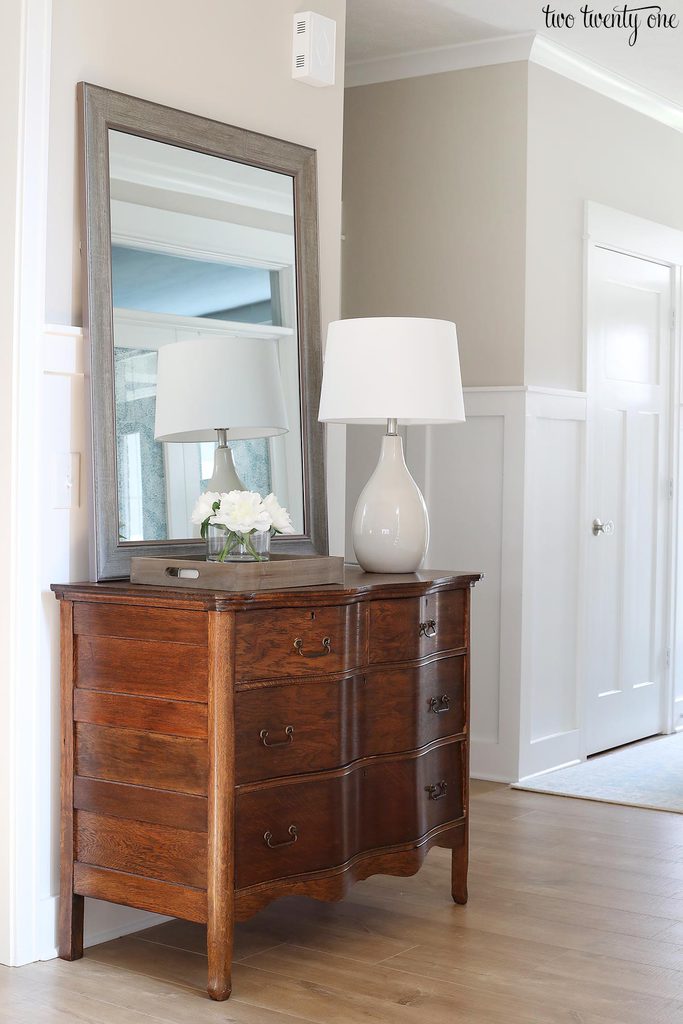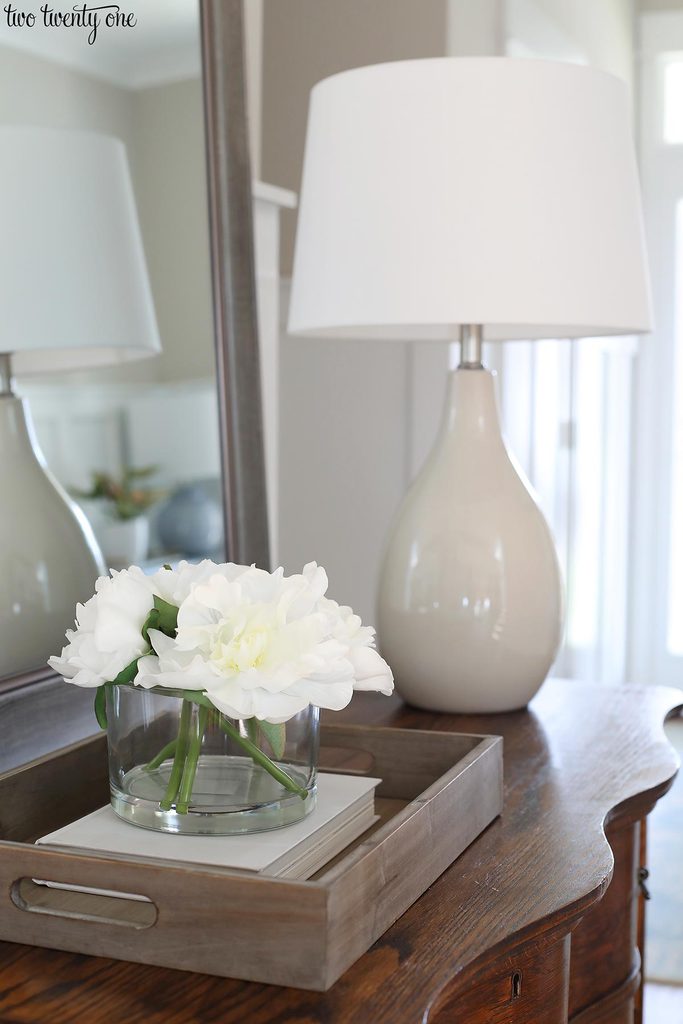 Which look is your favorite?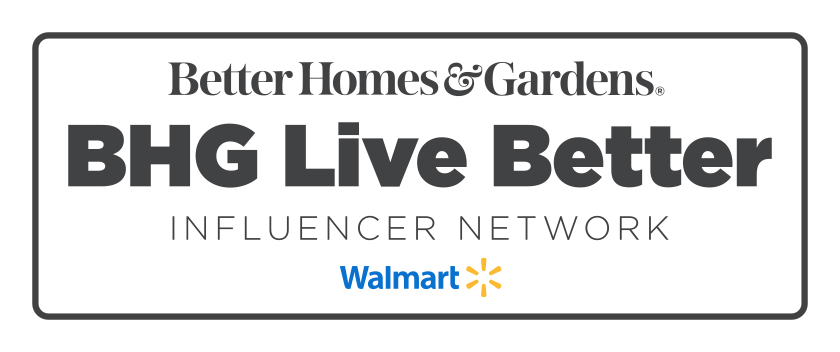 This post is sponsored by Better Homes & Gardens at Walmart. As always, all opinions are my own.