Mother of the Ring Bearer
On July 30, 2016, my kid walked down the aisle… as a ring bearer. Making me Mother of the Ring Bearer. And I couldn't have been more proud. Seriously, I was so overjoyed I started to cry. I know it's silly but I stressed out about it for weeks, especially because we had such a calamitous ring bearer attempt two months prior at my brother-in-law's wedding.
But let's back it on up, shall we?
July 30th was mostly about Brad's cousin Melissa and her new ball and chain, Sam. You may remember Melissa from the baller bachelorette party I threw for her back in mid-July. Well, after 5 years together, they decided to make things official.
Here's the happy couple with their dog, Wrigley.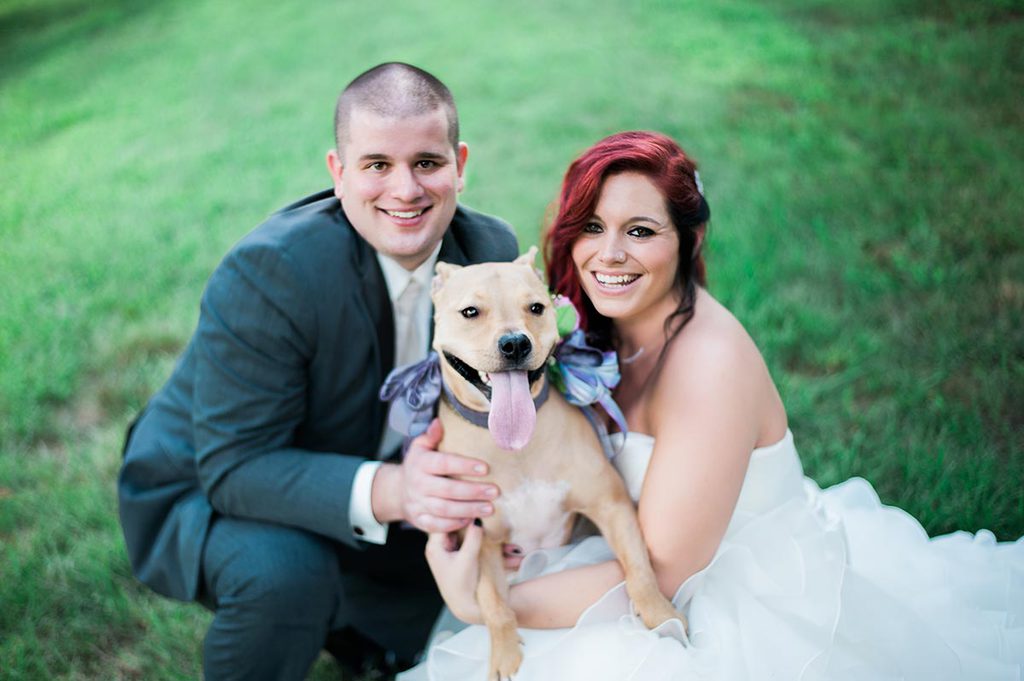 (all non-watermarked photos are by Bret + Brandie Photography)
They got married in Brad's hometown at this place called Discovery Lodge.
It's a beautiful, 16,000 square foot venue. I love how it's one-stop shop type of place. Couples typically have their ceremony on one side and reception on the other side– no need to travel via car between locations. We got married in a similar venue, so I'm biased and think it's the way to go.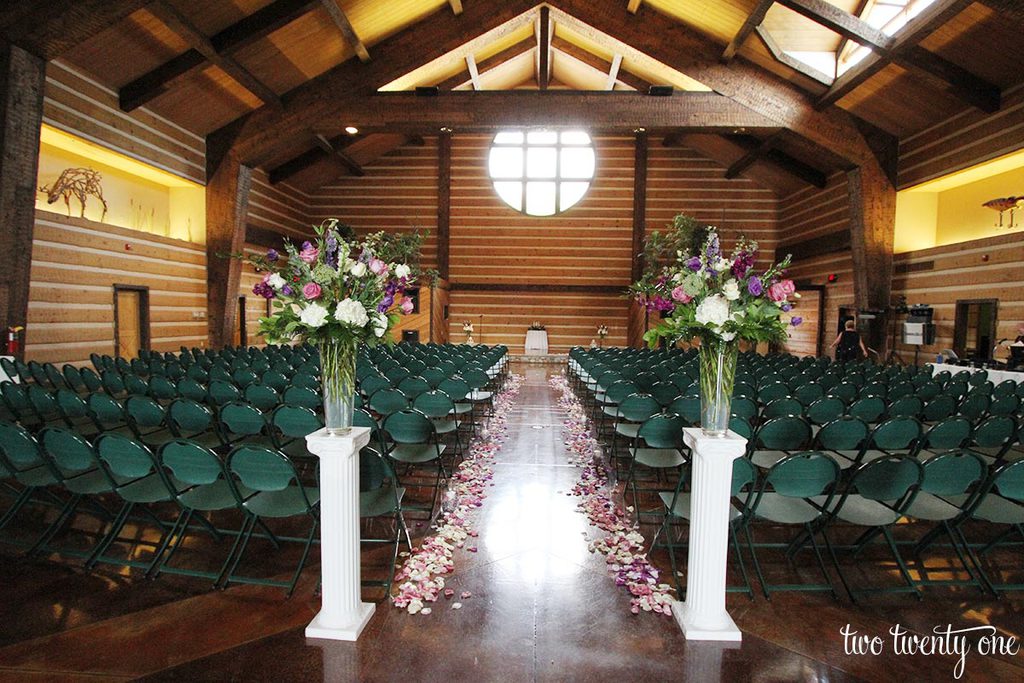 Melissa went with gray and shades of purple, but mostly eggplant, as her colors. I say her colors because let's be honest, Sam didn't have a choice in the matter.
The venue comes with the green chairs, which, in my opinion, are hard to work around. But since green and purple are complementary colors, it worked out well.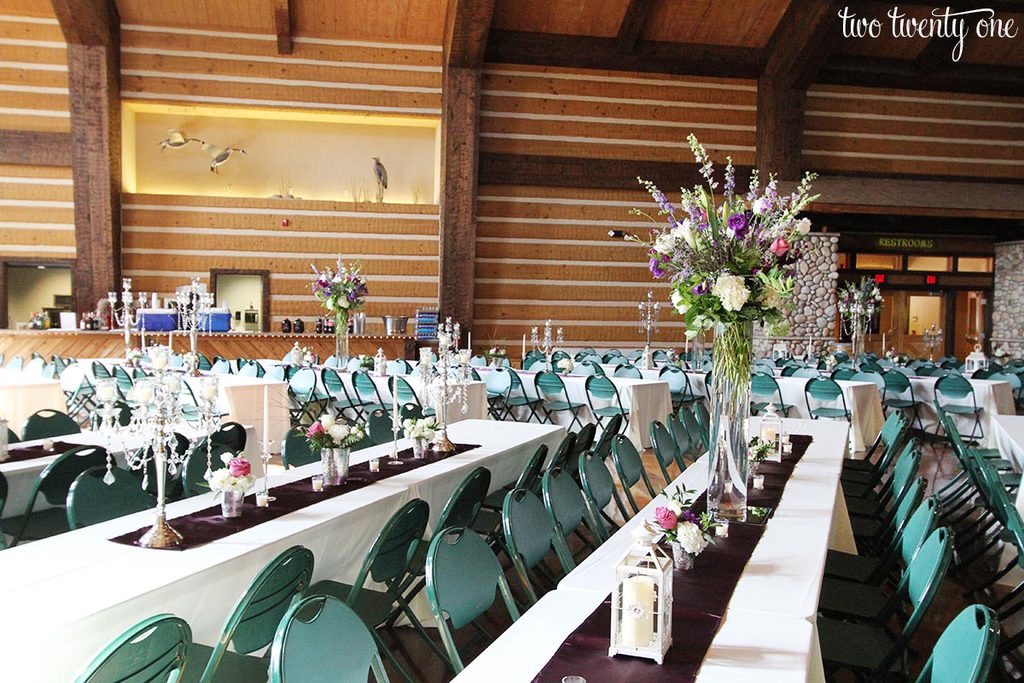 I loved how they did the taller arrangements, candelabras, shorter arrangements, and lanterns on the long tables. The eggplant table runners helped anchor everything.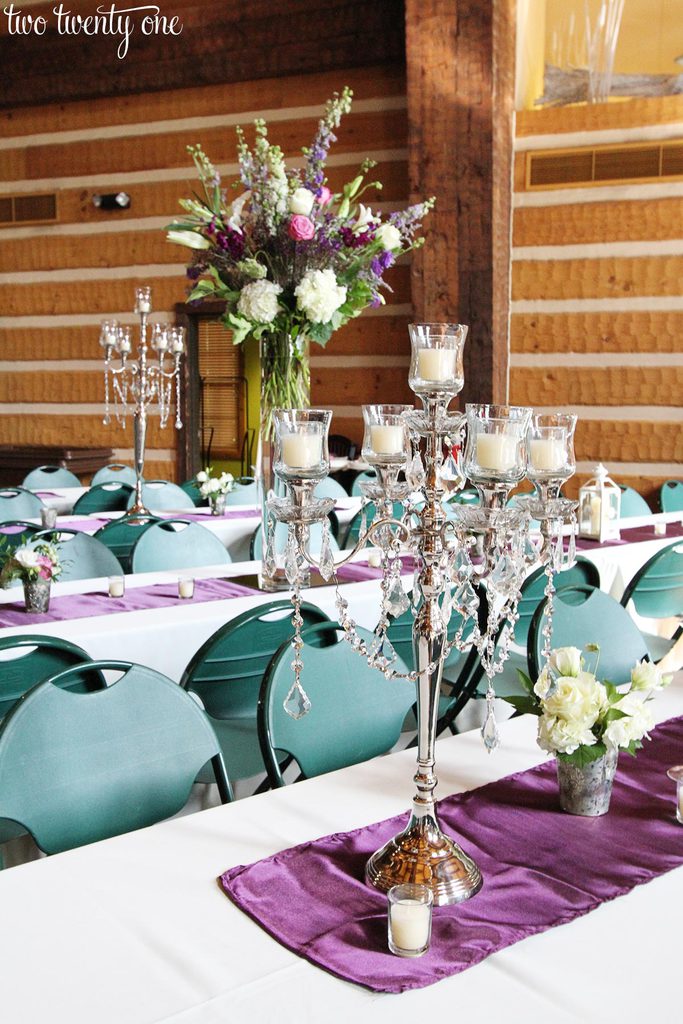 Melissa made me laugh when she texted me, days before her wedding, and inquired about making her own wedding card box. I told her she was making me nervous by doing a DIY project so close to her wedding. But she said she wanted to make something for her wedding. So I wished her good luck and said I'd help her out with the 'Cards' sign to put on top.
She followed my tutorial, and it turned out beautifully. I was so proud.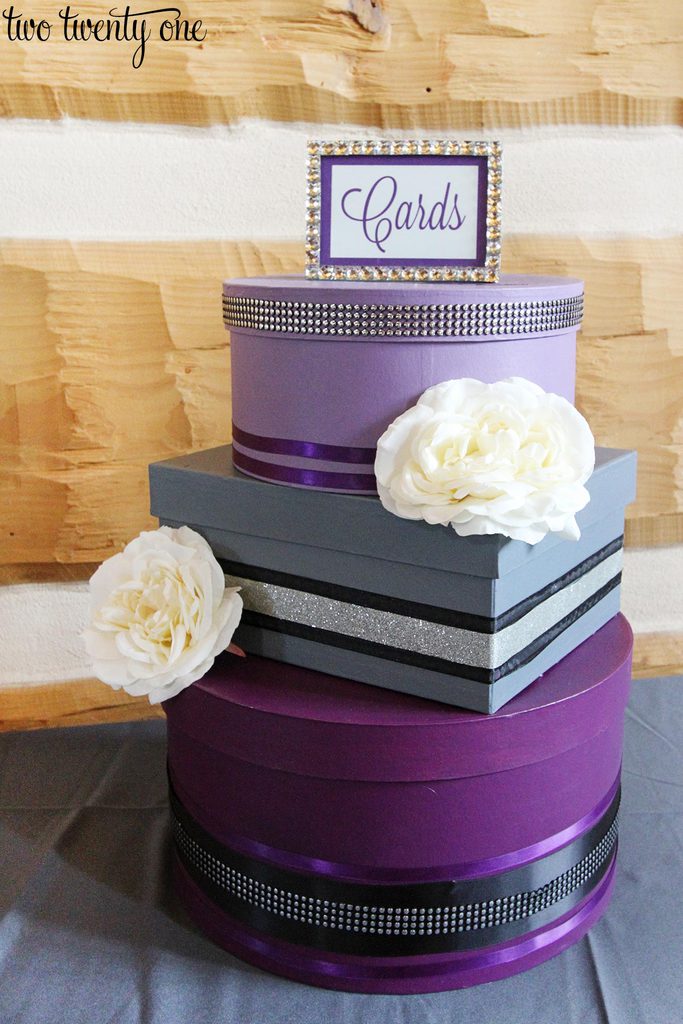 Before I get to the ceremony portion of this post, let me add that when we got to venue and dressed Owen, we realized the shoes he was supposed to wear no longer fit. We think they shrank after Brad washed them to get the mud off of them from my brother-in-law's wedding in June. Good thing we could use his slip-on shoes as an acceptable back-up pair. So learn from our mistake of not trying on the ring bearer's shoes a week or so before the wedding. Doh.
Another thing to note, the morning of the wedding we went to the venue and had Owen practice going down the aisle so he could get comfortable in the space. I feel like that helped a lot. So keep that in mind if you have a future ring bearer or flower girl.
Alright, let's talk about the main event.
The plan was for me to be with Owen in the wedding party holding area, and Brad would stand at the front of the aisle and hold a sucker for Owen. I'd tell Owen daddy had a sucker waiting for him, and he'd follow Brayden, the other adorable ring bearer, down the aisle and get his sucker.
Good thing I thought up Plan B because Owen didn't take the bait of the promise of a sucker– apparently he wanted to see the goods up front. I had a back-up sucker on my person so I quickly gave it to Brayden, told him to show it to Owen and basically lure Owen down the aisle. Owen followed Brayden until he heard the music coming from the speakers on the right side of the ceremony space. And like a moth to a flame, he started drifting toward the speakers instead of down the aisle.
Thankfully, I was able to nudge Owen back on course. Brayden waited for him at the end of the aisle and flashed Owen the sucker. But then I think Owen got a little overwhelmed with the 300 sets of eyes pointed at him. He could hear Brad calling his name, but he couldn't see him. When Brad stood up and showed Owen the sucker, Owen bolted down the aisle, with an armful of cars and trucks.
Please note everyone's faces, especially Melissa's mom's expression (she's below Brad's arm).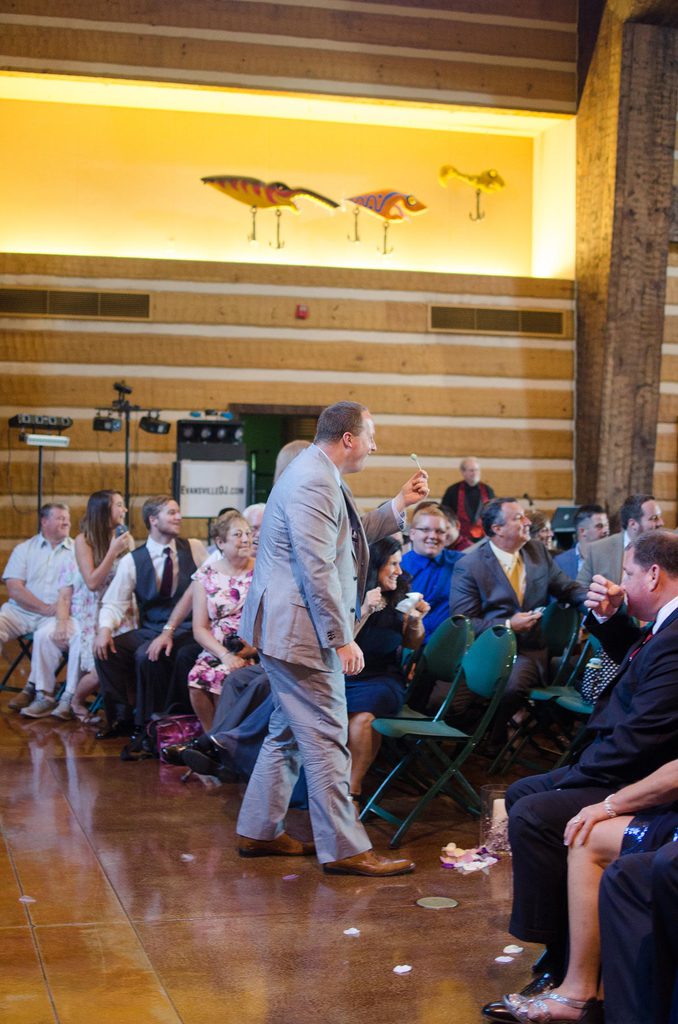 Here's a gif I made of Owen's big moment with photos taken by the wedding photographer.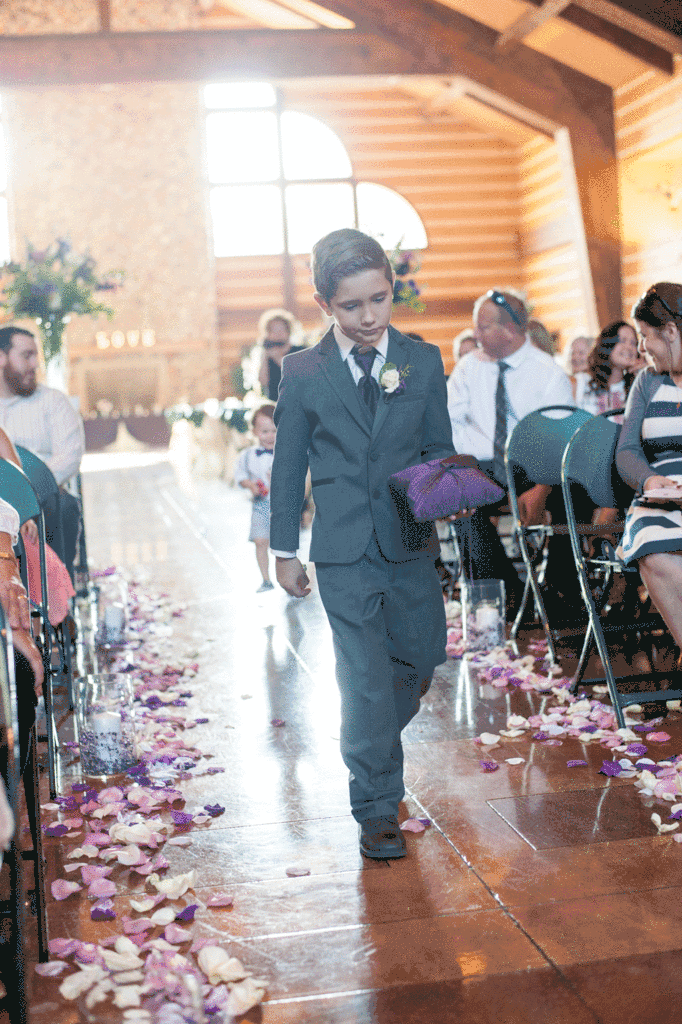 Isn't he the sweetest?!
When Melissa sent me one of the photos of him, my response was, "OMGGGGGGGGGGGGGGG I want to birth 100 of him!!!!"
And isn't this the most adorable damn picture you've ever seen?
Again, look at Melissa's mom, and then Brad's grandpa smiling over her shoulder. Also my hunky main squeeze in that suit. Gah.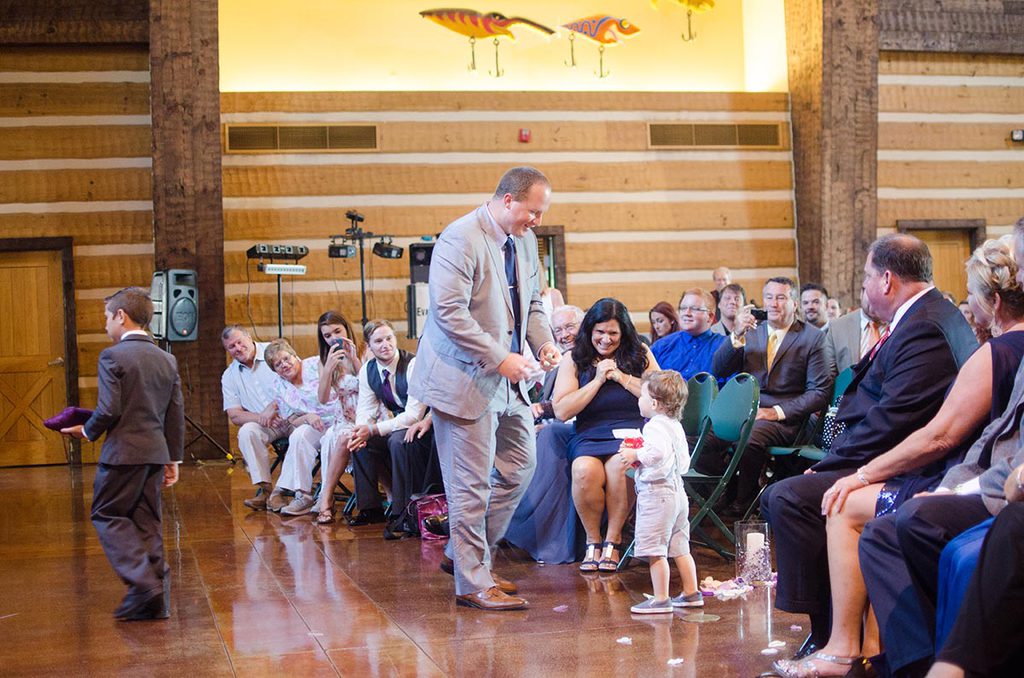 After Owen made it down the aisle, and then Melissa got her turn in her beautiful dress, I observed the fastest wedding ceremony ever. I believe it was 8 minutes.
I love efficiency.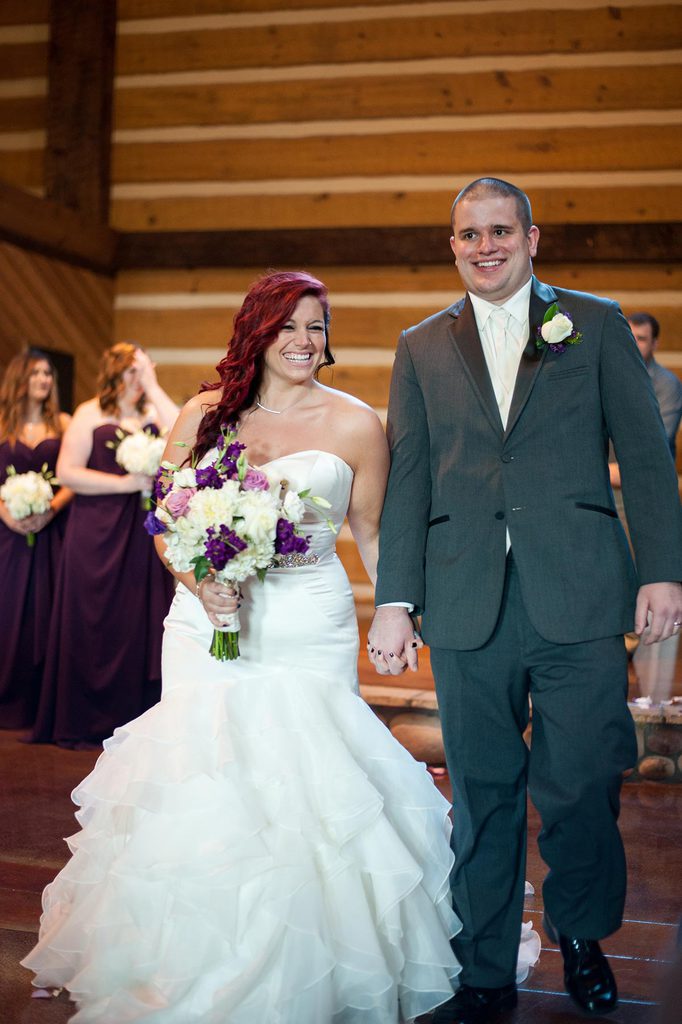 The reception was great. For dinner, they had a delicious buffet of fried chicken, mashed potatoes, green bean casserole, garden salad, and rolls.
I made Melissa get this gorgeous rosette tablecloth for the cake table.
They had a small two-tier cake, cupcakes, and a groom's cake for dessert.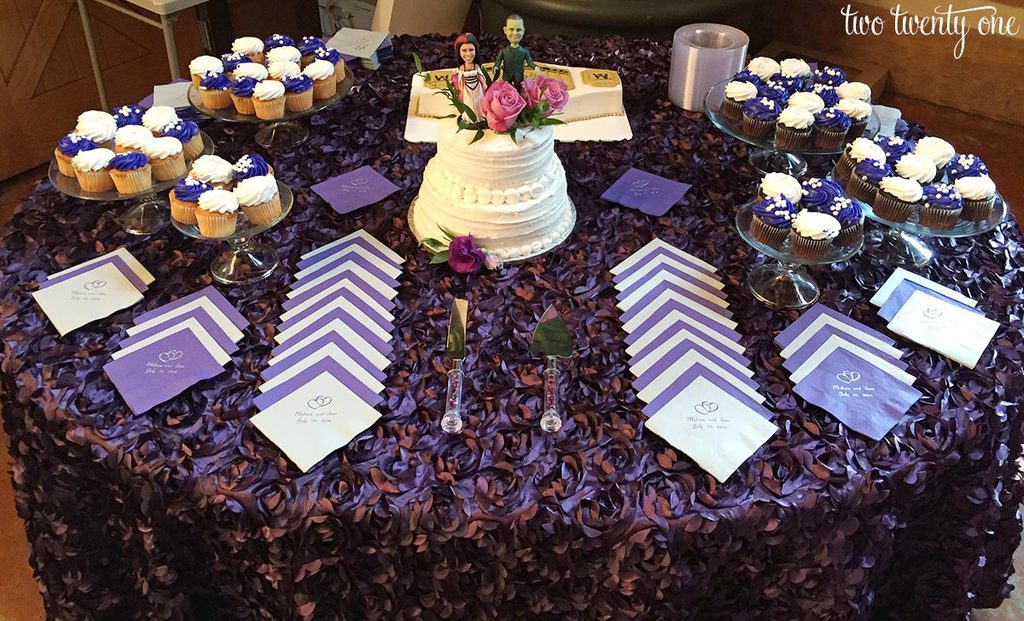 Sam surprised Melissa with this custom cake topper of Lilly Munster and Frankenstein's Monster, designed to look like the two of them. It's an ongoing inside joke that each character represents their personalities.
I agree.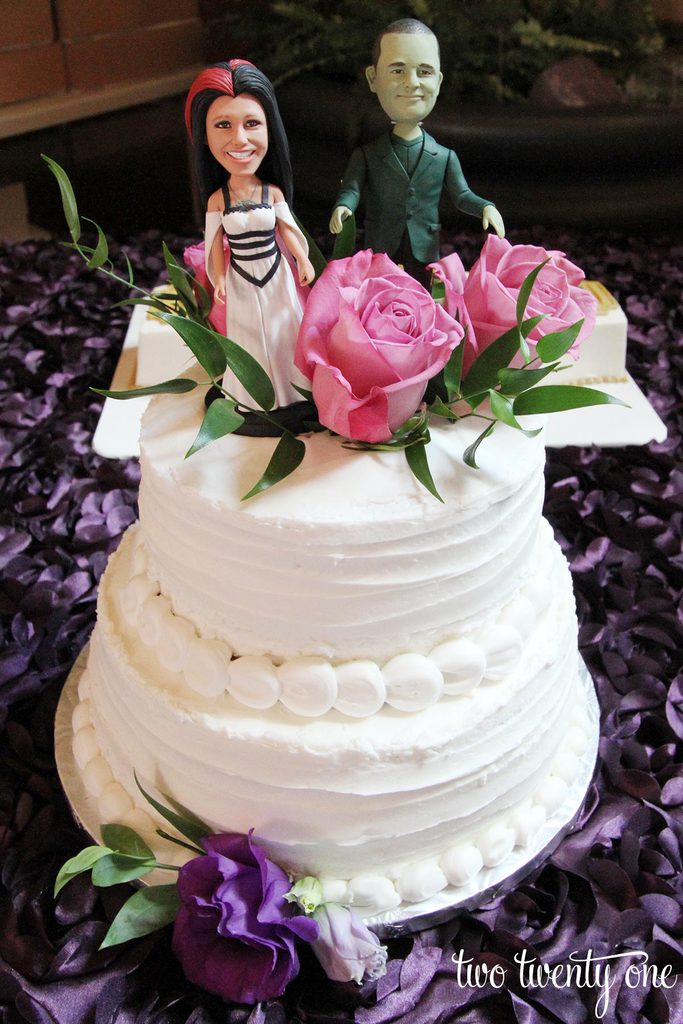 And who could forget the groom's cake– a WWE championship belt.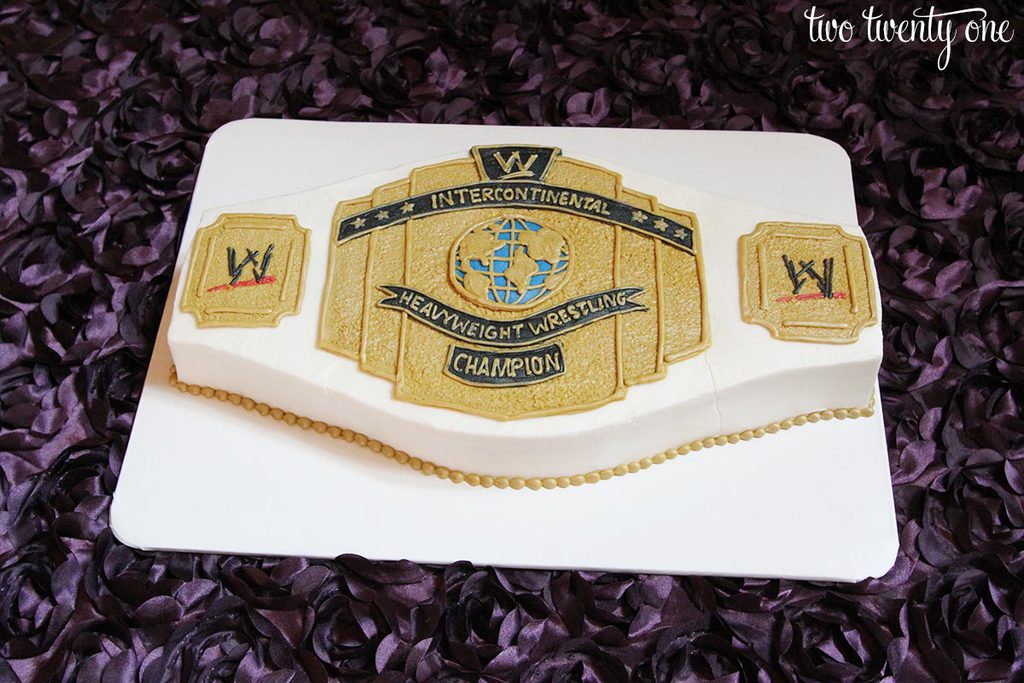 This is one of the only family photos I have of the three of us.
Don't hate me because I'm beautiful.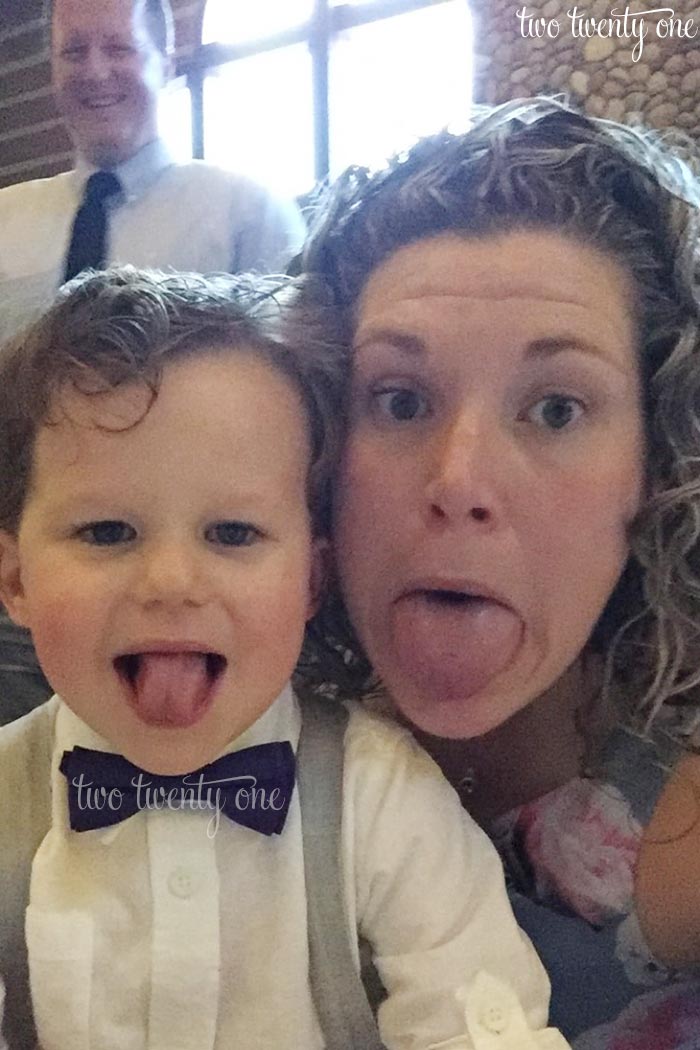 I love this pic I snapped of Owen on my phone, and I feel the need to share it with you.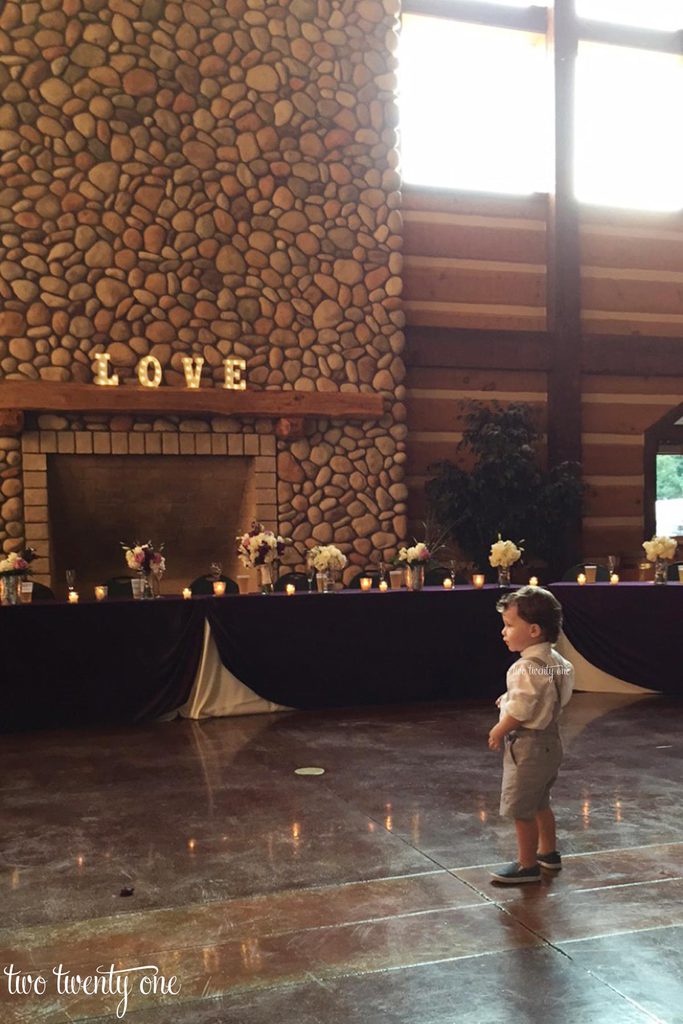 I didn't get to dance much, but I did manage to Wobble in 3-inch wedges with my 32-pound kid on my hip. #talent
Please note that Melissa is 5'3″ so I look like a 6'1″ giant standing Wobbling next to her.
(I'm wearing this dress, btw.)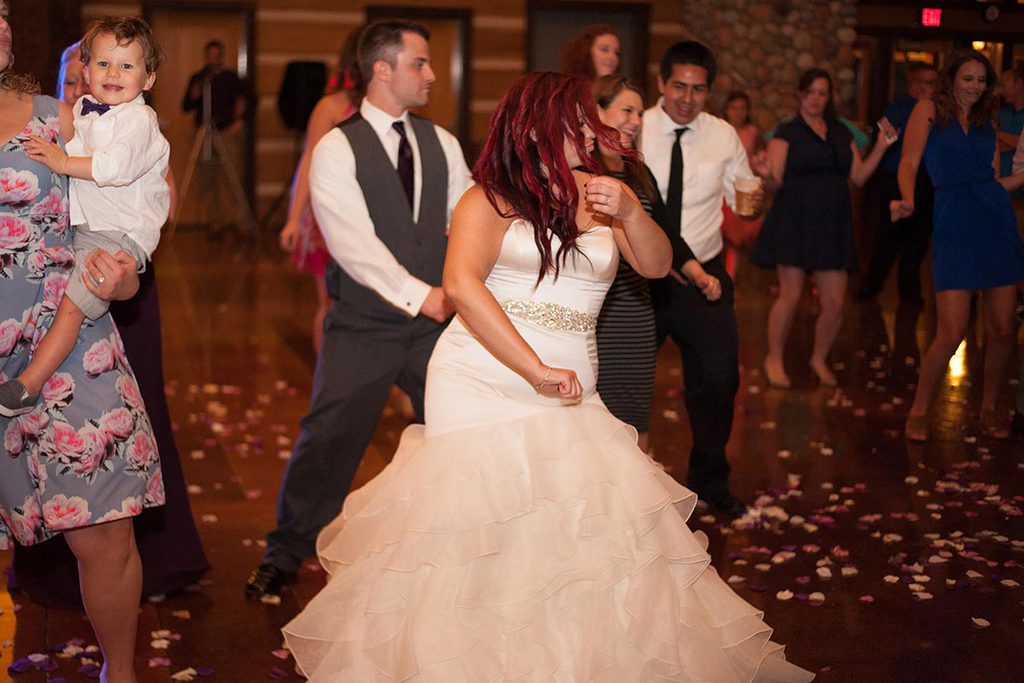 Owen cracked us up with the photo booth. He'd wait for the photos to print, and then place them in the two prop hats sitting next to him. This went on for a good 15-20 minutes. I think he was getting tired and was feeling the urge to do something so he wouldn't fall asleep.
Please take a moment to notice Melissa in the photo booth, large glass of hard cider in hand. (That's my girl.)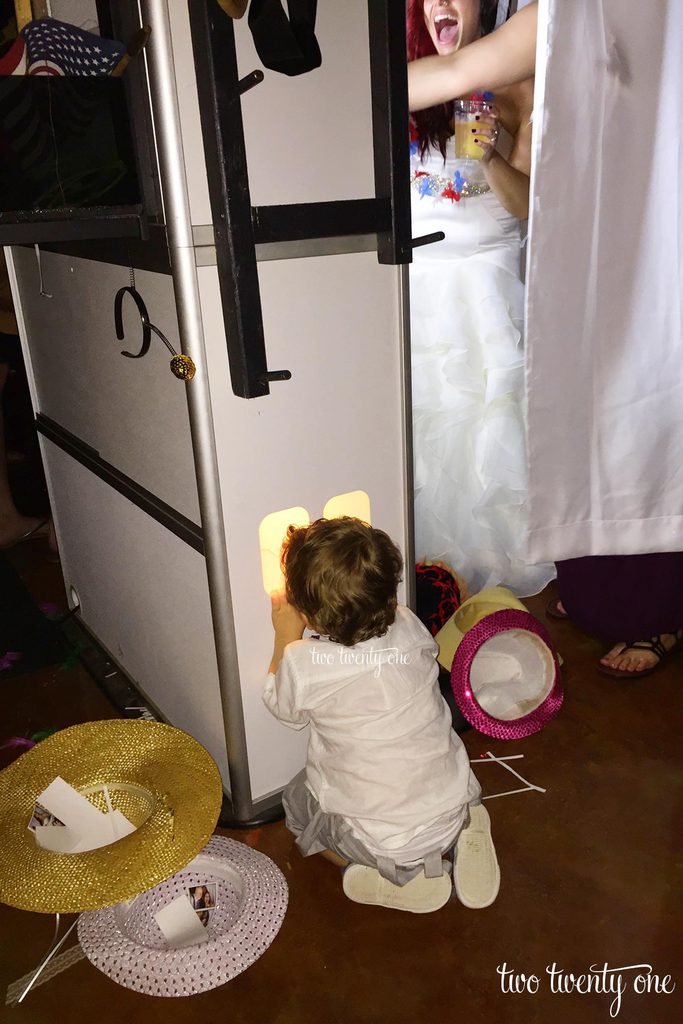 In conclusion, if you ever find yourself asking "candles or no candles?", go with the candles.
Always go with the candles.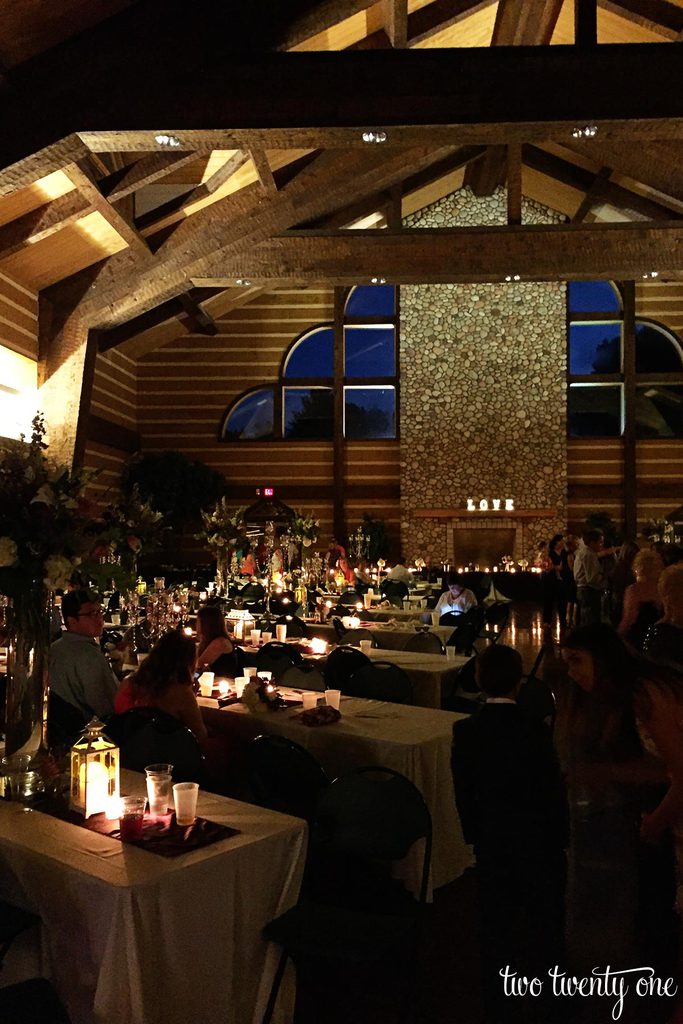 Congrats, Melissa and Sam!
This post contains affiliate links.
Funds from affiliates help pay for web hosting, domain registration, email delivery, the occasional bottle of wine, and other fees to keep twotwentyone.net up and running. Thanks for your support! I appreciate it!