12 Things to Know Before Your Wedding Day
Ah, your wedding day. One of the most special and important days in someone's life. If you know anything about my wedding day, you know it wasn't your typical wedding day due to paternal grandmother passing away the morning of. I've already shared that aspect of my big day, so today I wanted to share some other things I learned on my wedding day in hopes that what I share will help another bride-to-be on her special day.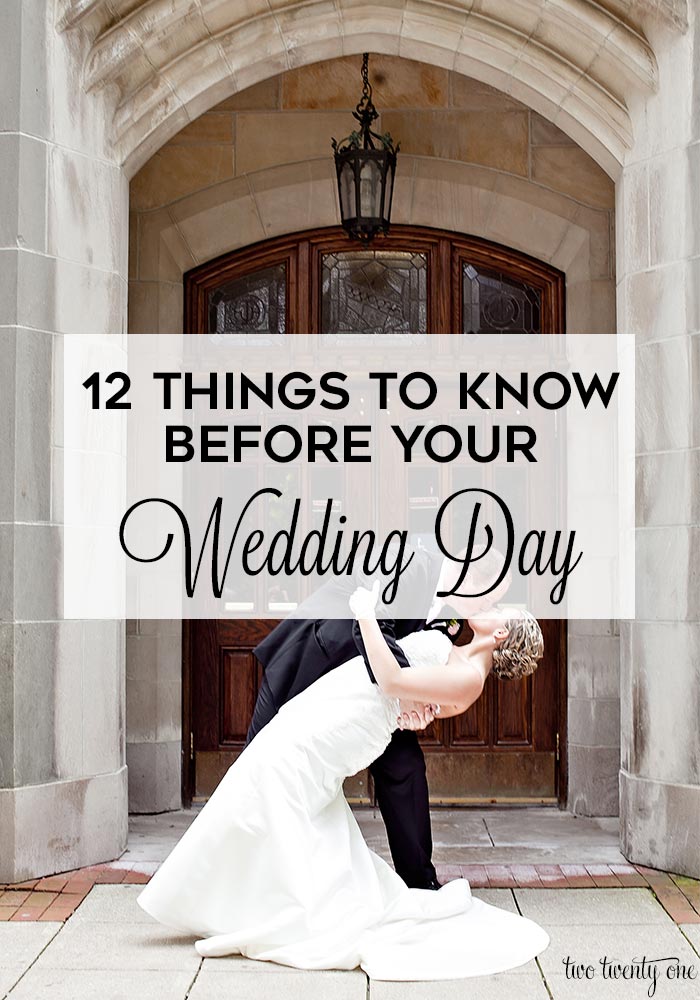 1. Don't wear heels for your rehearsal, unless you're a frequent heel wearer.
I'm not a big heel wearer because I'm tall enough sans shoes. But I wore 3 inch wedges for our wedding rehearsal and rehearsal dinner. HUGE mistake. I was struggling to walk in my 2 inch heels 3 hours into my wedding day. If you do wear heels for your rehearsal pop on some flats for the rest of the evening, especially if your feet aren't conditioned to walk in heels. Also, bring a separate pair of comfortable shoes to wear on your wedding day– just in case. I bought some circa 1998 platform flip flops (so my dress wouldn't drag on the floor and so I wouldn't trip on my dress) to wear on the dance floor at our reception.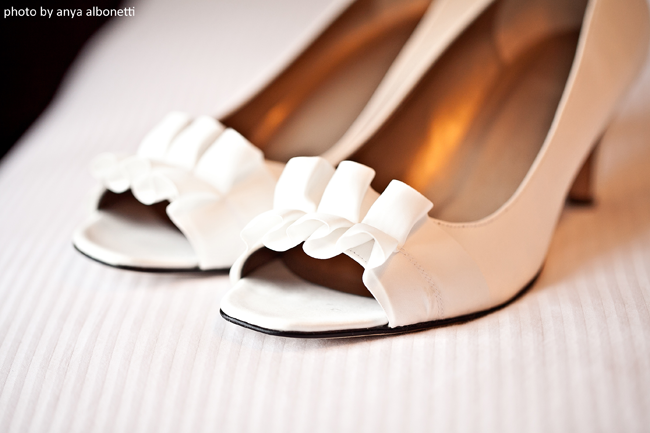 2. Baby wipes are your best friend.
We did First Look photos outside before our ceremony, which meant that the bottom hem of my dress was dirty even though I picked it up when I walked around. When my bridal party and I got to our ceremony venue, my Maid of Honor busted out some baby wipes and went to town cleaning the hem of my dress. The baby wipes were magical– taking all the dirt off my dress. When I walked down the aisle no one could tell how dirty it was 30 minutes earlier. The baby wipes also came in handy when our caterers spilled barbecue sauce on a food station tablecloth. And instead of removing the tablecloth they flipped it over. So when I went to get my food I got barbecue sauce ALL OVER the front of my wedding dress. Thank goodness for those baby wipes– they got the sauce off in no time. Note: My dress was satin. Make sure you can use baby wipes on your dress material.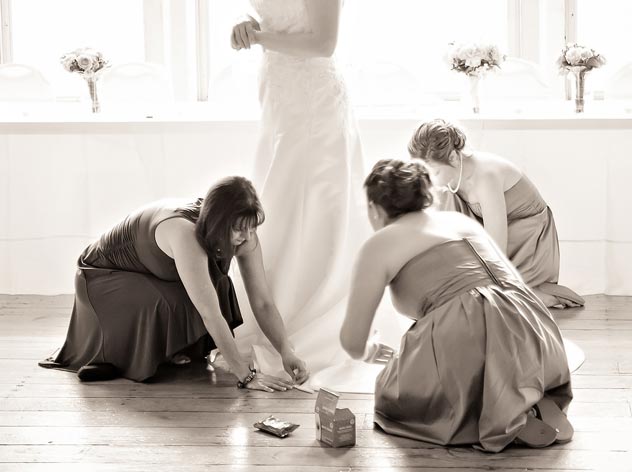 3. Take your dress off to use the restroom.
Yep. When I needed to go to the bathroom I took my Maid of Honor with me. She unzipped my dress, I stepped out of the dress, she held the dress up like I was still in it, I did my business, washed my hands, jumped back into the dress, she zipped me up, and we were on our way. SO much easier than having 3-5 bridesmaids hold up your dress while you pee. Granted this tip works best if you have a dress you can easily get in and out of. If all else fails pull a Bethenny Frankel and pee in a trashcan. I won't judge you.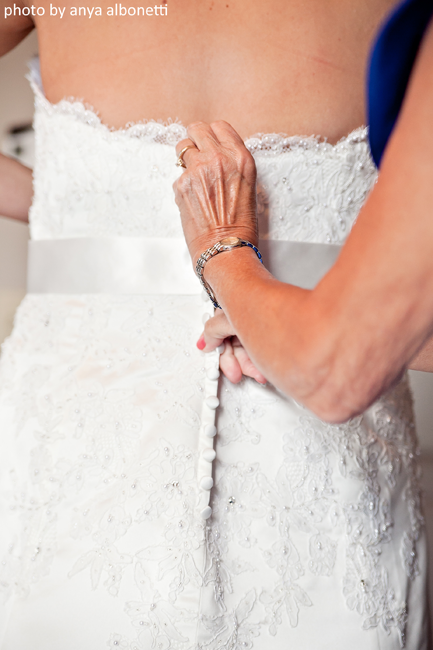 4. Hair and makeup trials are a must.
I 100% believe in getting your makeup and hair professionally done for your wedding day. When else will you get the chance to have your makeup professionally airbrushed? Splurge a little. Things are stressful enough to be doing your own makeup and hair. I also strongly believe in having at least one makeup and one hair trial. This is so important. Take photo examples to show how you want your hair and makeup to look. When you get home from your trials, have someone take photos of you from every angle. I decided I didn't want my hair pinned up to the side based on how I looked in photos I took after my hair trial.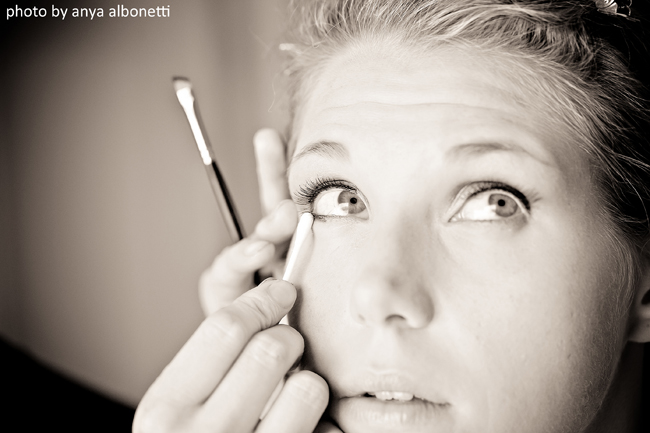 5. Give yourself more than enough time on your wedding day.
Things will run behind schedule. I was an hour late getting to my First Look because my hair took longer than expected. And I was a frazzled mess. (I hate being late.)  In my opinion, the bride should be the first to get her hair or makeup done. If she's getting her hair done someone else can be getting their makeup done, but the bride is the number one priority. If you think it'll take you 3 hours to get ready plan for 4-5 hours. Trust me. If you're ahead of schedule your photographer can get more bridal shots of you or photos of you and your bridesmaid in your bridal suite. It's always best to be ahead of schedule rather than behind schedule. But remember, if you are running late don't freak out too much– they can't start without you.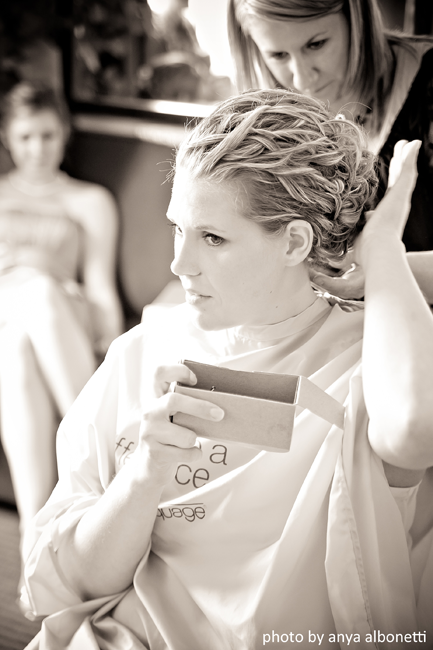 6. Something will go wrong.
Face it. Something will go wrong. I haven't met anyone who said everything went perfectly on their wedding day. (That they knew of.)  If you're me, your DJ will fail to fully plug in a cable, causing your music to cut out while your wedding party is processing down the aisle. Your caterer will spill barbecue sauce on a food station table cloth, and you'll get barbecue all over the front of your wedding dress. Someone will die on your wedding day. Not kidding. True story. Happened to me. But don't live in fear of what could go wrong on your special day. Just be prepared to roll with the punches, although nothing can really prepare a person for what I experienced. So here's some perspective: when you're flipping out because your florist used roses instead of peonies for your bouquet, just know that things could be worse. Way worse.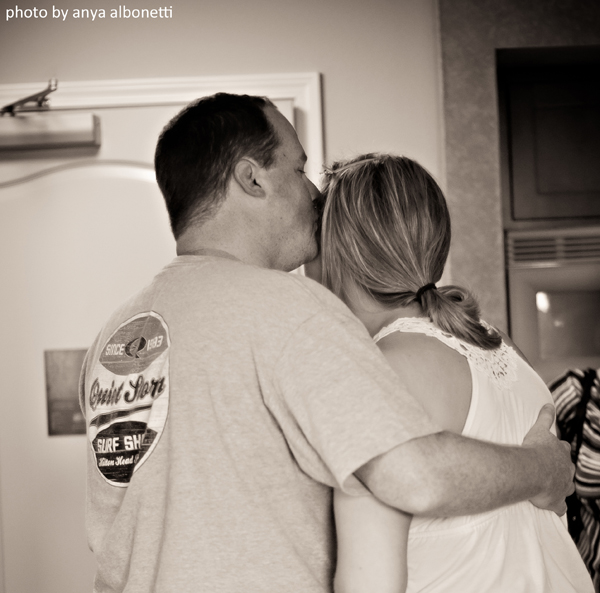 7. Have buffers.
This was such a hard lesson I had learn on my wedding day. You need buffers.  People who will intercept information so you aren't made aware. One of your buffers is on phone duty. It's their responsibility to intercept all messages and phone calls and relay the information they deem pertinent. If something catastrophic should arise, they are to discuss the situation with your other buffers and important people (your family, wedding coordinator, etc.) to decide whether or not you should be made aware of the situation. Read more about why I think brides (and grooms) need buffers here.
8. Have a wedding day survival kit.
My Maid of Honor had one and so did my Day of Wedding Coordinator. Google "wedding day survival kit". Some things I think you should definitely have in your kit: water, deodorant, mints, aspirin/ibuprofen, antacid, lipgloss/lipstick, dental floss, sewing kit, first aid kit, touch-up powder, bobby pins, mirror, band-aids, baby wipes, white chalk, stain remover, safety pins, smelling salts, hand sanitizer, scissors, Q tips, lint roller.
9. Hold your bouquet low.
For the love, hold your bouquet low. I cringe when I see brides holding their bouquets up by their faces. It may feel weird to hold it low, but trust me, it looks so much better in person and in photos. Before walking down the aisle with my dad and stepdad, I held my bouquet where I wanted it and told them to hook my arms. Do the same with whoever walks you down the aisle. This also goes for your bridesmaids.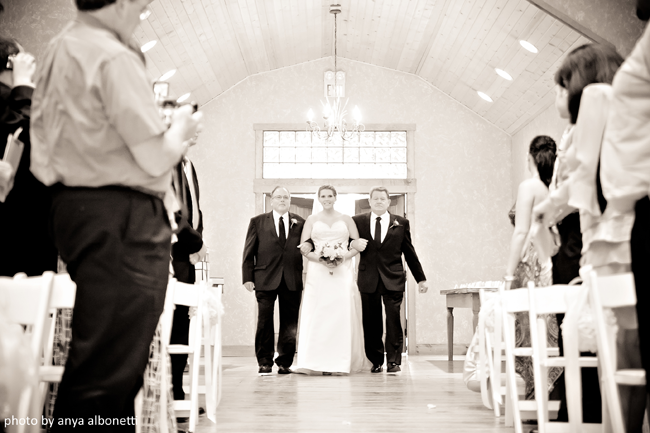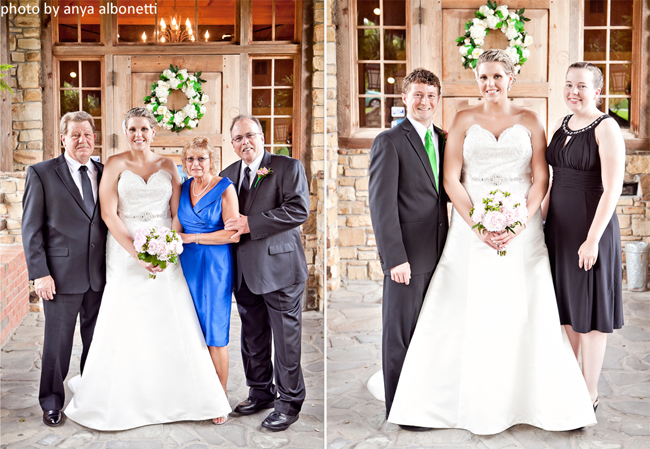 10. Walk slowly down the aisle.
It's not the 50 meter dash. Think about it, you get one time (hopefully) to walk down the aisle. One time. Savor it. I told my dad and stepdad to follow my lead. Do the same with the person or persons who walk you down the aisle– don't let them speed you up. So, walk slowly. Smile. Lock eyes with your groom. And carry that bouquet low, sister. This goes for bridesmaids, too.
11. Have your Maid of Honor practice bustling your dress before the wedding day.
Having your Maid of Honor (or whoever will be bustling your dress) practice bustling your dress before your big day will save time. If possible, have her accompany you to your last fitting so your seamstress can show her how to do it. Note: I had a one-point bustle and it held strong all night, never breaking. I credit my seamstress using Ric-Rac ribbon.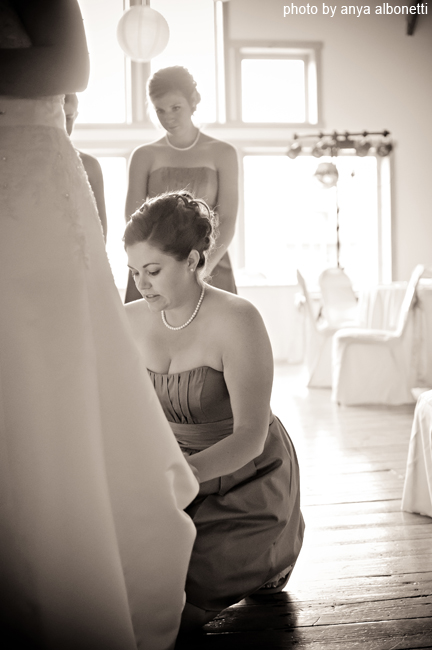 12. Have a receiving line.
I know some people hate receiving lines. I don't really understand their hatred because I love them. We had our receiving line as guests came from cocktail hour to pick up their escort cards and head into the reception hall. I'm a receiving line fan because I was able to see and greet everyone who came to our wedding. That way, later down the road, I didn't say with regret, "Oh no, I never said hello and thank you for coming to so-and-so or so-and-so." Brad and I covered all 120 of our wedding guests in 15-20 minutes. It went quickly because people wanted to sit down and eat. Plus, I think having a line of people behind you kind of puts the pressure on to keep it short and sweet.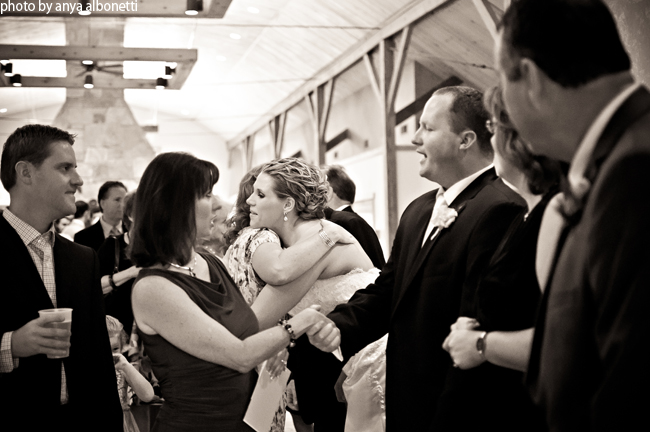 I hope you found at least one of these things to know before your wedding day helpful.
Do you have any tips you'd like to share? What's something that happened on your wedding day that you weren't prepared for?
Check out all my wedding-related posts below!
More about our wedding:
Before the Ceremony
Ceremony
Reception
The Details