Happy Friday, friends.
I want to reminisce today. So that's what we're gonna do. OK? OK.

A year ago, at this time, I had my hometown bridal shower.
It was held at what is basically the icon of my small hometown. The house was built in 1861 and was originally a private residence, but now it's used as a B&B and you can rent it out for events. My dad actually lived in the house for a few years when he was younger. I'm told that my aunts used to sun bathe on the roof, and my dad helped put the onion on top of the cupola. Another fun fact: the house was in the 1989 movie, Prancer. Cloris Leachman's character lived in the house. Yes, my super small hometown is kind of a big deal.
The guests enjoyed wandering around and looking at all the rooms– some were even adventurous enough to climb the stairs all the way up to the cupola.
My mom used small potted tulips, daffodils, hyacinths, and roses as the centerpieces. Then, the guests took one home as their favor. You gotta love double duty, right? I took a rose home and planted it in one of our flower beds. It lived through the winter and is growing like a weed. Success.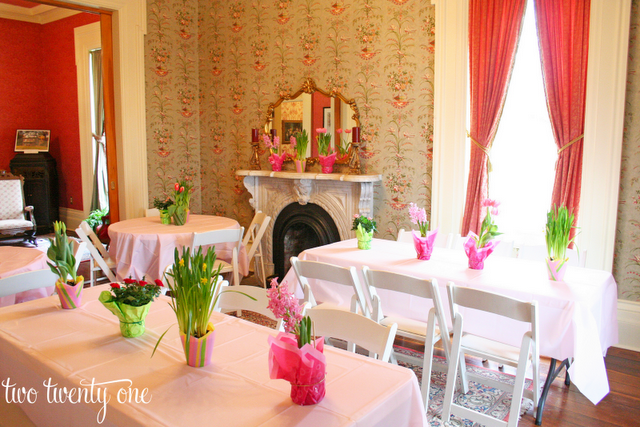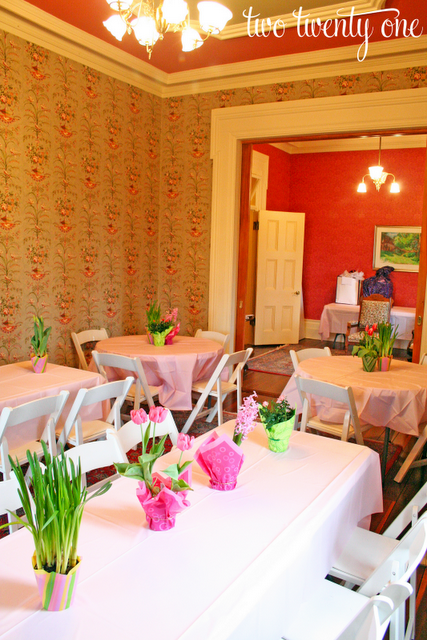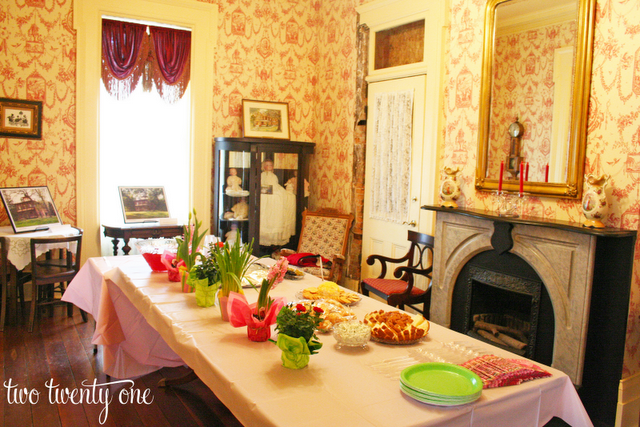 My Maid of Honor, Natalie, came up with some pretty spectacular games. Like the game where I had to answer a question about Brad in order to open each present. If I got it wrong I had to do the running man. And if you know me, you know that I'm incapable of executing the running man.
The cake was delicious– half white with raspberry filling and half chocolate with chocolate mousse filling.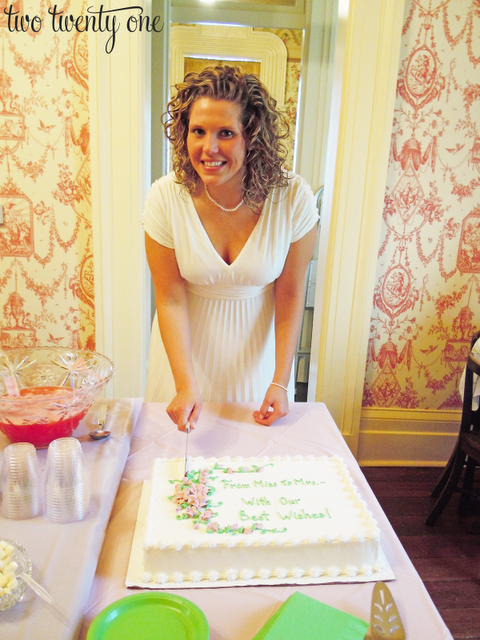 My mom was so proud of herself for finding the saying for the cake "on Google".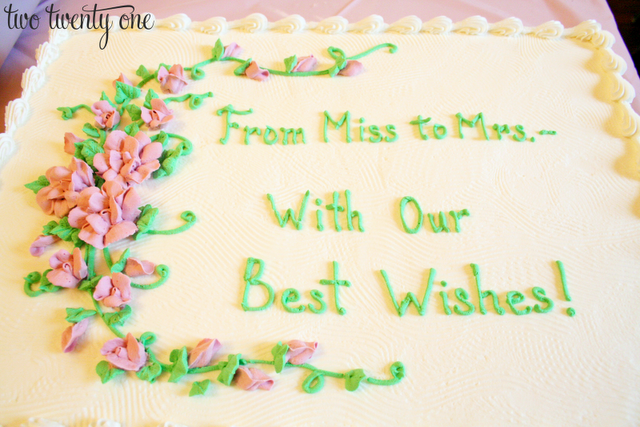 It was a lovely shower. I enjoyed spending time with my family and friends. Now I want to have another shower. Someone get married or have a baby so I can plan one for you.
Where did you have your bridal shower (or where would you like to have your bridal shower)?
Did you play any fun games that involved embarrassing the bride?
Have you seen the movie Prancer? No? You should. Just be prepared for the sub-par acting.