When Birds Attack… Your Dryer
This is a cautionary tale… and a true story. 
It all started on a Wednesday this past March. I kept hearing a strange sound coming from our laundry room. Perplexed, I called Brad at work, told him about the noise, and said, "Could there be a bird in our dryer vent line that goes outside?" I'm pretty sure he brushed me off. By that evening the sound had stopped, so I figured if it was a bird, it went on its merry way.
Thursday evening I needed to do laundry. I put my first load into the dryer, set it for 60 minutes and went about my domestic business. After about 20 minutes I heard the dryer stop. I thought that was strange but then again maybe I had lost track of time. Brad was passing me on his way toward the laundry room so I asked him to check on the laundry. A few seconds later, I hear him say, "What's that burning smell?" We tried restarting the dryer. Nothing. As you can imagine, my first thought went to that stupid bird.
A few days later our appliance man came over to figure out what happened with the dryer. Our problem? A sparrow. Decapitated and stuck in the blower of the dryer. Yep, "Jack Sparrow", as I called him, decided to commit suicide in our dryer. Jack Sparrow managed to climb through our outside dryer vent cover (the crisscross pattern was big enough for the bird to collapse its rib cage to get in), and make its way down the vent line and into our dryer.
Our appliance man said that he does about a dozen of these bird removals a year. When he opened up the back of the dryer and declared that it was a bird, I handed him my camera and asked him to take a picture. He laughed and said that I was the first customer to ask for a photo. You betcha, appliance guy, I needed photographic evidence. Want to see the photos? You know you do. Ok, click here. Keep in mind that these images are of a mangled bird, but it's no worse than looking at roadkill.
$125 later, Jack Sparrow had a proper burial… in our garbage can.
Our appliance man sold us a $5 pest barricade to put over our current vent cover. So, the lesson from this story is to buy a pest barricade and save yourself from a $125 sparrow removal fee. Remember, it's getting cold outside and dryer vents are warm and toasty. Warm and toasty death traps.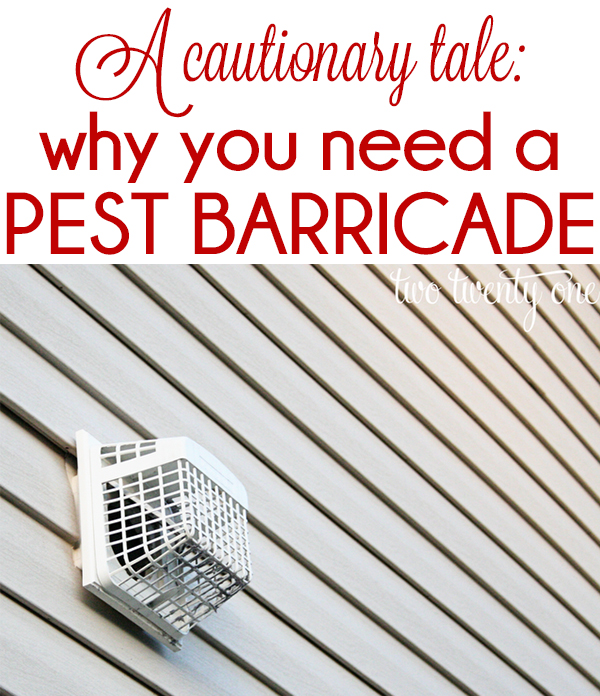 And get this. A couple weeks after the dryer incident, I hit a bird with my car. Well, actually, it flew into the grill of my car while I was driving. I drove around with it stuck in the grill for the entire day until Brad got home from work to remove it. Was it bird revenge for Jack Sparrow? Perhaps. But I win, you lose, bird.
Have you ever had to deal with an avian suicide?
Be honest, who was curious and looked at the photos?