10 Tips For Capturing Great Holiday Photos
Owen's college fund and I would like to thank Hallmark Baby for sponsoring today's post! As always, all opinions are 100% my own.
Today I thought I would share 10 tips for capturing great holiday photos of your little one(s). Why stress about a photo shoot with a photographer and risk scheduling it and your baby having a meltdown when you can take them on your own time and in the comfort of your own home?
The photo below is the winning photo of Owen. Although he's not smiling, I love how he's looking up with his mouth open. And I love how his chubby fingers and little toes are positioned. His neck roll is an added bonus.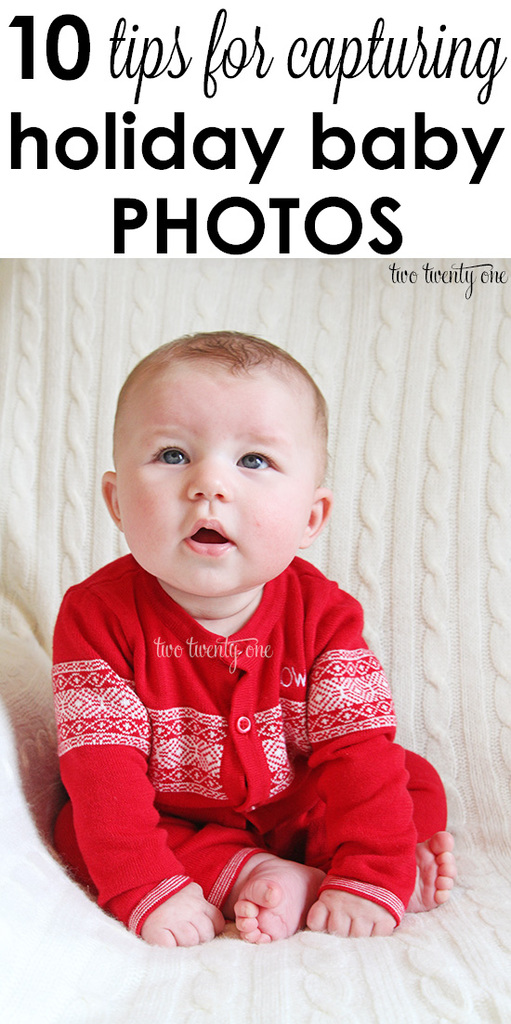 1. Find the light.
Lighting can make or break a photo. So choose a room in your house that gets ample light. And check your weather forecast. Since we're heading into winter, choose a day that will be bright, not a rainy day when you won't get as much natural light filling the room.
2. Take photos when your baby is their happiest.
This is kind of a no-brainer, but I thought I would drive the point home. Owen is in the best mood after his morning nap. He's so refreshed! This is typically around 10-11 AM, and it just so happens to be when the lighting is best in his nursery– where I took the winning photo of him. So, if your baby is happiest in the afternoon and your living room gets the best afternoon lighting, try to take your photos there.
3. Keep it simple.
My favorite backdrop was the simplest and quickest. (Not to mention the last backdrop I came up with.)  It was a cable knit blanket thrown over Owen's nursery glider. Since the glider is gray, I put a white sheet underneath just in case some gray tried to peek through. This set up was also the most natural looking. I tried various other "sets" and all of them looked too forced or just wrong. For your viewing pleasure, I've posted some of them below.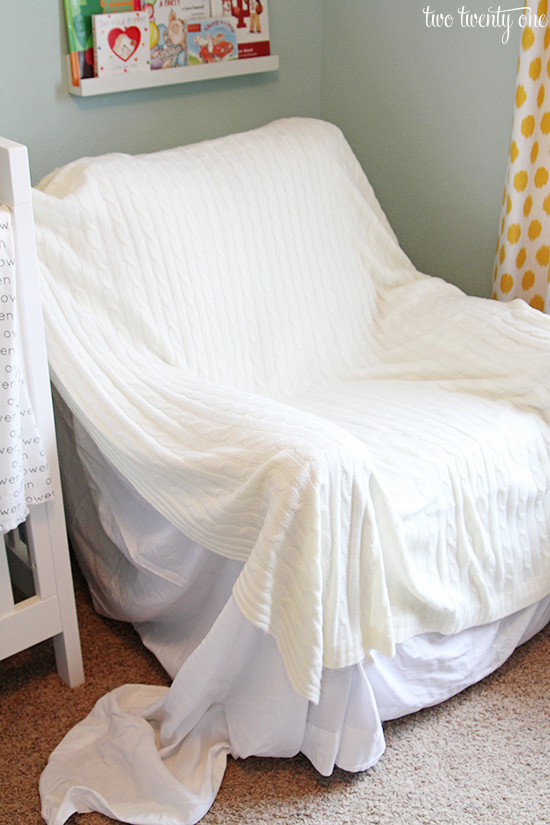 I tried to get a photo of Owen sleeping on my childhood sled. Yeah. It didn't work out how I envisioned.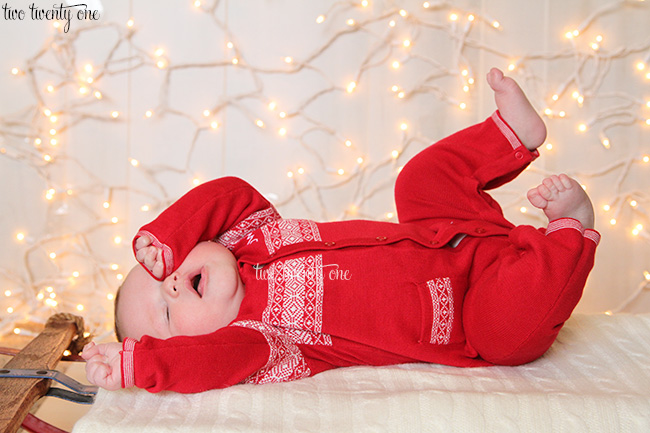 4. Do a test run if you have time.
For fear that Owen would spit up all over his freshly laundered Christmas photo shoot clothes, I did some test runs of him in a like-colored onesie. This is also how I determined how terrible my "sets" looked.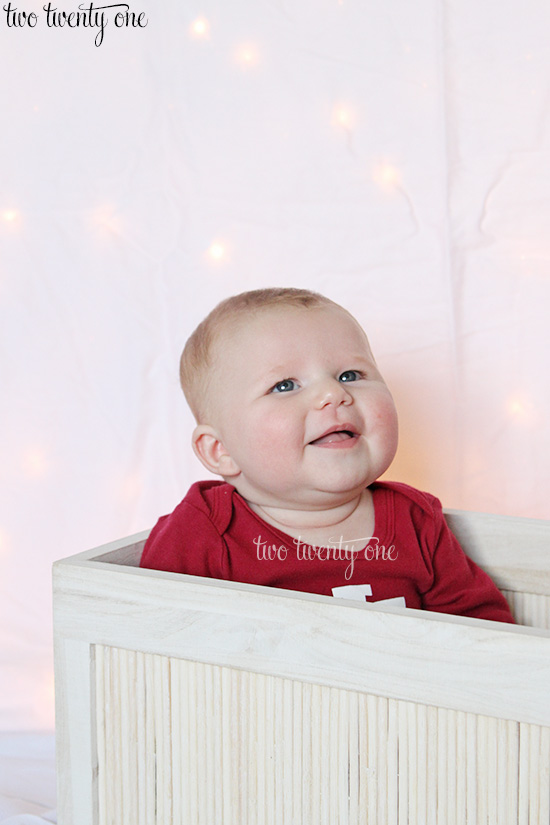 5. Get your camera settings ready in advance.
This goes along with the test run. You don't want to be messing with your camera settings when your baby is front and center and the clock is ticking. And make sure you put your camera on high-speed continuous shooting. This will make it easier to capture a fidgeting baby or a slight smile.
6. Use toys or silly noises to elicit smiles.
Owen loves his Whoozit, so I enlisted Mr. Whoozit's services to garner his attention. It's actually what he's looking at in awe in the winning photo.
7. If you can, have a helper.
I took these photos of Owen over the weekend so Brad could serve as my assistant. His job duties included, but weren't limited to: baby handler, spit up anticipator, slobber wiper, baby tipping over monitor, toy shaker, silly noise maker. A helper isn't totally necessary if you don't have one available. I take all of Owen's weekly photos by myself and we get by just fine. Having a helper is an added luxury.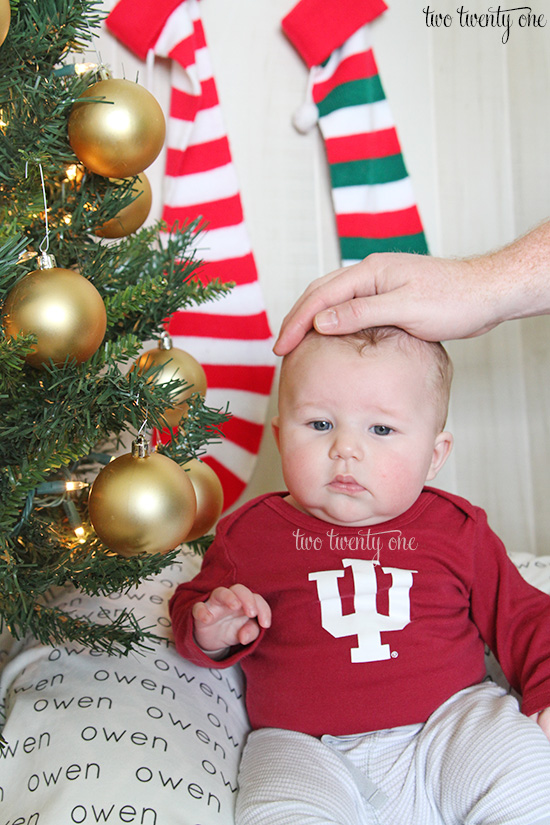 8. Choose your outfit wisely.
I didn't want to go with anything too complicated because I wanted the focus to be on Owen. I went with this adorable Alpine Fair Isle romper from Hallmark Baby. It even has his name on it. I thought that would be a nice touch, especially since it's his first Christmas.
9. Have fun.
This shouldn't be a tortuous task so relax and don't stress because babies can feel when you're stressed out. If your baby is having a diva moment and isn't in the mood, abort and try again in an hour or so or the next day.
10. You can take the photos with your iPhone!
Yep. I snapped 8 photos of Owen with my iPhone, and the one below was the winner. I could've gotten some better ones of him but he was reaching the "Stop taking photos of me, woman!" point. I did some light editing on my iPhone using the app PicTapGo (one of my favorite editing apps). Although seeing it on my computer, I would probably go back and make a few more adjustments. I hate how things look different on different devices.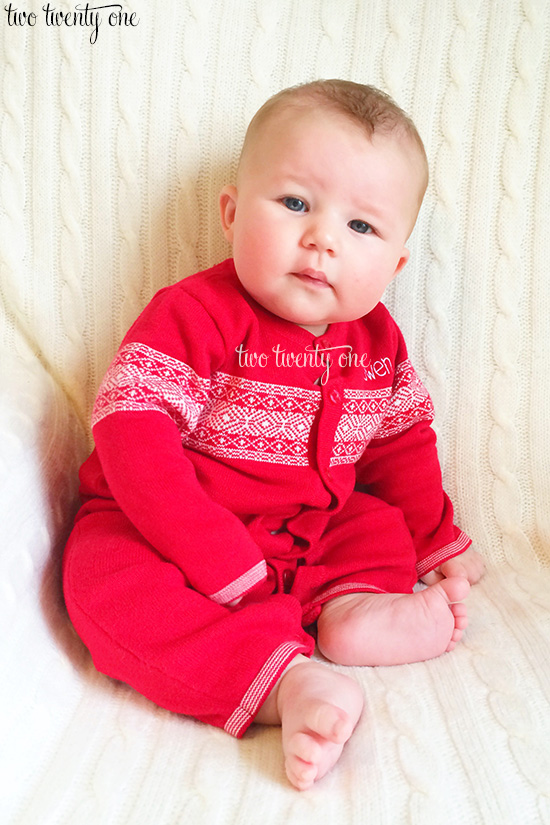 Happy photo taking!
As a gift, Hallmark Baby is offering free ground shipping on any order placed 12/2 through 12/24. Just use CHELSEASHIP when you checkout. PS they offer $10 off your first order when you sign up for their emails!
On Wednesday (12/3) I'm co-hosting a Twitter party with Hallmark Baby, and I hope you'll join in on the fun! We'll be giving out fun prizes! The party will start at 8:30 PM EDT. Make sure to follow me (@two_twenty_one) and Hallmark Baby (@HallmarkBaby). Use the hashtag #PicPerfHoliday. See you there!
Owen's college fund and I would like to thank Hallmark Baby for sponsoring today's post! As always, all opinions are 100% my own.