Wedding Reception Flip Flop Basket
I decided to have a flip flop basket at our wedding reception after a friend of mine had one at her reception. Those flip flops saved my poor, aching feet when I wanted to get my dance on (I don't mess around at wedding receptions). I had worn my super-cute-but-uncomfortable-after-wearing-for-more-than-3-hours lace heels.
Are complimentary flip flops necessary at wedding receptions? Nope. I don't even think receptions are absolutely necessary. To me, receptions are all about having fun, eating good food, and dancing. So to encourage my guests to keep dancing, I wanted to treat their feet.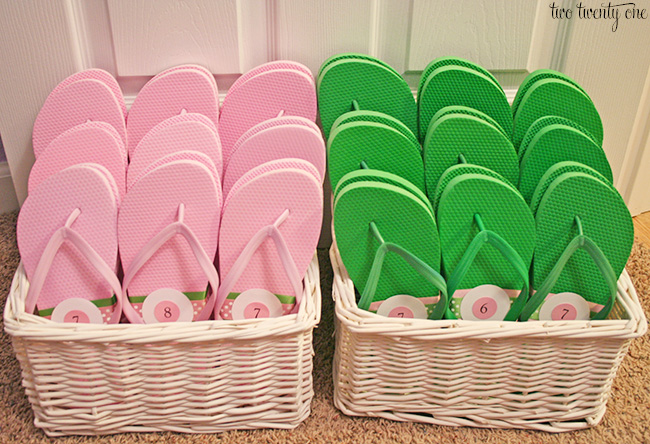 I purchased 18 pairs of flip flops (9 pink and 9 green) from Old Navy. I splurged a little on Old Navy flip flops because the flip flops I wore at my friend's wedding were the $1 craft flip flops, and after dancing in them for a few hours they started to break and I had to put my heels back on. But I did save a little money on the ON flip flops because I purchased them during one of their flip flop sales. Remember that.
Here is the breakdown of the sizes I purchased (we had 125 wedding guests and all of the flip flops were gone by the end of the night):
Size 11: 1
Size 10: 2
Size 9: 3
Size 8: 7
Size 7: 4
Size 6: 1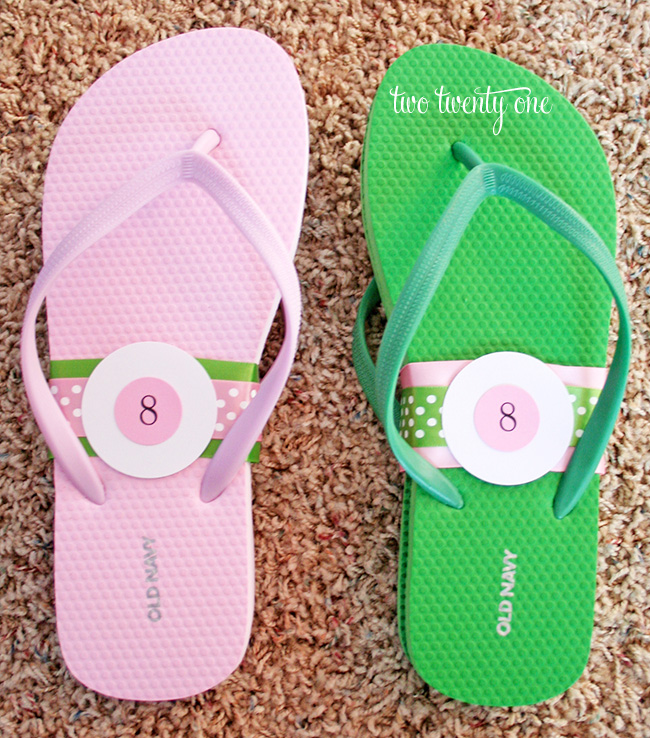 DIRECTIONS:
Place each pair back to back. To secure them while you put the ribbon on, use 2 rubber bands (1 on the top, 1 on the bottom). Wrap the thicker ribbon around the flip flops and secure it in the front with double sided tape. Wrap the thinner polka dotted ribbon around and secured it in the front with double sided tape. Place the size circles on top to cover up where the ends met. Use a 2-inch circular punch for the larger circle. Print the sizes on scrapbook paper and punch them out with a 1-inch circular punch. Use double sided tape to secure the 1-inch circle to the 2-inch circle and the 2-inch circle to the ribbon.
We had the flip flop baskets displayed on a table just outside our reception room. I even made a sign to go with them so guests knew they could take a pair.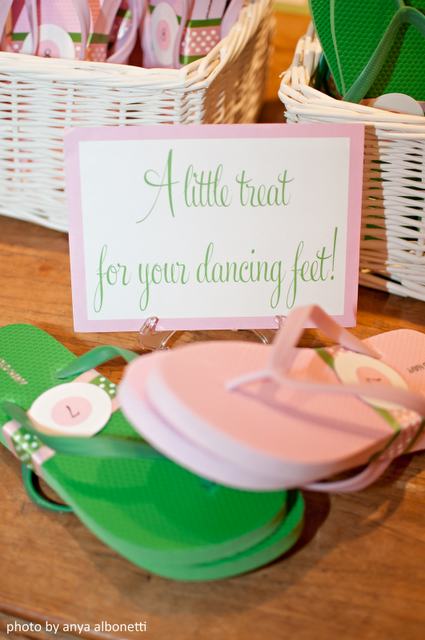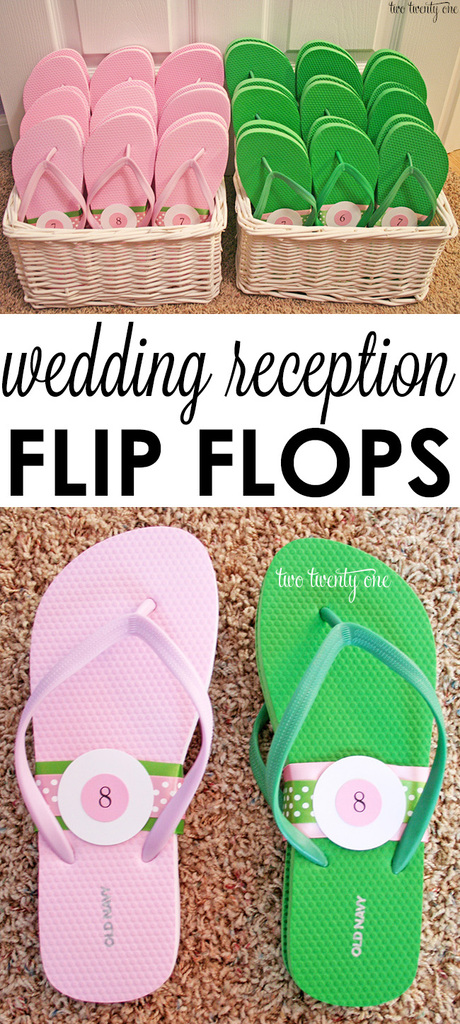 Did you have flip flops at your wedding reception or have you been to a reception with complimentary flip flops?
In case you're curious, you can read about our wedding and see the photos here:
Before the Ceremony
Ceremony
Reception
The Details
Stalk away!