Master Bedroom Paint Samples
It's no lie that I have a tough time with decisions when it comes to certain things. For example, I'm not good with dinner choices when we eat out. Brad has to give me three options. And even then, most of the time I say, "I don't care. You pick."
So, as you can imagine, choosing a paint color is crippling to me. I think this stems from previous experiences of choosing the wrong paint colors for rooms. It super annoying when you spend all that time painting a room, only to not like the color when you're done. But I've liked my last three paint choices (kitchen, guest bedroom, nursery). Probably because I thought them over for weeks.
I started researching colors for our master bedroom weeks ago. And I recently got three colors to try out.
But before I get to the colors, you may want to take advantage of my handy tip.
Let's say you have three paint samples you're considering. Go to the store (big box or dollar store) and grab three large poster boards. Paint each poster board with each paint sample. Let them dry.
Now, you can either tape the giant, painted poster board on your wall (with painter's tape– this is my go-to tape) OR you could cut it into two to four smaller pieces and tape them in different places in the room to see how the colors look. I used a paint brush, but I recommend using a foam brush because it's faster to clean between paint colors, or you can just use three different foam brushes.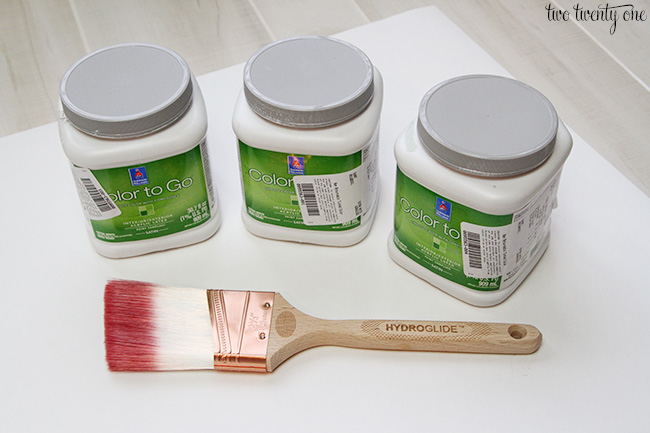 This tip is also helpful because if you have guests over in the weeks that it takes you to decide, you can take the samples down; unlike if you were to paint the samples directly on to the walls. Or maybe you could care less what your friends and family think about your paint sample-littered walls. Then more power to ya.
I actually painted swatches of the samples on our bedroom walls because the walls are textured and the tiny shadows cast by the orange peel can cause colors to look slightly different. BUT I put the colors in a hidden place in our bedroom, where they wouldn't be noticeable to someone unless that person was to walk into our bedroom and close the door. And I don't know about you, but not many of our guests go into our bedroom, let alone go in there and shut the door.
Ignore the fact that our door hardware doesn't match. We're going to work on that this spring.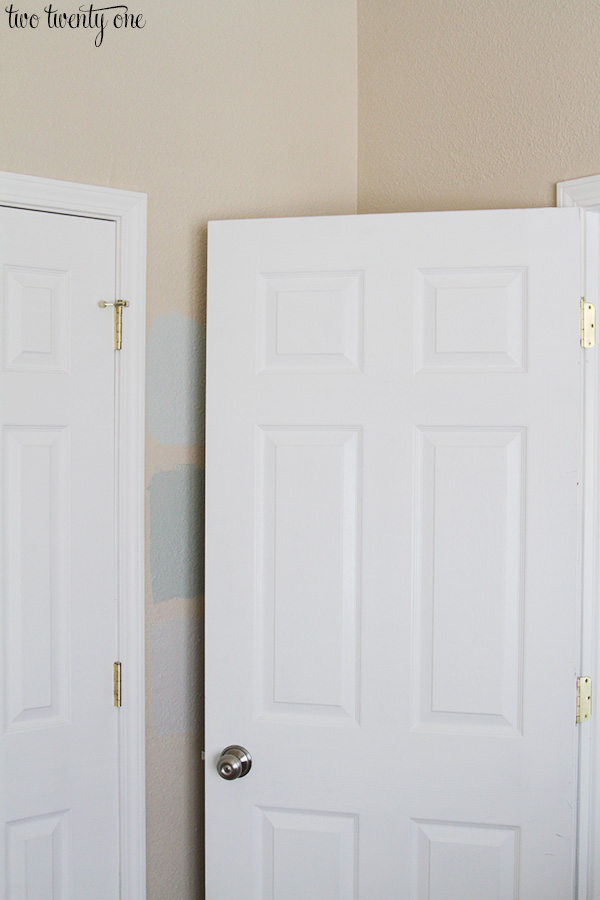 Here's a better look at the samples.
I went with Sea Salt SW 6204, Comfort Gray SW 6205, and Agreeable Gray SW 7029.

I've been wanting to try out Agreeable Gray since seeing my friend, Annie's comprehensive blog post on Agreeable Gray.
If you ever wanted more proof that paint sample chips can look completely different than when the paint goes on the wall, here it is. Granted, I'm painting over a beige wall.
Sea Salt and Comfort Gray are actually on the same paint card, Sea Salt being the lightest color on the card.
Here's one of my Sea Salt poster board swatches by our headboard and nightstand.
See why I love the poster board swatches? You can see the color anywhere in your room– next to trim, furniture, drapes, ceiling, etc.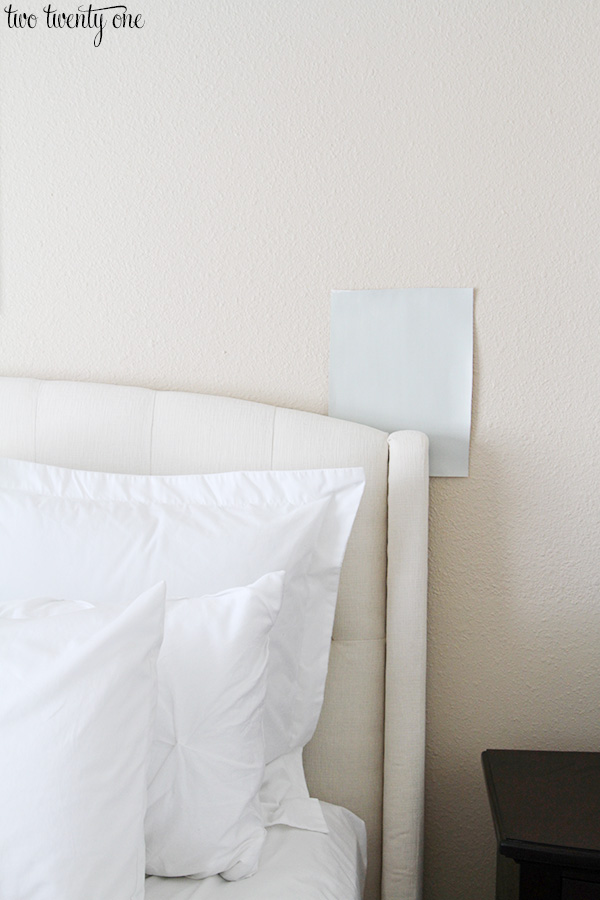 I'm leaning heavily toward Sea Salt. I'm trying to get a friend who's really good at Photoshop to 'paint' part of the bedroom with each of the colors for me.
Is that something you'd like to see? Let me know.