Our Master Bedroom Through The Years
After 6.5 years it's finally happening– I'm making over our master bedroom.
Before we get to the current state of the bedroom, I thought I'd take you through the history of the room.
 2004
Here's what the master bedroom looked like in 2004, when it was listed by the original owners (the house was built in 2002). Our realtor pulled the MLS photos for me when we bought the house in 2009. There's a lot to take in.
The double wallpaper borders.
The two tone wall colors.
The hunter green, burgundy and tan color scheme.
The matching drapes and comforter.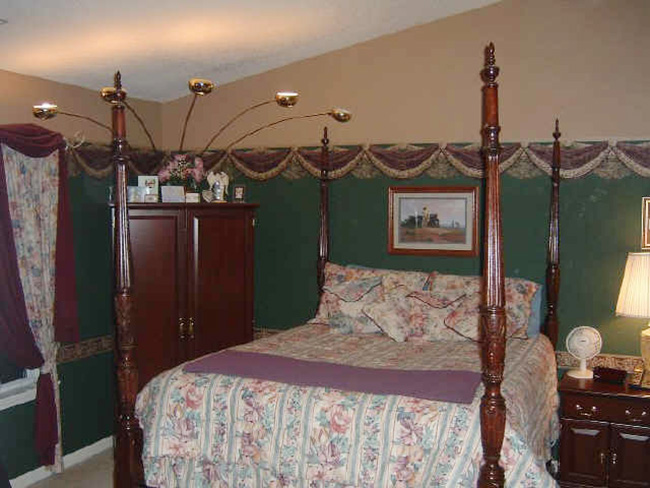 2009 – early 2014
When we bought the house in 2009, the entire house was painted the same color. And the house was completely empty so it was a true blank slate.
After moving in, I wanted to be a real grown up, so I used some of our first time homeowner tax money to buy an espresso-colored queen bedroom suite. It looks black in photos, but it's really a rich, brown color.
I even splurged on the lamps, which are still in style 6.5 years later (go me!). You'll also notice the quintessential wooden 'Dream' sign above the bed.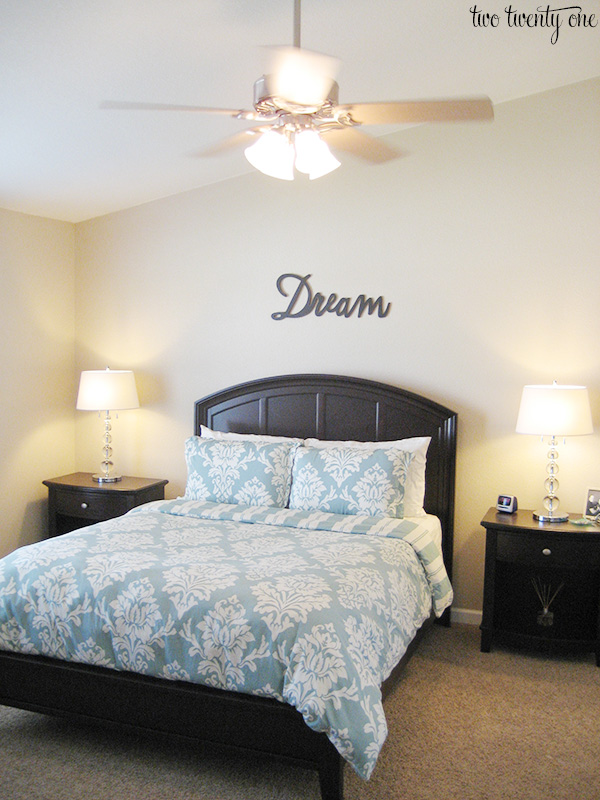 I loved the bedroom set for a few years, but I realized that I didn't really like the matchy-matchy look. Then I started to swoon over upholstered headboards and dreaming about having a roomy, king size bed.
Here's the other side of the room. We eventually moved the TV into my home office a couple years ago because we never really watched it.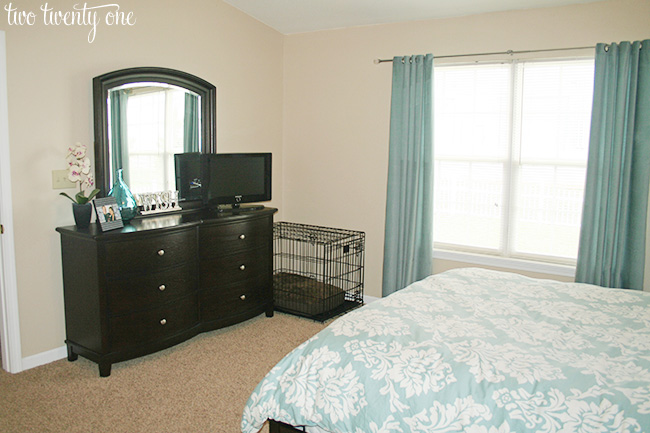 2014 – present
Before I even knew I was pregnant, I bought an upholstered king size headboard on Cyber Monday in 2013 because it was such a great price. That poor headboard sat in our garage for hmmm 5 months before we got our king size mattress, a Saatva Luxury Firm, which we LOVE. Seriously, it's like sleeping on a supportive cloud. The mattress and box springs came just in time for me to hit my third trimester because things were getting tight with Brad, me, and my gargantuan pregnancy pillow squeezed into a queen size bed.
Since we had nowhere to store the queen size headboard, rails, and footboard, and I didn't want to part with the entire set quite yet, my parents took the bed to their house where it's being stored in their basement.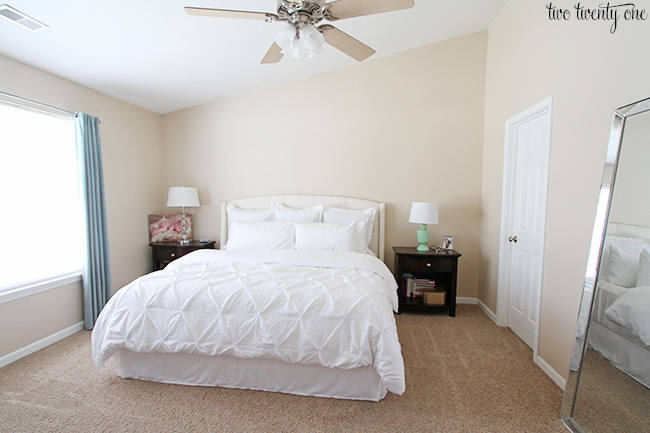 The room is pretty boring. But I don't think it's 100% awful.
One thing I love about the room is that it gets a decent amount of light throughout the day. And I like the vaulted ceiling.
I recently bought the white pinched pleat duvet cover with matching shams. It was on sale, and I was tired of the Barbara Barry Poetical duvet cover I impulsively bought after buying the upholstered headboard. The Barbara Barry duvet cover was too much beige for the room.
I figured the white was safe and since I didn't pay much for it I wouldn't feel terrible if I didn't keep it very long.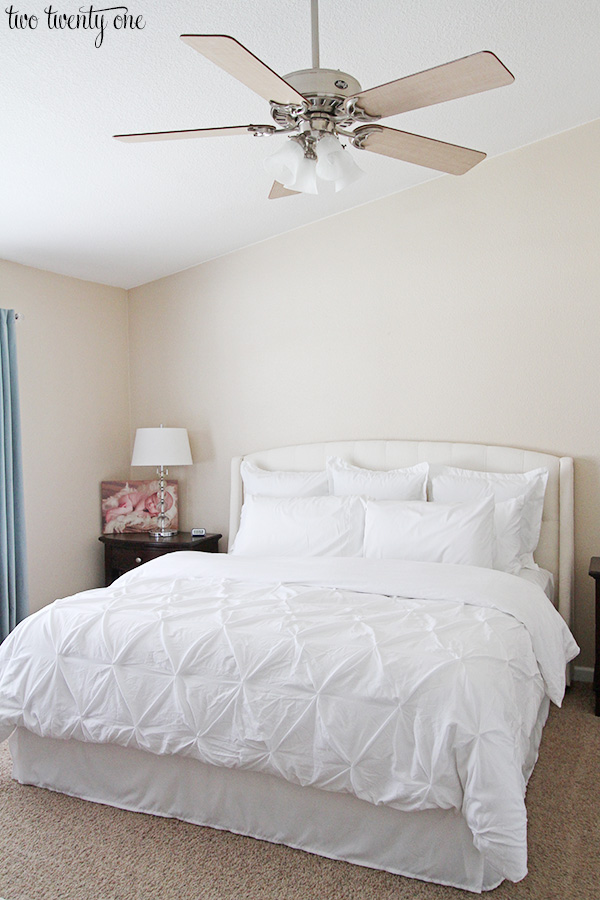 The lamps clearly don't match. The other stacked crystal ball lamp currently lives in our living room.
Every time I go to HomeGoods I look for new matching lamps, but I can never pull the trigger.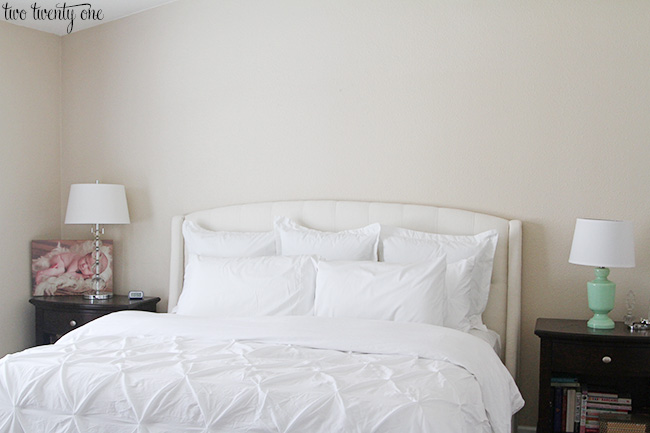 Here's how I decorated the bed for Christmas in case you missed that post last month.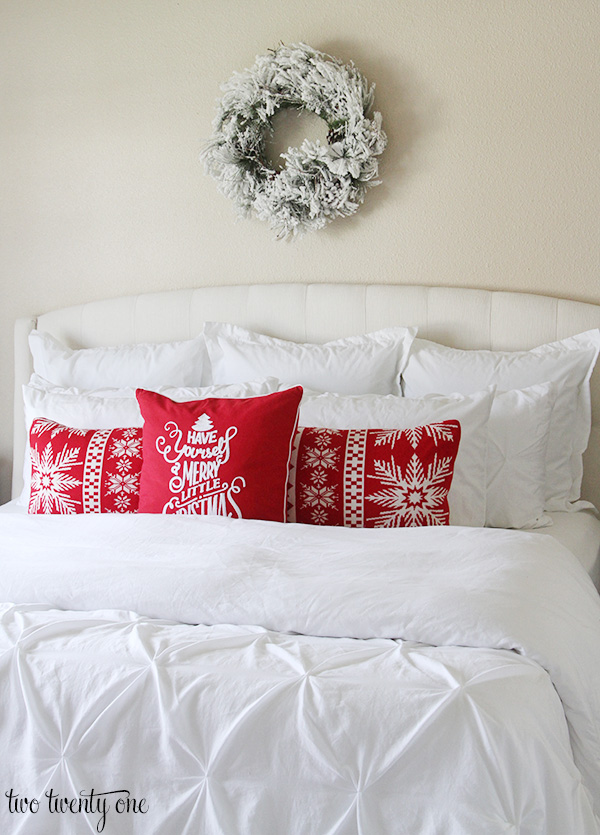 There's a number of reasons why I've neglected this room in terms of giving it a complete makeover.
1. The vaulted ceiling. In order to paint, I would've had to rent or buy a new ladder because our ladder is only a 6 footer. But my parents recently solved this conundrum for me by bringing their 10 foot ladder down for me to use.
2. I've been so indecisive about what I want the room to look like. Bright and colorful? Airy and serene? Monochromatic?
3. The bedroom suite paralyzed me for a couple years. I spent all that money on a bedroom set, and then I was all "Ehh, I don't really like it." And I felt bad about it so I just stuck with it. I'm dealing with it for now by using the nightstands and dresser with the upholstered headboard. But who knows, maybe I'll finally sell the whole set and get new nightstands and a dresser. Brad will love that.
In case you're wondering about the color on walls, I had it color matched to Sherwin-Williams China Doll.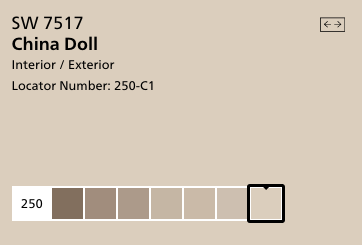 I'm starting to work on my mood board for the room.
So my question for you guys is, do you want me to share the process as I go, or do you want me to make over the whole room and do a big reveal? Let me know!
This post contains affiliate links.
Funds from affiliates help pay for web hosting, domain registration, email delivery, the occasional bottle of wine, and other fees to keep twotwentyone.net up and running. Thanks for your support! I appreciate it!