Formica Argento Romano – Laminate Kitchen Countertops
Do you remember back in July when I asked for your opinions on what laminate kitchen countertops we should go with? If not, here's the post where I showed three Photoshopped options and asked you to vote for your favorite. The majority of the vote went toward laminate Calcutta marble. I even got a big slab of it and tried it out in the kitchen (see the photos here). Ultimately, I decided to go with Formica Argento Romano laminate countertops.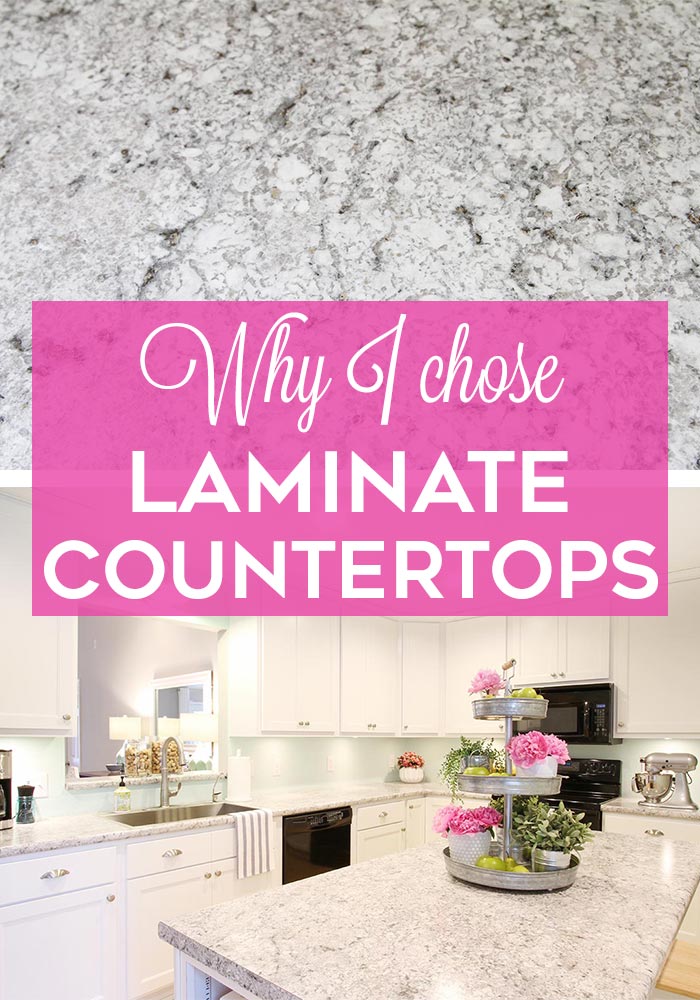 Well, we got new laminate kitchen countertops, and I didn't go with any of the options I was considering. Thanks for voting! Heh.
I'm kind of glad I spent 6 months hemming and hawing over what to go with. This gave me ample time to stare at the sample I ultimately chose.
In case you forgot, this is what the countertops looked like before. Plain vanilla countertops– they were here when we bought the house almost 6 years ago.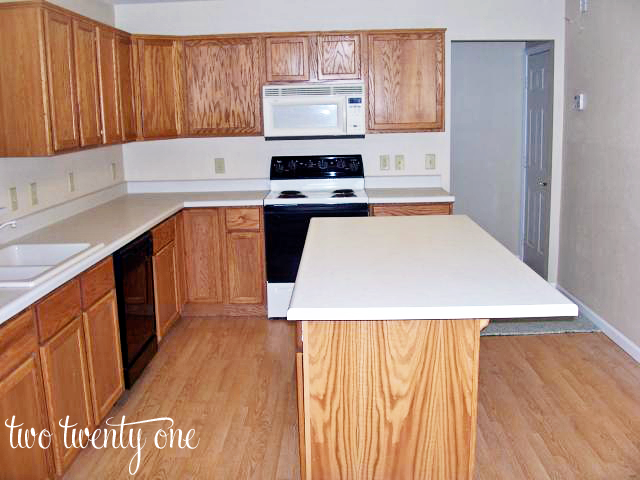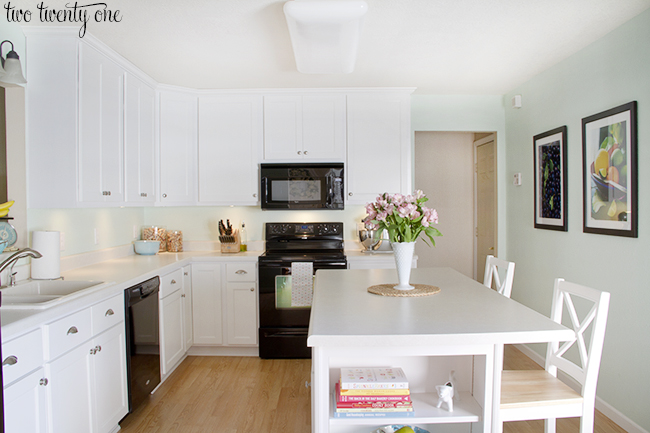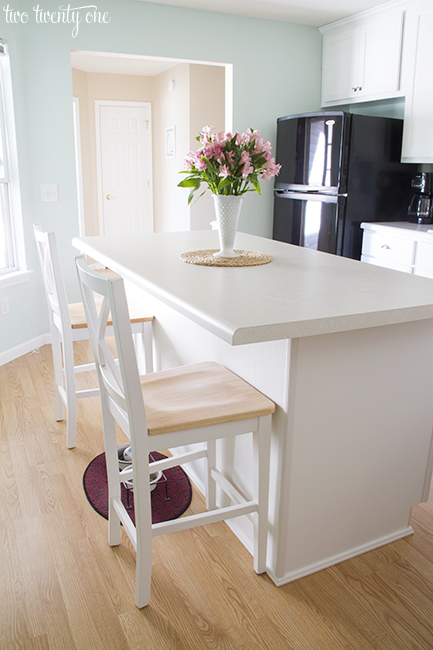 And here's how the kitchen looks now.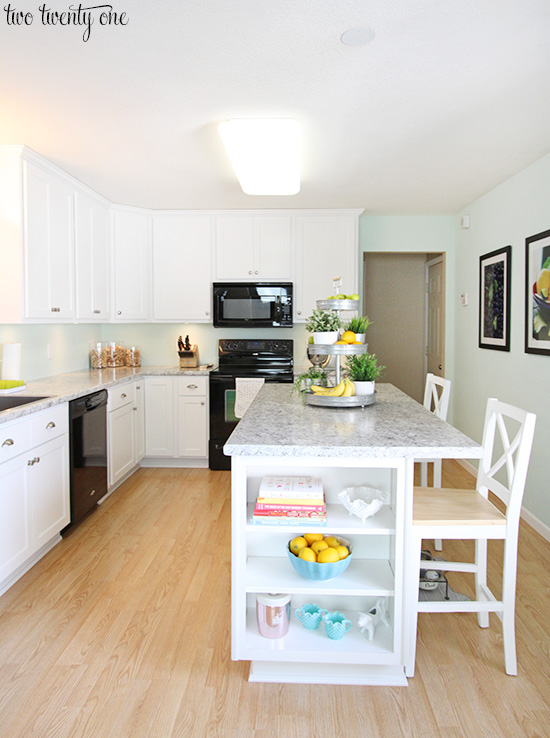 We went with Formica Argento Romano laminate with an etching finish.
Why laminate and not stone, like granite? Because we don't live in a granite house. We live in a starter home neighborhood. And while our neighborhood is nice, you wouldn't expect the houses in it to have stone countertops. If we shelled out the big bucks for stone countertops we wouldn't see a great return on investment when we eventually sell this house.
Laminate is very cost-effective. Our new laminate kitchen countertops set us back $1,400 (that includes the cost of the countertops, removal of the old, and installation of the new), but keep in mind that we have a lot of countertop space in our kitchen. About 55 square feet of countertop space to be exact. So if you do the math, that comes out to about $26 per square foot. Which is a heck of a lot more economical than $100-$225 per square foot for granite.
 Another reason why we went with laminate? Laminate has come a LONG way, my friends. You can't really tell it's laminate until you touch it. Plus, it's very durable and basically maintenance free, unlike stone countertops.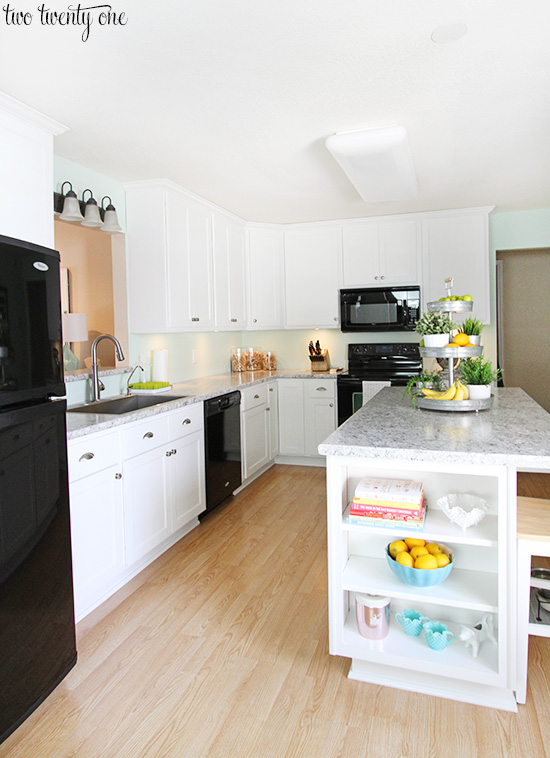 I also skipped the rolled backsplash because I think kitchen countertops look better without it. To me, it helps make laminate countertops look more real. We'll eventually put in a tiled backsplash.
Since we were going from countertops with a rolled backsplash to countertops without, I had to remove the caulking and paint the 4 inches of wall above the new countertops. That process was a lot easier than I thought it would be.
I peeled off the caulk and any large hanging pieces of paint. And then I painted over the tan color. It doesn't look 100% seamless but it'll work until we install a backsplash.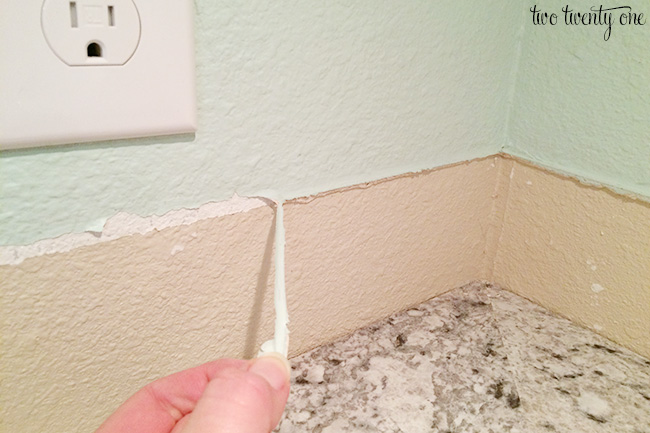 We're really happy with our choice. Well, it was mostly my choice. Brad was all, "just pick something already".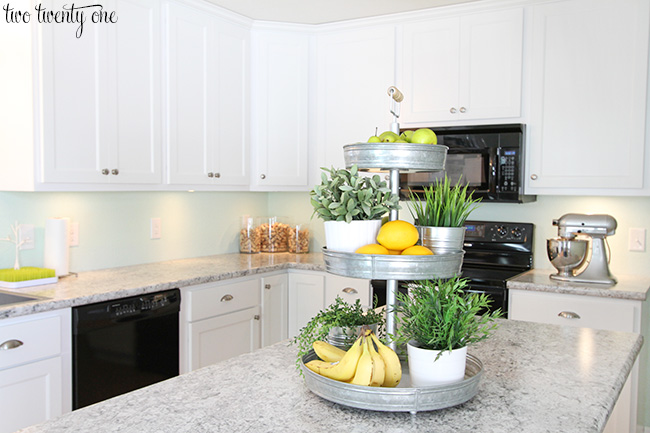 We ended up going with the Argento Romano because we thought it had a good balance of light and dark to tie our white cabinets and black appliances together.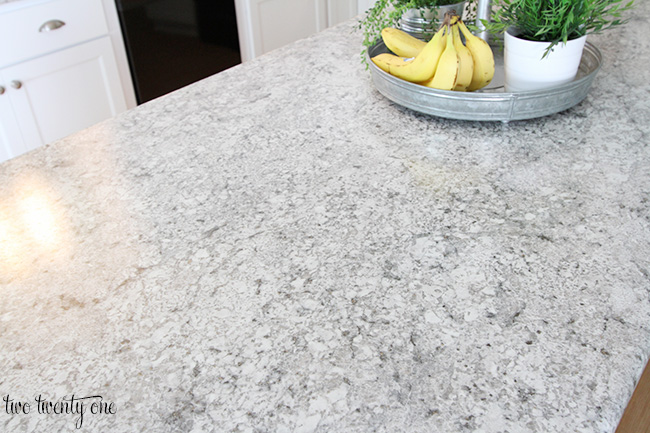 We also upgraded our kitchen sink and faucet. My dad was a champ and drove over from St. Louis to help us install the sink, faucet, new garbage disposal (our old one was a hunk of junk), and rework the plumbing (we were going from a double basin to single basin).
The photo I took of the old sink would probably skeeve you guys out because it was stained from the previous owners. Yes, I'm embarrassed to admit that we lived with a nasty looking sink for years.
So here's a photo where you can see the sink and faucet, back when the cabinets used to be honey oak. The sink was double basin, cream colored, and I have no idea what material it was made of.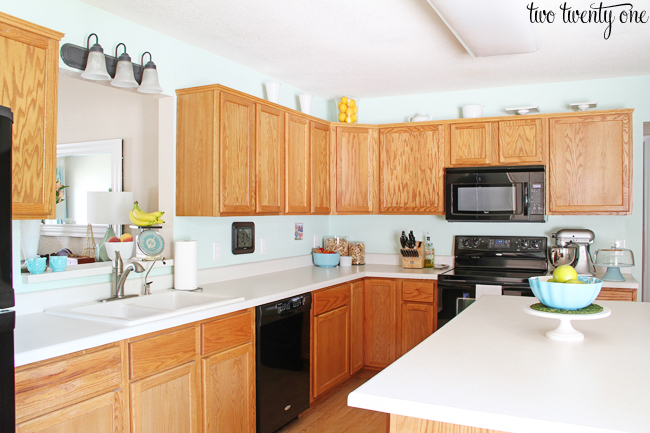 And here's our shiny, new beauty.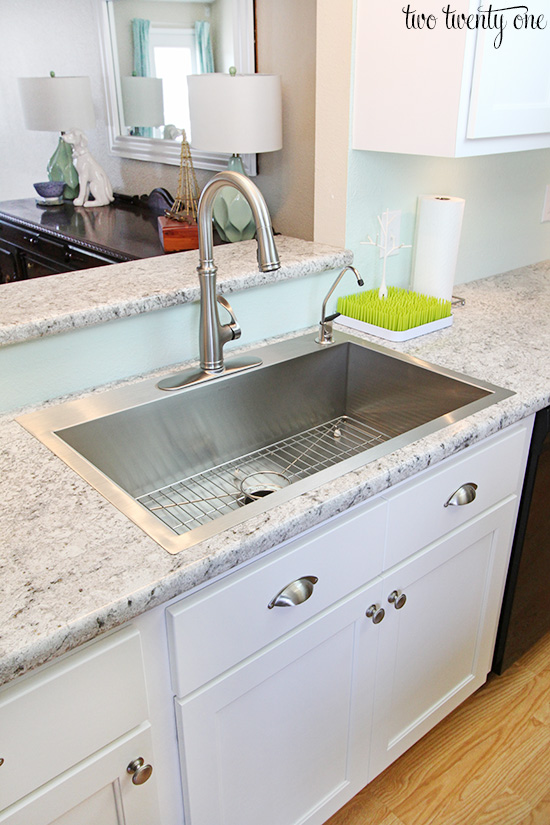 My friends at Kohler were kind enough to send us a 22″ by 33″ Vault, single basin, top-mounted, 9″ deep sink.
I went with a single basin because I wanted to make washing larger items easier, like my big mama jama baking sheets. I also wanted to be able to bathe Owen in the sink until he's splashing more water out of the sink than in it. Holy back saver, Batman. Plus, I think single basin sinks look better than double basin.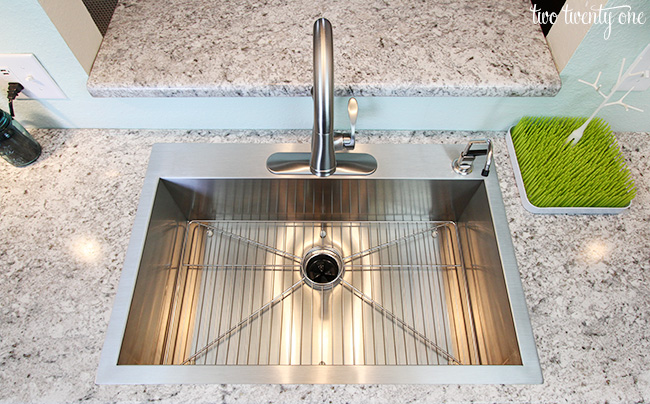 I LOVE this sink. Owen loves it too. He's had three baths in it already. The kid would sit and play in it for hours if we let him. It probably helps that the stainless steel keeps the water warm.
Here's a photo I snapped of him after everything was installed. Keep in mind that Owen is a big boy– almost 22 pounds and 27.5 inches. So that gives you an idea of the size of this sink.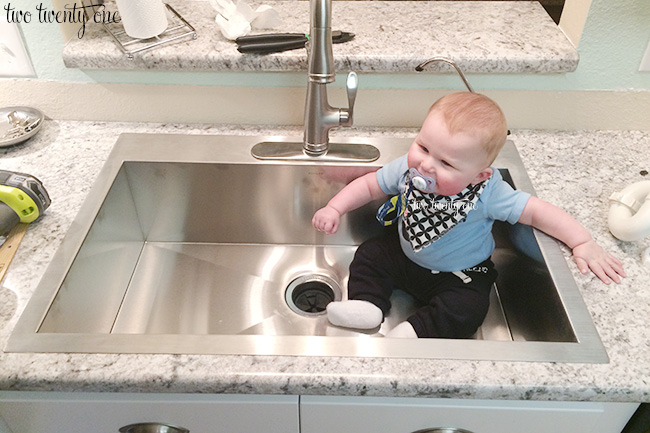 I know under-mounted sinks are all the rage right now but I'm not a big fan of them. Not gonna lie, they kind of gross me out. Whenever I've seen them in people's homes there always seems to be food particles or residue in the area where the countertop meets the sink. And let's be honest, I don't want another thing to clean in my kitchen.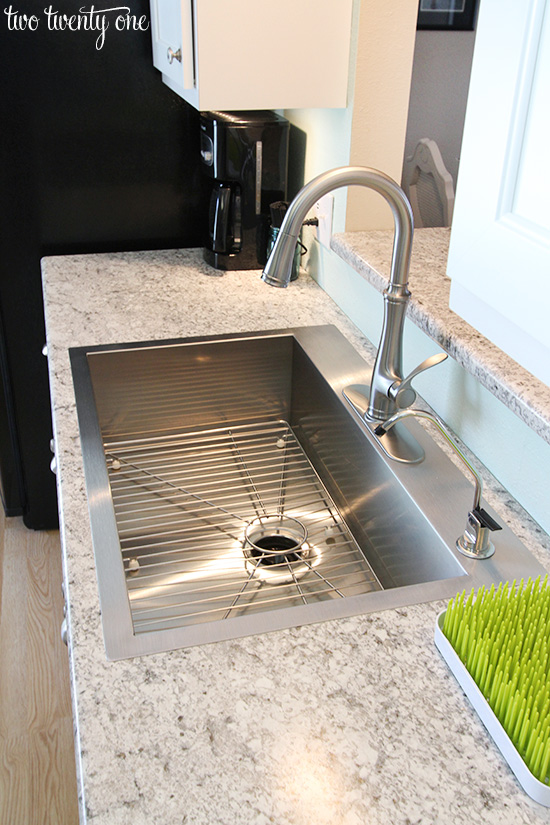 I love how the lip of this sink has such a low profile. You get an under-mounted kind of look without the gunk in the seam.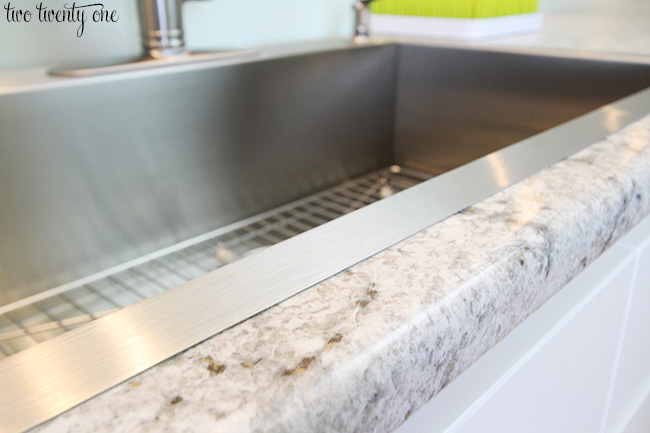 Kohler also sent me their Bellera faucet. It only took three of us (my dad, Brad, and me) to figure out how to work it. New fancy faucet technology.
I'm finding out how hard it is to keep stainless steel clean and spotless. I cleaned and polished the sink and faucet for these photos, and then I told Brad he wasn't allowed to use the sink until I was done taking photos.
The upkeep of the sink and faucet has made me feel better about not splurging for stainless steel appliances back when we were broke, 24 year old first time homeowners. I like how I can get away with cleaning our black appliances every couple weeks because they hide smudges well.
Back to the laminate kitchen countertops, I went with the E2000 edge. It has a slight curve to it on the top and bottom. And, unlike our previous countertops, the laminate wraps under on the bottom, making the countertops look more like real stone and less like laminate.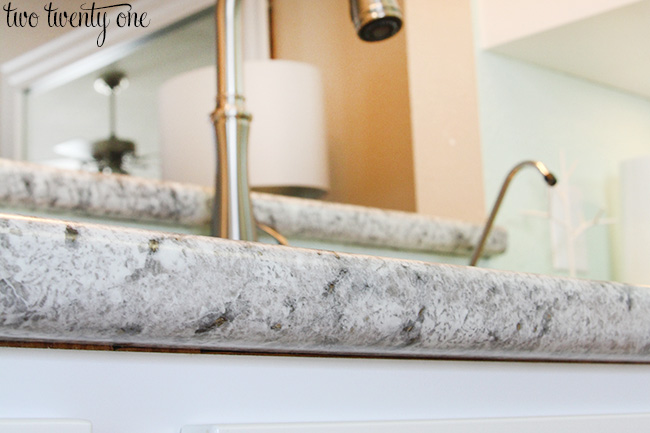 Taking photos of the kitchen gave me an excuse to style my tiered tray. Unfortunately, it's no longer available.
You can find similar trays here, here, here, and here.
What's funny is that the only real thing on it is the bananas.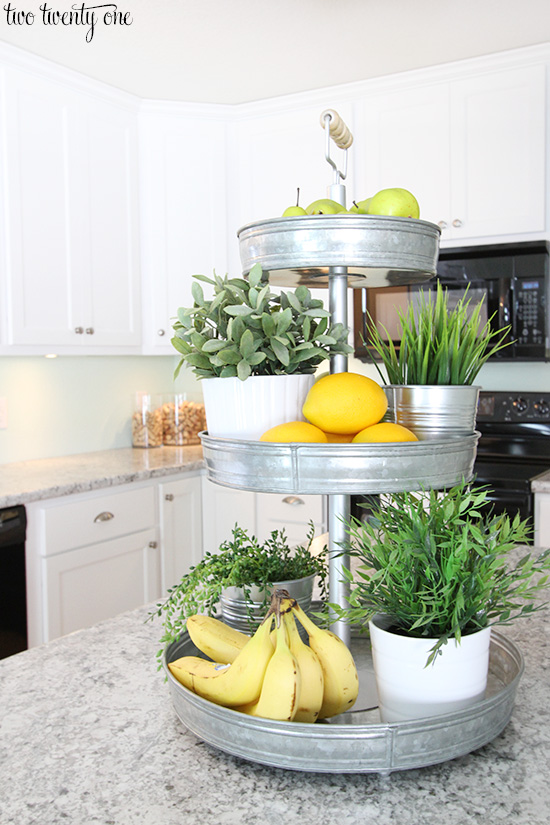 So what's next on the kitchen to-do list?
• lighting … I cannot wait to say peace out to that florescent light and the bathroom fixture over the sink– not my choices.
• backsplash
• flooring … The laminate (again, not my choice) is chipping and separating in some places.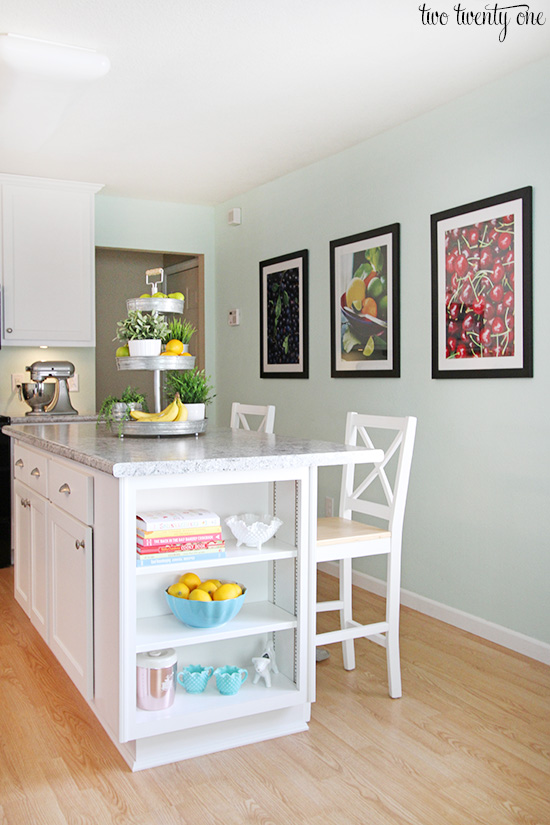 Here's a condensed source list:
paint color … Mint Condition by Sherwin-Williams
countertops … Formica Argento Romano with etching finish, E2000 edge
sink … Kohler Vault
faucet … Kohler Bellera
You can read more about the kitchen cabinet makeover here.
Want to read more about our kitchen? Check out these posts!