A little over a month ago, hhgregg, an electronics and home appliance company that is headquartered here in Indianapolis, and Samsung reached out to me and asked if I wanted to an in-home review of the new Samsung 23 cu. ft. Capacity Counter Depth 4-Door FLEX™ Refrigerator with FlexZone™ in black stainless steel and keep it. I repeat, and keep it. I obviously said yes because who in their right mind says, "A beautiful, new refrigerator? Hmm, while it's tempting– no thank you. Have a great day. Bye."
The fridge, who remains nameless though I'm leaning toward Foxy, arrived almost a month ago.
Doesn't she look like she was made to live in our kitchen?
Let me pause for a second and talk about the black stainless steel. Amazing is one word I would use to describe. It has such a cool, sleek look to it, and it's also better at hiding smudges than regular stainless steel. But I wouldn't know anything about that because our one year old never touches the fridge nor does he clamors to help us shut the doors every.single.time. we open a door while he's within eyeshot.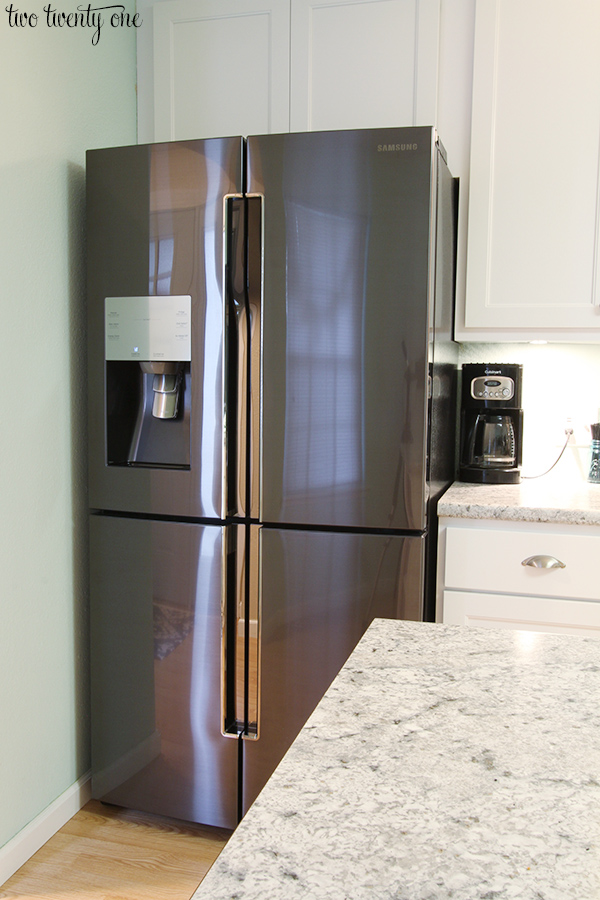 The Samsung 4-Door FLEX™ has a triple cooling system which features three evaporators and two compressors for ultimate freshness, resulting in food staying fresher longer. Yay for pushing the limits with those expiration dates.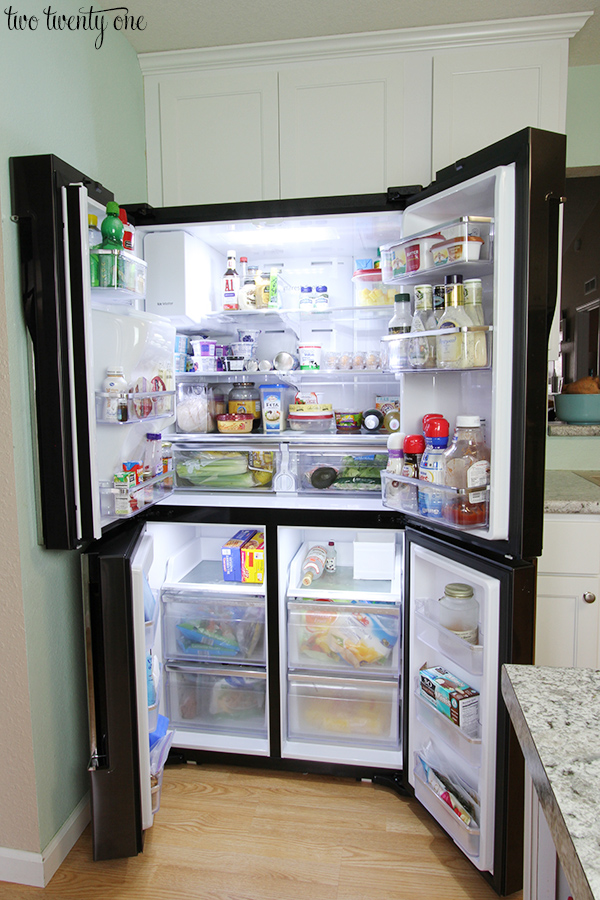 The top portion of the fridge is the refrigerator, which is different from our old standard fridge where the freezer was on the top. I'll say that it's a lot nice seeing everything at eye level now instead of having to crouch down.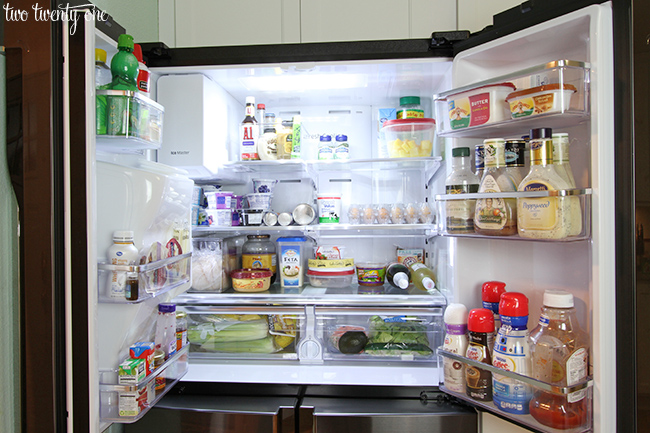 There's a lot space in the door compartment on the right side. Plenty of room to hold our collections of butters, salad dressings, coffee creamers, and mammoth-sized bottles of barbecue sauce and ketchup.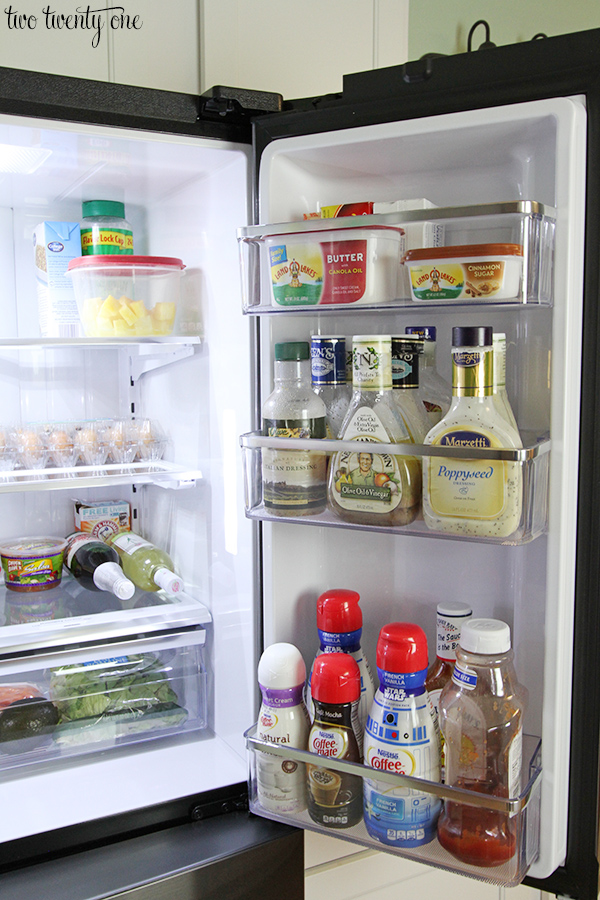 The space on the left door compartment isn't as ample as the right due to the ice and water dispenser, but I can live with it.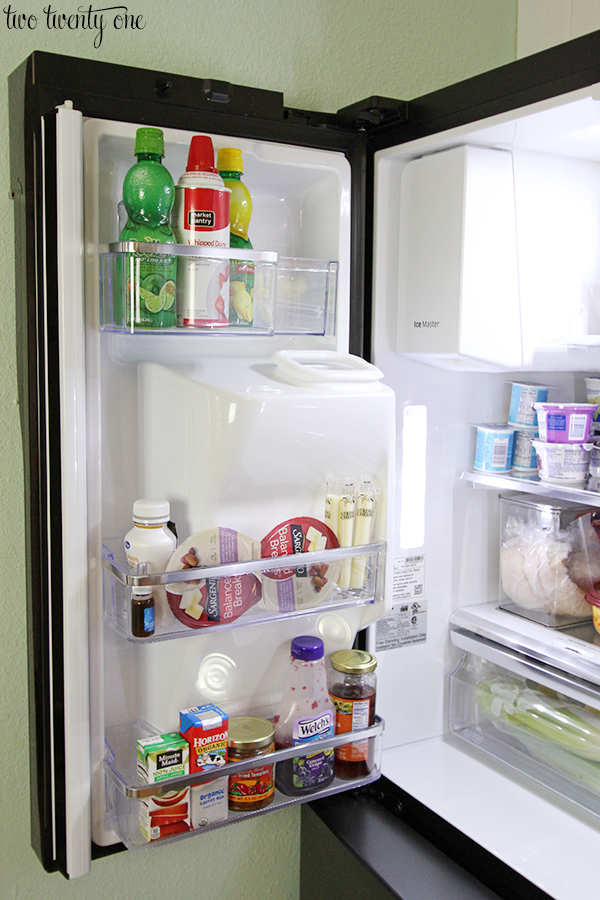 The ice maker is pretty streamline. Since there's not much space directly underneath it, we store yogurt there because it's the best fit.
The very top shelf with the condiments can flip up for storage of taller items.
There's also two humidity-controlled crisper drawers for fruits and vegetables. The drawers do a good job because we always have lettuce, and the lettuce is definitely lasting longer in this fridge compared to our old, standard fridge.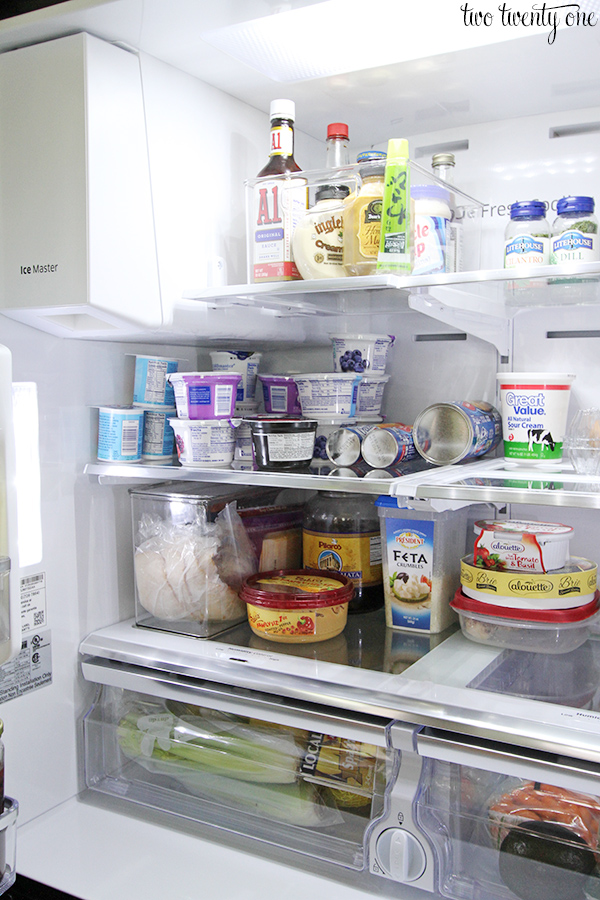 One feature I like, is the adjustable shelf on the right side of the fridge.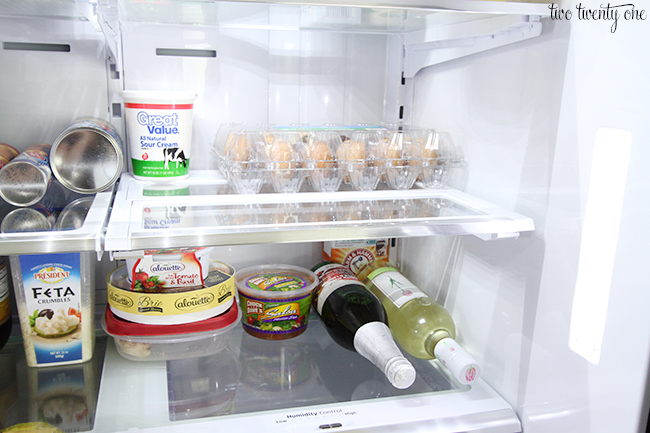 If we have taller objects that we need to accommodate, we can slide the front part of the shelf back. The shelf also flips up if we need even more vertical space.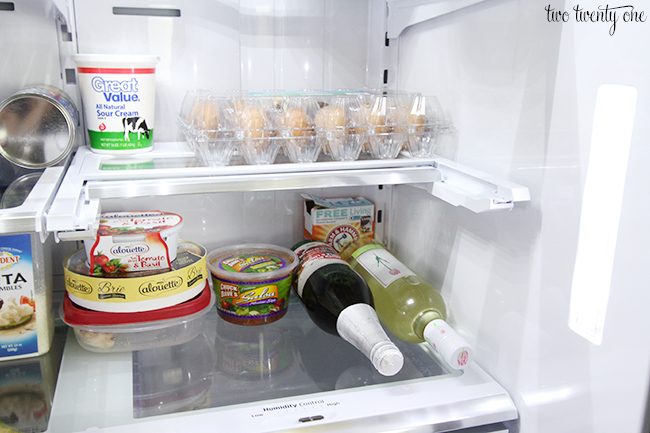 That concludes the upstairs portion of the tour.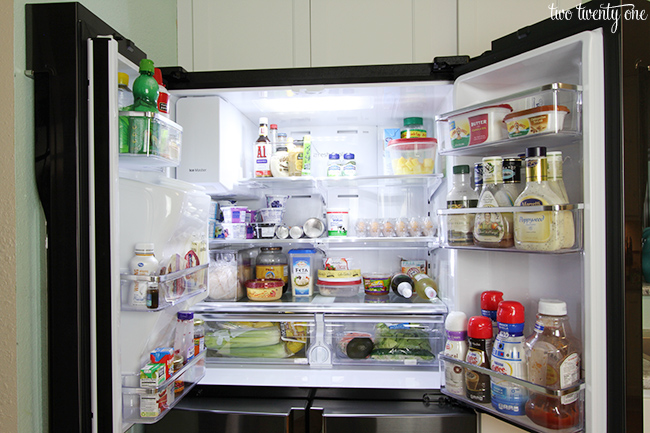 Moving downstairs, the two bottom compartments are separate. The left side is a freezer. The right side can be either a freezer OR a fridge, with four different cooling settings– fridge at 41°F, chilled at 30°F, soft freeze at 23°F, and frozen at -9° to 1°F.
We currently have the lower right compartment as a freezer, but we're leaning toward making it a fridge section, especially with Christmas coming up– things are going to get pretty tight in the main fridge area. We have a small deep freeze out in our garage, so we would just move some of the freezer food out there.
Both the right and left compartments are identical. Each features three storage areas in the doors, two drawers, and top shelf.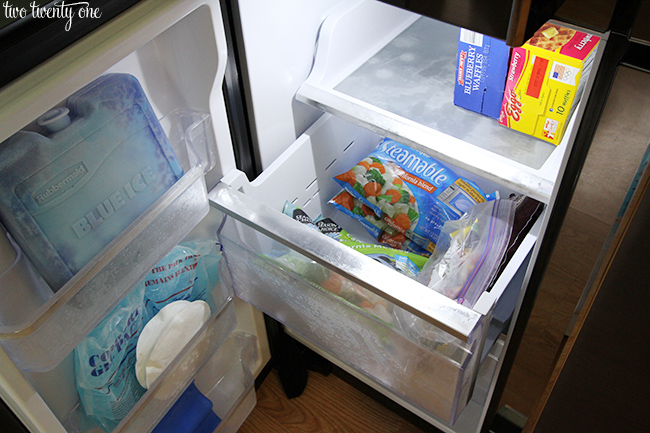 The shelf also slides out, making it easier to grab things, like Owen's waffles.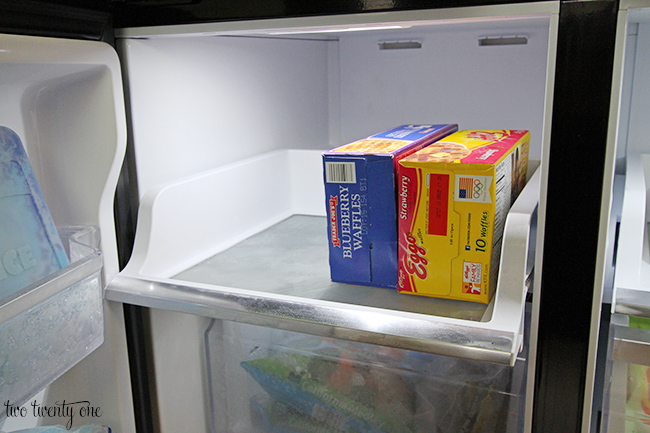 The drawers are really deep. So there's plenty of space for Brad to store his super gross banana-flavored popsicles.
Annnd I just realized the date on those pecans says 12-12, which means that I probably need to discard them because pecans are only good for 2 years in the freezer.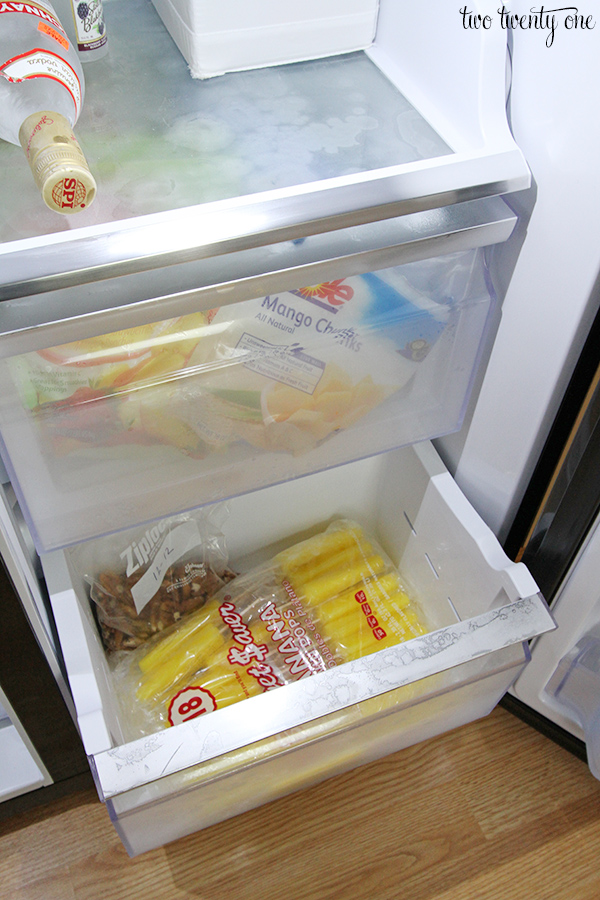 Moving to the outside of the fridge, there's a fancy touch screen and the water and ice dispenser. I like how the area lights up when you use the water and ice dispenser. This comes in extra handy at night so I can make sure the water is, in fact, making its way into my water bottle.
My only complaint is when the cubed ice comes out, little ice chips tend to scatter everywhere, even when I put my water bottle or cup all the way up in an attempt to catch everything. Buuuut, if Owen is near, he'll run over and attempt to pick up the tiny pieces of ice and hand them to me, which helps with his fine motor skills/pincer grasp.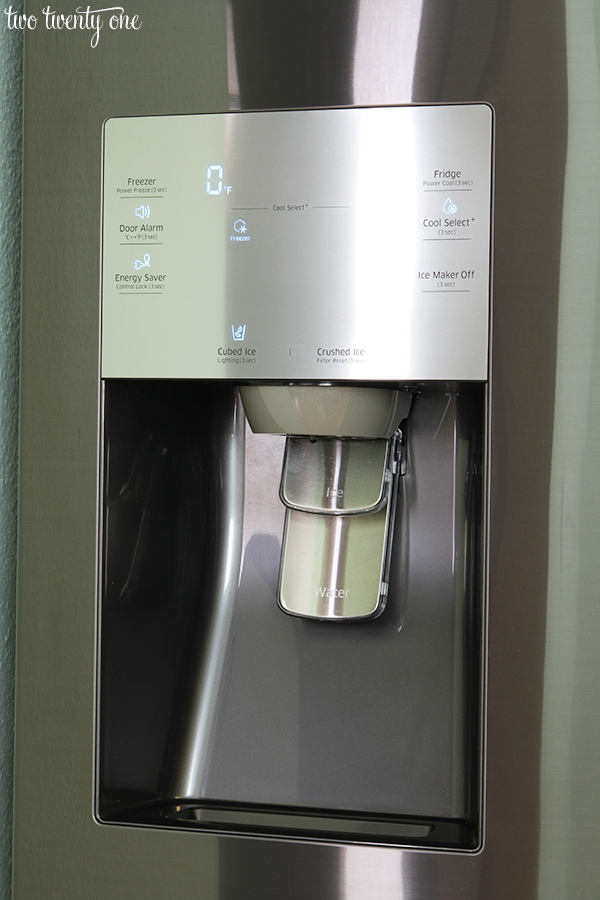 Well, there you have it– our new fancy fridge!
Note: We've since sold this home, so I don't know the size of the fridge opening. But as you can see in the photos, the opening is roughly 3-5 inches wider than the fridge, which is 35 3/4″ wide.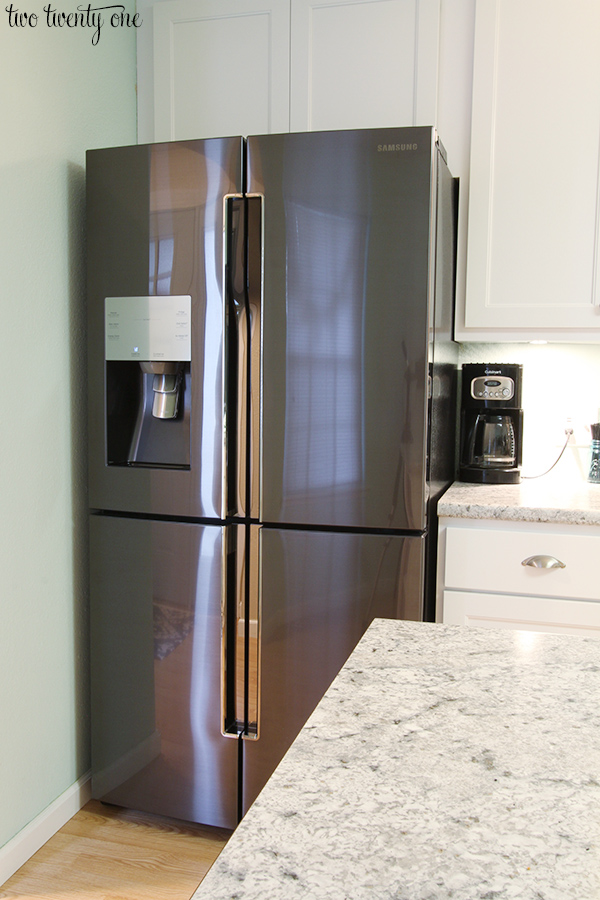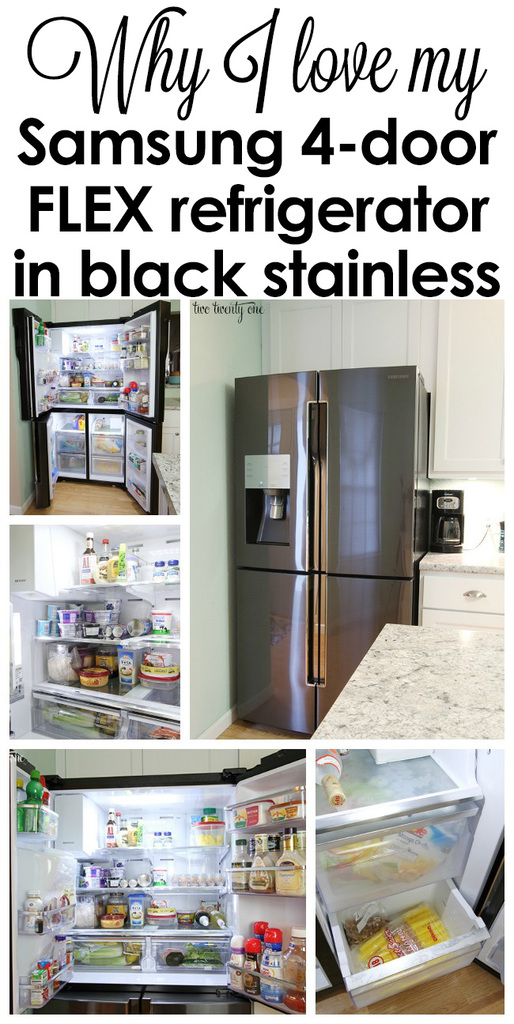 This post is sponsored by hhgregg and Samsung. As always, all opinions are 100% my own.