Poinsettia Wreath – DIY Christmas Tutorial
A step-by-step tutorial showing how to make a poinsettia wreath for $15 in 15 minutes!
Over a month ago, I ran to Lowe's to get something and I came across these really pretty poinsettia wreaths. But then I saw the price tag.
$39.98.
Don't get me wrong, I love Lowe's but I'm too cheap to spend $42.78 (that includes 7% sales tax in case you're wondering) on a wreath.
Before I walked away from the wreaths, I snapped the photo below and I made a note to look at silk, red poinsettias the next time I was at Michael's because I always tend to like their silk poinsettias the best.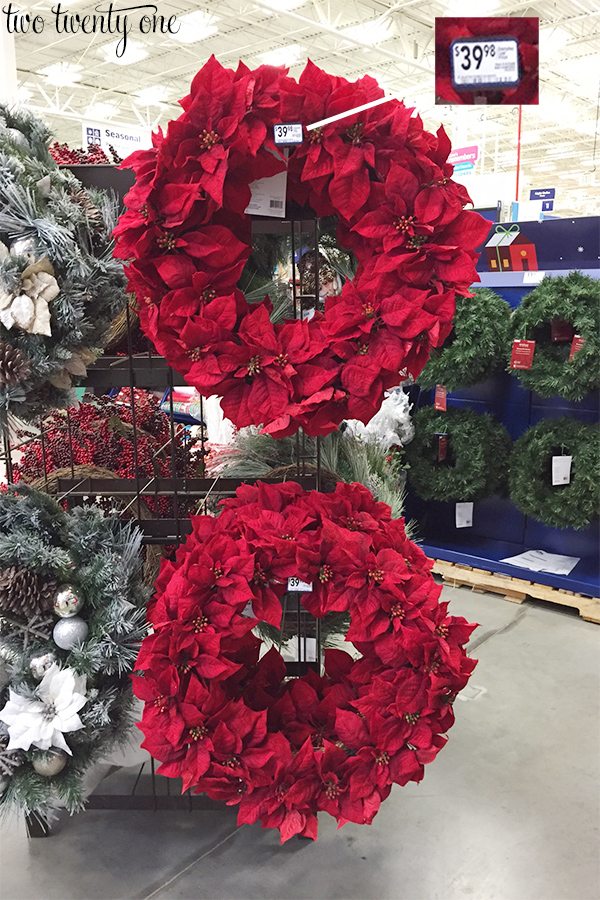 When I went to Michael's a few days later, I grabbed a bunch of poinsettia bundles for the wreath and to put in our window box on the front of our house since the wreath would be going on our front door because I'm a fan of coordination.
Christmas Poinsettia Wreath Supplies:
18″ grapevine wreath
2-3 bundles of silk poinsettias
hot glue gun and glue
wire cutters
FYI, most craft stores have their Christmas decor and florals for 50%-60% off during November and December. And they'll often have extra 20% off sales on certain weekends.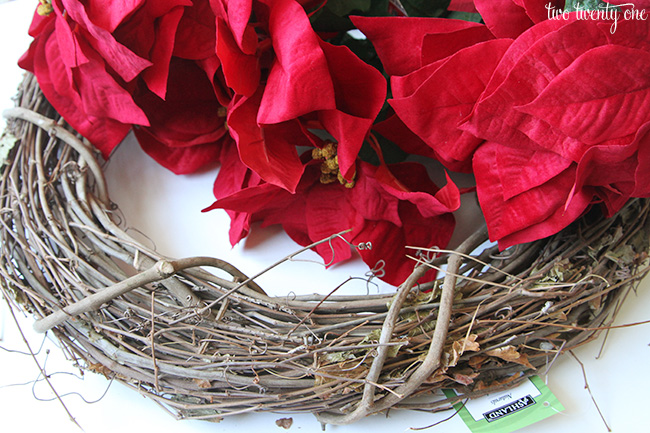 How to Make a Poinsettia Wreath
1. Snip the Poinsettias
First, take your poinsettias and snip the stems with your wire cutters so there's about an inch and a half to two inches of stem remaining.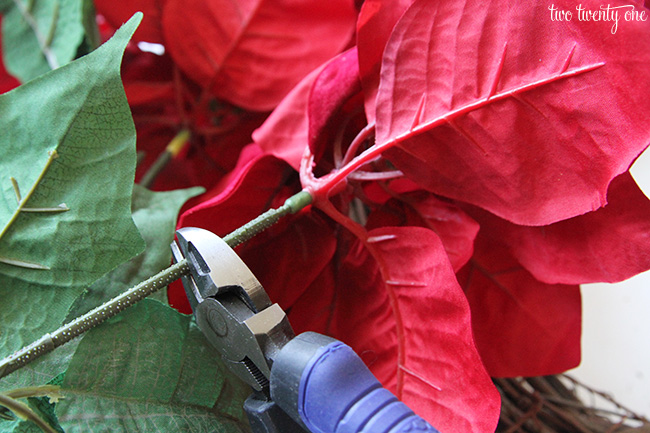 2. Insert Poinsettias Into Wreath Form
Insert the stem into the grapevine wreath. Continue placing all the poinsettias around the wreath, overlapping the petals a little.
I used 12 poinsettias total. But keep in mind that sizes may vary.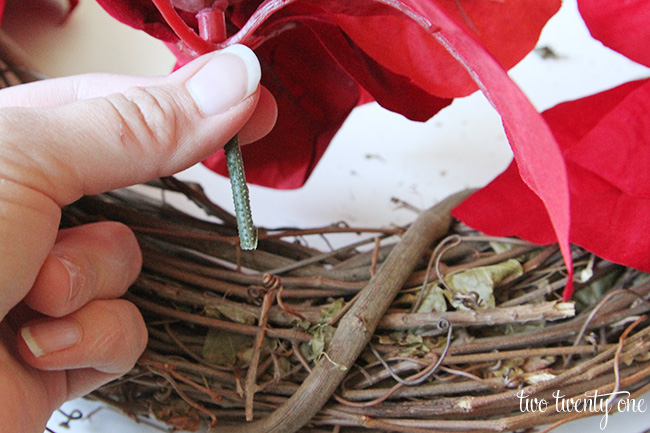 3. Glue Stems Into Place
Then, go back around and hot glue the poinsettias to secure them to the grapevine wreath. A good sized glob should do.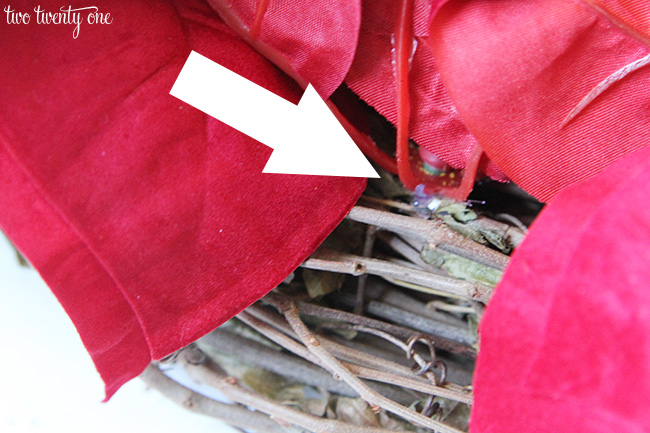 Wait a couple minutes for the hot glue to cool, and then hang your Christmas poinsettia wreath!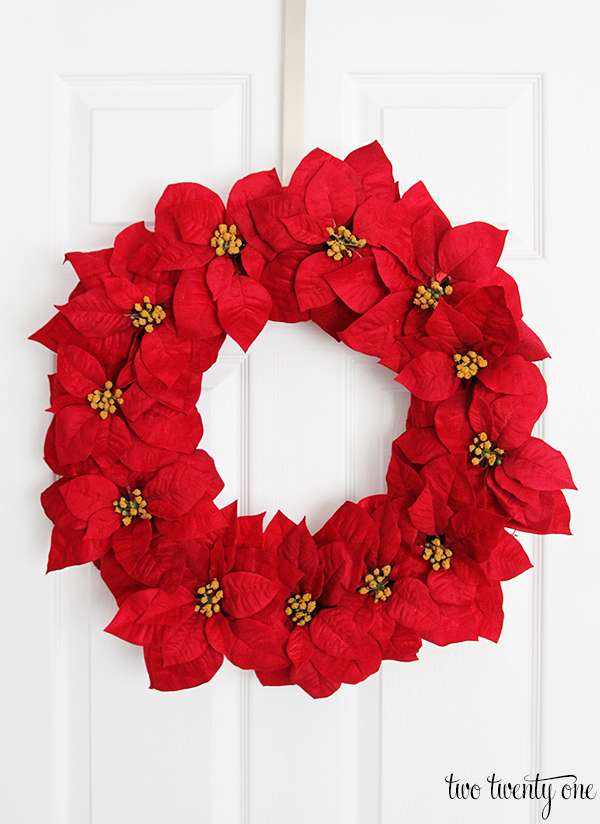 Now I know it doesn't look exactly like the $39.98 wreath from Lowe's, but I'll take it for about $25 in savings.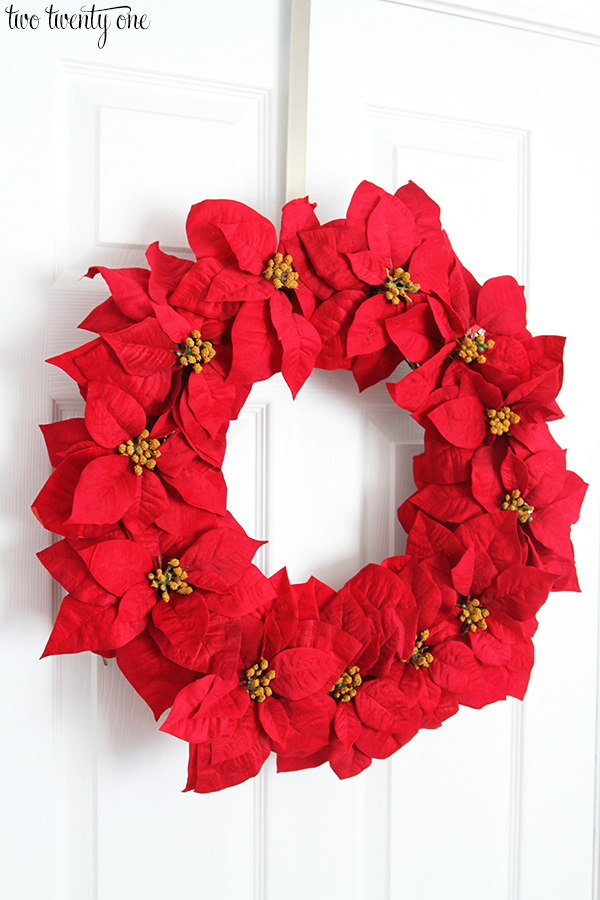 And I tallied everything up. In total, I spent $15 on my supplies and it only took me 15 minutes to make the wreath. You seriously can't beat that.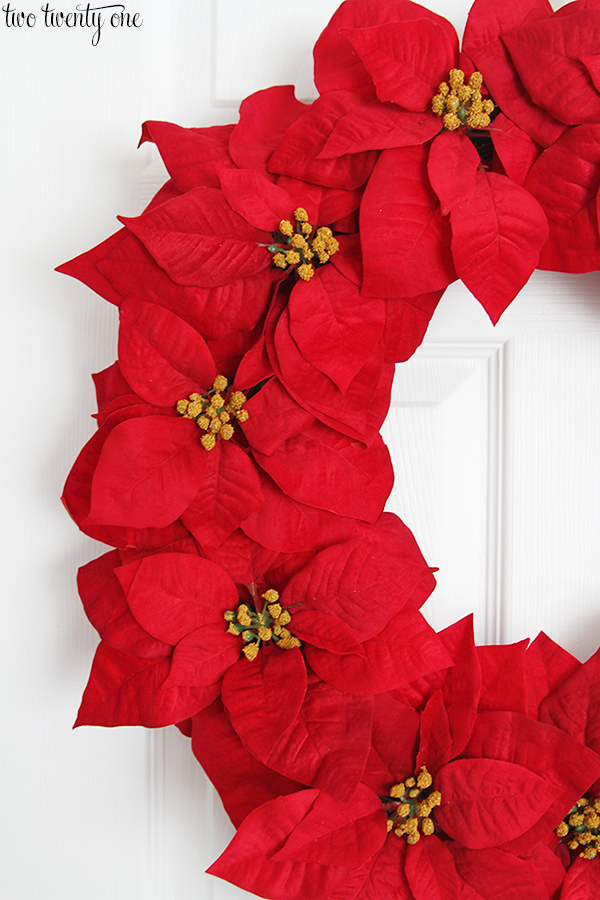 And here she is hanging in all her glory on our front door with the tomato cage Christmas trees I made last year.
It's kind of hard to tell in photos, but the wreath looks fuller in real life. The grapevine is thicker so it gives the wreath a more dimensional look, if that makes sense.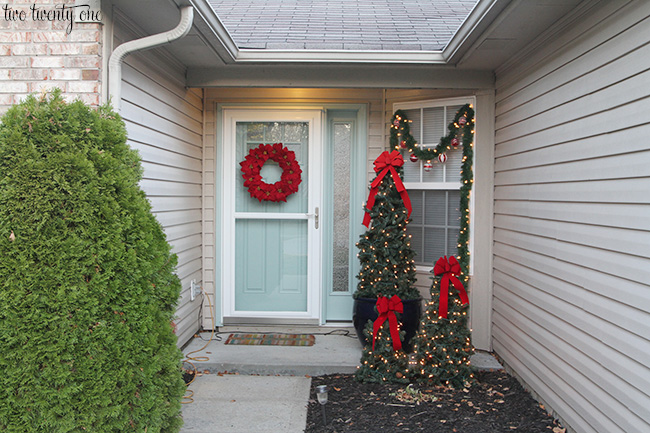 Happy Christmas wreath-making, fellow cheapskates!