This post is sponsored by Better Homes & Gardens at Walmart. All opinions are my own.
It's almost Valentine's Day so I wanted to share some ideas and tips for creating the perfect Valentine's Day brunch. This is a great idea for any and everyone. Because the main component is waffles, and who doesn't love waffles?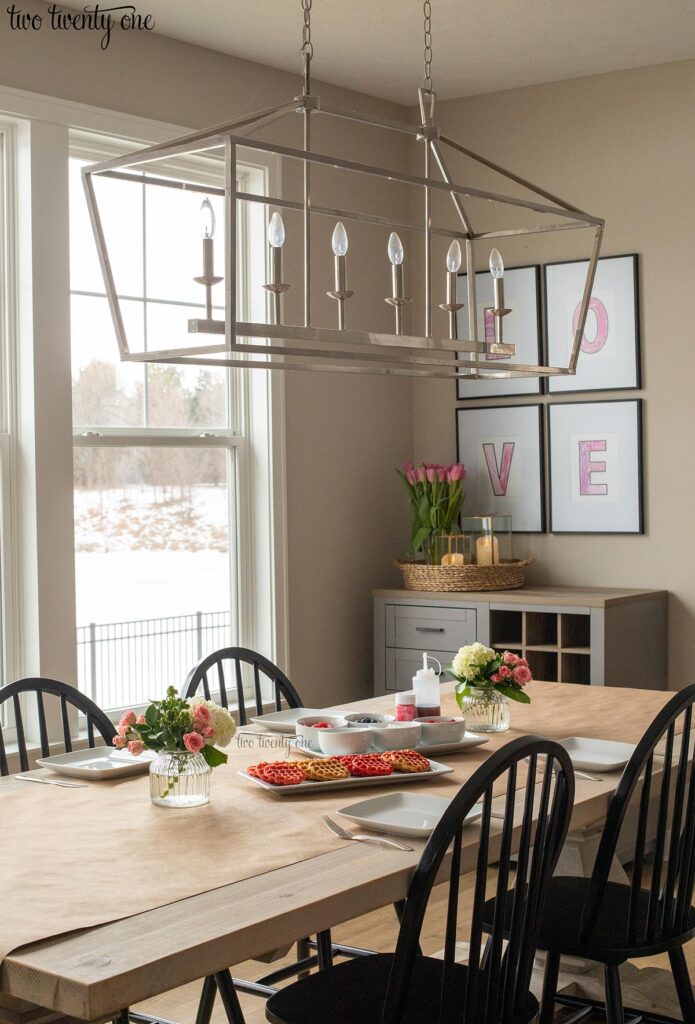 Heart Shaped Waffles
A Valentine's Day brunch isn't a Valentine's Day brunch without heart shaped waffles. You'll need a heart shaped waffle maker to make the waffles. Or you could use a regular waffle iron and cut the waffles into hearts with a cookie cutter or knife. Golden brown waffles are great, but pink and red heart waffles are better. Use food coloring dye the waffle batter. Display the waffles on a white platter.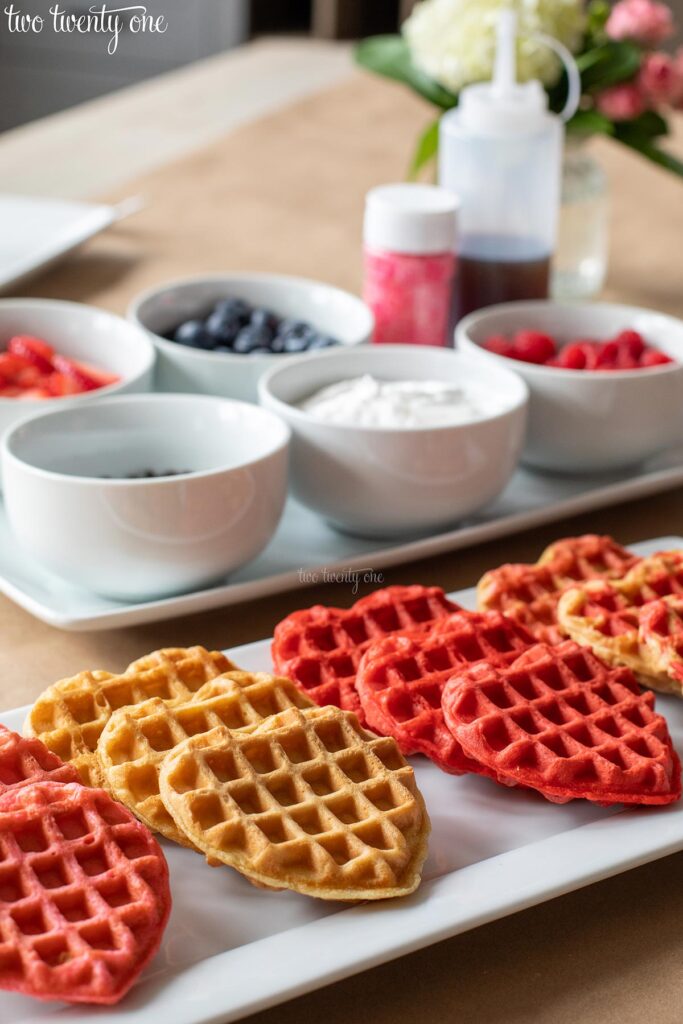 Waffle Toppings
Sure, you can go with butter and syrup, but it's Valentine's Day. Up your game with sliced strawberries, blueberries, mini chocolate chips, whipped cream, raspberries, sprinkles, and syrup– to name a few. I love these small, white bowls from Better Homes & Gardens at Walmart. They're the perfect size for toppings. And the large, white platter keeps all the toppings in one place.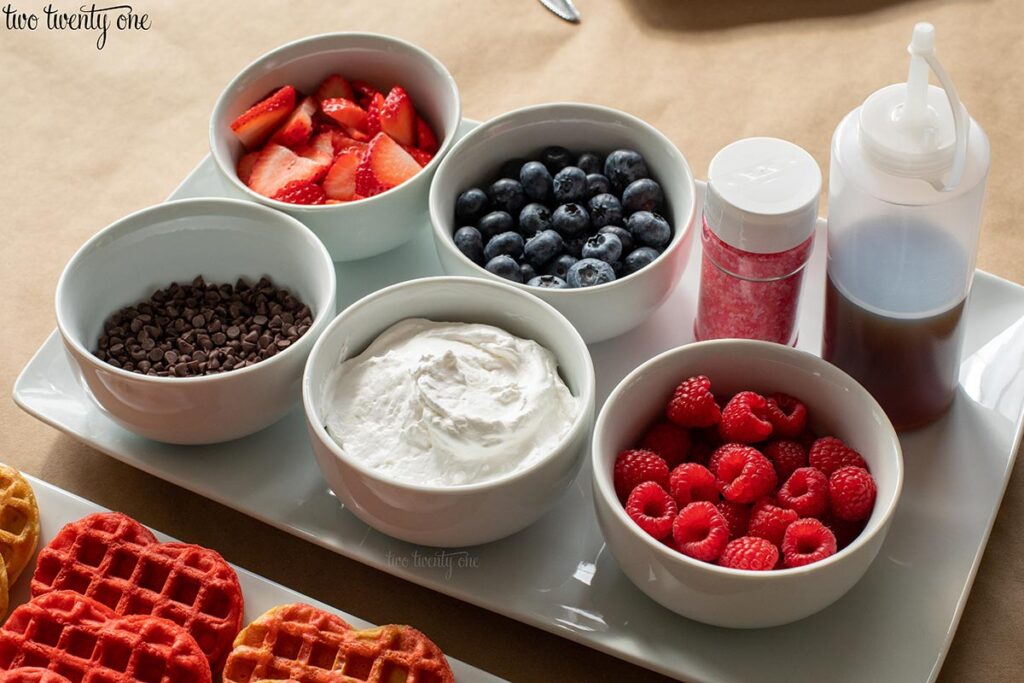 I love white serve ware because it makes the food the focus.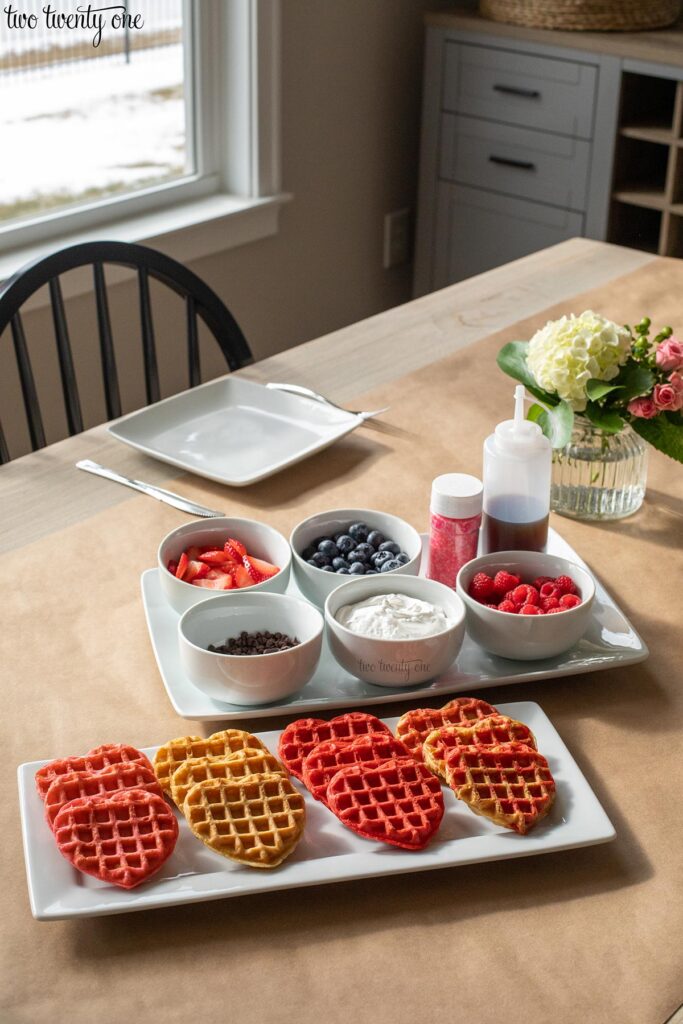 I prefer mini chocolate chips to regular chocolate chips because mini chocolate chips are easier to eat when used as a topping.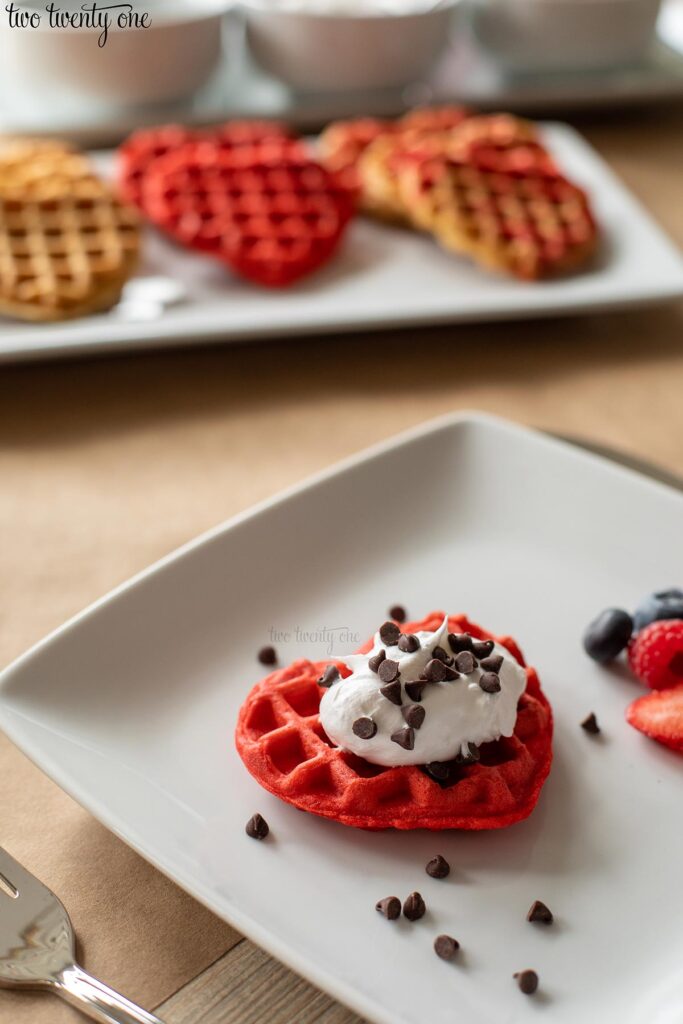 Valentine's Day Brunch Tabletop Flowers
If you choose to add flowers to the table, go with shorter vases so people can see over them. That, and kids are less likely to tip them over if they're lower to the table. These arrangements have hydrangea, spray roses, hypericum berries, and some greenery.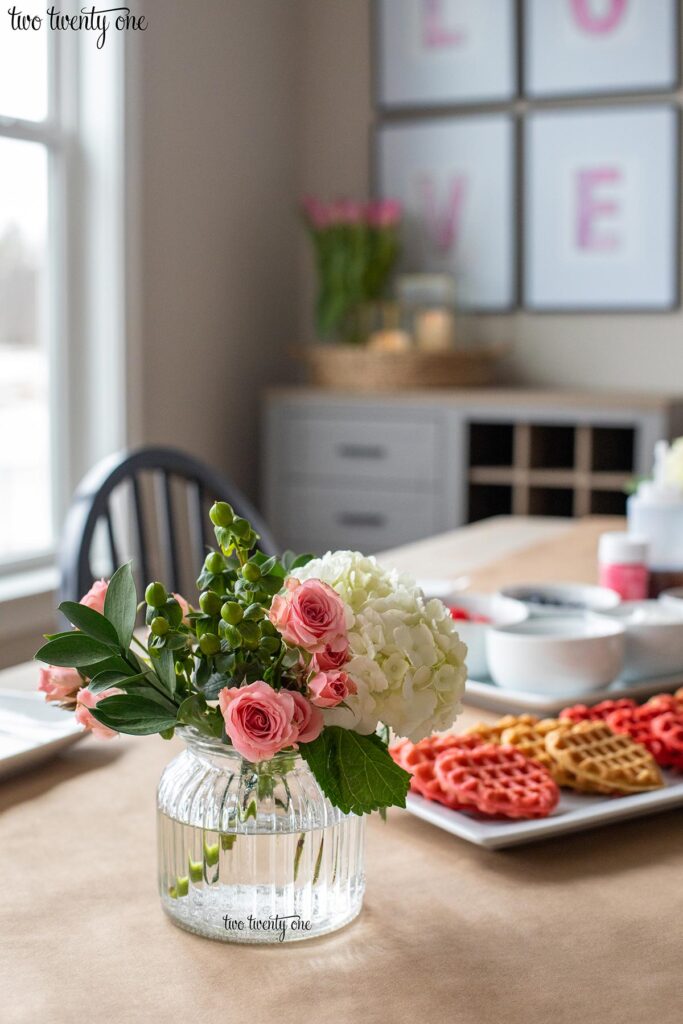 Easy Wall Art
It may seem like it will take a lot of time to switch out wall art and put it back on the wall, but it took less than 10 minutes to add the LOVE art to these black, metal frames. I created the letters in Photoshop, and then Owen colored them with crayons. Check out my blog post highlighting a bunch of free Valentine's Day fonts. This is a great way for kids to have their mark on their home and feel special. I hung the frames above this beautiful gray and weathered oak bar cart.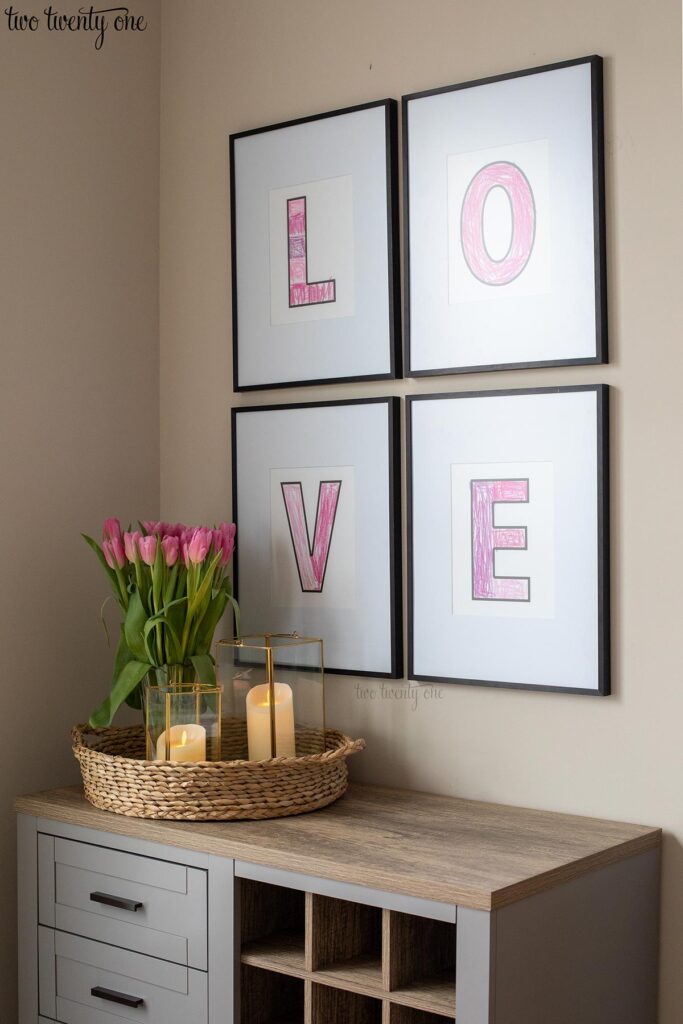 Valentine's Day Touches
Pink tulips in a vintage crystal vase and gold trimmed lanterns with ivory, flameless candles sit in a woven hyacinth tray on top of the bar cart for an added Love Day touch.
Don't the black chairs look great with the table? I love how they look with the black metal frames.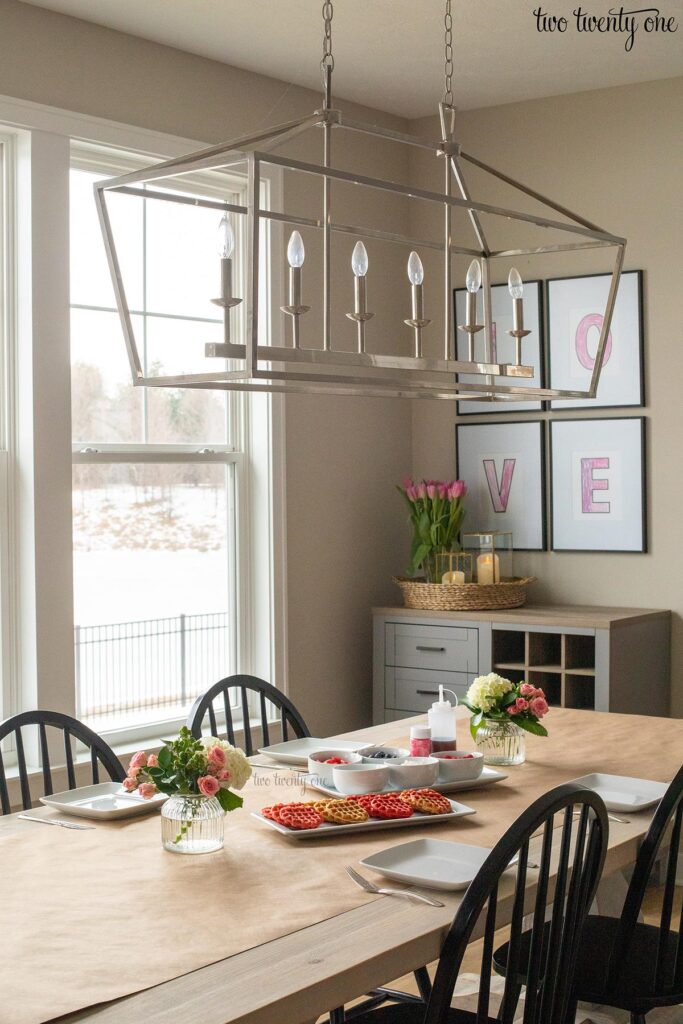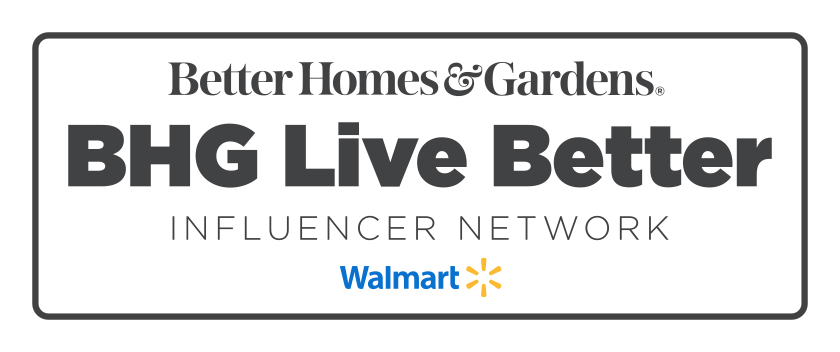 This post is sponsored by Better Homes & Gardens at Walmart. All opinions are my own.