We'll be heading to Brad's hometown for Thanksgiving this year. I'm excited to spend time with his family and eat some yummy food. Oh, and to go Black Friday shopping. I'm a little bummed about stores opening at midnight though.
I came across these little guys on
Pinterest
a while back, and I thought that they would be perfect for Thanksgiving. They're so easy to make and, of course, delicious!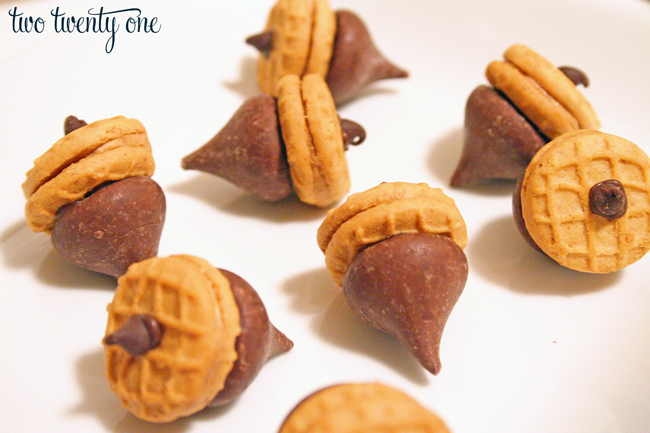 The image I pinned is from Rene' from Bargain Hoot, who acquired the idea from Six in the Suburbs.
Here's what you'll need:
Nutter Butter bites, Hershey kisses, mini chocolate chips, melting chocolate (or the like).

Start by unwrapping all of your Hershey kisses. This is my least favorite part of baking with Hershey kisses.

Melt your chocolate. Using a toothpick, dip it into the chocolate, and dab the chocolate onto a Nutter Butter bite.

Place a Hershey kiss on top of the chocolate. Set on a cookie sheet.

Once the chocolate has set, take your toothpick and put a dab of melted chocolate on the other side of the Nutter Butter bite. Put a mini chocolate chip on top of the chocolate.
(I didn't get a photo of this part, sorry.)


Aren't they adorable?
I think these will go along great with the Oreo truffles that I'm also making for Thanksgiving.
What are you making for Thanksgiving?
Are you partaking in the Black Friday shopping madness?