Easy Bathroom Linen Closet Organization
This post is sponsored by Better Homes & Gardens at Walmart. All opinions are my own.
It's a new year, so that typically means a lot of organizing and cleaning is going on. This month, Better Homes & Gardens at Walmart challenged me to organize a space in less than 30 minutes. I chose our guest bathroom linen closet because it could using some work.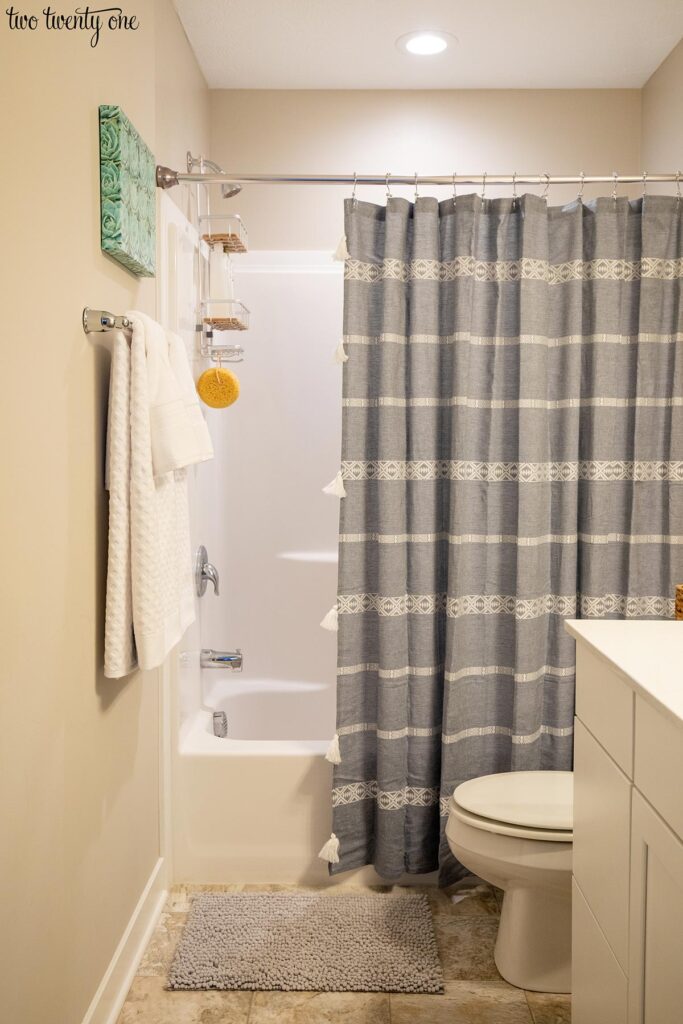 Baskets, Baskets, Baskets
I love using baskets in linen closets for a few reasons.
The item inside the baskets are easier to access because the person can pull the basket down.
The baskets keep things together and tidy.
It looks good.
Yes, some space ends up being eliminated when you use baskets but not all shelf space is always needed.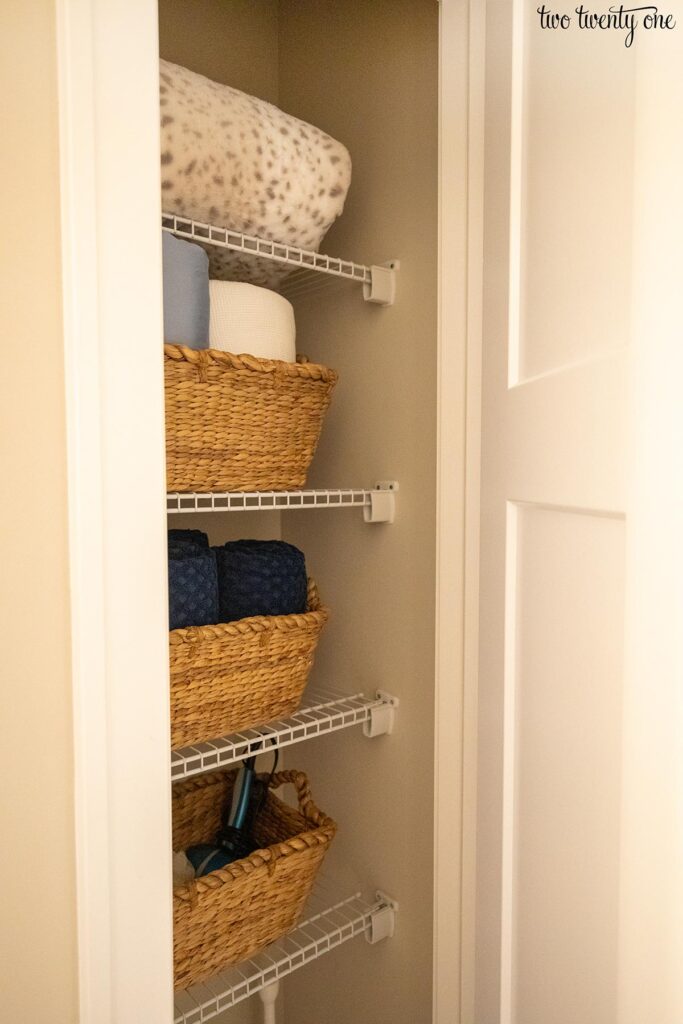 Less Used Items Go On Top
It only makes sense to put the least used items in a closet on the top shelf. That's where I store a faux fur blanket that can go on the bed when it's chillier outside. If you don't have the linen closet space to dedicate a top shelf to a blanket, you can store extra blankets under the bed.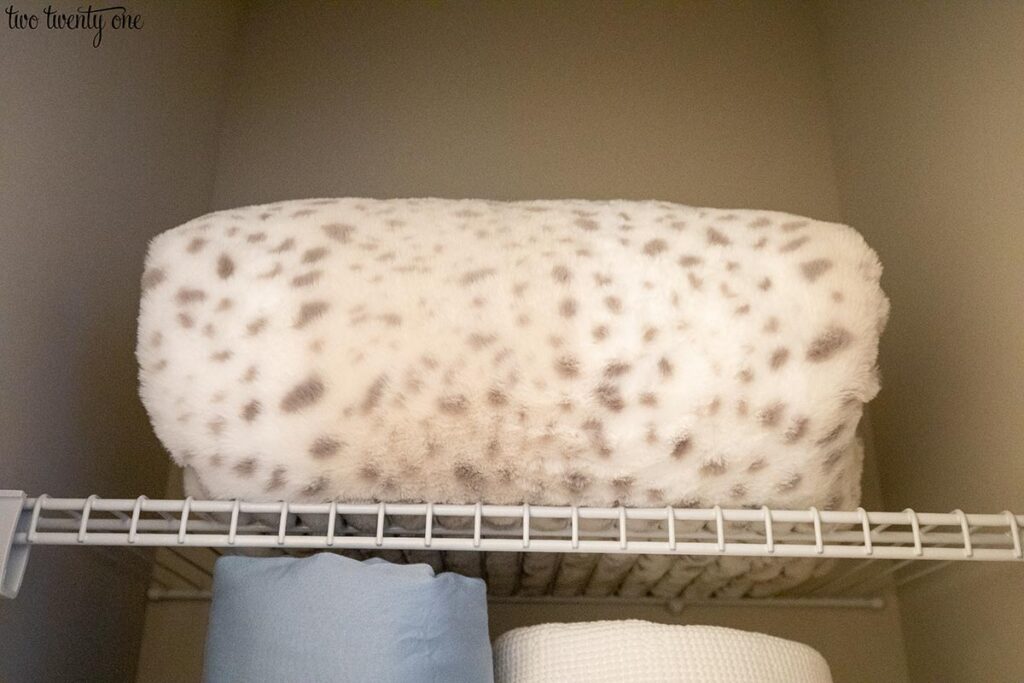 Bed Linens
I prefer to keep extra bed linens (sheets, pillowcases, thin blanket) on the second highest shelf. Typically guests don't have to use those things so they don't have to be as easily accessible as items on the lower shelves.
Rolling the Linens
I like to roll bed linens when I'm able to. Sheets tend to have less wrinkles when I fold them into fourths and roll them up. I do the same with thin blankets. This obviously isn't necessary– just something I like to do. Plus, I think it looks better.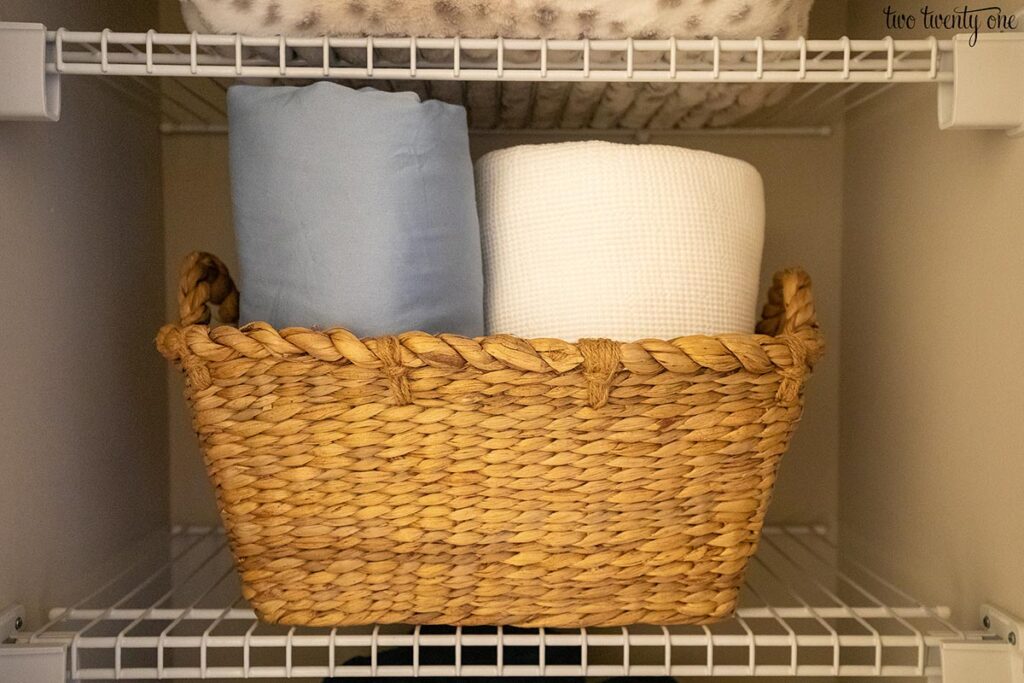 Make Extra Towels Accessible
I recommend putting extra towels on an easy-to-access shelf. That way guests don't have to work very hard to grab one if they need it. Like with bed linens, I like rolling towels because I like the look, especially when they're stored in a basket.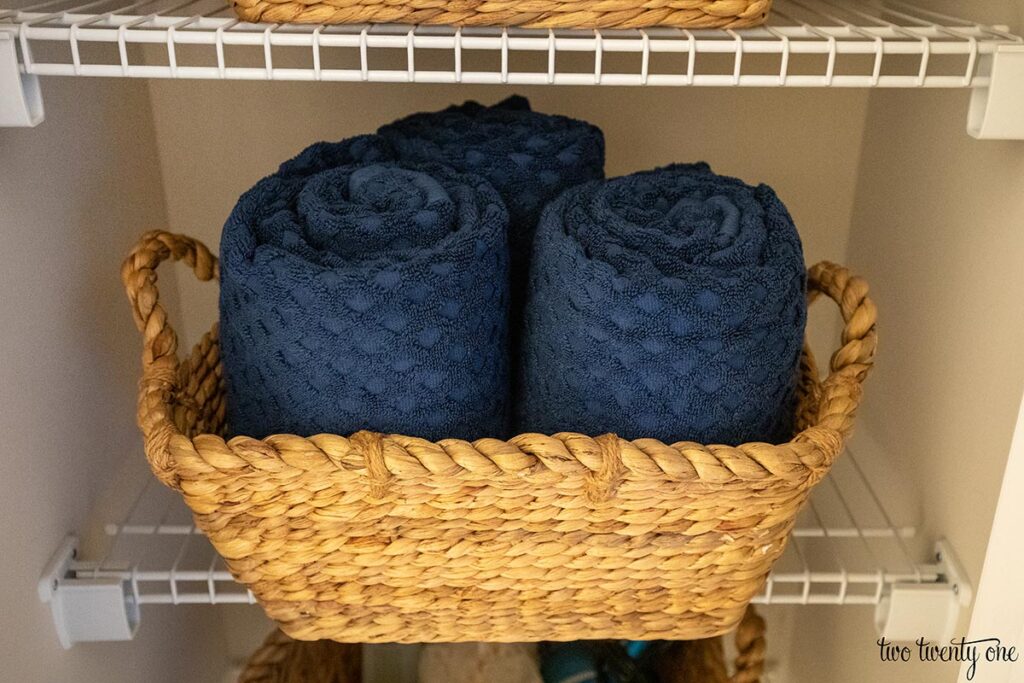 Forgotten Items
In the basket on the lowest shelf, I keep items guests may have accidentally left behind. I also keep one of my old hair dryers in the basket so people don't have to pack theirs. Other things I keep in the basket are an extra bottle of body wash, a loofah, and a package of facial towelettes. I keep extra toothbrushes, toothpaste, floss, feminine products, and toilet paper in the bathroom vanity.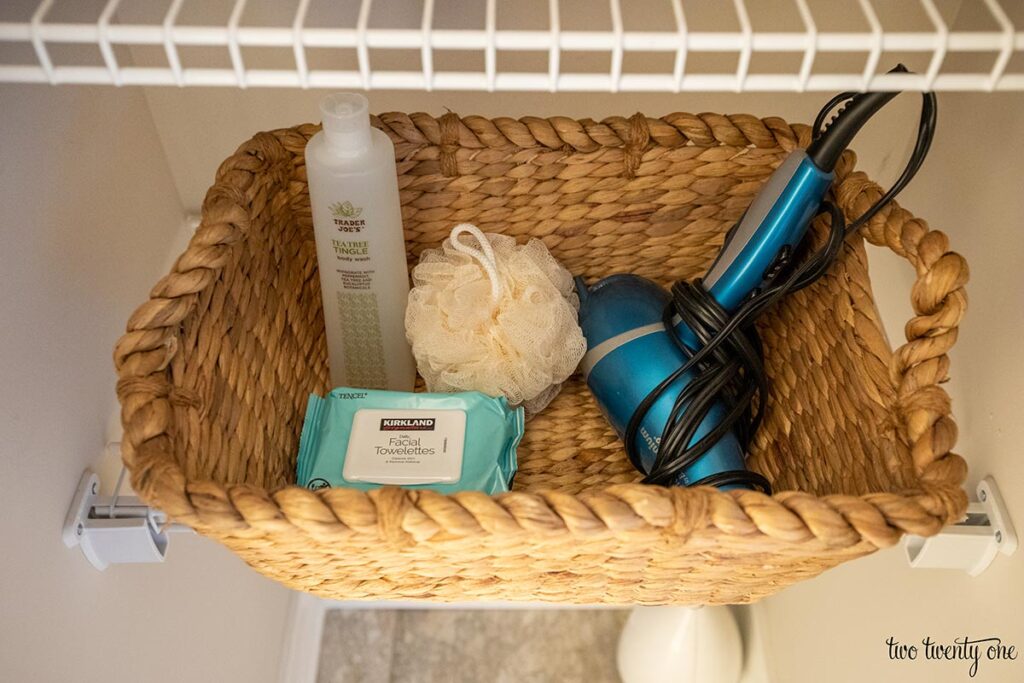 While I have you, I figure I should show you the rest of the guest bathroom. We haven't done anything major in here yet, but our guests appreciate having a bathroom inside the guest bedroom suite that's all their own.
I recently upgraded the shower curtain bar because the old one was a mess. The tassels on the shower curtain are a fun little detail. And while it's a little detail, it makes a big difference. I installed these easy glide shower hooks. Game. Changer.
And to keep things organized in the shower, I added a rust proof shower caddy with bamboo shelves. We still need to upgrade the towel rack but the crisp, white towels hang nicely on this one for now.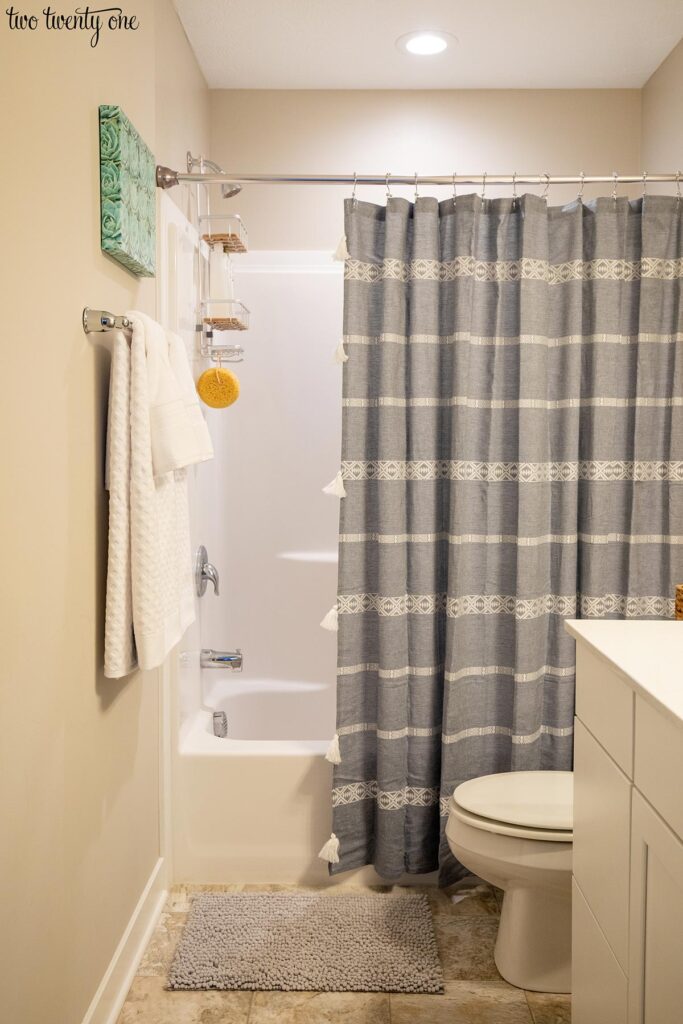 Sources
woven baskets • faux fur blanket • sheets • white blanket • navy towels • shower caddy • shower curtain • shower liner • shower hooks • white towels • toilet brush • vanity mirror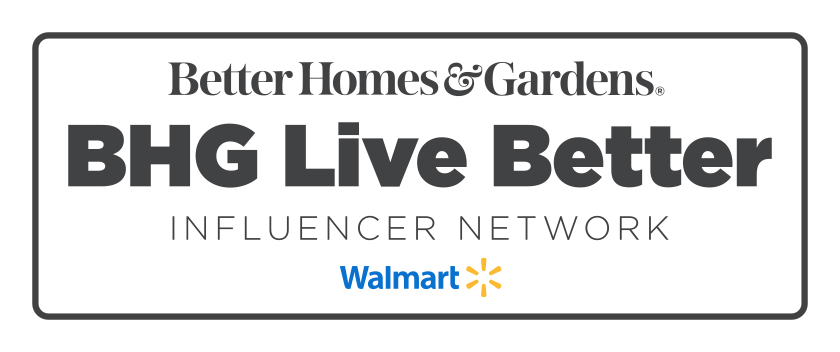 This post is sponsored by Better Homes & Gardens at Walmart. All opinions are my own.