Bathroom Vanity Organization
This post brought to you by The Duck Brand. The content and opinions expressed below are that of Two Twenty One.
After installing our new master bathroom vanity light I decided to tackle the vanity because I couldn't remember the last time I went through all of our medicines and organized everything.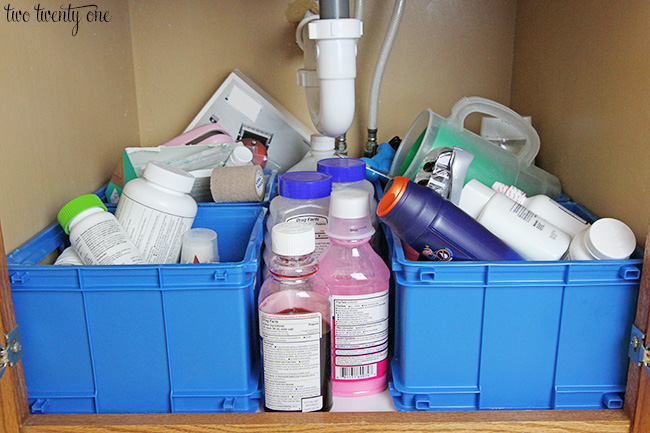 While I was at it, I put down some Easy Liner® with Clorox®, which features an antimicrobial additive embedded into the shelf liner material, preventing the growth of odor-causing mold and mildew.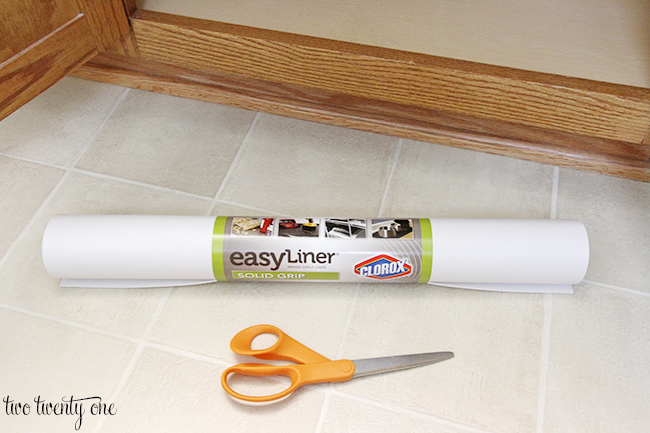 Before I could fit the liner into the cabinet, I needed to cut out a section for the water lines. So I grabbed a pen and traced an area to cut out.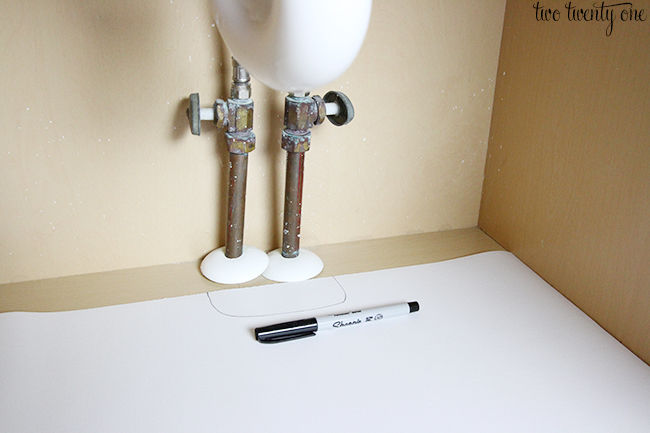 After cutting out the section for the water lines, I was able to trim the left and front sides of the liner so it'd fit perfectly.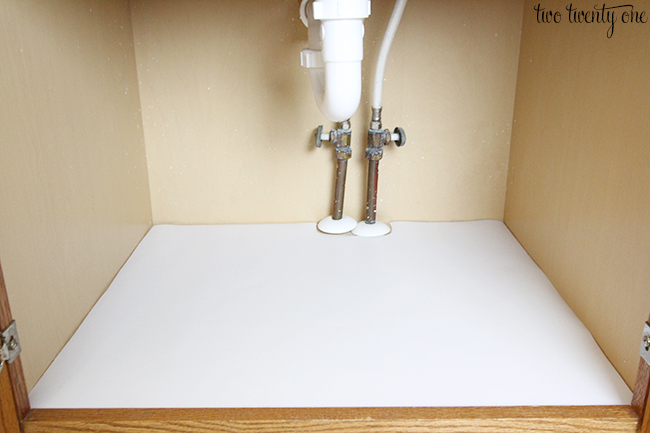 Instead of just throwing everything back into the cabinet. I looked at every box and bottle expiration date. I'm embarrassed to say that were was stuff in there that had expired in 2010. But I'm owning it by sharing that tidbit with you.
The amount of expired OTC medicine I disposed of could've killed a small horse.
I always cut off the top flaps on our bandage boxes so it's easier to access the bandages. I also toss in the triple antibiotic ointment because adhesive bandages and triple antibiotic ointment go together like bacon and eggs.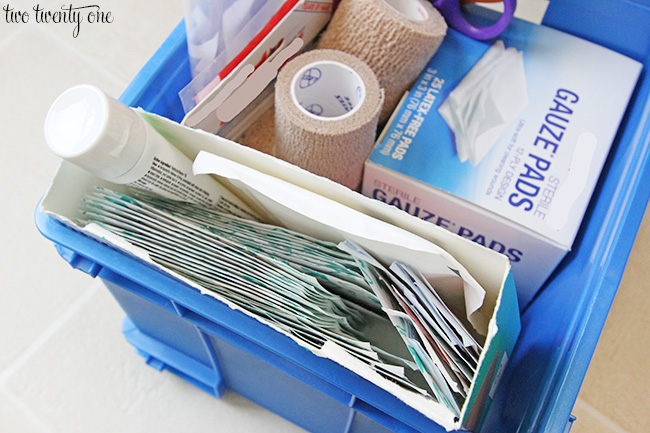 And here's the final result!
The stuff we don't use often is toward the back (hair trimmer, Jack's bathing supplies, First Aid supplies). While the stuff we use more frequently is toward the front (medicines). Brad used to store his razor in top drawer of the vanity, but when Owen was tall enough to reach into the drawer I made him move the razor into the baby-proofed cabinet.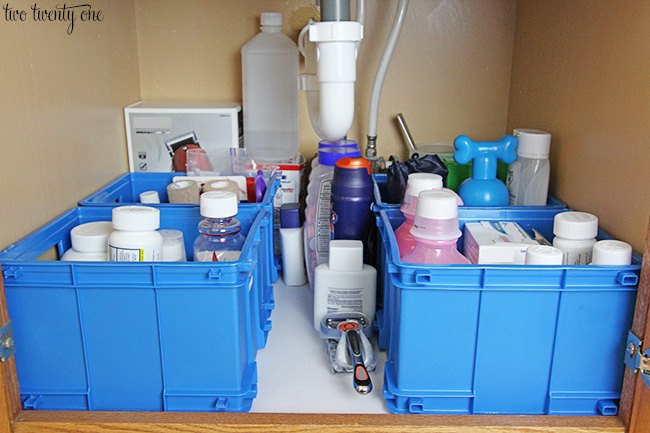 Now onto the other side of the cabinet, which contains a lot of my stuff– because girls require more stuff than guys. AmIright?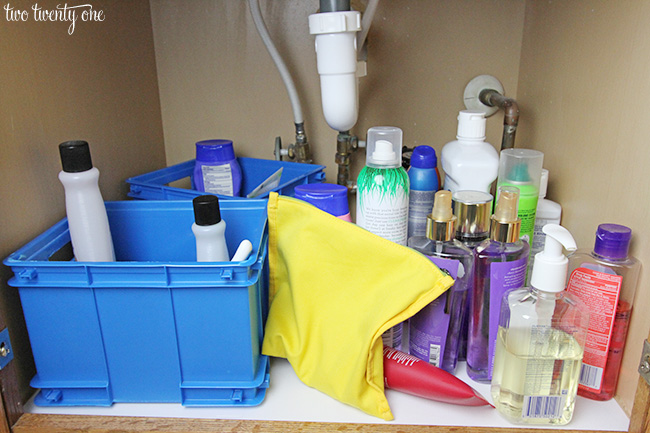 I used the same method I used to install the liner in the other cabinet.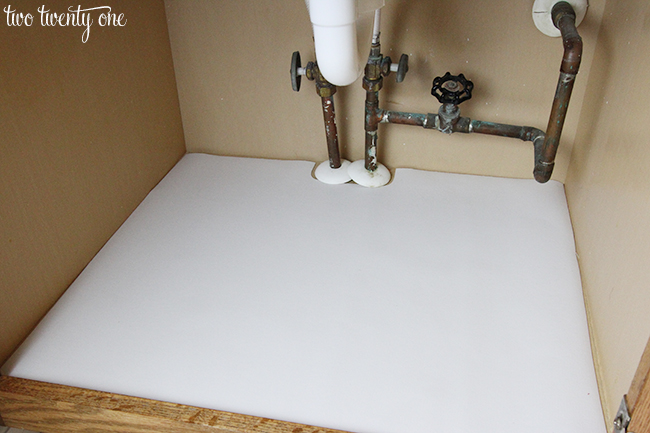 I didn't have much stuff to throw away, but I did organize my mani/pedi tote. I have all the essentials– nail polish, nail polish remover, my bag with all my tools, foot file A, and foot file B.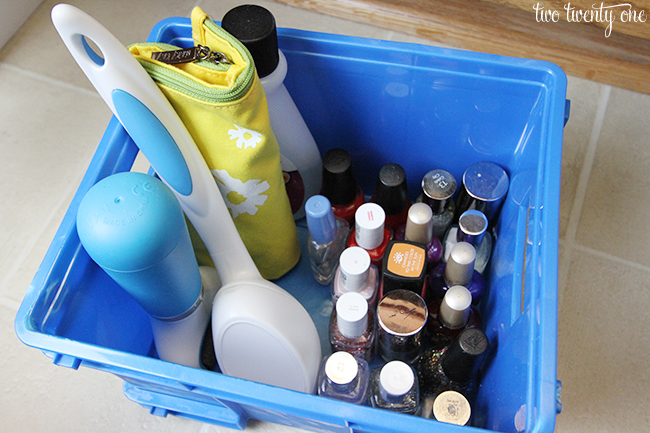 And here's the after!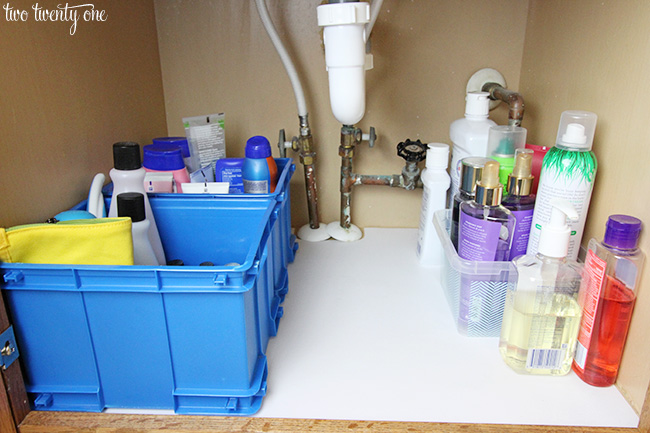 Since I didn't have any more blue totes, I grabbed a random container I had to corral my dry shampoos and body sprays.
Yep, I'm 31, and I've been wearing the same body spray since I was 16. It keeps me feeling young.
Happy organizing!