New Bathroom Vanity Lights
A couple weeks ago we decided it was time to say sayonara to our master bathroom and guest bathroom vanity lights. Both bathrooms had the same standard vanity lights– a chrome plate with 4 to 6 lights. They were just too builder-grade looking for us.
Here's our master bathroom.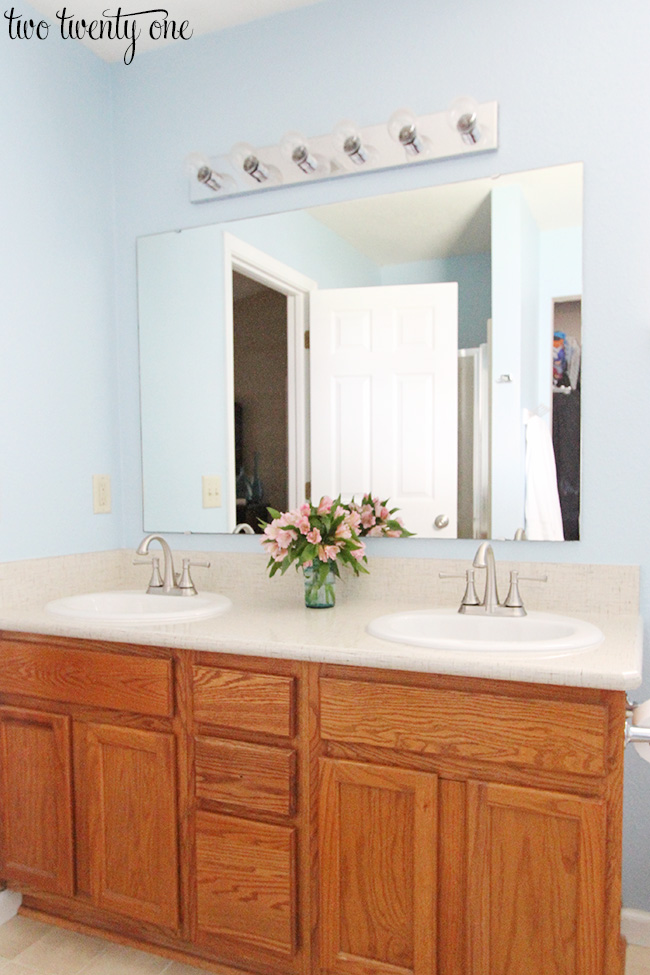 And here's how our master bathroom looks now with the new light.
Ten times better, right?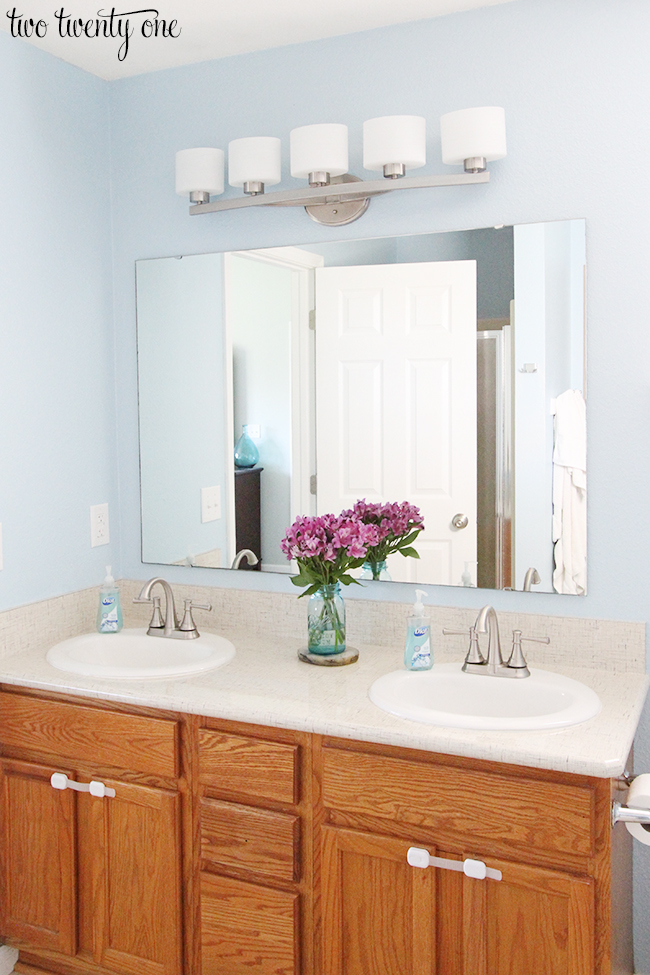 Like with most things in this house, it was no surprise that we'd have to jump through a few extra hoops in order to install the new vanity light.
When Brad took off the old vanity light, there was a hole the size of someone's fist for the lone bundle of wires you see coming out of said hole. It's almost like the geniuses who built our house thought, "How can we make things harder for the owners of this house to make changes?"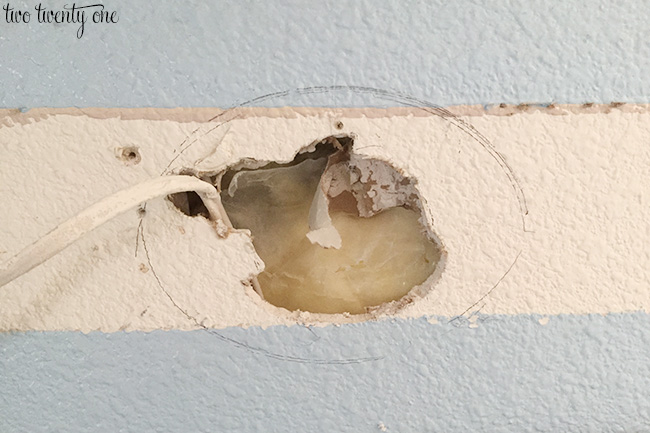 So Brad headed off to Lowe's to get an electrical box. He got a ceiling box because the hole was already circular in nature, and he didn't know if any of the wall boxes would fit behind the new fixture.
He installed the electrical box because it provides better stability than just mounting the light to the drywall. This is especially important because this light mounts in the center, compared to the old light that was a long bar, so the weight was more evenly distributed.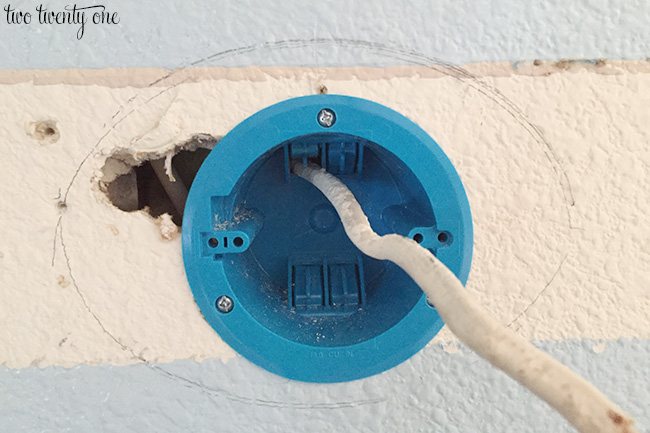 I did have Brad do something differently with the light than how it was displayed in the store and shown on the box.
I had him mount it with the lights facing up.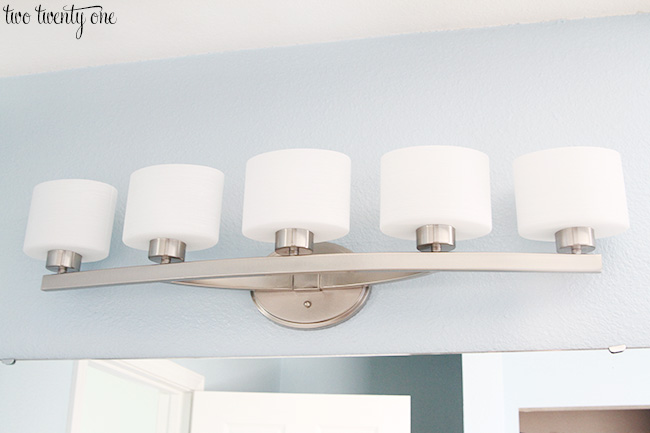 Why? Well, I think when lights, especially vanity lights, shine down on one's face it makes them look older, especially in dimly lit bathrooms. So I had him point those puppies up so the light would bounce off the ceiling back down to illuminate my face; because I'd rather look 31 than 41 when I look in the mirror.
Yeah, I'll need to get up there and clean the sconces more often, but it's worth it to me.
It's hard to get a good photo of the fixture with the lights on, but I have to say that I'm in love.
We went with bright white 3500K 13 watt CFL lightbulbs.
Seriously guys, the type of lightbulb you choose can make huge difference.
Oh, and while he was at it, Brad replaced our dingy-looking, almond-colored electrical outlets and light switches with bright white ones. (Learn how to do that here.)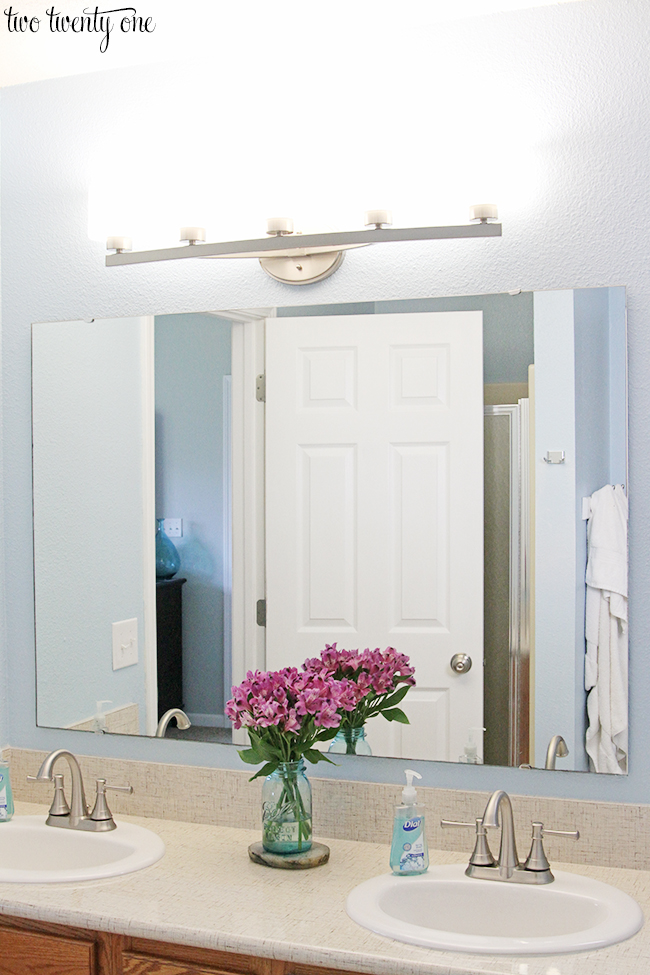 We put the same fixture in our guest bathroom, but the 3-light version. And if you're wondering, yes, Brad had to install an electrical box in there, too.
It's hard to get good photos in our guest bathroom because there's no window. When I photograph the light, I have to have it on or the room is basically pitch black. So just imagine the light in our guest bath.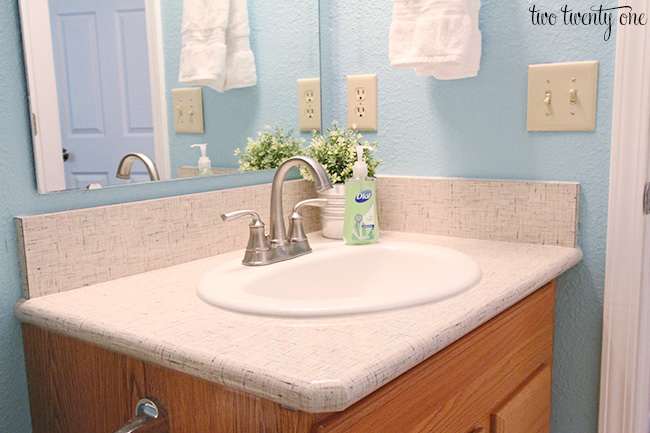 Now I just need to find a weekend to stain our master bathroom vanity. I think I'm going to leave the guest bathroom vanity alone for now. The color of that vanity doesn't bother me as much as the master bath vanity.
Keep in mind when you change out fixtures (or anything in your house) that you can donate your old fixture to your local Habitat for Humanity ReStore.
SOURCES
master bathroom vanity light … allen + roth 5-light merington
guest bathroom vanity light … allen + roth 3-light merington
child safety locks … found HERE
master bathroom wall color … Valspar's Adrift
guest bathroom wall color … Valspar's Crystal Sea
countertops and faucets … found HERE